RV Owners
Last updated on May 23rd, 2023. Originally published on March 3rd, 2023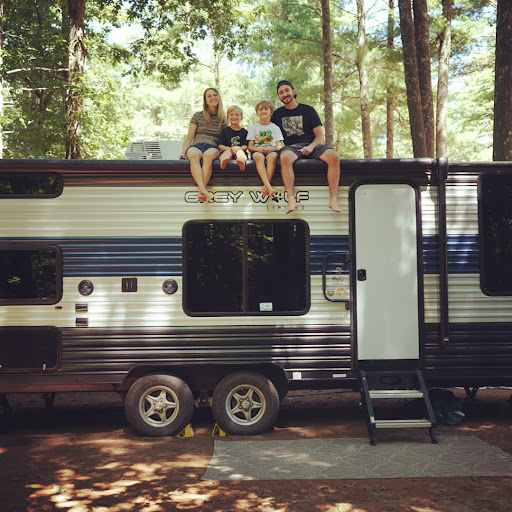 When we decided that we were going to start traveling the country full-time as a family of four, we had a lot of planning ahead of us. This included choosing the right home for our adventure! We considered many options before finally choosing our Travel Trailer. We looked at renovating a Sprinter Van or School Bus, Class A and Class C RVs, Fifth Wheel RVs, and of course, Travel Trailers. The biggest things to consider were spaciousness, maneuverability, storage, and of course our budget.
Sprinter Vans
It's hard nowadays to scroll through social media without seeing someone who is living the #vanlife and making it look beautiful and effortless. So naturally, we tried to see if this was an option for us. After some research, we found that most Sprinters would be way too expensive to purchase, not to mention renovate, but we were willing to shop around for a deal if we thought it could be worth it. We had seen a few other families on social media that lived in a van, and the implications were pretty straightforward. Of all of our options, this one would provide the least amount of space.
Also, pictures of beautifully decorated and clean sprinter vans did not seem realistic with our wild and messy young boys. We could have camped outside a lot, which would have been awesome, but we were planning to live on the road for at least a few years. So keeping longevity in mind, we decided to look for something with more space for toys, clothes, camping stuff, and room to hang out in our rig.
Renovated School Buses
Have you seen some of these things?! Between luxury setups with cedar planks and string lights, to something right out of the 1960s hippie era, there are so many creative ways to renovate a school bus! The price of an old school bus is also much more manageable than that of a Sprinter Van. While it would have been so much fun for us to design our own school bus, we decided we wanted more versatility. We realized as we drove up Mount Washington in New Hampshire one year that a bus was not an ideal option for us. All of the twists and turns involved so much focus just while driving a truck! We wanted to explore the country and didn't want to be limited by our vehicle.
Class A RVs
Woah! Class A RVs are the real pinnacle of space and luxury! They allow travelers to have all the comforts of home in one big vehicle. Honestly, Class A's are not fuel efficient so the cost to drive that big thing around would surely be out of our monthly budget, and they still have the same maneuverability issues as a school bus. We also planned to do a lot of boondocking while on our cross-country adventure, and although you can boondock with a Class A, we felt we would need too extensive of a solar setup. They were also a good bit out of our price range, and we wanted a more cozy experience anyway.
Class C RVs
We test-drove a Class C at one point and really liked the interior layout. It gave us that 'just right' feel of cozy yet spacious. The price range can also be more manageable for a traveling family especially if you find a good deal on a used one. We realized, however, that we didn't want to have to drive a gas-guzzling V10 everywhere we went or have to worry about towing another car.
Towing a small car behind a Bus, Class A RV, or Class C RV was an option we considered as well. However, we quickly dismissed it, as we didn't want to have to worry about two engines, higher insurance and taxes, and having that big of a setup.
Fifth Wheels
Fifth wheels were very tempting for us. They offer so many different styles and layouts. There would be lots of storage and space, we could drop our rig to go explore, and towing would be much easier. A fifth wheel puts less strain on the tow vehicle than a travel trailer. This is because a fifth-wheel mount is centered in the bed of a truck, whereas travel trailers are attached to the hitch of any tow vehicle.
Fifth wheels are pretty large and in charge though, ranging from 34 feet to 44 feet in length and being about 13 feet tall. This would mean we would also have to upgrade our tow vehicle from a light-duty 1500 truck to a heavy-duty 2500 truck, something we preferred not to do if possible. Towing a fifth wheel not only meant a bigger truck and more gas, but it also meant a 50 amp hook-up at campsites, which can be more costly and harder to come by.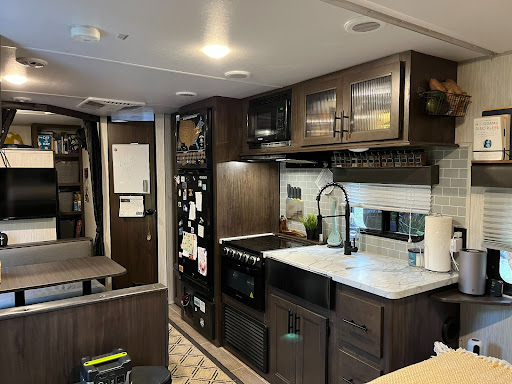 Travel Trailers
Like a fifth wheel, a travel trailer offers so many different styles, layouts, and lengths. Just like our previous consideration, it solved our maneuverability concerns as it could be left on the campground while we went off to find a hiking trail or a grocery store. Travel trailers can be much smaller and range anywhere from 12 feet to 35 feet long and are about 10 feet to 11 feet tall. Choosing this type of camper would give us lots of layout and length options that fit within our budget, and meant we would not need to update our existing vehicle. Also, with us choosing a smaller RV, we wouldn't require as extensive of a solar setup, allowing for more boondocking opportunities. Considering our wants and needs, it appeared that a travel trailer might be the best option for us.
Our Travel Trailer
Rachelle is our bargain hunter, and while looking online at various options, she stumbled upon our new home! It is a 2021 Forest River Grey Wolf 22MKSE. We got it for a great deal and couldn't be happier. Overall, we chose a travel trailer for a few reasons. As mentioned above, it is just big enough for us to comfortably spend time together, and it is small enough, to where we did not have to upgrade our tow vehicle to a 2500 truck. We can leave it on the campground or wherever we are boondocking for the day and go explore. It is 22 feet long and 10 feet tall, with an interior of about 176 square feet.
Our kitchen features a 3 burner stove and oven, a 10 cubic square foot electric refrigerator, and a large stainless steel farmers sink that can be covered up for extra counter space. We have a queen-sized bed for us, and the boys have bunk beds. Originally, their bunks were full-sized, but we modified them to be narrow twins, adding a bookshelf and walking space. We lost a little bit of our underneath storage by doing this renovation as well as the additional sleeping space, however, the added storage space inside was well worth it and we did not need the extra sleeping accommodations. You can see how we did this by clicking here to go to our YouTube channel.
We have a four-person dinette that can also be turned into a bed very quickly for family movie nights.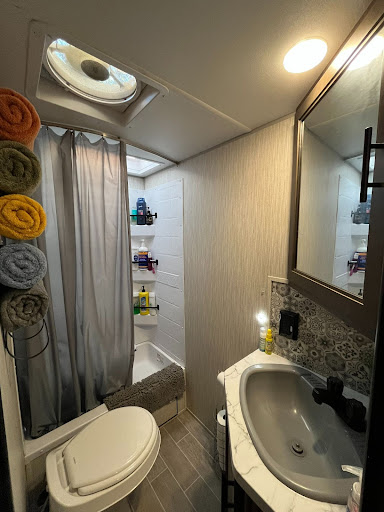 Our bathroom is the perfect size, featuring a shower, toilet, and sink with some storage cabinets as well. We specifically chose an RV that did not have slide-outs, as we did not want to have to worry about malfunctions, extra weight, or fitting into tight spots. We also added a portable solar setup to our RV so we can boondock for as long as our water supply will allow us. Overall, we feel our camper is the perfect size for our family and enables us to live the nomadic lifestyle that we want.
Want to read more stories from life on the road?
Traveling with Two Dogs in a Fifth-Wheel RV: Wander Free and Queer
How to Choose the Right RV for Your Family with Project Trek