RV Owners
Last updated on February 16th, 2023. Originally published on December 21st, 2021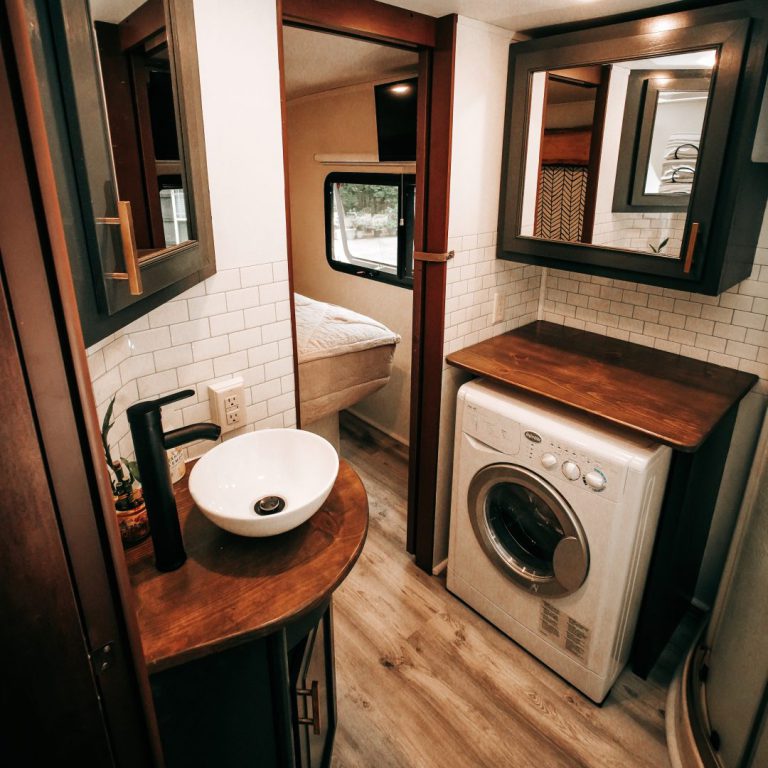 If you get the opportunity to hang around avid RVers, for any length of time, you'll inevitably hear some variation of the adage: "The perfect RV doesn't exist."
Mass-produced motorhomes, travel trailers, fifth wheels, and toy haulers are wood, aluminum, and steel shells that are designed to push the limits of what can be thrown down the highway at 60-70mph and traverse washboard dirt roads sometimes with close to 1,000 lbs of water on board. RV engineers are confined to regulations set by the Dept. of Transportation as to what can legally travel on public roads. This makes designing the "perfect" RV extremely challenging. 
Questions to Start Asking Yourself When RV Shopping
Need more floor space? You can easily choose an RV with opposing slide-outs, but then you lose cargo capacity, due to the weight of the slide mechanisms.
Not necessarily a minimalist? No worries, just search for an RV with plenty of cargo capacity – but now the only options are floorplans with one bathroom, and you really needed 2 bathrooms for your family of 5.
Want a big RV kitchen with plenty of countertop space? There are options many out there, but none with a bunkroom for the kids.
If you have a spare $250,000 laying around, you could contact Spacecraft Manufacturing and have them custom build the 55ft long trailer of your dreams. Don't forget the $80k Volvo 670 HDT you'll need to tow it. Oh, and also, you won't be able to fit in many RV parks.
Choosing the right RV for your family is ALWAYS a compromise of sorts. As you scroll through your #wanderlust Instagram feed, envious of all the curated glamor shots of nomads sipping their morning coffee on picturesque, white, sandy beaches or at the foothills of towering mountain peaks, keep this in mind: If you asked any of them why they chose the RV they did, there would be a significant reason why they nearly went with a completely different option.
So here it is: The secret recipe to choosing the right RV
Step 1: Choose the right type of RV.
There are many types of RVs. Class C? Class A? Travel Trailer? Fifth Wheel? Toyhauler? This decision is dependent on a few things. Do you have small children who would be comfortable in simple bunks, but not necessarily have a room of their own? A motorhome-style RV might be best for you. Small children mean sneak-attack potty breaks on travel days, and being able to use the toilet while Mom or Dad drives, is a legitimately convenient option.
Motorhomes are also classified by fuel type: gas or diesel. Generally speaking, a gas Class A will have a small duty frame with smaller tires and won't have exhaust braking. Diesel Class A motorhomes are typically built on a larger truck chassis and have higher weight ratings and exhaust braking. Want to bring motorcycles or dirt bikes with you, but can't do a toy hauler? A travel trailer with toys in the bed of the pickup truck might work best for you. Have more than 4 people traveling together? You'll probably want a larger fifth wheel or toy hauler. Not planning on traveling but maybe 1-2 times a year? Maybe a park model RV is right for you and yours.
Step 2: Choose the right floorplan.
Now that you've decided which class of RV you'd like, now you need to search within those limitations and find the layout that's right for you. Modern RVs have so many options to choose from. I won't bother with the luxurious soaking tub options or the dual vanity master bathroom options, since those rigs don't exist for RV's with bunkrooms. The options you're generally left with are a small midship bunkroom (possibly with a loft area), maybe an over-the-cab loft, or a large dual slide-out, rear bunkroom.
If you'd like to bring a washer/dryer on the road with you, make sure you find a floorplan with washer hookups. Want a rear or side patio? These typically are only found in toy-haulers. Many full-time RVers have chosen toy haulers due to their size and weight rating. The "garage" space can be easily modified into a bedroom space, but keep in mind that these garage spaces aren't generally insulated as well as the rest of the RV.
Step 3: Choose the right tow vehicle.
Fulltimers are almost always slightly overweight – easy now, I'm talking specifically about their RVs. All RVs have what's called a Gross Vehicle Weight Rating (GVWR). This is the total amount of weight the structure can safely hold (including the weight of the RV itself). Exceeding that limit can not only be dangerous but can open you up to liability in the unfortunate event of a motor vehicle collision. Based on the overall weight (and several other specifications) you will need to pair that trailer with the correct truck to pull it. Fortunately, this isn't an opinion or feeling, it's a numbers game based on data sheets published by truck manufactures that will clearly (but also, not so clearly) show you exactly what each truck is capable of safely towing.
Is a trailer not for you? Class A, B, and C motorhomes also have limitations on what they can tow, as something else to consider is how do you want to tow a passenger vehicle behind your RV. There are several other types of ways to tow a passenger vehicle – flatbed, enclosed trailer, tow dolly, or flat tow (sometimes referred to as "dingy towing). The first option allows you to reverse, the latter two options don't allow you to reverse, except maybe 5-6 feet. Flat towing can't be done on every make & model of passenger vehicle. And a separate trailer for towing a vehicle can be a pain to store at campgrounds.
The Right RV for Us
For our family of 4, plus a dogo, choosing an RV with a large enough GVWR to handle all our hobbies, plus enough solar panels and batteries to dry camp at amazing photo-worthy coordinates meant a 42' fifth wheel, complete with an 80 sqft bunkroom, residential fridge, washer/dryer, and room for ebikes, towed by a one-ton dually truck.
As you can see, the choices are dizzying and an attempt to explain all the variables in a simple blog article is futile – but I hope this can help you get started on your own research.
About the Author
We are the Axness family; Nate, Christian, Ella, and Andersen. Five years ago, we sold everything, quit our nine-to-fives, started working for ourselves, and began traveling full-time in our RV. Our goal in sharing our story with you is to encourage you in your pursuit of long-term family travel.
We have been so positively impacted by nomadic life and believe that travel has not only brought us closer together as a family but also made us better citizens in our ever-changing community. We look forward to speaking life into your dreams of travel, helping you navigate the difficulties that travel can inevitably bring, and inspire you to embrace the RV lifestyle. Follow along with our adventures on Instagram @ProjectTrek.