RV Owners
Last updated on February 23rd, 2023. Originally published on October 29th, 2021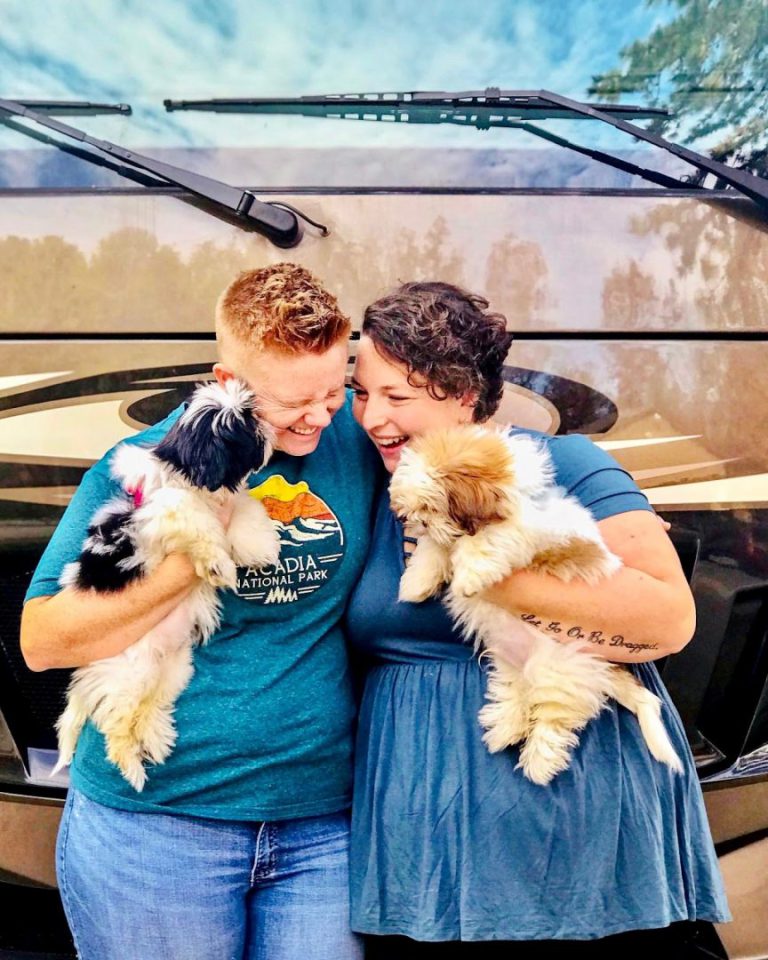 Did you know that nearly half of all RV travelers have at least one pet along for the ride? We can't imagine traveling around the USA without our two shih tzus by our side! When we began shopping for an RV we made sure to consider which layouts and floor plans would be most suitable for two dogs.
No matter how you are traveling, it can be super rewarding to bring your pet along. But it will take some extra planning and consideration to make sure they are staying safe, healthy, and comfortable while on the road. Don't get discouraged – there are tons of animal companion resources to get you started. Our puppies have visited ten national parks, put their paws in both the Atlantic and Pacific Oceans, and even enjoyed a couple weeks in Las Vegas!
Pet Safety While on the Road
Before we dive into the fun stuff – first things first. Let's talk safety.
If you are an RV traveler wanting to bring your dogs on your adventures, it's first of all essential to remember that your RV is a vehicle. Even the biggest RVs on the market (like our behemoth fifth-wheel) are still vehicles. Why is this important? Just like you'd never leave an animal in a car unattended, without paying careful attention to the temperature, it's the same for RVs. The thin insulation in campers means that they heat up quickly in the sun and get cold quickly when the temperatures drop.
Temperature Monitoring
One way we ensure the dogs are staying at a safe temperature when they are home alone in the RV is by using a wifi temperature and humidity sensor. There are a variety of devices to choose from, but we prefer the TempStick. The sensor (which stays mounted inside of the RV) connects to an app on our cellphones. The app sends us alerts when the inside temperature of the RV begins to rise or fall to an unsafe level – based on settings that you completely control. The peace of mind is great for when we want to go out to eat or go on a hike without the pups.
Pet Cameras
If you're a worried dog mom like me, or if you have a mischievous pet, you may also want to consider a pet camera. A camera inside the RV that connects to your phone allows you to spy on your animals 24/7, to ensure everyone is safe and happy. Some even allow you to speak to your dog via the app. Maybe you'll need to remind them to get off of the couch while you're away!
Keep the Tow Vehicle Stocked
Don't forget about your tow vehicle or truck when you are planning your travels with dogs. We make sure our truck is always fully stocked with a few key items:
Water
Collapsible water dish
Treats
A comfy soft crate with blankets and toys
Extra leashes
Towels (for wet paws!)
Poop bags
Having these items along with you is another way to ensure your dog is safe and happy while along for the ride.
Proper Pup Accommodations
Just like with the temperature sensor and pet camera, a little extra planning can make for a much more enjoyable trip with your dogs!
Check Campground Rules
If you are planning to stay in any campgrounds or RV parks with your dogs, it's a good idea to check ahead about pet policies. Some places have extra fees for dogs, or they limit the number of pets you can have, or the breed of dog. Still other parks have rules about what sort of fencing or enclosures you are allowed to put out on your site. Most RV parks require that you keep your dog leashed at all times, but sometimes they have an off-leash area where you can bring Fido to run around and socialize with neighbors.
Double Check Back-Up Accommodations
Motels, hotels, and rental properties additionally have pet rules and restrictions – so make sure you are reading the fine print carefully! Our hotel of choice for traveling with dogs is the La Quinta properties. Most of their hotels are being newly renovated and they have very dog-friendly policies. While lots of hotels charge an outrageous pet fee, we never pay more than $10/pet at La Quinta, and frequently there is no additional charge at all. We also appreciate the designated potty spaces and receptacles.
Locate a Nearby Animal Hospital
Pro Tip: When you arrive at a new campground or other accommodation make sure to locate the nearest 24/7 animal hospital in case of an emergency. It can be scary to be in a new place when your pet gets sick or injured. Doing your research ahead of time can save some in-the-moment panic.
Planning Activities
It's not only essential to plan ahead regarding your accommodations, but also in your recreational activities. Every state, town, park, etc. has different rules about where dogs are allowed to go and whether or not they may be off-leash. We love to visit national parks, and we especially love when we can bring the puppies, but it's not always easy.
In Acadia National Park dogs are welcome on nearly all 120 miles of hiking trails, but in Rocky Mountain National Park, for example, your dog is not even allowed to leave the parking lot. Know the rules before you go! We understand that these rules exist to protect both the land and our animals, but it can be a bummer if you were expecting to take them somewhere that they aren't actually allowed. It's even more of a bummer to get slammed with a fine or mandatory court appearance for innocently breaking a rule.
Here are a few of the most dog-friendly national parks in the US:
With some careful planning and a few extra precautions, traveling with your dogs can be fun and rewarding. Many dogs are naturally adventurous and will love joining you on your walks and hikes and scenic drives. Do you enjoy traveling with your pets? What are some of your favorite pet-friendly destinations in the USA?
About the authors: We are Danella and Allie of Wander Free and Queer. We live and travel full-time in our Fifth Wheel with our two dogs. We started a small crochet business on the road in 2018 and we enjoy creating products that bring visibility to the LGBTQ+ community. In our travels, we enjoy hiking, rafting and visiting National Parks.