Top Destinations
Last updated on July 18th, 2023. Originally published on July 11th, 2023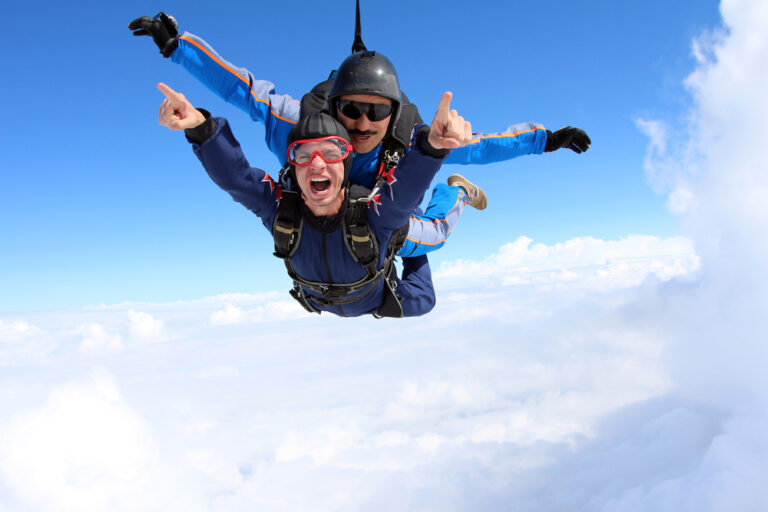 Salt Lake City, known for its stunning natural landscapes and proximity to the Wasatch Mountains, has become a hub for extreme sports enthusiasts. If you're a thrill-seeker, there's no better destination to satisfy your adventure cravings. In this guide, we'll explore the exhilarating activities available near Salt Lake City and show you why RV camping is the perfect accommodation choice for your extreme sports journey.
Mountain biking at Bonneville Shoreline Trail
Rock climbing at Big Cottonwood Canyon
White water rafting on the Provo River
Skydiving at Skydive Utah
Paragliding at Point of the Mountain
Mountain Biking at Bonneville Shoreline Trail
The Bonneville Shoreline Trail offers a thrilling and adventurous experience for mountain biking enthusiasts. With its stunning natural beauty and diverse terrain, this trail is a popular choice for riders of all skill levels.
Trail Difficulty and Access Points:
The Bonneville Shoreline Trail is known for its variety of difficulty levels, ranging from beginner-friendly sections to more challenging advanced trails.
For beginners, the lower sections of the trail near the foothills offer relatively smooth and well-maintained paths, with gradual inclines and minimal technical obstacles.
Intermediate riders can explore the middle sections of the trail, which feature moderate climbs, rocky terrain, and occasional technical sections.
Advanced riders seeking a true adrenaline rush can tackle the upper sections of the trail, where steep descents, narrow singletracks, and technical rock gardens await.
The trail is easily accessible from several points, including City Creek Canyon, Memory Grove Park, and multiple parking areas along the Bonneville Shoreline Trail Road.
Trail Length and Elevation Gain:
The Bonneville Shoreline Trail stretches across approximately 100 miles, providing ample opportunities for long rides and exciting adventures.
Depending on the specific segment chosen, riders can opt for shorter out-and-back rides or plan for longer point-to-point journeys.
One popular option is to start at Dry Creek Trailhead and ride south towards Panorama Point, enjoying a challenging 15-mile ride with a cumulative elevation gain of around 2,000 feet.
Another option is to explore the City Creek to Emigration Canyon segment, covering around 13 miles with an elevation gain of approximately 1,400 feet.
Riders can consult trail maps or utilize GPS devices to determine the length and elevation profiles of their desired rides.
Trail Amenities and Safety Considerations:
Along the Bonneville Shoreline Trail, riders can find convenient amenities such as water fountains, restrooms, and picnic areas at various points.
It is highly recommended to bring a sufficient water supply, energy snacks, and essential tools for trailside repairs, as some sections might be remote and lacking in services.
Mountain bikers are advised to wear appropriate safety gear, including helmets, knee pads, and gloves, to mitigate the risk of injuries in case of falls or accidents.
Additionally, riders should be aware of other trail users, such as hikers and runners, and practice trail etiquette by yielding when necessary and keeping speed under control.
Checking weather conditions before embarking on a ride is crucial, as the trail can become muddy and slippery after rain, affecting traction and overall safety.
The Bonneville Shoreline Trail offers a wide range of biking experiences, from leisurely rides to challenging technical sections. With the right preparation, riders can fully enjoy the spectacular views and exhilarating thrills this trail has to offer.
Rock Climbing at Big Cottonwood Canyon
For those with a penchant for vertical challenges, Big Cottonwood Canyon offers an array of thrilling rock climbing opportunities. From beginner-friendly routes to more advanced ascents, climbers of all levels can find their perfect challenge among the. Feel the rush as you conquer the rugged granite cliffs and take in the breathtaking views from the top.
Route Selection and Difficulty: Before heading out to Big Cottonwood Canyon, it's essential to research and select the routes that suit your climbing abilities. The canyon offers a wide range of routes, from beginner-friendly to expert-level climbs. Some popular routes include Crescent Crack (5.9), S-Curves (5.10a), and Pentapitch (5.8). Additionally, be aware that Big Cottonwood Canyon is known for its trad climbing, so make sure you have the necessary gear and experience if you intend to climb these types of routes.
Access and Parking: Big Cottonwood Canyon is easily accessible from Salt Lake City, located just 30 minutes away. To reach the climbing areas, drive up Big Cottonwood Canyon Road until you reach your desired location. Several parking areas are available along the main road, but they tend to fill up quickly, especially during peak climbing seasons. It is advisable to arrive early in the morning or on weekdays to secure parking. Alternatively, consider carpooling with fellow climbers to reduce the number of vehicles and ease the parking situation.
Amenities and Safety: While rock climbing in Big Cottonwood Canyon, it is essential to prioritize safety and be adequately prepared. The area is wild and rugged, so ensure you have all the necessary safety gear, including helmets, harnesses, and ropes. Additionally, pay attention to changing weather conditions and be prepared for sudden changes in temperature, precipitation, and wind. Big Cottonwood Canyon does not have many amenities, so pack enough water, snacks, and sunscreen for your climbing day. Restrooms can be found at the trailheads but may be limited; plan accordingly before your visit.
Big Cottonwood Canyon offers rock climbers a fantastic range of routes and challenges. With careful route selection, proper access planning, and a focus on safety and amenities, you can have an enjoyable and memorable rock climbing experience in this breathtaking Utah destination.
But extreme sports aren't limited to climbing alone. Big Cottonwood Canyon is also home to scenic spots for non-climbing activities. Plan a peaceful hike to appreciate the beauty of the area or enjoy a leisurely picnic by the tranquil streams.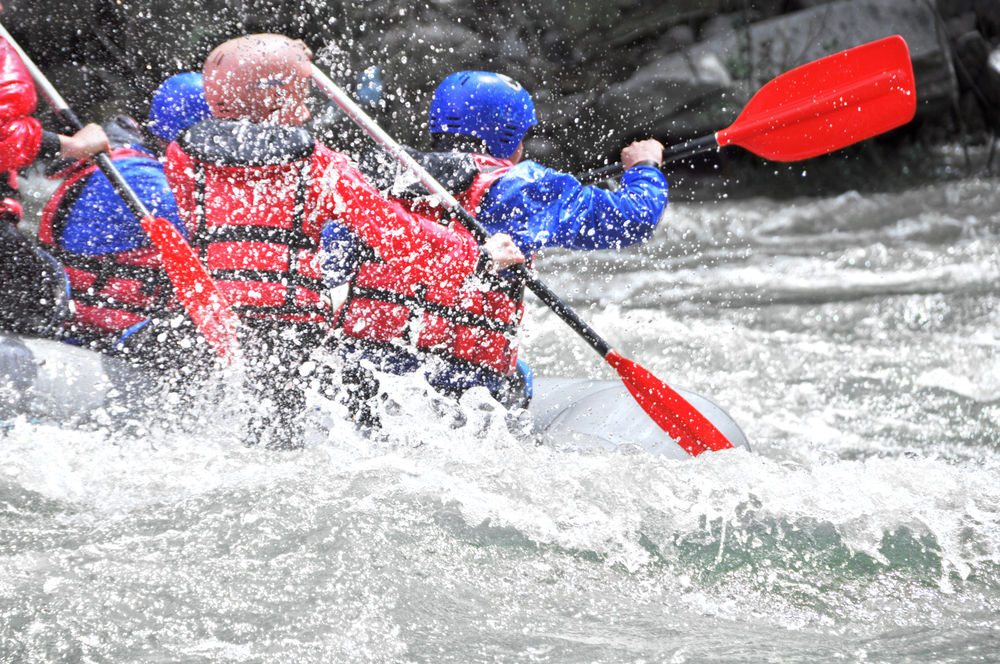 White Water Rafting on the Provo River
Prepare yourself for an exhilarating ride as you conquer the rapids of the Provo River through white water rafting. Feel the adrenaline surge as you navigate through twists and turns, battling the roaring currents. This heart-pounding adventure is sure to make memories that will last a lifetime.
Rafting Options:
Depending on your experience and preference, there are different sections of the Provo River suitable for white water rafting. The most popular section is the Upper Provo, which offers exhilarating class III and IV rapids for a more challenging ride. If you're a beginner or want a milder experience, the Lower Provo section is ideal, featuring class I and II rapids with calmer stretches for a more leisurely journey.
It's important to note that white water rafting on the Provo River requires a permit. Make sure to obtain the necessary permits beforehand through the local rafting authority or licensed outfitters who can guide and assist you throughout your trip.
Safety Considerations:
Safety should always be a priority when white water rafting. Make sure to wear a life jacket and helmet provided by your rafting outfitter. These safety gears are designed to keep you safe in case of any unexpected accidents or emergencies.
Choose a certified and experienced rafting guide who will provide you with a comprehensive safety briefing before setting off. They will teach you how to paddle, maneuver the raft, and handle potential hazards on the river.
Keep in mind that white water rafting can be physically demanding. It's essential to be in good health and reasonably fit to ensure an enjoyable experience. If you have any health concerns or medical conditions, consult with your rafting outfitter beforehand to assess if white water rafting is suitable for you.
Required Equipment and Logistics:
Typically, when you book a white water rafting trip on the Provo River, all necessary equipment and logistics are provided. These include rafts, paddles, helmets, life jackets, and a professional guide. You may want to check with your outfitter if they provide wetsuits and booties, especially if you're rafting during colder seasons.
As for logistics, most rafting trips on the Provo River start from designated put-in points and end at specific take-out locations. Transportation is often arranged from the take-out point back to the starting location or parking area. Your outfitter will provide detailed instructions on where to meet, what to bring, and what to expect during the trip.
It's recommended to bring a change of clothes, water shoes or sandals with straps, sunscreen, a hat, and sunglasses. Don't forget to bring water or other beverages to stay hydrated throughout the adventure. Waterproof cameras are also desirable to capture your thrilling moments on the rapids!
Remember to thoroughly research and choose a reputable outfitter for your Provo River white water rafting experience. They will help ensure your safety, provide the necessary equipment, and guide you through an unforgettable adventure on the river.
Some popular rapid options based on difficulty level:
| | | |
| --- | --- | --- |
| Rapid Name | Difficulty Level | Description |
| Big Drop | Class III | A thrilling plunging rapid with swirling currents and exhilarating waves |
| Canyon Flow | Class II | A moderate rapid with gentle waves, perfect for novice rafters and families |
| Devil's Gulch | Class V | An intense rapid with strong currents and challenging obstacles, recommended for experienced rafters only |
| Rock Slide | Class IV | A rollicking rapid with large boulders and powerful waves, providing a challenging yet rewarding ride |
So, whether you're a dedicated thrill-seeker or simply seeking unique outdoor adventure activitites, white water rafting on the Provo River is an opportunity to create lifelong memories and embrace the untamed beauty of nature. Take the plunge and embark on an exhilarating journey through the rapids of Salt Lake City's Provo River.
In addition to white water rafting, the Provo River area offers nearby attractions and points of interest for additional entertainment. You can explore hiking trails, go fishing, or simply relax and take in the natural beauty. By choosing RV camping near the Provo River, you'll have easy access to these thrilling water adventures and nearby attractions.
Skydiving at Skydive Utah
Those seeking the ultimate adrenaline rush should not miss out on skydiving at Skydive Utah. Plunge into the sky from incredible heights, feel the rush of freefall, and marvel at the breathtaking views below. This unforgettable experience is a must for any thrill-seeker visiting Salt Lake City.
Skydive Utah offers an exhilarating skydiving experience that guarantees an unforgettable adventure for thrill-seekers. Whether you are a novice or an experienced skydiver, they cater to all skill levels and provide a safe and thrilling environment.
Registration and Safety Briefing:
To start your skydiving experience, visit the Skydive Utah website or call their booking office to schedule your jump. Choose a date and time that suits you best.
Upon arrival at the drop zone, check-in at the registration desk, where you will fill out necessary paperwork and sign any required waivers.
After completing the registration process, you will receive a safety briefing from the highly experienced and trained instructors at Skydive Utah. They will guide you through all safety protocols and answer any questions you may have.
Make sure to wear comfortable clothing and closed-toe shoes, as you will be provided with a jumpsuit and all necessary safety gear.
Pre-Flight Preparation and Boarding:
Once you have completed the safety briefing, you will proceed to the pre-flight preparation area. Here, your instructor will provide you with a jumpsuit, goggles, and a helmet.
After getting geared up, you will receive a detailed training session on body positioning, canopy control, and emergency procedures. This training will help ensure a safe and enjoyable skydiving experience.
Once you have completed the training session, you will board the aircraft with your group and instructor. The aircraft will take you to your desired altitude, offering stunning views of the surrounding landscapes during the ascent.
The Skydive:
When you reach the desired altitude, it's time for the adrenaline-pumping moment: the jump! You will be securely connected to your instructor, who will guide you throughout the entire skydive.
As you exit the aircraft, you will experience an exhilarating freefall, reaching speeds of up to 120 mph. This unforgettable rush lasts for approximately 60 seconds.
At the appropriate altitude, your instructor will deploy the parachute, and you will experience a serene and scenic canopy ride. Take in breathtaking views of the Utah landscape as you gently glide back to earth.
Upon landing, your instructor will assist you in safely reaching the landing area, where you can reunite with friends and family who joined you for this exhilarating adventure.
Skydive Utah ensures a safe and thrilling skydiving experience for enthusiasts of all levels. From registration to landing, their dedicated team of instructors and staff go above and beyond to make your skydive a memorable one. So, prepare to take the leap and enjoy the adrenaline rush of a lifetime with Skydive Utah!
While at Skydive Utah, take some time to explore other notable attractions and landmarks nearby. You can visit local museums, enjoy delicious cuisine, or even take a scenic helicopter ride to experience the area from a different perspective. For a comfortable and hassle-free stay, consider RV camping options near Skydive Utah.
Paragliding at Point of the Mountain
Discover the thrill of flying like a bird as you embark on a paragliding adventure at Point of the Mountain. Feel the wind beneath your wings and enjoy panoramic views of the surrounding landscapes. This unique activity will give you an unparalleled perspective of Salt Lake City and its natural wonders.
Paragliding at Point of the Mountain in Salt Lake City is an exhilarating experience for adventure enthusiasts. With its unique geography and consistent thermals, this popular spot offers an ideal location for paragliding flights.
Geographical Overview
Situated in Draper, Utah, Point of the Mountain is a prominent geological formation that overlooks the Salt Lake Valley. This stunning natural landmark consists of two distinct areas, North and South Sides, each with its own takeoff and landing zones.
Ideal Conditions
The Point of the Mountain boasts remarkable microclimates favorable for paragliding. The convergence of winds, generated by cool air coming off the Great Salt Lake and warm air rising from the valley below, creates superb thermals that allow pilots to soar high and cover long distances.
Recreational Opportunities
Paragliding enthusiasts from around the world flock to Point of the Mountain to indulge in this thrilling aerial sport. The site attracts both beginners and experienced pilots due to its unique wind patterns and the availability of proficient instructors and schools. Novice pilots can enroll in training programs, while experienced flyers can join others to conquer the skies.
Safety Precautions
Safety is paramount in any paragliding adventure, and Point of the Mountain emphasizes this with strict regulations and guidelines. Pilots are required to have appropriate training and certification. It is crucial to adhere to wind limits, proper gear inspection, and maintain situational awareness to ensure a safe and enjoyable experience.
While paragliding is the main attraction, there are also nearby activities and attractions for non-paragliding enthusiasts. You can explore hiking trails, go bird watching, or visit nearby parks for a relaxing day in nature. Enhance your paragliding experience by choosing RV camping near Point of the Mountain, where you can easily access the launch sites and enjoy the comforts of your own temporary home.
Paragliding at Point of the Mountain is an unforgettable experience that combines the thrill of flight with breathtaking natural beauty. Whether you are a seasoned pilot or a first-time flyer, this location offers the perfect playground for soaring through the picturesque landscapes of Salt Lake City. For more information, visit the official Point of the Mountain Flight Park website.Salt Lake City is a thrill-seeker's paradise, offering a wide range of extreme sports adventures that cater to every taste. Whether you're a mountain biking enthusiast, a rock climbing aficionado, a white water rafting daredevil, a skydiving enthusiast, or a paragliding lover, this city has it all. And for the ultimate convenience, RV camping near these adventure hotspots allows you to maximize your time in the great outdoors and create unforgettable memories. So, what are you waiting for? Book an RV rental, embark on an epic extreme sports journey, and experience the excitement the outdoor pursuits of Salt Lake City have to offer.