Top Destinations
November 15th, 2023
If you enjoy kayaking or canoeing and are looking for new places to explore as you paddle, Dallas might just be the place for you. We know, this may not be the first place that comes to mind when thinking about paddle sports, but there are actually a good number of lakes and rivers in the area, giving you plenty of bodies of water to explore in your kayak or canoe.
In this article we will explore some of the best places to go paddling in the Dallas area. The lakes and rivers listed below offer excellent opportunities for water adventures and are close enough to the city that you won't have to drive too far for your day of fun in nature.
Alternatively, you could completely immerse yourself in the natural beauty that surrounds the city of Dallas by traveling via RV. This allows you to park near the best bodies of water for canoeing and kayaking, and makes it easy to relax once you finish your fun day out on the water.
Ready to start planning your paddling trip to the Dallas area? Read on!
Preparing for Your RV and Paddling Adventure
Of course, if you're going to take an RV to go kayaking and canoeing in Dallas, you will need an RV to take with you. Fortunately, RVshare has tons of awesome RV options to choose from in the Dallas area. Whether you prefer a big RV or a small one, a driveable or a towable, delivery or pick-up, we have something for you.
Once you have the perfect RV picked out, you will need to figure out what you need to pack. This basic RV packing list is a good place to start, but you'll need to add your paddling gear (and any other extras you may need) to it. This should include your kayak or canoe, paddles, personal flotation devices, a bilge pump, a dry bag, a towline, a headlamp (in case you end up being out after dusk), and a signaling whistle.
Next on the to-do list: planning your paddling itinerary. Make sure this includes plenty of fun paddling as well as both downtime and some time to explore the city and all it has to offer.
Not sure what sorts of paddling spots to add to your itinerary? Read on to learn about our favorites.
The Best Kayaking and Canoeing Spots in Dallas
Below, we've put together a list of our favorite places for canoeing and kayaking in Dallas. Pick and choose from these awesome lakes and scenic waterways and you really can't go wrong.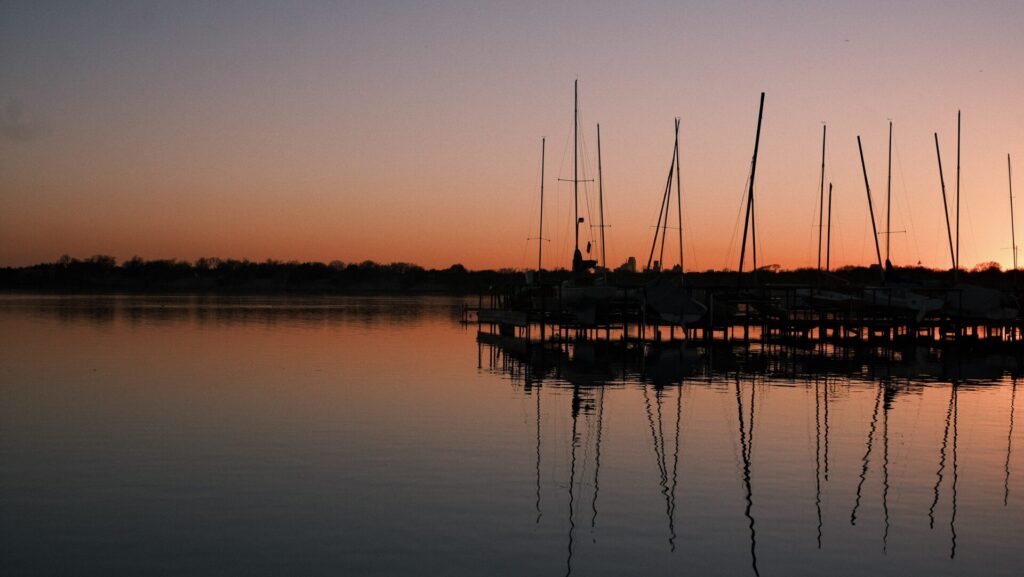 White Rock Lake
Located just 20 minutes northeast of Dallas, White Rock Lake is a wonderful place to escape the hustle and bustle of the city, and into the tranquility offered by still waters.
This lake offers boat launches near the TP Hill Boat House on the southwest side of the lake, at the boat launching lot on the westside of the lake, and near the White Rock Boat Club on the northeast side of the lake. You can access the water from several points including Emerald Isle and Garland Rd. and Lake Highlands and Buckner Blvd.
As you enjoy the serenity of the lake, be sure to keep an eye out for the many critters that call this lake and the area surrounding it home. Rabbits, red foxes, turtles, and pelicans are just some of the amazing animals you might glimpse as you paddle.
White Rock Lake is definitely a wonderful place to paddle, but it's also possible to paddle up White Rock Creek a little way. Either way, you're sure to appreciate the rental kayaks and stand-up paddle boards offered by Dallas Paddle near the aforementioned northwest boat launch.
Rent an RV near White Rock Lake!
Trinity River
Trinity River is another fantastic pick for canoeing and kayaking in Dallas. This river plays host to the Dallas Trinity Paddling Trail, which is our favorite place to paddle the river. This 10.2-mile trail features excellent views of downtown Dallas, as well as a beautiful tree-lined section where you will likely see local animals wandering and grazing.
Need a rental kayak in order to paddle Trinity River? For this, we recommend heading to Trinity River Kayak Co. in Coppell. This company rents out kayaks and takes renters on various River Adventures. Fishing is allowed during these adventures and dogs can ride along.
Rent an RV near Trinity River!
Joe Pool Lake
Joe Pool Lake is yet another fantastic place to go paddling while in the Dallas area. This lovely lake can be accessed from several different parks which are scattered around the shoreline, making it easy to visit no matter which direction you're coming from. These parks include: Cedar Hill State Park, Britton Park, Loyd Park, and Lynn Creek Marina.
The Joe Pool Lake and Walnut Creek Paddling Trail is one of the best places to paddle near Dallas and can be accessed from the Loyd Park Canoe Launch. This park plays host to Loyd Park Kayak Rentals, meaning you can rent rather than lugging your own kayak along. We also appreciate that Loyd Park offers RV camping, making it easy to hop out of bed in the morning and be on the water in no time.
We also really love accessing the lake from Cedar Hill State Park. This allows paddlers to rent from the in-park rental facility: Paddle EZ. Like Loyd Park, the state park also offers RV camping, making it an incredibly convenient option for RVers.
Rent an RV near Joe Pool Lake!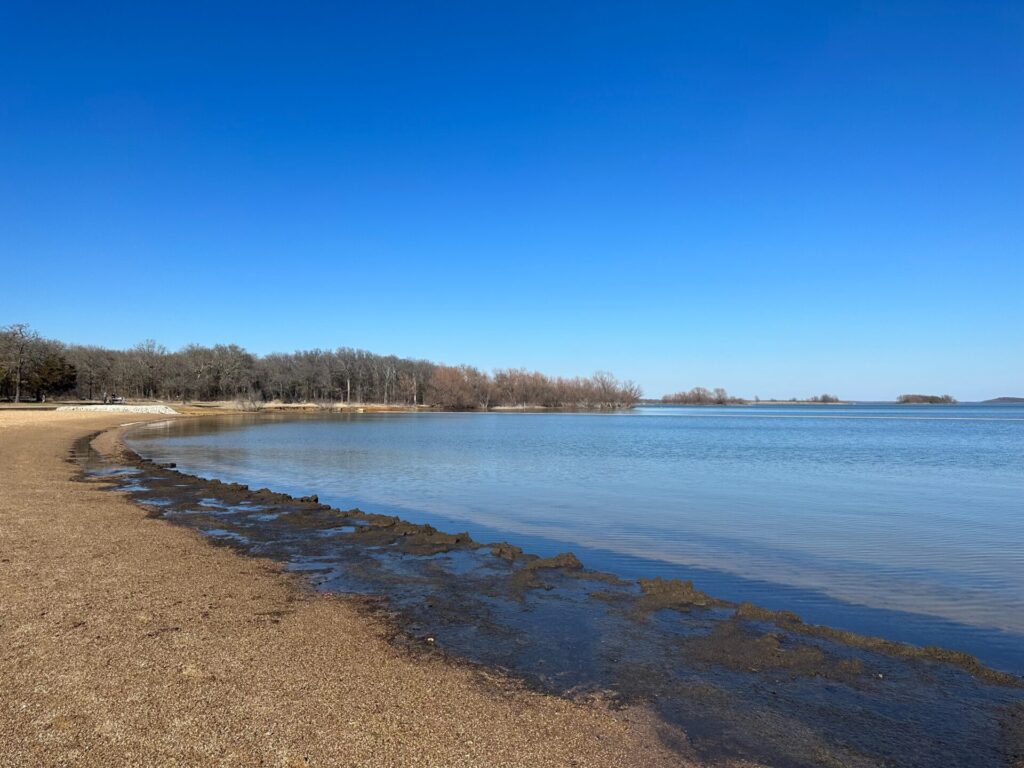 Ray Roberts Lake
Located about an hour north of Dallas, Ray Roberts Lake is a good option if you prefer to camp and paddle a little further from the busyness of the city. The lake is surrounded by natural beauty, meaning there are plenty of hiking and wildlife watching opportunities, and the water itself is calm and sparkling.
There are many access points around the lake. We especially love accessing the lake from the Isle Du Bois unit of Ray Roberts Lake State Park and following the Isle Du Bois Paddling Trail. The stretch from Jordan Park to FM 455 Bridge is also fantastic and offers plenty of opportunities for wildlife viewing, and more advanced paddlers might consider the 10-mile trip from Ray Roberts Marina to the Johnson Branch of the state park.
Rental kayaks can be found in several places around Ray Roberts Lake. Paddle EZ offers rentals in the Johnson Branch of Ray Roberts Lake State Park, and Lone Star Lodge and Marina in Pilot Point offers kayak rentals.
Those looking to park an RV near the lake should check out the camping options at Ray Roberts Lake State Park.
Rent an RV near Ray Roberts Lake!
Caddo Lake
Finally, we must mention Caddo Lake. Located near the oddly named town of Uncertain, TX, this lake features a huge number of paddling trails, many of which take you through the hauntingly beautiful Big Cypress Bayou. These routes are very well marked and easy to navigate, and the calm waters make paddling the lake and bayou a cinch.
Some of our favorite Caddo Lake trails include the 4.9-mile Old Folks Playground loop trail, the 4.6-mile Turtle Shell loop trail, and the 8.8-mile Hell's Half Acre. That last trail is located in Caddo Lake State Park. This is convenient because the state park offers both canoe rentals and RV camping.
Another fantastic place to camp while exploring Caddo Lake? Backwater Jack's RV Park. This campground provides access to three popular paddling trails as well as a wonderful camping experience.
Tips for RV Travelers with Kayaks and Canoes
Need even more paddling tips to ensure your trip goes off without a hitch? We have a few to offer! Keep these tips in mind as you plan and enjoy your Dallas getaway and it should be smooth sailing.
Securing your Watercraft for RV Travel
There are many ways to carry kayaks and canoes while traveling with an RV. You could of course use a vehicle rack and straps, and if you have such a rack already, this might be the way to go. There are also kayak and canoe racks made especially for RVs. Alternatively, you could choose to take inflatable kayaks in order to make storing and transporting the watercraft as easy as possible.
If you're renting an RV, check to see if the RV owner might have a rack (or even kayaks or canoes) available to add onto the rental. You could also see if the owner offers delivery, in which case the RV will be taken care of for you, so all you have to worry about is transporting the watercraft with your own vehicle.
Another option? Rent kayaks or canoes once you arrive. In many cases, these companies are located at the launch, meaning you won't even have to travel with the rentals!
Safety Precautions on the Water
Of course, you will want to make sure you are as safe as possible while kayaking or canoeing in Dallas (or anywhere else, for that matter). Be sure to keep the following precautions in mind to ensure your safety throughout your adventure:
Know your capabilities — if you're a beginner, plan a trip on calm, flat water and stay close to shore. Skip waters that are popular with power boats and look for those where other paddlers will likely be.
Bring safety gear — A personal flotation device should be worn properly at all times while on the water. You'll also want a whistle, a bilge pump, a spare paddle, a towline, and a headlamp. Some sort of communication device is also good to have.
Choose clothes wisely — Always assume you will be immersed in water and dress for it. If the water will be below 70 degrees (°F), a wet or dry suit is in order.
Take a buddy — Always have at least one friend go paddling with you and stay close to your group. This will ensure you have help should you run into trouble.
Keep an eye on the weather and conditions — Check the weather forecast and skip paddling on days that could be stormy. Learn about local hazards such as high winds, tricky currents, and unexpected swells, and avoid collisions by always giving large boats the right of way.
Create a float plan — before you head out, write down your plan for the trip, including who will be with you, where you will put in and take out, when you will launch and return, and what should be done if you're out past the planned return time. Leave this with someone who will notice if you don't return on time. Also put copies in your vehicle and your kayak or canoe.
Storing and Maintaining Your Paddling Gear
Once you've finished paddling for the day, be sure to rinse your kayak or canoe off with water and a bit of vinegar. Since you'll be camping, you won't be able to store your watercraft in a garage or shed. Instead, use a tarp or cockpit cover to cover the kayak or push it under the RV between paddling sessions. It's best to avoid storing the kayak or canoe on top of your car if you aren't actively transporting it, as the hot sun can cause damage, especially when tight straps are involved.
As you can see, there are tons of awesome places to enjoy canoeing and kayaking in Dallas and the surrounding area. Whether you choose to stick to one body of water or hop from one to the next, we know you'll have an amazing time exploring these places through paddle sports.
Why not find the perfect RV rental in Dallas now so you can go out and have some water adventures as soon as possible?
This post contains affiliate links. RVshare may receive compensation if you make a purchase after clicking on a product or service link.