RV Parts & Accessories
May 10th, 2022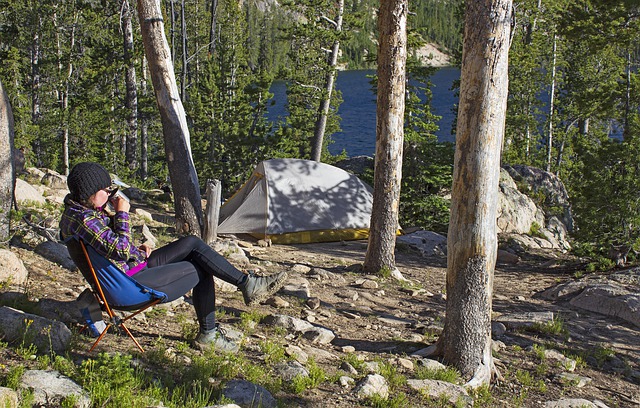 One of the best feelings after a long day of driving or exploring is heading back to camp and relaxing! Pull the chairs out under the RV awning, sit down with a snack and a drink, relax, and take in the scenery.
Best Seating Options for Camping
Of course, relaxing by your RV isn't the only time you'll need some comfy seating options! There are lots of times you'll need to pull up a seat, and lots of varieties of seats to choose from. If you're wondering what kinds of camp chairs you may want to pack for your next adventure, fear not – we have a full list of the best camper chairs for all of your sitting needs.
Chairs for the Campfire
You'll want some camping folding chairs for sitting around the campfire at night, grilling s'mores, and talking, of course! In fact, the best camping chairs can be used for several activities and will get plenty of use around camp. Let's take a look at some of the best camping chairs out there.
[lasso type="image" ref="alpha-camp-oversized-camping-folding-chair-heavy-duty-steel-frame-support-350-lbs-collapsible-padded-arm-chair-with-cup-holder-quad-lumbar-back-chair-portable-for-outdoor-indoor" id="197334″ link_id="59672″]
This chair gets great reviews – no wonder, because it's very roomy! No sitting precariously in your camp chair with this guy. The chair also has a cup holder and armrest, plus a side pocket so you don't need to worry about losing your phone. It's an easy folding camping chair that's a comfy place to rest while sitting around the fire.
[lasso type="image" ref="coleman-portable-camping-quad-chair-with-4-can-cooler" id="197340″ link_id="59673″]
This chair is more streamlined and with fewer frills than the ALPHA CAMP. However, it does have a 4-can cooler, so you can supply the drinks around the fire. It also has a side pocket and comes in several colors so you could get different colors for each family member.
[lasso type="image" ref="alps-mountaineering-getaway-mesh-chair-citrus" id="197344″ link_id="59674″]
This mesh chair is great for warm evenings by the fire since it lets air circulate so you won't overheat. The legs are sturdy steel, and the chair folds into a backpack so you can carry it around easily.
[lasso type="image" ref="kingcamp-folding-camping-directors-chair-portable-camping-chair-heavy-duty-with-side-table-mesh-back-for-outdoor-tailgating-sports-backpacking-fishing-beach-trip-picnic-lawn" id="197341″ link_id="59675″]
This is a hefty chair so you probably don't want to pack it in somewhere. However, you can easily get it from your RV to sit comfortably fireside at night. The director's chair has a durable steel frame and a breathable mesh seat. The armrests are padded and sturdy so you can use them to get up. It includes a built-in cup holder and a folding side table that's useful for holding s'mores supplies.
Chairs for Reading
Of course, you can use your campfire chair for a variety of other activities like reading or eating, but these reading chairs are a little comfier for relaxing with a good book. You don't necessarily want to recline around a campfire but when you're reading or chilling out, you definitely may.
[lasso type="image" ref="outdoor-living-suntime-camping-folding-portable-mesh-chair-with-removabel-footrest" id="197345″ link_id="59676″]
This chair reclines so you can put your feet up while you read or nap. It's lightweight and easily portable so you can move it around without a problem. It also has a detachable footrest for even more relaxation. The chair is made of durable steel and can hold up to 200 lbs. It also comes with a cup holder, a headrest, and a pocket for things like a wallet, phone, or a good book.
[lasso type="image" ref="phi-villa-oversize-xl-padded-zero-gravity-lounge-chair-wide-armrest-adjustable-recliner-with-cup-holder-support-400-lbs-green-blue" id="197346″ link_id="59677″]
Zero gravity chairs are a whole lot of fun to sit in, and comfy, too! They feature padded seats that are suspended by bungee cords which make them extra comfortable and durable. They also have a cup holder and tray to conveniently hold drinks and snacks (or your book). The chairs can support up to 400 lbs and the chairs are extra long to accommodate those over 6 feet tall.
Chairs for Backpacking
If you're looking for backpacking chairs, you're probably going for as much comfort as you can get with the least amount of space and weight. Backpacking chairs are going to be much more streamlined and small. They won't offer as much relaxation as a reclining reading chair, but they're better than sitting on the ground!
[lasso type="image" ref="cliq-camping-chair-most-funded-portable-chair-in-crowdfunding-history-bottle-sized-compact-outdoor-chair-sets-up-in-5-seconds-supports-300lbs-aircraft-grade-aluminum" id="197348″ link_id="59678″]
This little camp chair folds down to the size of a bottle but can be set up in five seconds. It's tip-proof, so even though it looks small you won't topple over. This chair can support up to 300 lbs.
[lasso type="image" ref="trekology-2pc-yizi-go-backpacking-camping-chairs-lightweight-portable-camping-chair-foldable-chair-outdoor-chair-kids-camp-chair-camping-chairs-2-pack-for-adults-folding-chairs-outside-chairs" id="197349″ link_id="59679″]
This is a lightweight chair with mesh panels so it stays cool in hot weather. It features lower back support – great after a day of carrying all your stuff! The chair weighs only 2 lbs so it won't overload your pack on the trail. This set comes with two chairs.
Beach Chairs
If you're camping at the beach, you may want some beach chairs for lounging while gazing at the waves. Here are a few great options.
[lasso type="image" ref="kingcamp-low-sling-beach-chairsfolding-low-high-mesh-reclining-back-low-seat-beach-chair-for-adults-with-headrestcup-holdercarry-bag-padded-armrest-for-sand-camping-lawn-concert-travel-festival" id="197350″ link_id="59680″]
These wide, low beach chairs have a mesh back so they don't get soaked when someone sits in them after a swim. They have a cup holder, so you can recline with a favorite drink. They're also lightweight and come with a carrying bag so they're easy to transport from a car to the shore.
[lasso type="image" ref="tommy-bahama-5-position-classic-lay-flat-folding-backpack-beach-chair" id="197351″ link_id="59681″]
This beach chair has five seating positions, including one that is totally flat for laying down. There's a towel bar on the back and a cup holder for your drink. A mesh pocket makes a good spot for your cell phone, keys, and other small items. The chair folds down and can be carried like a backpack.
[lasso type="image" ref="sport-brella-beach-chair-with-upf-50-adjustable-umbrella" id="197352″ link_id="59682″]
This handy chair comes with its own umbrella! It also has padded armrests for comfort, plus a cupholder. It folds up easily and comes with a drawstring bag so it's easy to carry to and from the beach.
Chairs for Kids
Kids will want their own kids camping chairs, too! In fact, getting kids their own camping chairs helps you out as well because it keeps them from stealing yours. Here are a few great kids' camping chairs.

[lasso type="image" ref="emily-rose-kids-toddler-quad-chair-toddler-folding-chair-with-child-safety-lock-cup-holder-and-carry-case-matching-doll-chair-not-included" id="197353″ link_id="59683″]

This fun flowery chair is great for kids from two to six years old! It's durable, so it will stand up to the wear and tear of kids, and it comes with a matching carrying case with a handle. It's also easy to clean, which is important when you mix kids and camping! The chair includes a cup holder so sippy cups won't get knocked over on the ground.

[lasso type="image" ref="coleman-kids-quad-chair" id="197354″ link_id="59684″]

The Coleman kids' chair features a fun pattern that even features a glow-in-the-dark design. There's a mesh cup holder for drinks and the steel frame locks into place, making the chair safer to sit in. It supports up to 160 lbs and has a roomy seat and height so it will grow with kids.

[lasso type="image" ref="redmon-umbrella-kids-camping-chair-with-matching-shoulder-bag-royal-blue" id="197355″ link_id="59685″]

This folding camp chair includes an umbrella to protect kids' delicate skin from the sun. It's recommended for kids from 2-5 years old, and has a matching drawstring bag with a shoulder strap for carrying the chair. The chair also locks in place to keep it from closing accidentally. It also has a cup holder.

Hopefully, this list gives you some great options as you consider the camping chairs you and your family need for your next camping trip so you'll be sitting pretty!

This post contains affiliate links. RVshare may receive compensation if you make a purchase after clicking on a product link.

[similar_ai_related]