Industry News
Last updated on May 23rd, 2023. Originally published on April 26th, 2023
We're all well aware of how important it is to take care of our environment. After all, we want future generations of campers to be able to enjoy all the beauty Mother Earth has to offer just as much as we do, right? Unfortunately, RV camping isn't always a very green option, leading many campers to seek out the most eco friendly RV options they can find.
The good news? There are eco friendly RV choices out there, and more of them are becoming available each year. Not only that, but there are ways to make your current RV a little bit kinder to the environment.
In this article, we will explore the most eco friendly RV makes and models currently on the market, discuss the future of green RVs, and even give some tips on how you can make your RV camping adventures a bit better for the earth. Let's dive in!
What Makes an RV Considered Green?
First, let's take a minute to talk about what exactly makes one RV greener than another. There are actually several different things that might make an RV eco friendly.
It might be made with recycled materials, be extra aerodynamic and lightweight, include energy efficient heating and air systems, or have factory installed solar panels. Manufacturers have been working to ensure they are incorporating these things into their builds to create RVs that are better for the environment.
These efforts have been noted by TRA Certification Inc, who have actually developed a system that ranks RVs on how eco friendly they are based on four categories.
These include:
Resource efficiency
Energy efficiency
Water efficiency
Indoor air quality
The "Green Performance" rankings are Emerald (highest rank), Gold, Silver, and Bronze. In order to receive an Emerald ranking, an RV must rank at an Emerald level in all four of the categories above. Otherwise, the RV as a whole will be ranked at the lowest level that any one category is ranked at.
The TRA's Green Performance rankings are helpful for consumers, as these rankings make it easy to make environmentally conscious choices while RV shopping.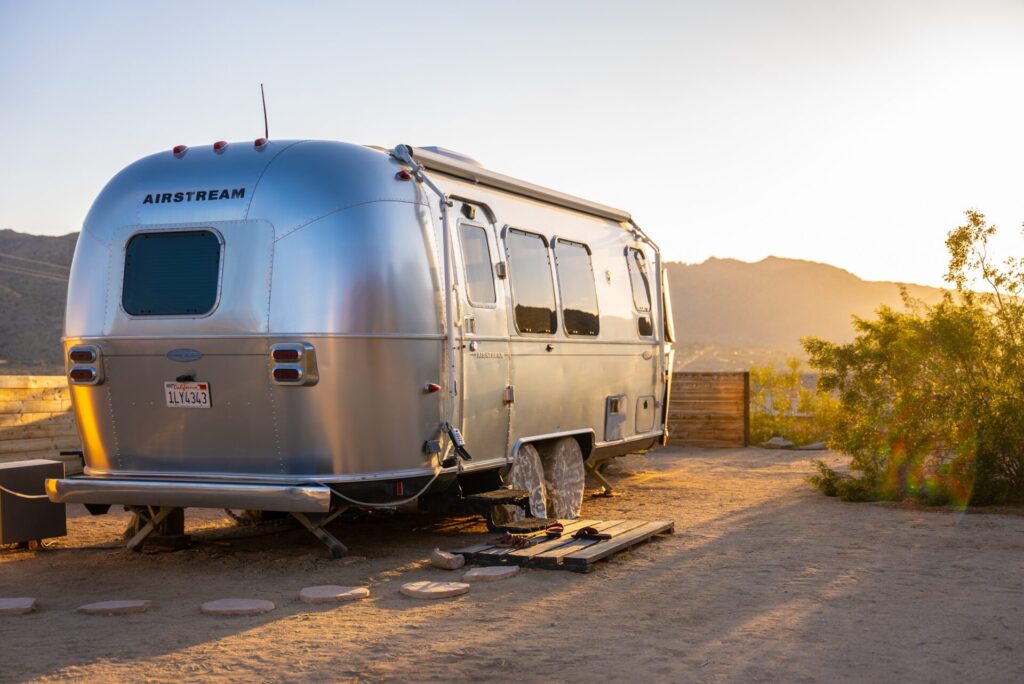 Green RV Makes and Models
Wondering which RVs the TRA has ranked highest on the Green Performance scale in recent times? The campers listed below all received an Emerald ranking, making them excellent choices for those who want to do their part to help the planet.
Coachmen Apex Ultra-Light
The Coachmen Apex Ultra-Light earned itself an Emerald ranking from the TRA. Much of the trailer is made with recycled materials and the manufacturing process includes modern techniques that help minimize waste. The RV includes factory installed solar panels as well as LED lights throughout the rig.
Lance 850 Truck Camper
Lance actually earned an Emerald rating on their entire lineup! This is pretty impressive considering how many trailers and truck campers the company makes.
One great option is the lovely little Lance 850 Truck camper, which is built using recycled materials. LED lighting helps conserve electricity and pre-wired solar connections make it easy for users to harness the power of the sun. The water system is also greener than most, using low-flow components throughout the camper.
Airstream Atlas Van
Another manufacturer that earned Emerald rankings on its entire fleet of RVs? Airstream. This includes all of Airstream's shiny and sleek trailers, as well as their vans. We especially love how 'green' the Airstream Atlas Van is.
You see, the Airstream vans are made with very little waste and they use many recycled materials. Factory installed solar panels, lithium batteries, a ductless HVAC system, and a rainwater recycling system are all other awesome eco friendly features.
RVs of the Future? Electric RV (EV) Options
The RVs above are all fantastic, but eco friendly RV options are about to get even better. An example of what we're going to start seeing in the very near future? The Lightship RV.
This incredible all-electric travel trailer is an absolute dream come true. The trailer is built for efficiency. It is three times more aerodynamic than traditional travel trailers and it actually propels itself, meaning you will lose very little (if any) MPG if towing with a gas vehicle. Meanwhile, those towing with an RV will experience near-zero-range loss.
This rig also includes 3 kW of solar power and plenty of battery storage to power all of its electric appliances for a full week of off-grid camping.
Unfortunately, production of Lightship RV isn't set to begin until late 2024, but you can preorder your trailer now. Additionally, we expect to see many more similar products appear on the market in the next 5–10 years.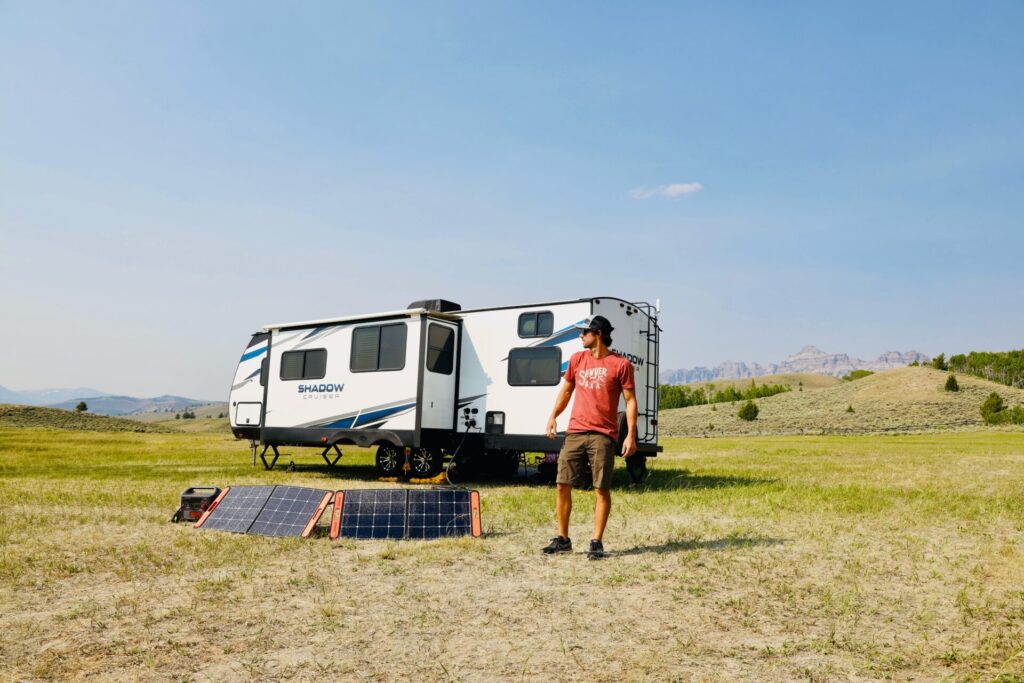 How to Live More Green in an RV
Maybe you want to be a more eco-conscious RVer but can't afford to buy a brand new, green RV. Not to worry! There are plenty of ways you can live a greener lifestyle while still enjoying RV camping, even if all you have is a traditional RV.
Here are our tips for an eco friendly RV lifestyle.
Install a Solar Power System
One huge step you can take toward making your RV greener is to install a solar power system. Most RVs have enough roof space for at least a handful of solar panels. These, combined with a bank of lithium batteries and an inverter, can power your whole RV for quite some time without the use of grid power or a generator.
Switch to LED Lighting
LED lights will help significantly reduce the amount of power you use on lighting up your rig. Switching to LED lighting is actually as simple as changing to LED bulbs, making this a very easy change to make.
Change to Energy Efficient Appliances
You can also save power (as well as propane in many cases) by switching to energy efficient electric appliances that can be run on your solar power system. Yes, this can get expensive, but it's also totally okay to replace one appliance at a time until your rig is totally energy efficient.
Improve Insulation
It's no secret that RVs aren't exactly well insulated. Find ways to improve insulation so the heater and A/C run less often. This might include adding insulating film to the windows, covering vents and skylights with special pillows, and adding skirting to the bottom of the RV when possible.
Install Low-Flow Water Fixtures
Reduce the amount of water you use when camping by installing low-flow water fixtures in your sinks and shower. These give you a more eco friendly RV, yes, but they also help extend the amount of time you can spend boondocking by stretching your fresh water reserves.
There you have it, the most eco friendly RVs currently on the market, a peek at what the future of RVing holds, as well as some tips for becoming a greener RV camper. Now you can get out there and enjoy nature while also helping preserve it. What could be better than that?