RV Owners
February 13th, 2023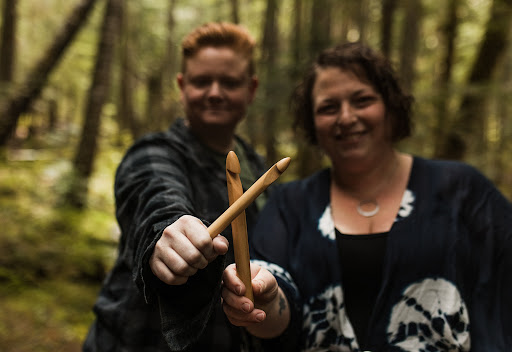 Allie turned to me and said, "I want to start a small business." We were sitting on the shallow gray sofa together, after only about two months of learning how to live full-time in our new RV. Videos and blogs can only tell you so much when it comes to the day-to-day tasks of living in a tiny rolling home and we were still catching our stride!
Before she even finished her sentence, I quickly jumped to my feet and got a notebook from our small desk drawer. We began writing down thoughts and ideas about how we could begin a small business while traveling full-time. We have no past education, background or experience in business, but we had some solid dreams we wanted to pursue. We knew we could learn to do just about anything, especially since we were navigating the challenges of living and traveling in an RV together!
When we began Wander Free and Queer, we knew we wanted our business to represent who we are and what we were doing. We consider ourselves a crafty, queer couple who are traveling the country in our RV, visiting different landscapes and getting outside to explore nature through hiking trails, taking scenic drives, and rafting rivers. When we aren't out adventuring, we are lounging in our home on wheels, crocheting everything from rainbow keychains to cozy cowls.
How could we bring all of these parts of ourselves together?
We figured we could integrate our love for RV living, passion for visibility and representation in the LGBTQ+ community, as well as handcrafting crochet products that are travel-inspired. We started our Etsy shop in 2018.
 We went to a few local farmers markets during that year and sold our original Wanderer Headband in over 20 colors. We spent our first winter learning how to photograph, market, and package items that would ship all over the country!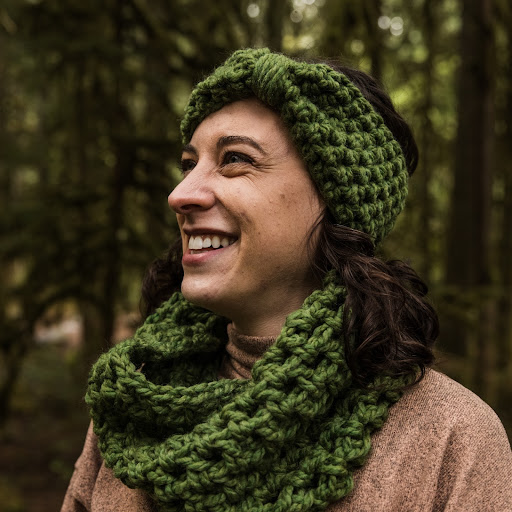 We left the east coast in late 2018 and traveled to Florida for our first warm winter in our RV. We attended a few local markets and fairs while expanding our crochet items and putting together a few informal get togethers for LGBTQ+ RVers. We began developing our first little rainbow that would become one of our staple items over the years. We wanted an item that would provide LGBTQ+ representation, but would also be small enough to fit into vans, campers and RVs. This little rainbow is sold as a keychain, ornament, and car charm to show your pride or ally-ship to the LGBTQ+ community.
We had intentions of expanding our business to involve more community events in 2020, but COVID had other ideas. We put all plans for in-person events on hold and refocused on how to build and grow our Etsy and Instagram communities. Allie has been in charge of our social media from the very beginning, and she does an incredible job showcasing our travels, RV life, crochet, dog content and our queer love (@Wander.Free.and.Queer)! We began working with a few select companies that align with our mission and value bringing diversity and inclusion to the RV and travel community.
With a growing audience came a growing product line and our first big pride event in Denver, Colorado. We got a tent, tables, chairs and display items to prepare for a larger set up than we were used to and we crocheted till our hands hurt! We also commissioned a fellow traveler to design a logo for us during this time that we put on stickers, magnets and keychains for the Denver pride event. Having a logo was a big deal for us and we couldn't be happier with how it turned out.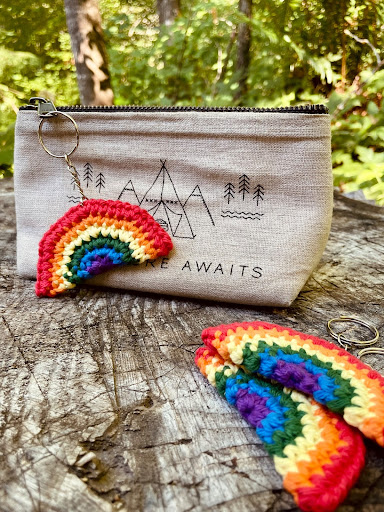 With all this growth came some challenges. We realized that living in under 250 square feet while running a small business meant we were constantly trying to find space saving and organizational options for storing all of our yarn, display items, and products! We quickly filled our cabinets inside of the RV, and then moved to the outside bays for storage. We began by using bins, but realized that vacuum-sealed bags saved room and kept our yarn fresh and new. We began labeling all of our bins and bags of products so that we could easily open a bay and know what was inside. These tricks have continued to save us so much time over the years.
Beyond learning about how to logistically run our small business from our small space, we also had to learn to work together. As we developed our line of body care products, we bickered over colors and patterns. We got on each other's nerves when considering how to go about storing our chunky cowls. We had to learn how to communicate about running our small business in our small space, but this took some practice. Many RV couples will tell you that living with your partner in close quarters means you learn to deal with issues quickly and efficiently, but that is a skill that we still have to practice regularly.
Over the past couple of years, we have settled into our small business roles. We work together, take turns, or use a divide-and-conquer method with others. Allie is the creator, the visionary, and the passion behind Wander Free and Queer. She develops all of our products from scratch and works diligently to perfect them before teaching me how to make them for sale. Allie is also the voice of our social media. She spends hours every day creating content, chatting online, and offering information about travel, LGBTQ+ community and RV living. She also has become a part-time photographer, crochet instructor, and advertiser. I, Danella, work more on behind-the-scenes tasks such as taking care of legal and financial tasks, applying to markets and fairs, and handling logistics of short and long term business planning. I also make the products Allie has created for online orders and upcoming events.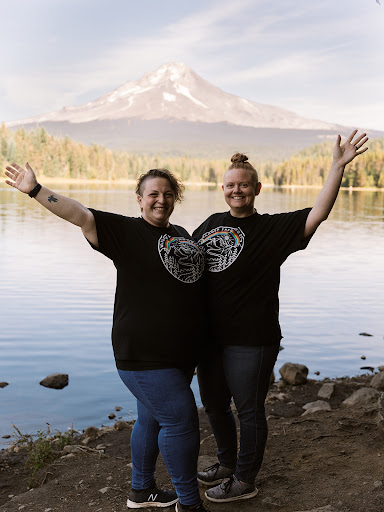 We hope to keep growing our small business over time. Last year we began offering RV consultations for people who wanted to chat about RV living or life on the road. We love any opportunity to share our experience and offer education and resources to our travel community. This year we have just begun offering online crochet workshops so that you can learn the skills yourself to make the coaster or cowl of your dreams! We hope the next couple of years will include more community events and opportunities to bring together our love for travel, RV living, and crochet specifically to our LGBTQ+ friends and family.
Our mission states, "Visibility, representation, and inclusion are at the heart of our mission and brand. We do not see the LGBTQ+ community adequately represented in outdoor and travel spaces. We are trying to change that. We see you." Our merchandise and handmade goods are a reminder to everyone to wander with pride or to signal your allyship to our community!
_____
Want to learn more from Allie and Danella? Here are some of their Road Diaries:
Finding a Homebase Campground with Wander Free and Queer
Decorating in Small Spaces with Wander Free and Queer
Traveling with Two Dogs in a Fifth-Wheel RV: Wander Free and Queer