Boondocking Tips
Last updated on December 7th, 2022. Originally published on November 15th, 2022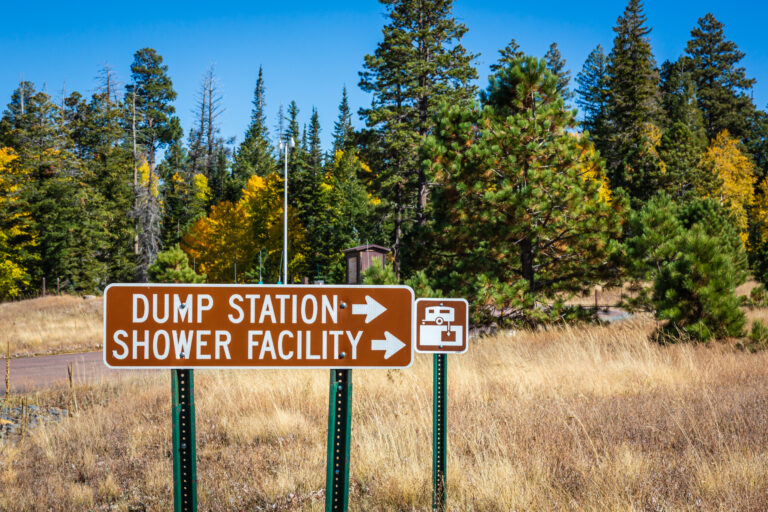 Usually RVers would refill water or use dump stations while at RV parks and campgrounds. Most campgrounds in the US offer these services on site or on the premises. Making it easy and effortless to refill and dump… but where can you find them outside of RV campgrounds? Are they free or how much do they cost?
Free RV water and dump stations are more available than you might think. Many of them are actually hiding in plain sight. From parks to gas stations, rest stops and visitor centers. Chances are there are free public water refill and dump stations near you. Here you will learn how to find them and some good practices for using them.
Starting with their characteristic signs. Be on the lookout for the (usually brown) RV dump station sign or the cup of water icon. You can conveniently find these at rest stops, visitor centers, truck stops and near main RV attractions like national parks, national forests and state parks. Some lesser known locations for these services are gas stations, parks, storage lots and even stores like Autozone and Napa.
To plan your trip and refill stops ahead of time, use phone apps like Campedium or Trucker Path. Just zoom in the map to the area you are interested in and look for the water drop or the dump station icon. The best part of these apps is not only that they offer the exact locations but that they have plenty of recent reviews from fellow travelers. Read them through to best prepare for what to expect at your chosen site.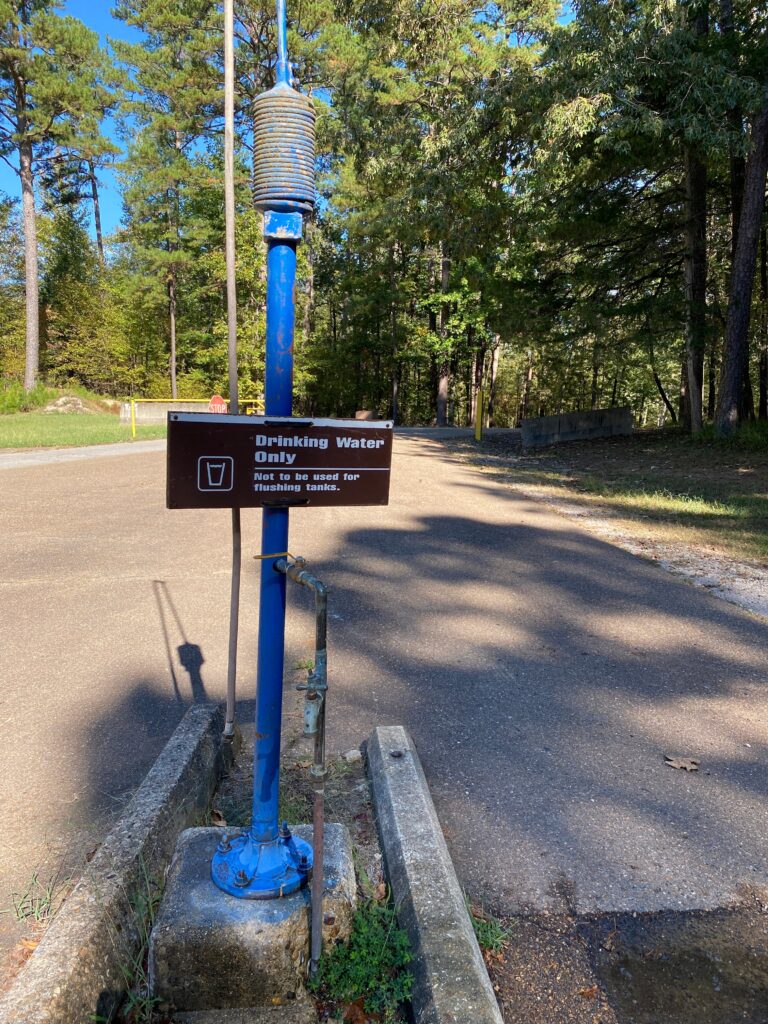 More About: Water Refill Stations
Bring Your Own Hose! There won't usually be one available, so this is very important! And if you will be resorting to public stations regularly, we recommend getting an extra long and high quality one.
The usual set-up you'll find in water refill stations is as simple as a free standing water spigot. To use, simply connect your hose between the spigot and your water intake. Some of these stations might have usage fees and the price can range from $5 to $15 dollars depending on the location and additional services.
One important thing to mention when it comes to water refilling stations is potable vs non-potable water. Potable water = safe drinking water, this is the water you want to refill your tanks with. Non-potable water is not recommended for your RV tanks as you will be using it for things like brushing your teeth or cooking. Non-Potable water is considered unsafe for human consumption. In most cases, clarifying signs will accompany the stations but don't hesitate asking for clarification from employees if you are unsure. Here is where investing in a water filtration system, whether under sink or independent, is great.
More About: Dump Stations
Free RV dump stations are fewer to find but still around. Just two important things to know before using public dump stations – bring your own sewage hose and clean up after yourself!
Before you start get familiar with the establishment. Make sure your connections are secure before draining your waste tanks. Never done it before? No problem, we have a complete guide for you here. Leaks and spills are normal, but try to contain them the best you can. Most importantly, don't skip on the final rinse. Many of the public stations you will come across will have a water hose or spigot nearby, they are provided to help clean up the area. So, no excuse not to rinse and clean up after you are done.
Access to free RV water and dump stations is convenient but also vital for some full-time nomads. To ensure their future availability, keep the areas clean and use them responsibly.
Looking to learn more? Read on for some of our most helpful resources:
The Ultimate Guide to RV Water Tanks