RV with Pets
January 11th, 2023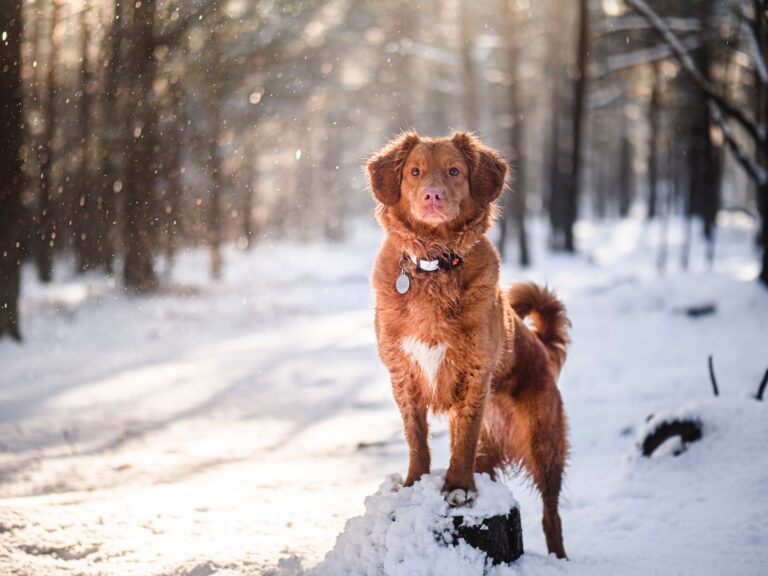 9+ Tips to Make Winter Camping with Your Dog Safe and Fun
Camping is fun no matter what, but winter camping with dogs is even more fun! Dogs love to run and play outside, so it just makes sense that they would love camping, and when you take your dog with you, you're more likely to spend more time in the great outdoors yourself. 
That said, winter camping with dogs can pose some challenges. These challenges aren't things that can't be overcome, but they are things you will want to consider so you can be properly prepared before you head out on a winter camping trip with Fido. 
Here's what you need to know.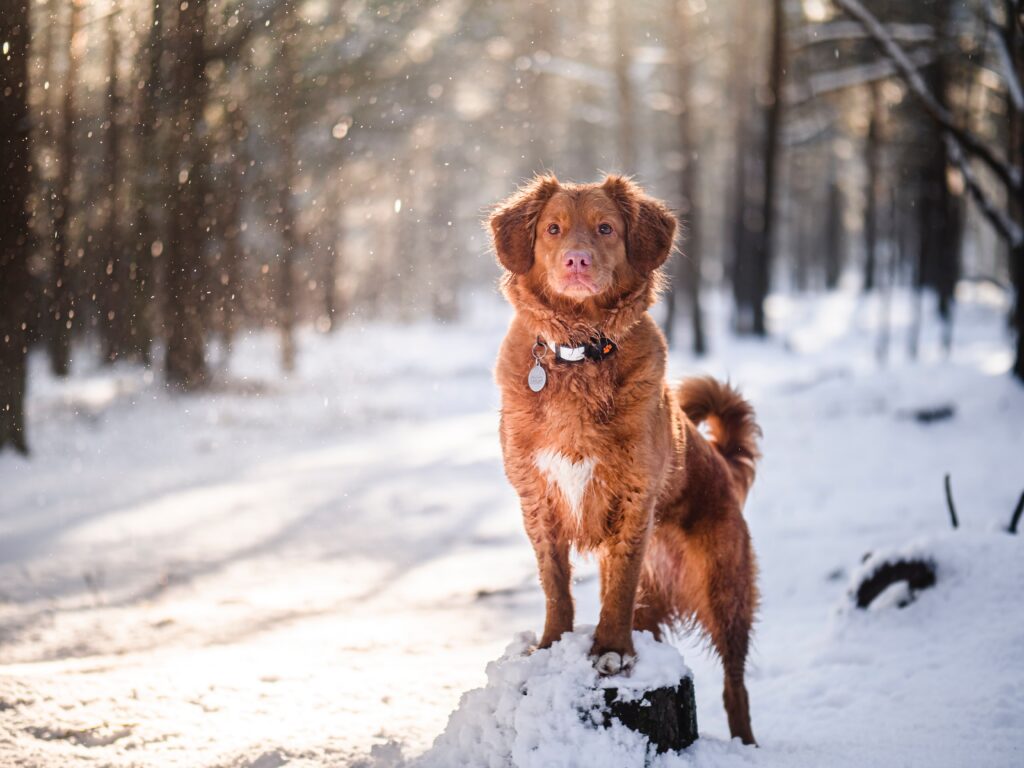 Camping with Dogs in Winter
Let's start with some general information about camping with dogs in winter. These are things you should consider before you head out in order to ensure a successful trip.
Take an RV
First and foremost, you will want to get an RV. Dogs should not spend prolonged periods of time in sub-freezing temperatures, meaning tent camping just isn't safe for your furry friend.
RV camping, on the other hand, is cozy, warm, and perfectly safe. It allows you to get outside in nature with your doggo while still giving you the option to head inside when things get too chilly.
How Cold is Too Cold?
Will the weather the weekend of your big trip be colder than usual? You may be wondering how cold is too cold for your pup. Here's what we know.
As long as you're keeping the dog inside the RV with you most of the time, you can probably head outside for a short play session in most temperatures, and you really only need to worry if the temperature is well below freezing. That said, if you plan to spend long periods of time outdoors with your doggo, you will want to keep the numbers below in mind.
For large dogs, anything above 45 degrees fahrenheit is just fine. Dipping into the 40–45 degree range poses a minimal risk, and spending time in temperatures between 20 and 35 degrees can be even more dangerous. Larger dogs really shouldn't spend extended periods of time in temperatures below 20 degrees for their own health and safety.
For medium and small dogs, the temperatures deemed safe change slightly. Your dog should be fine in temps at or above 50 degrees fahrenheit. 45–50 degrees poses a small amount of risk, 30–45 degrees can be more risky, and dogs this size should not be out in temps under 30 degrees for more than a few minutes at a time.
Choose the Right Location
Besides the weather forecast, you'll also want to carefully consider where you go winter camping with dogs. An area where the dog is allowed to run and play is ideal, but staying away from bodies of water is probably best in order to avoid the temptation to dive into the icy cold lake or river. You might want to avoid going up in elevation in order to avoid the coldest temps, and choosing dog-friendly campgrounds for every trip is crucial for obvious reasons.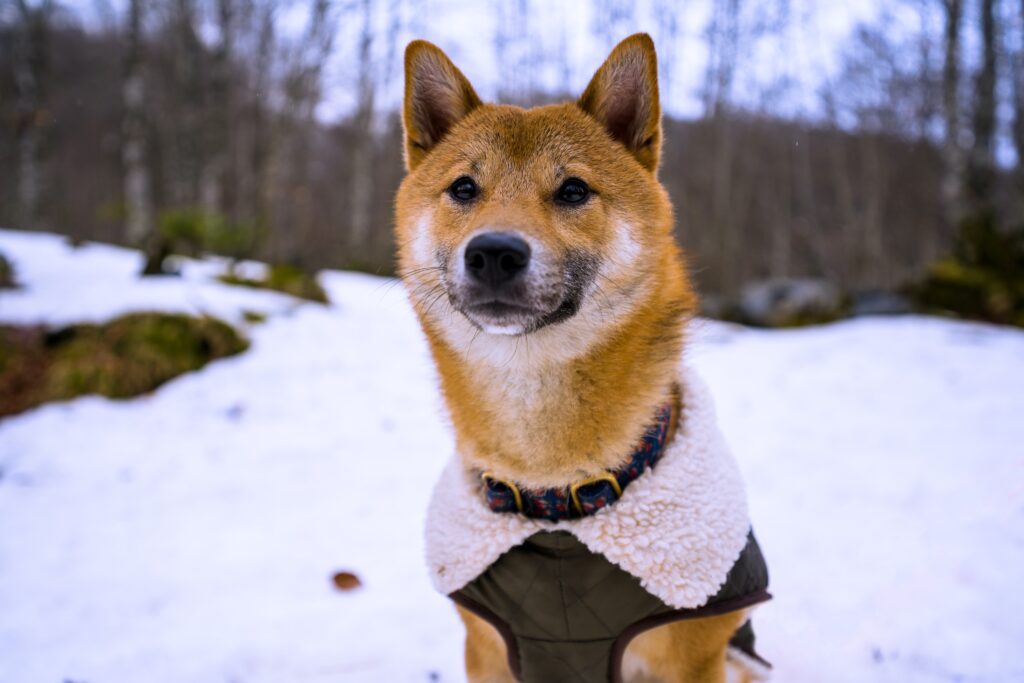 Dog Camping Gear for Winter
Once you have an idea of when and where you'd like to camp, you'll want to ensure you have all the winter dog camping gear you need for a warm, safe, and successful trip.
The list below includes our favorite dog hiking gear and camping gear for use during the cold months. Grab the items below and pack up the items on this other checklist before you leave, and you can rest easy knowing you're well prepared.
Blazin' Safety LED Dog Collar
The sun goes down earlier during the winter. Not only that, it's also easy to lose your pup if the snow is coming down fast. A light-up collar like this Blazin' Safety LED Dog Collar makes it easier to keep up with Fido or Spot.
Illumiseen Light-Up Leash
A light-up leash can also make things easier when it comes to those dark winter nights. You'll be able to use this Illumiseen Light-Up Leash when out on walks to see what your dog is up to at all times.
Tractive GPS Pet Tracker
Just in case you do happen to lose track of your pup in the dark or the snow, the Tractive GPS Pet Tracker can be super helpful. This is basically a smart watch for your dog, and it might just save your pup's life!
Waggle RV Dog Safety Temperature Sensor
Nobody likes to leave their furry friend in the RV alone. However, it isn't always avoidable. Just in case you need to leave your dog in the rig during the cold winter months, consider a temperature monitor like this one from Waggle to keep the pup safe should the furnace quit working.
Best Friends Calming Shag Donut Cuddler Dog Bed + Pet Throw Blanket
Your dog deserves to have a comfy bed to cuddle up in at the end of a long day of adventure. This Calming Shag Donut Cuddler from Best Friends is just the thing, and the matching blanket is an amazing added bonus!
Snuggle Safe Pet Bed Heating Pad
Nobody likes to get into a cold bed. Warm up your pup's bed by using one of these fantastic Snuggle Safe Pet Bed Heating Pads. Just toss one in the microwave before placing it in your dog's bed and they will be warm and cozy in no time at all.
Kuoser Warm Dog Coat
You can't take your pet outside to play without the appropriate attire. That's where this amazing waterproof dog coat from Kuoser comes into play. Bundle up your doggo in this coat and they'll stay warm while you play.
PitPet Waterproof Dog Shoes
Of course, your best bud will need some shoes to go along with that coat. These PitPet Waterproof Dog Shoes will keep your dogs paws toasty warm and well protected during your cold weather playtime.
Natural Dog Company PawTection Balm Stick
Have a dog that won't wear shoes? That's a shame because booties definitely offer the most protection. That said, this PawTection balm stick does offer some level of protection for your dog's paws, so you will want to have some of the stuff around if the booties are a no-go.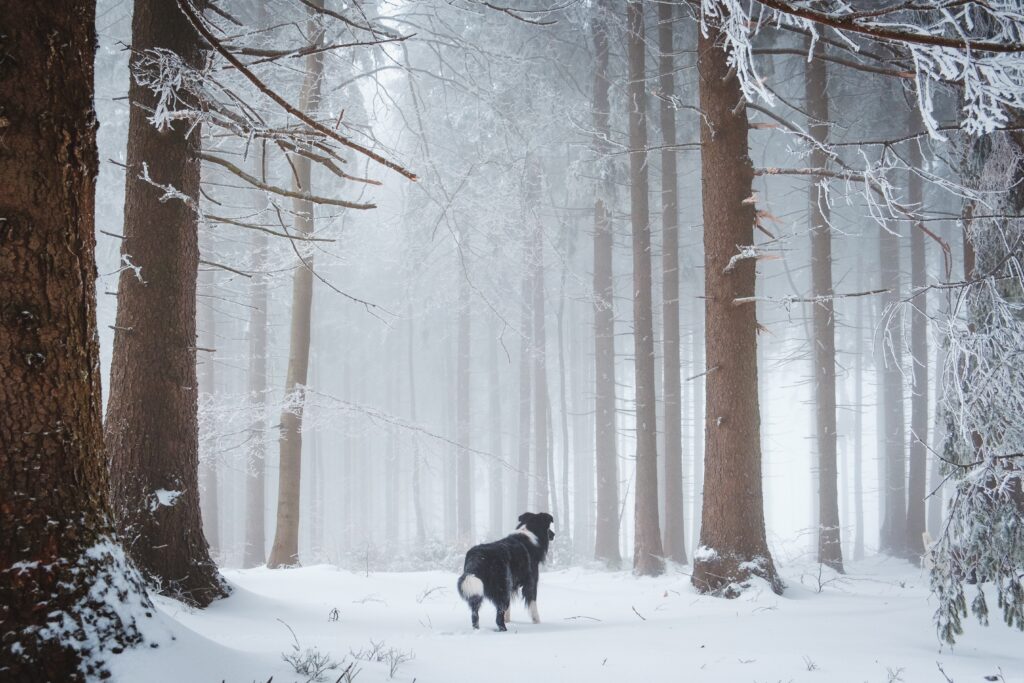 Keeping Dogs in Snow Safe
It's tons of fun to play with dogs in snow. In fact, that's one of the most exciting parts about winter camping with your furry friend. That said, it is very important that you know how to safely play in the snow with the pups in order to ensure no disasters occur.
Here are our top tips for playing with dogs in snow.
Cover Those Paws
Dog paws can be damaged by playing in the snow, particularly if there is salt on the ground. Not only that, but their little paws get cold just like your feet do. For this reason, we recommend using booties on your pup's feet if at all possible. If they won't tolerate the booties, at least use some balm like the one listed above to help protect those paws.
Gear Up
Besides the booties or balm, you'll also want to put a waterproof coat on your dog to keep them nice and warm. Additionally, we recommend the aforementioned lighted collar in order to ensure you don't lose sight of your pup in the winter wonderland.
Play in Short Bursts
Dogs can suffer from frostbite as well as hypothermia. For this reason, it's important to keep snow play sessions short and sweet. About 30 minutes is probably sufficient to have a good time playing in the snow without allowing your doggo to get too cold.
Never Leave a Dog Out in the Snow
You should never leave your dog out in the snow alone. Instead, you should stay outside, play with your pup, and watch for signs that your furry friend is getting too cold. These could include shivering, becoming quiet and still, whining, and shallow breathing.
Avoid Bodies of Water
It's no secret that most dogs love to play in the water. Unfortunately, playing in the water when it's cold out could be dangerous. Bodies of water that appear to be frozen may not be solid enough to hold the weight of your dog, causing them to fall in, and allowing your dog to get wet in water that is not yet frozen could lead to frostbite.
Pack a First Aid Kit
Lastly, we highly recommend keeping a first aid kit in the RV for your dog (as well as the kit you keep around for your own needs). This will allow you to address most minor injuries and is great to have on hand for both winter and summer camping trips with your pet.

Camping with dogs in the wintertime is tons of fun, and as long as you go in an RV and properly prepare beforehand, we highly recommend it. Don't have access to an RV of your own? Consider renting one so you can enjoy some cold weather camping with man's best friend!

This post contains affiliate links. RVshare may receive compensation if you make a purchase after clicking on a product or service link.

[similar_ai_related]