The Winnebago Travato 59G Proves 'Motorhome' Isn't an Insult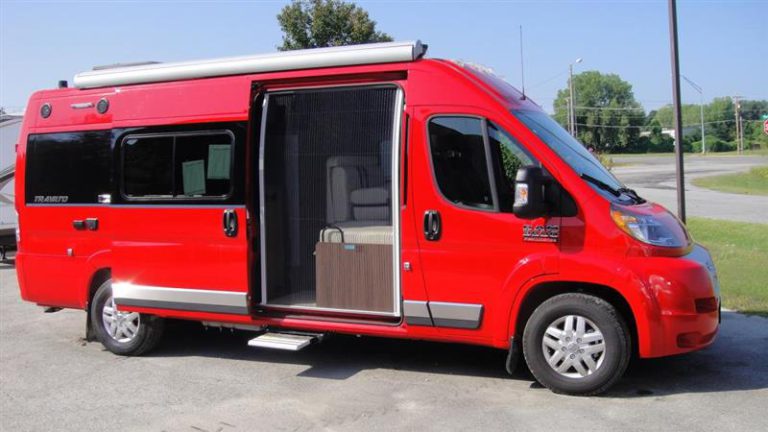 The two biggest concerns for potential motorhome buyers is how much use it will get, and where to store it. Tons of potential owners talk themselves out of buying a motorhome because they don't have a place to store it, and they don't think it will be used enough to justify the cost.
What if you could buy a motorhome that costs about the same as a luxury car, and easily fits in your driveway?
The perfect way to describe the Winnebago Travato 59G  is as "a Subaru Outback's larger cousin."
The Travato is nimble and suited to the active outdoorsman. It is a true class B motorhome with separate dining and sleeping areas, a wet bath, and full kitchen. For extra sleeping space, the dinette also converts into a second bed.
The Winnebago Travato is the cherry red, sleek styled "sports car" of motorhomes. The Travato measures in at 21′ long and has 6'3″ of interior headroom. The clever floor design packs in an incredible amount of storage space, including a rear double bed that flips up, allowing bulky items such as bikes to be stored inside. The rear double doors makes access a breeze.
The kitchen is outfitted with a two burner range top, a microwave, and 3-way powered refrigerator (runs on propane, DC, or AC). The sink features a folding faucet and flip top cover for extra counter space. Below the sink and range are numerous cabinets and drawers with locking push button doors.
The Winnebago Travato has a 3.6 liter, V6 280hp engine with front wheel drive and push button hill climb assist. The gas milage clocks in the 16-18 mpg range.  The MSRP starting price for the brand new Travato 59G is around $85,000.
Take a look at this video for more details about the Winnebago Travato 59G.
What do you think? Are you interested in owning the Winnebago Travato? Let us know in the comments below!