Urban Camping
September 23rd, 2021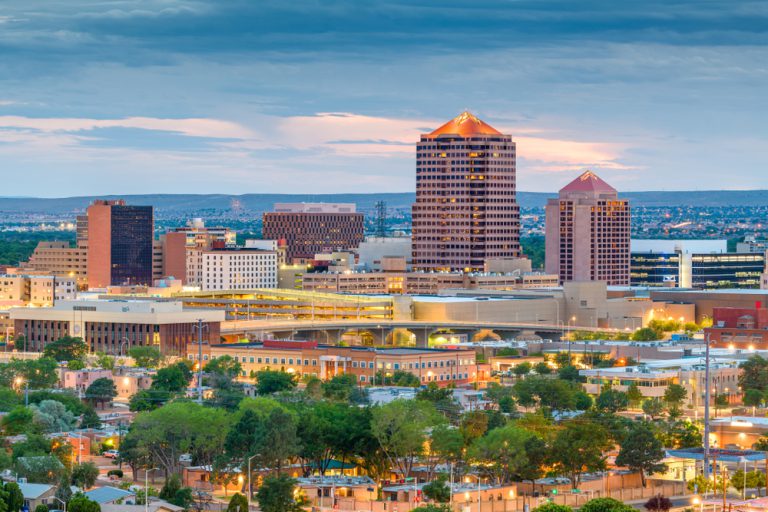 Urban camping in New Mexico is a fantastic way to immerse yourself in the vibrant culture and history of the Southwest. During your time in the Land of Enchantment, you'll stay at lovely RV parks with incredible views of the Sangre de Cristo Mountains and walk the quaint streets of Santa Fe Plaza when you decide to venture out. A visit to Albuquerque treats you to some of the best urban RV parks in New Mexico, with great amenities that allow you to relax in style as you explore the city's restaurants, boutiques, museums, and art galleries. Some of America's most beautiful and unique national parks are also within hours of each city. 
Urban RV Parks in New Mexico
Trailer Ranch RV Resort
Trailer Ranch RV Resort is an adult-only park that's located in the heart of Santa Fe near the fabulous shops, cafés, and delicious eateries of the historic Santa Fe Plaza. At this resort, you'll enjoy roomy, full hookup sites that include plenty of shade and quick access to amenities that include clean bathrooms, showers, and laundry facilities. The refreshing, on-site swimming pool is a great place to soak in the rays of the warm, southwestern sun, and designated pet walks around the park are perfect for taking your pooch on leisurely strolls. A convenient city bus service is also available from the park to the Plaza if you'd rather not drive. 
Santa Fe Skies RV Park
Santa Fe Skies RV Park offers RVers gorgeous views of the Sangre de Cristo Mountains from spacious, full hookup sites that are just 20 minutes away from downtown Santa Fe. In addition to amenities that include complimentary Wi-Fi, hot showers, and a laundromat, you'll also enjoy nearby access to the scenic Turquoise Trail, which leads interested hikers to the historic Villages of Cerrillos and several art galleries. If you're looking for more adventure, the Santa Fe National Forest is a short 50-minute drive north from the park, or you can keep going north to visit Great Sand Dunes National Park on a scenic, three-hour drive that takes you across the border into Colorado. 
High Desert RV Park
Just 20 minutes outside of Albuquerque off of I-40, you'll find High Desert RV Park, a sprawling, nine-acre RV oasis that features large sites with private picnic tables, three pet exercise areas, and a clean laundry room. In the Activity Center, you can enjoy two billiard tables, a pinball machine, a big-screen TV, and cozy seating areas that are great for playing cards. A jaunt into the city treats you to visits to a few world-class museums, unforgettable hot air balloon rides, and cultural, culinary adventures at Cocina Azul and the Indian Pueblo Kitchen. The Petrified Forest National Park is another sight you won't want to miss that's three hours west of High Desert across the Arizona border. 
Albuquerque KOA Journey
Nestled near the base of the Sandia Mountains is Albuquerque KOA Journey, a family and big rig friendly campground that's loaded with fun activities and unique amenities. Here, you can play a few games of putt-putt at the mini-golf course, swim in the huge pool, and snap a couple of memorable photos at the Selfie Station. There's also a well-stocked camp store on the premises, and the Petroglyph National Monument is 15 miles from the RV park if you're into checking out some ancient rock art. 
Sunny Acres RV Park
A relaxing experience awaits at Sunny Acres RV Park, an adult-only park in Las Cruces. On this large, 12-acre property, you'll enjoy amenities that include private restrooms and showers, laundry facilities, and an entertaining activity center that features a billiard table, library, darts, and a kitchen. Take the fun out of the park and into Las Cruces for a day or night of exploration. Some of the places you'll want to visit are Historic Old Mesilla, Rio Grande Winery, and The Shed, a popular Southwestern café that serves breakfast, brunch, and lunch. White Sands National Park is less than an hour from Sunny Acres and should also make it onto your list of places to explore.
Where to Urban Camp in New Mexico
When you're looking for where to urban camp in New Mexico, consider staying in locations that are well-known for their proximity to great eateries, bustling shopping locales, and interesting attractions. Some of the best urban RV parks offer quick access to interstate freeways that allow you to conveniently hit the road for outdoor adventures in nearby national forests, national parks, and national monuments.
Urban RV Camping in New Mexico
Though you'll likely find everything you need at shopping centers on the road, it's still vital to load up your rig with important must-have items beforehand. Remember that urban RV camping in New Mexico may be a sunny affair, so make sure to pack sun protection necessities such as sunscreen, sunglasses, and hats, in addition to insect repellent, flashlights, and hiking gear just in case you decide to head to the forests that blanket the cities of the Southwest.
While traveling is fun, you may also want to stock your RV with board games, cards, and crossword puzzles to ramp up the entertainment, in addition to loading your fridge and cabinets with tasty treats and beverages.
Before you head out on your trip, check out our blog for more RV travel tips and ideas.
With an RV rental, your urban vacation will be a little more comfortable! After you've spent a long day exploring the city, you can relax around the fire at your campsite. Then, retire inside to enjoy all the comforts of home onboard your RV. Plan your perfect urban getaway with an RV rental from RVshare.