Urban Camping
September 17th, 2021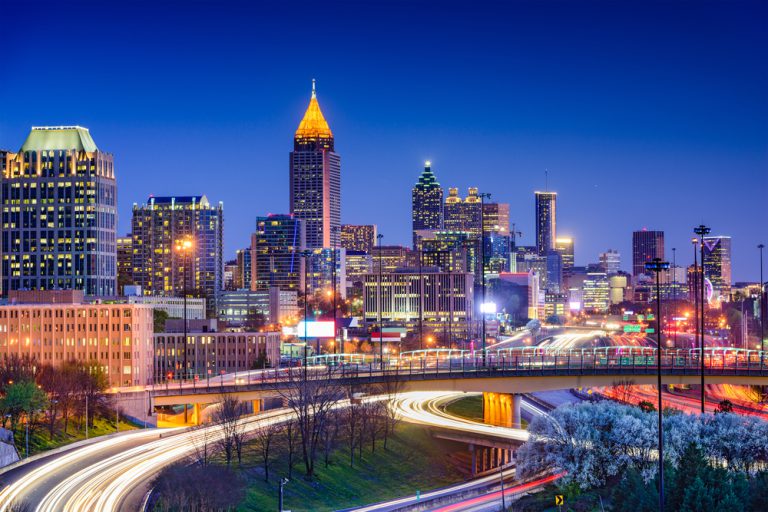 Georgia enjoys a varied climate and terrain. North Georgia is mountainous, central Georgia has rolling hills and plains, and the coastal region of Georgia has wetlands of marshes and swamps. The climate is temperate and is very warm in the summer months, but the temperatures are lower in the higher elevations in north Georgia. Atlanta is the capital of Georgia and is the largest city in the state, followed by Augusta, Columbus, and Savannah. When you are utilizing urban RV campgrounds, you have many choices for a comfortable stay in your RV while being close to a large urban city.
Urban RV Parks in Georgia
Stone Mountain Park Campground
A natural oasis in an urban setting, Stone Mountain Park Campground is part of Stone Mountain Park in Atlanta. This large park of 3,200 acres has 400 RV, pop-up, and tent sites. There are multiple attractions within the park, such as the Summit Skyride to the top of Stone Mountain, the Scenic Railroad, Historic Square's collection of relocated historic homes and artifacts, and Great Locomotive Chase Adventure Golf. Free activities at this urban campground in Georgia include boating and fishing on Stone Mountain Lake, visiting various historic structures, and hiking on 15 miles of trails that include a one-mile trail to Stone Mountain's summit. Amenities include a sand volleyball court, pool, general store, playground, horseshoe courts, laundry, and other conveniences and activities.
Allatoona Landing Marina & Resort
Allatoona Landing Marina & Resort is a 116-site campground on Lake Allatoona in Atlanta that also operates as a marina. Lake Allatoona has a surface area of more than 12,000 acres and 270 miles of shoreline when full. While in the resort, you can fish, boat, hike, swim in the pool, and play various outdoor games. Amenities include a general store, a recreation room, laundry facilities, a bathhouse, and a playground. The marina has a boat launch, transient boat slips, and boat storage. 
Eagles Roost
Eagles Roost is a quiet RV park that features tall oaks festooned with Spanish moss. Located in Valdosta, this pet-friendly camp offers a peaceful respite from the city while still affording convenient access to all the attractions of the beautiful city of Augusta. The park has a pool, a playground with a merry-go-round, and a basketball court. There are nearby shops, restaurants, and a flea market that are less than a mile away. Some of the amenities include a conference center, a pool, shuffleboard, a laundry, a bathhouse, and horseshoes.
Diamond Lakes Campground
Diamond Lakes Campground is a county-operated campground in Augusta that has all the features you most want when staying at an urban RV campground. The park has 286 acres with stands of woods and 26 campsites. There are two short walking trails, two playgrounds, a sand volleyball court, horseshoes, and a covered pavilion. Besides these conveniences, the park is home to a five-field youth baseball and softball complex and a five-field adult softball complex. The complexes have concessions, restrooms, vending areas, and an umpire room, and there is also an on-site observation deck with picnic facilities. 
Petersburg Campground
Petersburg Campground is located on J. Strom Thurmond Lake and is near Augusta. Lake Thurmond is a large lake with a surface area of 70,000 acres and 1,000 miles of shoreline when full and offers plenty of boating, swimming, and fishing activities. The campground has 94 sites, most of which offer full hookups. There is a variety of fun features within the park, such as a fishing dock, boat ramp, two swimming beaches, a hiking trail, a pond, and a playground. Outside the park, there are numerous hiking trails, and you can also visit other parks and recreational areas. 
Where to Urban Camp in Georgia
Georgia has a varied landscape of three main regions, which consist of mountains, coastal and low hills, and plains. Each of these regions has several cities that are perfect for urban camping, including Atlanta, Augusta, Savannah, Valdosta, Rome, and Columbus. When planning on where to find urban RV camping in Georgia, you can easily choose an urban area that is in your preferred region of the state.
Atlanta is a great destination for shopping, and Six Flags is a wildly popular theme park in the city. Augusta is in the coastal region and has many attractions, like the Augusta Riverwalk and the annual Master's golf tournament. Savannah is the oldest city in Georgia and has multiple historic sites and coastal areas of interest.
Urban RV Camping in Georgia
Urban camping is a type of camping that takes advantage of staying in your RV near a fairly large city center. This allows you to experience the dual conveniences of using an RV while being close to entertainment, services, and supplies. However, even though you are near the city, you will still want to bring certain necessities for your trip.
It is always a good idea to pack well and bring along needed supplies and comforts. Your supply list should include basic camping equipment, a first aid kit, a toolbox, umbrellas, rain cloaks, seasonally appropriate clothing, food and drink, bug spray, detergent, linens, and sturdy shoes. To help you plan, visit our blog for more RV travel tips and ideas before you go urban RV camping in Georgia.
With an RV rental, your urban vacation will be a little more comfortable! After you've spent a long day exploring the city, you can relax around the fire at your campsite. Then, retire inside to enjoy all the comforts of home on board your RV. Plan your perfect urban getaway with an RV rental from RVshare.