How Tos & Tips
Last updated on June 30th, 2023. Originally published on June 27th, 2023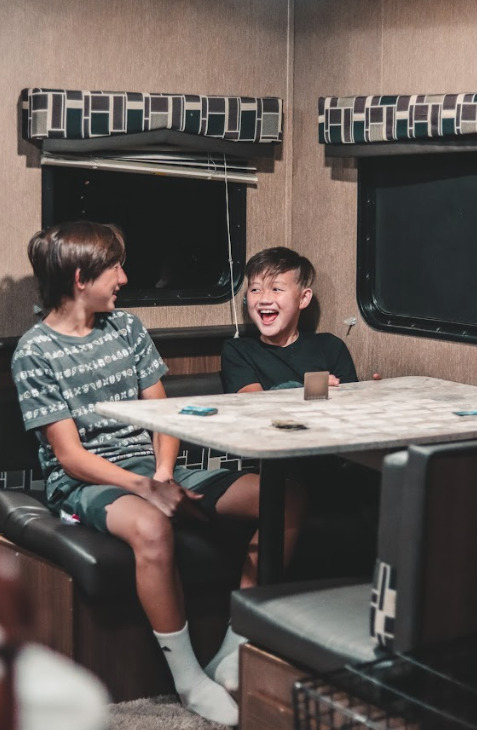 RVs are a wonderful way to see new places and spend time together as a family! However, as any full-time RVer can tell you, RVs can be used for much more than just a summer road trip or a few weekend getaways each year. Here are some unique ways to use your RV!
Let's begin with the holidays! A time for food and laughter and family togetherness. But if you're concerned about having a little too much family togetherness…or you simply don't know where you're going to put everyone, consider holiday RV camping.
A family-size RV can be used for driveway camping. Your family will get their own space while also staying close to the action. Another option is to find a nearby RV space for rent and park the motorhome or travel trailer there, putting a bit of distance between the tiny home-on-wheels and your own home.
Either way, your loved ones will be comfortable for the holidays without crowding you and your immediate family.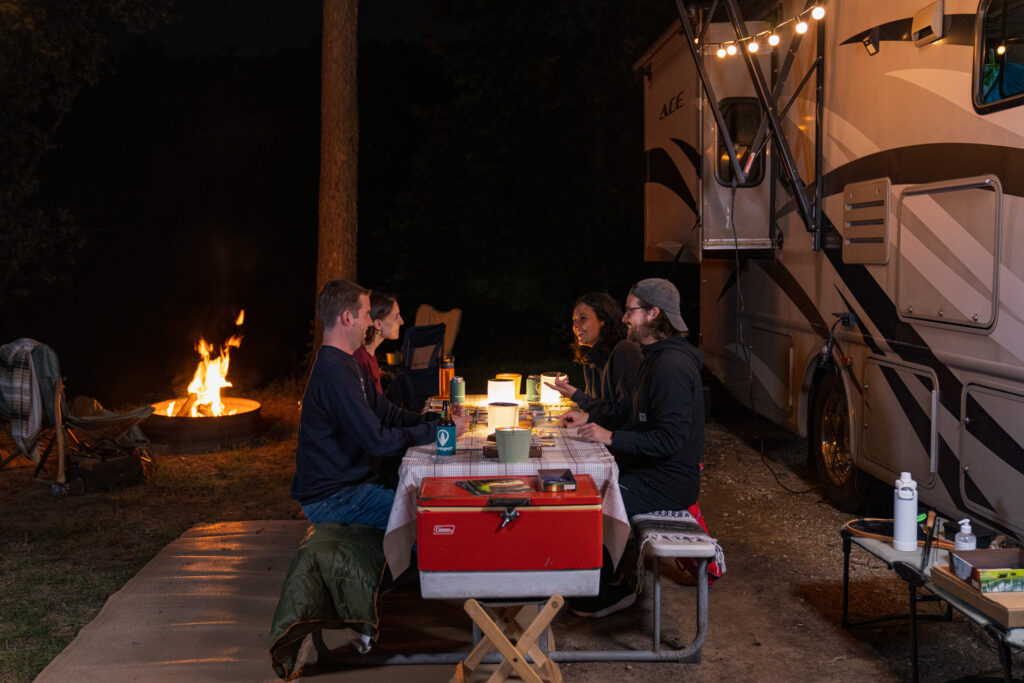 Can I Park an RV in My Driveway?
Some of the first questions you will need to ask yourself include, "Can I park an RV on my driveway?" as well as the more specific, "Can you stay in an RV on someone's property?"
These are excellent questions. Generally, the answer is yes, you can park an RV in your driveway and have family stay there for a week or two. However, some people may come up with different answers depending on where they live. Therefore, you will want to do a bit of research before jumping in.
First, it's important to know that parking a motorhome in your driveway is frowned upon by many homeowners associations. Not only that, but having people camping on your property is actually illegal in some areas. Therefore, it is important that you look into the laws and rules where you live before inviting anyone to use your driveway for their RV.
If you find that parking an RV in your driveway won't break any rules, then take a look at the driveway in question to make sure a motorhome can actually park there.
For example, a driveway with a steep slope won't work to park an RV because it's likely that the bumper will scrape the ground. Besides, leveling an RV on a steep slope is nearly impossible.
Of course, the width and length of the driveway must also be considered. Make sure you'll have a place to park the trailer or motorhome as well as any other vehicles.
Using or Renting a Driveway vs Choosing an RV Space Rental
If your own driveway won't work due to size or slope concerns, you could try renting another driveway in your neighborhood. Either way, there are pros and cons to parking an RV in a driveway. For some people, the cons outweigh the pros, leading them to find a more traditional RV space rental.
Here are some of the things you may want to consider when choosing between the two:
Having your family on your driveway or in a driveway rental in your neighborhood puts them very close to you. This can be considered either a pro or a con, but should be taken into consideration.
Using your own driveway costs nothing, and renting a driveway from a friendly neighbor will likely cost very little. Meanwhile, most RV sites for rent in campgrounds will cost more.
Unless you (or your neighbor) have special hookups installed, driveway camping means your visitors likely won't have full use of the amenities offered by an RV. For instance, their water usage will be limited by what the RV tanks can hold. Additionally, they will only be able to use whatever electric appliances can be run off the battery, unless you run a cord to a plug or use a generator. A full-hookup spot in a campground removes this challenge.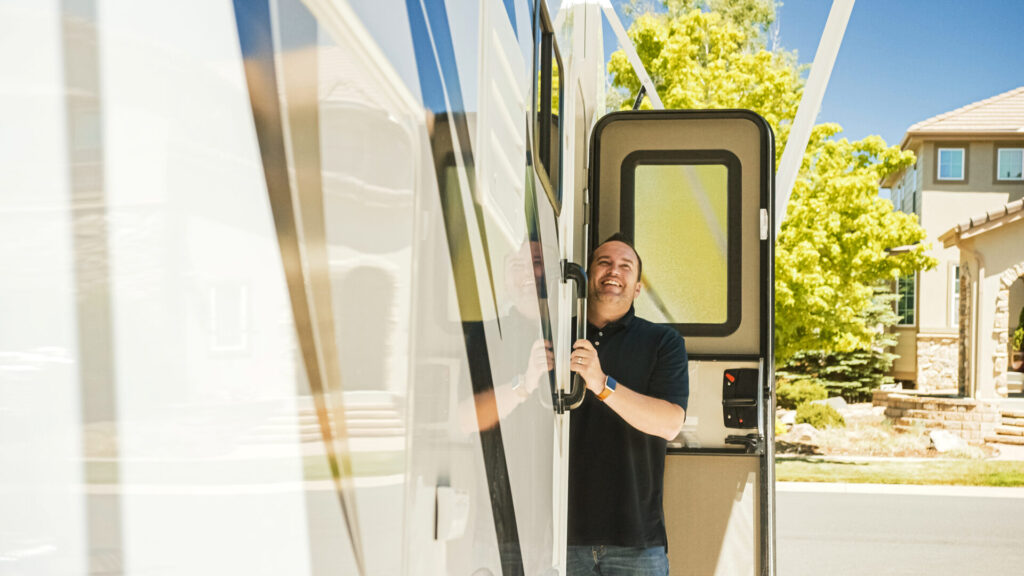 Creating Your Own RV Spaces for Rent
Did you do your research and find you can park an RV in your driveway for family to use during the holidays? If so, you might want to rent out your driveway during other times of year too. Not only is this a great way to make some money, but it will also give you the opportunity to meet some really cool people!.
Wondering how to rent your driveway? First, we recommend installing those electric, water, and sewer hookups mentioned above. After that's done, there are a few ways to go about it.
We recommend listing your driveway on Rover Pass if you plan to rent the space on its own. However, it is also possible to rent your driveway along with an RV right here on RVshare.
Holiday RV Camping
Another unique way to use your RV is to celebrate the holidays right there inside it! Rather than have your friends or family stay in the RV in your driveway, you can host Christmas right in your rig. This is a great choice if you are a full-time RVer, or if you just like to take advantage of the holiday break to pack up the kids and explore.
Make no mistake: celebrating Christmas in an RV or trailer is different than it is in your regular, foundation-built home. For one thing, you won't have the same amount of space as you would at home. You might have to pare down the Christmas decorations.
Holiday RV decorating
Cutting down on decorations doesn't mean you can't make your RV festive! Many campers decorate their rigs for the holidays — yes, including a Christmas tree with icicle lighting.
Of course, it's not going to be feasible to bring in a full-sized Douglas fir unless you're traveling in an especially spacious fifth-wheel travel trailer. Even if you do have room, it's more convenient (and less messy!) to purchase an artificial tree, which doesn't require watering and won't leave pine needles all over your floor.
You'll likely want one that's smaller than the standard tree so it's easier to move around inside your rig. We like this "Feel Real" model by Natural Tree. At four and a half feet tall, it's just about the perfect size for your RV's living room, and you'll still have plenty of room to put up all your ornaments. (Psst: you'll want to make sure those ornaments areunbreakable, so we suggest buying a shatterproof assortment.)
It's also pre-lit with white LED lights, so you don't have to go to the extra trouble of stringing them up yourself.
If you want to save even more space (and money!), you could even consider going for a tabletop tree, like this 22-inch pre-lit version that includes bright red decorative berries. Couldn't get any easier!
Other easy ways to decorate include battery-operated light strands (which work outside on your patio, too!), or even a simple bowl full of candy canes. When you're spending the holidays at your favorite destination, it's not hard to make the interior of your rig match the festive spirit.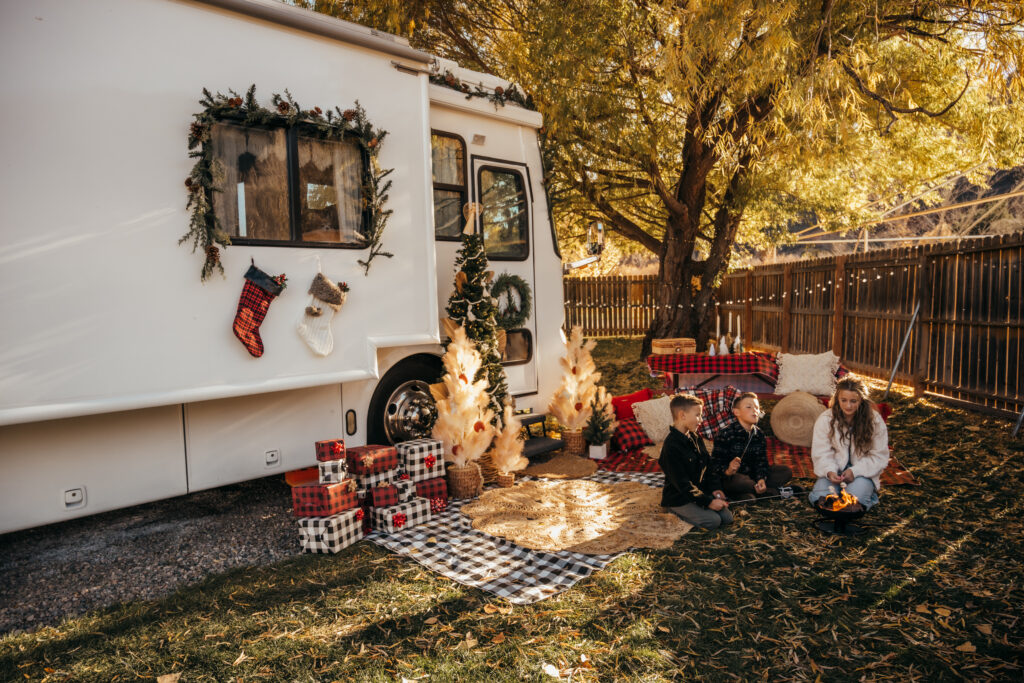 Celebrating Christmas in an RV
So, now that decorations are taken care of, let's talk about the really important stuff: food!
How on earth are you going to prepare a proper Christmas dinner in an RV, you may be wondering?
Well, for many campers, having a full-on, working kitchen is one of the most attractive parts of RVing! You're certainly not going to have to make do with cold cuts and rice cakes.
Many RV kitchens include everything you need to get the whole meal made, from a stovetop range to an oven. Of course, the facilities may be a little smaller than the standard size, so you might have to get creative when it comes to timing everything. You could also downgrade to a slightly smaller roast, whether it's turkey or beef.
But if you can't stand the idea of cutting a single corner of your holiday spread, there are other options. For instance, imagine a Christmas dinner of steaks made on the grill — doesn't sound like much of a compromise, right?
Most RV parks have grills available to use. If not, purchasing a small, portable grill isn't very expensive, and it will be useful all year long! You can find ones that work off small gas tanks (like this one, by Char-Broil), or good old charcoal (like Weber's "Smokey Joe"). Neither type will set you back more than $40.
Finally, if you're concerned that your oven won't be able to churn out the assortment of breads, cakes, cookies, and pies the holidays are so famous for, consider investing in an Instant Pot — which, yes, you can actually bake in! (Many RVers consider their Instant Pot their very best kitchen purchase, whether or not they're planning on making a holiday dinner.)
Spending the Holidays in RV Parks
Now that we've got all the logistics squared away, you're ready to head off on your dreamy Christmas vacation, right?
Well, you might be wondering about Christmas RV park rates. Will they be more expensive during the holidays?
Although the answer to that question will vary depending on your destination, winter is generally not as much of a high-demand travel season. Many locations will actually feature lower prices in winter than they would in the warm months of summer. You'll also save 50% on your campsite fees at almost 1900 campgrounds nationwide when you use your Passport America membership. With an annual fee of less than $50, the membership usually pays for itself the very first time you use it!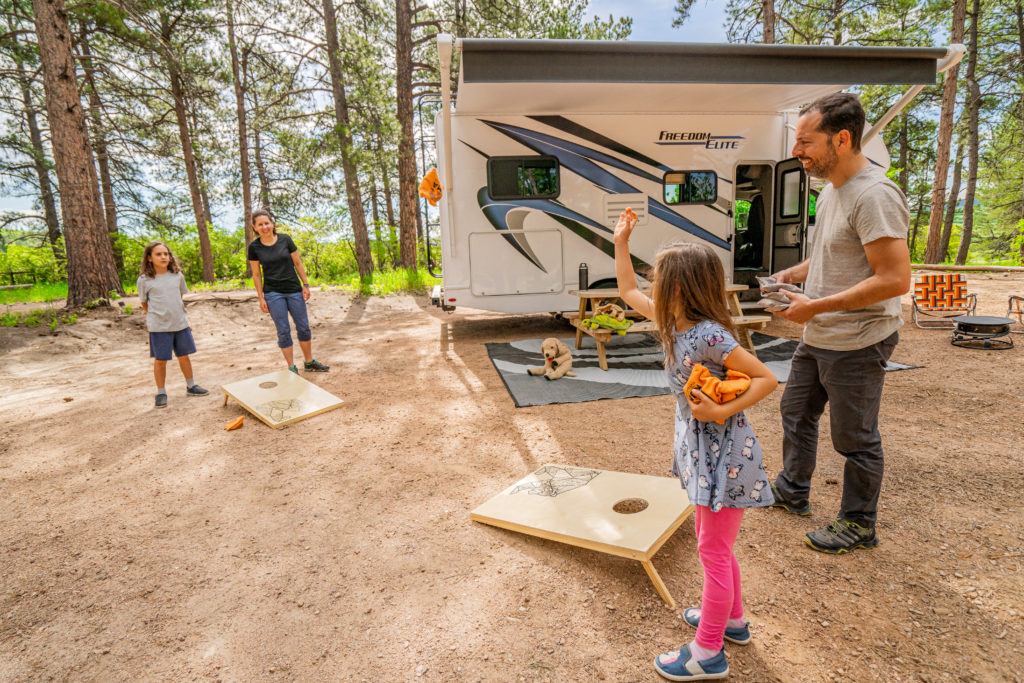 Planning a Family Reunion
Another unique way to use your RV and bring family together is by planning a family reunion! Whether you drive to the reunion in your rig, or plan a reunion somewhere everyone will be camping, you're sure to create some lifelong memories.
Once you figure out the perfect time to hold the reunion, there are still a lot of logistics! From planning meals to suggesting activities, you'll be responsible for making sure everyone's in agreement.
One of the touchiest parts of planning a family reunion can be deciding where to have it. After all, no matter which of the many family reunion locations you're considering, it's likely that some family members will have to travel further than others. That's why one of our favorite ideas is to hold your family reunion at a vacation destination where everyone has to travel!
Places for Family Reunions
RV camping can be a great way to hold a family reunion, and campgrounds make for some of the best family reunion venues out there. Here's why.
When you travel by RV, getting there is half the fun. No need to hear the repetitive chorus of "Are we there yet?" when you're road tripping in a motorhome. After all, you've brought all the comforts of home along with you!
An RV reunion means everyone gets to have some privacy. Sure, it's great to reconnect with loved ones from years and years ago. But after a long day of walking down memory lane, it can be comforting to have your own space to retreat.
If each smaller family group within your large party has their own RV or camper, you can caravan together and enjoy being together in your joint outdoor space. You can also still have the luxury of private sleeping quarters. And don't worry, it's totally possible to feed and entertain a large group from a tiny RV kitchen!
Family-friendly campgrounds are some of the best family reunion destinations. If some people want to go out hiking or kayaking while others want to hang out with family and a cold drink, you can accommodate them all! Campgrounds ensure that there's something to do for everyone.
Large Vacation Rentals for Family Reunions
Finding a large RV rental for your upcoming family reunion doesn't have to be a drag. At RVshare, RVs of all different shapes, sizes, and makes are listed for rent across the country. You'll even find big, Class A diesel pushers and fifth-wheel travel trailers that can sleep 8 passengers or more.
RVing can be a fun and unique way to create a family reunion everyone in the group will always remember. In fact, you may end up enjoying it so much you make it into a more regular event, like an annual family camping trip!
How to travel safely
If you're traveling during the colder months, or going to see large groups of people, you may be concerned about illness. Although Covid concerns have lessened from a few years ago, no one wants to spend the holidays sick! Here are a few things you can do to keep healthy and travel safely.
1.) Keep it clean
Make sure to clean and disinfect surfaces that are commonly touched in your RV every day. Those include door handles, countertops, light switches, tables, faucets, toilets, and phones. Don't forget the steering wheel, radio dial, and door handles up front!
2.) Keep yourself clean
Make sure to wash your hands frequently, for at least 20 seconds each time. Keep hand sanitizer near the entrance to your RV for visitors, and bring a small bottle if you go on day trips. Cough or sneeze into your elbow or a tissue, not your hand. Avoid other people if you – or they – are feeling sick.
3.) Make reservations ahead of time
Depending on where you're visiting, you may need to stay at a nearby campground. Check ahead to make sure that they're open and make reservations so you know you have a spot when you arrive!
4.) Have a backup plan
Consider the possibility that even with your best efforts, either the family you're visiting or someone in your group could get sick. Have a backup plan in case your trip is cut short due to illness, or in case your trip needs to be extended due to an illness that keeps you from traveling home on schedule. Bring your health insurance cards and any other pertinent information in case of an urgent care or ER visit. Finally, know what needs to be done and how to find medical help if someone in your group does get sick.