Travel Inspiration
Last updated on November 29th, 2023. Originally published on June 22nd, 2023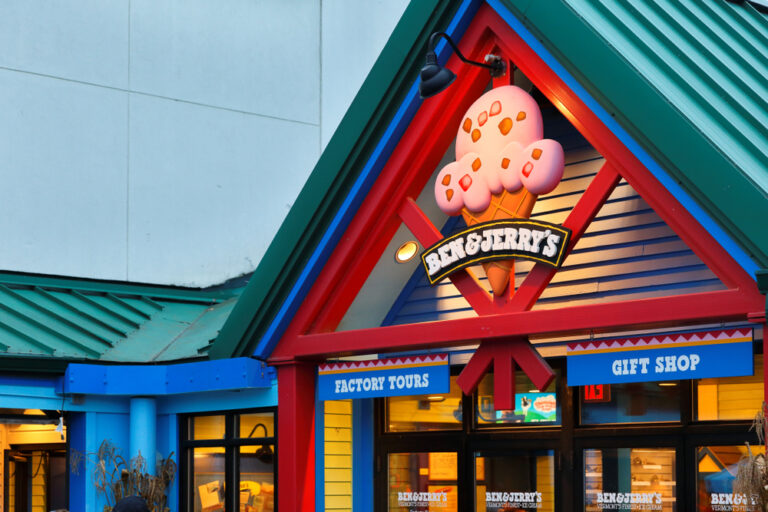 The best part of an RV road trip is that you can go almost anywhere! Visits to national parks…visits to family…visits to bustling cities. If you can drive to it, you can visit it!
But have you ever thought of trying some more unusual RV trips? We'll take a look at some unique RV vacation ideas that are a little off the beaten path. And if unique is your special sauce when it comes to RV trips, don't forget to check out Hipcamp! This platform connects you to over a million campsites on private land that offer a one-of-a-kind experience. From blueberry farms to lakeside spots, you'll find a unique offering wherever your next trip takes you.
Unusual and Interesting Tours
Whether you want to tour a delicious candy factory, sample some ice cream, or learn where the iconic John Deere green tractors are manufactured, there are some unique tours to take at companies across the U.S.
Jelly Belly Jelly Bean Factory – Fairfield, California
A kid favorite, this 40-minute tour is available every day between 9 a.m. and 4 p.m. Learn about jelly bean making from a covered suspended walkway, and you can watch videos and participate in interactive exhibits. The tours are ADA and stroller accessible. More information at jellybelly.com.
Bureau of Engraving and Printing – Fort Worth, Texas
Take this 45-minute tour to see U.S. currency being printed as you walk a catwalk above the printing floor. You'll also learn about the printing process, and there are funny money-themed gifts at the gift shop. Tours are held Tuesday through Friday, from 8:30 am to 4:30 pm, on a first-come first-served basis. You can find out more here.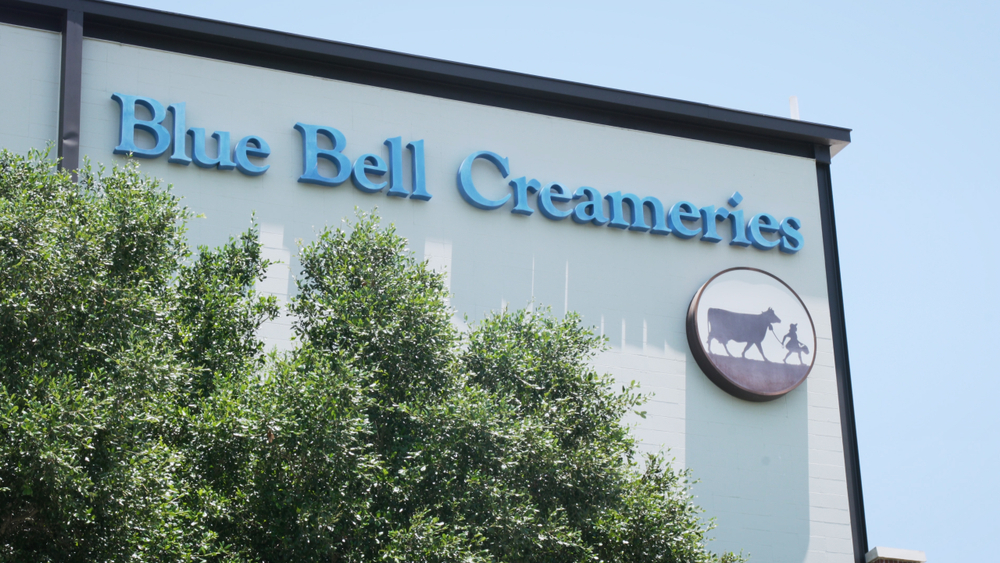 Blue Bell Ice Cream Factory – Brenham, Texas
This delicious tour is available every weekday between 8:30 a.m. and 2 p.m. on a first-come, first-served basis. After securing your spot on the tour, you have eight educational DVDs to choose from in the tour center. You can watch as you wait for the tour to begin. During the 45-minute tour a guide will take you to three different observation decks overseeing the production floor and different parts of the ice cream making.
It starts with the homogenization process, continues with the particularities of creating the Rainbow Freeze Bars and the Ice Cream Sandwiches, and ends with filling the Blue Bell cartons with the finished ice cream. The tour costs $4 for children age 5 and under, and $6 for adults. It includes a big serving of your favorite Blue Bell ice cream flavor at the end, just before being guided to the gift shop, where you can buy even more ice cream.
There is an additional location in Sylacauga, Alabama, and you can learn more at bluebell.com.
John Deere – Iowa & Illinois
Factory tours are available at several John Deere locations in Iowa and Illinois. Tours are between 1 1/2 – 3 hours long and are for anyone aged 13 and up. You do need to make a reservation ahead of time. Depending on which location you choose, you may see how tractors, balers, windrowers, or other machines are made.
Learn more about the factories at: www.deere.com.
Ben & Jerry's – Waterbury, Vermont
Sign up for a guided tour of the famous ice cream facilities! You'll begin with a "MOO-vie" sharing the company's humble beginnings and learn how the iconic ice cream is made. You can look over the production floor and, if it's a production day, you'll see the factory floor in action! The tour ends in the Flavor Room with a tasting and a few cow-related puns. And, of course, don't miss the Flavor Graveyard which showcases past ice cream flavors that were discontinued. Tours are $7.
Tillamook Creamery Tour – Tillamook, Oregon
This factory allows visitors to take a free self-guided tour. You'll begin at the Grand Entrance and head through the Farm Exhibit and Viewing Gallery before ending at the Dining Hall and shop. Learn about the Tillamook Creamery process and treat yourself to some ice cream along the way!
If you'd like an even more in-depth experience, you can take a guided tour through the Viewing Gallery, with an emphasis on the cheesemaking process. You'll get cheese samples on this tour, featuring Maker's Reserve. This tour and tasting cost $15. Finally, you can also try the Exclusive Ice Cream Experience. This isn't a tour, but it is an interactive experience focusing on Tillamook's ice cream and ending with ice cream swag. This experience costs $45.
Visit tillamook.com for more information.
SAS Shoe Factory – San Antonio, Texas
Take a free factory tour at the SAS Shoe Factory, then stop by the General Store with its gift shop at the end. Tours are Monday to Thursday at 9:15 am and 12:30 pm, lasting about 45 minutes each. They are free, and prior reservations are highly recommended. Tours are for anyone aged 6 and up.
You can find out more information at sasshoes.com.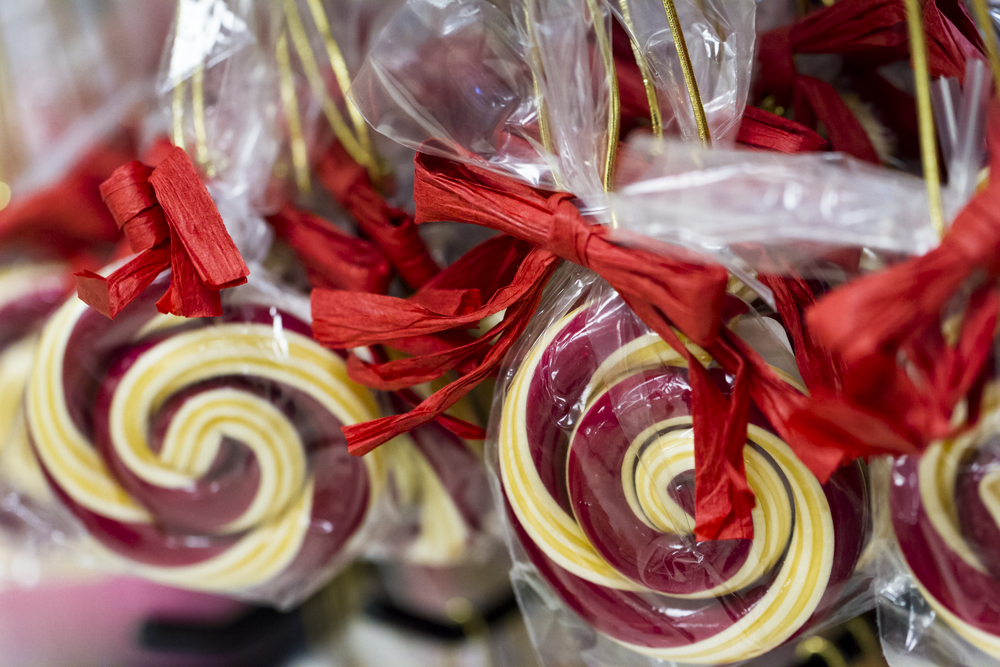 Hammond Candies – Denver, Colorado
Free tours of this candy-making factory are a popular option, so you'll want to make a reservation ahead of time. Master candy makers demonstrate how to craft traditional candy canes, colorful lollipops, and plenty of hard candies, all from scratch. Learn more here: hammondscandies.com.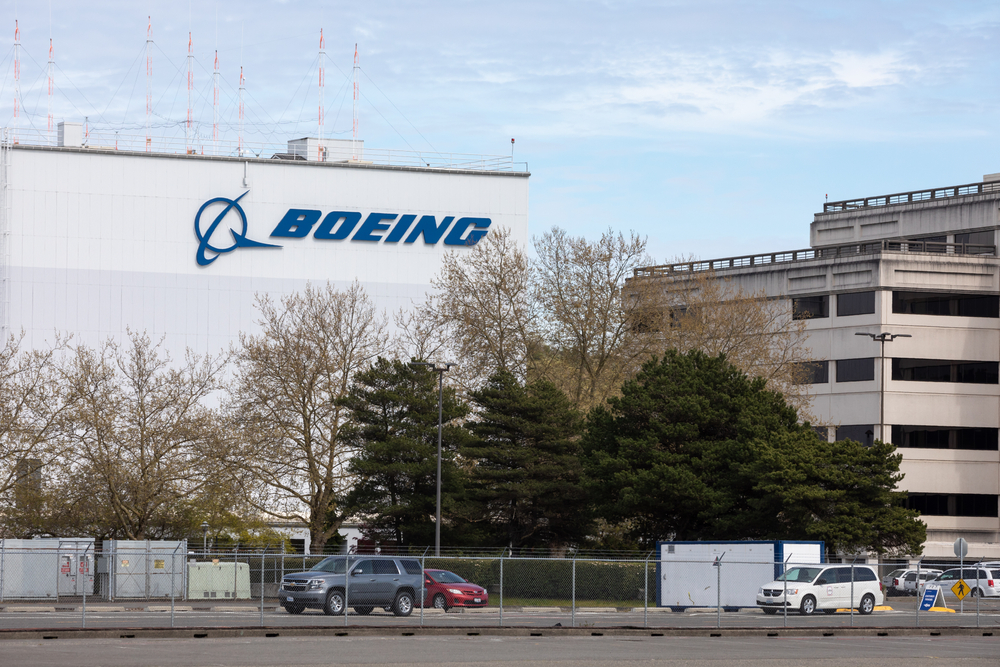 Boeing Factory – Everett, Washington
You can't take a factory tour at Boeing right now – tours were suspended during Covid and haven't resumed. However, you can visit the Boeing Gallery and learn about the Future of Flight. You can also walk out on the Sky Deck overlooking a field and see the company testing the latest planes. Don't miss the Kids' Zone in the Gallery, and finish with a stop at the Boeing Store.
Learn more here: www.boeing.com.
Beautiful Public Gardens
If you're a gardening buff or simply appreciate beautiful, sweet-smelling flowers, you may want to take an RV vacation to one of the country's public gardens. Usually situated in urban areas, these well-maintained landscapes can help you escape into nature without necessarily getting way off-grid. Plus, they can amass large collections of different types and species of flowers and plants in one condensed area. They're an invaluable tool for those who are legitimately into botany (aka, plant nerds — you know who you are).
As RVers, we love the opportunity to get outside and experience nature firsthand in our many National Forests and other wild areas. But we also know that sometimes, an urban adventure is what you're after — and you need a little bit of nature to balance all that asphalt.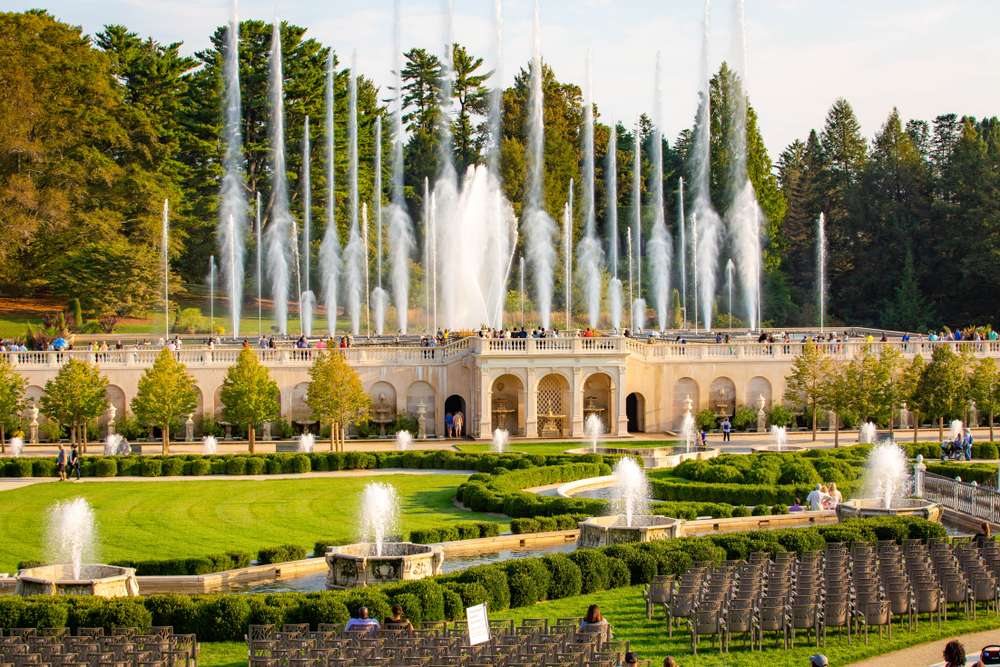 Famous Botanical Gardens and Public Greenways in the U.S.
Lucious roses, delightful daffodils, and all manner of flowering trees and bushes — who doesn't want to take a walk through the garden?
Fortunately, you've got plenty of options to choose from. Here are some of the most beautiful and famous gardens in the United States.
1. The International Rose Test Garden: Portland, Oregon
A rose is a rose is a rose — except that's not actually true at all. One walk down your grocery store flower aisle will prove that roses have come a long way from their humble origins. And the International Rose Test Garden in Portland is the epicenter of the action, home to more than 10,000 rose bushes of approximately 650 different varieties. (Head to the area in June to see it in its full, blossoming splendor.)
New ones are being crafted and cultivated every day; samples are sent to the garden from around the world and tested for disease resistance, bloom formation, color, and fragrance. It's scenic science at its best, and it's also tucked away in one of the most-worth-visiting cities in America.
Click here to see RVshare rentals near Portland, Oregon.
2. Wave Hill Public Gardens: Bronx, New York
Nobody needs a break from the rush of city life more than those who dwell in America's biggest city. Maybe that's why Wave Hill Gardens is so popular: tucked in the otherwise urban Bronx borough of New York, this 28-acre public garden provides a respite from the hustle and bustle.
Along with wander-worthy landscapes and vistas, the park also organizes a host of events and educational opportunities and has a charming gift shop and a cafe filled with all sorts of handcrafted delights. The space is also available to rent out as a wedding or event venue — and man, what an incredible photo opp that would be!
Click here to see RVshare rentals near the Bronx in New York.
3. Lewis Ginter Botanical Garden: Richmond, Virginia
A sprawling 50-acre campus that's open year-round, Lewis Ginter Botanical Garden is a favorite not just for Richmonders, but for everyone. In fact, it was voted one of the top 10 U.S. botanical gardens by none other than USA Today. You can take a veritable world tour without ever leaving Virginia, traipsing through its rose garden, Children's Garden, Asian Valley, and Cherry Tree Walk. They also host a wide variety of events and offer dining and shopping opportunities that'll rival anything you'll find in town.
Click here to see RVshare rentals near Richmond, Virginia.
4. ABQ BioPark: Albuquerque, New Mexico
Think the desert is devoid of plant life? Think again. ABQ BioPark Botanic Garden proves that theory wrong, especially when you see it first-hand by wandering its 1.5 miles of walking paths. With displays both formal and whimsical, you'll see exactly how well the high desert climate can support plant life — not to mention the butterflies and birds that also draw visitors to the landscape.
Plus, New Mexico is just about the definition of a hidden gem for RVers. It's home to ample outdoor opportunities including a dozen National Monuments, a few of which are home to some of the oldest Native American ruins in America. Oh, there's also killer Mexican food, but you probably already knew that. Be sure to order it Christmas style; it's a New Mexico tradition!
Click here to see RVshare rentals near Albuquerque, New Mexico.
5. Atlanta Botanical Garden: Atlanta, Georgia
Although directly adjacent to one of the most bustling cities in the south, once you step foot on this lush 30-acre property, you'll feel like the city is far away. At the Atlanta Botanical Garden, you'll wander through a variety of different ecosystems as well as one of the world's leading assortments of orchids, before topping it all off with a walk on the elevated pathway through the Georgia forest. It's also got a large collection of prized and rare Chihuly glass.
Come during the winter season, and you'll be in for a treat: the entire park bejewels itself in thousands of holiday lights and unique decorations. (P.S. Your humble writer has definitely visited this garden more than once, and would totally be a member if she lived in Atlanta.)
Click here to see RVshare rentals near Atlanta, Georgia.
Famous English Gardens
Think you have to hop across the pond to experience a traditional English garden? Think again! Here's one of our favorites right here on U.S. soil.
6. Old Westbury Gardens: Old Westbury, New York
Parts of Long Island have a bit of a reputation for wealth, sophistication, and class. So it's no surprise that it's home to Old Westbury Gardens, one of the premier English Gardens in America.
Along with its devastating beauty, this garden also offers historical significance to boot: it's the former estate of John Shaffer Phipps, heir to a U.S. steel fortune. It's open from April through October, but be aware that you will have to pay a fee to enter.
Click here to see RVshare rentals near Old Westbury, New York.
Famous Japanese Gardens
Cherry blossoms, bonsai trees, and a whole swath of beautiful blooming flowers — they all await at these Japanese Gardens here in the States, no crazy red-eye flight required.
7. Seattle Japanese Garden: Seattle, Washington
The Pacific Northwest has the right climate to foster some beautiful representations of Japanese flora, as evidenced by the lush 3.5-acre urban escape tucked away in Seattle. The Seattle Japanese Garden is home to lush moss, bright azaleas, and iconic cherry trees, but also a variety of Japanese-style architecture including lanterns, bridges, and buildings. There's a rotating schedule of events and festivals to check out, all right in the Madison Park neighborhood.
Psst — there's also a breathtaking Japanese Garden in Portland, but we didn't want to give one city two spots on our list. Like we said, the Pacific Northwest is killin' it in the public garden game!
Click here to see RVshare rentals near Seattle, Washington.
8. Japanese Tea Garden: San Francisco, California
If you're going to San Francisco, be sure to wear some flowers in your hair… or at least to look for them in the Japanese Tea Garden. You'll be greeted not only by blossoms but also with beautiful pagodas, serene waterways, and, of course, as much tea as you can enjoy in the tea house — with some delicious rice crackers and fortune cookies to snack on on the side, of course.
The Tea Garden is tucked into the broader landscape of Golden Gate Park, home to many other fun diversions like an aquarium, carousel, and sports ranges — not to mention a host of other gardens to visit. In short, this one should definitely have a spot on your travel list!
Click here to see RVshare rentals near San Francisco, California.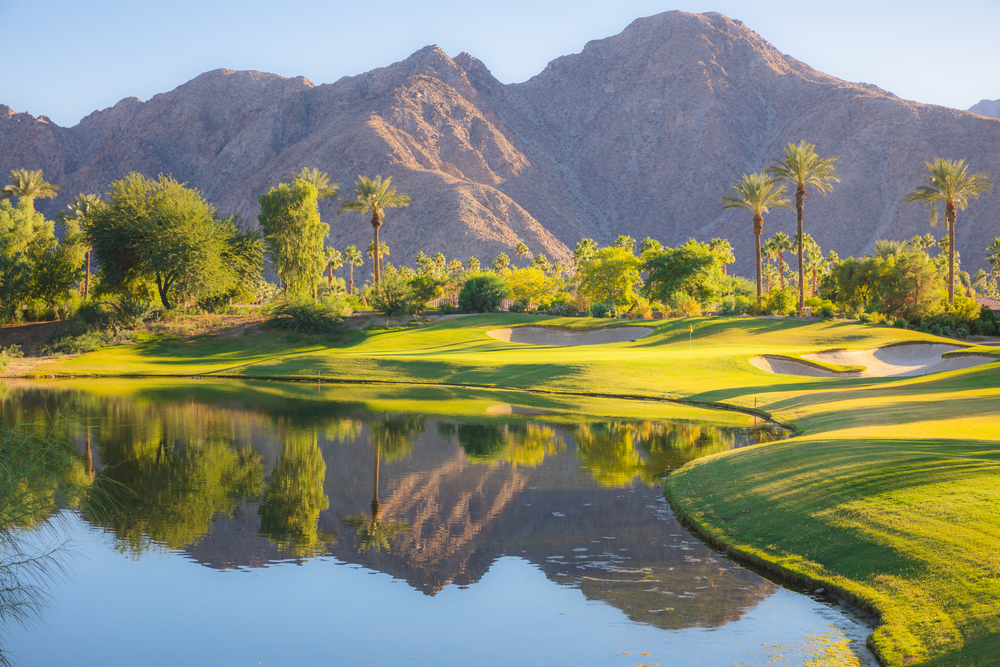 The Best RV Golf Trips
An RV can be the perfect vehicle and lodging option for a golf trip! There are an enormous number of golf resorts all across the country, and many of them include RV campgrounds. In most cases, the RV parks attached to these golf resorts offer outstanding amenities and service. On top of that, when you stay at a golf resort, you'll be able to walk out your front door, hop in your golf cart, and be golfing in the fresh air and sunshine in minutes.
Not sure where you should go for an RV golf getaway? Below are some of our favorite golf resorts that include parking for RV campers.
Torrey Trails RV & Golf Resort
Bowling Green, FL
Torrey Trails RV & Golf Resort is a luxury 55+ community located in Bowling Green, Florida. This resort is great for maintaining an active lifestyle and enjoying beautiful weather year-round. Torrey Trails has a peaceful countryside setting while still being just a short trip away from major cities such as Tampa and Orlando. You will love Torrey Trails RV & Golf Resort for its luxurious amenities such as the 9-hole golf course, large heated pool, nature preserve, and 3-mile hiking trail.
Click here to see RVshare rentals near Torrey Trails.
ViewPoint RV and Golf Resort
Mesa, AZ
Whether you're looking for a championship golf course or something simpler for the beginner golfer, there's something for you at the award-winning ViewPoint RV and Golf Resort. When you finish golfing, be sure to visit the resort's fitness center, check out the hiking trails, and hop in the gorgeous pool to cool off and relax.
Click here to see RVshare rentals near ViewPoint RV & Golf Resort.
Emerald Desert Golf and RV Resort
Palm Desert, CA
A luxury resort that many would claim is one of the best in the country, Emerald Desert Golf and RV Resort has a host of wonderful amenities. Additionally, the resort boasts over 760 sites, meaning there's sure to be one that suits your fancy. Of course, the 9-hole golf course with sand and water obstacles is pretty amazing as well.
Click here to see RVshare rentals near Emerald Desert Golf and RVResort.
Brickyard Plantation Golf Club and RV Park
Americus, GA
A much smaller place, the RV park at Brickyard Plantation Golf Club has 24 sites available. This makes for a more intimate atmosphere that many golfers prefer. The onsite golf course offers a full 27 holes, meaning it'll fill an entire afternoon. Additionally, the resort hosts regular activities such as live music nights.
Click here to see RVshare rentals near Brickyard Plantation Golf Club and RV Park.
Desert Canyon Golf Resort and RV Park
Orondo, WA
An absolutely gorgeous park with plenty of scenic views, Desert Canyon Golf Resort and RV Park ensures those who stay there are never bored. The resort offers three different golf courses, so you can easily fill an entire vacation with golfing fun. Additionally, the resort boasts a cool swimming pool and a lovely hot tub for relaxing in at the need of a long day.
The Links of North Dakota
Williston, ND
Featured on Golf Magazine's list of "Thrifty Fifty" golf courses, The Links of North Dakota is a fantastic place to visit. The 18-hole golf course at this resort is incredibly well-manicured and just waiting for you to play. On top of that, the attached campground only offers 13 campsites, meaning you're sure to have a peaceful getaway.
Click here to see RVshare rentals near The Links of North Dakota.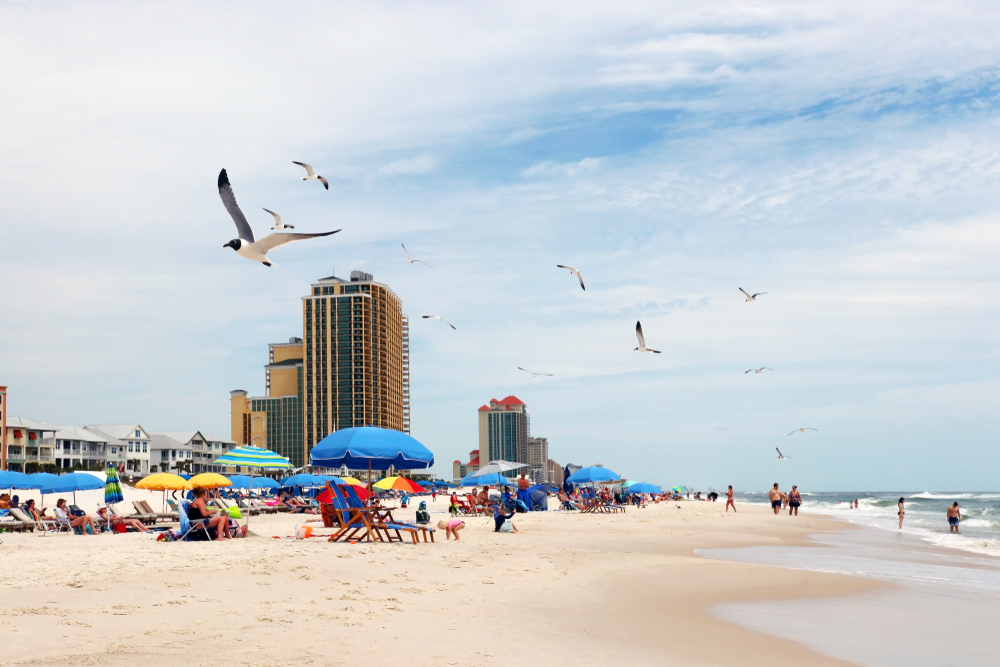 Gulf State Park
Gulf Shores, AL
Some of our favorite places to go RV camping are state parks, and one of our favorite beaches in the country is the beach in Gulf Shores, AL. So when we learned about Gulf State Park in Gulf Shores, which has a golf course, we had to include it!
The park boasts 200 campsites, several hiking trails, and plenty of gorgeous birds. The onsite golf course is lovely as well, with tall oak trees and well-maintained grass.
Click here to see RVshare rentals near Gulf State Park.
Deer Creek RV and Golf Resort
Davenport, FL
Florida is always a good place to visit in an RV, and Deer Creek RV and Golf Resort is the perfect place to spend one of your Florida RV trips. The RV park features 164 campsites and the gold course is great for golfers of all levels. Sloping greens, slender fairways, and water obstacles all come together to make golfing on this course an exciting and fun experience for all.
Click here to see RVshare rentals near Deer Creek RV and Golf Resort.
Shallow Creek Golf and RV Resort
Gladewater, TX
Looking to spend some time in Texas? Shallow Creek Golf and RV Resort might be just the place to do it. This pretty resort is located in the piney woods of Gladewater and has been voted the number one RV park in all of Texas. The onsite golf course offers 18 holes and offers beautiful views along with plenty of challenges.
Click here to see RVshare rentals near Shallow Creek Golf and RV Resort.
French Lick Resort
French Lick, IN
A golf enthusiast's dream come true, French Lick Resort is home to golf courses designed by the esteemed Donald Ross, Pete Dye, and Tom Bendelow. A train trolley transports guests from the RV sites to the courses, and the neighboring Hoosier National Forest offers plenty of opportunities for hiking, bird watching, and other outdoor fun.
Click here to see RVshare rentals near French Lick Resort.
Shore Gate Golf Club
Ocean View, NJ
Shore Gate Golf Club has received a 4.5-star rating from Golf Digest and has been named one of "America's Best New Golf Courses". It offers an 18-hole championship golf course that features stunning water features, rolling hills, and more.
Ocean View Resort is located next door and offers top-notch RV camping, making it the ideal place for an RVing golfer to spend some time.
Click here to see RVshare rentals near Ocean View Resort.
Fort Wilderness and Walt Disney World Golf Courses
Orlando, FL
Most people don't think of golfing when they think about Walt Disney World Resort. That said, it's actually an ideal place to get in a round or two. This resort features a total of four championship golf courses. Nearby Fort Wilderness Campground is one of the very best RV resorts in the country, meaning you can have an extremely comfortable stay, scratch your golfing itch, and maybe even squeeze in a bit of Disney magic.
Click here to see RVshare rentals near Fort Wilderness Campground.
Interesting and Important Historical Locations
If you're traveling with a group of history buffs, you may want to try planning a trip to an important historic site in the United States! Many of those sites have hands-on exhibits, immersive buildings and sets, or re-enactors that help bring history to life. Here are a few of the many fascinating historical locations you can visit for a unique RV vacation.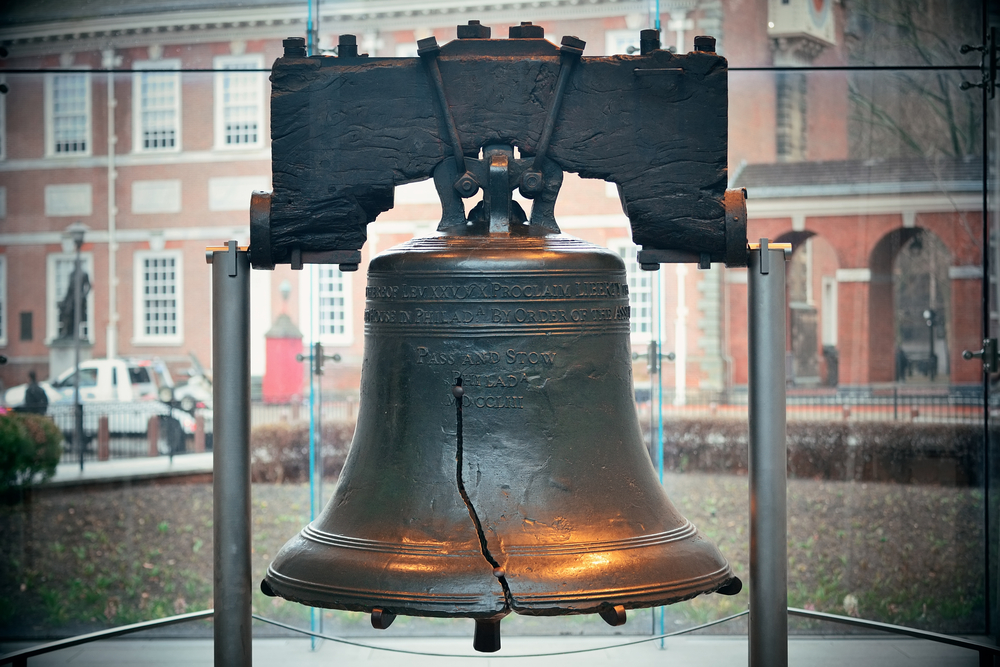 Independence Hall
Philadelphia, PA
Philadelphia is chock-full of amazing historic sites, and you're bound to see at least a few of these while visiting the city. But if you only see one thing, make sure it's Independence Hall. This is where the Declaration of Independence was signed, and the tour of this place is absolutely phenomenal.
Mesa Verde National Park
Cortez, Colorado
If you find yourself in Southwest Colorado, we highly recommend a stop at the beautiful Mesa Verde National Park. The park showcases the cliff dwellings built by the Ancestral Pueblo people. You'll learn a lot about the ingenious ways the Puebloans stayed cool in summer and warm in winter, gathered and stored crops, and much more.
Gettysburg National Military Park
Gettysburg, PA
Most Americans are well aware of the important role Gettysburg has played in our nation's history. Visit this fantastic park to learn all about the battle that took place here, as well as the historic Gettysburg Address given by President Lincoln after the battle took place.
The Historic Triangle
Williamsburg Area, VA
If you want a whole lot of history in one place and can't make it to Philadelphia, Williamsburg, Virginia is the place to go. This is the location of the Historic Triangle, a group of amazing living history museums including Colonial Williamsburg, Jamestown Settlement, and Yorktown.
Other fantastic sites in the vicinity include Historic Jamestowne and the Museum of the American Revolution.
Martin Luther King, Jr. National Historic Site
Atlanta, GA
Looking to learn more about Martin Luther King, Jr.? Look no further than the Martin Luther King, Jr. National Historic Park. This place is run by the NPS and features the birth home of Martin Luther King, Jr., as well as some wonderful exhibits about his life and his work.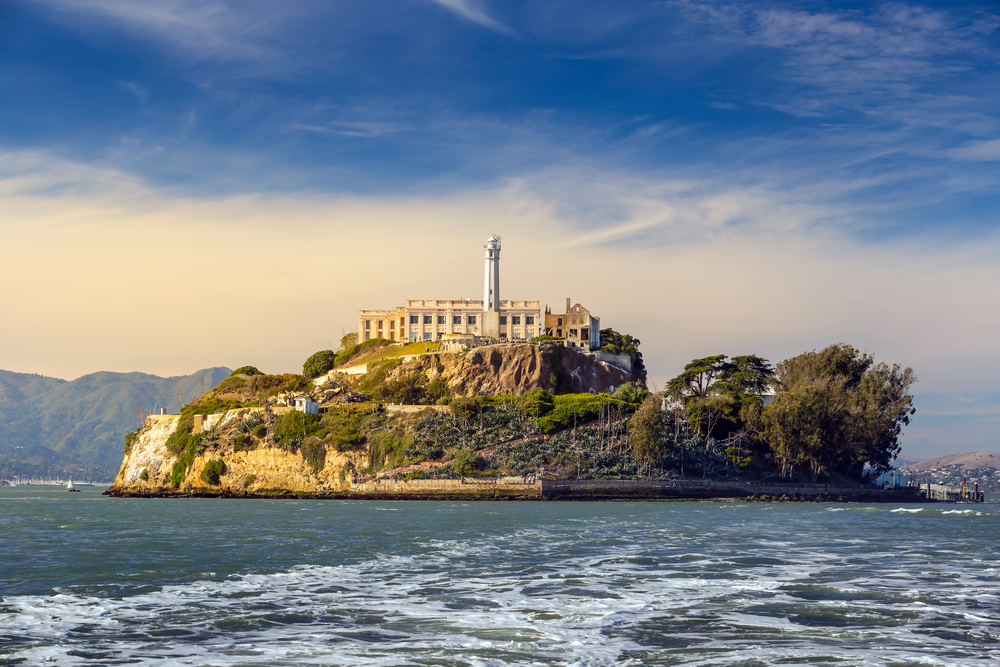 Alcatraz Island
San Francisco, CA
Those interested in the strange and creepy side of history will appreciate Alcatraz Island in San Francisco. This island was once home to a fort, which became a military prison, and then a federal prison. Learn about these things and more on a guided tour of this unusual and intensely interesting historic site.
Statue of Liberty and Ellis Island
New York City, NY
Another historic site on an island — but on the opposite end of the country — the Statue of Liberty is perhaps the most iconic site in all of the United States. This enormous statue has a rich history behind it that is well worth learning about during a visit to Liberty Island.
Ellis Island is another New York island that deserves a visit. This was once the busiest immigration inspection station in the country. During this time, the island welcomed more than 12 million immigrants. It now features a fantastic museum that helps visitors envision what the immigration process would have been like.
French Quarter
New Orleans, LA
Rich with colorful culture and history, New Orleans boasts historic sites and museums around every corner. This is especially true in the French Quarter, where you can visit multiple times and still not see everything.
Enjoy a beignet and chicory coffee at Cafe du Monde, listen to jazz music at Preservation Hall, explore one of the many history museums around town, and be sure to check out Jackson Square, Saint Louis Cathedral, and the other historical locations.
National Civil Rights Museum
Memphis, TN
Another fantastic place to learn about Martin Luther King, Jr.—as well as other civil rights activists and events—the National Civil Rights Museum is a must-see in Memphis. The museum is well put together, easy to follow, and incredibly touching.
National Mall
Washington, D.C.
The National Mall in Washington, D.C. is home to the Lincoln Memorial, the Washington Monument, and a beautiful grassy area for strolling. We highly recommend a visit to this area of D.C. during your time there.
The White House
Washington, D.C.
Of course, if you're visiting Washington, D.C., you should definitely check out the White House. Finished during John Adams' term as president, the White House has been the location of an enormous number of historic events.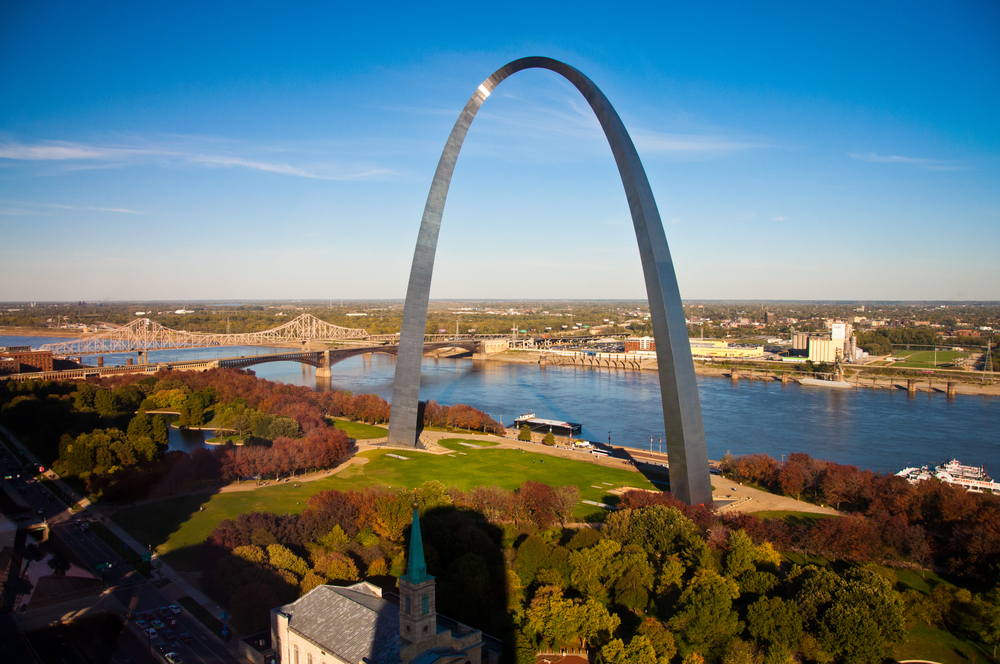 Gateway Arch National Park
St. Louis, MO
The Gateway Arch is a memorial to westward expansion and an excellent place to go to learn about this period of the nation's history. Be sure to visit the museum under the arch as well as the Old Courthouse for the full experience.
Castillo de San Marcos National Monument
St. Augustine, FL
Touted as the oldest city in the United States, it should come as no surprise that St. Augustine is home to an amazing historic site. The Castillo de San Marcos is a fort that was originally built by the Spanish, but actually changed hands quite a bit through the years.
The Alamo
San Antonio, TX
The Alamo is one of those historic locations that everyone should see at least once in their lives. Situated in the middle of downtown San Antonio, this historic fort is incredibly well-preserved. It holds some amazing stories from the past, and is well worth visiting to expand your knowledge of Texas and US history.
The American Civil War Museum
Richmond, VA
The Civil War marked a turning point in our nation's history. It was a complex war, and many details are left out of the typical history book. Learn those details as you dive into the interesting history of the Civil War at the American Civil War Museum.
Boston Tea Party Ships and Museum
Boston, MA
The Boston Tea Party was a major event in the lead-up to the Revolutionary War. Learn about the motives behind the individuals who tossed tea overboard on that fateful night of December 16th, 1773. Put yourself in their shoes, board the Tea Party ships, and experience firsthand some of what this night might have been like.
Lincoln Presidential Library and Museum
Springfield, IL
President Lincoln did a lot for our country, and you can learn more about his contributions at the Lincoln Presidential Library and Museum. This amazing museum follows the life and times of Abraham Lincoln and is one of a number of Lincoln-related attractions in the area.
Plimoth Patuxet Museums
Plymouth, MA
There's nothing like a good living history museum to put you in the shoes of the people of the past. Some of the very best living history museums in the country are the Plimoth Patuxet Museums.
The museums bring the history of the Plymouth Colony and the indigenous people who lived there before to life. Visit the Patuxet Homesite, the 17th-Century English Village, the Mayflower II, and the Plimoth Grist Mill.
Thomas Jefferson's Monticello
Charlottesville, VA
Ever wonder how the presidents of the past lived? Thomas Jefferson's Monticello offers a peek into the way Jefferson might have lived day-to-day. Along with touring the president's home and admiring the lovely grounds, you'll learn about the more than 600 people Jefferson enslaved including men, women, and children.
George Washington's Mount Vernon
Mount Vernon, VA
George Washington's Mount Vernon is another beautiful president's home. Here, you can take a guided tour of Washington's home and learn about his home life and his work as president.
Fort Sumter National Monument
Charleston, SC
Charleston is a city worth seeing and is home to several historical locations. Fort Sumter is one of the best historic sites to visit while you're there. This fort is built on an artificial island. It was built after the War of 1812, but was still incomplete in 1861 when the Battle of Fort Sumter happened and marked the beginning of the Civil War.
Henry Ford Museum of American Innovation and Greenfield Village
Dearborn, MI
Want to learn about the innovation of America? The Henry Ford Museum of American Innovation is for you. Here you'll learn about the history of transportation, technology, and much more in engaging and interesting exhibits that are sure to entertain as they educate.
When you're finished in the museum, head right outside to visit Greenfield Village, a super cool living history museum that represents a variety of time periods.
National Museum of American History
Washington, D.C.
An all-encompassing museum that helps put pieces of American history into some sort of order, the National Museum of American History is one of our favorite Smithsonian Museums. Admission is free, and one could easily spend an entire day here.
Want more history from the Smithsonian Museums? Try the National Museum of Natural History, the National Museum of African American History and Culture, the National Museum of the American Indian, and the National Air and Space Museum.
Kennedy Space Center
Merritt Island, FL
Space exploration is a super cool and super important part of our country's history. Learn all about our space exploration history at NASA's Kennedy Space Center. If you time it right, you might even be lucky enough to see a rocket launch!
National Museum of the United States Air Force
Dayton, OH
If air and space history interests you, you might also want to visit the National Museum of the United States Air Force. This museum includes a bit on the history of flight in general but mostly focuses on the history of flight in the US military. Admission to the museum is free.
9/11 Memorial and Museum
New York City, NY
The events of 9/11 were tragic, and they reshaped our country forever. Learn about how the events unfolded and how they affected various individuals as well as our country as a whole at this poignant memorial and museum.
Yellowstone National Park
Wyoming
Yellowstone National Park is a historic location that shouldn't be overlooked. It might not seem to fit into this list, but Yellowstone was actually our country's first national park, making it a historical site and an incredible natural wonderland all wrapped into one.
The Best Places to Go Canoeing and Kayaking
One of the great benefits of RV vacations is that camping allows you to get outdoors. And an excellent way to experience a beautiful summer day is out on a lake, kayaking. Whether you want to paddle and explore or take a canoe out for fishing, here are some of the best places to go!
1. Prince William Sound, Alaska
Yes, it's quite a trek to get here from the Lower 48… but kayaking on the extraordinary Prince William Sound in Alaska's Chugach National Forest is an adventure worthy of your travels. Surrounded by mountains and glaciers, it's hard to think of a more scenic place to enjoy a paddle. The waters are pristine and clear thanks to their glacier-fed, unpolluted nature. Speaking of nature, there's plenty of fascinating wildlife to encounter while you're there. No wonder they call this place a kayaker's paradise!
Click here to see RVshare rentals near Prince William Sound in Alaska.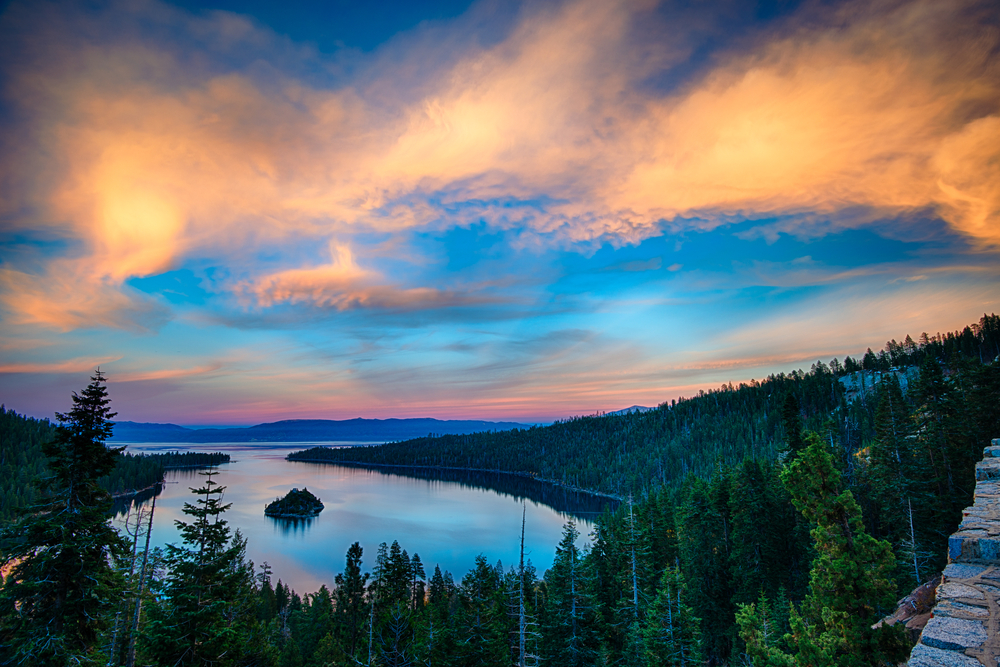 2. Lake Tahoe, California and Nevada
Lake Tahoe has just about every traveler covered. From indulgent spas to challenging hikes to, yes, some world-class kayaking, Lake Tahoe is a bucket list topper in both summer and winter. Since it's a lake, rather than a river, visitors can look forward to a nice, relaxing paddling experience without having to fight the current.
Click here to see RVshare rentals near Lake Tahoe.
3. Mulberry River, Arkansas
We've said it before and we'll say it again: the Ozarks are one of the most underrated vacation destinations in America. This sprawling mountain range is punctuated with a number of waterfronts and riverways, one of the wildest of which is the Mulberry.
Come springtime, the rainy season makes for a truly exhilarating adventure as you navigate the river's twists and turns. It's a challenging ride even for an expert. If you're a beginner, consider visiting in summer or fall, or consider booking one of the local adventure tour companies.
Click here to see RVshare rentals near the Mulberry River in Arkansas.
4. Colorado River, Arizona
It may be called the Colorado River, but one of the most scenic areas to kayak it is in Arizona — along with a whole host of other Grand Canyon-related adventures. From visiting the national park to going further afield to Page to experience Antelope Canyon and Horseshoe Bend, this part of the country is truly a non-stop spot for adventures. Kayaking through the Grand Canyon itself is certainly not the least of them!
With over 260 miles of river to explore in this area, you could easily make this into a multi-day (or even multi-week) journey… or go for a nice quiet day trip between other adventures. There are both calm areas and rougher patches, so you can find something to match your comfort and experience level. Either way, it will be unforgettable.
Click here to see RVshare rentals near the Colorado River in Arizona.
5. Ocoee River, Tennessee
The Ocoee is one of the most famous rivers not only in America, but in the entire world. It's Class 3 and Class 4 rapids make it an amazing spot to try out some whitewater kayaking. In fact, it's the only natural river that was ever used to facilitate an Olympic-level kayaking and canoeing event (in the summer of 1996), so it's safe to say that if you're a beginner, you'll want to ensure you've got expert help.
The Ocoee is tucked in the scenic Cherokee National Forest, which offers tons of hiking, camping, and other land adventure opportunities once you're done braving the river.
Click here to see RVshare rentals near the Ocoee River in Tennessee.
Best Canoeing Spots
If kayaking's not quite your style, take heart. Here are some places to go canoeing!
6. Clearwater Canoe Trail, Montana
This one-to-two-hour canoe trip meanders through a dense and beautiful willow marsh and is regulated by a no-wake rule that makes for a relaxing and leisurely paddle. Along this 3.5-mile section of the river, you'll be able to spot warblers, nesting common loons, bitterns, catbirds, snipes, great blue herons, and belted kingfishers… not to mention muskrats, painted turtles, and beavers.
Click here to see RVshare rentals near the Clearwater Canoe Trail in Montana.
7. Indian River Canoe Trail, Michigan
Chances are Michigan's upper peninsula is already on your travel bucket list. (And if it isn't… well, why not? It seriously doesn't get much more scenic.)
But did you know that this midwestern spot is also home to world-class canoeing? Tucked into the Hiawatha National Forest, the Indian River runs a total length of more than 50 miles, and it makes an excellent spot to kick back with your paddle and observe the local flora and fauna. Please keep in mind that the trail may be high and fast before mid-June when the area's snowfall inflates the waters.
Click here to see RVshare rentals near the Indian River Canoe Trail in Michigan.
Landmarks Literary Lovers Won't Want To Miss
Bookworms rejoice! There are lots of places to take an RV vacation that will bring you by the homes and other areas of importance to writers throughout history. Here are a few:
The West
If you are a London fan, you won't want to miss his hangouts in California and Oregon. The first is in Glen Ellen, California. Beauty Ranch includes both a cottage and farmland where Mr. London wrote and farmed. The second is a remote lodge and tavern in Pregon, built in the 1880s. It's where London completed his novel, Valley Of The Moon. The lodge is located in Creek, Oregon, and was also a popular stop for several Hollywood stars including Carole Lombard, Clark Gable, and Orson Wells.
Steinbeck is one of California's most respected authors, and you can visit his birthplace and childhood home, and even have an excellent meal. The Steinbeck House is located in Salinas, California, and is open to the public Tuesday through Saturday. The Queen Anne style Victorian home was built in 1897 and the Steinbeck family moved in in 1900. Author of "The Grapes of Wrath", Steinbeck often dealt with the social and economic issues plaguing America in his writing. He was educated at nearby Stanford University in 1919 but dropped out in 1925 without achieving his degree. While in Salinas be sure to visit the National Steinbeck Center to learn more about him.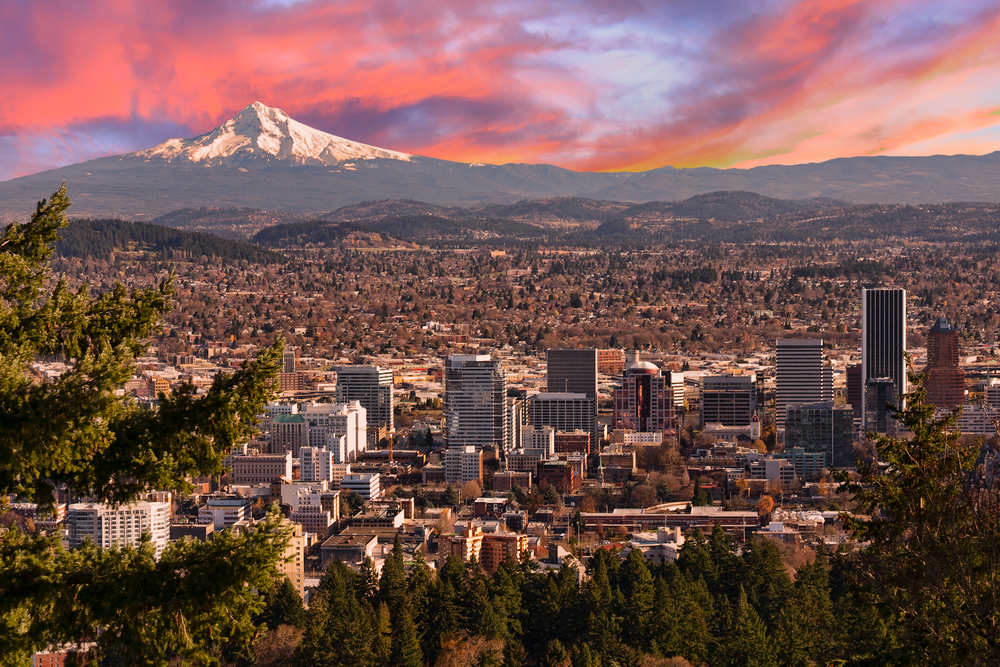 The popular children's book author was born and raised in Oregon. During her lifetime, she wrote over 30 books for children and young adults which sold 91 million copies. When in Portland, you can visit the Beverly Cleary Sculpture Garden in Grant Park. Here you will see bronze statues modeled after characters from her favorite books that are sure to delight the entire family. While in the Portland area, take a self-guided walking tour of the streets where Beverly's books were set, between the Hollywood Library on NE Tillamook Street and throughout the nearby neighborhoods.
While visiting the Pacific Northwest, you must visit the world-famous bookstore, Powell's Books. This bookstore boasts over 1 million books currently on its shelves for sale. You could spend a lifetime reading every genre known to mankind at Powell's. Don't miss it!
The state of Washington lays claim to many writers, but one travel writer and TV host stands out. Rick Steves has been traveling the globe and writing guides about his journeys since 1979. In 1991, he began producing his now famous PBS television show, Rick Steves' Europe. You can catch the travel bug by visiting his headquarters in Edmonds, Washington where you can buy travel gear and plan your next big trip. For fans of travel writing, this is a landmark stop that you won't soon forget!
Known for his famous play, The Iceman Cometh, Eugene O'Neill lived in Danville, California. Today you can visit his residence via the National Park Service shuttle from downtown Danville. On the 13-acre property, you will find his home, barn (now a theater), and beautiful walking paths. Known as the father of American Drama, O'Neill called this place a "final home and harbor."
The Midwest
Red Cloud, Nebraska is home to the Willa Cather Foundation. This little town offers you a chance to see the world Cather made famous in her Pulitzer Prize-winning books about the Great Plains. Red Cloud offers tours of Cather's childhood home, a memorial prairie, and the Red Cloud Opera House, which is the home of the foundation. The Willa Cather Center opened in 2017. The Cather Prairie consists of 612 acres of never-plowed native prairie. Walk through this prairie to experience the world Willa knew so well.
If you love Laura Ingalls Wilder, you will want to tour both her historic home and museum and her childhood homestead. The Rocky Ridge farmhouse is located in Mansfield, Missouri, and offers a complete and comprehensive museum experience. From Pa's fiddle to Laura's books and writing desk, the collection at Mansfield is an excellent example of historic preservation. Visit her home from March through mid-November, seven days a week. The Ingalls Homestead in De Smet, South Dakota offers a step back in time to experience Laura's books. You can take a covered wagon ride, explore a one-room school house, and even camp on the same land where Laura's family made their home. Cabins, covered wagons, RV sites, and tent camping are all available.
Ernest Hemingway
The birthplace of Ernest Hemingway in Oak Park, Illinois is now a museum, which is open to the public. A short walk from the birthplace you will find the Hemingway Museum, which holds a variety of rare photos and artifacts from his life and childhood.
Baum will forever be connected with the state of Kansas, although he visited it only briefly before writing his famous work, The Wizard Of Oz. Today, the work of Frank Baum is celebrated in the small town of Wamego, Kansas. Wamego is the home of the OZtoberfest and the OZ Museum. Mr Baum's character, creative genius, and the characters of his numerous books are on display for all to see. Check the website for current activities. L. Frank Baum's grandson often makes appearances as the great man himself and it's a performance well worth seeing in person.
The Kansas City Public Library is located in downtown Kansas City, Missouri. Its amazing facade looks like a row of towering classic books and is sure to bring a smile to readers of every age. The books actually hide the parking garage, and the spines measure 25 feet high by 9 feet wide. Constructed in 2006, the community chose 22 volumes to display, including Catch-22, Charlotte's Web, and Lord of The Rings.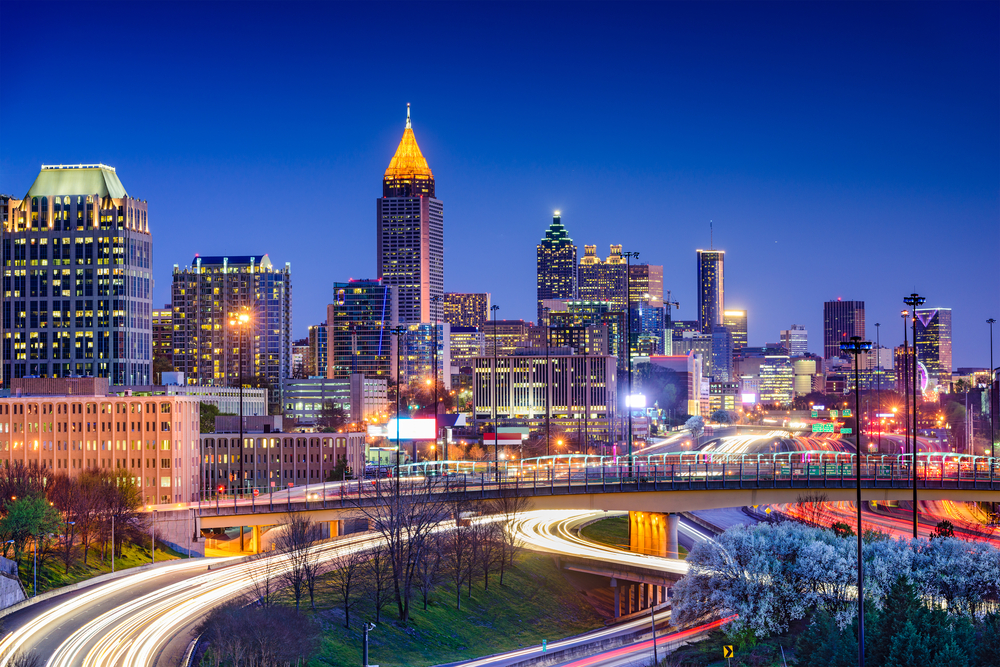 The South
Gone with the Wind, author Margaret Mitchell lived in Atlanta, Georgia, in an apartment she called, "The Dump." While sitting at the living room table, she worked for six years on her epic novel. It took Mitchell years to finish her Pulitzer Prize-winning novel. She ended in 1935 only because the book had already been accepted into publication. In 1939, GWTW became a larger-than-life film, which cemented Margaret's place in literary history. Tours of the apartment are operated by the Atlanta History Center and are available daily except for holidays. The Atlanta History Center is a landmark that can't be missed.
Milledgeville, Georgia is the home of short story author, Flannery O'Connor. O'Connor's most productive writing years were spent at the Andalusia Farm where she wrote daily from morning until noon, then spent her remaining days with visitors or her birds. Many of O'Connor's works reflect the functional landscape of her home. She died in 1964 having lived most of her life in Georgia.
Faulkner fans rejoice! Our list would not be complete without William Falkner's fabled Rowan Oak estate located in Oxford, Mississippi. Rowan Oak was home to Faulkner for over 30 years, and many of his most famous work's (such as Light in August) were written here. The home was originally a fixer-upper and Mr. Faulkner spent many afternoons wiring the house and building the terrace. It is said that he often wrote complicated novel plots on the back wall of the home. When the book was finished, he would paint over it and start again. Today, you can not only tour the home, but you can see the plot of A Fable still penciled on his wall. The 29 acres are open year-round with no fee. Enjoy a home tour for a mere $5.
Hemingway scores two homes on this list. His most famous residence is located in Key West, Florida. This tropical paradise inspired his productivity during the years he spent with his second wife, Pauline. Most of his major works were written in his office, which was an extension of his upstairs bedroom. Later, Mr. Hemingway would run to Cuba with his third and final wife, Martha, but during the Key West years, Hemingway had a passion for his Nobel Prize-winning literary art. Today you can visit the home and enjoy the 40-50 cats (most are six-toed) which are direct descendants of his own cat. The home, garden, and museum are open nearly every day, but be sure to check the cruise ship schedule to know when to avoid the rush!
Visit the beginning of Roots. The Alex Haley Museum and Interpretive Center includes Haley's boyhood home in Henning, Tennessee. The museum offers a comprehensive collection of the life and achievements of the famed author. Ongoing genealogy sessions are available to help people discover their own family tree. You can also see a life-size replica of a slave ship and watch a short documentary on the experience of slaves in the area.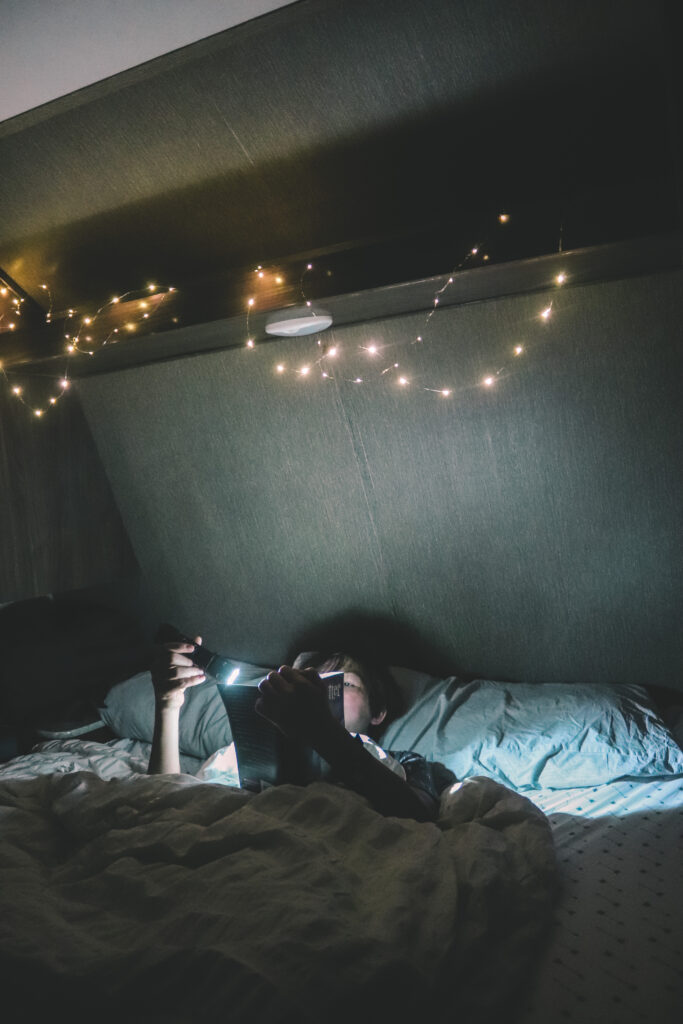 The East Coast
The Emily Dickinson Museum offers poetry lovers an inside tour of Dickinson's home. You can take an audio tour as you stroll through the grounds of the poet's private world. The homestead features two historic homes, one in which Dickinson was born, and the other where her brother and his family lived. The museum is connected with Amherst College and seeks to educate guests about Dickinson's life, family, and creative work. There are numerous events open to the public throughout the year, along with ever-changing collections and exhibits. The museum is open from March through December, and closed in January and February and is located in Amherst, Mass.
The Mark Twain House and Museum has been ranked as one of the ten best historic homes in the world by National Geographic. Located in Hartford, Connecticut, a tour of the home and museum is a full-day event with a large variety of events and interactive activities. The house was constructed in 1873 from Twain's wife's own drawings. In 1874 the family moved into the Hartford home and lived there until 1891 when finances forced them to move to Europe. The property was sold in 1903, but to Mark Twain, Hartford was always home.
Concord, Massachusetts is the home of Ralph Waldo Emerson, who lived in his famous white house for 46 years. During this time, it became the headquarters of the transcendentalist movement and is where he penned many of his greatest works. Emerson's famous essay, Self-Reliance, was written on the first floor. You can visit the property Emerson called "Bush" from April through October, Thursday through Sunday. The rear garden is also available for exploration. This was a favorite place for the author to take walks and write in his journal. Guests to this home included Henry David Thoreau, Margaret Fuller, Bonson Alcott (Father of Louisa May Alcott), and Elizabeth Peabody.
Wharton's estate in Lenox, Massachusetts is one palatial home. It has 35 rooms, and acres of lush, highly manicured gardens. Wharton loved to write while lying in her bed each morning. She wrote her famous, House of Mirth in this very home. Today, the home features ever-changing public and private activities, including an active artist-in-residence program. Tours are available until October 31st, on a variety of subjects. The grounds also feature artistic sculptures, concerts, and ghost tours. Wharton is known for her amazing works of fiction, but she also wrote books on architecture, decoration, travel, and collections of short stories.
Maine is home to famed and prolific author, Stephen King. King's home can be seen in Bangor, Maine, and is also known as the William Arnold House, built in 1858. You'll know the house by the blood-red paint and the cobweb fence around the property. Readers will enjoy taking the Stephen King tour, which includes a variety of towns fictionalized for many of King's most popular books and films. SK Tours of Maine offers a variety of three-hour bus tours that will whisk you around all things "King." The Tinkers (owners of SK Tours) are lifelong residents of Bangor and owned a bookstore focusing on Stephen King for over 20 years. This couple knows their stuff and will make the fictional world of "Derry" come to life!
Hawaii and Alaska:
Looking for an offbeat, literary experience? Hike the infamous Stampede Trail to the McCandless bus in Alaska. This bus, featured in the book Into the Wild which chronicles the life of Christopher McCandless, is where the adventurer's life came to an end. The bus is preserved much as it was when he originally journeyed there. Be aware – this is not a hike for the casual book reader. This journey can take a full month or more. Expect to sleep on the ground, be bitten by every bug known in Alaska, and have your strength of will tested. If you make it, you may connect with the immense beauty of life and your own free spirit.
Von Tempski was one of Hawaii's best-known authors. As a writer at the turn of the century, she often described life among the Hawaiian cowboys and cattle ranches. Von Tempski loved to write and was encouraged by a meeting with Jack London when she was only 16 years old. London said her writing was tripe with streaks of fire, and that was enough to encourage her. Today you can tour the Haleakala Ranch, which London first visited in 1907, and that Von Tempski often wrote about. The area of Haleakala has been home to ranchers for over 125 years, and much of the terrain is exactly the same as she described it.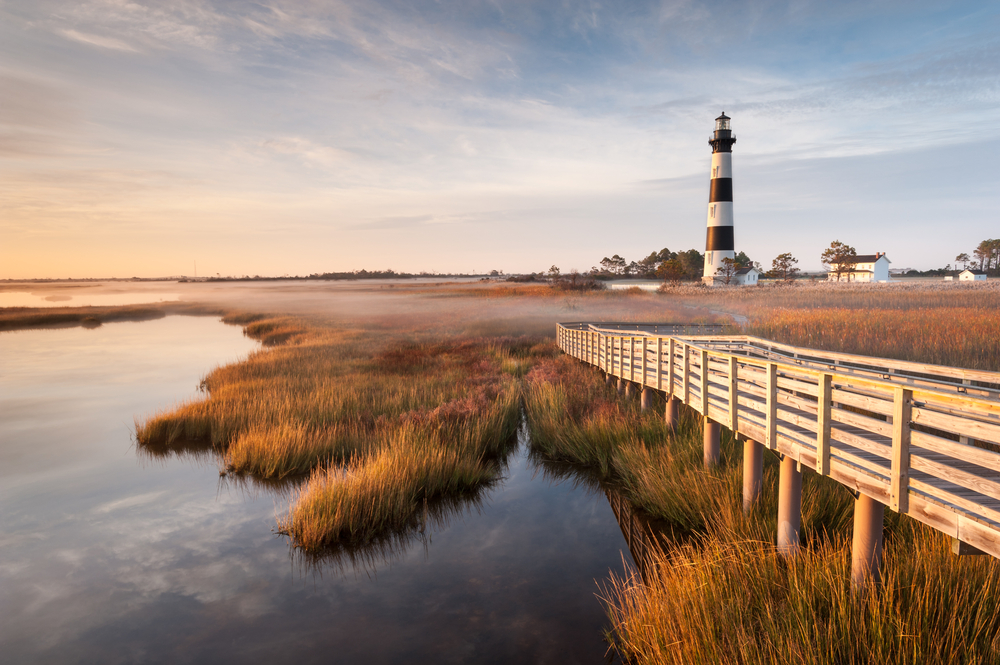 The Most Amazing Lighthouses Across America
Visiting lighthouses across America makes a truly unique and picturesque RV vacation! You'll also learn a lot about the history of the area and about the maritime history of the United States.
East Coast Lighthouses
Let's begin on the East Coast. You won't be surprised to learn that some of the most beautiful historic lighthouses in the world can be found along the Eastern Seaboard, and we highly recommend visiting as many as you can, especially those listed below.
Bodie Island Lighthouse, North Carolina
The lighthouse that stands on Bodie Island today exhibited its first light on October 1st, 1872. Even so, this wasn't the first lighthouse built on the island; two others were constructed here before this one, early in the same century.
This lighthouse is located in Dare County, NC. Rent an RV here!
Portland Head Lighthouse, Maine
Located on the shores of Fort Williams Park, the Portland Head Lighthouse has been a well-known Maine landmark since 1790. Built to warn of impending attacks by the British, the lighthouse was first lit in 1791. Lighthouse keepers called the place home until 1989.
This lighthouse is located in Cape Elizabeth, ME. Rent an RV here!
West Quoddy Head Lighthouse, Maine
Quite possibly the most photographed lighthouse in the US, West Quoddy Head Lighthouse is located on the easternmost point of the country. While the current tower was built in 1858, lighthouses have stood in this spot since 1808 in order to guide ships through the Quoddy Narrows.
This lighthouse is located in Lubec, ME. Rent an RV here!
Montauk Lighthouse, New York
The oldest lighthouse in the state of New York, construction on Montauk Lighthouse began in 1792 and was completed in 1796. It sits on the rugged Montauk Point, which is located on the tip of eastern Long Island.
This lighthouse is located in Montauk, NY. Rent an RV here!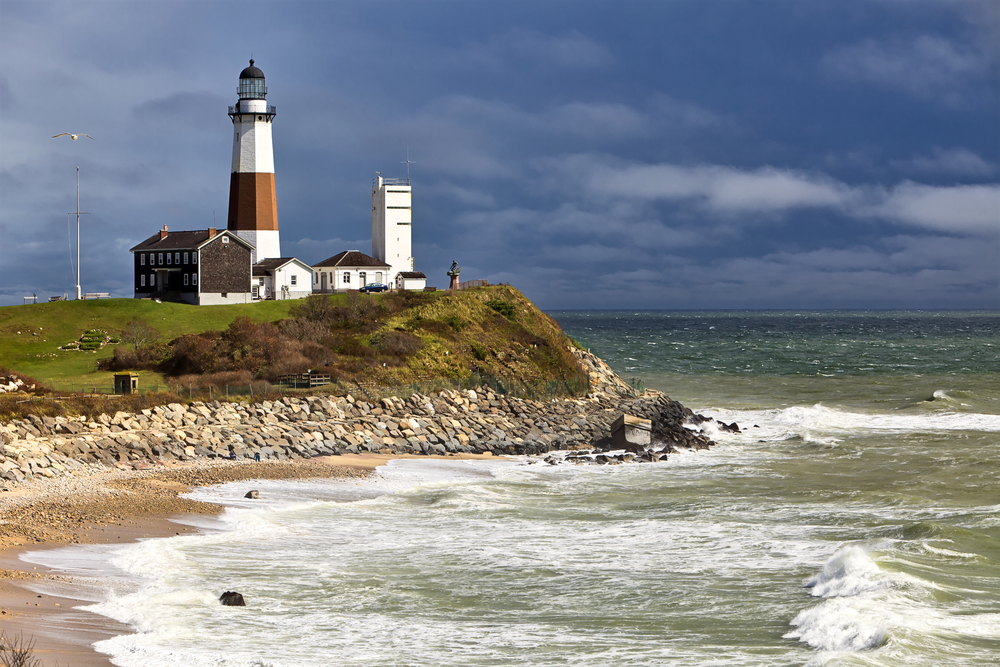 West Coast Lighthouses
Although most people tend to think of East Coast lighthouses first, the West Coast has its fair share. Not only that, but the dramatic cliffs of the coastline along the western side of the country provide a gorgeous addition to the landscape surrounding these lovely lighthouses.
Pigeon Point Lighthouse, California
At 115 feet tall, Pigeon Point Lighthouse is one of the tallest on the West Coast and one of the tallest in the United States. The lighthouse sits perched on the edge of a cliff. It was constructed back in 1872 and was first lit in November of the same year.
This lighthouse is located in San Mateo County, CA. Rent an RV here!
Battery Point Lighthouse, California
Battery Point Lighthouse is another wonderful California lighthouse. Also known as Crescent City Lighthouse, this landmark was first lit using oil lamps in December of 1856. Though it no longer uses oil lamps, the lighthouse is still in operation today.
This lighthouse is located in Crescent City, CA. Rent an RV here!
Heceta Head Lighthouse, Oregon
Our favorite lighthouse in the state of Oregon, Heceta Head Lighthouse was built in 1894. It still works today and is said to be the brightest light on the state's coast. Sitting 205 feet above the ocean, it certainly is easy to see!
This lighthouse is located in Lane County, OR. Rent an RV here!
North Head Lighthouse, Washington
Spending some time in Washington State? We highly recommend a visit to North Head Lighthouse. Located near Cape Disappointment, this lighthouse was first put into service in 1898 and still serves as an aid in navigation to this day.
This lighthouse is located in Pacific County, WA. Rent an RV here!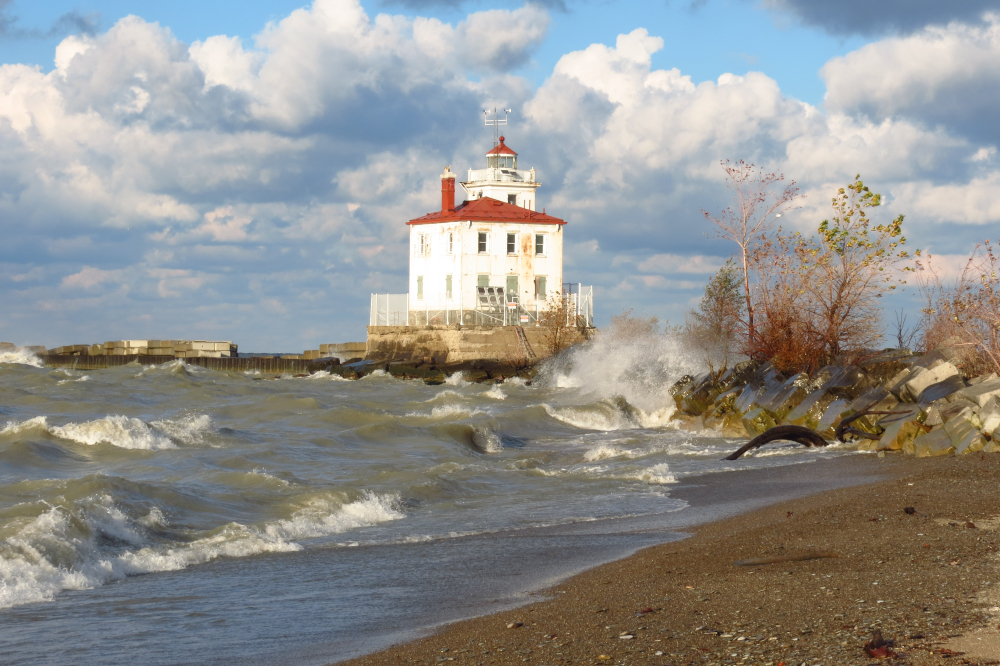 Great Lakes Lighthouses
Finally, there are the lighthouses of the Great Lakes. Many people are unaware that there are lighthouses along the shores of the Great Lakes. There are, though—and for good reason. Learn about the incredible history of these lakes at any of the lighthouses listed below.
Lorain Lighthouse, Ohio
The first light at Lorain Lighthouse was a lantern hung near the water's edge in 1837. The lighthouse was reconstructed at least twice before 1908. These days, the Lorain Lighthouse no longer functions, but it still stands and serves as a reminder of the port's history.
This lighthouse is located in Lorain County, OH. Rent an RV here!
Big Sable Point Lighthouse, Michigan
Big Sable Point Lighthouse stands over 100 feet tall on the shores of Lake Michigan. It was constructed in 1867 and used to guide local ships and boats. In the early 1900s, the lighthouse was painted black and white, a color scheme it retains to this day.
This lighthouse is located in Mason County, MI. Rent an RV here!
Split Rock Lighthouse, Minnesota
Split Rock Lighthouse was constructed in the early 1900s after a violent storm caused a number of tragic shipwrecks in 1905. It's one of the most famous landmarks in the state of Minnesota, and is quite lovely, perched on a cliff and sporting its original 1920s facade.
This lighthouse is located in Lake County, MN. Rent an RV here!
Wind Point Lighthouse, Wisconsin
Lastly, there is Wind Point Lighthouse. This Wisconsin landmark is located at the end of Racine Harbor and has offered navigational assistance to ships since 1880. It stands 108 feet tall, and is one of the tallest Great Lakes lighthouses.
This lighthouse is located in Wind Point, WI. Rent an RV here!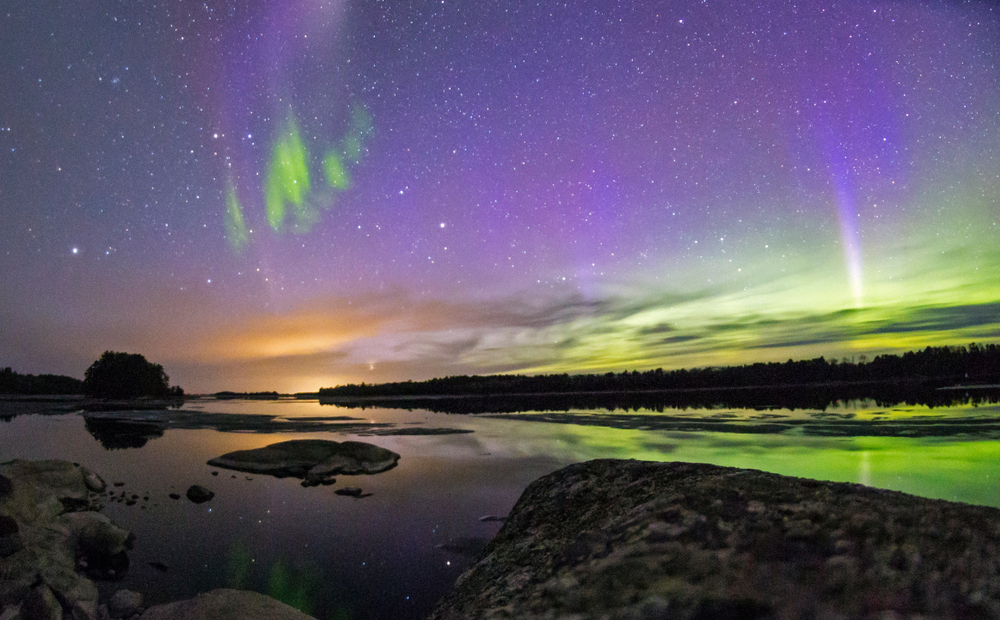 The Best Spots to See the Northern Lights
Chasing Northern Lights is another unusual but rewarding way to spend an RV vacation! Having your RV along while you spend a cold winter night looking for the lights is definitely helpful. When you're done for the night, you can head back to your warm RV and your comfy bed for a well-deserved night of sleep! Here are a few of the best places to look for the lights.
Alaska
Since Alaska is the northernmost state in the country, it's a great destination to view the Northern Lights.
Honestly, you have a chance of seeing the show in several places in the state. One of the best places to see the Northern Lights in Alaska is Denali National Park and Preserve. This is an absolutely gorgeous park to explore and an excellent place for gorgeous mountain views and local wildlife. As far as the aurora borealis, this is an ideal viewing location because of the park's wide-open spaces and dark night skies in winter.
Prefer to stay closer to town? The city of Fairbanks, Alaska is only about two hours from the national park and is also a good viewing location. This is because of its location in the auroral oval, which puts it smack dab in the middle of the Northern Lights action.
Idaho
Idaho is not as perfect for viewing the Northern Lights as Alaska, but you can often see them from certain parts of the state. This is a good option if you want to see the lights but don't want to drive all the way to Alaska.
Our recommendation? Head to Idaho Panhandle National Forest. The forest spans an enormous 2.5 million acres and is a great place for enjoying all kinds of amazing outdoor activities, including wildlife watching, hiking, skiing, fishing, and more. Of course, the aurora borealis is the star of the show when it decides to make itself visible, which is relatively often during the colder, darker months,
Another fantastic viewing location is Priest Lake in northern Idaho. This is a gorgeous lake on its own, but when it is lit by the Northern Lights, it becomes almost otherworldly. For this reason, photographers flock to the spot each year.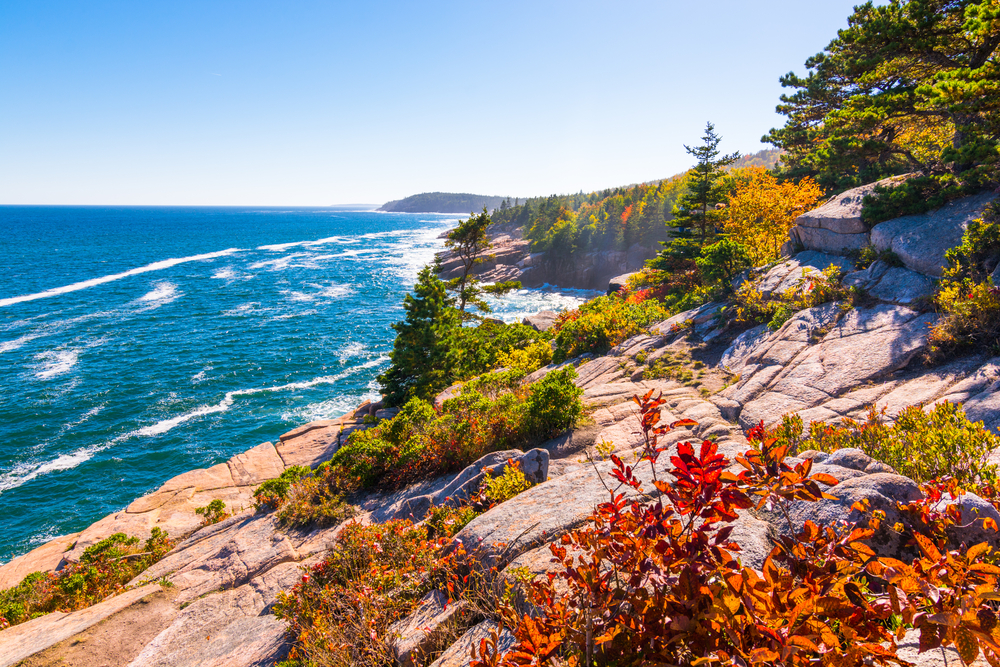 Maine
Being as far north as it is, Maine is also a wonderful place to check out the Northern Lights. Fortunately, there are plenty of sparsely populated areas of the state, meaning dark skies are not hard to find.
Our top pick is the Aroostook National Wildlife Refuge in Aroostook County, located on the border between the US and Canada. Very few people live in the remote Aroostook County, meaning there's almost no light pollution. The wildlife refuge is chock-full of wide open spaces, meaning finding a viewing spot won't be difficult.
For this trip, we highly recommend booking one of the campgrounds in the wildlife refuge. This will allow you to take the time to explore the wetlands, forests, and grasslands of the park and see some of the many animals that call the place home.
Michigan
Going to Michigan's Upper Peninsula is like crossing over into a whole new world. The place is absolutely gorgeous, the culture is unique, and the night skies are astounding. This is especially true during the winter when the aurora borealis makes a showing.
Because of its prime location and low light pollution, pretty much anywhere on this peninsula will give you incredible views of the Northern Lights. That said, we do have a few favorite spots to watch the show. These include Pictured Rocks National Lakeshore, Isle Royale National Park, and Tahquamenon Falls State Park. All are amazingly picturesque places to explore during the day and perfect viewing spots for nature's greatest light show at night.
If you plan to watch the Northern Lights during a visit to Michigan's Upper Peninsula, you will want to plan your visit for the right time of year. Generally, the lights can be seen between August and April, but the best viewing months are April, October, and November.
Minnesota
Finally, there is Minnesota. This northern state is also an awesome place for Northern Lights viewing. In fact, the state has a number of wonderful spots to watch the show.
Our top pick for Minnesota Northern Lights viewing is Cook County, which is located in the northern tip of the state on the shores of Lake Superior. If you're able to watch near the lake, you might be lucky enough to see the reflection of the lights in the water as well.
Another great spot to watch is in Grand Portage. Here, the aurora borealis is often seen shining above High Falls. Seeing these two natural works of art side by side is definitely an amazing experience.
Lastly, you might try checking out the Northern Lights from Oberg Mountain in the Superior National Forest. This area is known for its gorgeous night skies, and the addition of the aurora borealis to the already spectacular scene is breathtaking.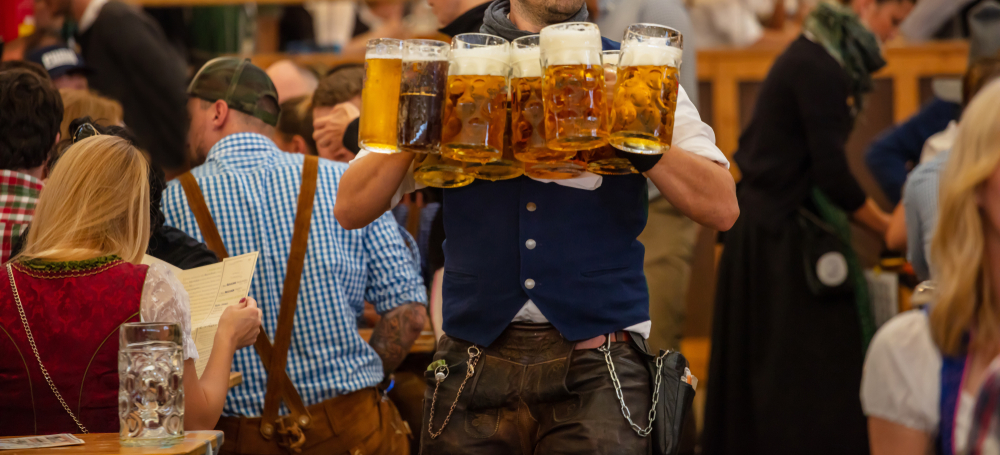 The Best Cities to Check Out Oktoberfest Celebrations
Originally started all the way back in the 1800s in Munich, this October festival has been going steady every year since, complete with a flagon-sized helping of pretzels, beer, and merriment.
You can even travel to Munich to enjoy this once-in-a-lifetime event, which draws more than six million visitors to the country every year.
But if a trans-Atlantic flight isn't in the cards for you this autumn, don't worry: we know how to throw an excellent German beer festival right here in America!
Cincinnati, Ohio
Proclaiming itself America's largest, Oktoberfest Zininnati has been an Ohio tradition since 1976, drawing over half a million people each year.
Along with an ample flow of the best German beer in the states, Midwestern Oktoberfest celebrants feast on metts, sauerkraut balls, potato pancakes, cream puffs, German potato salad, and other delectable treats.
What else to see and do while you're in Cincinnati: In case you somehow still have an appetite for brews and eats after the festival, you can take advantage of one of this town's many walking food and beverage tours. Otherwise, pay a visit to one of its many parks and cultural attractions. The Cincinnati Art Museum is very highly regarded.
Click here to see RVshare rentals near Cincinnati, Ohio.
Denver, Colorado
The Mile High City knows how to throw a killer beer festival. In fact, Denver's Oktoberfest has been named the best in America by USA Today.
No surprise, either: the event is totally free to enter, though you'll have to pay for the food and beverages you'll inevitably consume while you're there. The organizers offer a unique commemorative stein each year, which is a great deal if you're planning to drink more than just one beer.
What else to see and do while you're in Denver: Head to the mountains! Rocky Mountain National Park is less than 2 hours away, and the state has a host of smaller state parks with lower costs of entry. October brings perfect hiking weather if you prepare properly; a few moisture-wicking layers, and that crisp chill means hours of sweat-free exploration.
Click here to see RVshare rentals near Denver, Colorado.
Fredericksburg, Texas
Not only is this one of the best-known Oktoberfest celebrations in Texas — it's also one of the most easily accessible. Located smack-dab between Austin and San Antonio, you can get to Fredericksburg's Oktoberfest within a couple hours' drive from either city.
Along with the requisite booze and food, Fredericksburg also offers a wide range of live entertainment, including some you perform yourself. For instance, you and your family can participate in the annual Hauptstrasse Chicken Dance.
What else to see and do while you're in Fredericksburg: Yes, Oktoberfest is about beer… but Texas Hill Country is well-known for its wine production. So don't miss out on tasting some of the local vino.
Click here to see RVshare rentals near Fredericksburg, Texas.
Helen, Georgia
Held annually at the town's Festhalle for almost half a century, Helen, Georgia's Oktoberfest combines southern charm with authentic German party spirit. Enjoy beer, brats, and — best of all — live bands performing authentic Bavarian music. There's also a parade, and the beer garden is dog-friendly!
What else to see and do while you're in Helen: In this north Georgia wonderland, it's all about getting outside. Even though it's a little too chilly to take a dip, it's still worth the hike to see nearby Dukes Creek or Anna Ruby Falls.
Click here to see RVshare rentals near Helen, Georgia.
Hermann, Missouri
This bustling Midwestern village, filled to the brim with restaurants and quaint shops, pulls out all the stops for everyone's favorite fall festival. Hermann's Oktoberfest takes place over all of the October weekends — and thanks to the region's winemaking legacy, wine lovers will have just as many options as beer drinkers.
Check out the events page at Hermann's travel bureau website for the full rundown of all the fun taking place, including lots of live music and interactive events. This year, there's even a ghost hunt planned at the town's historic theater!
What else to see and do while you're in Hermann: This part of Missouri is known for its wine production, so maybe try branching out from the traditional beer. Also, a trip into St. Louis might be in order; take the trolley car ride to the top of the Arch and wave down to the freighters on the Mississippi!
Click here to see RVshare rentals near Hermann, Missouri.
La Crosse, Wisconsin
According to La Crosse, Wisconsin, their Oktoberfest is "das beste" — and given the state's Germanic heritage (and abundance of cheese and beer), we wouldn't be surprised.
Along with offering up all the beer and brats you can stomach, this event also features the yearly naming of the Oktoberfest Royal Family, a tradition that's stretched more than half a century now. The Festmaster, Mrs. Oktoberfest, Miss La Crosse, the Maple Leaf Parade Marshall, and other officials "lead the way during the fest and bring gemütlichkeit and cheer to the community all year long."
What else to see and do while you're in La Crosse: Riverside Park is well worth a stroll, even in the chilly weather. Need to warm up? Head to the Franciscan Sisters of Perpetual Adoration Motherhouse — one of the most beautiful churches in the country.
Click here to see RVshare rentals near La Crosse, Wisconsin.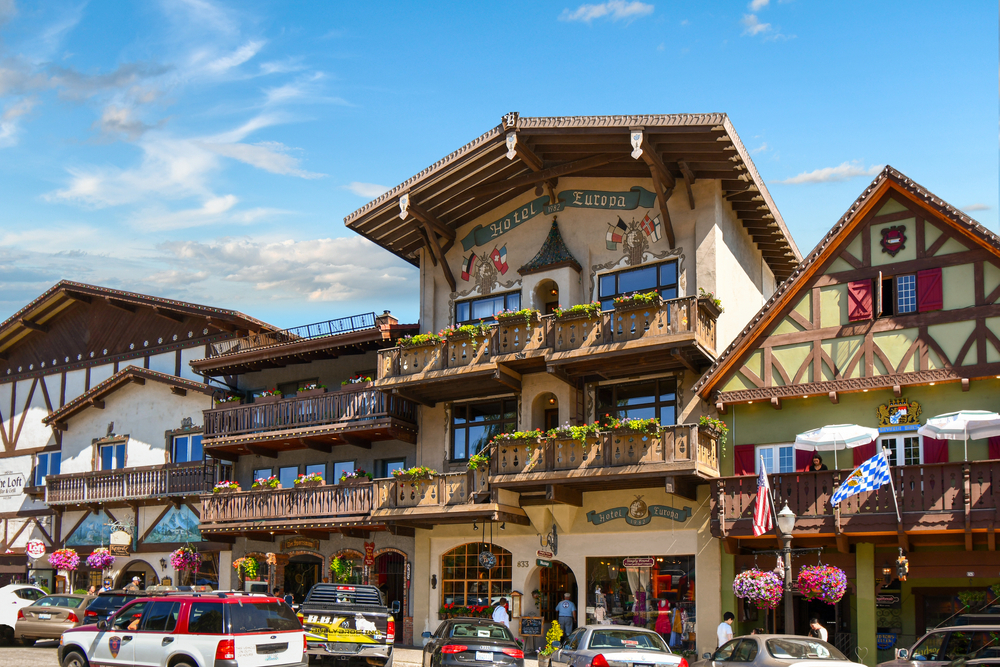 Leavenworth, Washington
Leavenworth, Washington calls their Oktoberfest celebration "the next best thing to Munich" — and given that the town sports a Bavarian theme year-round, that could just be the case. It may be a small town, but it puts on a big hoopla for its most appropriate yearly celebration, featuring not one or two but four venues, each filled with food, beer, and live music.
What else to see and do while you're in Leavenworth: From parks and spas to guided tours and wineries, there's plenty to see in this Bavarian-themed gem of a town. Check out its official website for the scoop.
Where to camp in Leavenworth: Leavenworth is surrounded by woods that are great spots for camping, but there's also a KOA as well as a few other resort-style campgrounds in the area.
Click here to see RVshare rentals near Leavenworth, Washington.
Nashville, Tennessee
Music City might be better known for guitars than accordions, but that doesn't mean they don't know how to put on one heck of a beer fest. Nashville's Oktoberfest has been going strong for almost 40 years now, and includes seven draft beer stations as part of its totally-free general admission. Pretty sweet, right?
And if you're looking for a way to work off all those mustard-covered pretzels, you can partake in the annual 5K bier run. Finishers get — you guessed it — a 20-ounce Oktoberfest beer to celebrate their athletic accomplishment.
What else to see and do while you're in Nashville: If you're polka'ed out, head out into the Nashville streets to hear just about any type of music you can imagine. And of course, a visit to the Grand Ole Opry is definitely in order.
Click here to see RVshare rentals near Nashville, Tennessee.
New Ulm, Minnesota
Can't get all the way to Germany, but you might be able to make it to Minnesota, eh? If so, you're in luck. New Ulm's Oktoberfest is one for the books, including live polka, delicious brews, and family-friendly activities like horse-drawn trolley rides.
What else to see and do while you're in New Ulm: From the Milford Monument to the Kiesling House, there's no shortage of historical landmarks and points of interest to check off your list while you're in this Minnesota town. And, of course, your trip wouldn't be complete without seeing Hermann the German — especially during Oktoberfest time!
Click here to see RVshare rentals near New Ulm, Minnesota.
Tempe, Arizona
Hosted and sponsored by Arizona's Four Peaks Brewing Company, Tempe, Arizona's Oktoberfest takes place annually at Tempe Town Lake. Chow down on freshly-made brats while enjoying traditional Bavarian music at one of the three stages — all the entertainment is live and totally free.
Perhaps the best part of Arizona's answer to Munich's madness: Sunday Funday, which includes a boozy brunch, wine tastings, a Cardinals viewing party, beer samplings, and a dachshund race.
What else to see and do while you're in Tempe: The Desert Botanical Garden truly is a totally unique experience. Phoenix also has a world-class zoo as well as multiple parks and museums to explore.
Click here to see RVshare rentals near Tempe, Arizona.
Tulsa, Oklahoma
You might be surprised at just how much authentic German beer and food you can find on the grassy plains of Tulsa, Oklahoma. And the music is unparalleled; each year, several bands travel from Germany to perform at the event!
What else to see and do while you're in Tulsa: This Oklahoma town has tons of activities to choose from for the whole family. Take the kids on a trip to the zoo or the aquarium, or satisfy your own cultural curiosities at the Tulsa Art Deco Museum.
Where to camp in Tulsa: There are plenty of privately owned campgrounds to choose from right in Tulsa, including Tulsa Warrior RV Park, Canyon Creek Campground, and Mingo RV Park. There's also a low-cost public park option at Lake Sahoma.
Click here to see RVshare rentals near Tulsa, Oklahoma.
The Most Picturesque Towns in America
While there are plenty of exciting big cities in the United States, there are also lots of quaint small towns that make great RV vacation destinations! Here are some of the most picturesque towns of all sizes across the country.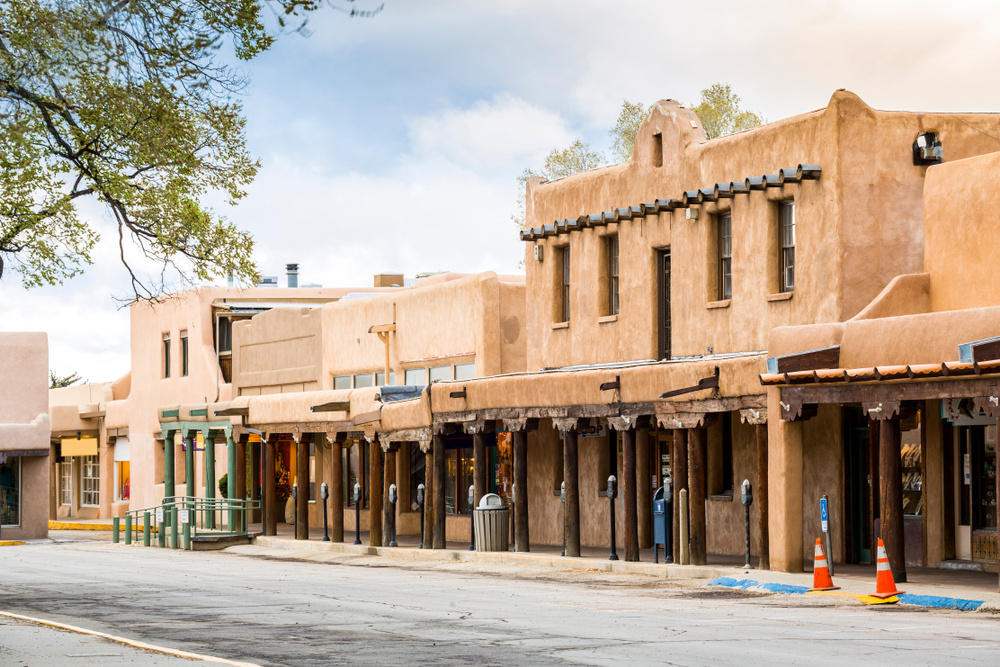 Taos, New Mexico
They don't call it the land of enchantment for nothing — and you're sure to figure out exactly why as soon as you descend on this famed ski town. It's just as pretty in the summer, with lots of outdoor activities. You can bike, horseback ride, or paddle… but there's something to be said about keeping it simple with a beautiful arroyo hike finished with a well-deserved soak in a natural hot spring.
Click here to see RVshare rentals near Taos, New Mexico.
Saint Augustine, Florida
Quick: what was the first city in America?
If you guessed Plymouth Rock or Jamestown, you wouldn't be alone… but you would be incorrect, technically. This adorable little town, nestled on the northeastern coast of Florida just an hour south of Jacksonville, actually holds the title of the oldest continually-run European settlement.
Since St. Augustine is on Florida's Atlantic Coast, the beach is a must. But this town has a lot to offer tourists, from historical trolley rides to spooky ghost tours in horse-drawn carriages. There's also a plethora of world-class dining and drinking options, whether you're looking to indulge in Southern comfort food or keep it light with fresh, delicious seafood. And depending on exactly who you ask, it might just be the prettiest small town in America.
Click here to see RVshare rentals near Saint Augustine, Florida.
Hanover, New Hampshire
Although Hanover's first claim to fame may be its status as the home of Dartmouth College, there are plenty of non-academic reasons to visit. This quintessential New England gem is easily one of the most charming towns in America, whether its quaint streets are lined with snow or sprinkled with wildflowers. And since it's a college town, there are always plenty of artistic and cultural events!
You may be familiar with the works of one of Dartmouth's most famous alumni, Theodor Geisel. He's better known by his pen name: Dr. Seuss! Along with having several buildings and halls named after him on campus, Dartmouth is also home to some of his early works and manuscripts, so be sure to swing by and take a look — especially if you have young fans along for the ride.
Click here to see RVshare rentals near Hanover, New Hampshire.
Flagstaff, Arizona
Along with being one of the prettiest small towns in America, Flagstaff may also be one of the most famous little towns in the USA. That's because it's the gateway to one of the most-visited, most breathtaking national parks – the Grand Canyon.
Of course, many RVers choose to stay on-site within the national park boundaries, especially since the South Rim Campground is open year-round. But if you want to balance your canyon time with culture and cuisine, it might be worth setting up camp in Flagstaff… or at the very least, spending some time there.
Click here to see RVshare rentals near Flagstaff, Arizona.
Thermopolis, Wyoming
Directly adjacent to Hot Spring State Park, Thermopolis is aptly named — and downright beautiful to boot. Obviously, you'll want to visit the bathhouse for a soak, but that's not all there is to do here. Get up close and personal with fossils at the Wyoming Dinosaur Center, or take a stroll across the Bighorn River on the state park's famous swinging bridge. In fact, just sitting back and watching the river run by can be its own reward, and a great chance at slowing down the rush of your everyday lifestyle.
Click here to see RVshare rentals near Thermopolis, Wyoming.
Sitka, Alaska
Don't get us wrong: this one's a commitment. Even as one of the southernmost parts of America's final frontier, you've still got to do some serious traveling to get to Sitka. (Unless, of course, you already live there… in which case, lucky you!)
But the town rewards those who make the effort. Its many museums and educational centers give you the opportunity to experience local history as well as bears, beasts, and bald eagles, and we can't rightly think of a better view than the waterfront of the Alaskan Gulf.
Click here to see RVshare rentals near Sitka, Alaska.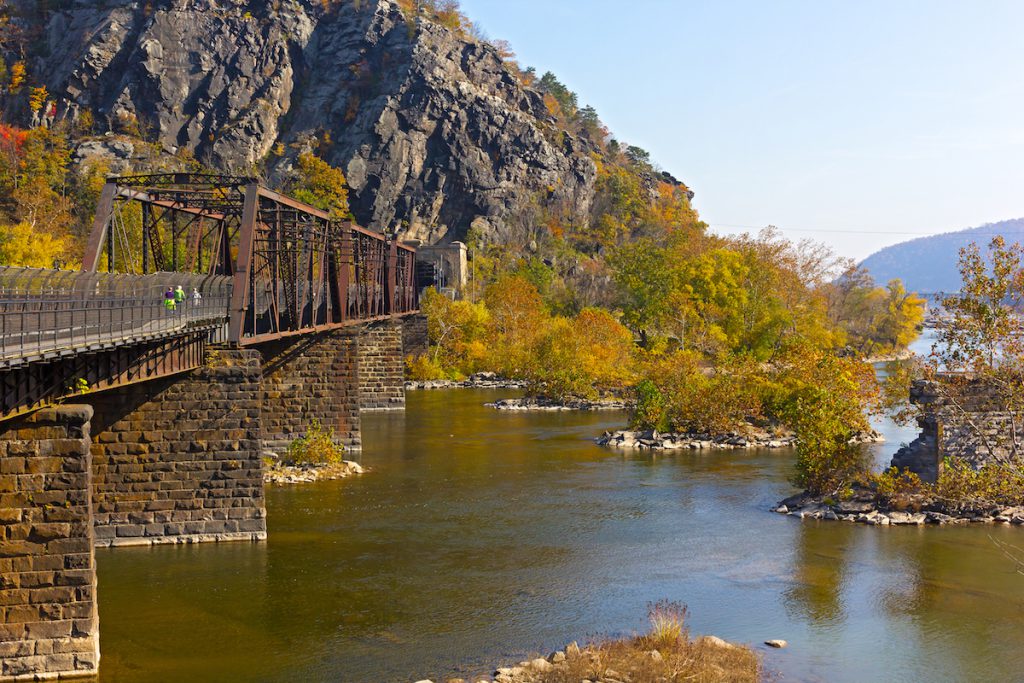 Harpers Ferry, West Virginia
We don't know if John Denver was specifically thinking of Harpers Ferry when he crooned that West Virginia is "almost heaven." But we do know there are some pretty heavenly attractions in this mountain town.
For instance, you can pay a visit — and your respects — to John Brown's Fort, a key site in an 1859 abolitionist raid, or learn even more about the area's history at the Civil War Museum. And make no mistake about it, this place is very pretty. Built at the fork of the Potomac and Shenandoah rivers, there's rushing water everywhere, babbling away in the background.
Click here to see RVshare rentals near Harpers Ferry, West Virginia.
Woodstock, Vermont
If you're looking for the New England experience, this is about as authentic as it gets. While you can get your fill of quaint town charm just ambling around downtown, there are a few historic sites and attractions you won't want to miss.
Take, for example, the Normal Williams Public Library, a pink sandstone building that's been loaning books since the 1880s. You can also experience a functioning dairy farm — just pay a visit to Billings Farm & Museum, which offers exhibits recreating the life of your average 19th-century farmer.
There are also trails to explore in the nearby Marsh-Billings-Rockefeller National Historical Park, which also contains a Queen-Anne-style mansion from the 1800s. In short, if you're looking for a combination of cute and cultural, Woodstock's got it all.
Click here to see RVshare rentals near Woodstock, Vermont.
Mount Dora, Florida
Everyone knows about Disney World, of course. But if you want a more authentic taste of Old Florida, set your sights and your GPS on this central town, located in the lake-speckled landscape just northwest of Orlando. You'll be near all the things that bring visitors to the Sunshine State in the first place! Disney World is only a short drive away, should you choose to embrace the madness, and the beach will just take an hour or so. But you can also get to some of the more hidden attractions of Florida like its beautiful forested trails and system of cold springs. (Bonus points: visit in early spring, when the manatees congregate in those springs for warmth. You can actually snorkel with them!)
Leavenworth, Washington
Looking for the chance to visit a Bavarian alpine town here in the U.S.?
Well, if you can make it as far as central Washington, you're in luck. Leavenworth is a unique mountain town built to resemble just such an international destination. It's simultaneously one of the cutest and most beautiful towns in America. Grüß Gott!
Click here to see RVshare rentals near Leavenworth, Washington.
Asheville, North Carolina
With a high number of breweries per capita, Asheville definitely knows how to party… but also how to round it out with outdoor adventures. Head to one of the many waterfalls only an hour or so out of town, or careen along some of the most famous whitewater rafting sections in the country. Then gather in Pritchard Park on Friday night for the drum circle, which has been going strong for almost two decades now.
Click here to see RVshare rentals near Asheville, North Carolina.
Colorado Springs, Colorado
With a population creeping up on half a million, Colorado Springs is a big town by any measure. But it also has an unparalleled number of outdoor activities in town – Pikes Peak, Garden of the Gods, and the Broadmoor Seven Falls are just the beginning.
Colorado Springs is a college town, so there are lots of events going on, whether you're seeking book readings or live musical entertainment. From chic cocktail hour eats to biergarten fare, there are tons of amazing restaurants to check out. (Good thing, too. Scaling mountains works up an appetite!)
Click here to see RVshare rentals near Colorado Springs, Colorado.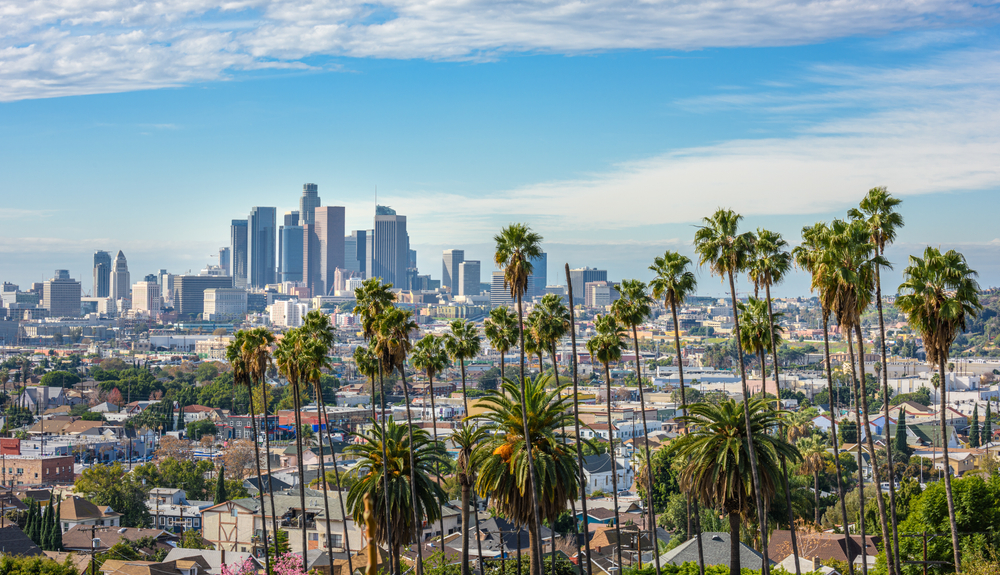 Los Angeles, California
There's a reason Southern California is so popular! With moderate temperatures year-round and both beaches and mountains within easy driving distance, it's hard to imagine a more beautiful spot to enjoy a vacation — especially granted the privacy of your very own RV.
Click here to see RVshare rentals near Los Angeles, California.
Salt Lake City, Utah
It's no secret that Utah is one of the most stunning states in the nation, with lots of outdoor adventure. It's got not one or two but five national parks within its borders. There are also lots of other natural areas to explore including state parks, national monuments, and BLM land.
Salt Lake City is a great spot to make home base while you explore everything since it's centrally located amidst many of the state's outdoor attractions. Plus, of course, there's the lake itself to visit, along with Temple Square in downtown Salt Lake City.
Click here to see RVshare rentals near Salt Lake City, Utah.
Portland, Oregon
Ah, Portland. It's just as odd as you expect if you've seen an episode of Portlandia — but way friendlier, and surrounded by an incredible range of outdoor opportunities, to boot. You can go hiking the Columbia River Gorge or sailing the river's waters, or try hiking Mt. Hood. There's plenty of delicious craft beer to bring you down after the effort, not to mention some stellar natural hot springs for soaking those sore muscles!
Click here to see RVshare rentals near Portland, Oregon.
Austin, Texas
Home of the flagship Whole Foods and one of the best bar-hopping destinations in the world — Austin is definitely a study in contrasts. The town is also close to amazing hiking, biking, and rowing opportunities… not to mention some of that delicious Texas barbecue. Hey, you need something to fuel all those outdoor activities, right?
Click here to see RVshare rentals near Austin, Texas.
Seattle, Washington
Not every city has the kind of culinary history that Seattle does — it's basically the birthplace of artisanal coffee in America, and that's just the start of what you can get at its famed Pike Place Market. (Our suggestion: seafood, of course; preferably salmon, which you really can't get this fresh anywhere else in the country.)
Not only does it have all the food and entertainment you can stomach, but Seattle is also near Olympia National Park, not to mention the beauty of the Victoria area just across the border. It's also the place to start if you're planning to take the epic RV road trip up to Alaska.
Click here to see RVshare rentals near Seattle, Washington.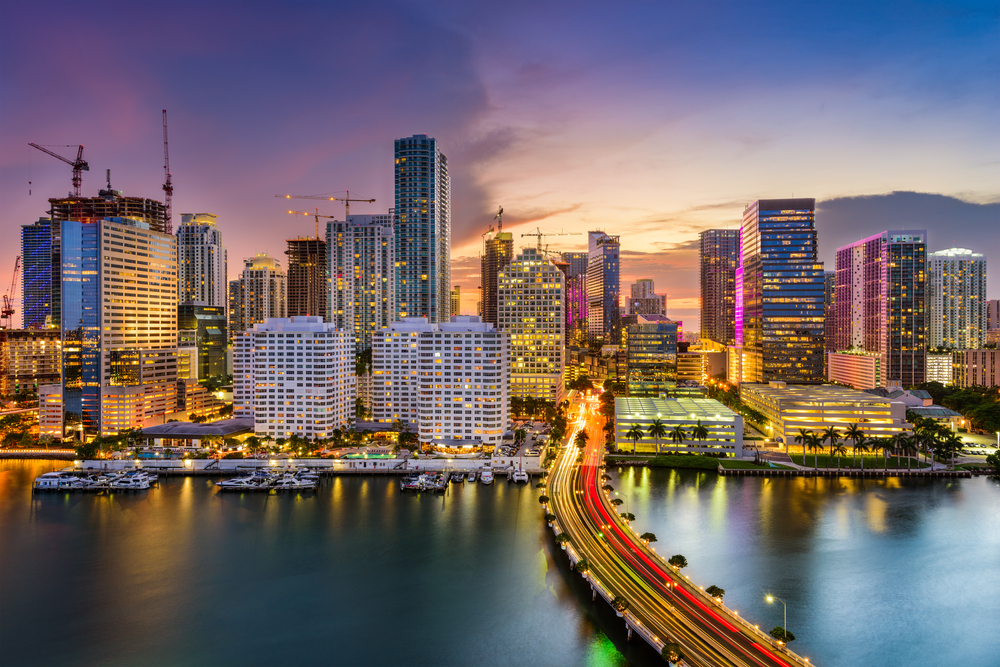 Miami, Florida
There's hardly a more beautiful waterfront than South Beach in Miami — and just an hour or so further south, you'll find yourself in Biscayne National Park, whose 172,971 acres are largely comprised of water. In other words, you'll want to trade your hiking boots for snorkel fins, pronto!
Enjoying Miami's nightlife is a box that should be checked off every traveler's bucket list, even if your memories are a little hazy thereafter. Plus, everyone ought to experience an authentic Cuban sandwich before they die.
Click here to see RVshare rentals near Miami, Florida
Las Vegas, Nevada
Vegas isn't all bright lights and slot machines! The surrounding landscape is unendingly lovely, with miles of hiking trails beckoning from Valley of Fire State Park and Red Rock Canyon. There's also the nearby Colorado River to paddle. And Lake Mead is the perfect place to cool off after a hot desert day — don't forget to check out the Hoover Dam while you're at it!
Click here to see RVshare rentals near Las Vegas, Nevada
Rapid City, South Dakota
A population of just over 70,000 isn't a "big city" in too many places. But in South Dakota, it is — and that's exactly why we think this spot should have a slot on your list of must-see destinations.
Nestled in the southwestern corner of this vast Great Plains state, Rapid City itself has a lot to offer, for sure. But the real draw is the surrounding landscape, the famous Black Hills that rise up out of the plains like magic after you've been driving along the flat grasslands. Plus, you're within an easy half-day drive of multiple landmarks – Badlands National Park, Wind Cave National Park, Custer State Park, and, of course, the Mount Rushmore National Memorial. Oh, and a drive down Needles Highway is an absolute can't-miss, too!
And while you're in the area, why not add Dinosaur Park to that list of destinations? Entry is free, and its one of the weirdest roadside attractions in the country. (In short, you've absolutely got to have at least one brontosaurus selfie on your Instagram feed.)
Beautiful Rainforests You Can Visit in the U.S.
You may think rainforests are just in exotic jungles on other continents. But the truth is, there are several rainforests right here in the U.S.! Here are a few rainforests in the States that would make an awesome RV trip destination.
Tongass National Forest, Alaska
By far the largest rainforest in the USA, Tongass covers a shocking 16.9 million acres — giving it the simultaneous superlative of being the largest national forest of any type. It's comprised largely of Sitka spruce, western hemlock, and western red cedar, tucked into the famed "Inside Passage" of Alaska that also includes Glacier Bay National Park.
Accounting for a significant portion of the old-growth temperate rainforest left on earth, almost 6 million acres of this forest is a protected wilderness. It's home to a wide variety of plant and animal life including grizzly bears, river otters, moose, harbor seals, and wolves. Its waterways are home to several types of salmon including pink, sockeye, coho, and king.
Although Alaska is quiet a distance from pretty much anywhere in the continental U.S., Tongass is a fairly easy forest to access: it's in the southeastern part of the state, and even the capital city of Juneau falls within its bounds.
Click here to see RVshare rentals near Tongass National Forest in Alaska.
Appalachian Temperate Rainforest
Think you have to venture west of the Mississippi — or all the way to Alaska — to experience a temperate rainforest? Think again. The southeastern United States is home to one of these unique ecosystems, covering about 135,000 square miles of Virginia, Western North Carolina, parts of South Carolina, Northern Georgia, and Eastern Tennessee. The types of trees you'll encounter vary based on your elevation: you'll find fir at high elevations, spruce at middle elevations, and mixed forests the closer you get to sea level.
Seeing more than 60 inches of rain per year and with temperatures hovering between 40 and 60 degrees Fahrenheit, this landscape is home to more than 30 species of salamander and two species of turtles, along with the mammals you'd expect to find like deer and black bear. Accessible wildernesses that are encompassed by this ecosystem include the Nantahala National Forest, the Cherokee National Forest, and the Great Smoky Mountains National Park, as well as the Appalachian Trail.
Click here to see RVshare rentals near the Appalachian Temperate Rainforest.
Hoh Rainforest, Washington
From exploring the streets of Seattle to hopping onto a skiff for some whale-watching fun, there are all sorts of compelling reasons to visit western Washington. The Hoh Rainforest should also be on your list of must-see sights!
One of the largest temperate rainforests in the U.S., the Hoh Rainforest is tucked away in the west-central part of Olympic National Park, a stunning 1,400-square-mile wilderness that includes both towering alpine peaks and pebble-strewn beaches. The Hoh itself is only one small part of the park, but a popular one. Twilight fans will appreciate that the last town for fuel and supplies before you enter the wilderness is none other than the town of Forks. The Sitka spruce and western hemlock can grow up to a whopping 300 feet in height, and the forest is also home to other types of trees including Douglas fir, western redcedar, bigleaf maple, red alder, vine maple, and black cottonwood.
During your visit, you might encounter Pacific tree frogs, northern spotted owls, raccoons, and even bobcats, cougars, and black bears, so be sure to properly store your food if you're camping. You'll also, unsurprisingly, probably get rained on, so be sure you've got a raincoat and umbrella!
Click here to see RVshare rentals near the Hoh Rainforest in Washington.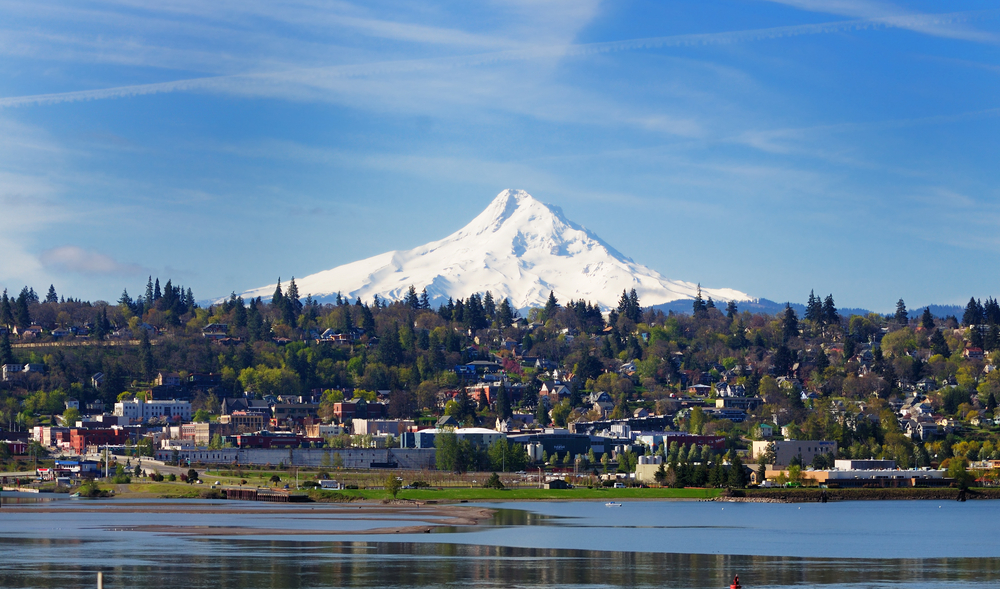 Mount Hood Wilderness, Oregon
Although much of the rainforest ecosystem in Oregon and Washington has unfortunately been destroyed by deforestation and other human-caused destruction, the Mount Hood Wilderness in Oregon is still home to temperate rainforest, as well as a variety of other geological features including glaciers, rocky ridges, and, the volcano for which the wilderness is named. The forest covers over 67,000 acres and is a popular destination for all sorts of outdoor adventurers eager to tackle the peak itself as well as other, more moderate hiking along its slopes.
The rainforest part of the Mount Hood Wilderness is mostly found at lower elevations that surround the mountain, and offers great opportunities for camping and enjoying forest strolls. And, of course, this wilderness is very close to Portland, a city that deftly combines urban activities and outdoor adventures.
Click here to see RVshare rentals near the Mount Hood Wilderness in Oregon.
The Ultimate Route 66 Road Trip
If you love a good road trip, you can probably get your kicks on just about any route! But there's something special about Route 66 and driving all – or part – of it makes an excellent, interesting RV vacation. Of course, anyone who's heard the song knows that the route goes "from Chicago to LA" so you'll see a good part of the country if you drive the entire route!
Here are some trip highlights and places you'll probably want to stop along the way.
Chicago, Illinois
Whether you start here or end here, you can't really experience Route 66 without experiencing Chicago. And what an experience the Windy City is!
Walking along the lakefront is a key activity in the city, but there's no shortage of amazing cultural sites and endeavors to explore all over town. The Sears (now Willis) Tower, Chicago History Museum, Pullman Historic District, Shedd Aquarium, and Art Institute are just the start.
And don't forget about the food! It's not really a trip to Chicago until you've had some deep-dish pie and a loaded hot dog. Top it all off with a selfie at Cloud Gate (often referred to as The Bean), and then get ready to hit the road for some Route 66 adventures!
Springfield, Illinois
Abraham Lincoln's long-time home (and final resting place), Springfield, Illinois is a bustling Midwestern city that's also the state's capital. Enjoy its many parks and green outdoor areas while also taking a moment to pay your respects to our 16th president. Springfield is also home to a fabulous zoo and a wildlife sanctuary, if you're looking for some outdoorsy pastimes!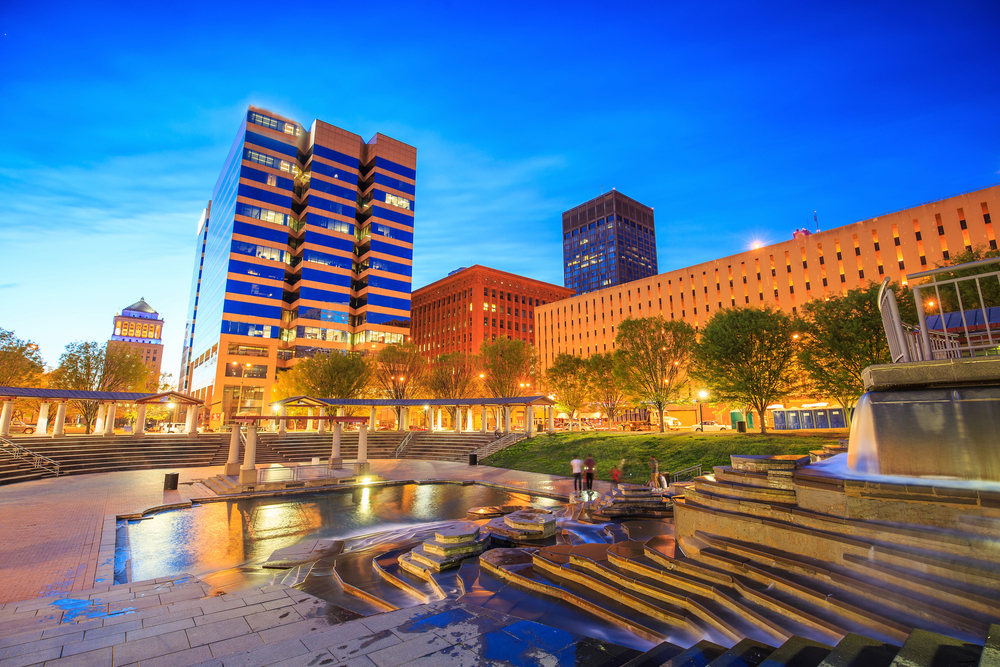 St. Louis, Missouri
The city where the mighty Missouri and Mississippi Rivers meet, St. Louis is the unofficial entryway to the West. (Well, as unofficial as an entryway can be when there's a 600-foot gateway erected to commemorate it.)
Once you reach this city, you'll surely have channeled the adventuresome spirit of Lewis and Clark, who started their great explorations — and America's westward expansion — right here two hundred years ago.
Springfield, Missouri
That's right, there's not one, but two Springfields to explore along historic Route 66. Missouri's version features stalagmite-filled caverns, Dickerson Park Zoo, and a Discovery Center with dynamic and interactive exhibits on dinosaur DNA, among other fascinating topics.
Tulsa, Oklahoma
Nestled on the banks of the Arkansas River, Tulsa is a Great Plains gem of a town. It's home to world-class cultural and educational exhibits like the Oklahoma Aquarium and the Tulsa Zoo. It's also well-known for its art deco architecture, particularly in the central Deco district, where iconic buildings like the Philcade and Philtower indicate this oil town's historic success and plentitude.
Psst — if you're after wacky roadside attractions, don't miss the Blue Whale of Catoosa, which sits on a pond just to the east of the city. There's an on-site picnic spot, too, so you can hang out for a while and stretch your legs.
Oklahoma City, Oklahoma
Oklahoma's capital is ripe for exploration by anyone with a touch of pioneer spirit. It's home to the National Cowboy & Western Heritage Museum, plus a Nature Center, science museum, zoo, and botanical gardens. If you're looking for a different kind of Wild West, spend some time in the Bricktown district, filled with unforgettable food, boutiques, piano lounges, and wine bars.
Amarillo, Texas
A mid-sized city in the Texas panhandle, Amarillo probably wouldn't get as much attention as it does if it weren't along everyone's favorite historic byway. But it is, which means it's got all sorts of kooky attractions, like the Cadillac Ranch, the famous Big Texan steakhouse (home to the famous 72 ounce steak challenge), and Wonderland Amusement Park.
Albuquerque, New Mexico
There's a reason they call New Mexico the "Land of Enchantment" — and you'll figure it out pretty quickly once you wind your way there. Its biggest city, Albuquerque, is filled with food, fun, and (of course) Breaking Bad tourism, but you'd be remiss not to take the extra hour to drive up to Santa Fe, or even further north to Taos.
By the way, if you happen to make the trip in the fall, you'll be in for even more surreal, high desert beauty: Albuquerque is the host city of the famous International Balloon Fiesta, widely considered to be one of the most photographed events on earth.
Gallup, New Mexico
From Red Rock Park to the Rex Museum, this western New Mexico town might not be big, but it sure does offer a lot of opportunities for fun and exploration. You'll get a real feel for how it was in the Old West — and as soon as you cross over the Arizona border, you can detour to Petrified Forest National Park!
Flagstaff, Arizona
Widely known as the gateway of Grand Canyon National Park, Flagstaff is also a college town and thus filled with more great food, beer, entertainment, and cultural to-dos than you'd expect for a southwestern city of its size. Schedule in a stop at the Lowell Observatory for some stargazing fun, which is perfect for these wide-open, dark skies.
Santa Monica, California
This is where it all ends (or begins): the beautiful, Pacific seaside of Santa Monica, California. Take a spin on the Ferris wheel at the pier or just sit back and enjoy the sound of the crashing waves — and, of course, the fresh seafood they bring with them!
Route 66 Attractions
Any Route 66 road trip planner knows that the best journey includes not just the big cities, but also all the roadside attractions along the way. Whether you spend a month traveling the length of this historic byway or try to make it across the country in just a few days, here are a few Route 66 stops you might want to add to your itinerary.
The Lincoln Tomb in Springfield, Illinois
Whether or not you've seen the famous monument in the nation's capital, it's well worth taking the time to pay your respects at the 16th president's final resting place, the Lincoln Tomb in Springfield, Illinois. His burial site, which has been designated a National Historic Landmark and is listed in the National Register of Historic Places, is marked by a 117-foot obelisk, as well as several bronze and marble statues.
Gateway Arch National Park in St. Louis, Missouri
We discussed St. Louis above as a city worthy of a stop along Route 66. Gateway Arch National Park is a can't-miss sight when you do stop in the city. Its towering 630 feet are worth visiting — as is the tram ride to the top, where you'll get an unbeatable view.
The park also has an informational visitor center with educational videos and a gift shop. Outside of the Arch complex is the "Old Courthouse" where the pivotal Dred Scot case was tried in 1847 and 1850. The Courthouse is also listed in the National Park Service's National Underground Railroad Network To Freedom, which recognizes sites and locations tied to the famous Underground Railroad.
Wilson's Creek National Battlefield in Republic, Missouri
On August 10th 1861, the second major battle of the Civil War — and the first to occur west of the Mississippi River — took place right here on the outskirts of Springfield, Missouri. Today, Wilson's Creek National Battlefield is preserved, with an educational visitor center filled with artifacts and interpretive materials. There's also a five mile paved tour road that can be accessed by car, bicycle, or on foot.
66 Drive-In Theater, Carthage, Missouri
Route 66 is all about the spirit of the open road! One of the ways motorists celebrated their devotion to that lifestyle was by taking their entertainment in their cars. If you're looking for a place to relive times gone by, the 66 Drive-In Theater is a can't-miss stop right outside of Joplin, Missouri. The show goes on even if it's raining, but the theater does close down for the winter. The season usually runs from the first weekend of April through mid-September, but check the website for complete, up-to-date details.
Milk Bottle Grocery in Oklahoma City, Oklahoma
If you're taking a Route 66 road trip, chances are you want at least a little bit of kitsch along the way — and that's exactly what this famous roadside attraction is all about. Milk Bottle Grocery is exactly what it sounds like – a grocery store with a giant milk bottle on top of it. The shop itself is teeny-tiny, and the whole thing may not seem like a big deal at all, but thanks to its prominent spot along such a famous byway, it's actually been added to the National Register of Historic Places.
Cadillac Ranch in Amarillo, Texas
It may be called Cadillac Ranch, but depending on who you ask, this iconic roadside attraction might more accurately be called a Cadillac graveyard. The cars are, after all, half buried in the Texas clay — as they have been since 1974 when the art installation was first conceived by Chip Lord, Hudson Marquez, and Doug Michels of the art collective known as Ant Farm. The cars are periodically repainted, making this a dynamic art exhibit; you can visit multiple times and not have the same experience.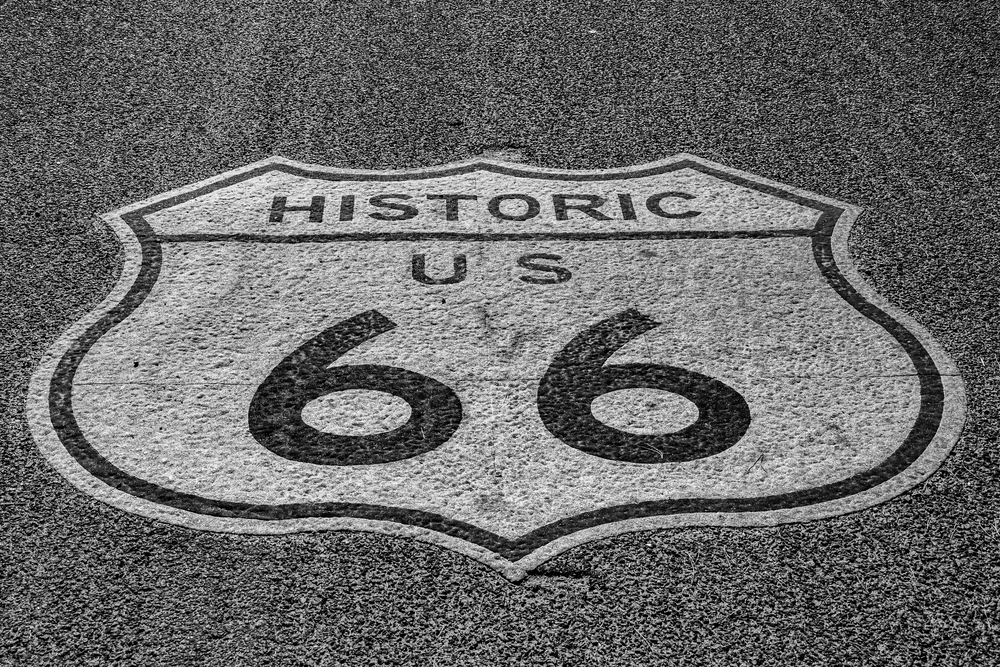 Route 66 Guide
Here are even more sights and highlights you won't want to miss along your historic Route 66 road trip.
The Enchanted Circle in Northern New Mexico
Fancy an additional drive? (You're already going to traverse about 3,000 miles on Route 66 itself, so why not?)
The Enchanted Circle Scenic Byway is an 83-mile loop that'll wind you through northern New Mexico's majestic mountains, not to mention the towns and communities that line them. From artistic Taos to the picturesque Red River, the lands around Mt. Wheeler are sure to enchant you. For best results, we recommend giving yourself a full day so you can explore as you go. There's plenty of hiking, sightseeing, and delicious Mexican food to be had along the way!
Petrified Forest National Park in Arizona
Bright yellow, cobalt blue, and silver — it's not every day you see those colors inside a chunk of wood, but you will at Petrified Forest National Park. It may not be as well-known as its neighbor a few miles west, but it's well worth visiting, especially since historic Route 66 runs right by it. Along with admiring wood turned Technicolor by hundreds of years of history, you can also take epic backcountry hikes, go geocaching, or enjoy horseback riding!
Standin' on the Corner Park in Winslow, Arizona
Sorry to get yet another song instantly stuck in your head. But Route 66 winds its way right through Winslow, Arizona — yes, that Winslow, immortalized by the Eagles. In response to its fifteen minutes of fame, the town erected "Standin' on the Corner" Park in 1999, so now you can snap an Instagram shot that will definitively tell everyone you were there!
Meteor Crater in Arizona
On the way from Winslow to Flagstaff, take the extra hour to drive out to Meteor Crater, one of the largest and best-preserved impact sites on Earth. There's even an on-site RV park if you want to overnight there.
Meteor Crater is a privately owned attraction, so there is an entry fee involved — and your federal National Parks Pass won't get you in.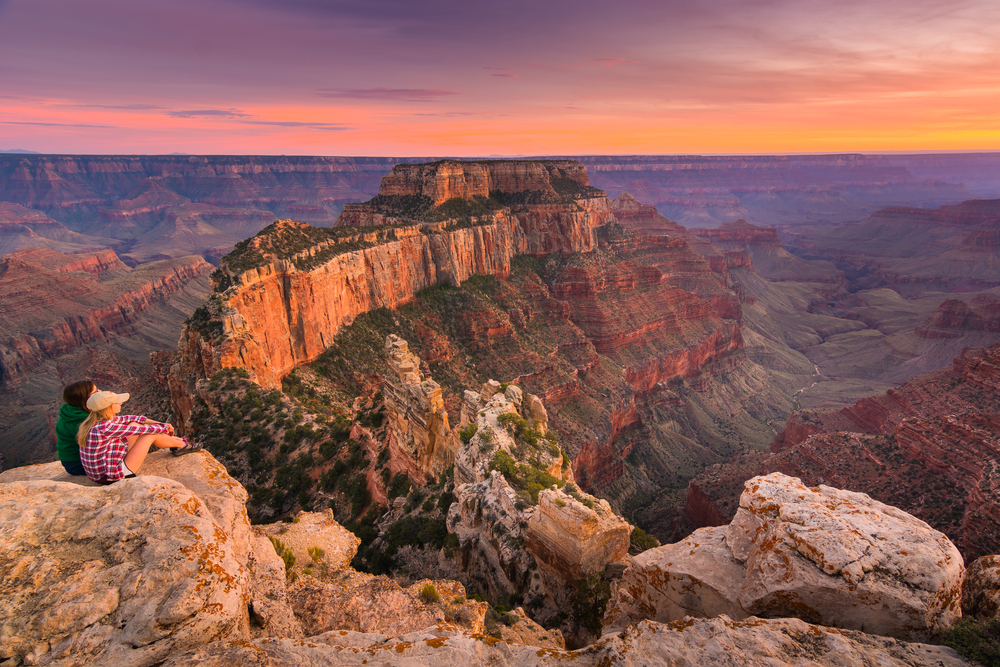 The Grand Canyon in Arizona
No great American road trip is complete without a stop at the Grand Canyon, especially if you're taking Route 66. You can stay in Flagstaff and road trip up for the day, or camp at one of the on-site campgrounds at Grand Canyon National Park. (The South Rim has options year-round, while the less-traveled North Rim closes down during the winter.)
Although summer might be the most common time to visit, the canyon is just as pretty — if not even more so — with a dusting of snow.
Havasu National Wildlife Refuge on the border of Arizona and California
Just outside the city of Needles, the Havasu National Wildlife Refuge serves as a haven for bighorn sheep, coyotes, foxes, bobcats, and more than 300 species of aquatic birds. You can enjoy it on foot, of course, but you can also take to its waters by kayak or canoe to get a more up close and personal experience.
Joshua Tree National Park
It doesn't lie directly along Route 66, but Joshua Tree National Park is very close, and is one of the most surreal and alien landscapes in the country. Named for the unique, twisted fauna that thrive within it, Joshua Tree is a glimpse of an unparalleled southwestern desert landscape.
Santa Monica Pier
What better place to end your Route 66 travel route than this iconic Santa Monica attraction? Grab some peanuts and cotton candy, line up for a whirl on the Ferris wheel, and marvel at the ocean.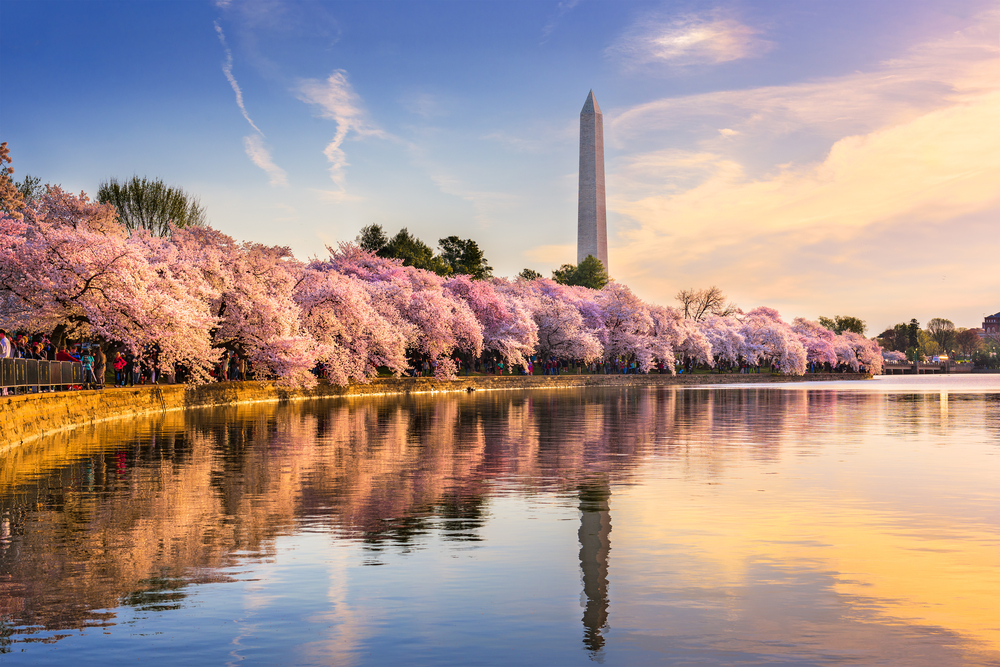 Cherry Blossom Travel
There are plenty of reasons spring is a popular travel time. The long winter's finally broken, the sun is shining, and everybody needs a vacation — chances are, you haven't had one since Christmas!
But there's one particular attraction that draws thousands of visitors to new destinations each year as spring finally pokes its head out from under the snow: cherry blossom season. There are plenty of places here in the United States to see these unique and beautiful trees, so you don't necessarily have to book a flight to Tokyo!
Here's where to catch the American cherry blossom bloom this season — which starts in mid-March and runs through late April.
Branch Brook Park, Newark New Jersey
Washington, D.C. may be the best-known cherry blossom destination in the U.S., but it's not actually home to the nation's largest collection! That honor belongs to Branch Brook Park in Newark, New Jersey, which boasts 5,000 of the trees.
Branch Brook Park is also the seat of the annual Essex County Cherry Blossom Festival, which starts this year on Saturday, April 6th. Events include a bike race, fun run, family day activities, and a bus tour, not to mention the simple splendor of meandering amongst the trees on your own!
Click here to see RVshare rentals near Newark, New Jersey.
Philadelphia, Pennsylvania
Let's be real: Philadelphia should have a spot on your travel bucket list, even if this is the first you've ever heard of cherry blossoms. It's one of our nation's most historic locations and is chock-full of amazing food, drinks, cultural pursuits, and more.
It's also a great place to watch those beautiful flowers cover the landscape, especially in Fairmount Park, which boasts more than 2,000 trees. Like those in D.C., these were a gift to our country from Japan back in 1926, to honor the 150th anniversary of American independence.
Head to the City of Brotherly Love in April and you can also participate in the Subaru Cherry Blossom Festival, an annual event that celebrates these trees and offers a variety of family-friendly activities.
Click here to see RVshare rentals near Philadelphia, Pennsylvania.
San Diego, California
Think all the cherry blossoms in the U.S. are on the East Coast? Not so! If you live west of the Mississippi, head for one of California's coolest cities. San Diego is home to about 2,000 cherry blossom trees, which bloom in mid-to-late March in its famous Balboa Park.
Unlike the ones you'd see in D.C. or Philly, these trees were bred from a single parent and specifically developed to grow in warm climates. And while you're enjoying the balmy SoCal weather, don't forget a trip out to La Jolla Beach to see the seals and sea lions — or a visit to the U.S.S. Midway Museum to see unique sailing vessels or military history.
Click here to see RVshare rentals near San Diego, California.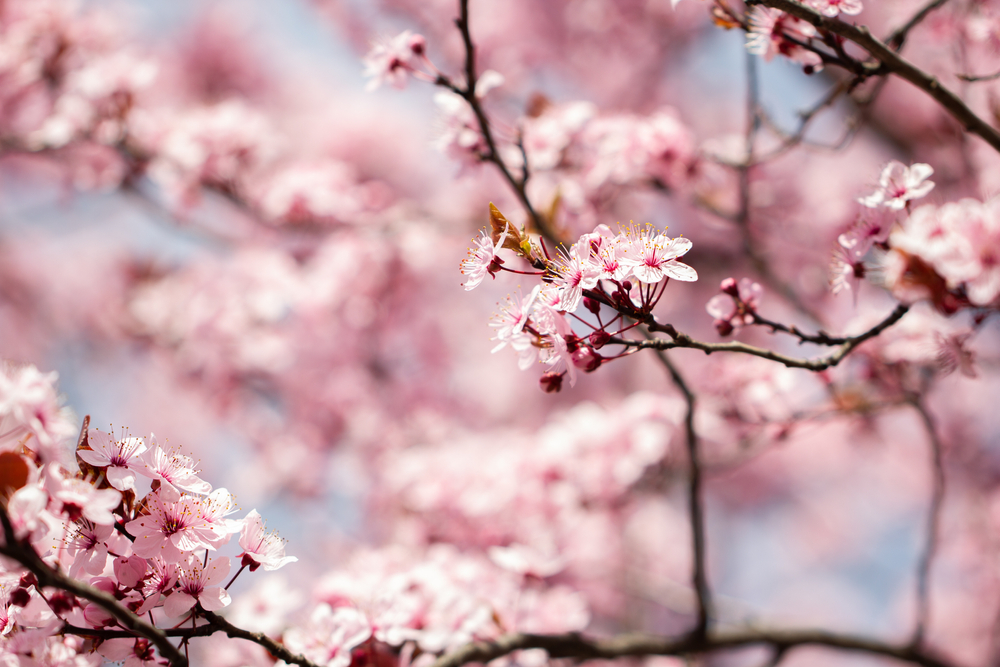 Cherry Blossom Festival
As we've already seen with many of the destinations we've listed above, many of the places in the United States that have cherry blossom trees celebrate these unique and beautiful trees with events and festivals, drawing hundreds of visitors to see them during blossom season.
But a few of these festivals are a bit more famous than others and definitely warrant an RV visit.
Washington D.C.
With its free museums and unparalleled historical and social significance, Washington D.C. is already at the top of many destination lists. If you're a cherry blossom aficionado, this is the best spot for East Coast sakura celebrations.
Washington celebrates its 3,000-plus trees, which line the Tidal Basin and the roadway in East Potomac Park, with the annual National Cherry Blossom Festival, a nearly month-long event offering a huge array of fun things to do for the entire family. Let your eyes go even further skyward when you watch the Blossom Kite Festival, or clap your hands along with the merrymaking goodness of the National Cherry Blossom Festival parade. There's also live entertainment, a stunning opening ceremony, and the Pink Tie Party, all of which are sure to be attended by some of Washington's most famous citizens.
Tickets and pricing vary depending on which events you'd like to experience, but the blossoms themselves are free for the public to admire, as are many world-class museums like the Smithsonian Institute museums.
Click here to see RVshare rentals near Washington, D.C.
Macon, Georgia
What's the only way to one-up the National Cherry Blossom Festival?
Why, the International Cherry Blossom Festival, of course, which takes place in Macon, Georgia each spring. The city is home to more than 300,000 beautiful trees, which come into bloom a little bit earlier given the southern climate.
Events range from happy hours to spring plant sales to festival amusement rides and more. And even without the pretty pink flowers, a Georgia spring is a sight to behold. You've got mild temperatures, the sweet southern air, and Spanish moss hanging everywhere — not to mention plenty of comfort food.
Click here to see RVshare rentals near Macon, Georgia.
How to Find the Ultimate Stargazing Sites
Besides campfires, our absolute favorite nighttime camping activity is stargazing. Very few things are as awe-inspiring as staring up at our night sky, and if we happen to be camping in the middle of nowhere, the night sky is darker than usual, making the stars and planets even more visible and creating a magical view that we simply cannot get enough of.
All that said, there are some stargazing locations that are even better than the typical campground. These are the places that have taken steps to proactively reduce their impact on the night sky by finding ways to reduce light pollution in the area.
Parks and other natural areas that make a point of doing this are recognized by the International Dark Sky Association, an Arizona-based non-profit that is committed to protecting and preserving the world's night skies. These spots make some of the best stargazing sites in the US!
Big Bend National Park
Texas
With incredible vistas and some of the most beautiful hiking trails in the Lone Star State, Big Bend National Park is a gorgeous sight to see during the day. It becomes even more magical at night when the sky is a pitch-black canvas dotted by sharp points of light created by the stars and planets.
Glacier National Park
Montana
It doesn't get much more remote than Glacier National Park. That's why this incredible park offers such great stargazing. The sky becomes so dark that the mountains—which stand so tall and mighty during the day—are swallowed up by the blackness and the twinkling stars are reflected in the crystal-clear lakes found throughout the park.
Grand Canyon National Park
Arizona
Grand Canyon National Park is one of those sights that must be seen to be believed. In the daylight, it is awe-inspiring and the inspiration for many works of art. The nighttime brings a new kind of beauty to this incredible park. We recommend watching the sunset behind the canyon and sticking around afterward for some of the best stargazing you'll ever experience.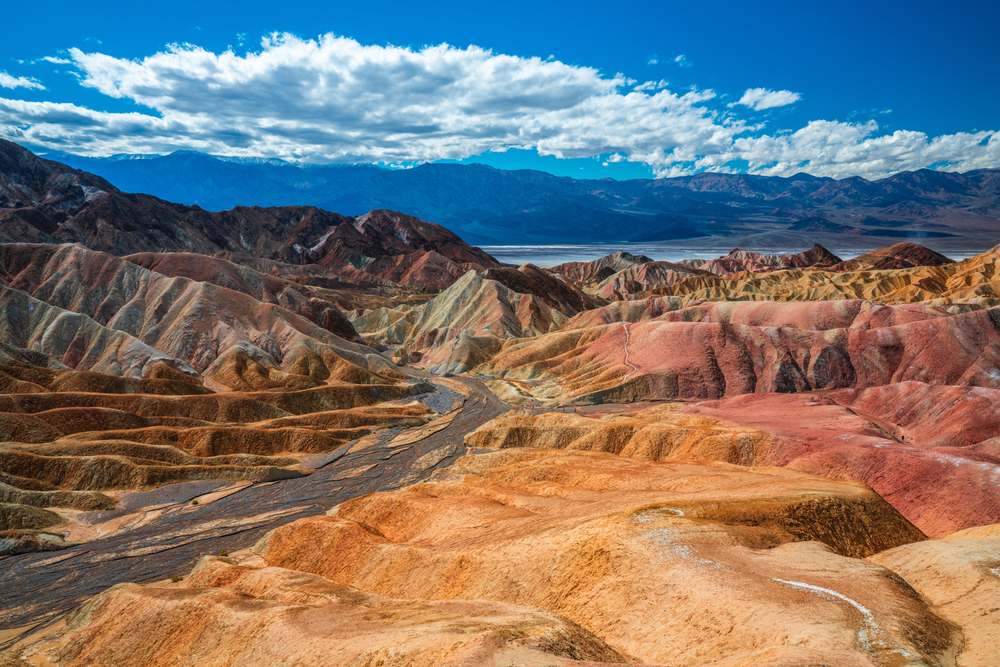 Death Valley National Park
California
With a name like Death Valley, one wouldn't expect to see much life in this national park. But this is far from the case. During the day, a few creatures can be seen wandering about. However, it's during the cooler nighttime hours that the park really comes to life, with coyotes, bats, and other nocturnal creatures wandering the grounds.
Fortunately, the stars and moon shine especially brightly against the incredibly dark sky, lighting the way for these creatures of the night and offering some awesome views.
Great Basin National Park
Nevada
It may not be the most popular national park out there—many have never even heard of it—but Great Basin National Park has a lot to offer as Nevada's only national park. Whether you're looking for great hiking or amazing cave tours, you're sure to enjoy your time here. Not only that, but the bright stars and planets, incredibly dark nights, and wide open spaces make for some of the best stargazing in the country.
Great Sand Dunes National Park and Preserve
Colorado
Very few things are more fun than sledding the dunes at Great Sand Dunes National Park. Additionally, very few things are more relaxing than finishing off a busy day of sledding by stargazing while still in the park. The high altitude of this park works alongside the lack of light pollution to create some seriously spectacular nighttime scenery.
Katahdin Woods and Waters National Monument
Maine
If you're located on the eastern side of the country, this one's for you. Katahdin Woods and Waters National Monument is our favorite northeastern stargazing location, and we're certain you'll love it too! Hiking, mountain biking, kayaking, and canoeing can be enjoyed in this park during the day, but it's the incredible night sky at this park that really fascinates us and draws us in.
Central Idaho Dark Sky Reserve
Idaho
The only US reserve dedicated purely to preserving the night sky, Central Idaho Dark Sky Reserve is just as amazing as it sounds. Located in the spectacular Sawtooth Mountains, this reserve encompasses a full 1,500 square miles, meaning guests have plenty of room to spread out as they bask in the blackness of the night sky, gaze in wonder at the stars and planets, and contemplate the immense size of the universe.
Cherry Springs State Park
Pennsylvania
Another great east-coast stargazing spot, Cherry Springs State Park may not be an NPS site or a preserve, but it is recognized by the IDA and is well worth seeing. The Astronomy Observation Field in the park offers a 360-degree view of the incredible night sky. Additionally, those visiting during the fall and winter months might even be lucky enough to catch a glimpse of the northern lights!
Stephen C. Foster State Park
Georgia
Finally, there is Stephen C. Foster State Park. This is the best place for southeastern night sky enthusiasts to see the beauty of the universe. The park is incredibly remote, meaning there is almost no light pollution to ruin the view.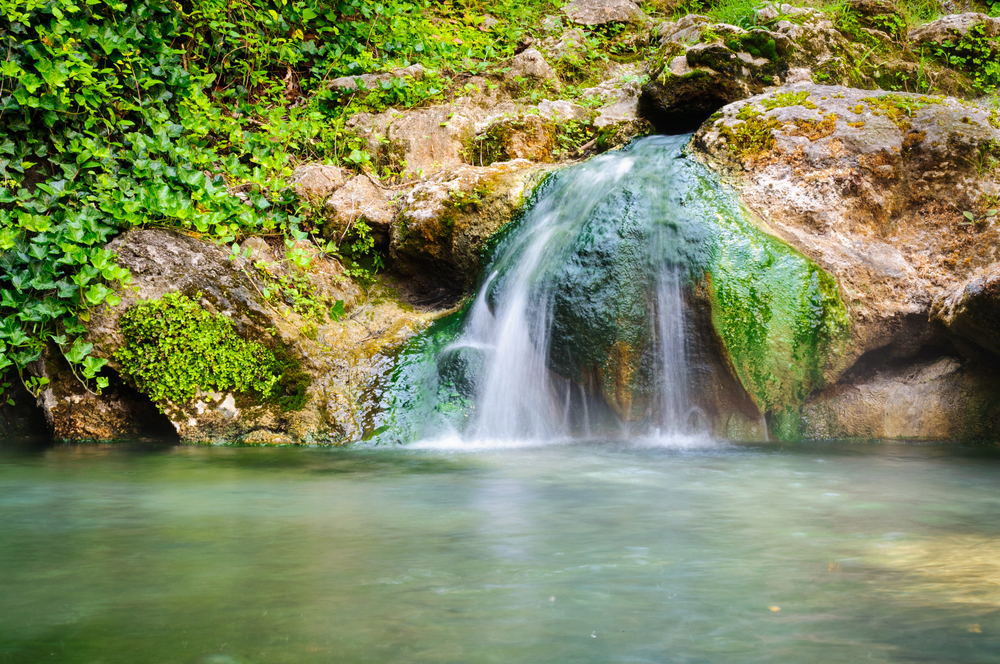 Therapeutic Destinations: Peaceful Places to Visit in Your RV
Wanting to plan a peaceful getaway for yourself? The options below are some of the most relaxing, rejuvenating, therapeutic destinations around, and are sure to leave you feeling refreshed and ready to tackle the world upon your return.
Therapeutic Hot Springs
First, let's talk about hot springs.
In our opinion, hot springs are among the most therapeutic destinations available. Therefore, we highly recommend choosing one of these as your destination if you are in desperate need of a wonderfully rejuvenating experience. While nearly any hot springs would provide an awesome and relaxing experience, the options below are our absolute favorites.
Hot Springs National Park, AR
Perhaps the most obvious hot springs destination, Hot Springs National Park in Arkansas is a fantastic option. Here, you can learn a bit of history, enjoy some hiking, and most importantly of all, soak in some seriously amazing hot springs in the two incredible bathhouses.
We love that this park is nestled right in the middle of town, meaning dining and shopping are nearby. Additionally, we appreciate that there is a campground onsite, making camping a breeze.
Chena Hot Springs, AK
Another amazing hot springs destination is Chena Hot Springs, located way up north in Alaska. Besides the hot springs—which are 100% relaxing and therapeutic—this resort also features the world's largest ice museum, a Chena kennel, and a number of opportunities for outdoor activities.
All that said, one of the best things about this particular location is the opportunity to see the northern lights during the winter months!
Glenwood Hot Springs, CO
Our final pick is located in Colorado near some of the most well-known ski resorts in the country. We love that it is so near these resorts because it allows visitors to enjoy a day on the slopes before slipping into a relaxing pool of mineral water.
This spectacular resort is home to the world's largest hot springs pool, and the resort has been around for over 130 years.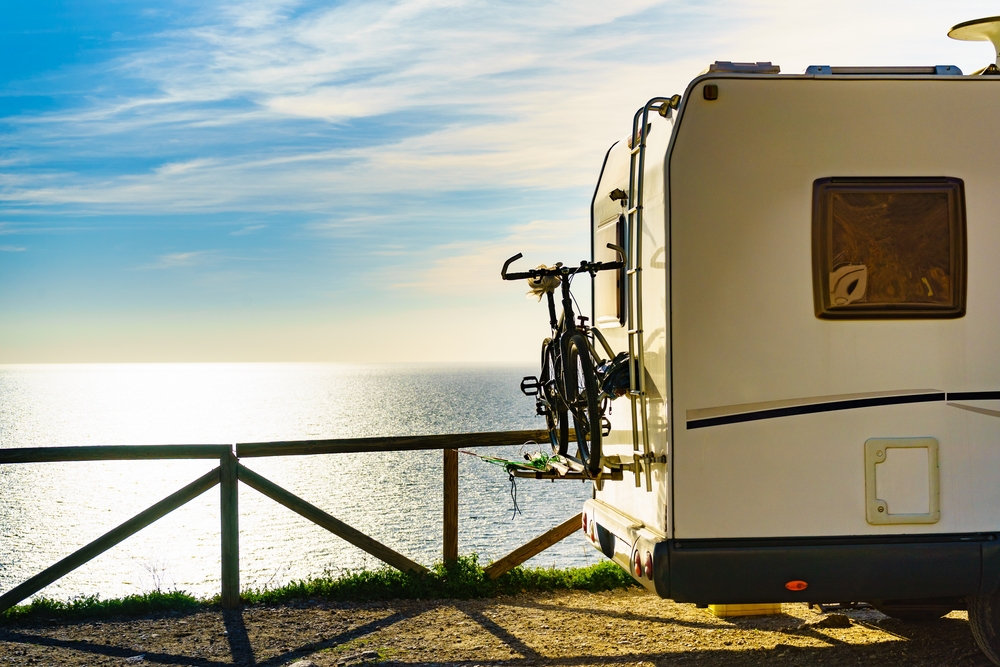 Relaxing Beaches
Almost as relaxing as hot springs is a secluded and quiet beach. There, you can lay out on the sand or get comfy in a hammock and clear your mind as you listen to the sound of the waves.
Unfortunately, many amazing US beaches get quite crowded, resulting in a less-than-therapeutic experience. For this reason, we recommend one of the more secluded beaches listed below.
Cumberland Island, GA
This lovely Georgia beach is so calm and quiet that you'll likely see more animals than people during your visit. Wild horses frequent the place, and armadillos and deer are not uncommon sights on this protected island.
Riding the ferry is the only way to see this gorgeous beach, so you will need to park the RV on the mainland.
Assateague Island, MD
Another incredible eastern US barrier island, Assateague is absolutely stunning. Kayaking, biking, and hiking are some of the most popular things to do at this national seashore. Those looking for a completely relaxing experience may prefer fishing or laying out on the beach and watching the wild horses go by.
We love that RV camping is available on this island. While there are no hookups available, we highly recommend stocking up on water and having the Assateague dry-camping experience.
Second Beach, WA
Looking for a western beach destination? Look no further than Second Beach in Olympic National Park in Washington State. Like most West Coast beaches, Second Beach features dramatic cliffs, tide pools full of life, and gorgeous crashing waves. This is the ideal beach for a stroll along the coast.
All that said, it should be noted that getting to Second Beach does require a short hike. Fortunately, this hike is easy enough, and most would consider it nothing more than a lovely walk through the woods.
Nature Retreats
Hot springs and seaside beaches are lovely, but for some, the forest, lakes, and hiking in the solitude offered by Mother Nature herself bring the most peace.
Banff National Park, Canada
Canada's Banff National Park is, without a doubt, one of the most beautiful places on earth. The park boasts a number of hikes that could easily be considered peaceful and therapeutic, and we highly recommend checking them out when you visit.
All that said, the most peaceful, relaxing, and therapeutic place in all of Banff is Lake Louise. This gorgeous lake is an almost magical blue color, and it's so still you might almost think you could walk on it. Many like this lake for kayaking, but we think a meditation session by the water's edge is about as therapeutic as it gets.
Blue Ridge Parkway
The Blue Ridge Parkway is a long stretch of highway that takes drivers through the mountains and deep green forests of Virginia, Tennessee, and North Carolina. The drive is a beautiful and relaxing one that could be considered a sort of therapy if you love long drives.
The drive is great, but out of everything the Blue Ridge Parkway has to offer, our favorite thing is its hikes. Trail after trail can be found hidden away in the dense forests running alongside the parkway. These are the kinds of trails that truly allow you to get lost in solitude and reconnect with nature—a therapeutic experience that can be hard to top.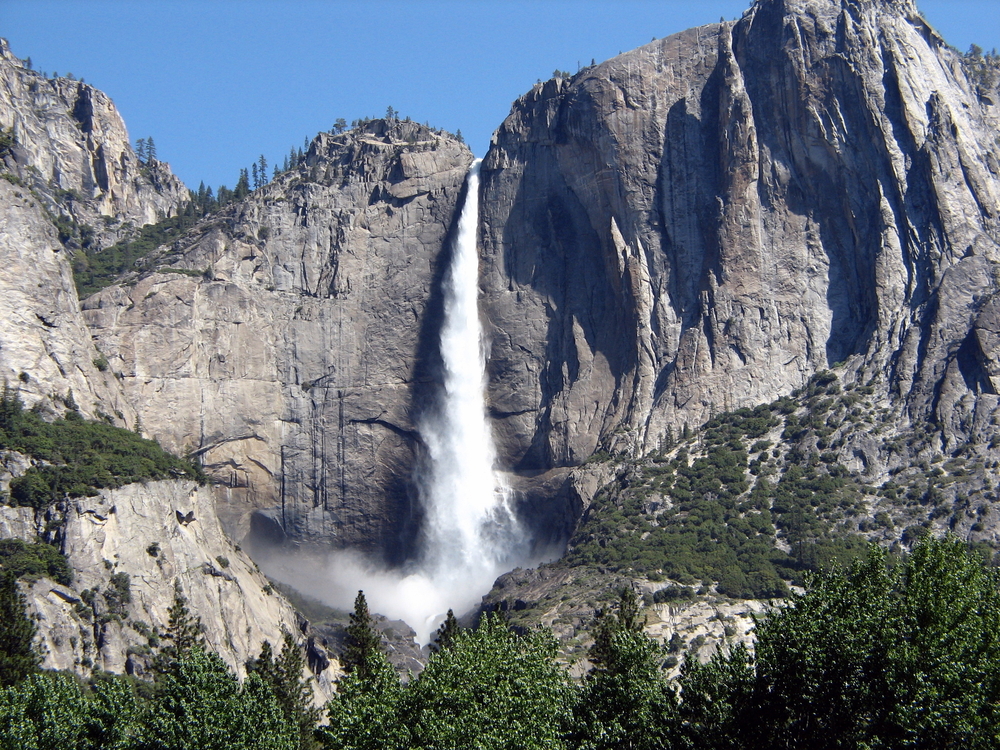 Yosemite National Park, CA
Those in search of a nature retreat on the west side of the country have a huge selection of incredibly beautiful parks to choose from. One of the best of these is Yosemite National Park.
Featuring towering mountains, forests of giant sequoias, and cascading waterfalls, Yosemite has much to admire. As you enjoy these views, clear your mind of the stresses of everyday life and breathe in fresh air. You might be surprised how immersing yourself in the beauty of nature can put things into perspective and put your very busy mind at ease.
RV Parks with Spas
Spas are yet another wonderful therapeutic travel destination. Of course, you could likely go almost anywhere and find a high-quality spa, but for a truly relaxing experience, we recommend an RV resort with a spa. Better yet, find a resort that has a spa, a restaurant, and everything else you need to enjoy your stay so you never have to leave. What could be more relaxing than that?
Below are some of our top picks for these kinds of RV resorts.
Lake George RV Park, NY
Located in the beautiful Adirondack Mountains of New York, Lake George RV Park is surrounded by beautiful views. Additionally, this park features absolutely everything anyone could ever want from a vacation. Live entertainment is free and offered on a regular basis, the pool is enormous and features slides, a cafe serves up delicious food, and the spa is fantastic.
The Springs at Borrego RV Resort, CA
On the other side of the country, you can visit The Springs at Borrego RV Resort. The resort is near Palm Springs and San Diego, meaning you have access to local attractions. That said, you may not want to leave at all. Amenities include a championship 9-hole golf course, mineral baths, yoga classes, massage therapy, and much more!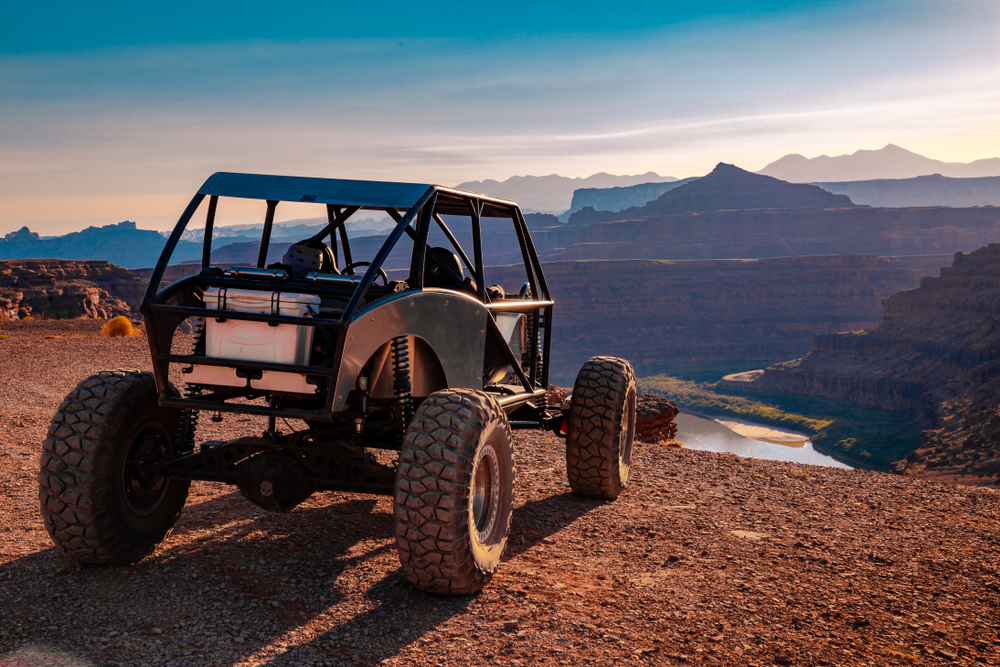 The Top Places to Take an ATV Trip
Imperial Sand Dunes, California
Probably the best place to ride ATV toys in California is at Imperial Sand Dunes. This is a recreation area managed by the Bureau of Land Management and is often referred to as the Glamis Sand Dunes. The dunes here can be as much as 40 miles long and 5 miles wide, and they are tons of fun to ride on.
ATV events are held here each year and are exciting to be sure. That said, we find it just as fun to ride off into the tranquility of the desert and enjoy the beauty of this amazing place all on our own.
The weather at this location is almost always wonderful, meaning you can visit year-round. However, you must purchase a permit in order to ride the dunes. Weekly permits start at around $35, and seasonal permits are around $150.
Ocala National Forest, Florida
If you find yourself on the eastern side of the country, you might consider heading to the Ocala National Forest in the Florida panhandle. This place has more than 200 miles of ATV trails, making it an awesome site for exploring.
While the riding here is mostly flat (it is Florida, after all), there is plenty to look at. Watch for beautiful lakes and exotic plants. If you're lucky, you might even see some local wildlife.
Passes must be purchased in order to ride an ATV on the Ocala National Forest Trails. There are 3-day, 7-day, and annual passes, and all can be purchased at Recreation.gov.
Black Hills National Forest, South Dakota and Wyoming
The Black Hills area is one of the prettiest places in the US, and the Black Hills National Forest is no exception. This place is perfect for camping, hiking, and of course, off-road riding. More than 600 miles of trails are available for those on ATVs, meaning you won't get tired of exploring the forest anytime soon.
As mentioned before, many people love to camp in this forest. Why not plan an overnight ATV trip and experience camping and ATV riding in the Black Hills National Forest for yourself? Find the perfect campsite, cook a meal over a campfire, and immerse yourself in the wonders of nature. The next morning, you can wake up bright and early and hit the trails.
Off-reading permits for this forest can be purchased online or in person at the Black Hills Visitor Center. 7-day and annual options are available, so you can choose the option that best suits your needs.
Ride Royal Blue Resort, Tennessee
So far, every place we've mentioned to go on an ATV trip has been on government-owned land. If you're looking for privately owned trails, Ride Royal Blue Resort in Tennessee is the place for you.
This resort is touted as one of the best ATV trip destinations in the US. Here you'll discover over 600 miles of thrilling and scenic trails. Some of the sights you might see include waterfalls, wildlife, and of course, plenty of beautiful greenery. These trails are ranked based on difficulty, meaning you can choose a trail that is best suited to your skill level.
RV camping is available at the resort, meaning you can stay and play in the same place. In addition to trails, the resort features a ton of awesome amenities, including ATV wash stations, a cafeteria, and more.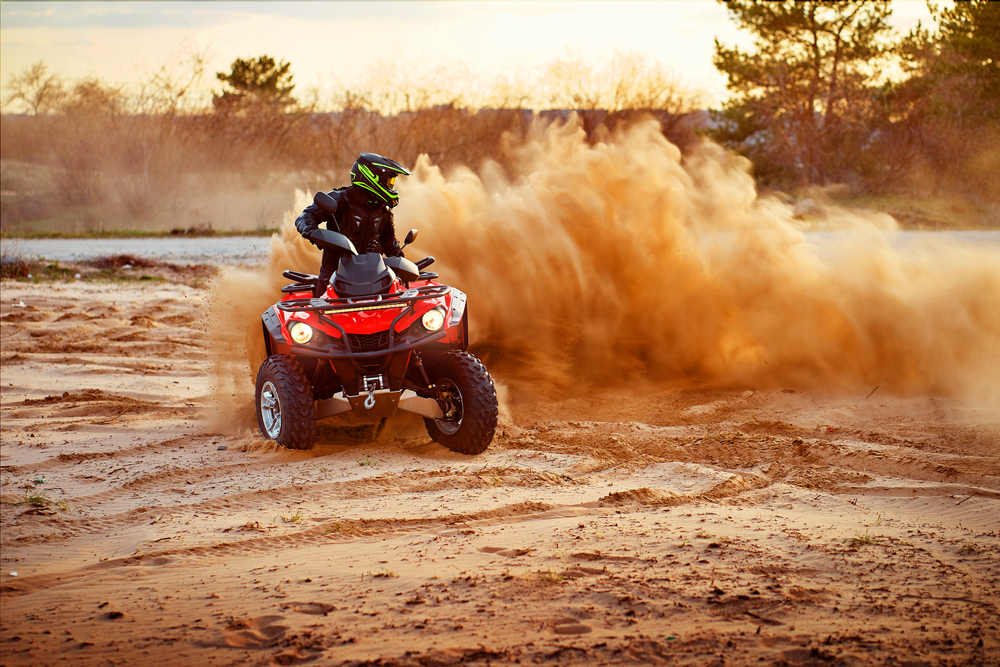 Hidden Falls Adventure Park, Texas
Another absolutely fantastic place to take an ATV vacation is Hidden Falls Adventure Park in Texas. This is another privately owned resort and is an absolute blast to experience.
Like Ride Royal Blue mentioned above, this resort also rates their trails according to difficulty and there is something for everyone from brand-new beginners to seasoned pros. All of the trails are well marked, so you won't be surprised by any unsuspected challenges, meaning even young children can have a good time.
Hidden Falls offers on-site RV parking, meaning it's easy to take an ATV trip. Rates are reasonable, and ATV rentals are available nearby if needed.
The Paiute ATV Trail, Utah
Considered by many to be the best ATV trail system in the country, the Paiute ATV Trail System in Utah is a bucket list item for most hardcore ATV enthusiasts. The main loop trail at this location is 200 miles long, but there are a total of more than 2,000 miles of trails all combined! Whether you're looking for something easy and gentle or a bit more adventurous, this place has an option for you.
Enjoy riding your ATV with other fanatics? The towns surrounding this trail system will often host ATV gatherings, meaning you can meet others with the same hobby. Additionally, the towns cater to off-roaders and their vehicles, so you're sure to feel comfortable as you explore.
Depending on where you decide to ride, an "America the Beautiful" pass or state park fee might be required.
Moab, Utah
The town of Moab is also in Utah. This amazing little town is all about outdoor adventures, including hiking, rock climbing, and off-roading. Not only will you find miles of off-roading trails all around the town, you'll also find plenty of adventurers just like yourself in the adorable downtown area once you're done exploring.
We love that Arches National Park is just down the road, and even though no ATVs are allowed in the park, we highly recommend visiting during your trip. We also recommend boondocking somewhere right outside of town. There are plenty of amazing boondocking spots available, all are free, and most offer incredible views.
Are you new to off-roading? Moab is a great place to begin. You'll find plenty of ATV trip tours that include the rental of an ATV, so all you have to do is show up ready for adventure!
Capitol State Forest, Washington
If you've never experienced the rainforests of the northwest, it's high time you did. What better way to explore this magical landscape than on an ATV? In Capitol State Forest in Washington, this is totally possible and 100% encouraged.
This forest covers 100,000 acres, meaning there is plenty to explore, including more than 80 miles of off-road trails. The trails are well maintained and surrounded by awe-inspiring sights such as moss-covered trees, sparkling streams, and green plant life all around.
We highly recommend staying at the Middle Waddell Campground inside the forest. This campground does not offer hookups, so you will need to be prepared for dry camping, but it is beautiful and offers quick and easy access to the trail system.
Hatfield-McCoy Trail System, West Virginia
Last but definitely not least, there is the Hatfield-McCoy Trail System. This is a system of privately owned trails in southern West Virginia that ATV enthusiasts absolutely adore.
The trails offer more than 700 miles of adventure in the beautiful Appalachian Mountains. Rocky ridge trails? You'll find them here. Mud-bogging opportunities? They're here as well. No matter what kind of fun you're seeking out, you're sure to find it here.
One of our favorite experiences at the Hatfield-McCoy Trail System is the National TrailFe
st which happens every year in October. This event focuses on off-roading and includes a parade, fireworks, ATV racing, and much more.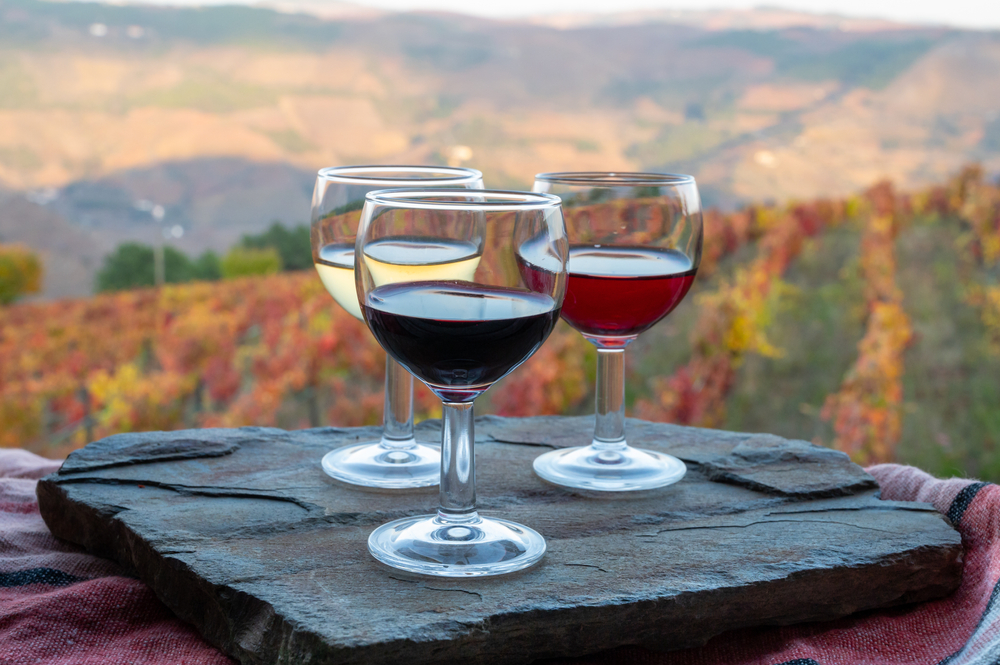 Planning the Ultimate RV Winery Tour in California
There are excellent wineries all up and down the state of California. In fact, California produces almost 90% of all American wine.
The climate in California, with its warm days that are cooled at night by coastal fog, and the soil of the region combine to grow delicious grapes. Those grapes, of course, are turned into equally delicious wines.
Planning a California winery tour lends itself perfectly to an RV adventure. Since the state is so large, you can stop at several locations in Northern, Central, and Southern California and experience California wineries in each region. You can also visit the state and national parks in the area, spend a day at the beach, or check out some other cultural and natural attractions that are unique to this beautiful state. Of course, with more than 4,000 wineries in the state, you could spend your entire trip touring wineries and not hit them all
Wineries in California
There are California wineries all across the state, but you can group them into six categories: the North Coast, the Central Coast, the Sierra Foothills, the Inland Valleys, Southern California, and Far North California. You'll find a map here showing each of these regions, but an all-encompassing wine tour would begin in the Far North and head to Southern California (or vice versa).
Winery Tour Route
There are many different wine roads in California, depending on the region where you want to focus your attention. Here are some suggestions for where to stay and what to do on your wine tour of California.
Far North
The Far North region begins just as you cross the Oregon state line into California. Many of the wineries in far Northern California are centered around Humboldt or in the Shasta County region. Along with touring the Shasta County wineries, you can expand your RV road trip to include a trip to Lassen Volcanic National Park or spend a day boating, swimming, or fishing at Shasta Lake. The Far North region of California is also known for its artists and craftsmen, so you can spend a day browsing galleries or visiting shops to see the local handiwork.
Wineries to Visit
While you're in the Far North, try one of these wineries on your road trip:
Where to Stay
There are plenty of campgrounds in the Far North region of California. Thanks to the area's many lakes, the coast, and the mountains, there are lots of outdoor activities as well. If you're looking for a campground in the area, McCloud RV Park is right at the base of Mt. Shasta and promises breathtaking views, full hookups, and two ponds on the grounds. Lake Siskiyou Camp Resort has full hookups close to the lake, which features a Splash Zone, along with fishing, swimming, boating, and more.
North Coast
This is the California wine region most people are familiar with – the North Coast includes Napa Valley and Sonoma County, along with the picturesque Mendocino County. Lake County, home to the largest freshwater lake in California, is known for its affordable wines and all the water activities Clear Lake has to offer.
Although you can spend your entire time in Napa or at Sonoma wineries, and you likely still won't hit them all, there are other activities as well. Take a hot air balloon ride and see the area from above, have dinner at the notoriously swanky French Laundry (but make reservations well in advance and save up!), or do some hiking and exploring outside at one of the many state parks or beaches.
Wineries to Visit
There are so many wineries to visit, we won't be able to get them all in this guide! Here are a few to get you started. Many of these wineries require reservations ahead of time, and some charge a fee for wine tastings.
Where to Stay
There are many beautiful places to stay in an RV on the North Coast. Both Clear Lake and the coast offer amazing scenery and plenty of spots to set up camp while you explore the area. Bothe-Napa Valley State Park has somewhat rustic camping (no hookups) in the heart of wine country. The Sonoma County Fairgrounds have full hookups and are available year-round when the fair is not in session.
RVshare has a variety of well-equipped RVs and trailers in the North Coast area if you need to get outfitted for a wine-tasting road trip.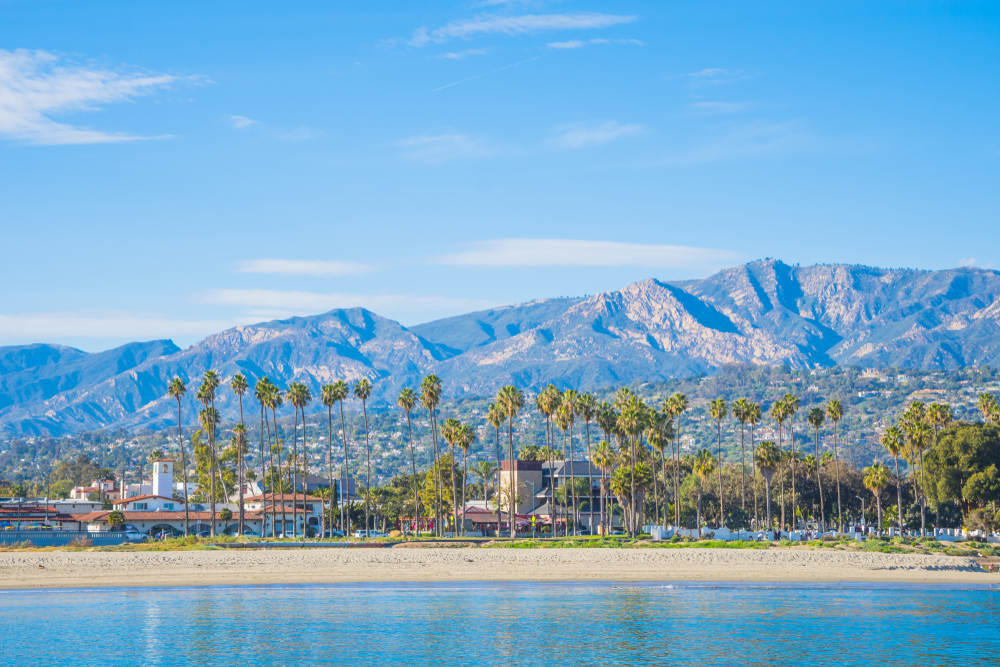 Central Coast
California's Central Coast is also home to many wineries and popular stops. The region includes everything from the San Francisco Bay Area (although Californians call that Northern California, on a map it's closer to the middle) to Paso Robles and Santa Barbara County, which gained more attention as a wine region after the movie "Sideways." On a wine-tasting tour of the state, be sure to stop in San Francisco to see sites like Golden Gate Park and the Exploratorium, and stop in Santa Barbara to shop on State Street or visit the Old Mission Santa Barbara. Be sure to save time to tour the opulent grounds of Hearst Castle as well.
Wineries to Visit
Paso Robles is about halfway between San Francisco and Los Angeles and makes a great place to stop on a road trip for some wine tasting and exploring. Here are a few wineries to visit there, and farther south in Santa Barbara County.
Where to Stay
Paso Robles and Santa Barbara County have no shortage of beautiful campgrounds where you can stay while you explore the area. The Flying Flags RV Resort & Campground is a large camping area in Buellton, within walking distance of a local winery. Flying Flags is also close to the charming Danish-style town of Solvang, where you can shop and visit more wineries. Carpinteria State Beach Campground is right on the beach and offers gorgeous views of the water and the sunset.
RVshare has many RVs, trailers, and campers listed in the Central Coast region for your next trip!
Southern California
The Temecula Valley is where many Southern Californians head for a quick trip to wine country. The area has a variety of delicious wines, but is especially known for growing Italian, Spanish, and French grapes for wines like Syrah, Zinfandel, and Sangiovese. Save time to explore other parts of Southern California as well, like Disneyland, Joshua Tree National Park, and the San Diego area.
Wineries to Visit
Most of Southern California's big wineries are in the Temecula area. Here are a few to try: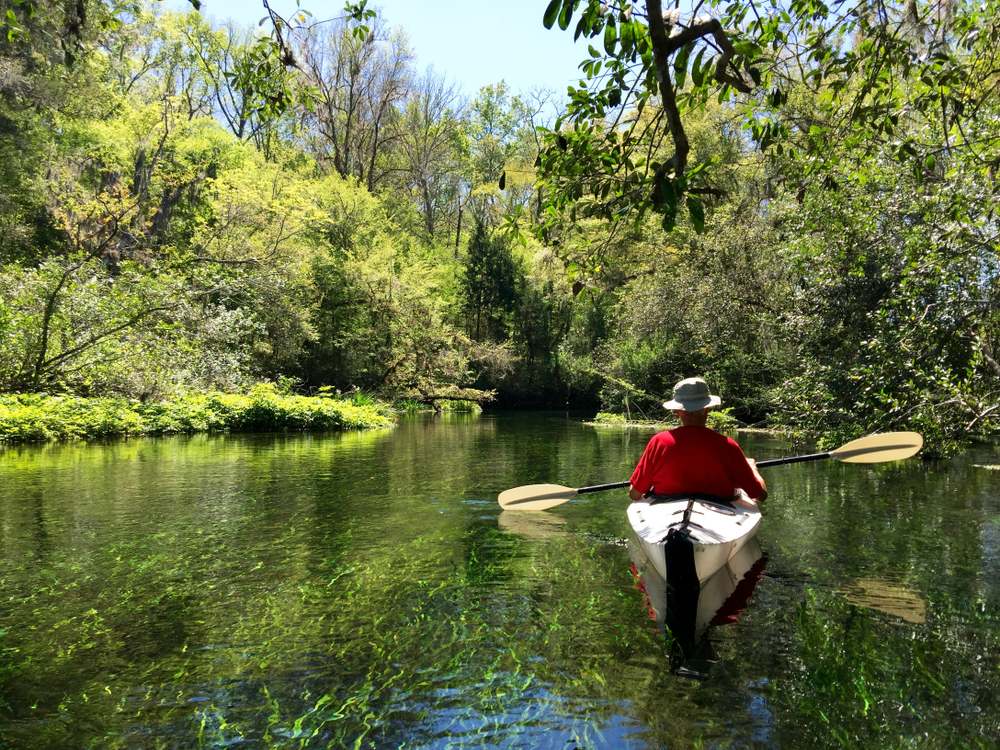 The Coolest Kayaking Trips to Take in Your RV
Some activities fit perfectly with RV camping, including kayaking trips! Kayaking allows you to view nature from another perspective, gives you a new way to get exercise, and can give you plenty of thrills!
Whether you're an experienced kayaker or a brand-new beginner, you'll love these amazing kayaking RV trip destinations.
Mt. Hood National Forest in Oregon
This gorgeous Oregon forest is one of the prettiest in the country. The greenery is incredible, the animals are plentiful, and the lakes and rivers are crystal clear.
Whether you prefer kayaking on a lake or a river, there is something for you in this forest, and Carter Bridge Campground is the ideal base camp.
Big Bear Lake in California
Hoping for a kayaking experience in the amazing state of California? There are hundreds of places to go kayaking in the Golden State, but one of our favorites is Big Bear Lake in Southern California.
This gorgeous lake offers still, clear waters that allow paddlers to look down and see the fish swimming by. We also love that kayaking on this lake allows you to enter a secret place where you can see little streams and other bits of nature you wouldn't be able to see otherwise.
Not sure where to stay? Big Bear Shores RV Resort is an excellent choice!
Rio Grande River in New Mexico
The Rio Grande is one of those rivers that all kayakers should experience at some point. You can admire the gorgeous scenery along the river, and the fact that different parts of the river offer such different experiences means this waterway is suitable for kayakers of all levels.
As far as lodging goes, we highly recommend Monte Bello RV Park.
Salmon River in Idaho
Idaho is one of those places that is so unexpectedly beautiful that you might just find yourself wishing you never had to leave. One of the most beautiful places in the state is the Salmon River, which happens to also be perfect for paddling. In particular, we love kayaking on the middle fork of the Salmon River, which is a class III–IV kayak run.
For a comfy place to return to after your kayaking adventure, be sure to book Pinehurst Resort and RV Park.
Arapaho National Recreation Area in Colorado
The Arapaho National Recreation Area in Colorado boasts several lovely lakes where those who prefer a peaceful kayaking experience can paddle. This is the perfect option for those wishing to visit Colorado in the summertime, as it allows you to immerse yourself in the beauty and nature of the state.
Stillwater Campground is in the recreation area and offers the perfect lodging option for those wishing to explore the area for more than a single day.
Shenandoah River in Virginia
Like the Rio Grande, the Shenandoah is one of those must-experience kayaking locations. The river offers laid-back areas for beginners and more intense sections for those with a bit of experience under their belts. Additionally, because this waterway is so long, you can kayak along it numerous times and never experience the same section twice.
Those looking for a place to stay will love Luray RV Resort and Campground. This campground offers immediate access to the water, making it easy to get the fun started each day.
Crystal River in Florida
Want to see some seriously cool animals while you kayak? Head to Crystal River in Florida. This river offers lovely blue-green waters and if you visit during the wintertime, you will be greeted by the local manatees. Floating alongside these gorgeous creatures is an incredible experience to say the least.
After your paddle, return to the Crystal Isles RV Resort to dry off and get some rest before another day of kayaking.
Cocoa Beach in Florida
Another awesome Florida kayaking location is Cocoa Beach. While most people visit this beach for swimming and sand play, paddling the area between July and October might mean seeing the amazing glowing water caused by the bioluminescent creatures living there.
Jetty Park Campground is a great home base for this kayaking trip.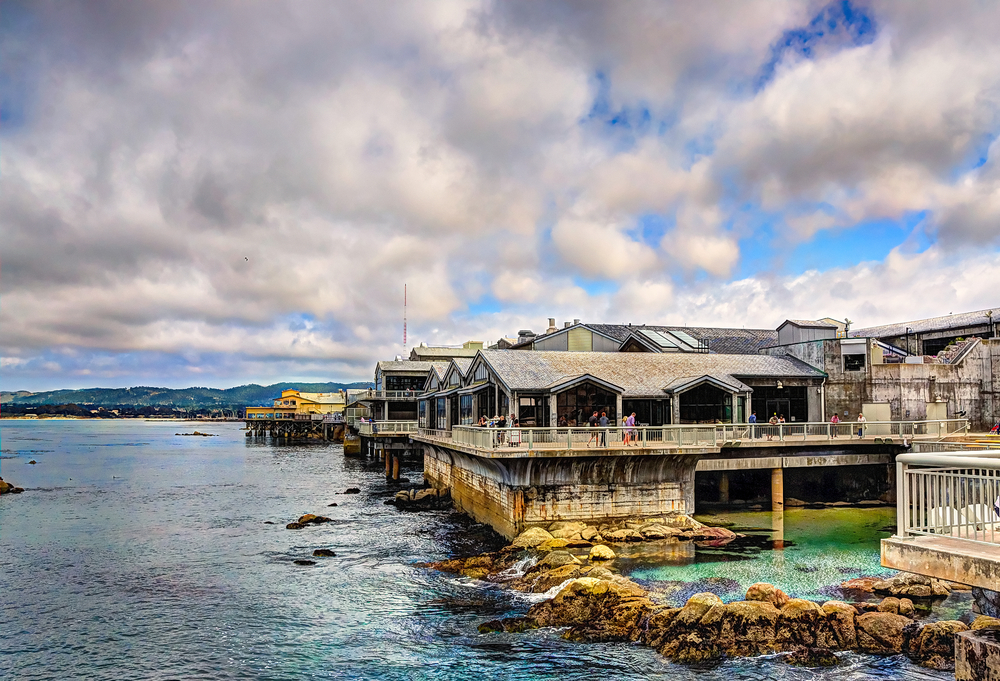 The Best Aquariums Across the Country
Here are some of the best aquariums in the country, just waiting to be discovered by sealife lovers!
Monterey Bay Aquarium; Monterey Bay, California
One of the most famous aquariums in the world, the Monterey Bay Aquarium is more than just a visitor experience. It's also a forerunner in the world of wildlife conservation and educational programs, which means you can feel good about the money you spend on admission.
You'll get access to some of the most exciting and unique marine and freshwater exhibits in the world, including flamboyant cuttlefish, regal Giant Pacific octopuses, a "rocky shore" touch tank, an "open sea" exhibit complete with sea turtles, and more. And let's not even get started on the rest of the marine life there representing the central California coast. You're not going to be bored, that's for sure.
Click here to see RVshare rentals near Monterey Bay, California.
Audubon Aquarium of the Americas; New Orleans, Louisiana
You might more readily associate the Big Easy with the party scene than sealife — but it's actually home to one of the biggest and best aquariums in the world. A subset of the larger Audubon Nature Institute, the Aquarium of the Americas offers tons of interactive fun suited for the whole family, including a stingray touch tank, a 400,000-gallon Gulf of Mexico exhibit, a penguin habitat, southern sea otters, and more. Plus, you can grab a package deal and visit the organization's suite of other attractions, like the Insectarium, Nature Center, or Zoo. When you're done, you'll find yourself in the heart of one of the most exciting cities in America, with tons to see and do!
Click here to see RVshare rentals near New Orleans, Louisiana.
Georgia Aquarium; Atlanta, Georgia
Atlanta may be landlocked, but that doesn't mean it's not an amazing destination for sealife lovers. The Georgia Aquarium is not only one of the top aquariums in the U.S. based on its diversity of species and exhibits, but it's also the largest. It was the largest in the world, with 10 million gallons of sea- and freshwater habitats, until the Marine Life Park opened in 2012 in Singapore.
That much water means you'll have the opportunity to see some serious sea-dwellers, including massive whale sharks, beluga whales, and manta rays whose wingspans will knock your socks off. You can even take the special "Behind the Seas" tour to get a unique, backstage look at some of the aquarium's most popular exhibits, including its one-of-a-kind filtration room.
Click here to see RVshare rentals near Atlanta, Georgia.
Shedd Aquarium; Chicago, Illinois
Featuring a three-level ocean exhibit, interactive educational exhibits, and a host of unique events including a penguin party and overnight stays, Chicago's Shedd Aquarium brings the amount of oomph you'd expect from the nation's largest midwestern city.
Shedd Aquarium also offers private, personalized tours as well as summer programs aimed at kids, adults, and teens, so you're sure to find something suited to everyone in your camping party. Once you're sick of the sea — if that's even possible — spend some time enjoying Chicago's vibrant cultural and foodie scene. (Have some deep dish for us!)
Click here to see RVshare rentals near Chicago, Illinois.
Miami Seaquarium; Miami, Florida
Where better to see what's under the sea than this beloved seaside city? Miami Seaquarium has been a renowned destination for ocean life lovers for decades, offering a host of unique activities, including the chance to swim with dolphins.
Better yet, if you've decided you've had enough of looking through glass, you can get in the water yourself at any of the area's many beaches. You're also right next door to Biscayne National Park, a mostly underwater recreation site that's perfect for swimming, snorkeling, SCUBA diving, and boating. It's also wonderful for learning even more about the flora and fauna that live under those scenic waves.
Click here to see RVshare rentals near Miami, Florida.
Tennessee Aquarium; Chattanooga, Tennessee
Nestled on the Tennessee River in the heart of Chattanooga, one of the hottest up-and-coming American destinations, the Tennessee Aquarium has fish, but it also offers visitors a huge 3D IMAX theater, which screens wildlife-themed films on topics ranging from oceanscapes to pandas, and also offers a stocked calendar of events to get you and the kids involved in a hands-on way.
Daily events include live feedings, secret reef dive shows, playtime exhibits with feisty otters, and so much more. Plus, a portion of proceeds go to conservation measures that help protect America's rivers.
Click here to see RVshare rentals near Chattanooga, Tennessee.
Best RV Rock Climbing Trips
Wondering which national parks are best for RV rock climbing trips? We've listed our favorites below.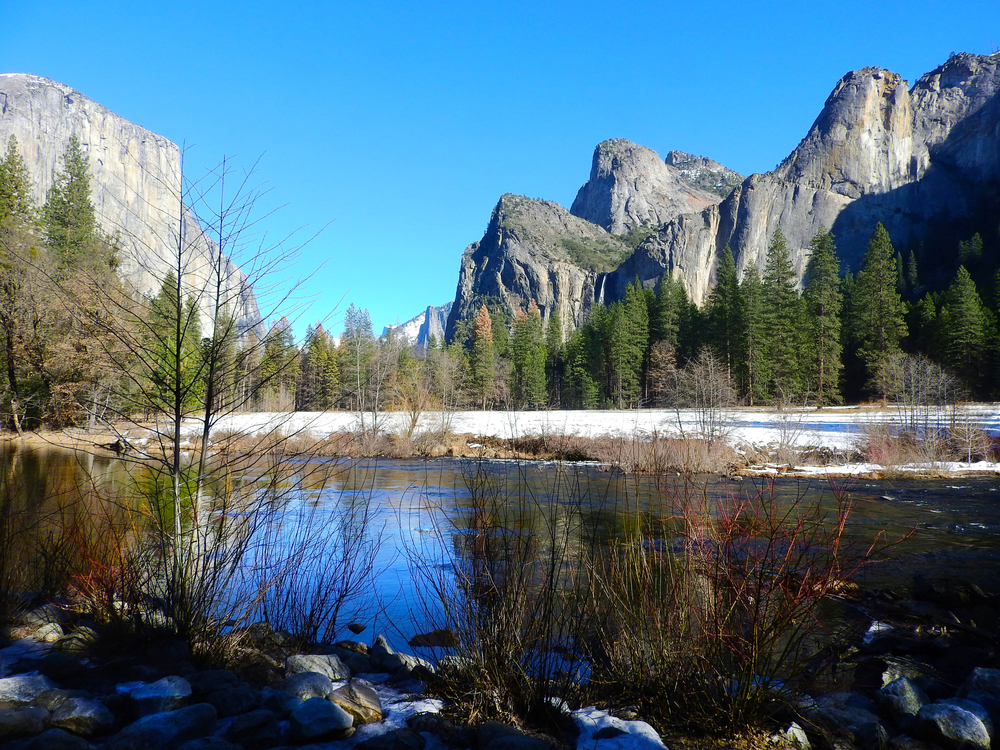 Yosemite National Park
One of the most popular national parks in the country, Yosemite is home to some amazing climbs including crack climbs, multi-day climbs, and the challenging and famous El Capitan climb.
Check out Yosemite-area rental RVs here.
Joshua Tree National Park
Joshua Tree National Park offers an absolutely beautiful desert environment, some super cool plants and animals, and more than 4,500 established rock climbing routes. With so many different routes to choose from, you're sure to find one that suits your needs, and if you're camping within the park, you could try new routes each day of your trip.
Check out Joshua Tree-area rental RVs here.
Sequoia National Park
The perfect place for beginners to give climbing a try, Sequoia National Park offers plenty of simple climbs. There are also plenty of more challenging climbs available, meaning everyone in your climbing party will be pleased with this park.
To escape the crowds, try wandering away from the John Muir trail, which is where many tourists tend to gather.
Check out Sequoia-area rental RVs here.
Zion National Park
Zion is a pretty incredible place to climb. That said, the soft sandstone in this park requires that climbers have pretty advanced skills as well as the proper equipment. It's also important to note that certain areas are closed for climbing during peregrine falcon nesting season, and overnight climbs require a permit.
Be sure to head to a visitors center to gather information before doing any climbing.
Check out Zion-area rental RVs here.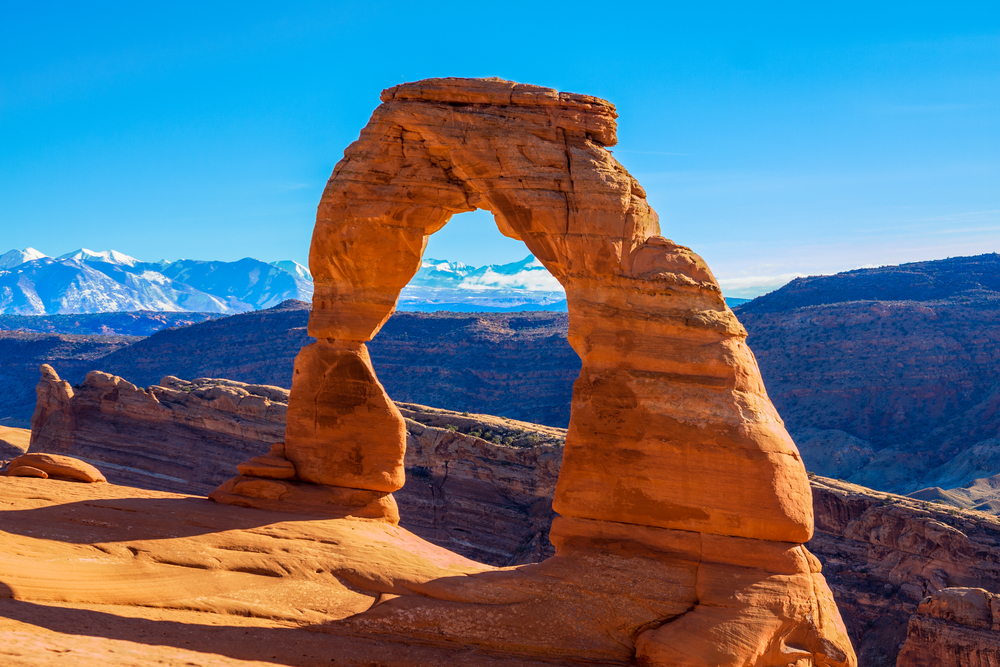 Arches National Park
Like the formations in Zion, the rock formations at Arches National Park are soft sandstone. This means that most of the climbing is best left to the advanced climbers out there. Many of the climbs are absolutely exhilarating, making this a great stop for those with some experience under their belts. Just make sure to grab a permit if you're planning an overnight climb!
Check out Arches-area rental RVs here.
Capitol Reef National Park
Another fantastic Utah park is Capitol Reef National Park. While this park wasn't always popular with the rock climbing crowd—mainly because of its softer sandstone rock faces—more and more climbers are finding that certain areas are actually okay for climbing. One such area is Wingate, which is the best place in the park for beginners to try their hand at climbing.
Check out Capitol Reef-area rental RVs here.
Grand Teton National Park
Rock climbing is an extremely popular activity in Grand Teton National Park. There are climbing options for all levels, meaning everyone can enjoy the park from up high. Information on rock climbing in this park can be obtained at Jenny Lake Ranger Station in the summer, and at Moose Visitor Center the rest of the year.
Check out Grand Teton-area rental RVs here.
Black Canyon of the Gunnison National Park
Black Canyon of the Gunnison National Park features a bizarrely narrow canyon and some truly unique climbing opportunities. Most climbing can be found on the North and South Chasm Walls of the canyon, where the canyon depth averages around 1,820 feet.
Check out Black Canyon of the Gunnison-area rental RVs here.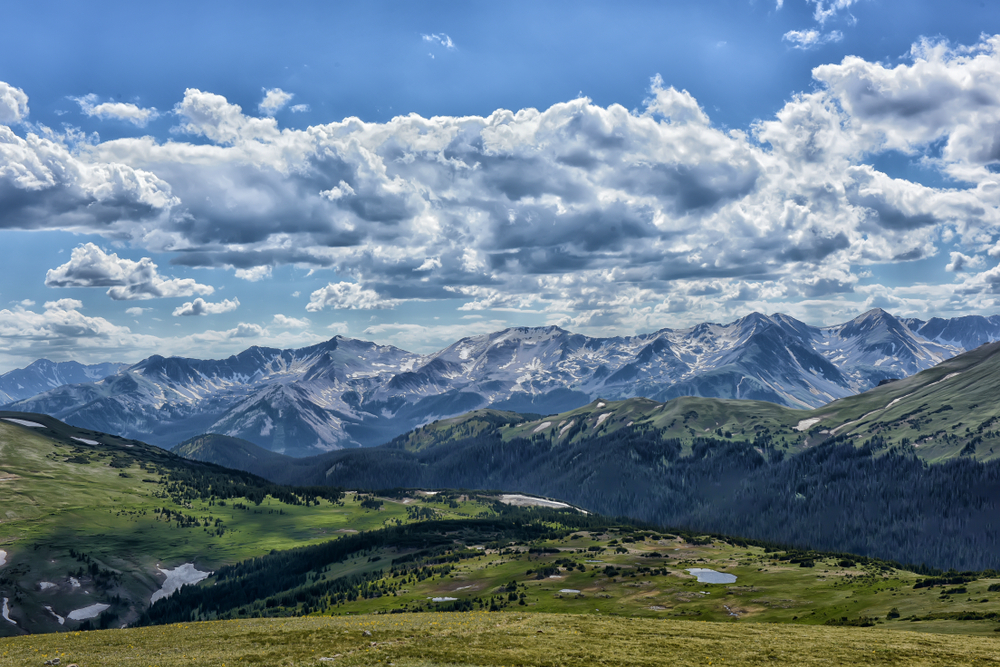 Rocky Mountain National Park
Climbing has been a popular activity in Rocky Mountain National Park since the 1800s, and once you see all the amazing climbs the park has to offer, you'll understand why. Lumpy Ridge and Longs Peak are two of the more popular climbs that we highly recommend.
Check out Rocky Mountain-area rental RVs here.
Acadia National Park
An excellent place to climb on the East Coast, Acadia features several amazing climbs. Otter Cliffs and Great Head are especially awesome, as they give climbers the chance to experience sea cliff climbing, something that is a bit more unusual and a fun challenge.
Check out Acadia-area rental RVs here.
This post may contain affiliate links.