Travel Inspiration
October 20th, 2019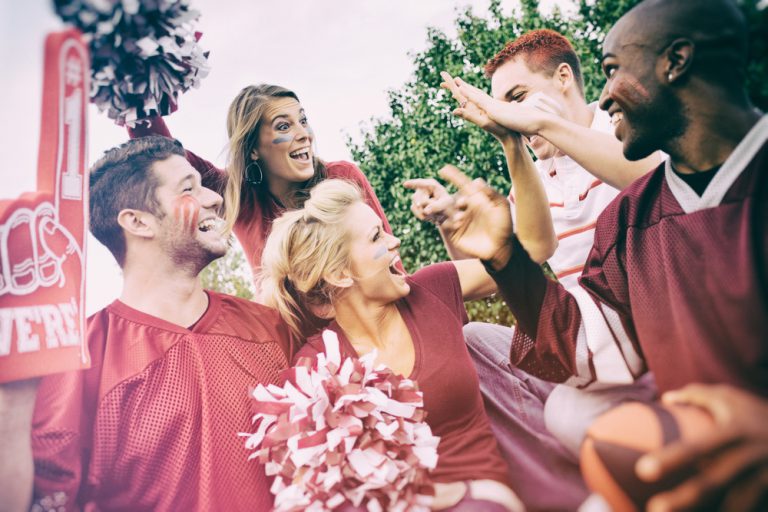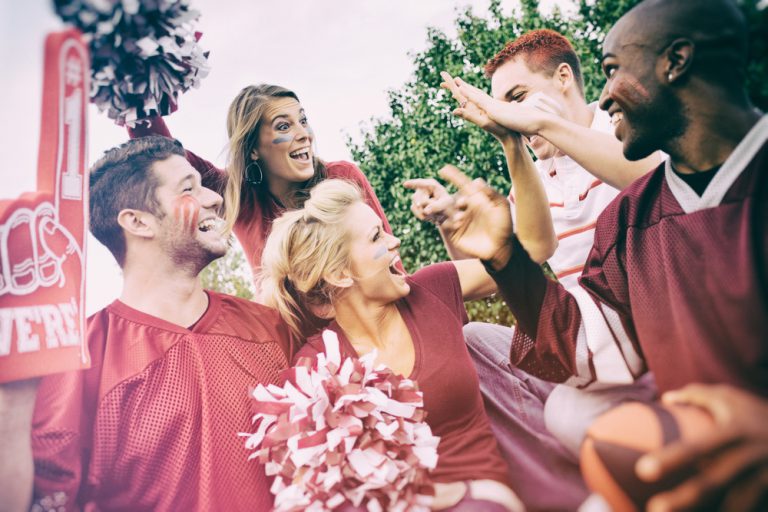 Pumpkin spice lattes. Cozy, cute scarves. Dusting off your favorite gloves and boots.
Fall means a lot of things to a lot of people… but for serious sports fans, one fall tradition tops them all.
It's football season, baby! And when it's time for football, it's time for tailgating, too. And although we'll admit that some of our best college tailgates (and some of our adult ones, too) took place in our best friend's pickup truck, if you haven't tried an RV tailgate, you really haven't lived.
Think about it: you have all the right-in-the-action fun of being camped out at the sports stadium (or close nearby, if the venue doesn't allow RV parking), but you also get to actually stretch out your legs and not feel super cramped even with a big group of people. And with a fully-equipped kitchen on board, you're not relegated to chips and dip or Cheetos. Instead, you can whip up those game-day favorites you've long been famous for, whether it's something fairly complex (like jalapeno poppers) or just a hot, heaping helping of nachos.
But can you really rent an RV for a tailgate party? Is it worth the money? Where can you park the darn thing, anyway, and do you need a special license to drive one?
In this post, we'll walk you through all those basics — and also dive into some of our best tips for throwing the kind of tailgate party nobody's going to forget anytime soon, whether it's at home or away.
Are you ready for some football… and some football-adjacent celebrations? Here's what you need to know about tailgating RV style.
How to Tailgate
Let's start at the beginning, shall we? What even is a tailgate party, anyway? How did this tradition get started?
As its name suggests, tailgating is the practice of hosting a party around the open tailgate of a vehicle — at least traditionally. We have a strong argument for hosting your tailgate party in an RV, but we'll get to that in just a second!
Surprisingly, no one knows for sure how this tradition first got started, though there are a number of running theories. One legend even has it that tailgating had nothing to do with sports when it was first evolving, but instead started during the 1861 Battle of Bull Run in the American Civil War, when American civilians from either side gathered at the grounds with picnic baskets to watch the "show" and root for their "team." (Dark, we know.)
Others say that the football tailgate party got its start at the prestigious Ivy League schools, whose limited parking forced attendees to show up early. With nothing else to do, they decided to do what sports fans do best: eat delicious food, drink delicious beer, and get amped up for the game!
No matter how this tradition started out, however, today, it's a well-known practice. Although there's no wrong way to tailgate, per se, the best tailgate parties tend to include delectable (if not nutritious) finger foods, as well as hearty meats on the grill, and a cooler full of ice-cold brews. (Now that it's 2019, you can probably also throw in some White Claws.) You and your best buds gather around the tailgate of the car in the parking lot of the arena — or sometimes, even in your own driveway — to get ready for the epic show that's about to go down. Some partiers up the ante with portable TVs screening pre-game coverage, corn hole, beer pong, and other activities.
But no matter how elaborate your vehicle-based tailgate setup may be, we're here to tell you that if you haven't tried an RV tailgate, you just plain aren't living.
Host the Ultimate Tailgate Party in Your Rental RV
Think about all the things that make the ultimate tailgate party so ultimate. Hot food, cold drinks, and plenty of room to have an amazing time with your fellow fans.
Well, all of those things are a whole lot easier to come by if you upgrade the size of your tailgate vehicle! And compared to even a very large SUV or one-ton truck, an RV is one heck of an upgrade.
When you tailgate in an RV, you have the best of both worlds: an outdoor space that's perfect for cornhole, beer pong, or the general shenanigans that go into getting amped up for the game and enjoying the gradually-cooling fall weather.
But you also have what's essentially a fan lair on wheels, complete with a private bathroom, comfortable seating with cushy upholstery, and usually a pretty decent-sized kitchen. (And yes, the majority of modern RVs come equipped with at least one television.)
If you don't think you'll have enough interior space to host a rollicking party with lots of invitees, consider that not all motorhomes are created equally. Because while, yes, a small sleeper van that barely has room for one person to stand up straight counts as an RV, so does a 40-foot diesel pusher, which comes stocked with all sorts of luxury amenities you might not even have at home.
If you really want to step your pre-game game up, consider a 5th wheel tailgate — or #trailergate, as the commentators in this local news coverage of the phenomenon quip. Since they don't have to devote any of their internal space to a driving area, trailers have a lot more internal floor space to play with, and some of the largest 5th wheels expand with slide-outs to more than 500 square feet of living space. That's definitely bigger than some big-city apartments we've been to!
One of the coolest things about tailgating in an RV is that, well, you can do it just about anywhere. Whether you camp out at home in your driveway or head to the venue of an away game, you won't have to worry about footing the hefty bill for a hotel room — especially if you're sharing with lots of friends. Even a modest Class C often sleeps as many as six adults, and you also won't have to worry about complaints that come with thin hotel walls when you all are getting rowdy. And you don't need to worry about getting any special licensure or making an appointment with a campground; you can boondock on public lands or set up right on campus for a college game (granted the school doesn't require permits for parking… you should definitely check their website first!).
NFL Tailgate or College Football Tailgate, RVshare Has Your Back
Think an RV tailgate sounds like an amazing idea, but not sure where to actually come by an RV rental you can trust?
Good thing you found us! RVshare is the safest and most secure way to rent an RV, and since it's all done on a peer-to-peer network, you'll get a one-of-a-kind vehicle that's actually lived in, loved, and full of character.
Our unique and easy-to-use platform means every monetary transaction is safe and secure, and our renter rating and verification systems mean your safety is prioritized from the moment you click the "book" button. Comprehensive listings and reviews from other renters mean you'll know exactly what you're in for before you pay a single time, and A-rated insurance coverages mean you won't be caught wondering "what if" when you're on the road.

Speaking of which, if you're uncomfortable driving such a large vehicle… that's okay, too! Many RVshare renters are willing to deliver and set up an RV for you, especially when it comes to towable vehicles like travel trailers, in which case, all you'd have to do is show up and party.

Use the onboard kitchen to whip up your favorite football snacks without worrying about lugging a portable grill, and stock the refrigerator with those ice-cold drinks without having to worry about refilling an actual cooler. Does the weather forecast call for rain on your tailgate parade? No problem: just move the party indoors, and gather in the living room around the television. The show goes on!

In pretty much every way you can imagine, tailgating in an RV is a total upgrade from tailgating around an actual, you know, tailgate. So check out the RVshare rental listings available in your area (or near the next game you're traveling to) today to start planning the best NFL or college tailgate you've ever hosted — or even been to.

This post may contain affiliate links.

[similar_ai_related]