Travel Inspiration
July 13th, 2023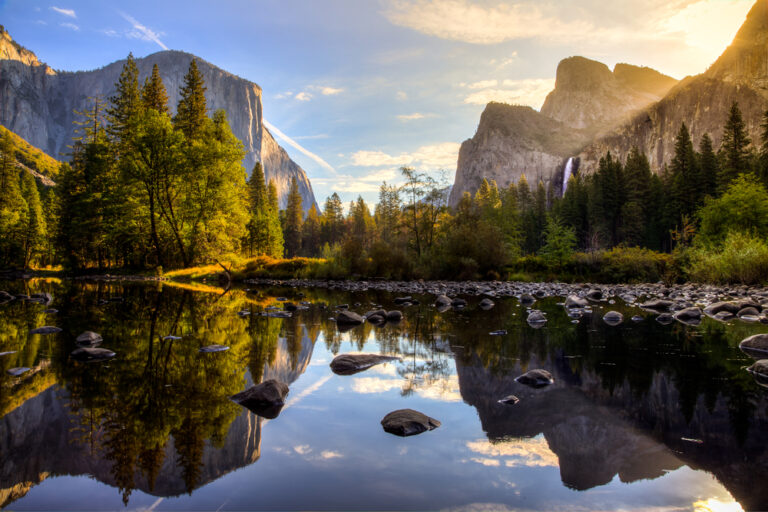 California is a beautiful and varied state that's perfect for exploring in an RV! Depending on where you choose to camp, you could find yourself in the snowy mountains, the vast desert, the middle of a big city, or watching the sunset over the ocean – all without leaving the state! RV camping is a great way to see California's sights and meet its people.
Because the state is so vast, you'll need a guide to help plan your California RV camping trip. We're here to share where to stay, what to see, and what to do in the great state of California! Use this article to help you plan everything you'll need for an unforgettable California camping trip in your RV.
Preparing for RV Camping
Before you head on a California RV camping trip, you'll want to make sure you're well-prepared for your adventure! The first step, of course, is to get your RV. If you don't own your own RV, you can rent one from RVshare. You'll also want to make sure you pack well, bringing everything you need for your trip without overpacking and weighing down your rig.
Choosing the right RV for your needs
If you plan to rent an RV from RVshare, spend a little time thinking about which model of RV, camper, or trailer would suit you best. You'll want one that fits your entire group, with the amenities you need for a comfortable trip. You can narrow your search by budget, by rental dates, by city, and more. Keep in mind that the campgrounds where you plan to stay may also dictate the type of RV you want. If you're adventuring in the California backcountry, you may want a smaller campervan or pop-up trailer. Larger RV resorts will more easily accommodate a Class A motorhome.
You'll also want to decide whether you want a vehicle at your campsite. If so, do you want to rent a trailer you can unhitch so you can use the tow vehicle? Do you want to tow a smaller vehicle behind a large Class A motorhome? Or will you be using a campervan that can simply be driven back to your campsite each night?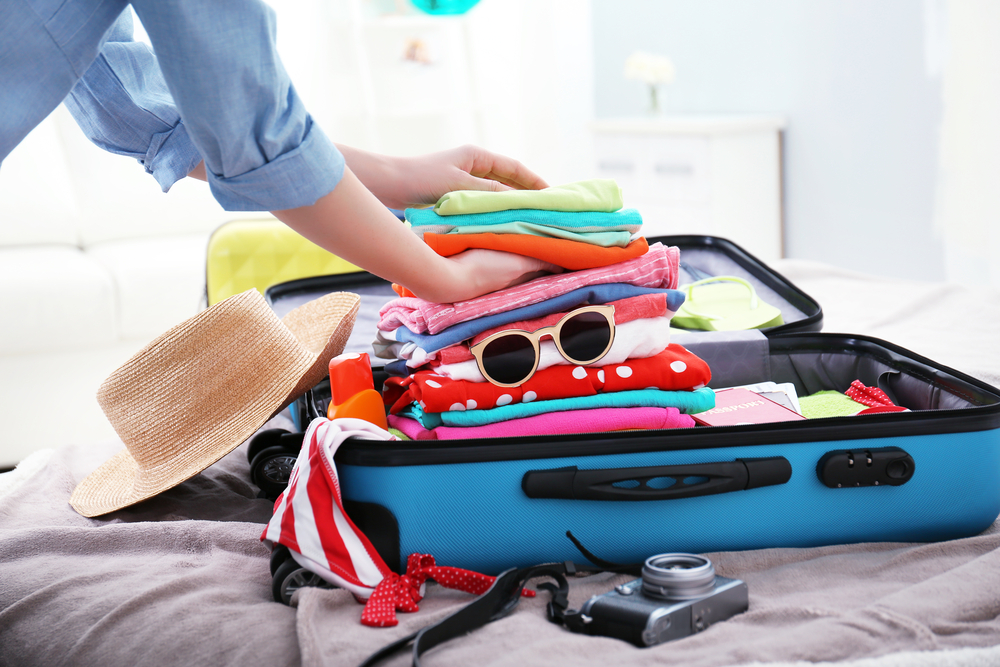 Packing essentials for a successful trip
Once you've secured your RV, you'll want to make sure you pack the essential equipment for your camping trip! You'll want a packing list for your clothes and toiletries, plus a packing list for your RV.
Your personal packing list should include:
Clothing appropriate for the weather and activities you've planned. Pack for the number of days you'll be gone, or the number of days between laundry stops.
Toiletries
Medications
First aid kit
Sunscreen
Bug spray or citronella candles
Entertainment (books, games, movies)
Outdoor gear (hiking boots, bathing suit, paddleboards, etc)
Cold or warm weather gear as needed (heavy jacket, hat, mittens, sun hat, rain jacket)
Flashlight
Extra batteries
Groceries
Electronics & chargers
Quarters for showers or laundry
You'll also want to check your RV rental to determine which gear is included and what you should bring. You may need to pack items for your RV including:
Pots & pans
Dishes
Utensils – don't forget a can opener, bottle opener, spatula, set of knives, etc.
Dish towels & sponges
Sheets & pillows
Bath Towels
Tool kit
Folding camp chairs
Blankets
RV leveling blocks
Sewer hose and adapter
Freshwater hose
Surge protector
Be sure to double-check your gear against our RV Checklist to make sure you didn't forget anything important!
Considerations for Camping in California
California is such a big state with such varied terrain that RV camping looks different in different areas of the state! Your camping conditions in the Sierra Nevada mountains won't be the same as at a suburban Anaheim campground near Disneyland. It can be helpful to plan where you're going, or at least to know the type of terrain and weather at your California campground before you go.
One of the great things about California is that much of the state has mild weather, so you can camp year-round. Places like Twentynine Palms make perfect warm winter destinations to escape snowier, colder states.
You'll also want to know California's laws when it comes to driving RVs in the state. California's DMV handbook states that while RVs accommodate passengers in places where seat belts aren't required, if the area has a seat belt passengers should wear it. The handbook also reminds drivers to check their RV height and be aware before driving under bridges, canopies, and other overhangs.
The California Vehicle Code restricts the "operation of housecars over 40 feet to only specified highways and within one mile on either side of those highways for access to fuel, food, or lodging." Finally, if you are towing a vehicle such as a car behind a large RV, you can only tow one (not a car plus a boat, for example) and your total vehicle combination can't exceed 65 feet.
Researching campground options and making reservations
There are tons of campground options in California! You'll want to start your research by deciding which area (or areas) of the state you want to visit. California has nine national parks, more than 20 different theme parks, and the second-largest city in the country. It also has world-class beaches, historic buildings, a world-renowned wine country, and lots of other places to explore.
Once you've decided where you'll be camping, you can narrow your search to particular campgrounds. You may want to use a website that specializes in finding campsites, such as Hipcamp or The Dyrt. Harvest Hosts offers RV camping at thousands of farms, wineries, and other scenic venues. Roverpass is another great option for finding campgrounds. Simply type in the area where you would like to camp and you'll get a variety of suggestions! All of these websites also offer easy online booking, so you can reserve your spot as soon as you find one you like.
If you're camping during a peak season (usually when school is out for the summer or for a break) or in a popular area, you'll definitely want to make reservations ahead of time!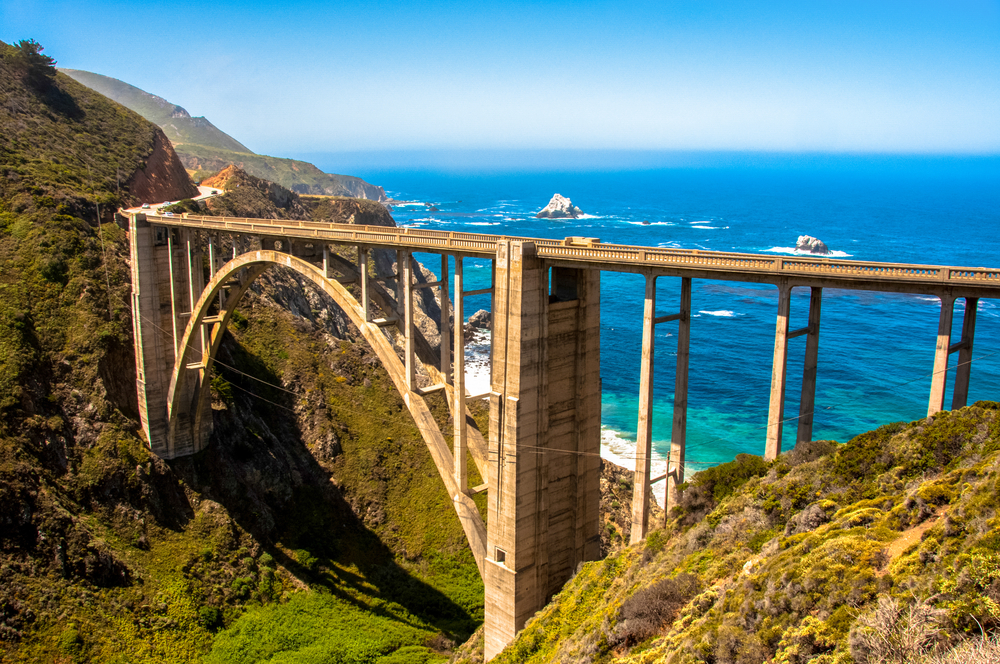 Finding Campgrounds
As you search for campgrounds in California, consider what kind of camping you want to do. Do you want an RV resort with activities for the kids and lots of amenities? Do you want to boondock and live off the grid for a bit in a less-traveled area of the state? You'll find everything from fancy resorts to national park campgrounds to Bureau of Land Management campsites.
Exploring Public Campgrounds in California
Public campgrounds in California are great options for budget camping. You may get some amenities like bathrooms or pay showers, but they won't be as nice as luxury private campgrounds. They also tend to be cheaper than their fancier counterparts. Public campgrounds are at national parks, national forests, state parks, and campgrounds on Bureau of Land Management land.
National Park Camping
The nine national parks in California are:
You can RV camp at any of these national parks except Channel Islands because you can't get your RV to the islands. There are several private campgrounds near the Channel Islands, and it's still a can't-miss California destination!
National Forest Camping
If you're having trouble finding available national park campgrounds, or simply want fewer crowds, you can also look for a national forest near the park you're interested in. California also has plenty of national forests in other areas as well, so you'll have lots of choices if you want to camp in one.
The Tahoe National Forest, Angeles National Forest, and Sequoia National Forest are all amazing areas to explore, with lots of outdoor activities.
State Park Camping
Another beautiful way to see California is by camping at state parks! California has the largest state park system in the country, with 279 state park units. Jedediah Smith Redwoods State Park is a picturesque option, and a good alternative if you have trouble getting a campsite at the national park. Leo Carillo State Park is a beautiful spot along the coast with beach access. Dockweiler State Beach is another coastal option that's not a far drive from Los Angeles if you want to see the city.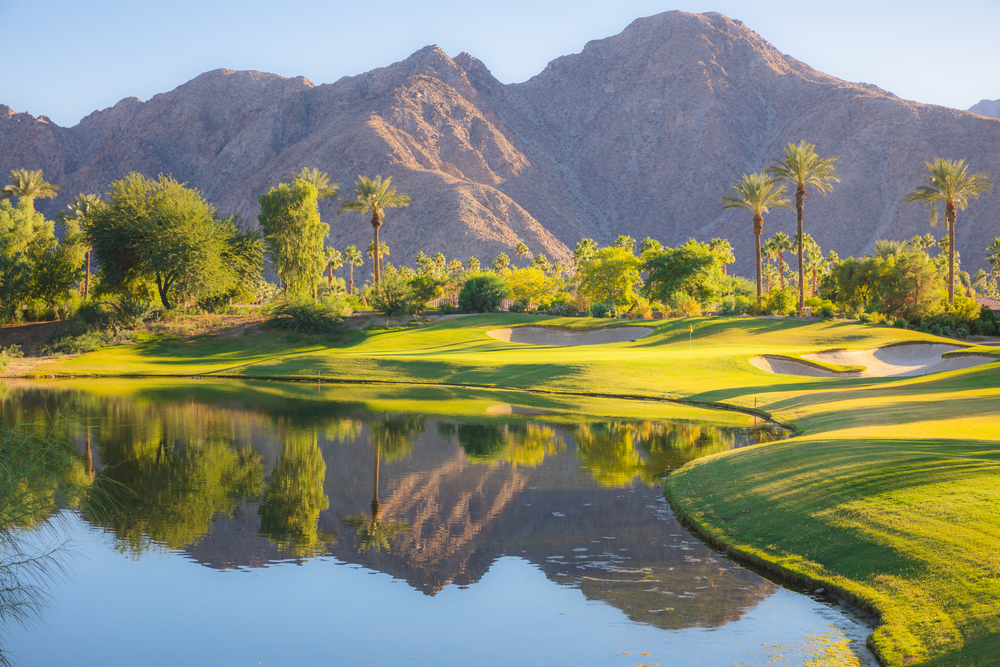 Bureau of Land Management (BLM) Camping
Because it's such a vast state, California has lots of BLM land where you can camp and enjoy outdoor activities. The land is owned and managed by the government. Usually, BLM land has fewer amenities – you may not even get a bathroom. However, there are areas where you can boondock – or dry camp – for free.
The Palms to Pines Scenic Byway takes you from Palm Desert, through desert and mountain ecosystems, before ending in Banning, California. The North Fork American River area has lots of options for river fun – including whitewater rafting and fishing – in California's Gold Country. Movie Road, near Lone Pine, is a fun drive and camping area. You may recognize scenery along the drive – the road has been the backdrop for more than 300 movies including "How the West Was Won," "The Gladiator," and "Star Trek V."
Exploring private campgrounds and RV parks
California has lots of public campgrounds, but there are also many private campgrounds available as well. If you'd like more perks and amenities, there are lots of glamping options available. Private campgrounds also tend to have more amenities like electric and water hookups, restrooms with showers, and dump stations. The Flying Flags RV Resort & Campground in Buellton is a large RV resort in central California with a wine and beer bar, hot tub, and a cafe. It's close to central California's wine country, and to the charming Danish-styled town of Solvang.
Boondocking in California
The opposite end of the spectrum from private RV campgrounds in California is…boondocking! Boondocking in California is possible, even in such a populated state. Some beautiful boondocking sites in California include Orr Lake Campground near Mt. Shasta, Chimney Creek Campground near Lake Isabella, and Beaver Creek Campground in the Klamath National Forest.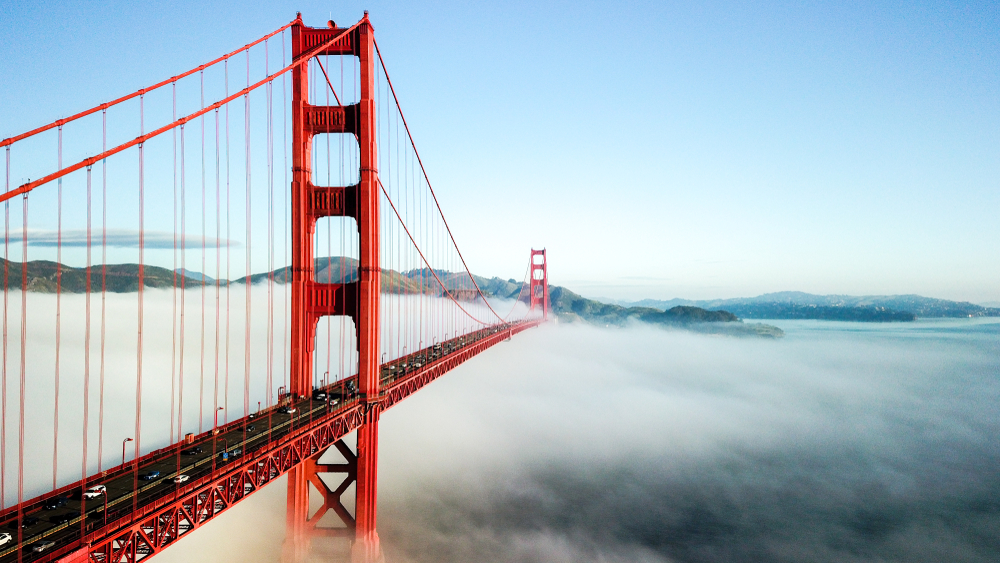 Planning your itinerary
You may have a rough itinerary in your head after researching campgrounds and deciding where to RV camp in California. Now it's time to nail down those plans! Whether you want an urban adventure, or want to explore the natural beauty of California, you'll find plenty to do in The Golden State.
Features and attractions in California
California has lots of features and attractions! One of the best ways to explore the state is with a drive on one of the many scenic byways. Highway 1 is a beautiful drive down the coast, and you can do it over the course of several days while stopping at many sites along the way. There are many landmarks to visit in California as well. You won't want to miss the Golden Gate Bridge or Alcatraz Island in San Francisco. Grauman's Chinese Theatre (now known as the TCL Chinese Theatre) is a monument to the Golden Age of Hollywood. And the Monterey Bay Aquarium is one of the best aquariums in the country.
Finally, carve out some time to see the national sites in California. Lava Beds National Monument is a fun trek through underground lava caves, while Manzanar National Historic Site is an important reminder of California's dark history when the state hosted Japanese internment camps.
Festivals, fairs, and events in California
From wine festivals to state and county fairs to arts and music festivals like Coachella, California is home to lots of fun annual events! You'll find campgrounds right on-site for many of these events, but there are also usually campgrounds nearby where you can stay as well. If you rent from RVshare, you may even find an owner who is willing to set up their rig on-site for a fee so you don't need to worry about it.
Exploring Outdoor Activities in California
Since California has so many different environments, there are many different ways to enjoy the outdoors! You can ski or snowshoe, fish, surf, hike, waterski, kayak, and so much more. Depending on where you camp, you may also see diverse wildlife, from whales to bears to the tiny endangered pupfish in Death Valley.
Hiking, Biking, and Nature Trails
California has many hiking trails! Whether you want an easy stroll along a beachside cliff, want to summit Half Dome in Yosemite, or want something in between, you'll have plenty of options! In fact, hiking is one of the best ways to see California's beautiful outdoors.
Some of the best hikes in California include:
If you'd rather hit the trails on a mountain bike, you might enjoy one of these trails instead: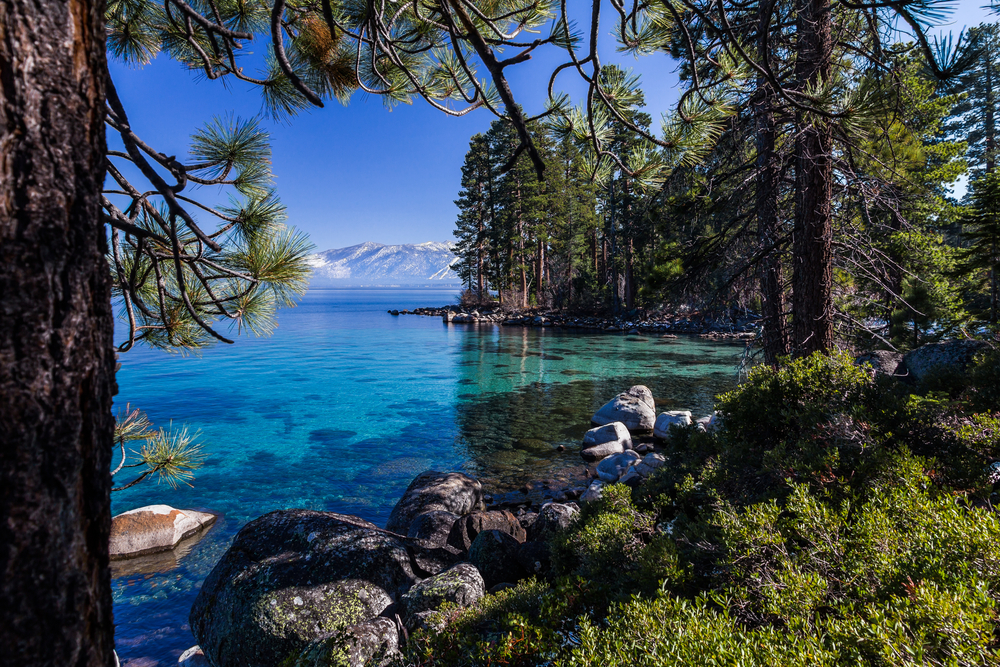 Fishing, boating, and water activities
Water sports and activities are hugely popular in California! The state has many bodies of water, from the Pacific Ocean to Lake Tahoe to rushing rivers. There are also numerous smaller lakes, ponds, rivers, creeks, and other places for water fun.
You'll find lots of options for camping near the state's beautiful lakes including Lake Siskiyou, Donner Lake, Lake Tahoe, and Lake Almanor. There's also lots of coastal camping at California's many beaches. If you're interested in whitewater rafting, Northern California has lots of options for camping and for rafting trips.
Wildlife viewing and photography
There are opportunities to view wildlife throughout California! Look for California condors, and learn their amazing story of coming back from the brink of extinction, at Pinnacles National Park. La Jolla Cove and other coastal locations are great places to spot sea lions. Channel Islands National Park is an amazing place to birdwatch and the islands are home to species that don't live anywhere else. And of course, in the Sierra Nevada mountains, you may see bears, sheep, mountain lions, and a variety of other wildlife.
Finally, if you're near the Santa Cruz Mountains, keep an eye out for one of California's smallest but most unique forms of wildlife – the bright yellow banana slug!
You'll want to bring binoculars for wildlife viewing, and if you have a camera with a good zoom lens that will be useful, too.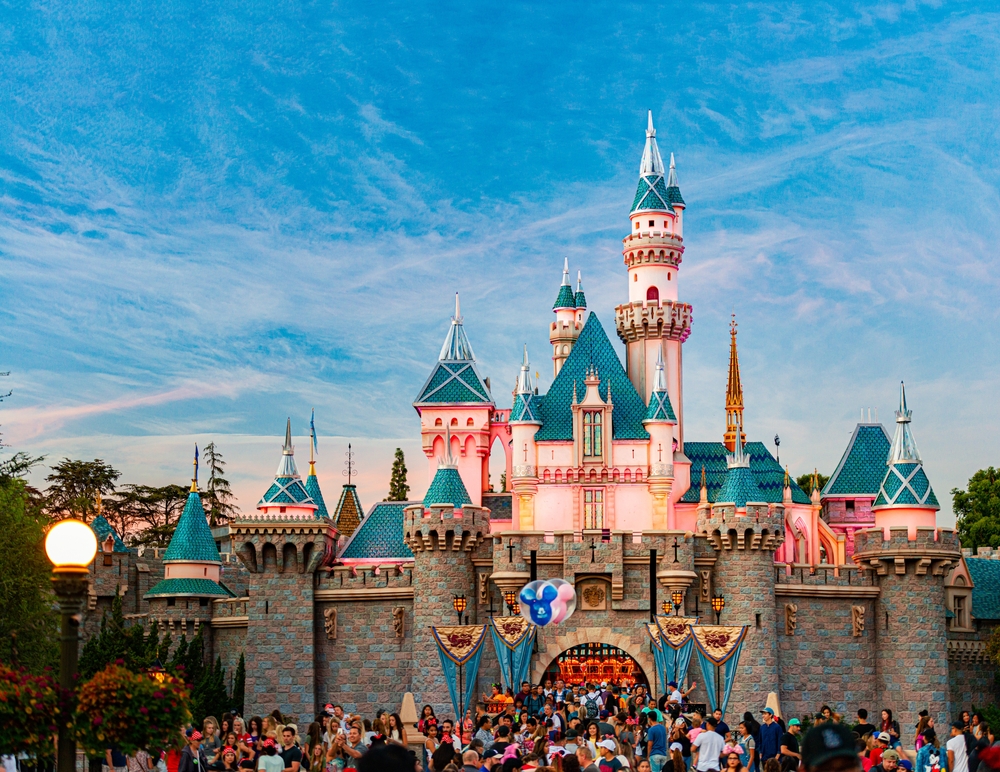 Family-friendly activities and attractions
California is a very family-friendly destination! Of course, Disneyland and Disney's California Adventure parks are a big draw for families. If you plan to RV camp, there are lots of RV campgrounds in Anaheim, right near the amusement park. Yosemite National Park is a family-friendly national park (although really, you can't go wrong at any of the national parks in California!) and the San Diego Zoo and Safari Park is fun for the whole family.
Along with checking out specific California attractions, spend some time exploring California's fascinating cities like Los Angeles or San Francisco.
Historical sites and museums
Learn more about California's varied history with a visit to one of the state's many historic sites or museums. The San Francisco Maritime National Historical Park is a great place to learn about the maritime history of the Pacific Coast and the people who lived there. The 21 missions along California's Mission Trail make interesting stops where you can learn about Spain's attempt to colonize the Pacific Coast and convert local Native Americans to Catholicism. The Getty Center in Los Angeles houses art from the Middle Ages to the present day, along with beautiful gardens.
Amusement parks, zoos, and wildlife refuges
Although Disneyland is likely the most famous amusement park in California, there are many others! Head to Universal Studios Hollywood for movie-themed rides and a tour of some famous movie sets and props. The Santa Cruz Beach Boardwalk has roller coasters and games next to the Pacific Ocean. Legoland is a great spot where kids can ride roller coasters and see fanciful and impressive Lego creations.
California also has some stellar zoos and aquariums to visit. The San Diego Zoo is perhaps the most well-known, but the San Francisco Zoo and the Los Angeles Zoo are both worth a visit. The Monterey Bay Aquarium has an impressive (and adorable) sea otter exhibit, plus more than 81,000 animals and a big marine life conservation program.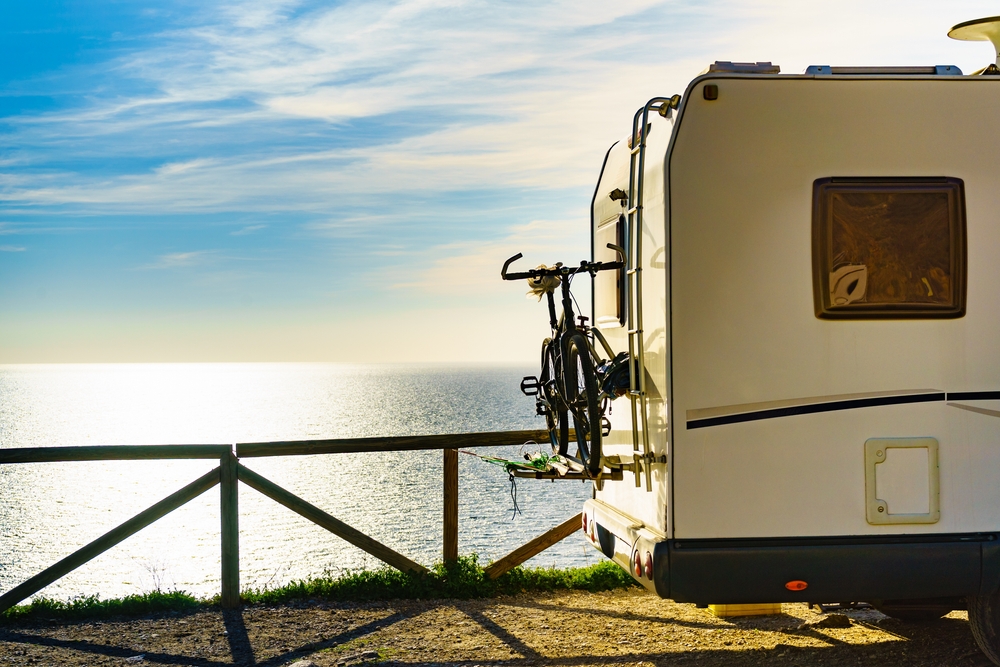 Safety and Preparedness when RV Camping in California
California has had its share of natural disasters over the years, some of them with terrible consequences. If you will be camping or visiting in the state, it is helpful to be aware of any risks and to know what to do in case of an emergency.
Weather conditions and natural disaster preparedness
California has had several high-profile, devastating wildfires in the past few years. Know the fire restrictions for the area where you plan to camp – in some cases, fires are completely prohibited. Know how to safely start and put out a campfire if you are allowed to have one. You'll also want to be aware of any other restrictions – some areas of California prohibit charcoal fires so you won't be able to grill. Finally, check weather reports and advice from local authorities. Windy, dry days are definitely not the time to have a fire!
When you're determining where to camp, you may also want to consult a fire map to make sure you're well away from any danger.
Although they are rare and unpredictable, California also has earthquakes. Quakes can occur at any time of year (there's no "earthquake season"). Since RVs are built so that your dishes and items don't fall while driving, you may be able to avoid some of the hazards that brick-and-mortar houses face. However, seek shelter under a table and away from heavy light fixtures and windows which can break during a quake. If your RV is parked near trees, light poles, or other outdoor hazards that could crush it, you may want to run outside during the earthquake instead. The best option is to try and avoid those dangers when you park your RV in the first place.
After an earthquake, do not light matches or candles in case of a propane leak. Do not use electrical equipment because a spark could also cause a fire. Have flashlights ready for an emergency and use those until you are certain there is no gas leak.
Finally, if you are camping in the mountains, be ready for cold weather. Even if you're enjoying warm sun and swimming in lakes during the day, temperatures can drop at night. Bring layers if you're hiking and check weather forecasts. Believe it or not, it does actually snow occasionally in California in the summertime!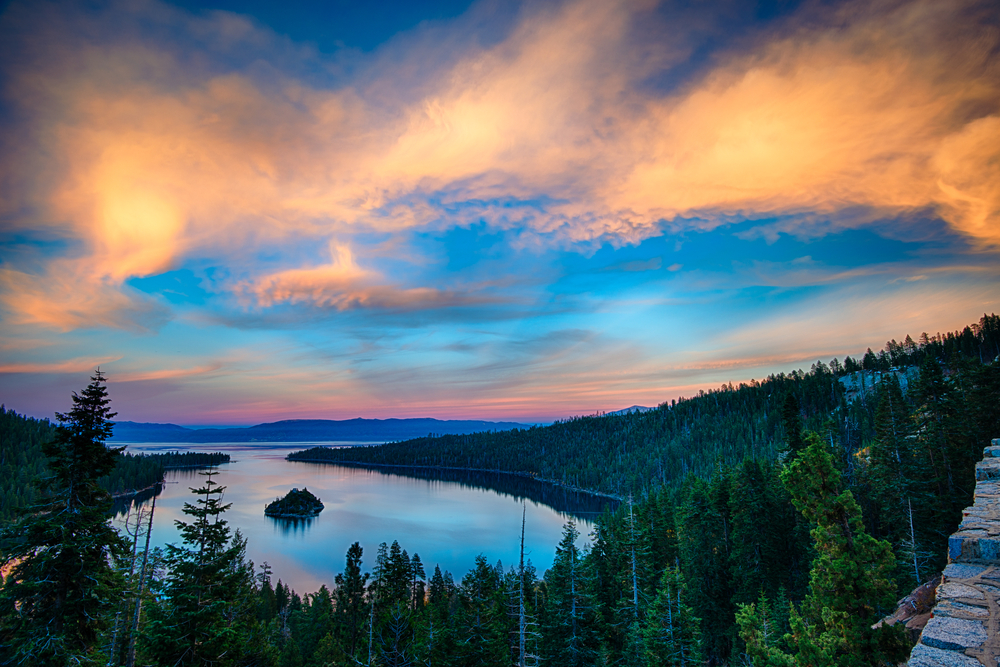 Wildlife encounters and precautions
Many California mountains are home to black bears (which can actually be brown or tan as well as black). Mountain lions also live in various wild regions of the state. If you're hiking, you may also encounter rattlesnakes, especially during warmer months. It's helpful to hike in groups, and don't let children run ahead on trails. Read warning signs carefully and consult with park rangers on the safest course of action if you encounter a wild animal.
If you're headed to the beach instead of the mountains, there's a whole other set of precautions to take! Be aware of rip currents that can pull swimmers away from the beach and make it hard to get back to shore. Occasionally, California does have shark attacks. Check for news of shark activity or for posted signs in an area before swimming or surfing. Stay in groups in the water, since sharks are more likely to approach a lone swimmer (you'll also have nearby help if there is trouble). If you do see a shark, stay calm and paddle away smoothly – jerky motions can attract attention.
Realistically speaking, however, your biggest danger at the beach is going to be sun exposure. Bring lots of water, wear lots of sunscreen, bring hats that offer sun protection, and consider long-sleeved swim shirts or rash guards for a day at the beach.
There's so much to see in California! Hopefully, this guide to things to see and places to camp in this beautiful state will help as you plan your trip. RV camping is a wonderful experience that helps create lifelong memories.
More Inspiration for Your California Travels:
If you're looking for even more advice on where to go and what to do, check out some of our other articles!
This post may contain affiliate links.