Travel Inspiration
October 11th, 2023
When thinking about the state of Arizona and the eastern part of SoCal, most people don't think of water. After all, the vast majority of this area is dry, dry desert. The exception? Lake Havasu.
If you live in Phoenix, Las Vegas, or another nearby city, this gorgeous lake is the ideal weekend getaway. It allows you to take in some natural beauty, relax on the beach, and enjoy some thrilling water sports, even when the ocean is miles and miles away. Of course, the best way to visit this amazing place is in an RV.
Below, we've included everything you need to know to plan the perfect RV weekend trip to Lake Havasu.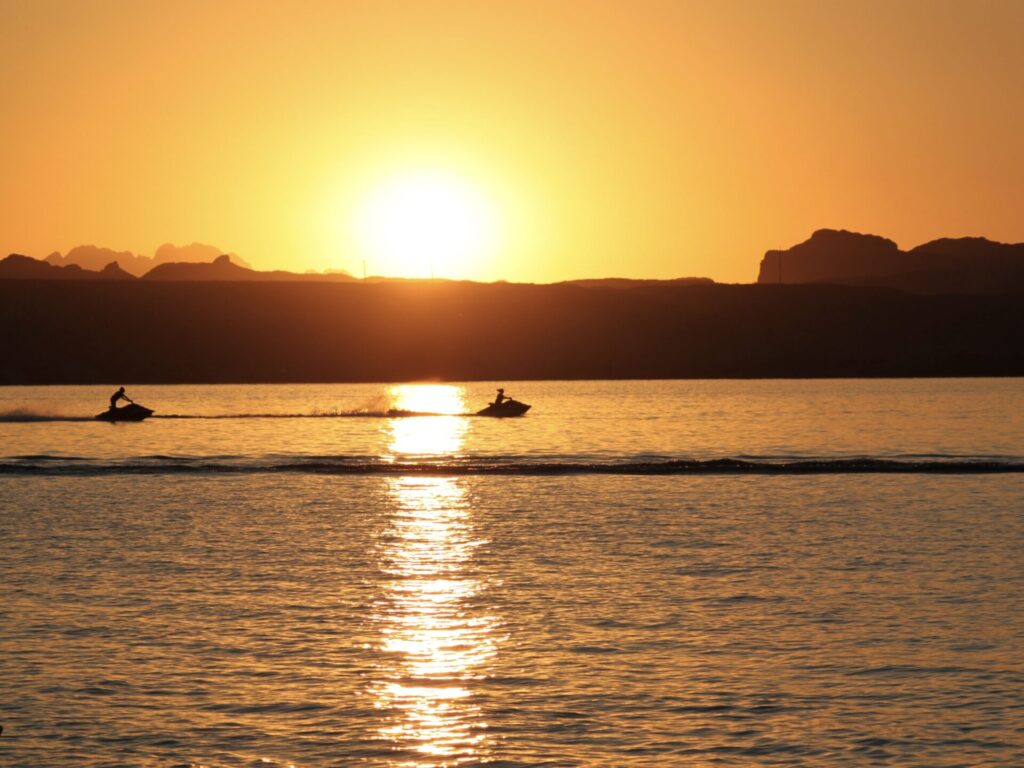 Discovering the Beauty of Lake Havasu
Lake Havasu sits on the border of Arizona and California. The primary purpose of the lake is to store water that is pumped into two aqueducts. That said, it also provides endless recreational opportunities for locals and visitors alike.
Because this area of the country was once home to the Mojave people, the lake was named for the Mojave's word for blue—a fitting name, considering the beautiful blue color of the reservoir. You see, the waters in Lake Havasu are crystal clear and the bright blue sky reflects off of the waters, creating one of the bluest lakes you'll ever visit.
On top of some serious natural beauty, the lake also offers opportunities for all kinds of activities, and because the lake draws so many visitors, the large number of restaurants and businesses makes this an even more wonderful place to spend a getaway.
Planning Your Weekend Getaway
Not sure how to begin planning your weekend trip to Lake Havasu? You might want to start by deciding when you'll pay the lake a visit. While the weather is decent in this area most of the year, we recommend planning your trip to fall between March and October. February and November are also usually okay in terms of weather, but December and January are the coldest months at the lake.
How long should you stay at Lake Havasu? Honestly, you could head to the lake for a day trip and have a blast, but we think camping for 2–3 nights is ideal for ensuring you get the most out of your visit.
Finally, you'll need to figure out what to pack for Lake Havasu RV camping. Generally speaking, the items on this RV packing list should be sufficient. That said, if you want to take part in any special activities, you'll want to make sure you grab the proper gear. You might need fishing gear, for instance. Additionally, you'll want to make sure to pack plenty of sunscreen as well as a hat to protect yourself from the bright sunshine.
The RV Advantage
You might be curious why we recommend visiting Lake Havasu in an RV. There are actually a couple of different reasons for this, and once you read through them, we're guessing you'll choose to book a Lake Havasu RV resort over a hotel room in the area.
The first reason we think it's best to take an RV to Lake Havasu? The comfort and convenience of having a little home-on-wheels with you. This gives you a comfortable place to rest, shower, and cook your own meals between outdoor adventures.
We also appreciate how cost-effective RV travel is. By booking Lake Havasu RV parks rather than hotel rooms, visitors can save hundreds of dollars while having an even more comfortable and relaxing vacation. It's win-win, really!
Suggested RV Routes
Planning to visit Lake Havasu from Phoenix? When driving an RV, we recommend taking I-10 and AZ 95. If you'll be traveling from Las Vegas, taking AZ 95 and I-40 is a good option. Both are fine routes even for bigger rigs, so you shouldn't have any trouble reaching your final destination.
Lake Havasu RV Parks
Wondering where to park the RV once you arrive? Fortunately, there are a number of great RV parks and campgrounds near Lake Havasu, and some of them even sit right by the water, making it easy to fully enjoy the beauty of the lake.
Below are some of our favorite camping options in the area. Pick from this list and you really can't go wrong.
Lake Havasu State Park Campground
The first campground on our list is also our absolute favorite in the area. This state park is just lovely and offers a wonderful escape into nature while still giving you everything you need for a comfortable stay. Sites include water and electric hookups and there is water access in the park. The best part? The cost to stay at this state park is very affordable.
Islander RV Resort
If you're looking for a resort rather than a state park, look no further than Islander RV Resort. This park features great views, full hookups, cement pads, and a more luxurious feel. There is a pool onsite and a hot tub is available for relaxing after a long day.
Havasu Landing Resort & Casino Campground
Last on our list is Havasu Landing Resort & Casino Campground. Located on the California side of the lake, this campground might be easier to reach from certain places. It is situated right next to a casino, and swimming, boating, and off-roading are all options very nearby. Just know that it is a bit out of the way, so you will want to arrive prepared with everything you need for the duration of your trip.
Keep in mind, the Lake Havasu area is a very popular place to get away, especially during the warmer months. Because of this, it's important to reserve your site in advance so you don't find yourself without a place to stay once you arrive.
Things to Do in Lake Havasu
Of course, you'll want to find some awesome things to do while visiting Lake Havasu. The good news? There are lots of options, meaning you'll find something to entertain every member of your party.
Water-Based Activities
Let's start by talking about the water-based activities that the lake has to offer. These are the main attraction for many people and include such fun options as boating, jet-skiing, and paddle boarding. You can of course use the lake for fishing as well, and this is a hugely popular activity for many visitors.
For an extra fun time out on the water, consider taking a scenic boat tour, which will show you some of the prettiest sights the lake has to offer, including some gorgeous sunsets.
Land-Based Adventures
The lake may be the main attraction in the area, but that doesn't mean you shouldn't spend some time enjoying land-based activities during your visit. Hiking and biking trails are found all around the lake and are a great way to really immerse yourself in the natural beauty found there. We especially love the SARA Crack Trail in Lake Havasu State Park.
Another great option? Off-roading and ATV excursions. If you don't feel comfortable going out on your own, consider a guided off-road tour with a company like Sandbar Powersports.
Visiting Famous Landmarks
Sightseeing is also a great way to fill your time in the Lake Havasu area. Perhaps the best landmark to check out is the London Bridge, which offers some great photo opportunities. We also recommend taking the guided walking tour of the bridge so you can learn the very interesting story behind this bridge.
You see, the bridge is almost 200 years old now and was originally built across the River Thames in London. It ended up being auctioned off in the 1960s and Robert McCulloch snatched it up and placed it on his own 16-square-mile patch of desert on Lake Havasu. The story is much more detailed than this though, making the tour well worth your time.
Shopping and Dining Options
Finally, we must mention the shopping and dining available around Lake Havasu. The English Village is absolutely adorable and absolutely worth checking out. Here, you'll find plenty of waterfront dining and shopping, including gift shops, boutique stores, snack stops, and full-service eateries. You can rent a bicycle here and enjoy views of the aforementioned London Bridge.
Some of the best food options around Lake Havasu include Shugrue's Restaurant & Bakery, Barley Brothers Brewery, The Chair, and for those more budget-minded folks out there, Burgers by the Bridge.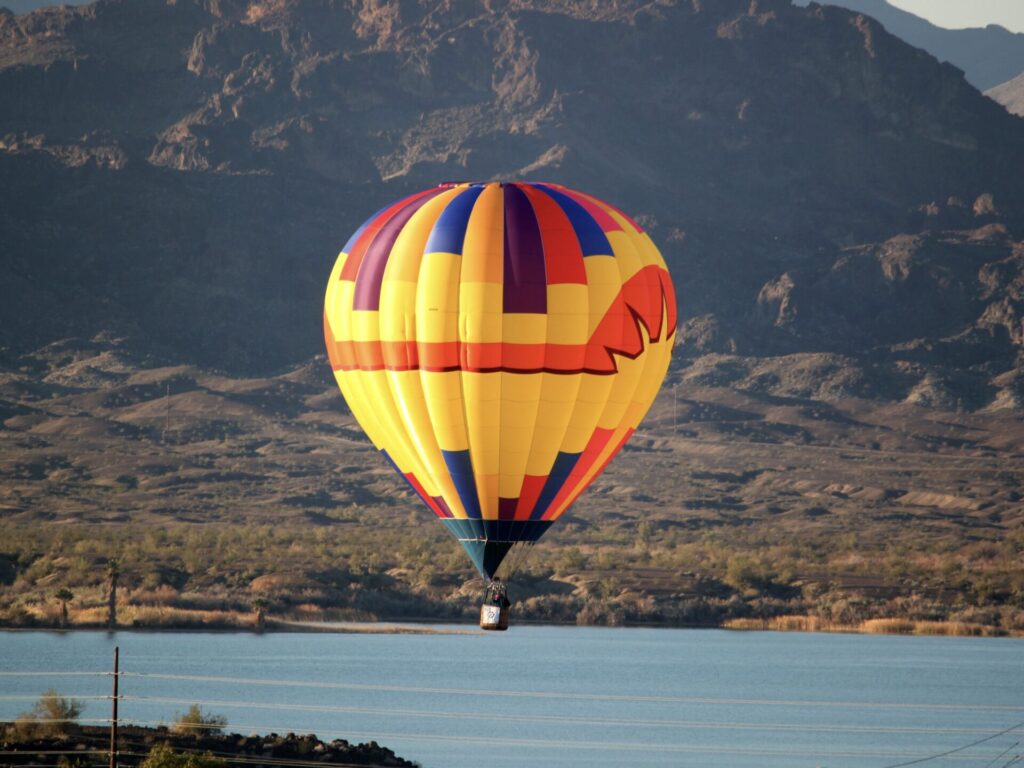 Lake Havasu's Events and Festivals
In addition to the everyday fun listed above, Lake Havasu also plays host to a variety of festivals, events, and festivities throughout the year. If you're looking to make your vacation even more exciting, try planning it during one of these special times of year.
Lake Havasu Balloon Festival is one of our favorite annual events near the lake. During this January festival, you will be treated to a sky full of colorful hot air balloons—a beautiful sight, especially in such a beautiful place. If you're lucky, you may even be able to book a balloon ride!
Looking for another fantastic event? The Desert Storm Poker Run takes place in April and is one of the largest events in the area, and it's the largest performance boating event in the western US. Boating enthusiasts are sure to be thrilled by the happenings during this event, but honestly, even someone who knows nothing about boating is bound to get a bit caught up in the excitement.
Other fun times to visit Lake Havasu include spring break when all kinds of parties and other fun events happen, and the winter holidays when you can witness boat parades.
Clearly, Lake Havasu is the perfect weekend getaway for everyone in the area surrounding the lake. Not only that, but choosing Lake Havasu RV camping can make your getaway even better. Ready to experience it all for yourself? Book a Lake Havasu RV and start planning your vacation today!
Keywords: Boating, water sports, London Bridge, lake havasu rv parks, lake havasu rv resort, lake havasu rv camping