Travel Inspiration
January 1st, 2023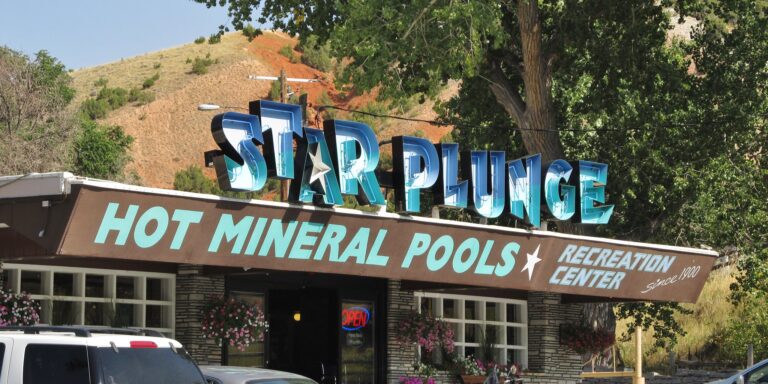 Wyoming is a beautiful place. It's the place to go if you want to be wowed by nature and spend some time hiking, paddling, or simply enjoying the view as you reflect on things. That said, these are far from the only things to do in the state. Another great option? Wyoming amusement parks!
While there aren't exactly dozens of amusement parks in Wyoming to choose from, the ones that they do have are pretty fantastic. Any one of them could be perfect as a standalone vacation destination, but would be even better when combined with one another (or with other things to do in Wyoming!) to create an epic Wyoming road trip.
Wyoming Amusement Parks
Of course, you will want to do some planning before you set out on your Wyoming amusement parks adventure. That's where this article comes into play.
Below we have listed the best amusement parks in Wyoming, helping you ensure you choose the best option for you:
Star Plunge
Mike Sedar Aqua Park
Old Town Family Fun & Amusements
Cheyenne Aquatic Center
Snow King Mountain Resort
Obviously, knowing the name of the place(s) you plan to visit isn't going to be enough. You'll also want to 1) find nearby places to stay, 2) decide what to do while in each park, 3) know how much to budget, and more. Keep on reading, because the sections below discuss all of these things.
Once you've finished this article, you should know most of what you need to know to fully enjoy your Wyoming amusement parks getaway.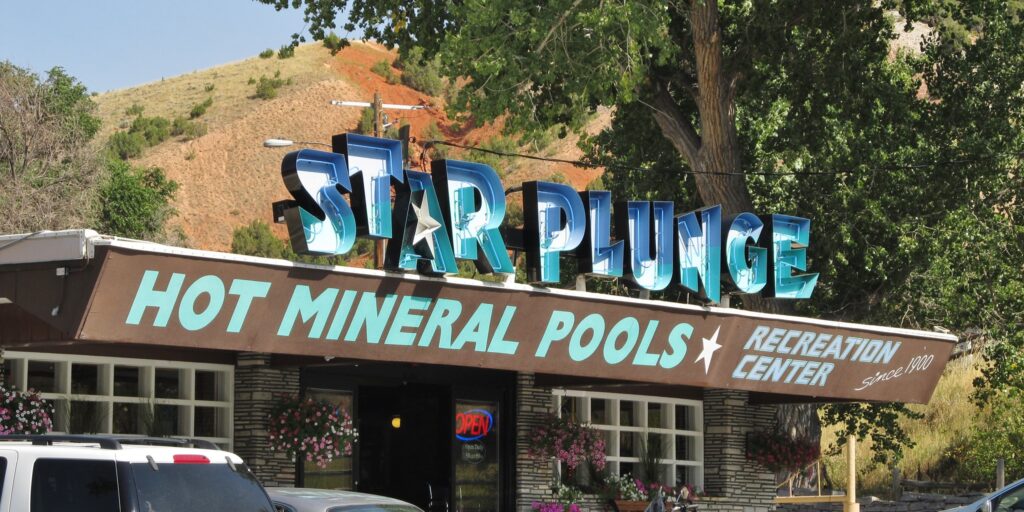 Star Plunge
Looking for some water fun? Star Plunge is a super unique water attraction that you will definitely want to visit while in Wyoming. It's located in Hot Springs State Park in the aptly named town of Thermopolis, and features hot spring pools that are great in summer as well as winter.
Wondering what makes hot springs pools a family amusement park? Believe it or not, this place is 100% family-friendly. Not only that, but it features some attractions you wouldn't normally find at a hot spring pool.
The main attractions? The water slides, of course! The Super Star 500 is one of the world's longest water slides, and boy, is it a blast. Meanwhile, the Blue Thunder Run is a 330-foot slide that is open all year long. Lastly, we must mention Lil' Dipper. This is a smaller slide, but it ends in a warm mineral pool—something not many water slides can claim.
Other attractions at this park include a vapor cave, a fitness room, and the indoor and outdoor swimming and soaking areas.
RV Camping Near Star Plunge
We definitely recommend camping when visiting this Wyoming amusement park. Unfortunately, camping is not available in Hot Springs State Park itself. The good news? There are private campgrounds located nearby, so it shouldn't be difficult to find a place to park while you play.
Wyoming Gardens — One of our favorite places to park in the area is Wyoming Gardens. This is a smaller RV park with friendly staff and everything you need to be comfortable. Sites are plenty big and have full hookups, the bathrooms are clean and well maintained, and the grass in the park is green and soft. Of course, the best part is the short distance from Star Plunge!
Planning Your Trip to Star Plunge
The cost to visit Star Plunge is $15.50 for those aged 5–64, $7 for kids aged 4 and under, and $12.50 for seniors. Group rates are available for groups of 30 people or more. Season passes are also an option for those who wish to visit often. The fitness room does cost extra.
Rental towels, suits, balls, and tubes are all available. RV parking is available for those who wish to bring their home-on-wheels along.
Mike Sedar Aqua Park
If hot springs aren't your thing, there are other places to play in the water. This is great during the summer months, when the temperatures can get pretty hot and most people are looking for a way to cool off. One of the best places to do this? Mike Sedar Aqua Park in Casper.
This city-run park is smaller than some other waterparks out there, but that doesn't mean it is any less fun. It features a huge water slide that is perfect for thrill seekers. Additionally, there is a splash pad and small water play structure with a slide that's perfectly sized for the little swimmers in your group.
Families love to float the lazy river together, the rock climbing wall is fantastic for those seeking a challenge, and many parents enjoy relaxing on the in-pool benches.
RV Camping Near Mike Sedar Aqua Park
The Casper-area RV park mentioned above would be an awesome place to stay while checking out Mike Sedar Aqua Park. That said, if you prefer to stay elsewhere, you do have other options. The park listed below is another one of our favorites and is definitely worth checking out.
River's Edge RV & Cabins Resort — River's Edge RV & Cabins Resort is located about 15 minutes outside of Casper. It's set right on the river, meaning plenty of beautiful views, and the employees are friendly and welcoming. Sites at this resort feature full hookups and the laundry room, playground, and bathhouses are all well maintained.
Rent an RV near Mike Sedar Aqua Park!
Planning Your Trip to Mike Sedar Aqua Park
This park is open from early June through early September. (There is also an indoor pool run by the city that is perfect for those looking to play in water in the wintertime.) Admission is $5 for everyone ages 5 and up, while those aged 4 and under enter for free alongside a paying adult.
Changing facilities and showers are available at this waterpark. There is plenty of parking and there's a playground in the same park for some after-pool playtime.
Old Town Family Fun & Amusements
Next up is Old Town Family Fun & Amusements in Casper. This is a Wyoming favorite, and once you see it, you'll understand why. This family-owned amusement center is chock-full of things to do, and there truly is something for everyone in the park.
One of the main attractions at Old Town Family Fun is the 18-hole mini golf course. This course is unique because it uses the various holes to take players to different places and times in the history of Casper. This is especially fun for out-of-town visitors who might want to learn a bit about the place they are visiting.
The indoor rock climbing wall is another fantastic attraction at this family fun spot. It's indoors, so you can enjoy this particular bit of fun no matter the weather. The arcade is also indoors and offers a huge variety of games that the whole family can enjoy.
Lastly, we must mention the laser tag at Old Town Family Fun. The park uses a new and innovative system that makes this classic party game even more fun. Better yet, players can take the game outdoors to enjoy the sunshine or keep it inside when the weather is not so great.
RV Camping Near Old Town Family Fun & Amusements
Obviously, you will need a place to stay while visiting Casper. Our top pick for lodging on any vacation is RV camping, but we especially love camping in the gorgeous state of Wyoming, as it allows campers to really connect with nature and make some fantastic camping memories.
Casper KOA Journey — Wondering where to park the RV while in Casper? We recommend the Casper KOA Journey. This park has both partial-hookup and full-hookup sites and features clean restrooms, a laundry room, and a dump station. There is also a playground, a pool, and a mini golf course onsite, so nobody will be bored during your stay.
Rent an RV near Old Town Family Fun & Amusements!
Planning Your Trip to Old Town Family Fun & Amusements
There is no admission fee to enter Old Town Family Fun and Amusements. That said, those who want to enjoy the attractions will need to pay for those individually. Rates range from 25 cents for some arcade games to $8 for activities like mini golf, rock climbing, and laser tag.
Outside food is not allowed in the amusement center. That said, there is a pizza and snack bar onsite, so there is no reason to go hungry during your visit.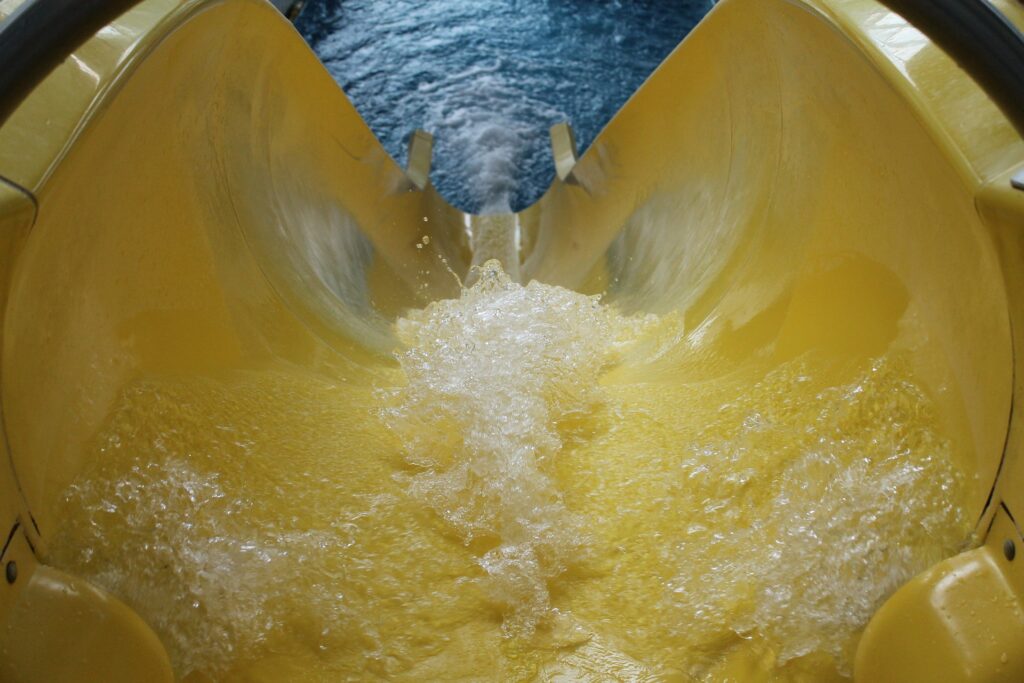 Cheyenne Aquatic Center
Heading over to the city of Cheyenne, there is the Cheyenne Aquatic Center. This is yet another great place to have some splashing fun, and because it is indoors, you can play here even when the super cold Wyoming winter hits. Best of all, this park offers enough fun features that you can easily stay and play for several hours.
Despite its smaller size, this waterpark features everything you'd expect from such a place. There are large enclosed water slides that take riders outside of the building before bringing them back in—these are great for older kids and even adults. There is also a super fun rock climbing wall that will definitely put your climbing skills to the test.
Have younger kids with you? They will adore the water play structure, which is complete with interactive water features and tiny slides. Meanwhile, the whole family can enjoy the lazy river together.
RV Camping Near Cheyenne Aquatic Center
Once again, we highly recommend taking an RV on your Wyoming amusement parks vacation. Whether you rent a rig or take your own, you're sure to appreciate having your own private space to return to after a day full of exploring and playing in this wonderful state.
Cheyenne RV Resort by RJourney — The best place to try in Cheyenne, Cheyenne RV Resort by RJourney offers full-hookup sites during the warm months and electric-only sites during the cold winter. There is a clean bathroom with showers, and the resort offers a playground, a pool, and a mini golf course that are tons of fun for the kids.
Rent an RV near Cheyenne Aquatic Center!
Planning Your Trip to Cheyenne Aquatic Center
Cheyenne Aquatic Center has limited open-swim hours, so you will want to check the calendar before you visit. If you're lucky, you might even be able to plan your visit for a day when the inflatable water toys are floating in the middle of the pool for an extra dose of fun!
There are showers and changing rooms available to all guests. Outside food is not allowed in the pool area, so be sure to eat before you arrive.
Snow King Mountain Resort
Last on our list of fantastic Wyoming amusement parks is Snow King Mountain Resort in Jackson. This place is a wonderful ski resort during the winter, and during the summer it becomes an adventure amusement park that absolutely deserves a place on our list and on your trip itinerary.
Scenic gondola rides are among the many cool things this park offers during the warmer part of the year. These rides give guests awesome views of the Tetons as well as the Elk Refuge and the town of Jackson. Mini golf is another great choice, and the course at this resort is complete with 18 holes and water challenges.
Have a thrill seeker in your group? Be sure to hit up the Snow King Zip Line, which just happens to be the steepest zip line in all of North America. Of course, the Cowboy Coaster mountain coaster and the Alpine Slide are also must-dos for the adrenaline junkies out there.
Other great summer attractions in Snow King Mountain Resort include a challenging maze, an awesome Treetop Adventure course, a bouldering park, and a bungee trampoline. Clearly, you won't run out of things to do while visiting this park!
RV Camping Near Snow King Mountain Resort
Obviously, visiting a place as gorgeous as Jackson calls for RV camping. This allows you to immerse yourself in all of the incredible beauty that is found there. Not only that, but by taking an RV, you can camp in the middle of the beauty while still staying just as comfortable as you'd be in a hotel room (if not more so).
Gros Ventre Campground — In order to fully enjoy the area, we highly recommend parking your RV in the nearby Grand Tetons National Park. To do this, head to the lovely Gros Ventre Campground. We love that this campground is located in the park itself. It's also just a few minutes outside of Jackson and a short drive to Snow King Mountain. Unfortunately, there are no hookups to speak of in this park, but the wonderful views and location make up for this lack.
Rent an RV near Snow King Mountain Resort!
Planning Your Trip to Snow King Mountain Resort
Snow King Mountain Resort offers a few different summertime admission options. These include the "Big King Pass Lite" that allows guests access to everything except the Treetop Adventure and zip line, as well as the "Big King Ultimate" that gives you access to absolutely everything in the park. Prices for the upcoming summer have not yet been announced.
These five Wyoming amusement parks are pretty fantastic. That said, if you're looking for even more theme park fun while in the state, you might be able to find it. We recommend searching "amusement parks near me" when you arrive at your Wyoming campground to see what might pop up.
If you can't find more Wyoming amusement parks to add to your itinerary, don't worry! There are still plenty of other amazing things to do in Wyoming. In fact, the list of awesome attractions in this state is surprisingly long. Check out the links below for some tips on which ones to see: