Travel Inspiration
January 1st, 2023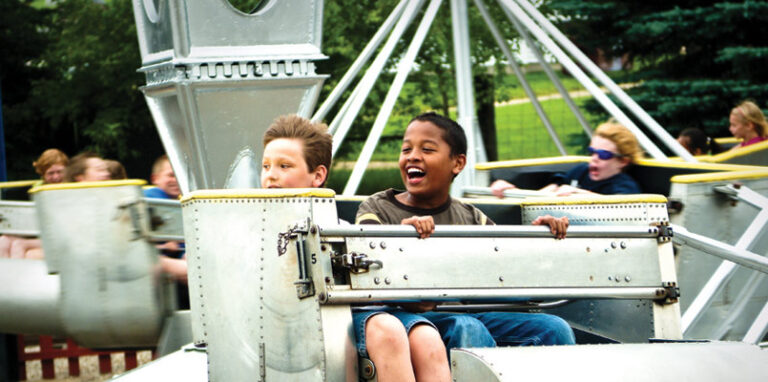 Wisconsin is a wonderful place. And one of the best things about this incredible state? The many amazing Wisconsin amusement parks! The Wisconsin Dells area is well known for its incredible water parks and other amusements, and those should definitely make it onto your trip itinerary. That said, those are far from the only must-see amusement parks in Wisconsin.
Not sure where to begin planning a vacation to see Wisconsin amusement parks? You're in luck because we're here to help. Let's dive into all the nitty-gritty details so you can plan the most epic amusement park vacation of all time.
Wisconsin Amusement Parks
First, let's discuss which amusement parks in Wisconsin are the best. After all, there are a lot to choose from, and trying to decide which ones to visit with little to no information to work with can be pretty overwhelming. We don't want that for you.
The Wisconsin amusement parks on the list below are our absolute favorites. Pick from this list and you really can't go wrong!
Badger Sports Park
Bay Beach Amusement Park
Fondy Sports Park
Hayward Amusement Center
Little Amerricka Amusement Park
Mt. Olympus Water & Theme Park
Great Wolf Lodge
Kalahari Resort
Noah's Ark Waterpark
Obviously, just knowing the name of an amusement park or two isn't going to get you very far in terms of planning. You need details! Fortunately, we have those details and have laid them out for you in the sections below. Read on to learn where to stay, how much to budget, and more.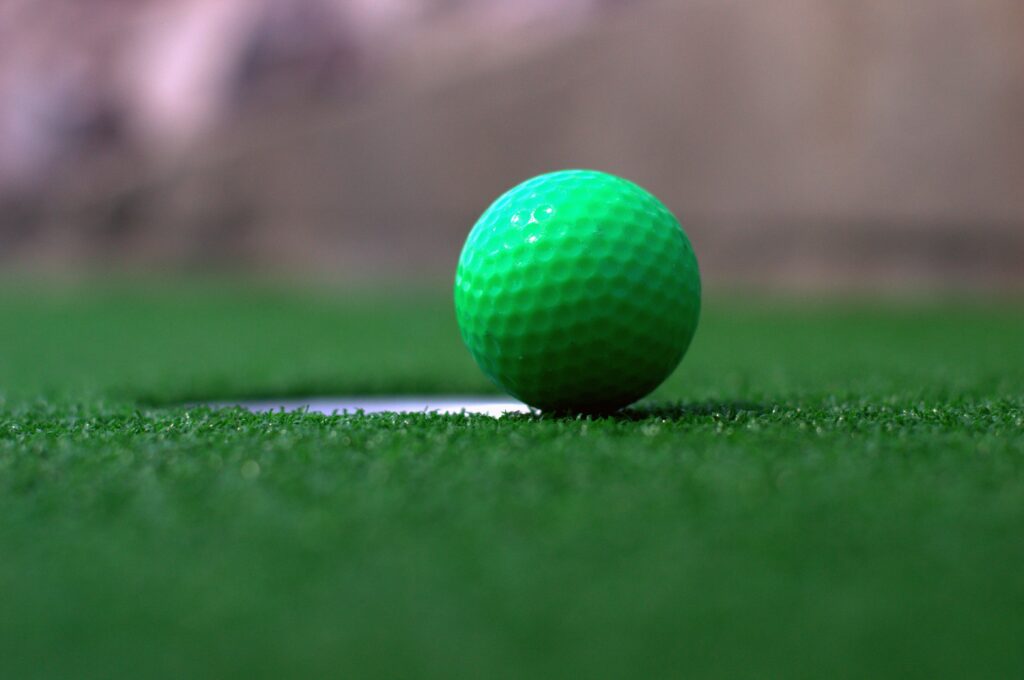 Badger Sports Park
We'll start with Badger Sports Park in the northeast town of Appleton. This place is jam-packed with fun for the whole family, and since much of the fun is indoors, it can be enjoyed year-round, even when the weather is less than awesome.
Attractions at this family fun center are plentiful and include an amazing arcade with all the latest and greatest games, as well as an awesome two-story laser tag arena. There is a laser maze for those looking for a challenge, and kids love to bounce and play on the amazing collection of inflatables.
For family fun, check out the mini bowling or mini golf, and if you have kids who can't wait to get behind the wheel, make sure to do some go-kart racing. Of course, everyone loves the amazing VR experience found at this fun spot, and the batting cages are perfect for sports fans of all ages.
RV Camping Near Badger Sports Park
RV camping is always the way to go when it comes to finding lodging for a family vacation. Fortunately, the Appleton area offers several different RV parks and campgrounds to choose from. This means finding a great place to park your RV will be a cinch.
High Cliff State Park — Our favorite place to camp near Appleton? The amazing High Cliff State Park. This place offers an amazing escape into nature. There are plenty of great trails and beautiful views in this park. Sites offer power hookups and there is potable water and a dump station onsite. Best of all, the rates to stay here are excellent!
Rent an RV near Badger Sports Park!
Planning Your Trip to Badger Sports Park
There is no fee to enter Badger Sports Park. That said, guests must pay for the individual attractions they wish to enjoy. Prices vary from $2 for a game in the game room to $15 for a round of laser tag. There are often bundle packages available for those who want to check out several attractions.
Want to do it all? You'll want to plan to spend at least two days in the park. Of course, you will need to eat during those two days, so budget to enjoy some pizza, chicken, and other yummy foods from the onsite eatery.
Bay Beach Amusement Park
Next on our list is Bay Beach Amusement Park in the city of Green Bay. This is an excellent addition to any trip to the Green Bay area. It offers all of the fun you'd expect from an amusement park and is perfect for families because the park boasts attractions for all ages.
Some of the more popular attractions include the Ferris Wheel and the Tilt-a-Whirl. Young children love the collection of kiddie rides as well as the Merry Go Round, Giant Slide, and the two trains. Other great rides in the park include the Sea Dragon, Big Wheel, Yo-Yo, Rockin' Tug, and the Chairplane.
Looking for even more fun while at Bay Beach Amusement Park? You'll be happy to learn that the park is home to many more attractions than the ones listed above, meaning you're sure to find something you love and can easily fill a whole day making memories with your family.
RV Camping Near Bay Beach Amusement Park
Wondering where to stay while visiting the Green Bay Area? Once again, we have to recommend packing an RV to bring along. This will ensure you're comfortable no matter where you end up and it makes travel a whole lot easier.
Brown County Fairgrounds — One of the best places to park an RV near Green Bay is the Brown County Fairgrounds. This park features large sites with water and electricity hookups. There is a walk-in trail onsite and the view of the Fox River is fantastic! Of course, the awesome location is also pretty wonderful.
Rent an RV near Bay Beach Amusement Park!
Planning Your Trip to Bay Beach Amusement Park
Admission to Bay Beach Amusement Park is free. However, if you want to ride rides you will need to buy individual tickets from one of the park's two ticket windows. All tickets are 25 cents each and the rides require between 1 and 4 tickets each.
Parking at this theme park is 100% free. Considering this fact, as well as the low ride ticket cost and the fact that you are allowed to bring outside food into the park, you'll find that a trip to Bay Beach Amusement Park can be a very affordable family outing.
Fondy Sports Park
Another awesome sports park and family fun center, Fondy Sports Park in Fond du Lac is an excellent place to spend time with family or friends. This fun spot features all kinds of attractions and activities, and can easily keep one busy for several hours. In fact, some even recommend taking a full day to see it all.
Activities at Fondy Sports Park include a fantastic go-kart track that is perfect for the speed demons in your life. You'll also find a colorful mini golf course that families love to play together, as well as a rock climbing wall for those who enjoy a good challenge.
Looking for some laughs? Why not check out the bumper boats for some silly fun? Of course, young children won't want to miss the large climbing structure, and those who enjoy baseball will want to take time to use the batting cages.
RV Camping Near Fondy Sports Park
When headed to Fond du Lac, you will absolutely want to take an RV along. This area of the state is the perfect place to escape into nature, and an RV allows you to do just that without sacrificing comfort.
Breezy Hill Campground — Of course, you will need a place to park the rig while you visit. This is where Breezy Hill Campground comes into play. This is a wonderful park with lovely full-hookup sites. There is a swimming pool and a hot tub available to guests, and the catch-and-release pond is perfect for fishing enthusiasts. Kids also love the game room, and the many organized activities are appreciated by people of all ages.
Rent an RV near Fondy Sports Park!
Planning Your Trip to Fondy Sports Park
Like the other parks listed above, Fondy Sports Park does not charge an admission fee. Instead, guests can buy tickets for the attractions they want to check out. Tickets are $7 each when bought individually, but are cheaper per ticket when bought in a bundle. Most attractions require one ticket per person. There is also an unlimited pass that allows unlimited access to attractions for a set amount of time. 
Hayward Amusement Center
Want even more amazing family fun? Look no further than Hayward Amusement Center in Hayward. This is a fantastic spot to have a good time with family and friends. Not only will you have a good time, you might also gain some new skills while you're at it!
Go-karts are one of the main attractions at Hayward Amusement Center, and the track is a great place to polish up your driving technique. There are single and double go-karts available, so younger guests can enjoy riding along with an adult.
Another Hayward Amusement Center favorite? Mini golf, of course! The 18-hole mini golf course at this park is tons of fun for everyone. Meanwhile, the rock climbing wall is an ideal place to put your climbing to the test, and the batting cage is the perfect spot to brush up your baseball skills.
RV Camping Near Hayward Amusement Center
Camping is the way to go on any family vacation, and your vacation to Hayward, WI is no exception. Yes, you will absolutely want to pack up the RV for this trip. Fortunately, finding parking for the rig will be a cinch!
Hayward KOA Holiday — We love KOA campgrounds. That's why we have to recommend staying at the Hayward KOA Holiday. This lovely campground features well maintained full-hookup sites. Guests love the firewood delivery and the onsite pool, and having access to the surrounding area is wonderful. Of course, kids appreciate the water slide and bouncy play area too!
Rent an RV near Hayward Amusement Center!
Planning Your Trip to Hayward Amusement Center
Admission to Hayward Amusement Center is free. That said, you will of course have to pay for the individual attractions. The prices for these start at $3 for the batting cage and go up to $8 for rock climbing, mini golf, and go-karts. There is also the option of a $70 punch card, which allows you to enjoy park attractions 12 times.
There is food available onsite from a food truck. That said, this is a smaller park, meaning you might be able to finish in half a day and purchase food before and/or after your visit.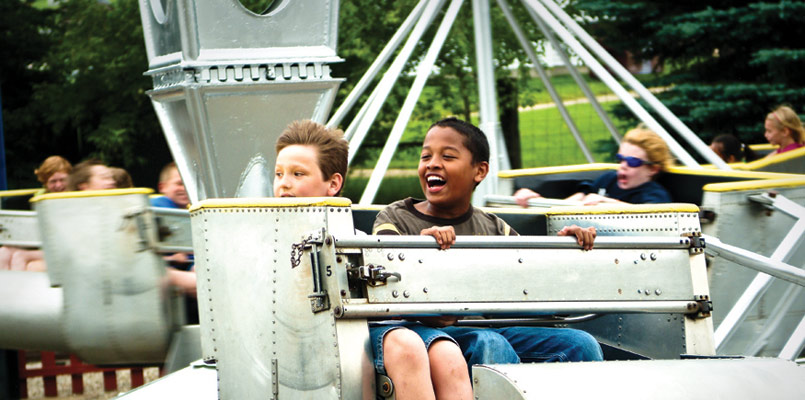 Little Amerricka Amusement Park
The next entry on our list of Wisconsin amusement parks is Little Amerricka Amusement Park in Marshall. This is an adorable 1950s-style park with restored rides, a lot of charm, and tons of fun for everyone who visits.
One of our favorite rides in this park is The Meteor. This is a classic wooden coaster that is fun for the whole family. Other coasters include Toboggan (one of three remaining toboggan coasters in the world) and Mad Mouse (a coaster with hair-raisingly tight turns).
Not into coasters? Be sure to check out the Ferris wheel, the scrambler, and the tilt-a-whirl. Kids love the Kiddie Boats, the moon walk, the Hampton Combo Cars, and the Little Dipper baby coaster. Meanwhile, families enjoy riding the merry-go-round, the Whiskey River Railway, the bumper boats, and the bumper cars together.
RV Camping Near Little Amerricka Amusement Park
Obviously, you will want to bring an RV along for your Marshall, WI getaway. This will give the privacy you need to be totally comfortable and will allow you to make some camping memories while your family is on vacation. Luckily, there are plenty of campgrounds near Marshall, so finding camping will be easy.
Whistle Stop Campground — Perhaps the best place to stay when visiting Little Amerricka Amusement Park is the campground known as Whistle Stop. This RV park is actually connected to the amusement park by a pathway, meaning reaching the fun is easy to do. The sites are spacious and offer full hookups. The campground also offers access to a pond beach with fun inflatable toys for kids.
Rent an RV near Little Amerricka Amusement Park!
Planning Your Trip to Little Amerricka Amusement Park
Once again, this is a park with no general admission fee. Instead, the park uses single tickets. These are available for $2 each. Most rides require just one ticket, but The Meteor requires two of them, and the go-karts, mini golf, and train all require three tickets.
Wristbands are also available. These cost between $13.95 and $26.95 depending on the height of the user. They provide all-day access to the rides the guest is tall enough for.
Parking at this theme park is free and outside food may be brought inside. There is also food available for purchase in the park.
Mt. Olympus Water & Theme Park
Looking for an enormous amount of theme park fun in one place? The Dells is your place, and Mt. Olympus Water & Theme Park is one of the best parks in that area. This is an amazing place to cool off in the summer, have waterpark fun inside during the winter months, enjoy traditional amusement park rides, and much more!
The indoor waterpark includes the all-new Medusa's Slidewheel, a super fun ride that combines a Ferris wheel and a water slide. We've never seen anything like this, and it is definitely worth checking out. Other indoor water attractions include hot tubs, a lazy river, a kiddie pool with spraying water features, and a handful of slides.
Want even more indoor fun? You'll love the indoor amusement park. This area includes mini golf, kiddie rides, bumper cars, a rock climbing wall, and a super fun arcade.
Of course, the outdoor theme park is also a must-visit. This is where you'll find bigger rides like roller coasters and other thrill rides. The Hades 360 Rollercoaster is a guest favorite, and the go-kart tracks are tons of fun for speedsters. The Pegasus Rollercoaster is just right for families, and the kiddies train is perfect for little ones.
Finally, we must mention the Mt. Olympus outdoor water park. This part of the resort is open during the summer months and is a great place to have some fun in the sun. Here, you can enjoy the waves in the Poseidon's Rage wave pool, play in the Great Pool of Delphi, climb and slide on the Lost City of Atlantis play structure, float the River Troy, or enjoy one of the park's awesome slides.
On top of all that, this theme park resort is also home to an amazing holiday lights show and a skiing and snow-tubing hill during the winter months!
RV Camping Near Mt. Olympus Water & Theme Park
You could stay at the Mt. Olympus hotel, of course. However, we think camping is a lot more fun. By taking the RV along, you can ensure you have all of the comforts of home with you during your Wisconsin Dells vacation. Not only that, you get to enjoy traditional camping activities alongside the theme park fun!
Wisconsin Dells KOA Holiday — KOA campgrounds are always an excellent choice. That's why we recommend staying at the Wisconsin Dells KOA Holiday. This lovely park offers resort-style camping with full hookups, clean bathhouses, and friendly staff. There is a playground for the kids and the pool is perfect for cooling off and enjoying time with family.
Rent an RV near Mt. Olympus Water & Theme Park!
Planning Your Trip to Mt. Olympus Water & Theme Park
Admission fees for the Mt. Olympus attractions fluctuate based on time of year. There are almost always special deals available, so we highly recommend checking out the website to see what kinds of discounts you might be able to score by purchasing tickets before your visit.
Keep in mind the fact that some of the parks on this property are only open during certain parts of the year. It's also good to note that outside food and drink are not allowed in the parks. Instead, you will need to plan to grab food at one of the many onsite eateries.
Great Wolf Lodge
Another Wisconsin Dells fun spot, Great Wolf Lodge is the perfect place to go for a splashing good time, no matter what the weather may be doing outside. This is because the entire park is located indoors and the pools are always heated to a comfortable temperature.
Fort Mackenzie is one of the main attractions for kids visiting Great Wolf Lodge. This amazing play structure has opportunities for climbing, sliding, and playing with a variety of water features. Want to jump waves? Slap Tail Pond is a great place to do just that. Meanwhile, Crooked Creek gives you a chance to bob along and go with the flow.
Thrill seekers will love Lookout Mountain, a 200-foot mountain water slide that spits riders out into the lazy river. Alberta Falls is another great water slide option, and the Howlin Tornado provides even more thrills. Other slides include Mineshaft and Mountain Edge Raceway.
Have little ones with you? Be sure to visit Whooping Hollow and Cub Paw Pool. Active kids will love Chinook Cove and Frog Bog Log Walk. Finally, there are the hot tubs where parents can unwind after a day of play.
RV Camping Near Great Wolf Lodge
Once again, we have to recommend skipping the resort hotel and sticking with camping. We like that choosing to camp and buy day passes makes it easier to enjoy multiple parks in the Wisconsin Dells area. It's also nice to have the privacy of your own home-on-wheels.
Rocky Arbor State Park — The KOA mentioned above is a wonderful option for resort camping in the Dells. However, if you're looking for something a bit more rustic, you might prefer Rocky Arbor State Park. We love that camping here is so inexpensive. The trees in the park are lovely, and while there are no water or sewer hookups at the campsites, there are electric hookups, and potable water and a dump station are both available for guest use.
Rent an RV near Great Wolf Lodge!
Planning Your Trip to Great Wolf Lodge
Day passes to Great Wolf Lodge are limited, so you will want to buy your tickets in advance. The prices fluctuate based on the season, but you can expect to pay around $40–$90 for a half-day pass and around $50–$100 for a full-day pass. Kids under the age of 2 enter for free.
Outside food is not allowed at Great Wolf Lodge. That said, there are food options in the resort. Additionally, there are attractions such as the popular MagiQuest and an arcade that you and your family might enjoy.
Kalahari Resort
Yet another fabulous place for theme park fun in the Dells is Kalahari Resort. This place is home to an indoor water park, an outdoor water park, and a super fun adventure park. It's impossible to be bored while visiting, and you will almost certainly need multiple days to do it all.
The indoor water park is home to a variety of attractions. The waterslides are obviously a hit, and the Master Blaster water coaster is perhaps the most popular ride in the park. We also love the FlowRider surf simulator, which allows you to try your hand at surfing. The kiddie play area is perfect for littles, and older kids will want to play on the Leopard's Lair play structure. Of course, the whole family is sure to love the wave pool, lazy river, and Victoria Falls raft ride together.
Want to head outside for some water park fun? Head to Zambezi. This park is only open during the summer months, but is totally worth visiting. It features plenty of water slides, so even those who need extreme thrills will be happy spending time there. Once again, there is a lazy river and a water play structure, and adults appreciate the whirlpool spa.
Lastly, there is Tom Foolerys Adventure Park. Here you will find some super unique climbing walls that are ideal for those who enjoy a good challenge. The Ferris wheel and carousel are great fun for families, and those who need an adrenaline rush will appreciate the pendulum ride. Little visitors will have a blast in the Lil' Toucan Climb ropes course. Meanwhile, older kids will enjoy the bigger version.
There is also a zipline, a go-kart track, a 5-D theater, and even more at this amazing amusement center!
RV Camping Near Kalahari Resort
By now you know we prefer camping over resort hotels, and we've already mentioned a couple of great campgrounds in the area. That said, if you want even more options, the park below might be for you.
Holiday Shore Campground and Resort — This is a destination resort and could easily be a vacation in and of itself. The park is large with plenty of sites, and the sites offer full hookups. There is a swim beach that is great during the summertime, and the pool is perfect for families. Kids love the bouncy houses in the campground, and there is even a 21-and-over club for those looking for some adult fun!
Rent an RV near Kalahari Resort!
Planning Your Trip to Kalahari Resort
Like Great Wolf Lodge, Kalahari limits the number of day passes they sell. This is great because it means the park never gets too crowded, but it also means you have to make sure to book in advance. The cost of day passes varies depending on the day you plan to visit and the park you want to check out. That said, you can plan to pay between $85–$150 per person per day. Evening passes to the waterpark are also available at a discounted rate.
Parking at this resort is free. Outside food is not allowed, but there are dining options onsite.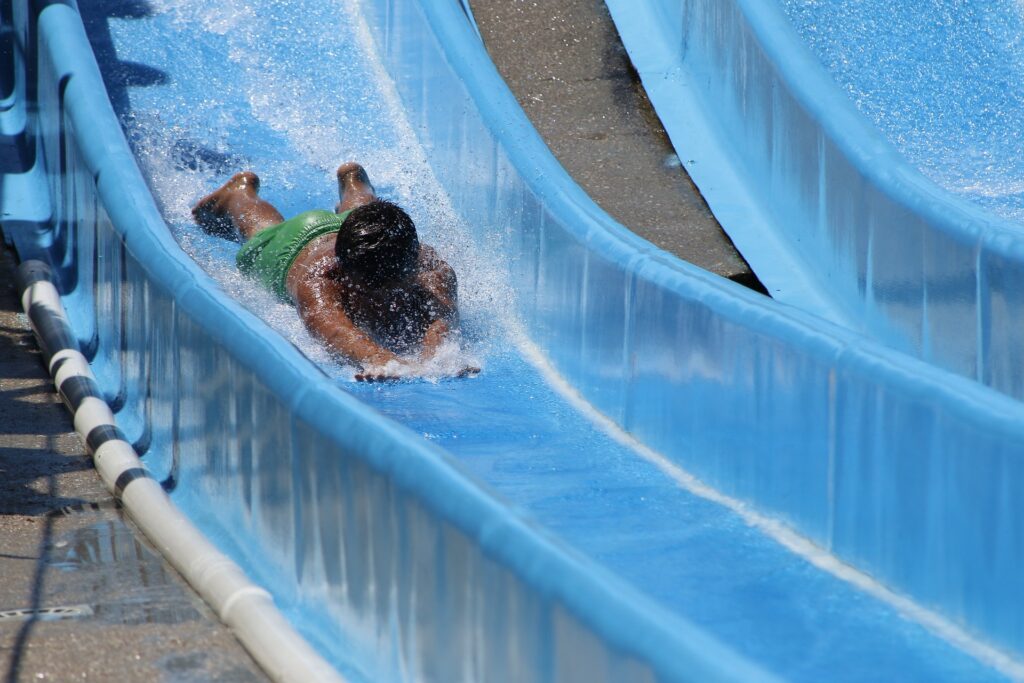 Noah's Ark Waterpark
Yes, we are listing another Wisconsin Dells amusement park. There are just too many great ones, and we think they all deserve a spot on the list. The name of this one? Noah's Ark Waterpark, an awesome place that might just be the biggest waterpark in the entire country!
As you might imagine, this park is home to a wide variety of attractions, meaning finding something you love is super easy. We'll start with Tadpole Bay. This is the spot for younger swimmers, and it is full of awesome things for them to do. From interactive water features to slides and a dump bucket, your littles will definitely have a great time in this section.
Hoping for some awesome slides? You're in luck because there is no shortage of amazing water slides in Noah's Ark. From the serpent of a slide called Raja to America's first vertical looping waterslide, aka Scorpion's Tail, you're sure to find the thrills you're looking for when in this park.
Other fun attractions in Noah's Ark include a family water raft ride, racing slides, a kiddie pool, a surf simulator, a wave pool, and a whole lot more!
RV Camping Near Noah's Ark Waterpark
We've already pointed out three of our favorite Wisconsin Dells campgrounds. However, if none of those work out for you, there are still plenty more to choose from. Go ahead and pack your RV and head for one of the three campgrounds above or the one listed below.
Christmas Mountain Village — A fabulous RV resort, Christmas Mountain Village is a favorite of many who visit the Wisconsin Dells regularly. It is close to all of the area's attractions and is very well maintained. The park boasts a wide variety of amenities, including golf, skiing, mini golf, fishing, paddle boats, sports courts, and much more.
Rent an RV near Noah's Ark Waterpark!
Planning Your Trip to Noah's Ark Waterpark
Tickets to Noah's Ark start at $54.99 when bought at the gate and $39.99 when bought online. There are often promotions and discounts available, so be sure to check the park website before you go.
No outside food and drink is allowed in this park, but snacks, meals, and beverages are available for purchase in the park gates. Showers and changing facilities are available for guest use. There is a fee to park.
Clearly, there is no shortage of amazing amusement parks in Wisconsin. In fact, there are more options than we could even list here. Therefore, if you're looking to add even more theme park fun to your trip, you should definitely try searching "amusement parks near me" once you arrive at your Wisconsin campground.
Yes, Wisconsin amusement parks are great, but what if you want other awesome things to do in Wisconsin? Don't worry! There are lots of other great ways to fill your trip. The articles linked below offer some of our favorite ideas of attractions to visit and things to see while in the state: