Travel Inspiration
December 14th, 2022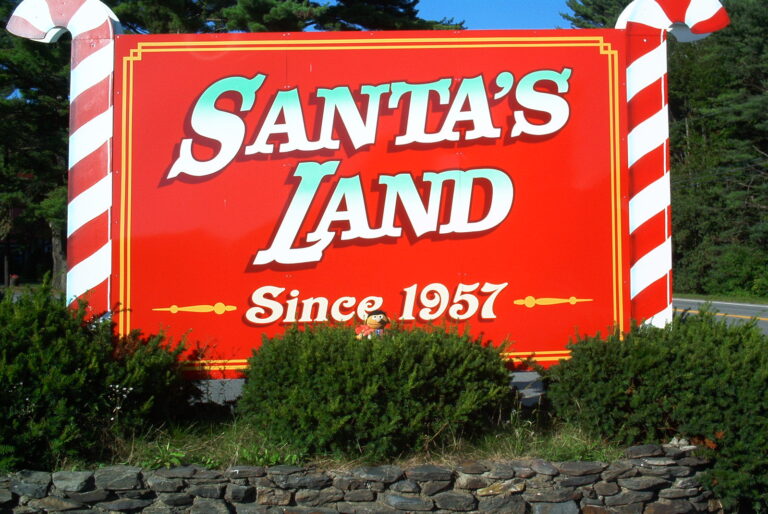 Vermont is a beautiful, green, and mountainous place. Most people head there for hiking, swimming holes, and other natural attractions. That said, those sorts of activities aren't the only things the state has to offer. There are also some awesome amusement parks in Vermont that everyone should know about.
Vermont may not be home to as many amusement parks as some of the other states out there, but the ones it does have are absolutely fantastic and they make a great addition to any trip to the area.
Of course, you will want to know more about these Vermont amusement parks before you decide which one to head to and what to do while you're there. That's where this article comes into play.
Vermont Amusement Parks
Wondering where to begin planning your trip to see Vermont amusement parks? This is the place! Below, we've listed our favorite amusement parks in Vermont to get you started. You really can't go wrong when you pick a park (or a few) from this list, as they are all 100% fantastic!
Smugglers' Notch
Bromley Mountain Adventure Park
The Pump House
Santa's Land USA
Killington Adventure Center
Unfortunately, simply knowing the names of the Vermont amusement parks you want to visit won't be enough. You'll also need to know things like where to stay, how much to budget for tickets, and what to expect from each park. To learn these things (and a bit more), read on to the sections below.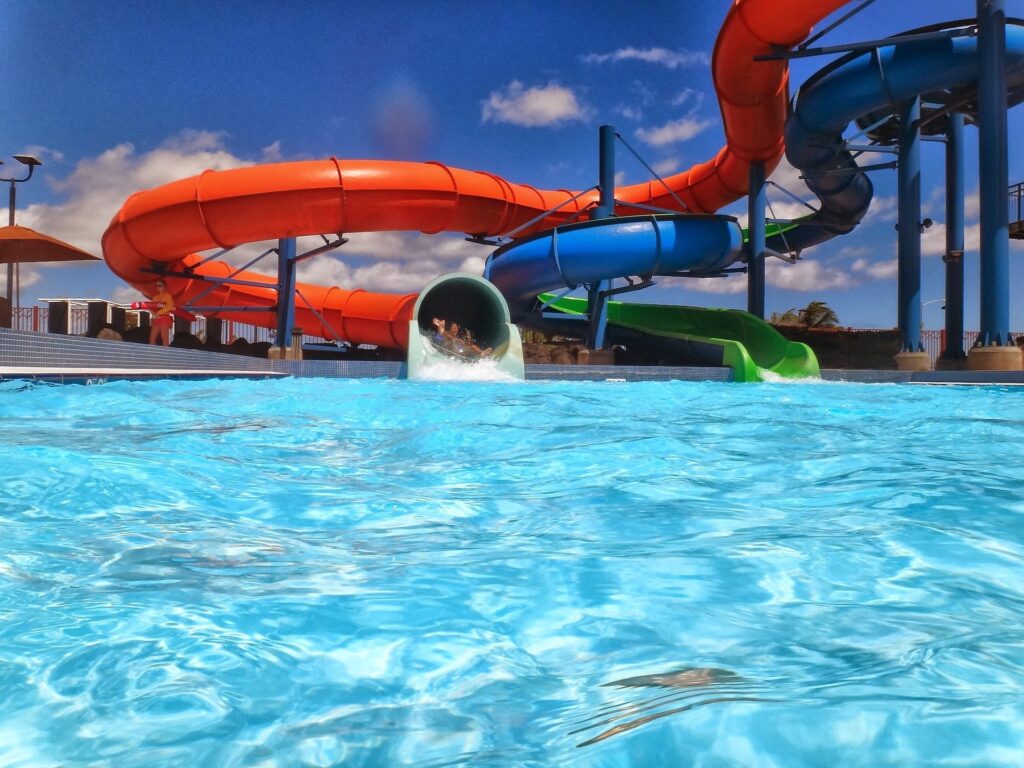 Smugglers' Notch
Smuggler's Notch in Jeffersonville is a family vacation resort that has something awesome to do all year long. Hiking, mountain biking, skiing, snow tubing, ziplining, and boating are just some of the outdoor recreational activities you can do here. There are also seasonal carnivals, parties, and events.
Of course, what we're here to talk about today are the amusement areas—namely, the waterpark and the indoor family fun center.
We'll start with the waterpark. This park is open only during the summer months, but it's well worth planning your trip around that fact. The park includes eight heated pools, four awesome water slides, and two freshwater swimming reservoirs. You're sure to have a splashing good time when you spend a day there.
The indoor family fun center is called FunZone 2.0. It is open year-round and features shuffleboard, ping-pong, mini golf, inflatables, laser tag, arcade games, trapeze bars, foam obstacles, an arts-and-crafts station, and much more. There truly is something for everyone in this play space, so be sure to bring the whole family!
RV Camping near Smugglers' Notch
Many might think it makes sense to stay on resort property when visiting these amusement spots. We disagree. The lodging at the resort is pricey and it's easy to simply buy a day pass and access all the fun. The better bet is to bring an RV along while exploring the area.
Smugglers' Notch State Park — State park camping is always a good way to go, and Smugglers' Notch State Park is no exception to this rule. The cost to camp at this park is extremely low, which is awesome for campers on a budget. That said, there are no hookups, so you will need to plan for that. The bathhouse is relatively new and very clean, and there is a pay shower available for those who need it.
Rent an RV near Smugglers' Notch!
Planning Your Visit to Smugglers' Notch
As mentioned before, it's easy to acquire a day pass to experience all the fun Smugglers' Notch has to offer. Day passes (or "Daycation Tickets") are limited, so you will want to reserve them in advance. Costs fluctuate based on time of year, but generally guests can expect to pay between $25 and $60 a day per person. Vermont residents receive a discount, and children under the age of 3 enter for free.
There are plenty of places to eat on resort property, so you really don't have to worry about packing a lunch. Just budget for a meal out and go in ready to have fun!
Bromley Mountain Adventure Park
Another great Vermont amusement park option is Bromley Mountain Adventure Park in the city of Peru. In the winter this is a favorite ski spot, but in the warmer months it becomes a full-fledged adventure amusement park. The park is packed to the brim with excitement, and we love the way it makes use of Vermont's incredible landscape—rather than trying to work around it—to bring guests all that fun.
Attractions at this amazing adventure park are plentiful. Thrill seekers will appreciate the amazing alpine slides, which might just be the best things in the whole park. There is a chairlift to the top of the mountain, which offers beautiful views, along with a treetop ropes course for those looking for a challenge. A water slide offers a nice way to cool off during the hottest part of the year, and mini golf is fun for the family to play together.
While this park is on the smaller side, there is still plenty to do and one could easily fill a whole day there. That said, we do recommend calling before you go to ensure the attractions you're looking to enjoy will be open that day.
RV Camping near Bromley Mountain Adventure Park
Not sure where to stay during your visit to Bromley Mountain Adventure Park? An RV is always the answer! This will allow you to fully immerse yourself in the beauty of Vermont, even when you aren't in the adventure park!
Dorset RV Park — Of course, you will need someplace to park the RV while you play and sleep. For this, we recommend Dorset RV Park. This park is close to Bromley Mountain, offers full hookups, and has well maintained facilities. The price is very fair for the area, and the staff are friendly and helpful.
Rent an RV near Bromley Mountain Adventure Park
Planning Your Visit to Bromley Mountain Adventure Park
As stated above, Bromley Mountain Adventure Park is only open during the summer months. During this time, tickets cost $52 a person at the gate. Discounted tickets are sometimes available, but you will need to hunt for them.
Outside food is allowed at Bromley Mountain Adventure Park. That said, there are also food options available for purchase, and many guests seem to enjoy the snacks and meals purchased there.
The Pump House
Moving on, we simply must mention The Pump House indoor waterpark at Jay Peak Resort in Jay, VT. You see, the people of Vermont love a good waterpark just as much as the next guy. Unfortunately, the swimming season there is pretty short lived. This indoor waterpark solves that problem by offering heated pools in a warm environment all year long!
Despite being indoors, this park manages to squeeze in everything you might expect and want from a water park:
For the little ones, there is the Mill Pond Kids Play Area, which features a couple of small slides, sprayers, and more.
Older children will appreciate the Deepwater Activity Pool where they can try their hand at rock climbing, play a round of water basketball, and just have a good time.
Families will love floating the Big River together.
Want some thrills? You're in luck, as this park is home to a number of great slides. La Chute is the most thrilling and offers a super fast drop into the pool below. The orange slide is also pretty fast-moving, and the green and blue slides are slower-moving tube slides that can be ridden solo or with a friend. Finally, we highly recommend all thrill seekers try out the Double Barrel FlowRider for a surfing challenge.
Finished at the waterpark and looking for more fun? Be sure to check out all the other fun things the resort has to offer. These include a rock climbing center, an arcade disc golf, and a whole lot more!
RV Camping near The Pump House
You could of course stay at the resort, but we much prefer camping for the ability to add fun camping experiences to our trip, spread out outdoors, and really enjoy Vermont's natural environment. That said, you will definitely want to camp in an RV in order to ensure you're comfortable during your stay!
Millbrook Campground — Our favorite campground in the area is Millbrook Campground. This is a super friendly place where you're sure to feel at home. The park offers campers full hookups as well as clean bathhouses, Wi-Fi, a play area, and a rec hall. There is also a stream, a pond, and a forest onsite, making it a wonderful place to spend time in nature.
Rent an RV near The Pump House!
Planning Your Visit to The Pump House
Although The Pump House is located in a resort, it's totally possible to pick up day tickets. Because these are limited, you will want to purchase in advance to guarantee entry. You can expect to pay $43 for those ages 15 and up, and $35 for kids ages 4–14. Kids aged 3 and under enter for free.
Rental lockers are available. Outside food and drink are not allowed in the park, but snacks and drinks are available for purchase onsite.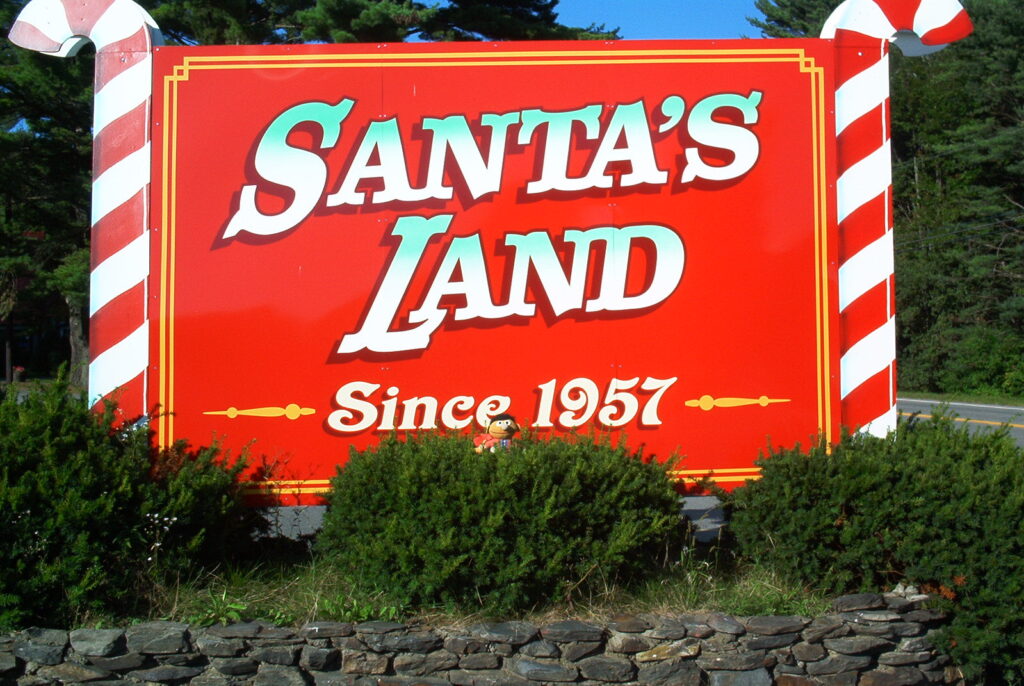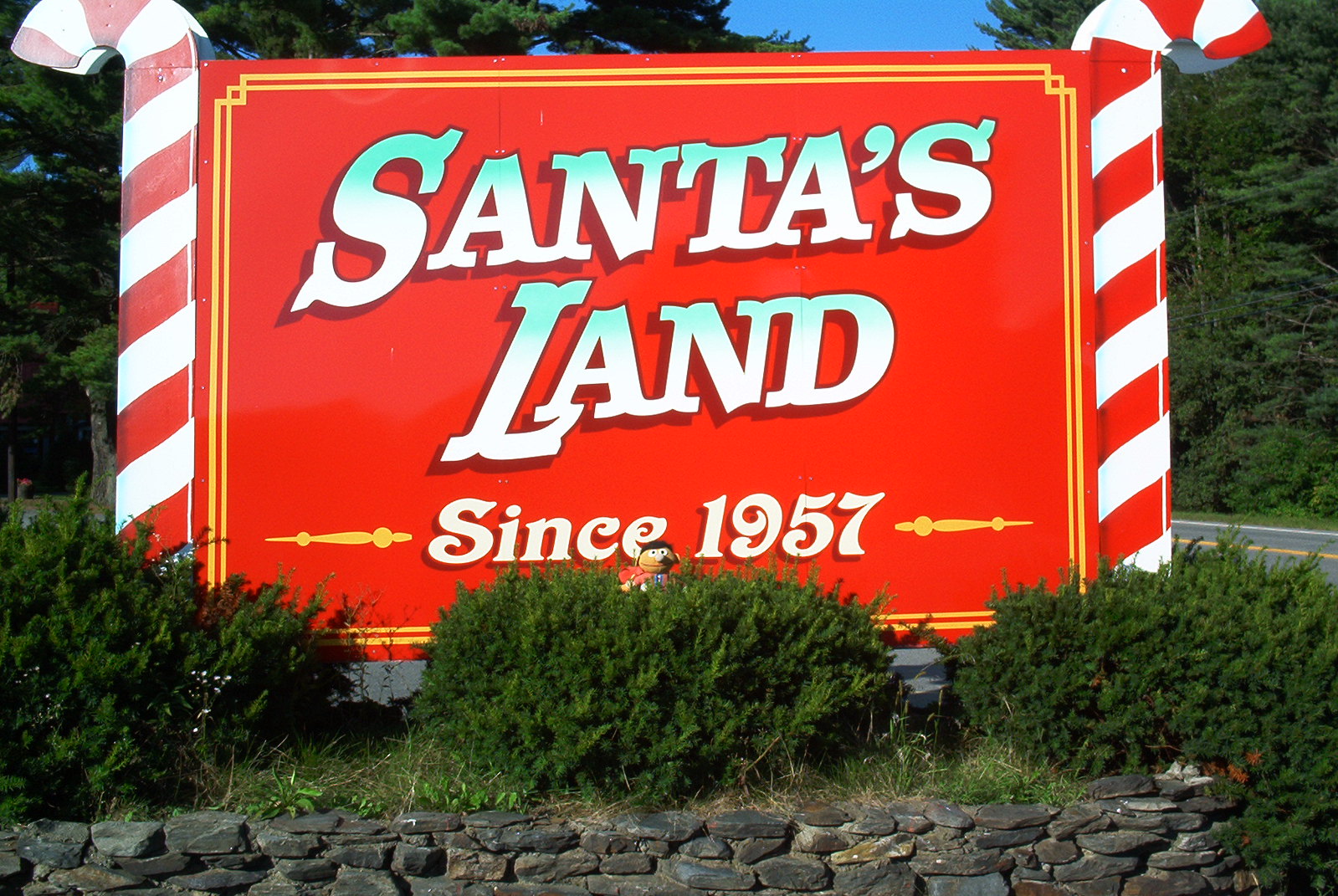 Santa's Land USA
The spot to go whenever you need a little Christmas, Santa's Land USA in Putney is an absolutely adorable Christmas-themed park. The park is older and was almost abandoned completely, but was bought up and saved six years ago. These days, it is well maintained and ready to offer a good time to those who visit.
It's important to note that this park is on the smaller side. That said, it's the perfect size for the small children it was intended for and it manages to pack a lot of fun and wonderful theming into the small space, ensuring a wonderful time to anyone who believes in the magic of Christmas.
One of the main attractions here is a giant slide. Guests sit on burlap sacks and zoom down the slide at high speeds. The beautiful carousel is a Coney Island original and begs to be ridden over and over again. Meanwhile, the tiny train is just perfect for little ones.
While you're meandering the park, be sure to take the time to stop and check out the elves, reindeer, and other fun friends along the way. You can also meet Santa himself and do a bit of souvenir shopping before you go.
RV Camping Near Santa's Land USA
As always, we highly recommend bringing an RV along to visit this park. This ensures you can stay in comfort no matter where you land. It also makes it easier to move from one place to the next, so you can explore the whole state if you wish.
Brattleboro North KOA Journey — We always love staying at KOA parks. Therefore, it just makes sense to include the Brattleboro North KOA Journey here. This park is clean and well maintained, and the owners are friendly and helpful. Campers can expect to have access to full hookups, clean bathrooms, a refreshing pool, a playground, a camp store, and the many fun events put on by the campground.
Rent an RV near Santa's Land USA!
Planning Your Visit to Santa's Land USA
Tickets to this park are $17.95 for those aged 2–64 and $15.95 for those aged 65 and up. This includes parking, entry to the park, and access to all displays. Babies under the age of 2 enter for free.
Because Santa's Land is a smaller, family-run park, it is not open every day of the week. Be sure to check the park schedule before you visit.
Food is available onsite and the prices are very fair.
Killington Adventure Center
Another spot that is a ski resort by winter and an adventure park by summer, Killington Adventure Center in Killington, VT is an excellent place to go for some warm weather fun. Not only will you get to enjoy the many attractions found at this mountain park, you'll also get to soak up some sunshine while taking in beautiful views of the Vermont mountains. What could be better than that?
The park includes all kinds of great activities and is especially fantastic for thrill seekers. The zipline is an excellent way to take in the view while getting an adrenaline rush, and the mountain coaster couldn't be more fun. People of all ages love the trampoline, and the maze is a fun challenge. More challenges can be found along the four-story ropes course.
RV Camping Near Killington Adventure Center
Killington Adventure Center is located in a gorgeous area. Therefore, it really only makes sense to take an RV and spend the getaway camping. After all, what could be more relaxing than a vacation in nature?
Gifford Woods State Park — The best place to park that RV? Gifford Woods State Park is a lovely pick. Like other Vermont state parks, this park does not have RV hookups. That said, it does feature restrooms with hot and cold running water, as well as coin-operated showers. The best part? This park is incredibly affordable, leaving more money in your pocket for exploring the area.
Rent an RV near Killington Adventure Center!
Planning Your Visit to Killington Adventure Center
This is another park where you will want to call ahead to ensure the attractions you wish to enjoy are open. Additionally, we recommend visiting during the week if possible in order to avoid crowds.
Ticket prices for the park have not been released for the upcoming season. We suspect they will be somewhere in the $50–$70 range.
Outside food is allowed in this park. While onsite food is available, we recommend packing snacks or a meal, as the onsite food is overpriced.
There you have it, some awesome Vermont amusement parks that you really don't want to miss. Want to have even more amazing theme park fun while in the state? Consider running a search for "amusement parks near me" once you arrive at your Vermont campground of choice. You might just find a hidden gem that you can add to your trip itinerary!
Of course, you'll find a lot more than just amusement parks in Vermont. In fact, there are a multitude of things to do in Vermont that have nothing to do with theme parks. If you want some great ideas for things to do while you're in the state, check out the articles linked below. These include our favorite beaches, waterfalls, landmarks, and even a Vermont bucket list!