Waterfalls
October 28th, 2021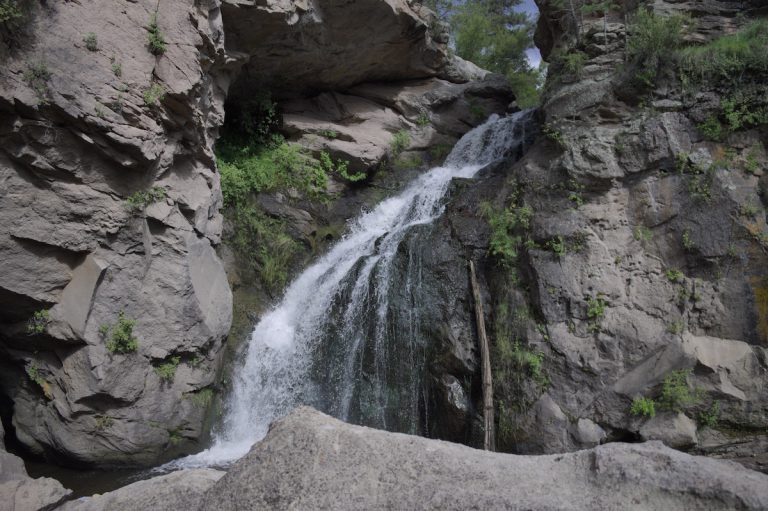 You might not think that New Mexico has waterfalls, but the Land of Enchantment has several impressive falls that you should add to your bucket list. While this state might not have the massive rushing falls of the Rockies, the few waterfalls they do have are beautiful oasis spots in the desert. If you're heading to New Mexico, you'll want to add these waterfalls to your itinerary!
Waterfalls in New Mexico
1. Nambé Falls
2. Soda Dam
3. Sitting Bull Falls
4. Jemez Falls
5. San Antonio Hot Springs
6. Williams Falls
7. Upper Frijoles Falls
8. Gilman Tunnels
9. Catwalk Recreation Area
Visiting Waterfalls in New Mexico
Here are 9 popular waterfalls to visit the next time you take an RV trip to New Mexico.
1. Nambé Falls
Nambé Falls is located at Nambé Pueblo in the Nambé Falls Recreation Area. This waterfall is made of two large drops, the higher falls is about 100 feet and the lower fall is around 75 feet tall. There are several trails that will lead you to the falls, with one leading to the top for views down, and the other leading to the base of the falls. Both trails are out and back hikes that are 0.5 miles. The recreation area is day use only and the gates close at 7 p.m., so check their website before you go to make sure it's open.
Things to do near Nambé Falls: If you're looking to do some fishing, stop by the lake in Nambé Falls Recreation Area. This waterfall is located 18 miles north of Santa Fe, so it's a great addition to a trip to Albuquerque, Taos, or Santa Fe. We have a guide to Albuquerque if you're looking for fun things to do!
2. Soda Dam
Are you a fan of waterfalls and hot springs? Then check out Soda Dam near Jemez Springs, New Mexico. This easy to get to waterfall is situated on State Route 4 and is just off the road. But it's not just the water that makes this place so cool, it's the 7,000 year old calcium carbonate and travertine deposit that creates a bridge over the Jemez River. So take some time to marvel both at the bridge and the 50-foot tall waterfall if you're driving out this way. It's right there next to the road, so it's an easy stop!
Things to do near Soda Dam: Check out number 8 on our list, the Gilman Tunnels and waterfall which is just down the road. Bandolier National Monument is also in the area and worth visiting. Or take a drive to Albuquerque which is 60 miles to the south.
3. Sitting Bull Falls
Another fantastic waterfall in the desert is Sitting Bull Falls. This 150-foot waterfall drops over the canyon cliff in an impressive display. There are several hiking trails that lead to the waterfall, as well as a wheelchair accessible path to a viewing area. There's also a great park area at Sitting Bull Falls Recreation Area that includes picnic tables, grills, and restrooms.
Things to do near Sitting Bull Falls: This waterfall is located just north of Carlsbad Caverns National Park and you're about half a day's drive to White Sands National Park. We have guides to both of the national parks to help you plan your visit.
4. Jemez Falls
Jemez Falls is another great waterfall that takes just a bit of hiking to get to. The 0.7 mile out and back trail near Jemez Springs will take you to see the overlook for this beautiful natural 70 foot waterfall. While many waterfalls in New Mexico are surrounded by desert, this hike takes you through the Ponderosa Pine trees in Santa Fe National Forest.
Things to do near Jemez Falls: Santa Fe National Forest has tons of great hiking trails to explore. You're also near several other waterfalls on our list like Soda Dam, the Gilman Tunnels, and the next spot on our list.
5. San Antonio Hot Springs
While San Antonio Hot Springs features only a small waterfall, it's worth adding to your list to enjoy the hot spring soaking pools! Also located in the Jemez Springs area of New Mexico, these hot springs are a series of stone lined pools on a hillside in Santa Fe National Forest. This waterfall is a bit hard to get to, as you'll need a 4×4 vehicle to drive the last few miles on the rough dirt forest road. But if you can get to the entrance gate, it's only a half mile walk to the hot springs and waterfall. Otherwise you'll have to walk the road which is about a 10 mile hike.
Things to do near San Antonio Hot Springs: If you can't reach the hot springs there's still plenty of other waterfalls in the area like Jemez Falls, Soda Dam, and the Gilman Tunnels. And Albuquerque is 80 miles to the south.
6. Williams Falls
Hidden in the forest by Williams Lake is a cascading waterfall called Williams Falls. This waterfall is on an inlet of the lake and requires some hiking, but the beautiful scenery makes it worth it. You can park near Taos Ski Valley and hike the Williams Lake Trail the 4.2 miles to the lake. Once you reach the lake the waterfall is farther down a trail on the north end. The hike is moderate and can be strenuous so poles are recommended.
Things to do near Williams Falls: This waterfall is tucked away in an alpine like near Taos Ski Valley so it will be a bit of a drive to get there. Taos and the Taos Pueblo are nearby, with Santa Fe being a 90-mile drive to the south.
7. Upper Frijoles Falls
A visit to New Mexico should definitely include Bandelier National Monument, but for those who love waterfalls, there's an additional reason to stop by – Upper Frijoles Falls! This 90-foot waterfall can be accessed by the Falls Trail which follows the stream down Frijoles Canyon to the waterfall. It's just under 3 miles round trip and provides a great view of the waterfall.
Things to do near Upper Frijoles Falls: Make sure to check out the other significant landmarks in Bandelier National Monument like Painted Cave and the Ancestral Pueblo sites. Looking to head into town? You're 40 miles from Santa Fe and 60 miles from Albuquerque.
8. Gilman Tunnels
Leave your rig parked at the campsite for this next stop! This small waterfall cascades down the Guadalupe River, but what you're really here for is the Gilman Tunnels. These old railroad tunnels were built in the 1920s to haul timber, but the railroad was removed in the 1960s and paved with a road. This location is so picturesque and unique that it's been used as a film set for several movies. Interested in visiting? The roads are super narrow and twisty and the tunnels are low, so don't attempt to visit in a rig. But if you have a tow car or truck this is a great waterfall stop to add to your list.
Things to do near Gilman Tunnels: As mentioned, this is also located in the Jemez Springs area so you'll have plenty of spots to visit nearby like Soda Dam, San Antonio Hot Springs, and Bandelier National Monument.
9. Catwalk Recreation Area
This last waterfall is part of a cool hike that involves walking over metal walkways through narrow canyons. While the waterfall at the Catwalk Recreation Area isn't large, it's part of Whitewater Creek that flows through the Gila National Forest. The trail over the walkways follows the original path of the "catwalk" or wooden walkway used by the mining companies the early 1900s, and takes you past massive slot canyon walls and to the waterfall.
Things to do near Catwalk Recreation Area: If you're looking for more outdoor adventure there's excellent hiking in Gila National Forest. You're a bit remote in this location, but White Sands National Park is a day's drive to the east, Tucson, AZ is the same to the southwest, and El Paso, TX is 220 miles to the southeast.
Planning an RV Trip to New Mexico
An RV trip is an excellent way to see the unique waterfalls in New Mexico, and we've got all the resources you need to plan a perfect vacation. Here are guides to some of the best state parks in New Mexico, as well as all the national parks in the country. We're also here to help when it comes to finding the best campgrounds and RV rentals.
And as always, remember to be respectful of the land when hiking to any of these beautiful natural places. Practice "Leave No Trace" principles and carry out anything you bring in. Happy hiking!