Travel Inspiration
December 23rd, 2022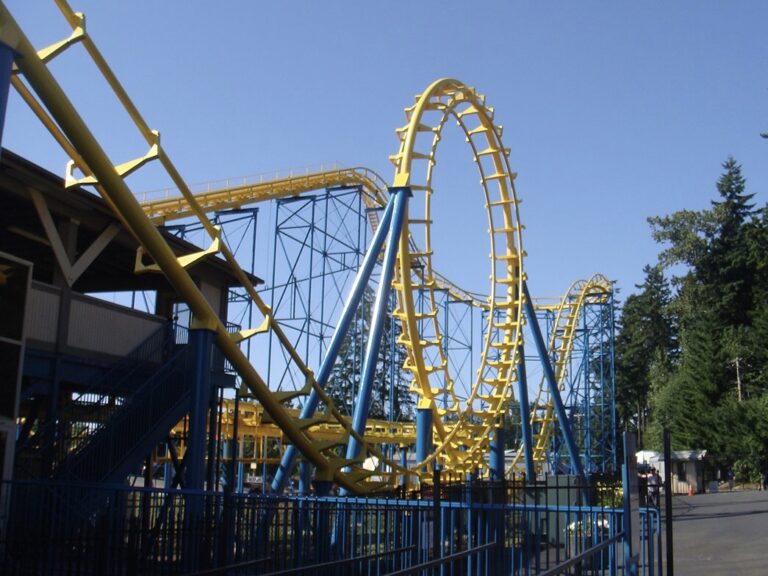 Washington has got to be one of the most beautiful states in this country. It's no wonder people flock here for camping, hiking, and paddling opportunities. Other great things to see in the state? How about the many awesome Washington amusement parks?
There are several fantastic amusement parks in Washington. Some of these offer traditional amusement park attractions, others are water parks, and still others are more unique amusement park options. This article discusses all of these park types so you can choose the best options for your trip to this amazing state.
Washington Amusement Parks
First, let's take a moment to take a peek at some of the best Washington amusement parks. These were hand-picked, and we feel each and every one is worth visiting. Choose from this list and you really can't go wrong:
Wild Waves Theme & Water Park
Birch Bay Waterslides
Great Wolf Lodge
Remlinger Farms
Riverfront Park
Seattle Great Wheel
Slidewaters
Surf 'n Slide Water Park
Of course, you will need more than just the name of a given park to create an amazing vacation. Read on to learn the details you need to know about each of these awesome amusement parks in Washington, along with some fantastic nearby lodging options.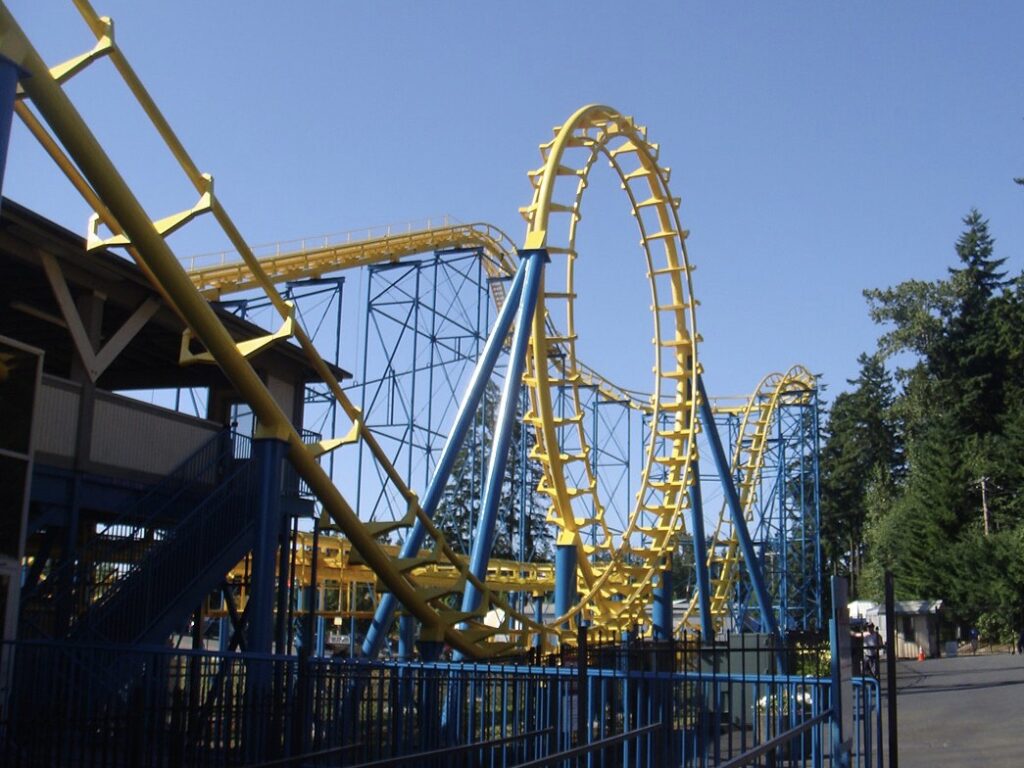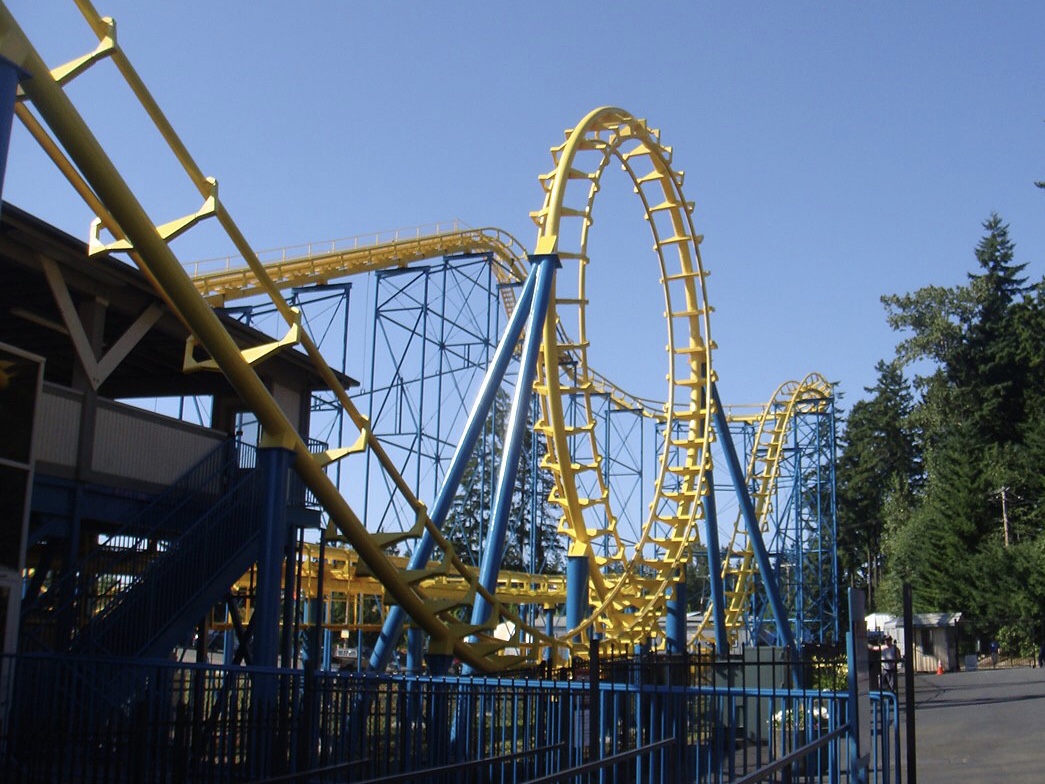 Wild Waves Theme & Water Park
First on our list is Wild Waves Theme & Water Park in Federal Way, just outside of Seattle. This park has been open since 1977 and has been delighting families ever since. It features both traditional amusement park fun and splashing water fun, and is the perfect place to spend a summer day in the beautiful state of Washington.
The theme park includes thrill rides such as the Timberhawk Ride of Prey coaster, the Timber Axe upside-down swinging ride, and the Soaring Eagle Zip Line. Prefer something a bit more tame? You'll appreciate the Ferris wheel and bumper cars. Lastly, we must mention the many amazing kiddie rides that keep the little ones happy for hours on end. These include a tiny train, a carousel, and much more!
When you're finished in the theme park area, be sure to head over to the water park. There you will find tons of traditional waterpark fun, including a variety of awesome water slides, kid water play areas, a lazy river, and some lovely Warming Tubs.
RV Camping Near Wild Waves Theme & Water Park
RV camping will always be our top choice when it comes to camping. After all, who wouldn't want to fully immerse themselves in the beauty of Washington? Wondering where to camp near Wild Waters? Here's our pick!
Dash Point State Park — A gorgeous place, Dash Point State Park is a wonderful place to camp because it allows you to park in the middle of nature. We love the hiking trails and beach in the park! Shore power is available on some sites, and potable water, bathhouses, and a dump station are all available for your convenience.
Rent an RV near Wild Waves Theme & Water Park!
Planning Your Trip to Wild Waves Theme & Water Park
Tickets to Wild Waves Theme & Water Park start at $49.99 for those 48" and taller when bought online. Kids under 48" tall and seniors pay only $31.99 when they buy online. Kids under 3 years of age enter for free. Season passes are available for those who plan to visit regularly.
There is a fee for parking at Wild Waters. Outside food and drinks are not allowed, but there are onsite dining locations, so you won't go hungry during your visit.
Birch Bay Waterslides
A small but well-loved waterpark, Birch Bay Waterslides is a must-see if you happen to be in or around Blaine. The park may be small but it is absolutely packed with fun, and kids and adults alike will have an amazing time splashing, sliding, and playing at this local attraction.
The main attraction at this park? That would definitely be the collection of four awesome water slides—dubbed Snake, Hairpin, Corkscrew, and Twister, respectively—that wind in and out of each other and send sliders rushing into the water. Additionally, you can try out the River single- and double-tube slide, the short but sweet Ramp slide, and the Black Hole twisting enclosed slide.
Want even more fun? Be sure to head to the activity pool to play with friends. There's also a kiddie pool with three small slides for the little ones, as well as a large hot tub where parents can relax as their kids play.
RV Camping Near Birch Bay Waterslides
You will of course need a place to stay, and as always, we have to recommend RV camping over just about anything else. This area of the state is absolutely stunning, and there's just nothing like waking up with all that beautiful nature right outside your door.
Birch Bay RV Campground — Our favorite place to stay in the area? Birch Bay RV Campground. This campground is a part of the Thousand Trails network, but anyone can stay. Sites have full hookups, the staff are friendly and welcoming, there are family activities on the schedule, and exploring the area is amazing.
Rent an RV near Birch Bay Waterslides!
Planning Your Trip to Birch Bay Waterslides
Admission to Birch Bay Waterslides is currently $24 for a single ticket when bought online. There are group discounts, and those who are only visiting as spectators will receive a partial refund when they leave.
Outside food and drink is allowed in this park. Additionally, there are concessions available for purchase in case you forget to pack a lunch or snacks. Lockers are available to rent.
Great Wolf Lodge
Great Wolf Lodge is always a good pick when it comes to waterparks, and the location in Grand Mound is no exception. This park is especially nice because it is located indoors, meaning it is open year-round. This is ideal during the super cold winter months, as it gives families a way to have some water fun even if the weather isn't good for it.
Attractions at the Great Wolf Lodge water park include an incredible water play structure, a wave pool, and an amazing hot tub for parents to relax in. There is also a super fun activity pool with basketball goals and a set of floating lily pads that are fun to balance on as you walk across the water.
Looking for slides? Don't worry, Great Wolf Lodge has plenty of those too. The whole family can enjoy the raft slide, the Howlin' Tornado vortex slide is great for some thrills, and Alberta Falls offers an exhilarating ride.
For even more fun, be sure to check out the resort's ropes course, the Clock Tower Show, various character appearances, the Compass Quest and Shadow Quest games, and glow golf.
RV Camping Near Great Wolf Lodge
Sure, you could stay at the Great Wolf Lodge resort. However, we think RV camping is a much better option. This gives you more privacy, the ability to make camping memories with the family, and the ability to move quickly and easily so you can explore more of the state.
Midway RV Park — Perhaps the best place to stay when visiting Great Wolf Lodge, Midway RV Park is a wonderful place. This park is small, well maintained, and a great place to call home for a bit. The price is very affordable, and the sites include water and electric hookups. Some also include a sewer hookup.
Rent an RV near Great Wolf Lodge!
Planning Your Trip to Great Wolf Lodge
Day passes are available for this water park and cost between $50 and $120 per person, depending on the time of year and the day of the week. There are also half-day passes available for those who want to visit later in the day and save some money. Those aged 2 and under do not need a day pass.
Outside food is not allowed in the water park. That said, the resort is home to several dining options. We recommend planning to have a meal during your visit to Great Wolf Lodge.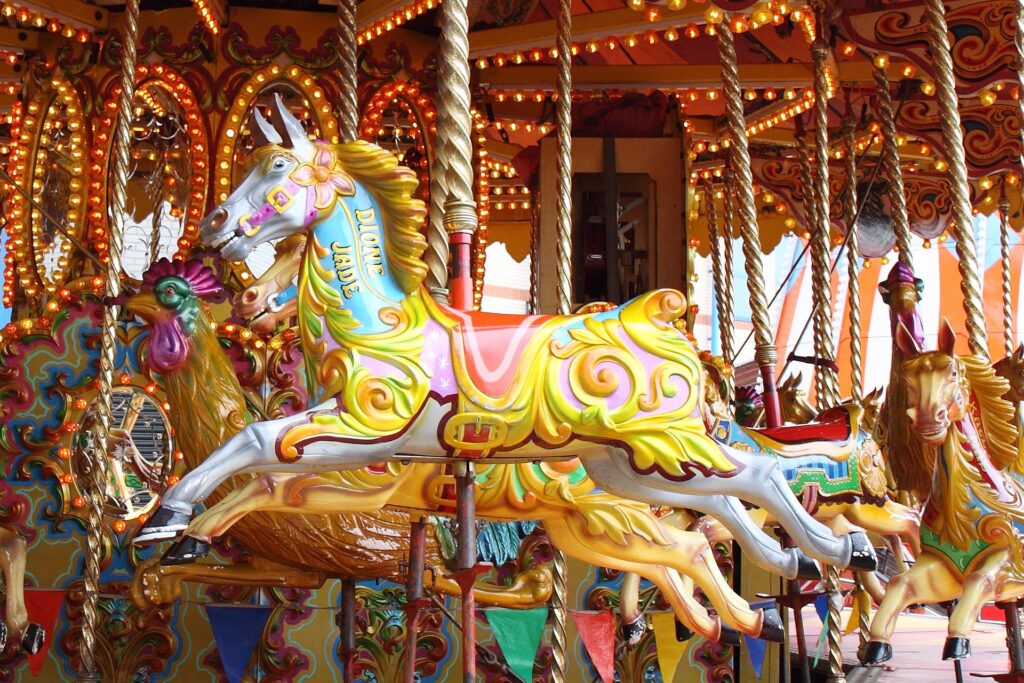 Remlinger Farms
A unique sort of amusement park, Remlinger Parks in Carnation is interesting because it's actually a working farm. That said, the farm also plays host to a collection of amusement rides and other forms of entertainment. In our opinion, this qualifies it as an amusement park, and boy is it a fun one.
The Fun Park at Remlinger Farms is where you'll find the amusement rides. There is an awesome kid's roller coaster, antique cars that little ones can drive themselves, a carousel, flying pumpkins, and a set of spinning swings. There are also pony trail rides, something youngsters are sure to love.
The amusement park rides are far from the only fun things you'll find to do at Remlinger Farms. You can also pick your own produce (the options change based on the season), take a hayride, wander the corn maze, and more!
RV Camping Near Remlinger Farms
Once again, we have to recommend RV camping as the best lodging option when visiting Washington. Remlinger Farms is located in Snoqualmie Valley, and parking your home-on-wheels in this scenery is just lovely!
Tolt-MacDonald Park and Campground — Tolt-MacDonald Park and Campground is our choice when it comes to finding a place to stay near Remlinger Farms. Not only is it close to the farm, it's also a beautiful park that offers an easy walk to the river. Sites have electricity and water hookups, and there is a dump station for emptying your tanks on your way out.
Rent an RV near Remlinger Farms!
Planning Your Trip to Remlinger Farms
The cost for admission to Remlinger Farms is not posted online. That said, we do know that there are Toddler Weekday events that allow toddlers and their parents to enjoy the park at a discounted price. We also know that season passes are available.
Outside food is not allowed in the park. However, there are picnic tables just outside of the park where you can enjoy a picnic. Additionally, there is an onsite restaurant with amazing food that is worth trying.
Riverfront Park
Being on the riverfront is always nice, but it's even better when you can combine it with some fun attractions. This is where Riverfront Park in Spokane comes into play. This spot is not just fun, it's a must-visit place when in Spokane. That said, it is a bit different from a traditional amusement park.
One of the best attractions at Riverfront Park is the beautiful Looff Carousel. This carousel was built in 1909 and is on the National Register of Historic Places. Another great choice? The Numerical SkyRide. This is a high-in-the-sky gondola ride that offers spectacular views of the area.
Other fun things to do in Riverfront Park include the ice skating ribbon, amazing play areas for kids, and the super fun skate park.
RV Camping Near Riverfront Park
Of course, you will want to pack up the RV for your trip to Spokane. For one thing, you'll love the ability to spread out in your own space. You're also sure to appreciate traveling from one part of Washington to the next and taking in the incredible views along the way.
Riverside State Park — Looking for a place to stay? We love Riverside State Park. This park is a lovely green place that is situated right on the river and is located just outside of Spokane. The rates are fair, and bathhouses, water, electricity, and a dump station are included.
Rent an RV near Riverfront Park!
Planning Your Trip to Riverfront Park
There is no admission fee to visit Riverfront Park. That said, guests will need to pay for certain attractions individually. Be sure to check the park's website before visiting in order to ensure you know what to expect in terms of pricing.
You are welcome to bring a picnic to the park. There is also a wonderful onsite dining location called Sky Ribbon Cafe.
Pier 57
Another spot that isn't really a traditional amusement park but still deserves to be on this list is Pier 57 in Seattle. This pier is always fun to visit. It features rides and other kinds of attractions as well as plenty of dining opportunities.
The centerpiece of the pier is the Seattle Great Wheel. This is a gigantic Ferris wheel that puts on a light show at night and gives riders some amazing views of the city, the water, and everything else around.
Another awesome attraction at Pier 57 is the Wings Over Washington flight simulation. This gives riders the feeling of hangliding over iconic parts of the state, complete with breathtaking views. There are also the Salish Sea Tours, which offer a great way to get out onto the water and tour Elliott Bay. Lastly, we must mention the lovely hand-painted carousel.
RV Camping Near Pier 57
Yes, we have to say RV camping is the way to go even when visiting a big city like Seattle. Doing so means parking your tiny home outside of the city, so you can escape the hustle and bustle at the end of each day.
Manchester State Park — The best place for finding this escape? We love Manchester State Park. The vibe here is peaceful and the greenery is absolutely beautiful. Some sites offer electric hookups, there is potable water available to all campers, and a dump station is also open to guests. Of course, the low rates for camping so close to the city are pretty awesome as well!
Planning Your Trip to Pier 57
You do not need to pay to visit Pier 57. That said, you will need to pay to experience the attractions at the pier. Costs for attractions vary from $6 to $32, so the amount you spend is really up to you.
As mentioned before, there are plenty of incredible dining opportunities on the pier. That said, you are also welcome to pack some snacks or a sandwich if you're looking for ways to save money. 
Slidewaters
Slidewaters in Chelan is another fantastic Washington waterpark that we think everyone should check out if they happen to be in the area. Not only does the park offer a lot to do, but it also gives guests some awesome views of Chelan, a bonus that is definitely worth mentioning and keeping in mind as you decide which parks to visit.
Attractions at Slidewaters are varied enough that people of all ages can find something that suits their fancy. There is the incredible Citywave USA surf simulator for those who like a challenge, and the Surfer's Hot Tub for those who just want to relax. For families, the lazy river is the place to be, and the zero-depth beach pool is great for kids to play in. Of course, kids will also love the Aqua Zoo play area.
As far as slides go, you can enjoy a few different options in this park. There's a racing slide for those who want to compete with friends, the Purple Haze slide for thrill seekers, and Thunder Rapids and Tub Blaster are both great for those who wish to slide in a tube. Want something fun but not too scary? Try the Blue Blaster, Sidewinder, or Corkscrew slides.
RV Camping Near Slidewaters
You will definitely want a place to kick back and relax after a day of water park fun. This is where an RV comes into play. By taking an RV along, you ensure you can be totally comfortable no matter where you end up staying.
Lakeshore RV Park — Not sure where to park that RV? We recommend Lakeshore RV Park. This park is very well kept and features tall trees, deep grass, and full hookups. The bathhouses are very nice, the laundry room is a great amenity, and there is a lake onsite, which offers great views and recreation opportunities.
Planning Your Trip to Slidewaters
General admission to Slidewaters is $25.95 for those under 48" tall (as well as seniors), and free for those aged 3 and under. Everyone else can expect to pay $33.95 for a day of play. There are also "PM Plunge" tickets available, which allow guests to enter later in the day for a discounted price.
Outside food is allowed in this park, meaning you can pack some snacks or a picnic lunch. Lockers are available as well, so storing that lunch is a cinch. That said, if you prefer not to pack food, there are food options in the park.
Surf 'n Slide Water Park
Last on our list is Surf 'n Slide Water Park in Moses Lake. This is a city-run waterpark that locals and visitors alike absolutely adore. We especially love that the park offers plenty to do, but the admission fees are totally affordable, as this makes it possible for more families to enjoy the summer fun spot.
As the name suggests, this park features opportunities to slide as well as surf. The FlowRider surf simulator is an amazing spot for newbie surfers and old pros alike. There is also a set of two 200-foot water slides and a single tube slide available for thrill seekers.
Have kids in tow? The splash pad, water play structure, baby octopus slide, and playground are all sure to keep them busy. Meanwhile, older kids and teens can enjoy the sand volleyball courts and diving boards, and families can bob along in the lazy river together.
RV Camping Near Surf 'n Slide Water Park
RV camping is once again the way to go when visiting this Washington state amusement park. Fortunately, there are campground options nearby, so finding a place to stay should be a cinch. Below is one of our favorites.
Cascade Campground — A pretty little city park campground with beach access, Cascade Campground is a wonderful place to camp for a few days. Sites include water and electricity, there is a dump station, and the restrooms and showers are clean. Best of all, the park is close to Surf 'n Slide Water Park!
Rent an RV near Surf 'n Slide Water Park!
Planning Your Trip to Surf 'n Slide Water Park
As mentioned above, admission to Surf 'n Slide Water Park is quite affordable:
Babies aged 2 and under enter for free.
3- and 4-year-olds pay $9.
Kids between the ages of 5 and 17 pay $17.
Adults up to 64 years old pay $18.
Seniors 65 and up also pay the kids rate of only $17.
Punch cards and season passes are available for those who want to visit several times throughout the season.
While outside food is allowed in this park, it cannot be left unattended or eaten in the pool. The same is true of the food items purchased at the concession stand. Swim diapers are required for those under 3 years of age, and coin-operated lockers are available.
Yep, there are a whole lot of great amusement parks in Washington state. In fact, these aren't even all of the parks found in the state. To find more, try searching "amusement parks near me" once you get settled into your campsite. You might just find another gem or two to choose from!
Want to find other great things to see and do during your time in Washington? Not to worry, there are tons of amazing options out there. From incredible beaches to beautiful forests, and from fascinating landmarks to interesting museums, you're sure to find something to suit your fancy in the articles linked below: