Travel Inspiration
December 23rd, 2022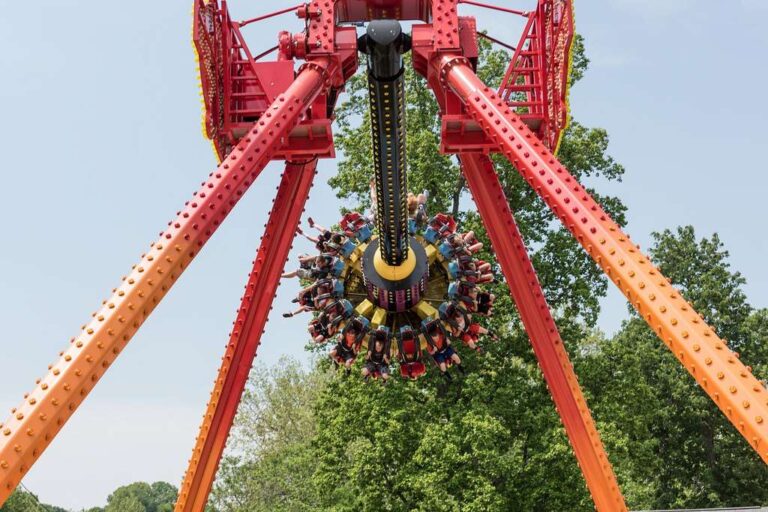 West Virginia is a beautiful state that is well worth visiting. It has a wonderful national park, some excellent outdoor recreation opportunities, and a whole lot of charming small towns. Another thing that people love checking out when in the state? West Virginia amusement parks!
No, there aren't many amusement parks in West Virginia. However, the ones the state does have are super fun, making them a great addition to any getaway in the area. Whether you're looking for indoor family fun, a traditional amusement park, or a waterpark, you're sure to find something that suits your fancy.
West Virginia Amusement Parks
Of course, the first step in planning a trip to West Virginia amusement parks is choosing which park (or parks) you will visit. That's where the list below comes into play. In the list, we've included the top six favorite amusement parks in West Virginia. Choose from this list and you know you're choosing somewhere great to take the family!
Camden Park
JayDee's Family Fun Center
Splash Zone
Water Ways Park
Waves of Fun
Wonderland Water Park at Ace Adventure Resort
Obviously, just having the names of the places you want to visit isn't going to be quite enough. To help you out, we've provided more detailed information on each of these West Virginia amusement parks below. By the time you finish reading this piece, you'll be an expert on the amusement parks in West Virginia!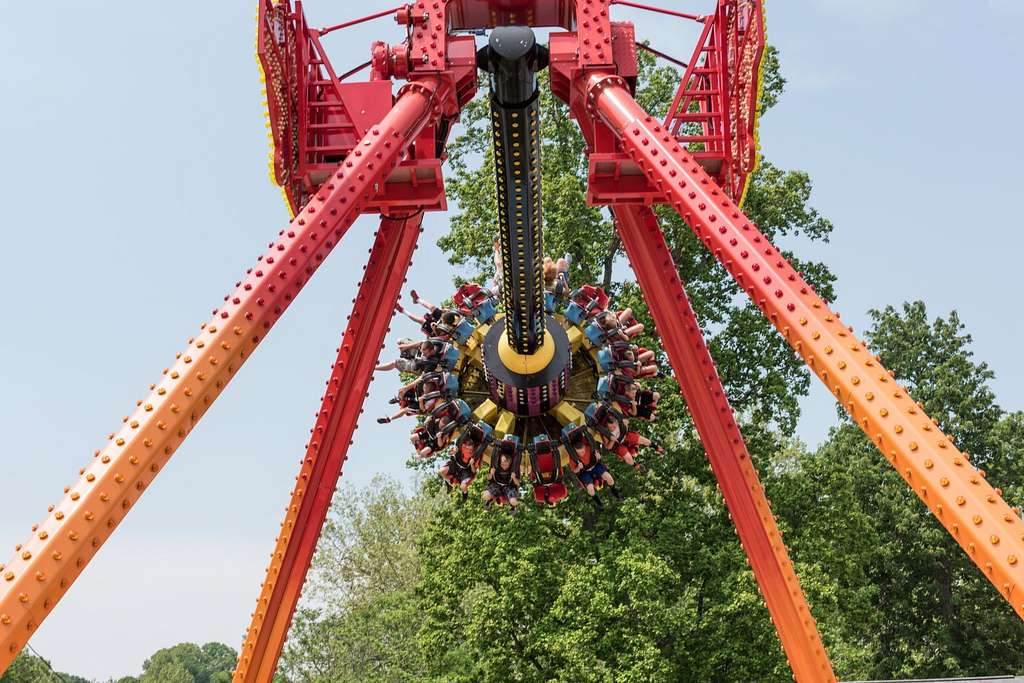 Camden Park
We'll start with Camden Park. Located in Huntington, West Virginia, this is the state's most popular amusement park—and for good reason. The park is home to all kinds of awesome rides and other amusements. At this park, there truly is something for everyone, making it an excellent family destination!
The major rides at Camden Park include the Big Dipper roller coaster, a super fun log flume, and the super thrilling Rattler swing ride. The carousel and train are perfect for families, and the haunted house is fun for a silly scare. We love that the Skyliner provides an excellent view of the park, and younger thrill-seekers will appreciate the Lil' Dipper mini coaster.
Speaking of the kids, you might be wondering what this park has to offer them. In addition to the aforementioned carousel, train, and mini coaster, you'll also find kiddie rides such as the Kiddie Boats, Sky Fighters, and Pony Carts in the park's Kiddie Land area.
Lastly, we must mention the fact that this park is also home to a wonderful mini golf course that is definitely worth some of your time there.
RV Camping Near Camden Park
West Virginia is the perfect state to go camping. Therefore, we highly recommend packing up an RV to take along on your trip to see Camden Park and the rest of Huntington. After all, who wouldn't want to add some camping memories to their trip?
Huntington/Fox Fire KOA Holiday — KOA Campgrounds are always a fantastic choice when it comes to finding a place to park, and the Huntington/Fox Fire KOA Holiday is no exception. This park is clean and features full-hookup sites, a friendly staff team, and great amenities. Best of all, those who stay at this park receive discounts on tickets to Camden Park!
Planning Your Trip to Camden Park
Tickets to Camden Park are only $18.99 when bought online. These tickets are good for all ages, and all you have to do is present your receipt when you arrive. Want to save even more money? The park does offer some discounted days and times, so be sure to look at their site to learn about those!
Parking at this amusement park is $8 per day. Guests who rent a pavilion are allowed to bring picnic lunches into the park. Otherwise, you will have to rely on the in-park food options. Luckily, these are plentiful.
JayDee's Family Fun Center
Next up, JayDee's Family Fun Center in Inwood. This awesome fun spot is chock-full of things to do. In fact, we're betting you could fill two whole days here and never get bored. Our recommendation? Visit during the summer so you can enjoy every activity the park offers.
We'll start by talking about the park's great little waterpark. This is the perfect place to cool off during the summer months. It features slides, a play area for kids with dumping buckets, and a whole lot more!
Once you're done with water play, be sure to head to the go-kart track to put your driving skills to the test. The batting cages come next and are perfect for sports fans, and the mini golf is a fantastic option for families looking to enjoy the day together.
Want to head indoors? The arcade has plenty of awesome game options to keep your family busy for quite some time. Additionally, if you have little ones in tow, they are sure to love the indoor jungle gym, which has options for climbing, sliding, and more.
RV Camping Near JayDee's Family Fun Center
As we mentioned before, West Virginia is one of the very best states to do some camping. Therefore, you will want to seize this opportunity and take your RV with you when visiting Inwood. Not sure where to park the rig? Consider the amazing campground below.
Lazy-A Campground — Located just minutes away from JayDee's in the town of Hedgesville, Lazy-A Campground is a lovely place to call home for a few days. It's a peaceful place in the middle of the countryside, with water and electric hookups at each site and the friendliest staff you'll ever meet. The onsite creek is a lot of fun in the summertime, and there is plenty of shade throughout the park.
Rent an RV near JayDee's Family Fun Center!
Planning Your Trip to JayDee's Family Fun Center
There is no fee to enter JayDees. Instead, guests pay only for the activities they wish to participate in. Rates for activities vary but tend to be between $5 and $8. A pass to the waterpark is a bit more expensive but is still pretty affordable at only $15, and the rate includes access to the mini golf course, making it an even better deal.
No outside food or drink is allowed in the park, but food is available for purchase at the fun center, so you and your crew won't go hungry.
Splash Zone
Run by the city of Clarksburg, Splash Zone is an excellent place to cool off during the heat of summer while also having an amazing time. Not only is there a lot for young children to do, but bigger kids and even teens will also find exciting ways to pass the time at this small-yet-mighty city waterpark.
Attractions at Splash Zone include an enclosed water slide, an open twisty slide, and a handful of smaller slides that are perfect for young children.
The kids play area features a small, colorful climbing structure with spray features, a dump bucket, and slides. There are colorful animals toys for kids to play with, including a water-spraying fish that also doubles as a slide.
Moreover, there is also a lazy river that is perfect for anyone looking for a relaxing way to spend the way in the water, and the series of dump buckets lined up along a portion of the river adds to the adventure of the float.
RV Camping Near Splash Zone
There aren't a whole lot of campgrounds right by Splash Zone. That said, there are some just a short drive away, and we think that such a short drive is worth it to be able to stay in your own space and totally relax after a long day spent playing in the water.
Family Fishing and Camping — One of the best campgrounds that isn't too far away is known as Family Fishing and Camping. As the name suggests, this place provides camping and fishing opportunities for families, and they certainly do a great job. You want to make sure to bring your fishing gear when visiting, as there is tons of excellent fishing in the park!
Planning Your Trip to Splash Zone
Admission to Splash Zone is incredibly reasonable. Those aged 12 and up pay $10, and children aged 3–11 are only $8. Additionally, active duty military and senior citizens receive the $8 rate, and those who visit after 4pm get in for just $6. Kids under the age of three enter the park for free.
Outside food is not allowed in the waterpark. Concessions are available and must be enjoyed outside of the pools.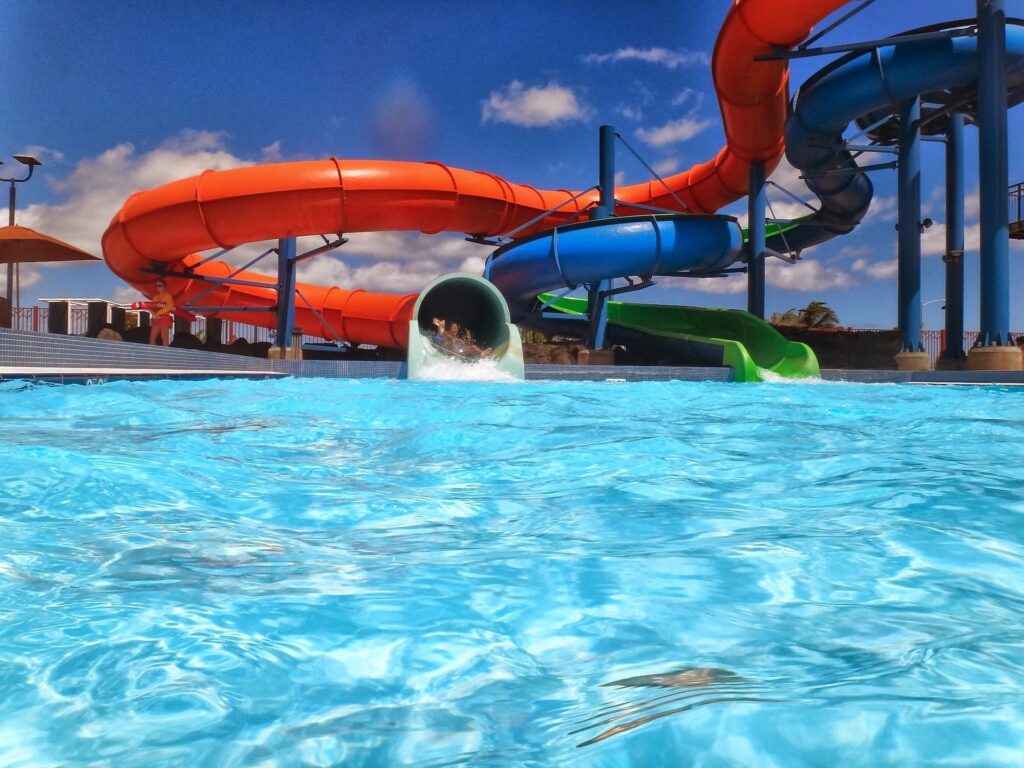 Water Ways Park
Another fantastic West Virginia amusement park is Water Ways Park in Julian. As the name suggests, this is a waterpark, and it is yet another great place to be when the weather gets hot. In fact, many claim this is the best waterpark in the whole state!
Attractions at Water Ways include pretty much anything you could want from a waterpark. There are two amazing body slides that send you slipping at high speed into the water. A single tube slide empties into the lazy river where you can continue your float, and two additional body slides empty out into the swimming pool.
Have kids with you? Be sure to visit Kiddy Island. Here kids can slide, swing, splash, and have an amazing time playing with water.
RV Camping Near Water Ways
Once again, we have to recommend that you bring an RV along on your West Virginia adventure. You'll love the freedom to easily hop from one area of the state to another, and having a campsite for relaxing and enjoying the outdoors after your day of waterpark fun is priceless.
119 River's Edge Campground — Our favorite place to stay when visiting Water Ways is 119 River's Edge Campground. This is a very basic campground, but is the perfect place to escape from the hustle and bustle. It is family-owned and the owners make a point of making everyone feel welcome. Full hookups are available, and the scenery is top-notch!
Planning Your Trip to Water Ways
Admission to this waterpark is $12 for those 44 inches and taller, and $5 for those under 44 inches tall. Please note that those under 44 inches cannot use the big slides. Kids aged 3 and under enter for free. Tubes are included at no additional charge.
Concessions are available in the park, so finding food while you're there shouldn't be a problem.
Waves of Fun
What better place to look for a waterpark than in the city of Hurricane? Yes, this town is home to yet another fantastic West Virginia waterpark. This one is run by the Putnam County parks department and they have done a wonderful job of creating a space for families to have a great time soaking up the sun.
As the name suggests, this is the place to go for waves. The main attraction in the park is a gigantic, zero-depth-entry wave pool. The waves are quite large and are tons of fun, especially if you have a tube to float on top of them.
The park is also home to a set of three large water slides. These are perfect for thrill-seekers and really add to the summertime fun!
RV Camping Near Waves of Fun
You will want to take an RV with you on this trip, of course. You could choose to park at the aforementioned Huntington/Fox Fire KOA Holiday and visit both Waves of Fun and Camden Park. However, if that campground doesn't suit your fancy, the one below is also great.
Robert Newlon Airpark RV Park — This is a barebones park, but it is in a great location and has everything you need for a great trip. Full-hookup sites are great for those who want to use water and electricity without worry, and there are pull-through sites for those who prefer that over backing in. Best of all, the rates here are very affordable!
Planning Your Trip to Waves of Fun
Waves of Fun admission prices are $8 for adults, $6 for kids aged 5–11, and $6 for seniors. There is a military discount available, and season passes are an option for those who will visit often. Children aged 4 and under enter for free.
Outside food is not allowed, but there is a snack stand in the park. Rental tubes are available for $3 each and other types of floaties are not allowed.
ACE Adventure Water Park
Last on our list is the fabulous waterpark located inside of ACE Adventure Resort near New River Gorge. This place is the perfect addition to a trip to New River Gorge. It gives you a chance to sit back and relax on the beach after a long hike in the national park while the kids run wild and enjoy all the waterpark has to offer.
The 40-foot-tall Wet Willie Waterslide is one of the main attractions at ACE Adventure Water Park and is ideal for those who like a good thrill. The tower zipline is another awesome way to squeeze some more thrills into your day, and is highly recommended by all who visit. Those who feel the need for even more speed will also appreciate the two additional giant water slides.
Want a challenge? Head to the 50 large inflatable toys floating in the water. These include a climbing mountain, an obstacle course, and even seesaws!
RV Camping Near ACE Adventure Water Park
You could choose to stay at ACE Adventure Resort, but we much prefer RV camping. Therefore, we would recommend grabbing an RV and finding a place to set up camp in the woods nearby. You can always drive to the waterpark!
Babcock State Park — There are actually several free camping options in the national park. Unfortunately, these are only usable for very small RVs. Therefore, we recommend heading to Babcock State Park instead. Here you will pay a small camping fee, but you can be sure your RV will fit. You will also have access to electricity, potable water, and a bathhouse.
Rent an RV near ACE Adventure Water Park!
Planning Your Trip to ACE Adventure Water Park
A full-day pass to the waterpark is $32.95 for adults and $27.95 for those aged 6–8. You can also choose to buy a half-day ticket for just $22.95 for adults and $17.95 for ages 6–8. Kids aged 5 and under enter the park free of charge.
There you have it—six excellent West Virginia amusement parks that are sure to add some extra fun to your family vacation. Want to find even more fun amusement parks in West Virginia? Try searching "amusement parks near me" once you arrive at your campground. You never know what the internet might pull up for you!
Of course, amusement parks in West Virginia are far from the only fun to be had in the state. There are plenty of other amazing things to do in West Virginia, so you will want to make sure to leave room in your itinerary for those too. To begin researching the options, try using the articles linked below: