Waterfalls
September 19th, 2021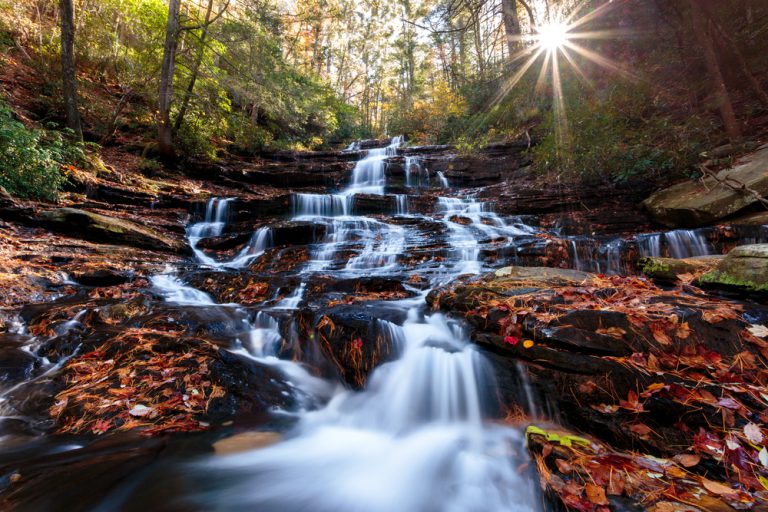 When you first think of Georgia, you may sooner think of peaches or pecans than waterfalls — but make no mistake about it, this southern state is rich in flowing waters! If you've got Georgia on your mind, be sure to add these 10 gorgeous waterfalls to your itinerary.
Top 10 Waterfalls in Georgia
1 & 2. Ammons and Holcomb Creek Falls
3. Becky Branch Falls
4. Horsetrough Falls
5. Anna Ruby Falls
6. Dukes Creek Falls
7. DeSoto Falls
8. Long Creek Falls
9. Minnehaha Falls
10. Toccoa Falls
Visiting Waterfalls in Georgia
Without further ado, here are 10 Georgia waterfalls you absolutely don't want to miss — and all the information you need for hiking to or otherwise accessing them!
1 & 2. Ammons and Holcomb Creek Falls
That's right: this one is a two-fer! Ammons and Holcomb Creek Falls are situated just feet from one another at the place where Holcomb Creek forks off toward the northern border of the state. The two falls are regularly looped together on one moderate-level hike, which sees about 500 feet of elevation gain along its 1.8 round-trip miles. Holcomb Creek Falls in particular is a stunner, standing 120 feet over the tumultuous waters below, featuring both a free-falling cascade and a tiered, sliding lower waterfall. Ammons Falls, on the other hand, is a 40-foot water slide — though you probably wouldn't want to use it for that purpose, physically! There are some stiller parts of the water where it's safe to swim.
Things to do near Ammons and Holcomb Creek Falls: Tucked away about as far north as Georgia goes before it becomes North Carolina, this beautiful waterfall is relatively accessible for those who are already going off the beaten path — especially as compared to some of the other outdoor adventures awaiting in these vast national forest lands! There are plenty of great RVshare rentals in the area to choose from, if you're looking for a longer, more leisurely stay.
3. Becky Branch Falls
This gorgeous north Georgia waterfall is located just east of the town of Clayton, and is actually another waterfall that's regularly looped in with a second falls! The Becky Branch to Martin Creek Falls trail will run you just shy of four miles round-trip and sees about 500 feet of elevation gain along the way, some of which is sure to be steep, rocky, and damp, so be sure you've got adequate footwear before you set out. Becky Branch itself stands about 20 feet high, and can also be accessed via an easier 0.6-mile loop called the Becky Branch Falls Trail if you don't have quite as much time on your hands.
Things to do near Becky Branch Falls: The small mountain town of Clayton has everything you need for a great vacation, including lots of supplies available (there's a Walmart) and also some fun attractions of its own. For example, the nearby Goats On The Roof family fun zone is part petting zoo, part roadside food stand, and 100% worth visiting. Here are some local RVshare rentals to consider for your trip.
4. Horsetrough Falls
Tumbling from a mountain peak that's a landmark on none other than the Appalachian Trail, Horsetrough Falls is a gorgeous, rippling cascade that falls gently down multiple tiers of carved rock face, and is a beloved stop for day visitors and thru-hikers alike. Standing 70 feet high, the waterfall offers a calm and lovely pool at its foot, the perfect place to dip your own feet in or simply kick back and enjoy the packed lunch or snacks you've brought along with you for the trip. (By the way, if you don't have too much hike in you, don't worry; the main trail to the falls runs just 0.4 miles round-trip from the parking area, and a developed observation platform makes it safe and easy to see the falls from a perfect vantage point.)
Things to do near Horsetrough Falls: Another waterfall tucked into the northeastern corner of Georgia, Horsetrough Falls is pretty far off the beaten path from any major urban areas, but the small town of Scorpion Hollow is about a 40-minute drive away. Fortunately, when you travel in an RVshare vehicle, you won't have to worry about going to town to find creature comforts — you'll bring them right along with you!
5. Anna Ruby Falls
Not every Georgia waterfall is renowned and special enough to warrant its very own recreation area and Visitor Center — but Anna Ruby Falls is. Tucked into the heart of the Chattahoochee-Oconee National Forest, Anna Ruby Falls tops many lists of the very best waterfalls in Georgia, and once you visit for yourself, you'll see it's for good reason. Standing more than 150 feet tall — only about a dozen feet shy of the height of Niagara! — Anna Ruby Falls has earned a name for itself as a sought-after destination and is, for this reason, well-developed and easy to access. A paved path to the falls itself makes it ADA accessible, and the nearby visitor center hosts educational events, fun crafts, shopping opportunities and more.
Things to do near Anna Ruby Falls: This time only 15 minutes from Scorpion Hollow, Anna Ruby Falls is a northeastern Georgia must-see — and the rest of these vast national forests has plenty more to offer by way of stunning outdoor recreational opportunities. Here are some local RVshare rentals to consider for those wanting to stay and play for longer periods of time.
6. Dukes Creek Falls
Another waterfall that has a whole recreation area named for it, Dukes Creek Falls is located right along the Russell-Brasstown National Scenic Highway, making it easy to access from the road and a perfect stop for those road tripping through northeastern Georgia. Those who want to see the falls up close and personal can tackle the short but sometimes steep Dukes Creek Falls Trail, which runs about two miles round-trip and leads to wooden viewing platforms that make it easy to get the very best peak at this one–of-a-kind waterfall, which stands about 150 feet high.
Things to do near Dukes Creek Falls: Want to really see what north Georgia has to offer? There are plenty of other hiking opportunities in this area — Raven Cliffs Trailhead is less than a mile north of where the path to Dukes Creek Fall starts. Plus, Smithgall Woods State Park is just a short drive away, as are so many other wonderful national forest adventures. Here are some local RVshare rentals to consider for the trip.
7. DeSoto Falls
Offering not one, but two breathtaking waterfalls, DeSoto Falls offers a legendary historic context as well as plain old natural beauty: rumor has it that DeSoto himself left a piece of armor here back in the mid-1500s, which is where this impressive cascade gets its name. The trail to the falls is short, relatively easy, and paved, making this a great opportunity for those traveling with kids or newbie hikers, or folks who simply don't have a whole lot of time on their hands. The 2.2-mile trail is also dog-friendly, provided your pup is on a leash the entire time, and nearby picnic areas and restrooms make it easy to while away a comfortable afternoon here with the family.
Things to do near DeSoto Falls: The larger Chestatee Wildlife Management Area offers so many beautiful hiking trails and other outdoor recreation opportunities, and the Appalachian Trail runs very nearby. If you happen to make your way out to that trail, the Blood Mountain Overlook is one of the most iconic pieces of scenery along the way, and you can reach it on a day hike if you know where you're going! Here are some area RVshare rentals to consider.
8. Long Creek Falls
Tucked along the Benton MacKaye Trail, which branches directly out of the Appalachian Trail (which begins not very far from this location — or ends, depending on which direction you're going), Long Creek Falls stands about 50 feet tall, and is easily enough accessed from Atlanta that plenty of city slickers seek out these falls as a weekend getaway, particularly in fall, when they're running strong and the Georgia sun isn't so oppressive. Via the Appalachian Trail, the hike to Long Creek Falls is less than two miles altogether, and sees only about 300 feet of elevation gain. Plus, you get to say that you hiked the Appalachian Trail, even if you don't go any further… no one needs to know the whole story! 😉
Things to do near Long Creek Falls: The Blue Ridge Wildlife Management Area and the larger Chattahoochee National Forest is a popular spot for hiking, mountain biking, fishing, and so much more, and the wide urban adventure of Atlanta awaits only two hours south. Don't want to go quite that far?Dahlonega has you covered on resources and supplies — and there are, of course, some excellent RVshare rentals available in the area.
9. Minnehaha Falls
Located along a small-ish creek called the Falls Branch, which runs off from the place where Seed Lake and Lake Rabun meet, just across from the Lake Rabun Beach Recreation Area, Minnehaha Falls is one of the most popular in the state — and those who visit can tell you it's earned that reputation for good reason. Gently falling over a delicately carved natural stone stairwell, Minnehaha Falls can be accessed via a short and simple hike — you'll travel less than half a mile altogether, and the terrain is considered easy to moderate. Fun fact: the falls' name is derived from the Dakota word for waterfall. This particular minnehaha stands about 50 feet tall.
Things to do near Minnehaha Falls: There are truly endless hikes and other outdoor recreation opportunities available in this part of the state — Angel Falls Trailhead awaits just on the other side of the lake, and the broader national forest spreads out around these waters. An RVshare vehicle is the perfect way to stay as long as you like in comfort and style!
10. Toccoa Falls
With a vertical drop o186 feet, Toccoa Falls is an impressive waterfall by any standard — and it's also nestled right into a college campus, which not many waterfalls can say for themselves! First appearing in written accounts in the 19th century, after this land had been traded to white settlers, the word Toccoa comes from a Cherokee word meaning beautiful, and we could not possibly agree more. Tumbling dramatically out of the carved rock that serves as their background, this waterfall is also unique in that a hike is not required to view it: simply drive up, park, sit back, and enjoy.
Things to do near Toccoa Falls: If you've come far enough to visit the waterfall, you might as well check out the campus of Toccoa Falls College, as well — not to mention the town of Toccoa, which boasts a population of about 9,000 and plenty of fun places to shop, eat, and stay. (It's also got some excellent RVshare rentals available, last we checked!)
Planning an RV Trip to Georgia
There are even more waterfalls in the great state of Georgia than we can fit in this list — and that's not counting any of the state's many other charms. In short, Georgia is a state well worth visiting… and if you've got your heart set on a trip, you're in luck, because we have all the resources you need to do it well!
For starters, we'll set you up with one of the very best peer-to-peer RV rentals in Georgia, regardless of where you're starting or where you plan to go. We've also written guides to the best state parks in Georgia, many of which offer RV camping, as well as dedicated RV parks and campgrounds across the state.
Finally, we've also written guides to the major Georgia cities of Atlanta, Savannah, and Buford, so that those of you after a more urban adventure can get an insider view.
We can't wait to hear all about your Georgia adventure — so get out there and chase some waterfalls. (And some peaches!)