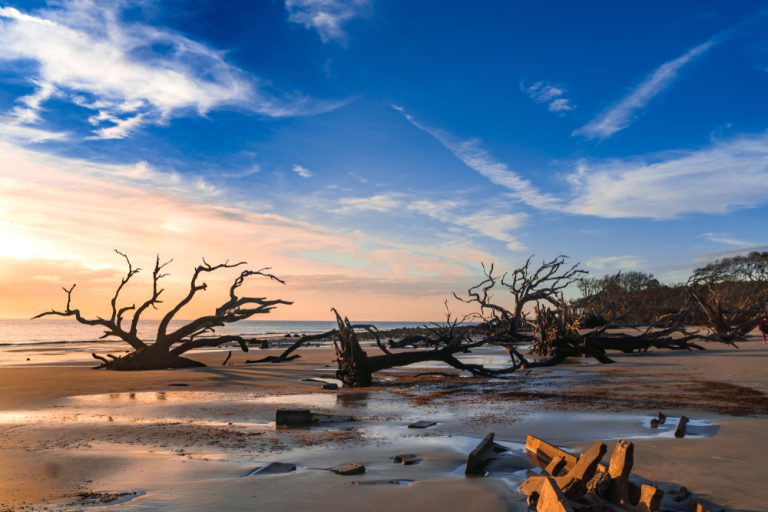 What are the Most Popular Beaches in Georgia?
Georgia may be filled with pine forests and peaches — but it's also got some of the best beaches in the nation! From the island-dotted coastline to the state's interior lakesides, here are some of the best beaches to head to when you're looking for a tropical day in the deep south.
Top Beaches in Georgia
1. Cumberland Island National Seashore
2. Driftwood Beach
3. Glory Beach Boardwalk to St. Andrews Beach
4. East Beach of St. Simons Island
5. Gould's Inlet
6. Nanny Goat Beach
7. North Beach of Tybee Island
8. Mid Beach of Tybee Island
9. Back River Beach
10. John Tanner Park
Georgia Beaches
Let's dive into these popular and beautiful Georgia beaches!
1. Cumberland Island National Seashore
Cumberland Island is the largest of the many islands that punctuate the state's shore, and if you're looking for untouched, it's got you covered: this island's 17 miles of beachfront, along with all the other charms it offers, are accessible only via private boat or ferry, so if you're looking to get away from it all, this is a perfect opportunity. Along with the waterfront, the Cumberland Island National Seashore is known for its stunning maritime forests, classic southern marshes and wild ponies who call this place home, as have Native Americans, slaves, and colonizers. Biking is one popular way to explore the island, and rentals are available on-site.
Things to do near Cumberland Island National Seashore: The southernmost barrier island in Georgia, this waterfront wilderness is only about an hour from Jacksonville, FL — not counting the time you spent aboard the ferry, of course. Back on the mainland, Crooked River State Park is another preserve well worth visiting; here are some local RVshare rentals to make it all happen.
2. Driftwood Beach
If your idea of a perfect beach day is one that's eminently photographable, you need to make your way to Jekyll Island's Driftwood beach — one of the most picturesque (and often-pictured) places on the eastern seaboard. Located on the northern end of Jekyll Island, which offers plenty of other beaches and was also once the vacation destination of choice for the likes of the Rockefellers, Vanderbilts and Pulitzers, Driftwood Beach is, as its name suggests, strewn with gorgeous pieces of driftwood. The scene has been described as otherworldly, especially when the stunning sunset colors stream in through the branches of these skeletal structures.
Things to do near Driftwood Beach: Unlike Cumberland Island, Jekyll Island is a well-developed resort area, with shops, eateries, places to stay, and even a full-fledged water park. And, of course, there are some wonderful RVshare rentals available in the area — good thing, since it makes for such a perfect RV trip!
3. Glory Beach Boardwalk to St. Andrew Beach
Another worthy Jekyll Island stop, Glory Beach Boardwalk runs dozens of feet down to the gorgeous beaches at its foot, including the titular Glory Beach and nearby St. Andrew Beach. Along the way, you'll spy freshwater pools, voluminous sea oats and majestic sand dunes. These seafronts are known for their solitude and silence, and offer both soft sands and harder-packed, dampened sands that make for great beach walking. Sand-castle building and sunbathing are also popular options, and if you look to the south, you can see Cumberland Island along the skyline. It was also the filming location for the 1989 Civil War film, Glory.
Things to do near Glory Beach Boardwalk: Tucked into the more remote southern section of Jekyll Island, Glory Beach Boardwalk and its surrounding seafronts offer the feeling of getting away from it all without actually requiring you to defect from civilization. While you're on the island, be sure to check out Jekyll Island State Park itself, as well as these local RVshare rentals.
4. East Beach of St. Simons Island
Moving on northward up the coast, the next stunning shoreline island you'll encounter is St. Simons, known for its complex network of waterfronts and beautiful resort amenities. Although there are, again, plenty of waterfront coves to choose from on St. Simons, one of the very best is its East Beach, which is located along the ocean side of the island and is one of its most popular destinations. With plenty of nearby restaurants and shops to choose from and the Visitors Bureau and St. Simons Island Lighthouse Museum right nearby, this beach is a convenient, walkable place to get a taste of Georgia island life.
Things to do near East Beach of St. Simons Island: Along with all of the attractions to explore on the island itself, be sure to check out the other nearby wildernesses like Altamaha Wildlife Management Area and Fort Frederica National Monument. Keep in mind that Little St. Simons Island is its whole own adventure, too — probably best to find a comfy RV rental to make a whole trip of it!
5. Gould's Inlet
If you want to see a side of St. Simons that's not quite so bustling (but definitely beautiful), Gould's Inlet is just the kind of hidden gem you're looking for. Located further north of East Beach and still along the oceanfront, Gould's Inlet offers all of the same seaside serenity with a decidedly more relaxed, local feel. This relatively small sliver of waterfront is a great place to sunbathe and swim, but do be warned that the undertow tends to be pretty strong here, so proceed with caution before you decide to take a dunk. Showers, benches, and community dog bowls are available, as is a great view of nearby Sea Island.
Things to do near Gould's Inlet: Gould's Inlet is further from the hustle-bustle that characterizes downtown St. Simon… but that's exactly what makes it so attractive to those who are looking for a beach destination with a slower pace. Further adventures await just north on Sea Island and Little St. Simons; here are some local RVshare rentals to help you make a whole getaway of it.
6. Nanny Goat Beach
For all its developed, resort-style islands, Georgia also has plenty of undeveloped island wildernesses — such as the stunning Sapelo Island, which is populated by not one but two nature preserves (Sapelo Island Wildlife Management Area and Blackbeard Island National Wildlife Refuge). The untouched and primitive Nanny Goat Beach is nestled in the southern part of the island along the oceanfront, and is another Georgia beach accessible only by ferry. Those who take the ride will be rewarded by an ample two-mile strip of powdery white sands, seashells, avian birdlife and more. You may encounter, for instance, a blue heron, egret, bald eagles or osprey. Just be sure to book your tour ahead of time, as access to the island is limited.
Things to do near Nanny Goat Beach: Sapelo Island is the kind of place whose remoteness is the whole point, though you're not that far off from developed towns like Brunswick and Waypoint on the mainland. Also be sure to save some time to explore Reynold's Mansion on Sapelo Island, which is run by Georgia State Parks. Here are some local RVshare rentals to consider.
7. North Beach of Tybee Island
Moving even further on up the coast, you'll come to one of the quintessential island resorts in not only Georgia, but all of America, Tybee Island. Originally developed by Oglethorpe (along with so much of the rest of Georgia) in the late 1700s, Tybee Island became a renowned vacation destination in the late 1800s and early 1900s, and also has an extensive military history. But more importantly than any of that, Tybee Island is absolutely covered with gorgeous beaches, the northernmost one — aptly named North Beach — is known for its well-populated, classic beach day atmosphere.
Things to do near North Beach of Tybee Island: North Beach bears the distinction of being located right across from two of the very best sites to visit on the island: the Tybee Island Light Station and Fort Screven. There are also plenty of nearby parks to explore, including a dog park, as well as many shops, restaurants, and other attractions. Here are some local RVshare rentals to consider.
8. Mid Beach of Tybee Island
One of the most untouched of Tybee's many beaches, Mid Beach offers all of the peace and tranquility you could ask for. Centrally located and easy to reach from a variety of areas of the island, Mid Beach is the place to go when you're looking to find some peace and quiet after a day of adventuring, and offers miles of shoreline for wandering along in quiet contemplation or soaking up the rays. Mid Beach is also known for its beautiful sand dunes and the sea oats that dot the shoreline, and is overlooked by many beautiful oceanside homes — owned by some very lucky residents!
Things to do near Mid Beach of Tybee Island: Although not as well-developed as some other beaches in the area as far as amenities go, Mid Beach is flanked by the Tybee Island Strand Cottages Historic District on one side and Tybee Island Memorial Park on the other. It's a great place to go if you're looking to experience an authentic, local taste of the coastal Georgia lifestyle. And, of course, Tybee as a whole is only a little more than an hour from Savannah, a town with all the southern charm you could ask for and plenty of art and culture to boot. Here are some local RVshare rentals and campgrounds to choose from.
9. Back River Beach
This list's final Tybee Island offering (but by no means the last of the available waterfronts on the island), Back River Beach offers a different perspective. Tucked on the southwestern part of the island where Tybee Creek meets the Atlantic, Back River is a quieter beach excursion which also offers a stellar fishing pier, all within easy walking distance of several nice restaurants and juice bars.
Things to do near Back River Beach: If fishing off the pier isn't quite enough for you, take on the services of one of the many fishing charter companies in the area, who will take you further asea to catch some dinner. Here are some nearby RVshare rentals and campgrounds in the area to make your trip comfortable and cozy.
10. John Tanner Park
As much gorgeous oceanfront as Georgia has, we'd be remiss not to mention at least one of its gorgeous interior lake beaches — and John Tanner Park is lucky enough to have two. Although they're not the most creatively named lakes in existence (Lake A and Lake B, to be exact), both of them offer beautiful, wadeable waterfront in the context of a beautiful, green park tucked into the northwestern wilderness of Georgia, not far at all from the Alabama border. The 138-acre park also offers playgrounds, walking trails, a mini-golf course, and on-site camping — it's truly got everything you need for a getaway!
Things to do near John Tanner Park: At just over an hour from Atlanta, this beautiful, idyllic park feels much further away from reality than it really is. It's also very close to the town of Carrollton, which offers, among other attractions, a water park perfect for cooling off on hot Georgia days. Here are some local RVshare rentals to make the journey complete.
Planning an RV Trip to Georgia
Beaches are just the start of what Georgia has to offer for curious travelers, and an RV trip is the perfect way to see them all in comfort and style. We've got all the info and resources you need to make it happen!
For starters, check out these Georga RVshare rentals, as well as our guides to the best state parks and campgrounds the state has to offer. We've also penned guides to the major urban metropoles of Atlanta, Savannah, and Buford.
Enjoy that sunshine!