Travel Inspiration
September 5th, 2023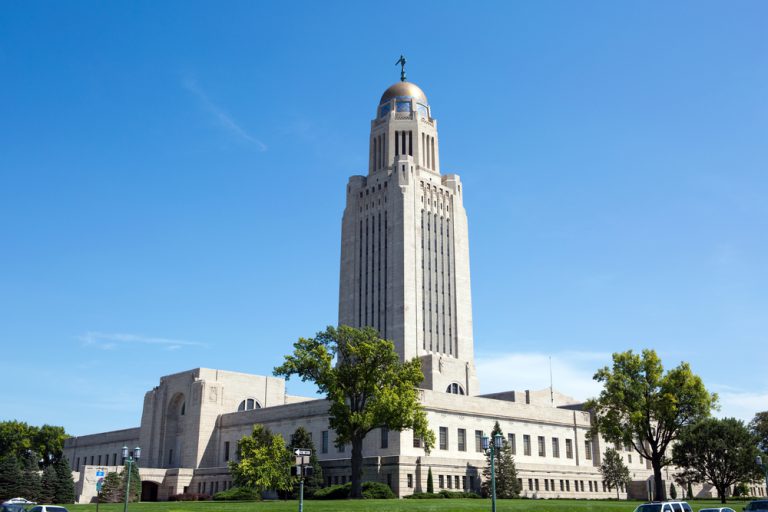 Nebraska is a fascinating Midwest state with lots to see on an RV camping trip! In fact, RVing gives you the flexibility to move around the state and see its various sights, but keep the comforts of home with you the entire time.
You'll need to do some planning before your RV camping trip to Nebraska, however. That's where this guide comes in! We'll share everything you need to know about what to pack, where to camp, and what to see in the state.
Preparing for RV Camping
The first step in preparing for an RV camping trip is to make sure you have an RV! If you don't have your own, there are lots of Nebraska rentals available on RVshare. Once you have your rental lined up, it's time to decide what to pack for your trip.
Choosing the right RV for your needs
As you decide what type of RV you want to rent for your trip, there are a few things to consider. First, think about the size of your group. If you're traveling in a small group, a Class B campervan or small trailer may be enough. If you have a family or larger group, you may need a Class C or Class A motorhome, or a larger trailer.
You'll also want to consider the amenities in your RV. If you don't mind roughing it, some campervans and trailers don't have much more than a bed. Other trailers and motorhomes can have more storage space, bathrooms, entertainment areas with TVs, and other perks. Generally speaking, the larger the rig, the more room for extra amenities.
Finally, you'll want to think about how you'll get around when you arrive at your destination. If you have a campervan, you can use that during the day and set it up each night. Trailers mean you can use your tow vehicle once you've unhitched. However, if you have a large Class C or Class A motorhome, you may want to tow an extra vehicle behind you to use for day trips. You can also check the campground where you're staying to see if it's close to public transportation or if there is a park shuttle.
Packing essentials for a successful trip
Once you have your RV chosen, you can decide what to pack in it! RV packing is a special skill – you don't want to forget anything important, but you also don't want to load down your RV with unnecessary weight or take up room with items you don't need.
You may want to make two lists – one for your clothing and personal items and one for the items you'll need to camp in an RV.
On your personal packing list, you'll want:
Clothing appropriate for the weather and activities you've planned. Pack for the number of days you'll be gone, or the number of days between laundry stops.
Toiletries
Medications
First aid kit
Sunscreen
Bug spray or citronella candles
Entertainment (books, games, movies)
Outdoor gear (hiking boots, bathing suit, paddleboards, etc)
Cold or warm weather gear as needed (heavy jacket, hat, mittens, sun hat, rain jacket)
Flashlight
Extra batteries
Groceries
Electronics & chargers
Quarters for showers or laundry
You'll want to consult your rental listing before you make an RV packing list. Different RV rentals may include different extras – or none at all! Your rental might have linens, dishes, and even items like camp chairs or paddleboards available for you. Or, it might not include any of those things. You'll want to know for sure before you begin packing!
Pots & pans
Dishes
Utensils – don't forget a can opener, bottle opener, spatula, set of knives, etc.
Dish towels & sponges
Sheets & pillows
Bath Towels
Tool kit
Folding camp chairs
Blankets
RV leveling blocks
Sewer hose and adapter
Freshwater hose
Surge protector
You may need to change up some of the items on your list depending on where you're going and what time of year you're camping. Check out this pre-travel checklist to make sure you didn't forget anything!
Considerations for Camping in Nebraska
If you'll be driving an RV in Nebraska, you'll want to know the RV driving rules for the state! Most states have similar laws, but they can vary slightly. It's helpful to check so you don't get a ticket.
The maximum RV width for driving in Nebraska is 102 inches and the maximum motorhome length is 45 feet. The maximum height is 14 1/2 feet. Triple-towing is allowed, and the maximum combined length for a two- or three-vehicle combination is 65 feet. Passengers are allowed to ride in travel trailers, fifth-wheel trailers, and truck campers. Overnight parking is not allowed in rest areas.
All RVs in Nebraska are required to have flares or reflective signs. Trailers over 3,000 lbs are required to have trailer brakes on each wheel, a breakaway switch, and safety chains.
As far as general driving rules in Nebraska, a right turn is allowed on red unless signs are posted saying otherwise.
Researching campground options and making reservations
After you've figured out your RV, you can begin looking for campgrounds in Nebraska! You can do lots of research and make reservations on websites like Campspot, BookOutdoors, RoverPass, and The Dyrt. Jellystone Parks are a good option for families. And Harvest Hosts is an excellent option for unique campgrounds at wineries, farms, and other interesting venues.
Finding Campgrounds
You'll find lots of options for campgrounds in Nebraska! Whether you're looking for urban camping in Nebraska, luxury camping with lots of perks, or primitive camping in the wilderness, you're sure to find an option that suits you.
Exploring public campgrounds in the state
First, we'll look at Nebraska's public campgrounds. Public campgrounds include those at national and state parks, in national forests, and on other federally-owned lands. Public campgrounds are usually much cheaper than private campgrounds but also have fewer amenities.
National Park Camping
Nebraska doesn't have any national parks, but does have national monuments, national historic parks, national historic trails, and other national sites. There is camping along the Missouri National Recreational River and the Niobrara National Scenic River.
National Forest Camping
Nebraska also has several national forests where you can camp. The Nebraska National Forest encompasses native ponderosa trees and also the largest human-planted forest in the United States. Campgrounds within the forest range from those with full hookups to primitive campgrounds with no amenities or hookups. The Samuel R. McKelvie National Forest has sandhill prairies and includes the Merritt Reservoir. You can go hiking, mountain biking, fishing, hunting, cross-country skiing, and more. You can also launch a canoe at the Niobrara River Canoe Launch.
State Park Camping
Nebraska's state parks are another great option for public campgrounds. You can learn about Nebraska's history and enjoy swimming, hiking, mountain biking, and other outdoor activities at these parks.
Ponca State Park on the banks of the Missouri River has more than 20 miles of hiking and mountain biking trails. Visitors can also fish, boat, and swim at the park. The park is geologically diverse as well, with mountains, prairies, woods, and ravines.
Exploring private campgrounds and RV parks
Nebraska has lots of private campgrounds as well as public ones. There are glamping campgrounds if you want lots of amenities. Eugene T. Mahoney State Park has 149 back-in sites for RVs, plus luxury cabins and a lodge. There are hiking and biking trails, an aquatic center, and a marina. Pine Grove RV Park has 100 RV campsites with plenty of room. The campground has a swimming pool, a playground, a rec hall, and outdoor basketball and volleyball courts. The Prairie Oasis Campground and Cabins are tucked among the wheat and corn fields of Nebraska. The campground has WiFi, pull-through sites, and full hookups. The campground has a stocked fishing pond, plus cabins with housekeeping.
You can also find private campgrounds that don't have quite as many perks and are likely less expensive. Many of these will still have restrooms with showers, laundry, and dump stations.
Boondocking in Nebraska
On the opposite end of the spectrum, there are plenty of places to go boondocking in Nebraska. The Spotted Tail Trailhead has free camping, and you can hike or mountain bike in the area. The Oglala National Grasslands in northwestern Nebraska offer lots of free, off-the-grid camping. You'll be near the Toadstool Geologic Park and the Hudson-Meng Education and Research Center. The Oliver Reservoir Recreation Area has flat, grassy campsites with shady trees. Many of the sites are on the water, and the campground is free.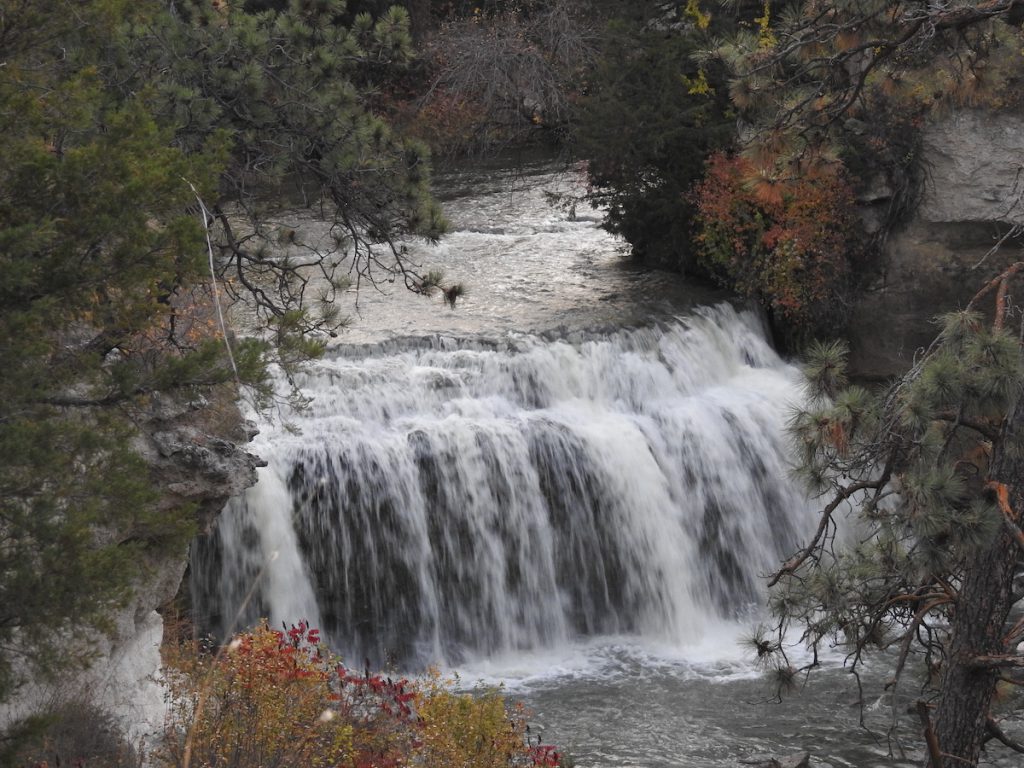 Planning your itinerary
By now, you probably have an idea of the things you want to do in Nebraska. It's time to finalize those plans and decide what to do on your RV camping trip! Whether you want an urban adventure or want to explore the natural beauty of Nebraska, there are plenty of places for you here.
Features and attractions in Nebraska
Driving a scenic byway is a great way to get the lay of the land in Nebraska! The Gold Rush Byway follows the path of the prospectors who found gold along this road. It's a 180-mile drive from the northern to southern border of the state.
You'll also want to see some of Nebraska's landmarks! Carhenge is a wacky take on Stonehenge that was created with – you guessed it – cars. Ash Hollow Cave is part of Ash Hollow State Historical Park and served as a waypoint for covered-wagon travelers along the Oregon-California Trail. The Willa Cather House shares the childhood and life of the famous author who wrote about American pioneer life.
Finally, be sure to visit some of Nebraska's national historic sites. The William Jennings Bryan House in Lincoln is a National Historic Landmark that was the home of the famed politician. The Coufal site is an archaeological site that protects a Native American village in the Central Plains tradition. There are at least 22 earth lodge sites here. The USS Hazard is a minesweeper that served in the U.S. Navy during World War II. It is now open to the public at Freedom Park on the Missouri River waterfront in East Omaha.
Festivals, fairs, and events in Nebraska
You may end up in Nebraska at the same time as a festival, fair, or other event in the state. Or you may even plan your entire trip around one of Nebraska's events!
A Taste of Omaha features food from many of Omaha's great restaurants. You'll also get great entertainment and fun kids' activities. The event attracts people from all over the Midwest for the weekend. The Nebraska State Fair happens in Grand Island each summer and has a rodeo, more than 15,000 exhibits, more than 12,000 animals on display, and live concerts and delicious fair food.
Many Nebraska events feature camping right on-site at the venue. If not, there are lots of campgrounds nearby where you can stay. You can also check your rental listing – some owners will set up their rentals on location for a fee. That way, you can show up and get right to the festivities!
Exploring Outdoor Activities in Nebraska
Nebraska has lots of outdoor activities for visitors to try! From hiking to mountain biking to fishing and swimming, you're sure to find something to do here.
Hiking, biking, and nature trails
Hiking is a great way to explore Nebraska! Hiking is an inexpensive way to see the state, and it's an activity that can be tailored to any age or ability. Here are some of the best trails in Nebraska:
If you'd rather mountain bike than hike, there are lots of mountain biking trails to ride as well! Here are a few to try:
If none of these trails suit you or the people you're with, AllTrails has lots of suggestions for trails to enjoy.
Fishing, boating, and water activities
There are lots of ways to get out on the water and enjoy being outdoors! You can go fishing in Nebraska at Lake McConaughy near Ogallala. Lake McConaughy is a great spot for catfish, smallmouth bass, rainbow trout, and walleye. Branched Oak Lake is home to bluegill, blue catfish, carp, flathead catfish, crappie, and many more kinds of fish. Campgrounds at Branched Oak have showers, restrooms, dump stations, and drinking water. Prairie View Lake has largemouth bass and features a boat ramp and areas on shore where you can fish.
You can also relax at one of Nebraska's beaches. Lake McConaughy also has some great beaches where you can relax and enjoy the view. The Swanson Reservoir State Recreation Area has a great beach area with swimming, and it's also a good spot for boating and watersports. The Pawnee State Recreation Area near Lincoln has two excellent beaches, plus campgrounds, cabins, a shotgun range, and horse corrals.
Check out the waterfalls in Nebraska as well! Smith Falls is Nebraska's highest waterfall. A one-mile hike crosses a historic bridge on the way to the waterfall. Fort Falls is in the Fort Niobrara National Wildlife Refuge. The Fort Falls Upper Trailhead has a walkway and stairs that lead to a viewing platform where you can look out on the falls. Snake River Falls is on privately-owned land, but there are public viewing areas where you can see the falls. There is a small admission fee for these areas.
Wildlife viewing and photography
Looking for wildlife in Nebraska? You may see wild animals at state parks, national recreation areas, and wildlife preserves in the state. Nebraska has deer, ferrets, bison, armadillos, and a variety of other animals, birds, fish, and reptiles.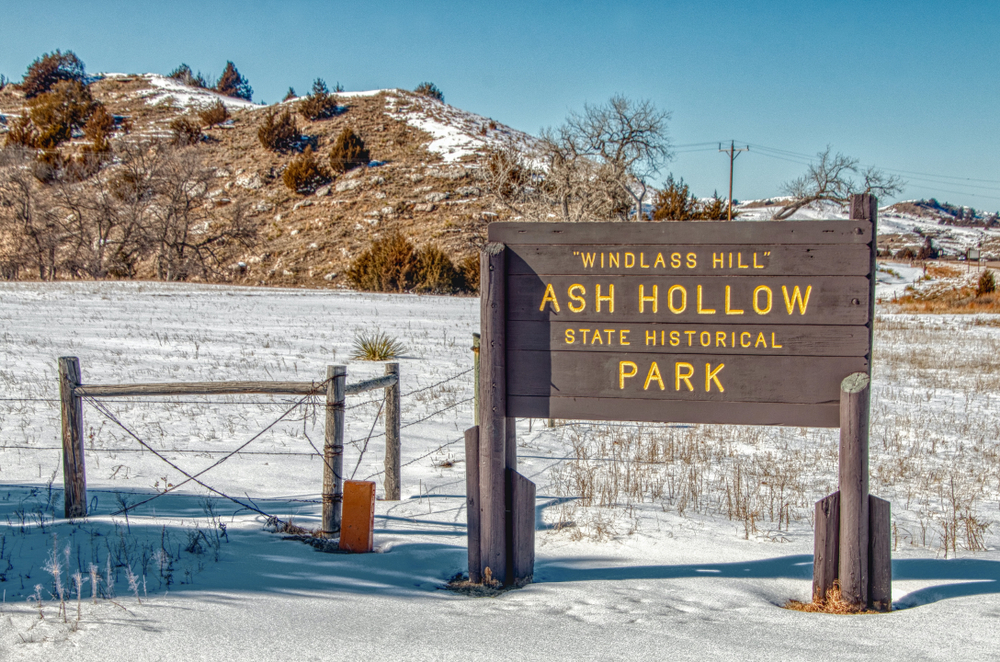 Family-friendly activities and attractions
Bringing the kids on a family road trip? There are lots of activities in Nebraska for the entire family to do! Whether you want to spend the day at an amusement park, learn about state history, or explore the state's natural beauty, you'll find plenty to do.
Historical sites and museums
Anytime you can combine learning and fun is a great idea! You can visit a historical site or museum in Nebraska. The Agate Fossil Beds National Monument preserves full skeletons of extinct Miocene mammals and commemorates the friendship between rancher James Cook and Chief Red Cloud of the Lakota. The Homestead National Historical Park honors the attempt to make land ownership more democratic for some people under the Homestead Act. It also looks at the effect the Act had on Native Americans who lived on the land the government gave away. You'll gain a new understanding of the law that changed the United States forever.
Amusement parks, zoos, and wildlife refuges
Spend a day enjoying the thrills of a Nebraska amusement park with the family! The Fun-Plex Waterpark and Rides is in Omaha and has a waterpark where you can cool off in summer. Enjoy waterslides, a lazy river, and a calm area for little kids. The Island Oasis Water Park is another great place to cool off! Enjoy the lily pad walk, a log walk, water basketball, and several waterslides. There's also an area for little kids to splash and play.
You can also enjoy a day at the zoo in Nebraska! Omaha's Henry Doorly Zoo is one of the best in the world, and you could spend several days exploring the entire area. It's also the most explored attraction in Nebraska. The Lincoln Children's Zoo features interactive exhibits concerning the 400 animals that live there. The Horn T Zoo is a small zoo in Monroe that's open every summer. You can see zebras, ringtail lemurs, birds, and other animals.
If you want to see animals in the wild, you can visit one of Nebraska's wildlife refuges. The North Platte National Wildlife Refuge is in the Nebraska Panhandle and is an important place for migratory birds. Watch for mallards, Canada geese, and bald eagles. The Fort Niobrara National Wildlife Refuge is along the Niobrara River and is a breeding ground for native birds.
Safety and Preparedness when RV Camping in Nebraska
An RV trip to Nebraska is sure to create lifelong memories for everyone involved! However, you'll want to know the natural disasters and dangers in the state so you can be prepared in case of an emergency.
Weather conditions and natural disaster preparedness
Nebraska's most common natural disasters are thunderstorms and tornados. To prepare for a tornado in Nebraska, you may want to download some weather apps and set alerts in case of danger. Keep an emergency bag with flashlights, a radio, food, and water in case you need to evacuate. Ask your campground host where the nearest tornado shelter is. If you get a tornado warning, leave your RV and head to the shelter until you're cleared to return.
Wildlife encounters and precautions
Wildlife you may encounter in Nebraska includes bison and mountain lions. Bison may seem harmless, but they can run quickly and can charge people if they get too close. You can use the thumb trick to see if you're too close to a wild animal. Hold your arm in front of you and give a "thumbs up," blocking the animal. If you can see the animal around the edges of your thumb, you're too close.
More Inspiration for Your Nebraska Travels
An RV camping trip to Nebraska is a great way to see the state! You can learn about Nebraska, appreciate the natural beauty of the plains, and make lasting memories.
If you'd like to learn more, you can check out the resources below:
This post may contain affiliate links.