Beaches
Last updated on June 19th, 2023. Originally published on June 20th, 2023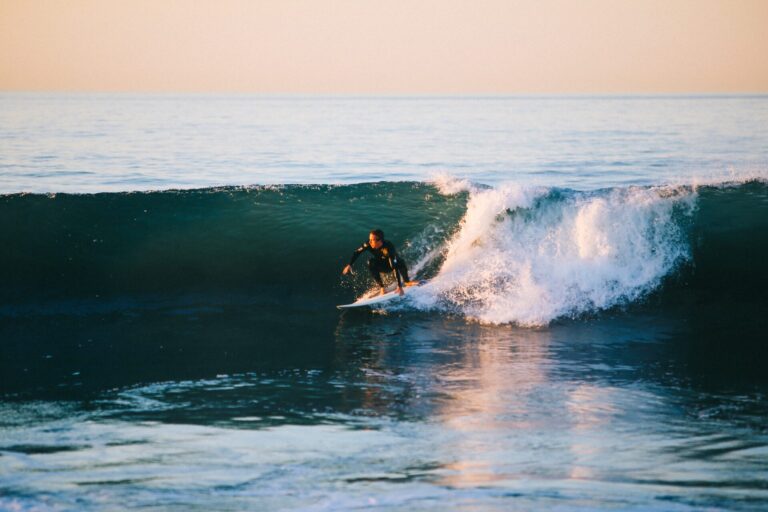 Picture this: You're cruising along a coastal highway, with the wind in your hair and the sound of crashing waves in the distance. Your favorite tune is on the radio and your surfboard is loaded up on the roof. You're about to have a totally epic summer surfing adventure!
Whether you're brand new to the hobby or an old pro, surfing is an awesome way to spend your summer days. Not only that, but traveling to surf in new places is a great opportunity to see the world and meet new people while doing something you love. The US is full of incredible and unique surfing destinations, so why not see them all?
Of course, you will need a place to stay during your surfing adventures. One of the best lodging options when on a surfing road trip? An RVshare rental RV, of course! An RV will allow you to park close to (or sometimes even on) the beach while giving you plenty of room for your gear and all the comforts of home.
In this article, we will list the best of the best when it comes to US surfing destinations, each followed by a link to help you find the perfect rig to go along with that locale.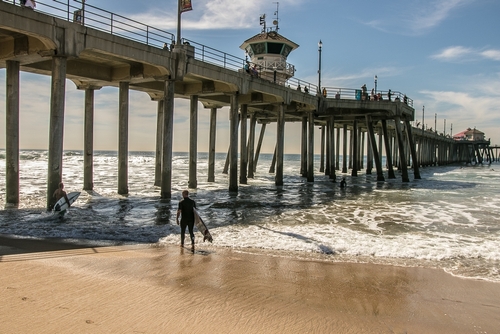 West Coast Wonders: Riding the Pacific Waves
Some of the most well-known surfing destinations in the country are found in California. That said, many don't realize that there is actually good surfing all along the west coast, even up into Washington State. Why not take a west coast surfing road trip to try them all?
California Dreaming: Iconic Surf Spots
First on our list of west coast surfing destinations? California, of course! Try these places for a great surf.
Santa Cruz
Santa Cruz is easily one of the most popular surfing destinations in the world. It is home to Steamer Lane and Pleasure Point, both excellent and well-known surfing locations that offer consistent waves for all skill levels. Once you've dried off, be sure to check out the Santa Cruz Surfing Museum for a bit of extra surf-related fun.
Huntington Beach
Known as Surf City USA, this vibrant coastal city boasts world-class breaks, a beautiful 10 miles of uninterrupted beaches, and a vibrant surfing culture. To make a good thing even better, this area sees relatively warm temps all year long. In our opinion, Huntington Beach should be at the top of any avid surfer's list of must-visit places.
Rent an RV in Huntington Beach!
Malibu
Malibu is a must-visit destination for surf enthusiasts. First Point is perfect for longboarders, and Second Point is ideal for those looking for a challenge. For a huge thrill, visit in August or September for the right conditions to attempt to surf the entire length of Surfrider Beach.
Believe it or not, Oregon has some excellent surfing opportunities as well. Here are some of the best.
Cannon Beach
You'll love the unique beauty of Haystack Rock and watching the sunset behind it after a day of tackling challenging waves at Cannon Beach. When you're ready for a break from surfing, be sure to check out some Goonies filming locations as well!
Newport
Hoping to take some friends or family who are new to surfing while still having a fun time yourself? The Yaquina Bay jetties and South Beach State Park offer a mix of reef and beach breaks suitable for different skill levels, meaning you can get your thrills while they learn.
Washington's Rugged Coast
Grab a wetsuit and get ready to hit the waves on the gorgeous Washington coast. You'll love these surf spots.
Westport
With its consistent swells and wide sandy beaches, Westport is a popular destination for surfers of all abilities. Hit up Westhaven State Park if you're a beginner, go to Halfmoon Bay during the winter and spring, or check out the Finger Jetties for some long, clean waves (under the right conditions, of course).
La Push
Located very near the gorgeous Olympic National Park (a must-see while in the area), La Push is an amazing place to hang ten. This coastal community is home to First, Second, and Third Beach, where impressive waves crash against the rugged coastline. Experienced surfers can head to nearby Neah Bay for swells that sometimes reach 15 feet or more.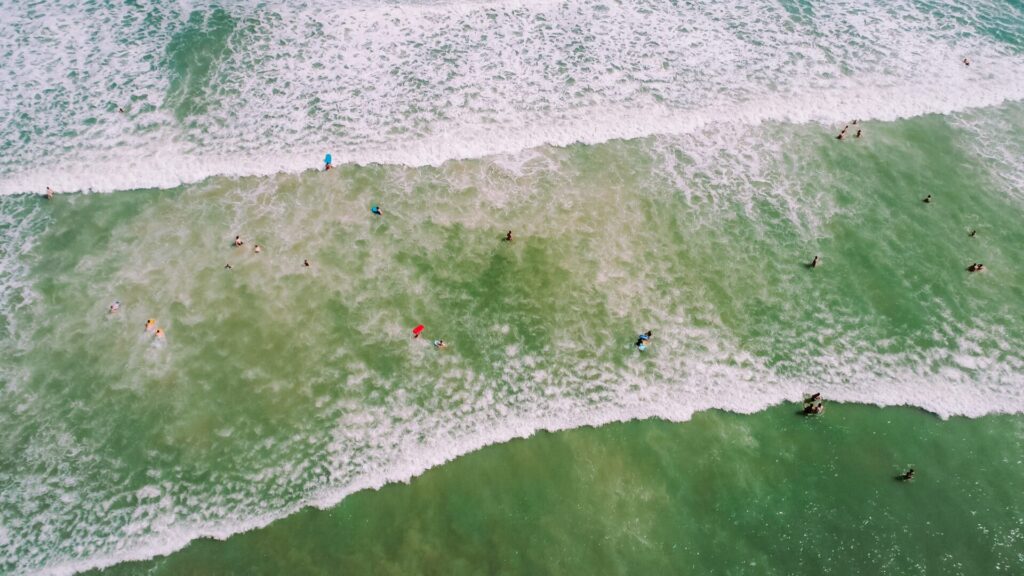 Sun, Surf, and Spectacular Shores: East Coast Delights
Of course, the east coast has plenty of awesome surf spots too! Whether you prefer the super warm waters of the Sunshine State or the gorgeous waves found in New England, we're betting at least one of these east coast surfing destinations will suit your fancy.
The Sunshine State's Surfing Hotspots
Florida is the most popular and most obvious of the east coast surfing destinations. Here are some of our favorite spots.
Cocoa Beach
Home to the iconic Ron Jon Surf Shop and the Cocoa Beach Pier, Cocoa Beach is famed for being the place to go for consistent waves and a lively surf scene. For an extra fun time, visit during the Cocoa Beach Easter Surfing Festival to see some of the best surfers out there do their thing.
New Smyrna Beach
It may be known as the "Shark Bite Capital of the World," but many consider surfing at New Smyrna Beach to be well worth the (still relatively slight) risk. This destination offers some of the most thrilling waves in the state and is a haven for experienced surfers.
Rent an RV in New Smyrna Beach!
Surfing the Outer Banks, North Carolina
Head a bit north of the Sunshine State to Outer Banks and hang ten on some seriously amazing waves. Here are our top two places to do so.
Cape Hatteras
You may not expect much from a surf spot in North Carolina, but with its unique geography, the Outer Banks area receives the effects of almost any squall or swell that makes its way across the Atlantic. Because of this, Cape Hatteras is a haven for advanced surfers looking for epic waves.
Nags Head
Also located along the aforementioned Outer Banks, Nag Head is another spot that receives some amazing surf. Unlike Cape Hatteras (which is best for advanced surfers only), this place boasts a mix of beach breaks and sandbars suitable for surfers of all skill levels—even the brand new beginner.
Riding the Waves in the Northeast
If you don't mind chilly waters, you really ought to give surfing in the northeast a try at these awesome spots.
Montauk, New York
If you head even further north, you'll come to the beloved surf town of Montauk, NY. Featuring famed breaks like Ditch Plains and Turtle Cove, this town attracts surfers from all over. That said, you'll want to skip summer and head here in between December and March for the best swells.
Ruggles, Rhode Island
Looking for something super challenging? Head to Ruggles, RI. Known for its challenging reef breaks, unforgiving rocky bottom, and big wave potential, Ruggles is a pro surfer's paradise during the summer. Just don't give this spot a try if you don't really know what you're doing!
Atlantic City, NJ
Most people head to Atlantic City for boardwalks and casinos. The thing is, this is also an amazing place to catch some waves. The three surfing beaches in Atlantic City include Crystal Beach, Delaware Avenue Beach, and Downtown Beach. Be aware that there are no lifeguards at the surfing beaches, so you'll need a buddy.
It's Happening in Hawaii: Island Surfing
Obviously, this list absolutely would not be complete without mention of Hawaii. Some of the best surfing in the world is found in the Aloha State, and visiting this string of islands is a goal for many surfers. Why not rent a Hawaiian campervan and check it out for yourself?
Maui
It likely comes as no surprise that Maui, like all the other Hawaiian islands, has some great surf spots. Here are a couple of the best ones.
Ho'okipa Beach
Setting perfect conditions with north, northwest, west, and east swells, Ho'okipa Beach offers great surfing much of the time. This makes the beach a world-class surfing destination that many dream of visiting. That said, because of riptides, sharp rocks, and reef, this spot is probably best for more experienced surfers.
Note: Ho'okipa Beach is considered the windsurfing capital of the world, so if you've ever wanted to give this sport a try, this would be a good spot.
Honolua Bay
Described by champion surfer Mark Richards as offering "the best wave in the world," Honolulu Bay is the place to go for an amazingly long ride. The bay does get crowded, but it's manageable and well worth it for the incredible hollow waves out at the reef break.
Oahu
Home to some legendary surfing, Oahu is probably the best place to hit the waves while in Hawaii. Here's where you should go.
Waikiki Beach
Waikiki has surf spots for all skill levels, but we find it is especially ideal for beginners who are just looking to get their feet wet (pun intended). There are surf schools throughout the area for those looking for a bit of instruction, and spots like Canoes, Queens, and The Wall provide the perfect forgiving-yet-fun waves for those without much experience (or those who just want to take it easy).
Kauai
It may not quite compare to Waikiki, but Kauai has some amazing surfing beaches of its own. Try the two below!
Hanalei Bay
An absolutely gorgeous place, the crescent-shaped Hanalei Bay is one of the most photographed spots in all of Hawaii. In addition to all that beauty, this place also offers surfers the time of their lives. The sandy bottom provides a soft landing pad, the shore breaks that show up during summer are perfect for beginners, and the wild winter waves are ideal for those after a challenge.
Shipwreck Beach
Shipwreck Beach is one of the most popular surfing spots in Kauai, and for good reason. The waves here can grow to enormous heights, providing amazing opportunities for experienced surfers looking for some thrills. That said, the days with calmer waters provide waves that are fine for the novice.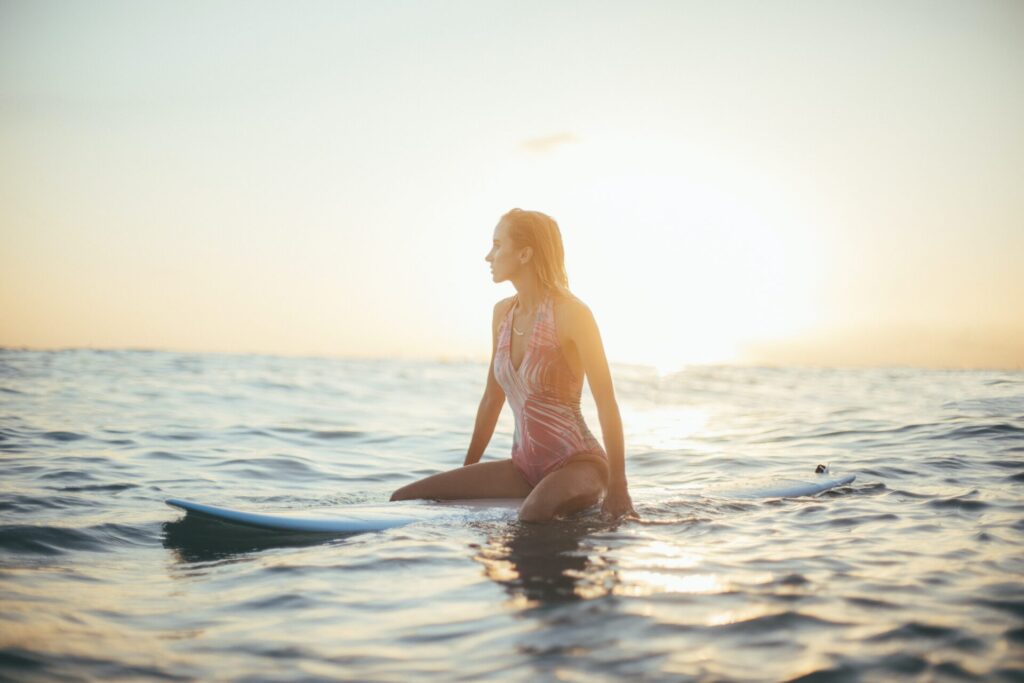 Nobody is surprised when you say you're going surfing in California, Florida, or Hawaii, but what about Texas, Alabama, or the Great Lakes? Below, we've listed some of the lesser-known surfing road trip destinations out there, as well as some places you might expect to find surfboards but not necessarily RVs.
Great Lakes Surfing: Exploring the Inland Waves
Want to do something truly different? Grab a board (you'll need a wider and thicker one) and head to the Great Lakes. Yes, you read that right!
Lake Superior
At Lake Superior you can experience the raw power of the largest freshwater lake in the world at spots like Stoney Point and Black Rocks. Surprisingly, this lake has some pretty sweet waves, but you may have to wait for a storm to roll through to get them. You'll also have to deal with freezing waters, so be ready with a wetsuit!
Lake Michigan
You could also choose to discover the unexpected surf scene in Chicago. Alternatively, you could catch the waves that Lake Michigan has to offer at New Buffalo, Saugatuck, and Grand Haven. Just like in Lake Superior, the water will be cold and you'll have to wait for strong winds for good waves, but many thrill-seekers find it worth it.
Gulf Coast Gems
Believe it or not, there are some excellent surfing destinations along the Gulf of Mexico as well. Check out these gems!
South Padre Island, Texas
Spending time in Texas? You may not think of it when you think of surfing, but South Padre Island offers warm waters and the best surfing in the state. Isla Chance Beach Park is a particularly nice place to hit the waves. Here you'll get good, consistent waves pretty much no matter what.
Rent an RV in South Padre Island!
Orange Beach, Alabama
Another spot with nice warm water, Orange Beach is an unexpected but perfect pick for surfers of all levels. Experience the laid-back atmosphere of this southern beach at places like the ever popular Alabama Point, the less crowded Spuds, and Terry's Cove, which is ideal for beginners.
Clearly, there is no shortage of amazing places to hit the waves in the United States. From the famous surf towns in California to the unexpected surfing opportunities in the Great Lakes, there are dozens of new spots to check out and plenty of gnarly waves to surf.
Why not rent an RV and grab your board and wetsuit today so you can get started right away? We're betting you have an amazing time trying out some new surf destinations, and you might even find some hidden gem surf spots while you're out exploring.