Travel Inspiration
March 3rd, 2022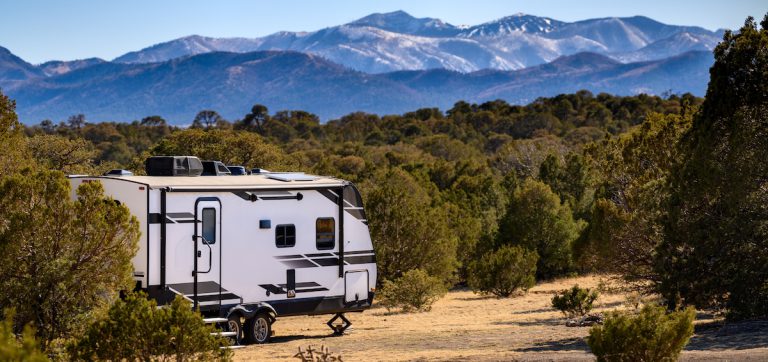 If you need to escape for a few days and are longing for some quiet time, heading out to a secluded location in an RV is just the thing. But where do you look for a bit of peace where you won't be packed in next to your neighbors? We've pulled together a list of some great remote places to rent an RV and and get off the grid.
BLM Camping
One of the best ways to get away from the crowds is to camp on Bureau of Land Management (or BLM) land. These public lands offer multiple ways to camp including developed campgrounds (some with a fee and requiring reservations) and dispersed camping (free, first come basis). You'll find more BLM-managed land in the western states and can typically camp for up to 14 days. When camping on BLM land it's very important to follow Leave No Trace practices and leave your campsite the same or better than you found it.
Carbella Recreation Site, Montana
If you're visiting Yellowstone National Park but want to avoid the crowds, head to Carbella Recreation Site. This camping area is on BLM land in Montana, along the upper Yellowstone River. It's located about 20 miles north of the north entrance to Yellowstone in Gardiner. From here you can visit the national park, or choose to spend time at the recreation site for more peace and quiet. We've got some great local RV rentals to get you to this peaceful spot.
Organ Mountains National Monument, Las Cruces New Mexico
How about heading to the desert for wide open space? There are several camping areas around Organ Mountains National Monument in Las Cruces, New Mexico that are free BLM camping spots such as Baylor Canyon Dispersed Camping and Achenbach Canyon Dispersed Camping. Besides admiring the mountain views, there are several national parks nearby to visit like White Sands National Park and, Carlsbad Caverns National Park. Las Cruces is a short drive if you need to run into town. Here are some great local RVs to get you there.
Canyons of the Ancients National Monument, Colorado
While crowds head to Rocky Mountain National Park in summer and the various ski towns in winter, head to Canyons of the Ancients National Monument in southwestern Colorado for more peace and quiet. Enjoy the sweeping views of red canyon walls, learn about the Ancestral Puebloan culture, and enjoy the solitude. Mesa Verde National Park is only 12 miles away, and you're about 50 miles west of Durango. Head to Cliff Camp on BLM Road 4725 for dispersed camping. It's far off the beaten path and down a dirt road, so you'll be sure to have peace and quiet. Here are some great RV rentals in the area.
Private Campgrounds
If you don't want to boondock, you can also head to private campgrounds in remote locations. While you won't have true solitude like you can find while dry camping, you'll have all the hookups and amenities you need.
Tok RV Village & Cabins, Alaska
If you want peace and solitude, head to Alaska! Most RVers stick to visiting the lower 48 states, so if you head up this way you'll be sure to deal with less crowds and meet other adventurous people like yourself. Tok RV Village & Cabins in Tok, Alaska is a great base to use while you go on your adventures. The remote location makes it a fantastic place to escape and spend your time fishing, hiking, wildlife watching, or exploring Alaska's amazing national parks. Check out these great RV rentals in Alaska.
Guadalupe Mountains National Park, Texas
Want to see the beauty of the national parks but hate the crowds? Not to worry, just head to some of the least visited parks like Guadalupe Mountains National Park in Texas. There aren't a ton of amenities at this park, so bring food, water, and fill up on gas before you head out this way. But that means less people and more solitude for you! If you don't want to dry camp in the park itself, Camp Washington Ranch is a nearby campground and venue that only has 3 RV spots and few amenities, so you'll be able to find peace and solitude. Need an RV? Here are some great local rentals.
Anastasia State Park, Florida
Quiet beaches can be hard to find, but Anastasia State Park in St. Augustine, Florida has 1,600 acres of beaches, tidal marshes and sand dunes where you can escape. There are 139 campsites for RV and tents inside the park itself that are a short walk to the beach. They even have water and electric hookups. And while it won't be as remote as heading up to Alaska, it's an often overlooked beach in Florida, which is great for those looking to escape the beach crowds. Check out these RVs to get you there.
Camping in the Woods
Another great way to escape civilization is to head to one of the many national forests throughout the country. Many of these forests have campgrounds or dispersed camping sites where you can dry camp and get away from the hustle and bustle to enjoy the quiet of the woods.
White Mountain National Forest, New Hampshire
The White Mountain National Forest in New Hampshire and Maine has everything you could want for a secluded wooded adventure. Full of hiking trails, scenic drives, and camping spots, this national forest is a great option for a quiet retreat. There are many campgrounds and dispersed camping throughout the national forest. Head to the Kilkenny Loop, an 11-mile dirt road near Berlin, New Hampshire for rustic camping spots. From here you'll be able to explore places like Jericho Mountain State Park, Moose Brook State Park, and many hiking trails to explore. We've got you covered with local RV rentals in the area to get you to this peaceful spot.
Boise National Forest, Idaho
You don't need to head too far out of a city to experience solitude. Boise National Forest in Idaho has over 2.5 million acres of wilderness to explore. There are many campgrounds throughout the park which can be reserved. Evans Creek Campground is located on Anderson Ranch Reservoir, giving you plenty of opportunity to fish and boat as well as explore the hiking trails in the national forest. Need an RV to get you to this spot? Here are some great RV rentals nearby.
Nantahala National Forest, North Carolina
If you're in a small RV or truck camper, head to Ammons Branch Campground located in Nantahala National Forest in North Carolina. There are only 4 campsites here, meaning you won't be surrounded by crowds. It's dry camping, but the sites have picnic tables and lantern hangers. From there you can spend your time explore the national forest and enjoy the serenity of the woods. There are many great RV rentals nearby if you need a way to escape.
Looking for other great places to visit away from the crowds? We've got more information on BLM land and national forests by state on RVshare.com.