Travel Inspiration
Last updated on May 26th, 2023. Originally published on May 9th, 2023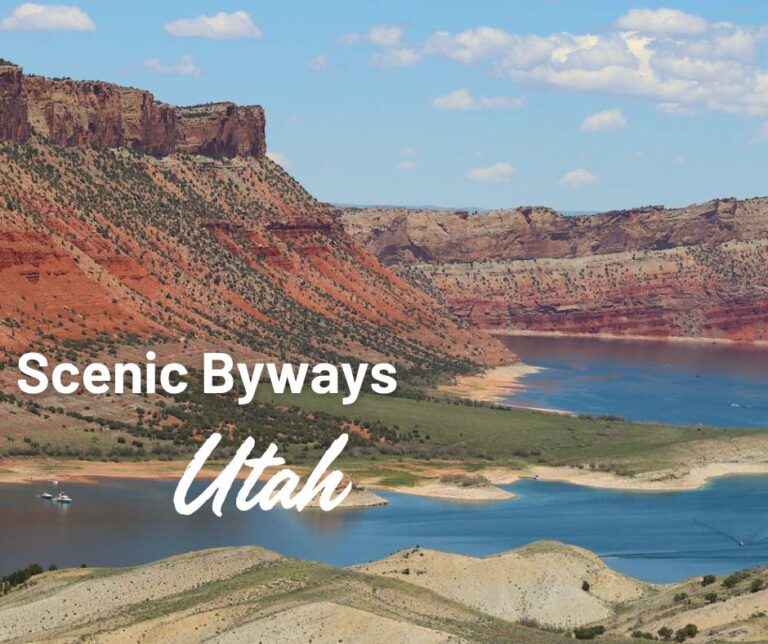 No state showcases oldies but goodies better than Utah. As you drive its byways, Earth's history is an open book. Utah's arches, hoodoos, pinnacles and canyons are a lesson in geology and erosion. Wide-ranging collections of dinosaur bones, petrified wood and fossilized sea creatures reveal nature's diversity and adaptability. Petroglyphs, arrowheads, pottery and community ruins are evidence of extensive ancient human settlements. With five national parks spread across its lower half, Utah is world-renowned for its natural beauty and peak season crowds. The scenic byways connect to lesser-visited areas throughout the state that are equally picturesque and more representative of Utah's extraordinary offerings.
Scenic Byway 12 – All-American Road
Bicentennial
Trail of the Ancients – National Scenic Byway
Dinosaur Diamond – National Scenic Byway
Colorado River
Flaming Gorge – National Scenic Byway
Logan Canyon – National Scenic Byway
Nebo Loop – National Scenic Byway
Patchwork Parkway – National Scenic Byway
Scenic Byway 12 – 124 miles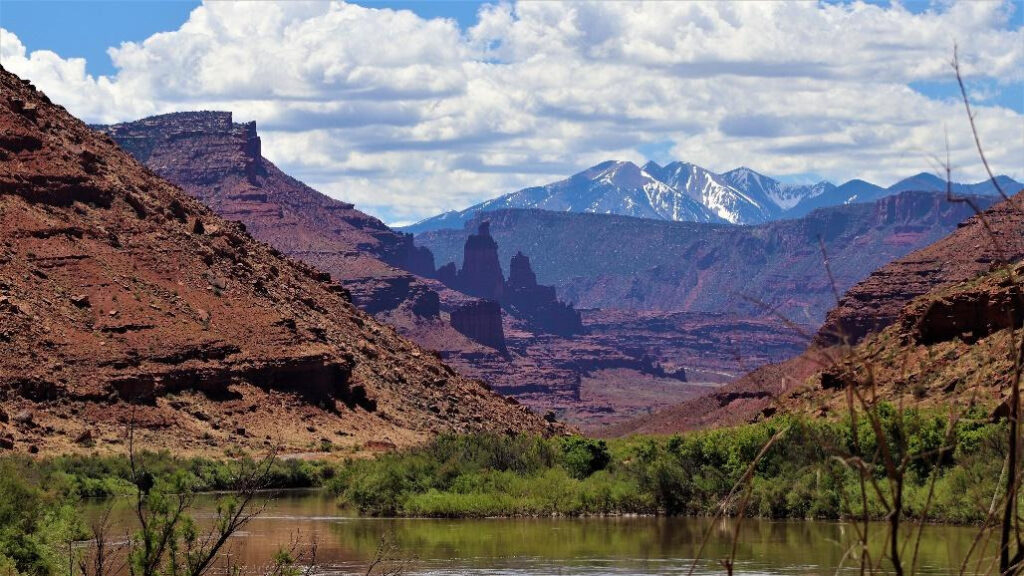 While the name is somewhat uninspiring, Scenic Byway 12 is one of Utah's most celebrated roads, connecting two national parks, Bryce Canyon to Capitol Reef, via Utah State Highway 12 with numerous other attractions along its 124 miles. The view is everything you'd want on a southwest road trip: desert landscapes, sandstone rock formations and impossibly bright nighttime skies. This is one of the best places to see the stars. But as this byway ebbs and flows, it passes by waterfalls and through forests, too. From US 89 in southcentral Utah, UT 12 branches to the east, quickly passing through Red Canyon, where ponderosa pines thrive among rock spires and weather-sculpted buttes. It's easy to see why camping, biking and hiking are popular here.
This is hoodoo country, and just up the bend lies Bryce Canyon National Park where 12 colossal amphitheaters feature the world's largest grouping of these colorful stone pinnacles. From the turnoff for Bryce Canyon, go 3.5 miles on UT 12 to the popular Mossy Cave Trailhead where a nearby waterfall is more of a draw than the cave.
At Cannonville, a right turn and eight miles gets you to Kodachrome Basin, named after the old school color film. So, you can imagine how pretty the rock formations, cliff walls and hiking trails are at this state park! Another 12 miles down a well-traveled gravel road and you're at Grosvenor Arch, one of Utah's most impressive and accessible double spans.
From Cannonville, it's about 30 minutes to Escalante, a cool little town with various camping and dining options. Escalante Petrified Forest is the second of three state parks along Scenic Byway 12. The somewhat steep hike up the mesa is worth it for the views. At the top, it's an enjoyable amble through living pinyon and juniper interspersed with fossilized trees some 135-150 million years old.
I think the prettiest section of Scenic Byway 12 is the 28 miles from Escalante to Boulder. The road curves around mounds, domes and cliffs in white, cream, orange and red as it crosses through Grand Staircase-Escalante National Monument. About 20 miles from Escalante, look for the Calf Creek Falls parking area to the left. It's 5.5 miles roundtrip but the moderate trek to this 126-foot waterfall is worth it.
Boulder is home to the third state park, Anasazi State Park Museum which features dwellings and artifacts from Ancestral Puebloan people who once lived here.
Another option to Boulder from Escalante is the RV-accessible Hell's Backbone, a gravel road penetrating national forest with a couple of campgrounds. Keep in mind that before you get to Boulder, you'll have to cross a bridge that's 109 feet long, 14 feet wide with 1,500-foot drops on either side. But the views of the Box-Death Hollow Wilderness are to die for!
Boulder is also the start of the Burr Trail, which heads east of town toward Glen Canyon National Recreation Area, Lake Powell and the Bicentennial Highway (see next entry). The road cuts through Grand Staircase-Escalante National Monument and follows a red rock canyon before precipitously dropping by several switchbacks to the desert floor. You're now in Capitol Reef National Park. Burr Trail is paved except for the switchbacks so again, do your research before attempting. At the fork, go right toward Lake Powell. DO NOT go left and deeper into Capitol Reef on the sandy, dirt road unless you're 4WD.
Back in Boulder, Scenic Byway 12 continues north through alpine woods with great views to the east. It's 50 minutes to Torrey and the west entrance of Capitol Reef.
Bicentennial – 145 miles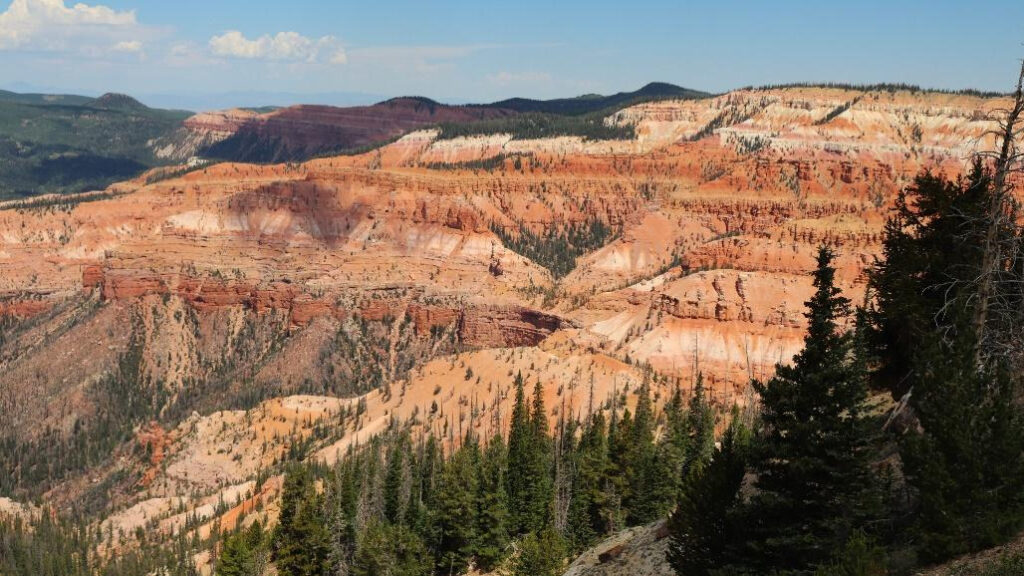 Named in honor of America's Bicentennial in 1976 which was also the year it was completed, this byway features numerous Native American and geological wonders.
Officially, the Bicentennial Highway starts east of Scenic Byway 12 and Capitol Reef National Park in Hanksville. But if you're coming from I-70, drive south on Utah State Highway 24 and stop first at Goblin Valley State Park where thousands of hoodoos crowd a shallow basin.
Look for other interesting formations as you continue south, including the imposing Kathline Rock which butts up to the highway. Continuing onto Hanksville where the byway officially begins, you'll follow Utah State Highway 95 through high desert, framed by the Henry Mountains to the west. It's desolate and isolated and then, the byway enters a gorgeous red rock canyon. You're now in the Glen Canyon National Recreation Area.
An overlook gives a wide-ranging view of the Colorado River and Lake Powell before descending into the river valley and climbing the other side. Hite Ranger Station offers camping and fuel. As the road continues southeast, Jacobs Chair and Cheesebox Butte are two other eye-catching formations, both on the left.
A five-mile detour leads to Sipapu, Kachina and Owachomo, the rock stars of Natural Bridges National Monument. Back on UT 95, in 10 miles look for a turnoff and parking area to the left. Between 700 and 2,500 years ago, Ancestral Puebloan people lived throughout this area, leaving countless ruins and petroglyphs. It's a 2-mile roundtrip hike to see one of the most remarkable dwellings, House on Fire. In late morning, depending on the time of year, the sun illuminates the ruin, creating a flame effect.
Just down the highway to the right, a short dirt road and a 100-yard walk lead to the Cave Tower Site where ruins overlook a serene canyon. This area is called Mule Canyon and the names and locations can get confusing so research before you go.
The highway continues its way through Bears Ears National Monument before arriving in Blanding, where Edge of the Cedars State Park houses one of the largest exhibits of Ancestral Puebloan pottery in the American Southwest. An almost 900-year-old macaw feather sash, turkey feather blankets, baskets, arrowheads and an authentic village makeup the extensive collection.
Trail of the Ancients – 250 miles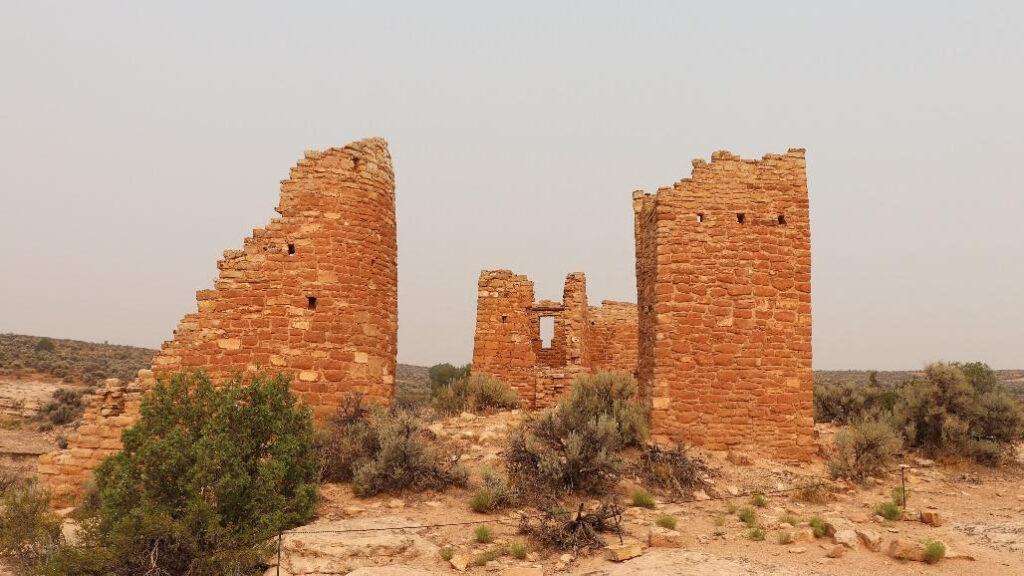 While driving this byway, history lovers quickly realize that the Four Corners region rivals Egypt, Peru, Mexico, China and other top archaeological destinations. Trail of the Ancients is complex and fascinating, giving insight to Ancestral Puebloans who built communities, hunted, farmed and raised families centuries before the United States was formed. Their accomplishments are even more remarkable when you study the landscape, realizing the harsh, dry conditions in which they thrived. Until they didn't. At some point, people vanished from the area. Extreme drought was the most likely reason, and Ancestral Puebloans moved farther south. The Navajo, Hopi and other modern Native American tribes are their descendants, mostly living in northeastern Arizona and northern New Mexico. This byway starts on the Arizona/Utah border, winds through southeastern Utah and into southwestern Colorado before continuing onto the crown jewel: New Mexico's Chaco Canyon.
On Trail of the Ancients' western end lies Monument Valley, one of the most iconic destinations in the American Southwest. Towering 400 to 1,000 feet high, sandstone formations grace the high desert. Located in the Navajo Nation, Monument Valley straddles the Arizona/Utah state line. A fee gives access to a 17-mile loop road; however, motorcycles aren't allowed, and I wouldn't drive an RV on it either. Instead, book a tour with a local Navajo guide. Traveling in a vehicle equipped for the rocky, sandy terrain, you'll have an experienced driver who will take you to places not accessible on the loop. You'll hear Navajo stories about the valley's history, and many tours are timed to the sun for prime video and photography opportunities.
From Monument Valley heading north into Utah, US 163 crosses the San Juan River. Mexican Hat is named after a large sombrero-topped rock spire, located just past town on the right. Then, take a left onto Utah State Highway 261 and go a short way to UT 316 and the entrance to Goosenecks State Park, where a parking area dead ends at a cliff. Here lies one of Utah's most stunning natural features, in a state loaded with them. One thousand feet below, the San Juan River snakes through a canyon it's eroded into a series of sharp curves over the last 300 million years. Laced with symmetrical ridges, the walls and buttes look like perfectly sculped cakes. Back on UT 261 and heading north, RVers be wary of the Moki Dugway. Built during the 1950s to haul ore, the Moki Dugway is literally dug into steep cliffs. At 15 mph, it's three miles of sheer terror lasting about 10 minutes. Actually, the gravel road is very well-maintained and wide enough for two cars to pass. So, it's not that scary (gulp). After ascending the 11% grade to the top of Cedar Mesa, you'll be rewarded with sweeping views.
If you prefer to skip the Moki Dugway, go back to US 163 and continue to Blanding, about 50 minutes north.
Valley of the Gods is another option. Right before pavement ends and the Moki Dugway starts, look for a dirt road and sign to the right. In dry weather, Valley of the Gods is an easily navigable route skirting the base of Cedar Mesa for 17 miles before reaching US 163. From this point, it's 45 minutes to Blanding. Referred to as a mini–Monument Valley, Valley of the Gods is classic southwest with massive rock formations named Battleship Rock, Setting Hen, Rooster Butte and Buddha in the Bathtub. This is BLM country so it's open for camping, biking, hiking and backpacking.
Back above the Moki Dugway, UT 261 continues north across Cedar Mesa before intersecting UT 95 and Bears Ears National Monument. Here, Trail of the Ancients merges with the Bicentennial Highway so check above for info on Natural Bridges, House on Fire, Cave Tower Site and Edge of the Cedars State Park. From Blanding, go south on US 191 15 miles and then take a left onto UT 262. Follow the signs to Hovenweep Road, Cajon Mesa Road and Reservation Road before arriving at the entrance to Hovenweep National Monument, 31 miles from US 191. Sounds confusing but it works; however, be wary of GPS. It's best to save directions to your phone before heading out. Everything about Hovenweep is satisfying: its name, the campground, the remoteness and peaceful canyon-side location. A moderate two-mile loop trail leads past the stoic Square Tower ruins and down to the canyon floor before returning to the park's visitor center. Square Tower is one of six prehistoric villages that make up this sprawling monument. Once home to more than 2,500 people, Hovenweep's communities were built between CE 1200 and 1300. Located 10 miles south, Cajon is my other favorite ruin. Ask at the visitor center for directions and conditions.
Next to Hovenweep lies Colorado's equally amazing Canyons of the Ancients National Monument. From Hovenweep's visitor center, it's 42 miles on country roads to Dolores and the exhibits at Canyons of the Ancients Visitor Center & Museum. Today, hiking, hunting, ranching and energy development are important. Driving through scrubland and past farms, it's humbling to realize that humans have been active here for at least 10,000 years. This region contains the highest known archaeological site density in the United States; it's estimated up to 30,000 historical locations exist. 8,300 are recorded and include villages, granaries, reservoirs, great kivas, cliff dwellings, shrines, sacred springs, agricultural fields, petroglyphs and sweat lodges. But time, weather, erosion and human destruction haven't been kind. Most sites are rubble or lie covered under soil and vegetation. Still, excavation continues, and Painted Hand Pueblo and Lowry Pueblo are must-sees. The Escalante Pueblo is the easiest to reach; it's located on a hill behind the Canyons of the Ancients Visitor Center & Museum.
The last stop on this road trip is the most famous. From Dolores, it's another 20 minutes to Mesa Verde. The national park's scenic drives, hiking trails, campgrounds and petroglyphs live up to the hype. Mesa Verde contains some of the world's best preserved cliff dwellings and should not be missed. But you'll need to make reservations to tour some of them so plan ahead.
Trail of the Ancients picks up in the Land of Enchantment with Aztec Ruins National Monument, Salmon Ruins and the incomparable Chaco Culture National Historical Park. Look for this entry in our New Mexico section.
Dinosaur Diamond Prehistoric Highway – 550 miles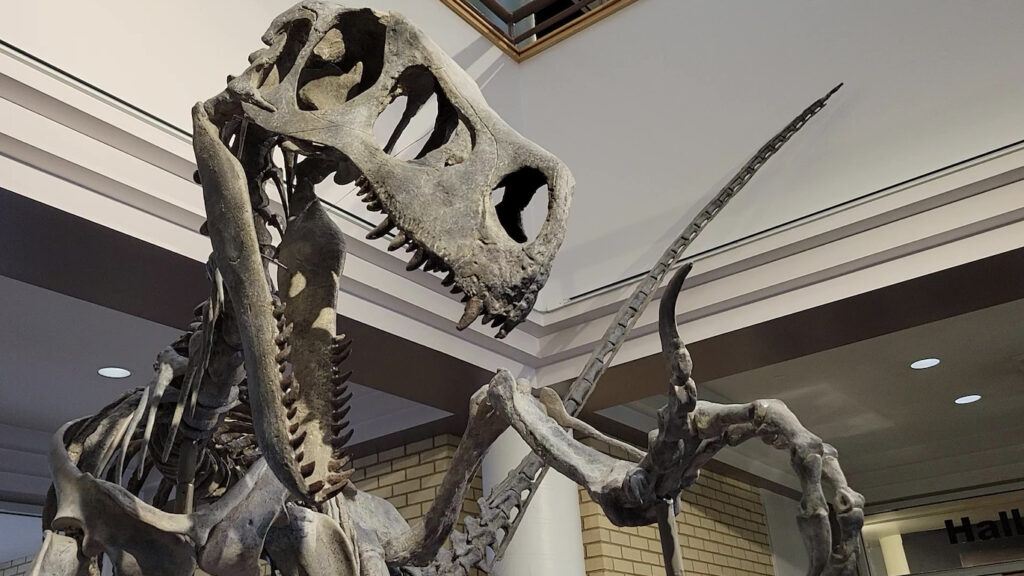 There's really nothing like the Dinosaur Diamond. Like its supersized namesake, this byway is big in every respect: the monstrous lizards, vast distances, remoteness and stunning petroglyphs. Covering 550 miles, this circular route crosses a lot of ground in eastern Utah and western Colorado.
From Salt Lake City, it's two hours east to Duchesne where you'll join the Dinosaur Diamond and US 40 as it rolls through farmland and small towns until reaching Vernal. There are numerous museums along this byway and the Utah Field House of Natural History State Park Museum is one of the best. A top draw is the dinosaur garden where you can snap selfies with several full-size replicas.
Just north of town, the McConkie Ranch Petroglyphs in Dry Fork Canyon feature numerous panels on a cliff face. The petroglyphs are easy to reach and in great condition. Created by the Fremont people, they are thought to be 800 to 2,000 years old.
From Vernal, it's a quick drive to Dinosaur National Monument. The highlight is Quarry Exhibit Hall where an exposed wall contains 1,500 dinosaur fossils naturally encased in stone. This large monument features petroglyphs, camping, river rafting and hiking. It straddles two states, and the Colorado side has particularly striking views. To reach one of the best, continue east on US 40 to the town of Dinosaur. Another 2.5 miles and you'll see Harpers Corner Road to the left. This paved road heads 32 miles north into the monument with incredible panoramas along the way. It dead ends at Harpers Corner where a moderate hike across a butte stops at cliff's edge, the confluence of the Green and Yampa rivers far below.
Back in the town of Dinosaur, the byway continues south on Colorado State Highway 64 to Rangely. There's a lot of rock art in this area, particularly on Dragon Trail Road and CO 139 so research before you visit. The Carrot Men panel on Dragon Trail is pretty much everyone's favorite. The area south of Rangely on CO 139 has been designated Canyon Pintado National Historic District. Meaning "Painted Canyon" in Spanish, this part of the Dinosaur Diamond features several pullouts and easy hikes to petroglyphs. The signage is good but you'll also want to map it.
From Rangely, it's 78 miles across gorgeous Douglas Pass to Fruita, known for mountain biking and dinosaur bones. Dinosaur Hill has tracks and a quarry site where a Brontosaurus was excavated and removed in 1901. Nearby, the Dinosaur Journey Museum features cast skeletons, reconstructed dinosaurs and more than 15,000 fossils, making this a worthwhile visit for children and adults.
Now, the Dinosaur Diamond returns to Utah via I-70. Officially, at Cisco this byway follows the Colorado River Scenic Byway into Moab, but I believe that byway deserves its own entry so see below. Continuing toward Green River on I-70, get off at Thompson Springs and drive four miles north into Sego Canyon. The dirt road features superb rock art, a ghost town and cemetery.
Back on I-70 and three miles beyond Green River, head north on US 191. In 42 miles, look for East Mounds Road to the left. Another three miles on gravel and you're at the Buried Concretions Trailhead. This easy 2-mile roundtrip trek takes you past large, petrified tree stumps embedded in cliff walls. Well, that's what they look like, anyway. This isn't the remnants of an ancient forest. Instead, it's theorized that these circular oddities were created when water flowing through sandstone glued mineral deposits together.
Another weirdly pleasing site are the nearby Coke Oven Ruins, used for coal processing but now abandoned. Popular with history buffs, photographers and videographers, the rows of coke ovens are 16 miles east of the Buried Concretions in East Carbon.
Back on US 191, take a left onto Ridge Road as you enter Wellington. Various roads leading south will eventually get you to Jurassic National Monument and the Cleveland-Lloyd Dinosaur Quarry. It takes about 45 minutes, the drive is a mix of pavement and gravel and the quarry has seasonal dates and hours so you must plan ahead. So far, more than 12,000 bones from at least 74 different dinosaurs have been excavated. With the densest concentration of Jurassic-aged dinosaur bones ever found, the quarry features a museum and hiking trail up a large hill overlooking the dig.
Moving along to Price, this is the largest town in the area and a good place to eat, drink and be merry. It also features the sublime Utah State University Prehistoric Museum. Dinosaurs are the draw, but it also has extensive exhibits on fossils, geology and ancient humans who lived in the region.
Ten minutes north of Price is up-and-coming Helper. Tucked beneath mountains, this historic mining town offers art, a museum, coffee and a couple of good places to eat. It's an hour further north on US 191 back to Duchesne. The drive is outstanding, featuring a canyon and mountain pass. About 17 miles from Helper, look for FR 516 to the left and the Avintaquin Campground, a cool alpine option in the dead heat of summer.
Arriving in Duchesne, you've come full circle on the Dinosaur Diamond Prehistoric Highway. But wait, there's more! On a byway overloaded with attractions, the most brilliant spectacle of all just might be Nine Mile Canyon. It's an alternative drive from Wellington to Vernal, an easy backtrack from Price.
The exact reason for Nine Mile's name is unknown but the canyon is actually about 40 miles long, an important consideration when filling the gas tank. Nicknamed the "World's Longest Art Gallery," there are literally thousands of petroglyphs gracing the canyon's walls. Most were carved by the Fremont people who lived in the area 700 to 1500 years ago. An exceptional panel is called The Great Hunt, considered one of the finest examples of Fremont rock art. Most of the petroglyphs, and Fremont ruins like granaries perched on cliff walls, are actually hard to spot. You'll need a map and accurate GPS. As you drive the road, consider another amazing historical fact: the route was carved through the canyon in the late 1800s by the all black 9th Cavalry, one of the U.S. Army's segregated African American regiments.
Colorado River – 75 miles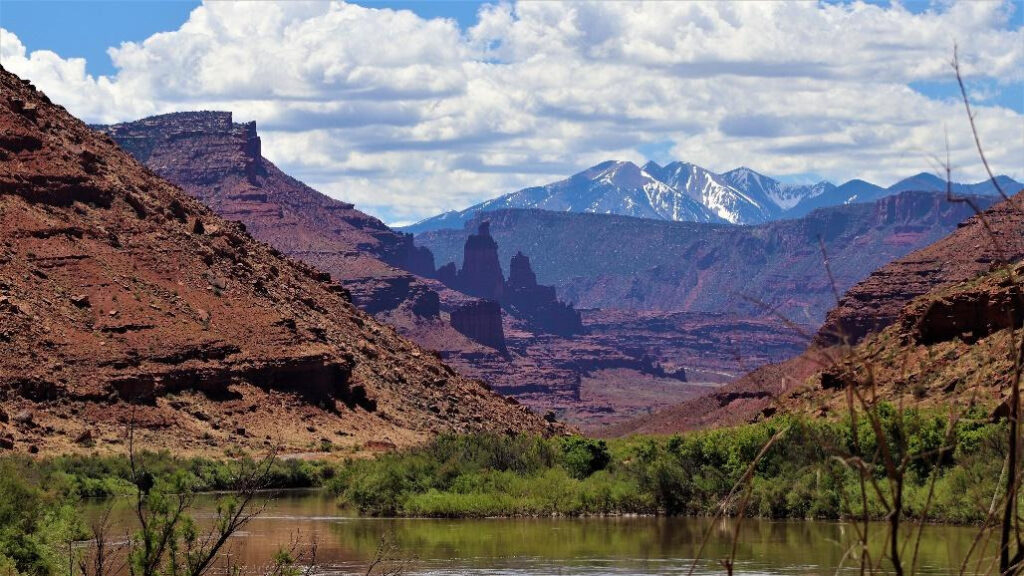 The Colorado River Scenic Byway is a section of the Dinosaur Diamond Prehistoric Highway (see above) but it needs to be considered separately, too. While most travelers arrive in Moab via US 191, a far more inspiring drive is Utah State Highway 128.
Following I-70 west into Utah, it's about 30 miles from the Colorado border to exit 204. Driving south through a harsh, barren landscape, the desert suddenly gives way to the Colorado River and a deep red rock canyon that water, wind, rain and ice continues to carve. Several campgrounds and hiking trails are found along the drive including two must-hikes.
Fisher Towers are massive sandstone fins and pinnacles. At 900 feet high, Titan is a favorite with climbers. This moderate hike winds along the base of the towers and it gets hot so bring plenty of water and sunscreen.
As you get closer to Moab on UT 128, look for rafters, kayakers and standup paddleboarders in the Colorado. Grandstaff Canyon is the next incredible hike where a trail follows a creek and then veers into desert before ending at Morning Glory Arch, the sixth longest natural rock span in the U.S.
The "upper" part of the Colorado River Scenic Byway finishes when it meets US 191 as it exits the canyon just north of Moab. If you continue three miles north on the four-lane highway, look for UT 279 to the left. This is the start of the Potash – Lower Colorado Scenic Byway.
Climbers love the section called Wall Street with cliffs like Manhattan skyscapers! Signage indicates petroglyphs and dinosaur tracks. You'll be amazed at how easy they are to spot from the main road once you know where to look. Nearby Arches and Canyonlands National Parks are frequently crowded, sometimes to capacity. So, this byway offers alternative hikes, including the two-mile roundtrip trek to Bowtie and Corona arches. The byway ends by potash ponds at a watercraft launch into the Colorado River. Though not recommended for RVs, it's worth noting the pavement turns to dirt as the road continues to follow the river into Canyonlands National Park.
Flaming Gorge-Uintas – 105 miles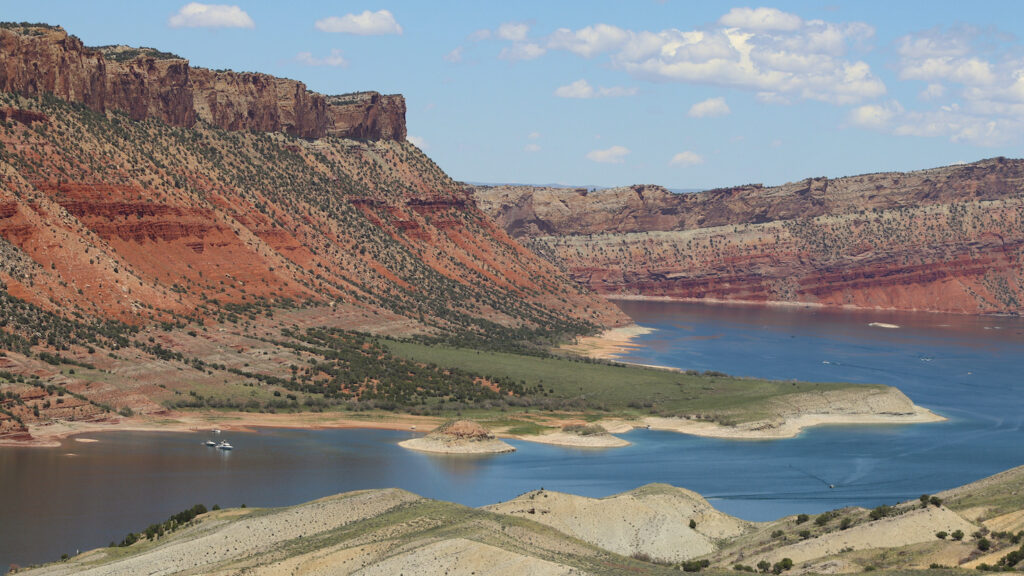 You know this drive is gonna be pretty if it's called Flaming Gorge, right? Aside from beauty, its faraway location in northeastern Utah on the Wyoming border generally means fewer people and more campground space. Driving US 191 north of Vernal and the Dinosaur Diamond Prehistoric Highway (see above), it's 11 miles to the entrance of Red Fleet State Park. But go another mile, take a right onto Donkey Flat Road and then 2.5 miles to the Dinosaur Track Site Trailhead. A moderate hike through juniper trees and across slickrock leads to the tracks, which lie in sandstone forming Red Fleet's lakeshore. I've seen better preserved dino tracks but the setting is gorgeous.
Back on US 191, look for road signs marking geologic periods. The byway is an open-air class as the drive climbs from Cretaceous, during the time of dinosaurs some 80 million years ago, to the Precambrian, about a billion years ago. You'll clearly notice the difference in many places.
US 191 then moves farther north into Ashley National Forest. To the west lie the Uintas, one of the few mountain chains in North America running east to west and the highest range in the lower 48 going that direction. Utah's tallest mountain, Kings Peak, lies in the Uintas.
At the fork, continue the steep descent on US 191 as it approaches Flaming Gorge Dam. In 1962, the Green River began flooding the region behind the block and today, the reservoir stretches 91 miles into Wyoming. The dam offers a visitor center, self-guided tour and spectacular views, particularly if you cross over the dam and drive two miles to the overlook on the opposite side. From here, you can truly appreciate why the Flaming Gorge National Recreation area is popular with boaters, paddlers, waterskiers and fishermen.
US 191 continues into Wyoming but if you return eight miles to that fork, go right off US 191 and you'll be on Utah State Highway 44. Four miles later, it's another right to the Red Canyon Overlook, where an easy walk leads to one of Utah's signature views. From the colorful evergreen-clad cliffs, it's a 1,300-foot drop into the Flaming Gorge. If you dare, hike the rim trail!
Nearby, the cliffside Red Canyon Visitor Center is also a sight: in addition to books, maps, souvenirs and exhibits, the floor to ceiling windows make it seem like you're floating over the canyon.
Back on UT 44, it's 11 miles to Sheep Creek Canyon. To the left, look for FR 218, a 13-mile side road which hooks up again with UT 44 farther north. The highlight is Sheep Creek Canyon Geological Area, a gallery of massive rock formations and cliffs, eroded into funky swirls and layers. At UT 44, take a right and head five miles east. This is the section you missed by touring Sheep Creek. And it's a doozy. Yellow, green, white and especially red color the cliffs and hills that surround blue water. That's why explorer John Wesley Powell called this the Flaming Gorge.
Logan Canyon – 55 miles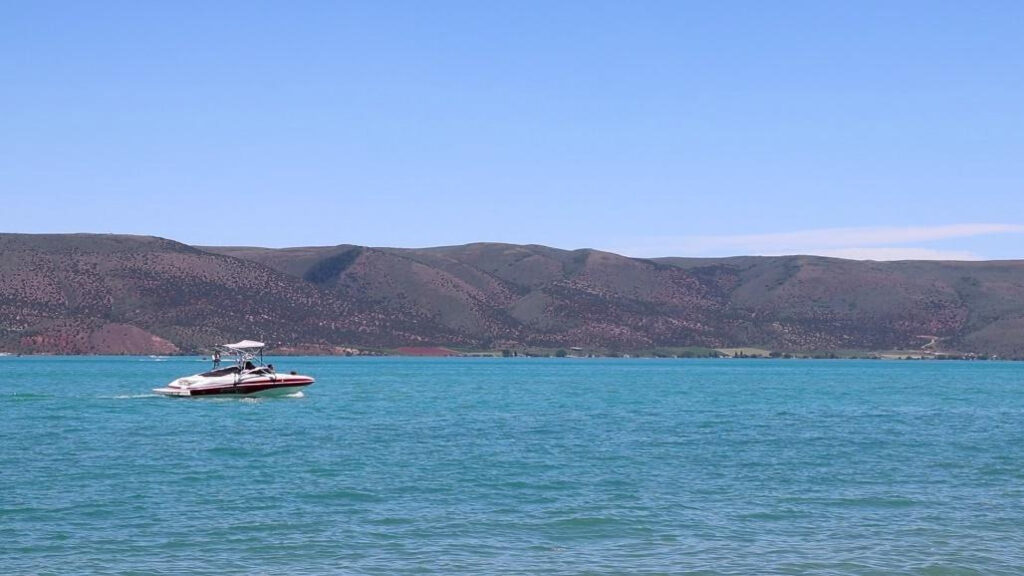 This byway explores northern Utah, veering close to Idaho before ending at a large and strikingly colorful turquoise lake. Logan is a university city about 1½ hours north of Salt Lake City, east of I-15. From downtown Logan driving east on US 89, the byway immediately becomes a stunner, climbing some 3,000 feet.
The road follows the Logan River up Logan Canyon past numerous outdoor activity areas like Wind Cave Trail and Chokecherry Picnic Area. There are also several campgrounds which fill quickly on weekends. Fly fishing is popular here, too. This is a classic outdoor mountain playground with lots of wildflowers, too.
As you head deeper into the Uinta-Wasatch-Cache National Forest, look for Tony Grove Road on the left, about 15 miles from Logan. It's seven miles to Tony Grove Lake, set below cliffs at 8,050 feet. As you wind back through aspen groves to the main road, keep a lookout for deer, elk and moose. Fall colors are predictably spectacular here.
Back on US 89, more hiking, mountain biking and camping can be found at Beaver Mountain Ski Area. As the Logan Canyon Scenic Byway descends, you might think you've been transported to the Caribbean. Split in half by the Utah/Idaho border, this 20-mile-long freshwater lake shimmers a bluish green from suspended limestone deposits. Four unique fish species have evolved in the lake, which is popular for boating, sailing, waterskiing, jet skiing and swimming.
Nebo Loop – 37 miles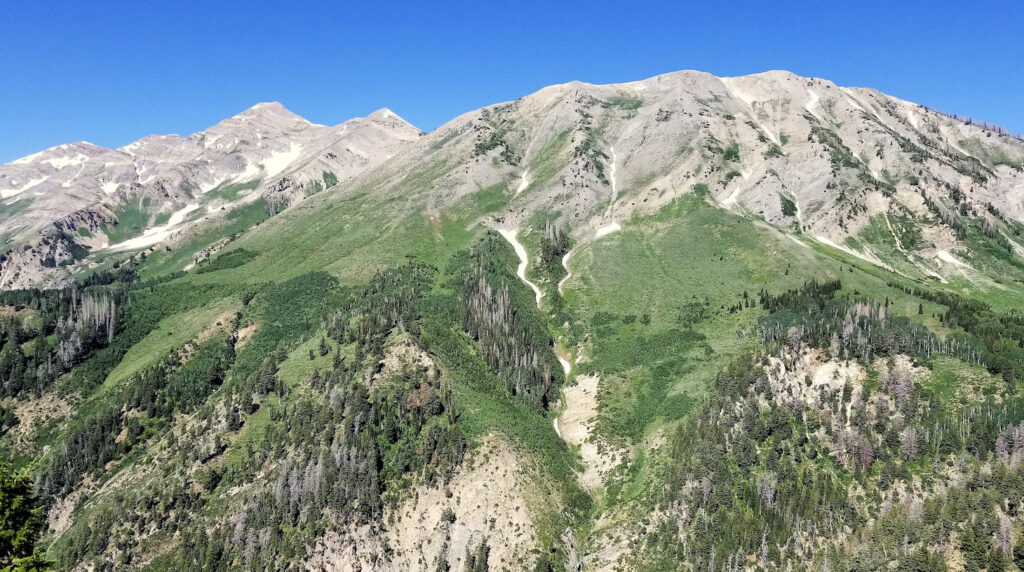 Running parallel to I-15 in central Utah, this short scenic byway focuses on alpine vistas, wildflowers and water features. About an hour south of Salt Lake City, get off I-15 in Payson and then make your way through town to the start of the Nebo Loop. It's not hard to find but you'll need to follow directions on your phone or GPS.
As the paved road snakes its way into the Wasatch Range, look for the Grotto Falls parking area, about eight miles from Payson. A quick walk leads to a waterfall which usually gushes impressively in spring and early summer before dwindling to a trickle by fall.
You're in the Uinta-Wasatch-Cache National Forest and soon you'll pass through a large, heavily burned area, a scene becoming more and more common as wildfires ravage the west during dry times. Back among healthy pine and aspen, you'll pass a couple of campgrounds, lakes and hiking trails before reaching the crest. Several pullouts have jaw dropping views of the surrounding mountains.
Of course, it wouldn't be Utah without some colorful rock formations so take the short walk at Devils Kitchen to an observation deck. It's like a mini-Bryce Canyon or Cedar Breaks as a small amphitheater lies below with pinnacles made of sandstone and conglomerate rock. Nebo Loop Road then winds to lower elevation, passing by a couple more campgrounds before ending at Utah State Highway 132. Five miles west and you're back on I-15. If you plan to camp along the Nebo Loop, be sure to make reservations. Salt Lake City's expanding metro area is within easy reach, making this area a prime target for campers.
Patchwork Parkway – 60 miles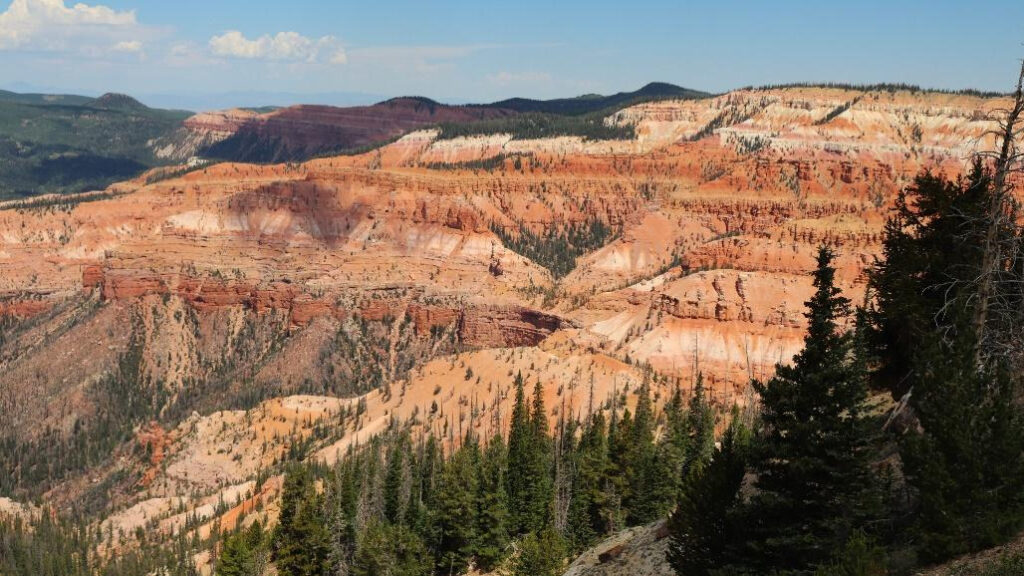 The Patchwork Parkway packs a lot of diversity and elevation into a short span. Start in Parowan, a small town in southwestern Utah on I-15. First, go west 11 miles toward Parowan Gap. Surrounded by farmland, this geological oddity is a narrow, natural passage through the Red Hills. Popular with humans for thousands of years, today people come to marvel at the intricate petroglyphs made by Native Americans long ago.
Back in Parowan, the Patchwork Parkway leaves town and immediately begins a sharp ascent through Parowan Canyon. Six miles from town, look for the Hidden Haven parking area to the left. It's an easy 1.5 miles out-and-back through forest and along a creek to a 20-foot waterfall.
Utah State Highway 143 then reaches Bryan Head, the highest town in Utah with the state's southernmost ski area. From 9,800 feet, you can drive higher still to the top of Brian Head Peak, elevation 11,307 feet, offering staggering views as far as Arizona and Nevada.
A couple miles from the peak leads to the cavernous Cedar Breaks National Monument. Sometimes referred to as a smaller Bryce Canyon, Cedar Breaks is another striking display of nature's artistry, where weather has sculpted rocks into red, orange and white pillars, bluffs and ridges.
To see more of Cedar Breaks and access campgrounds and hiking trails, follow UT 148 when it branches to the south.
This is also the way to Cedar City and though you're no longer on the Patchwork Parkway, I think the decent on UT 14 into town is actually prettier than the ascent to Bryan Head and Cedar Breaks on UT 143.
Cedar City is worth visiting, too. There's a strong art scene, headlined by the highly regarded Utah Shakespeare Festival every summer. It's also fun to investigate the historic buildings, sawmill, horse-drawn wagons and other relics from pioneer and early industrial times at the Frontier Homestead State Park Museum.
Back on the Patchwork Parkway and Scenic Byway 143, after leaving Cedar Breaks and continuing east, the highway descends through forest and ancient lava flows to Panguitch Lake where boating and trout fishing are popular. The byway ends in the town of Panguitch. In the winter of 1864, settlers used quilts to cross deep snow which separated their starving families from supplies. The byway's name, Patchwork Parkway, and a small park and statue in Panguitch memorialize their efforts.
Learn more about the thought, research, planning and promotion that goes into the designation of our beautiful Scenic Byways.