Travel Inspiration
Last updated on July 18th, 2023. Originally published on July 6th, 2023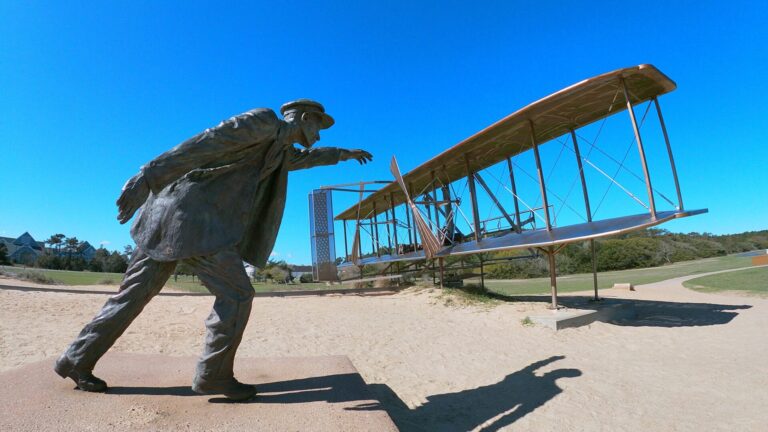 Ranking #29 out of 50, North Carolina isn't one of the largest states. But it is one of the longest, stretching more than 500 miles from the Appalachian Mountains to the Atlantic Ocean. Two of America's greatest scenic byways, the Blue Ridge Parkway and Outer Banks Scenic Byway, bookend a state with some of the best mountain and coastal landscapes in the United States, with world-class pottery in the center. North Carolina shares Great Smoky Mountains National Park with Tennessee and we've put two scenic highways from that area, Newfound Gap Road Byway and Cherohala Skyway, in our Tennessee article, coming soon.
Blue Ridge Parkway – All-American Road
Forest Heritage – National Scenic Byway
Waterfall Byway
Outer Banks Scenic Byway – All-American Road
The Pottery Highway
Blue Ridge Parkway – All-American Road – 469 miles, 252 in North Carolina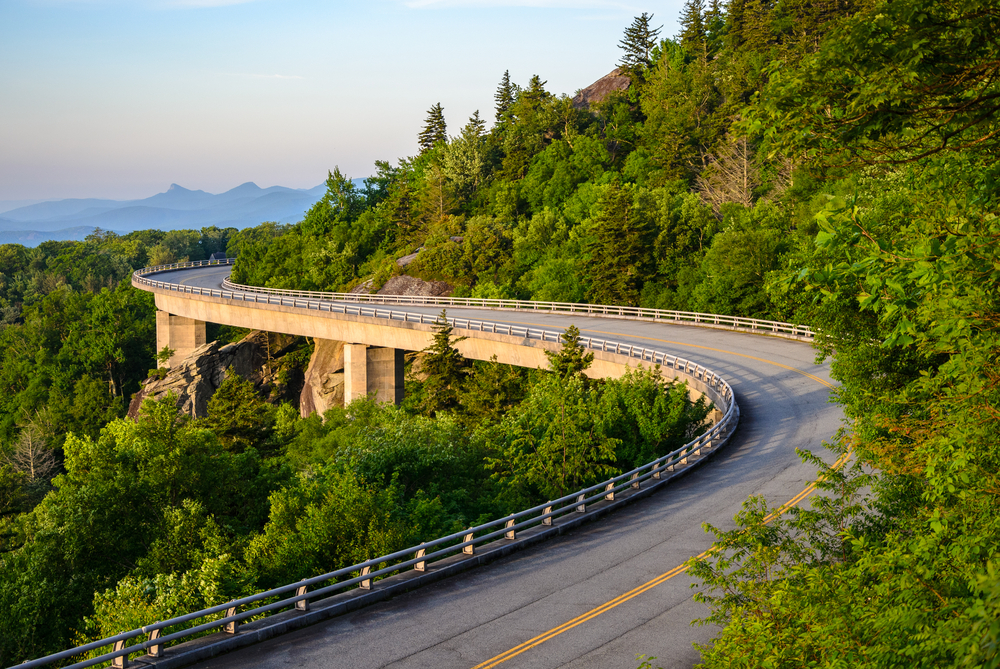 Traveling through the Appalachian Mountains, the Blue Ridge Parkway connects two prominent national parks: Virginia's Shenandoah in the north to North Carolina's Great Smoky Mountains in the south. It's one of the oldest, most popular and best-known scenic highways in the U.S. The two-lane byway is numbered with mileposts, starting with zero just south of Shenandoah National Park. 217 miles are in the Old Dominion, which you can read about in our Virginia story.
This article picks up where our Virginia piece ends, 58 miles northwest of Winston-Salem. Here's our take on the parkway's best attractions along its 252 miles in the Tar Heel State, from the Virginia border to Milepost 469 in Cherokee. We list mileposts to help locate points of interest and access points.
There are no gas stations or fast food chains along the parkway, but they're usually close by via the numerous access points connecting to major roads and towns. Meanwhile, campgrounds are scattered along the byway but you'll need to consider reservations, depending on the season. The parkway is open year-round and elevation changes can be extreme so always be aware of weather conditions.
Cumberland Knob – Milepost 217.5: Less than a mile after crossing into North Carolina, the Blue Ridge Parkway reaches this stop, with hiking trails and a picnic area. Construction of the parkway started here in 1935.
Northwest Trading Post – Milepost 259: Regional crafts and food products, souvenirs, snacks, sandwiches and restrooms make this a popular place for a short break.
E.B. Jeffress Park and The Cascades Trail – Milepost 272.5: An easy, one mile roundtrip hike leads to the 150-foot-high Cascade Falls.
Boone's Trace – Milepost 285.1: Located in an area known as Deep Gap, this marker indicates where it's believed Daniel Boone forged a route through the wilderness on one of his westward treks to Kentucky.
Blowing Rock and Moses H. Cone Memorial Park – Milepost 294: Visitor-friendly Blowing Rock features shops, restaurants and comfortable lodging if you'd like a change from camping. Moses H. Cone was a wealthy textile entrepreneur and conservationist. His country estate is now a park with beautiful views and hiking trails. Cone's mansion, Flat Top Manor, is home to the Southern Highland Craft Guild where seasonal demonstrations take place on the front porch. Inside the mansion, you can shop the gallery for turned bowls, ceramic tableware, woven garments and other superior works by regional artists.
Linn Cove Viaduct – Milepost 304: Nicknamed "The Missing Link," this elevated section of the parkway is an engineering wonder. For seven miles, the viaduct curves around Grandfather Mountain, the highest peak in the Blue Ridge. One of the parkway's 176 bridges, Linn Cove opened in 1987, the final segment of the 469-mile-long parkway to be completed.
Grandfather Mountain – Milepost 305: Just past the Linn Cove Visitor Center, exit the parkway and go west one mile on US 221 to the entrance gate and ticket booth for Grandfather Mountain. In addition to having the highest elevation in the Blue Ridge at 5,946 feet, Grandfather Mountain is also one of the world's oldest mountains with some rock formations dating back 1.2 billion years. There are hiking trails, wildlife habitats, a nature museum and the Mile High Swinging Bridge, the highest suspension footbridge in America.
Linville Falls – Milepost 316: Called the "Grand Canyon of the Southern Appalachians," Linville Gorge features rugged, 2,000-foot-high walls. Trails lead to various overlooks of the three-tiered Linville Falls as it cascades into the gorge. There's also a visitor center and campground.
Linville Caverns – Milepost 317: From the Linville Falls Visitor Center, go back to the parkway and then get off again in one mile, heading south on US 221. It's four miles to a limestone cavern system that's been open for tours since 1937.
Museum of North Carolina Minerals – Milepost 331: This part of the Appalachian Mountains is among the richest in minerals and gems in the U.S. The museum showcases more than 300 different kinds, including emeralds, rubies, amethyst and quartz as well as mining history exhibits. The museum is managed by the National Park Service with free admission.
Mount Mitchell State Park – Milepost 355: At 6,684 feet above sea level, Mount Mitchell is the highest peak east of the Mississippi River. North Carolina's first state park offers scenic overlooks, hiking trails and an observation deck at the summit.
Glassmine Falls – Milepost 361.2: From the overlook, you may see this waterfall in the distance, surrounded by forest. However, water levels vary and sometimes it dries up completely.
Craggy Gardens – Milepost 364: Renowned for the pink and purple blooms of Catawba rhododendrons that cover the area in late spring, Craggy Gardens is said to have the most spectacular floral display along the parkway. The short hike to Craggy Pinnacle offers panoramic views of the surrounding mountains.
Folk Art Center – Milepost 382: If you missed Moses Cone Manor earlier at Milepost 294, the Southern Highland Craft Guild runs this center which also features traditional Appalachian handmade crafts.
Blue Ridge Parkway Visitor Center – Milepost 384: The visitor center provides information about the parkway's history, recreational opportunities and nearby attractions. It also has exhibits on the region's cultural and natural heritage.
Asheville: Surrounded by mountains, this artsy, outdoorsy city is considered by many to be North Carolina's most beautiful and desirable place to live. Completed in 1895, the Biltmore Estate is Asheville's top attraction. The 250-room French Renaissance château was built by George Vanderbilt and features a garden, winery, hiking and biking trails, restaurants, shops and lodging but no camping.
Richland Balsam – Milepost 431: This overlook marks the parkway's highest point, elevation 6,053 feet.
Waterrock Knob – Milepost 451.2: The parkway's highest visitor center offers hiking, picnicking and particularly stunning long-range views of several major mountain chains in the Appalachians. The setting is prized for sunrises and sunsets.
Cherokee – Milepost 469: The final few miles of the parkway pass through the Qualla Boundary, home of the Eastern Band of Cherokee Indians. The capital, Cherokee, is a small town with campgrounds, cabins, restaurants and a casino. The Museum of the Cherokee Indian tells the tribe's 12,000-year-old story and was voted a Top Ten Best Native American Experiences by USA Today.
The entrance to Great Smoky Mountains National Park lies just north of Cherokee. Newfound Gap Road Byway is the main drive through the park and will be featured in our Tennessee article, coming soon.
Forest Heritage – National Scenic Byway – 80 miles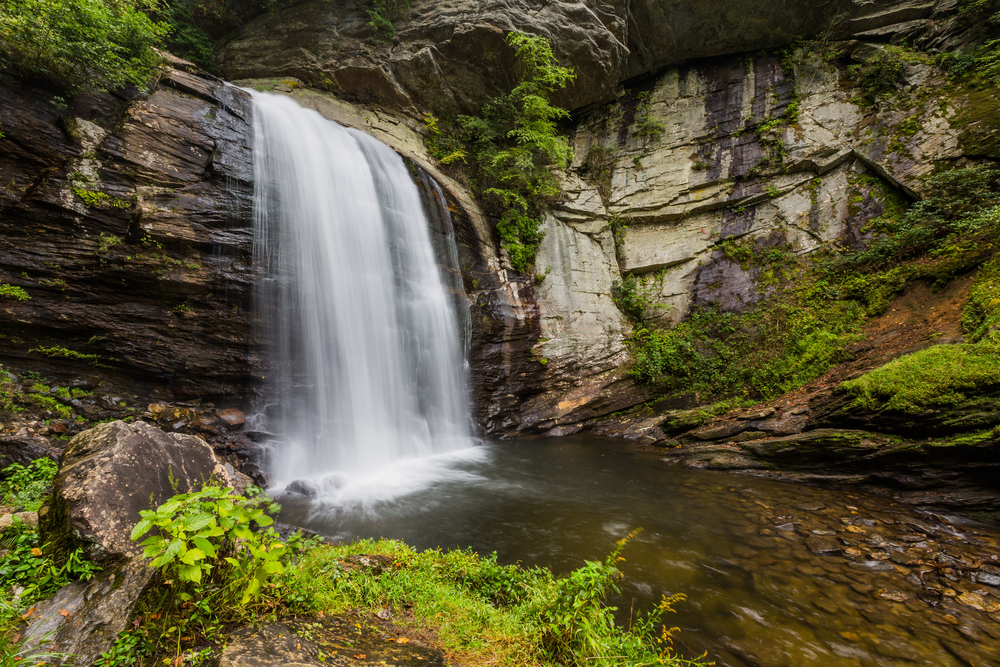 Located in western North Carolina, this circular road trip lies 2.5 hours west of Charlotte and 30-50 minutes southwest of Asheville, depending on where you access it. As the name indicates, the Forest Heritage Scenic Byway involves the trees, waterfalls, rivers, mountain scenery and history of the Pisgah National Forest.
As the area's largest town, Brevard makes a good starting and ending point. Founded in 1861, the brick buildings of its historic downtown house shops, restaurants, bakeries and breweries. Brevard is also well-known for its summer music festival which runs June through August and features topnotch symphony, opera, chamber, jazz, bluegrass and Broadway performances.
From Brevard, it's five miles north on US 64 and US 276 to the Pisgah Ranger Station where a visitor center has maps, books and exhibits. Consider asking about road conditions, bear activity and waterfall flow. Close by are hiking trails and a campground. This section of the byway runs along the Davidson River, popular for swimming and tubing. It's also considered one of the premier trout fishing areas in the southeastern U.S.
From the visitor center, continue another four miles on US 276 to Looking Glass Falls, which plunges 60 feet into a pool below. You can admire the falls from a viewing platform or take a short hike to get closer. Go another mile on US 276 to Moore Cove Falls where an easy 1.2-mile out-and-back hike leads to this 50-foot falls over a ledge.
Two miles farther along the byway is Sliding Rock, a 60-foot natural water slide that drops into an eight-foot-deep pool. The rock gets busy so come early or late if you plan to slide. Peak hours are noon to 4 pm.
The road begins to climb in elevation and soon reaches the Cradle of Forestry in America. Established in 1916, Pisgah National Forest is one of the first national forests in the eastern U.S. Before that, the area was home to America's first school of forestry. The Biltmore Forest School operated from 1898 to 1914, graduating more than 300 of the nation's first professionally trained foresters. And yes, this is the same Biltmore as the nearby Biltmore Estate in Asheville, owned and built by George Vanderbilt.
A conservationist, Vanderbilt understood the importance of forests and was the first American landowner to implement large scale scientific forestry. After George's death, his wife, Edith, completed a land sale to the U.S. government that became Pisgah National Forest. Today, the Cradle of Forestry tells this story through exhibits, trails and seven preserved Biltmore Forest School buildings. Ask for walking directions to the Apollo 14 Moon Tree, grown from a seed that traveled to the moon on a 1971 mission.
Less than a mile past the Cradle of Forestry turnoff is the Pink Beds Loop Trail. This moderate five-mile hike meanders past streams, meadows, rare mountain bogs and some very large pine trees. In the old days, rhododendron and mountain laurel blooms were abundant, hence the "Pink Beds" name. However, today the valley is more green than pink because of reforestation.
Continuing on US 276, it's about three miles to the intersection of the Blue Ridge Parkway (see article above). Head east to Ashville and west to Great Smoky Mountains National Park. Staying on the Forest Heritage Scenic Byway, the road curves north between mountain peaks before entering farmland. About 14 miles past the Blue Ridge Parkway intersection, turn left onto State Highway 215 and head south.
For the next 18 miles the byway winds uphill before intersecting the Blue Ridge Parkway again. There are more waterfalls to consider. To reach the two beauties of Graveyard Fields, head north on the Blue Ridge Parkway toward Asheville. It's 4.5 miles to Milepost 419. The Upper Falls is a moderate, one-hour roundtrip hike. The Lower Falls are an easy 20 minutes out-and-back but do include a 60-step wooden stairway.
Back where the Blue Ridge Parkway and state highway meet, go south on NC 215. For 17 miles, the byway twists and turns through wilderness with more hiking trails, waterfalls and campgrounds. When NC 215 reaches US 64, take a left for the return to Brevard. To the right is the start of the Waterfall Byway (article below).
In three miles, Morgan Mill Trout Farm will be on the left. If your fishing didn't pan out or you're up for a quick cast before lighting the dinner campfire, this public fishing pay pond has no catch limit and free trout cleaning. It's open April through October and you don't need a license. From the trout farm, it's six miles to Brevard.
Waterfall Byway – 115 miles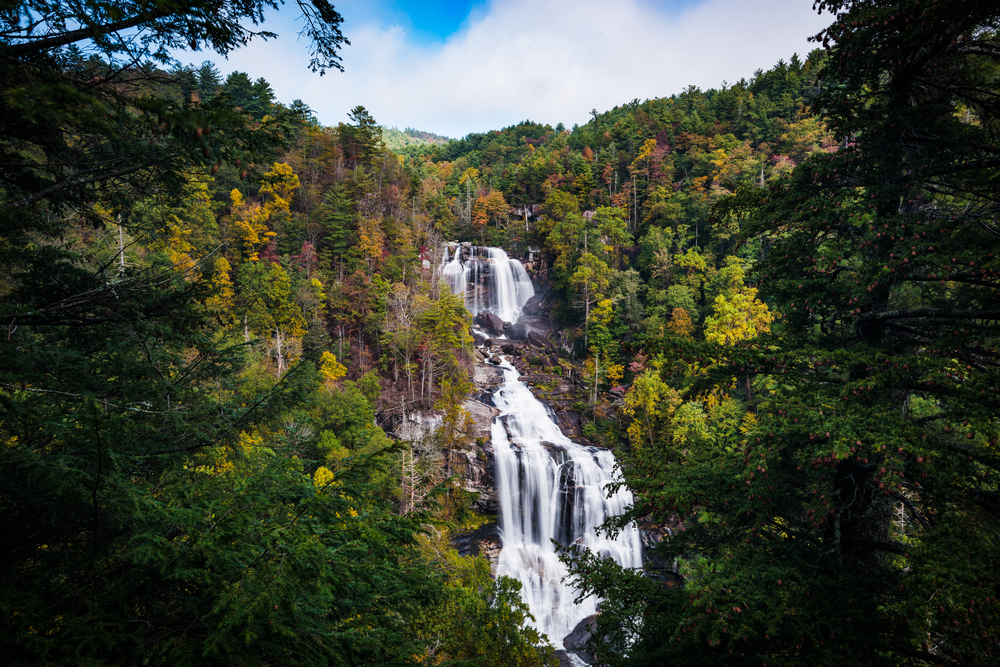 If you love waterfalls, western North Carolina is your kind of road trip. This byway runs through a dense concentration of 200 waterfalls in all shapes and sizes. Some can be seen from the highway while others involve hikes. We won't tell you about every waterfall, just the can't-miss ones. Plus, all kinds of recreational opportunities and a couple of charming towns round out this inspiring scenic byway.
This route picks up where the Forest Heritage Scenic Byway (article above) ends, near the town of Rosman and the intersection of US 64 and State Highway 215. From here, it's an hour northeast to Asheville and 2.5 hours east to Charlotte.
The Waterfall Byway goes the opposite direction on US 64, heading west. In seven miles, the highway passes through Lake Toxaway. Then, two miles further, take a left onto NC 281 and drive south to Gorges State Park, featuring 26 waterfalls with camping, hiking, biking and fishing as top activities. The park is in the Blue Ridge Escarpment, where the mountains drop to the rolling foothills of South Carolina. And with more than 8,000 acres of temperate rainforest and remarkable biodiversity, backcountry recreation is big here, too. Gorges is an excellent park for backpacking and horseback riding.
Next, continue eight miles south on NC 281 to the can't-miss Whitewater Falls. Plunging 411 feet, it's the highest waterfall east of the Rocky Mountains. There are two overlooks: a paved, wheelchair-accessible walkway leads to one while the other viewpoint has 154 wooden steps.
The town of Cashiers is the next destination which you can reach by either returning nine miles to US 64 and then heading west on the Waterfall Byway another 10 miles. Or you can drive south on NC 281, briefly popping into South Carolina before taking SC/NC 107 north to Cashiers. This route is 13 miles and along the way, look for Silver Runs Falls, a five-minute walk from the highway, and Cornucopia, serving sandwiches, burgers, smoked trout dip, fried green beans and homemade pies from "Cashiers' Favorite Porch."
From Cashiers, continuing 10 miles west on US 64 is Highlands, the highest and wettest town in North Carolina. At 4,118 feet above sea level, 80 inches of precipitation falls each year. Highlands is very visitor focused with options ranging from campgrounds to spas, resorts and gourmet dining. There's an impressive creative scene anchored by The Bascom: A Center for the Visual Arts as well as a music festival, outdoor concerts and strong theater tradition. Outdoor fun includes a nature center, botanical garden and rhododendron trail. Fly fishing is big around here, too. And 10 miles southwest of town is Highlands Aerial Park with ziplines and a four-story high triple-seater swing with an 80-foot arc through the forest.
Back on the waterfall hunt, several impressive ones lie one after another as US 64 pushes west:
Created by a concrete dam, Sequoyah Falls has a uniform cascade that fronts Lake Sequoyah.
60-foot Bridal Veil Falls is so close to the highway that at one time you could drive behind it. That's no longer allowed but you can still walk around it.
You can also walk behind 75-foot Dry Falls and as the name implies, you can do it without getting wet.
Also called Quarry Falls, Bust Your Butt Falls is a natural slide and swimming hole.
About nine miles from Highlands, Cullasaja Falls lies along a very twisty section of US 64 as it passes through the Cullasaja River Gorge. You can see the falls from the highway and there's a small roadside pullout.
19 miles from Highlands, US 64 eventually curves downhill into Franklin, another charmer with boutiques, breweries and a strong arts community. The Smoky Mountain Center for the Performing Arts is a highlight where live music, drama and dance are performed year-round. More people with Celtic heritage live in North Carolina than anywhere in the world, and Franklin is where you'll find the Scottish Tartans Museum and Heritage Center with displays on the history and development of tartans, particularly the kilt. At one time, Franklin was called the "Gem Capital of the World" and there are numerous mines in the area where you can pay for a bucket or bag of dirt and sort for rubies, sapphires, garnets, moonstones, amethyst and other precious stones.
Continuing west from Franklin, more campgrounds, hikes and Appalachian scenery lie along US 64. Western North Carolina is grape growing country and Shooting Creek Vines and Eagle Fork Vineyard are two wineries located on this section of the byway.
41 miles from Franklin, look for Settawig Road. It's three miles to Brasstown and the 270-acre John C. Campbell Folk School where weekend and weeklong adult classes in art, music, dance, cooking, writing, gardening and photography are offered. There's also a store with handcrafted work by regional artists. From Brasstown, it's 10 minutes to the byway's end in Murphy.
Outer Banks Scenic Byway – All-American Road – 140 miles
This byway jumps off the map. When studying the atlas, it doesn't seem possible that one road could connect the Outer Banks and, in fact, two ferry rides are needed to make the full journey. Both routes carry RVs, too. The Outer Banks are a chain of barrier islands arcing into the Atlantic and then doubling back to the mainland. Renowned for their isolated beaches, plentiful seafood and a seemingly endless ocean of vacation rentals, a visit also reveals campgrounds, gardens, lighthouses and aviation are big deals here, too, expanding the options for fun in this coastal paradise.
The Outer Banks lie in far east North Carolina, about 3 hours east of Raleigh and less than an hour and a half southeast of Norfolk, Virginia. One of only two highways connecting mainland North Carolina, US 158 is the main artery to the northern coast area. To road trip the full length of the Outer Banks, once you cross the Currituck Sound and enter Kitty Hawk, turn left onto State Highway 12 and drive north.
Passing through the upscale resort town of Duck, it's about 20 miles to Corolla and the drive's first highlight: the 162-foot-tall Currituck Beach Lighthouse, one of five majestic beacons on this road trip. Built in 1875 of a million bricks with 220 steps, you can climb to the top, weather permitting, from mid-March through December.
Continuing on NC 12 past Corolla 1.5 miles, pavement ends at sand. However, with 4WD, you can still navigate the beach north to the Virginia state line. Having reached the northern limits of the Outer Banks, the journey heads south. Returning where NC 12 splits from US 158, the road enters Kitty Hawk, synonymous with the birth of aviation. But if you're looking for the Wright Brothers, you won't find them here.
Follow NC 12 another four miles south to Kill Devil Hills and the Wright Brothers National Memorial. In a time when air travel is taken for granted, this memorial commemorates how two Ohio brothers broke humanity's connection with Earth. Atop Kill Devil Hill, the highest point in the Outer Banks, sits a 60-foot-tall memorial. In the early 1900s, older brother Wilbur and younger brother Orville made hundreds of manned glider flights from this sand dune as they perfected their invention and piloting skills. In the distance lies the visitor center and more significantly, the path of the world's first successful motor-driven flights. On December 17, 1903, Orville piloted the first engine-powered flight with Wilburn running alongside, which traveled 120 feet.
A short drive from Wright Brothers National Memorial is Jockey's Ridge, North Carolina's most visited state park. Take off your shoes and slather on the sunscreen for a quick hike to North Carolina's biggest sand dune, a prime hang-gliding area. On a breezy day, it's easy to understand how the winds around here helped launch aviation.
The next five miles south passes through highly commercialized Nags Head before reaching US 64, the other main highway to the Outer Banks. Follow it west a few miles to Roanoke Island and O'Neal's Sea Harvest, one of many fish markets throughout the area where you can buy the day's fresh catch and prepare as you like back at camp.
Roanoke Island is one of the most historic places in the New World. In 1584, English colonists first landed here but it took two more expeditions before England's first settlement in the Western Hemisphere took root in 1587. But Fort Raleigh didn't last long. For reasons unknown, six years later the colonists vanished.
In 1951, the Garden Club of North Carolina, a non-profit organization with 17,000 women members, built a botanical garden as a living memorial to Fort Raleigh and the lost colonists. In spring, the Elizabethan Gardens feature southern favorites such as azaleas and camellias. There are also a lot of statues, such as the garden's namesake, an imposing Queen Elizabeth I, ruler of England when Ft. Raleigh was founded. Another depicts Virginia Dare, thought to be the first child of English descent born in the New World. What happened to her and the rest of the colonists remains one of the great mysteries of colonial times.
A five-minute drive from the gardens is the North Carolina Aquarium on Roanoke Island with a variety of indoor and outdoor exhibits and natural habitats. The nearby town of Manteo has a quaint downtown and the Elizabeth II anchored in its harbor, a replica of vessels that brought the colonists to Roanoke Island. The ship can be toured mid-March through December. The waterfront is also home to Roanoke Marshes, this road trip's second lighthouse. Called a screw-pile lighthouse and dating back to the 1800s, a dozen of these short squat beauties once graced North Carolina's rivers and sounds.
Heading back toward the beach, it's a 10-minute drive east on US 64 to NC 12. On the southside of Nags Head, the Outer Banks Fishing Pier is one of several scenic jetties built along the coastline. Gulf stream currents moderate temperatures here meaning it's relatively mild year-round. However, while the ocean is warm as bathwater in summer and early fall, it can be shockingly icy in winter and spring!
Continuing south on NC 12, the road enters Cape Hatteras National Seashore and soon, lighthouse number three appears. This is also the third Bodie Island Lighthouse. The first was built in 1847 but abandoned because of a poor foundation. The second went up in 1859 but was blown up two years later by fleeing Confederate troops during the Civil War. The current Bodie Island Lighthouse was constructed in 1872 and stands 150 feet high.
From here, the Outer Banks Scenic Byway gets less busy and the beaches more secluded. The Atlantic side of the Pea Island National Wildlife Refuge features sand, surf and the Boiler Wreck, about 100 yards offshore. For some 160 years the tanker's steam engine has been sticking out of the water. On the other side of NC 12 a nature trail leads into the marsh. Pea Island National Wildlife Refuge was established in 1938 to primarily protect the loggerhead sea turtles and 370+ species of birds found here.
This is obviously a desirable place for a home base and the Oregon Inlet Campground is conveniently close by. Reservations are highly recommended. With sand dunes lining the route and small towns named Rodanthe, Waves and Avon along the way, it's 45 minutes to Cape Hatteras and its lighthouse, the most famous of the five along the byway. Called "America's Lighthouse" it sits strategically at a point where dangerous, shifting underwater sandbars, named the Diamond Shoals, extend almost 20 miles into the sea. At 198 feet, the Cape Hatteras Lighthouse is also the tallest brick lighthouse in the country. This particular structure dates back to 1870. In 1999, it was moved on railroad tracks ½ mile inland because of the encroaching Atlantic Ocean.
The beach at Cape Hatteras is continually recognized as one of the most beautiful in America. It's an excellent place to shell and fish. And though it might be hard to imagine with all the modern development, Hatteras Island is steeped in Civil War history. The Union won its first battle here, and the island was home to North Carolina's first safe haven for African Americans, the Hotel De Afrique.
Diamond Shoals is one of the reasons the Outer Banks is murder on mariners, with more than 2,000 shipwrecks. This so-called Graveyard of the Atlantic has its own museum, displaying salvaged items from wrecks like the USS Monitor, a battleship that sank in an 1862 storm.
Cape Hatteras is the end of the road but the Outer Banks Scenic Byway and NC 12 don't stop here. A free vehicle ferry makes several runs a day to Ocracoke Island. It's first come first serve, no reservations taken, so plan accordingly. The hour-long sailing passes through the Pamlico Sound. Lying entirely west of the Outer Banks, it's the largest saltwater lagoon on the East Coast.
Ocracoke can only be reached by boat or plane but NC 12 still gets you where you need to go once you reach the island. Sand dunes line the road's ocean side, forming a protective backdrop at Ocracoke Campground. Like Oregon Inlet, this campground is part of Cape Hatteras National Seashore and run by the National Park Service. Ocracoke is just 16 miles long and varies from three to less than a ½ mile wide. The eastern side is pretty much entirely beach. But there are woods here, too, and the Hammock Hills Nature Trail is a short hike that feels more like Appalachia and western North Carolina, until you reach the marsh.
The byways reaches the end of the island at the village of Ocracoke, quite possibly the most attractive of all Outer Banks towns, where seafood, sweets, art and a kite shop are big draws. But the most popular tourist attraction is the fifth and final lighthouse of our road trip, and at just 75 feet high, it's also the second smallest. The 200-year-old Ocracoke Lighthouse is North Carolina's oldest and the nation's second oldest operating lighthouse. Now fully automated, there's no keeper per se. Today it's run by the US Coast Guard, and unlike the other Outer Banks lighthouses, you can't climb it.
Another ferry takes vehicles away from Ocracoke and the Outer Banks toward mainland North Carolina. This route has fewer sailings than the Cape Hatteras ferry, charges a fare and requires reservations. It lands at Cedar Island where NC 12 passes through Cedar Island National Wildlife Refuge before ending at US 70.
The Pottery Highway – 17 miles
From state to state, scenic byways highlight an area's history, recreation and beauty, as well as its unique attractions, shops and places to eat. But there's nothing quite like the Pottery Highway because it's a one-of-a-kind byway with one focus. Exploring "The Handmade Pottery Capital of the United States," this route showcases some 50 pottery studios and galleries in and around Seagrove.
In the late 1700s, immigrant potters of mostly English and German descent settled in central North Carolina. The Tar Heel State has a long and fascinating transportation history. In the 18th century, settlers looking for farmland and economic opportunity traveled the Great Wagon Road from Pennsylvania to North Carolina. This early road was a blend of Native Americans trails, animal paths and trading routes. Then plank roads were built. Made of wood, they were an upgrade from rutted, rough and muddy dirt roads. Eventually, railroads came along.
A potter community developed in Seagrove and its location on a major plank road and later, a railway line opened markets near and far, establishing the town as a pottery mecca. Today, a freeway passes through Seagrove, providing easy access to more than 100 first-rate potters.
Seagrove lies in the middle of the state and Charlotte, Raleigh and Fayetteville are all about 1.5 hours away in different directions. Greensboro is the closest of the bigger cities. From there, go 40 miles south on I-73. When you reach the Seagrove exit, take State Highway 705 east. This is the Pottery Highway and it's about 17 miles long. Many potters and their studios are located on NC 705 while others are on nearby roads. The best advice is to plan ahead by researching the Seagrove Potters website and downloading the map. The Heart of North Carolina Visitors Bureau has useful information, too.
Regardless, your first stop should be downtown at the North Carolina Pottery Center. It's free to visit and includes exhibits, educational facilities and a gift shop. You can also pick up a map and ask questions. If you like pottery, Seagrove has so many options that it can be overwhelming so do your homework. Plus, days of operation and opening hours vary and some artists offer demonstrations. The studios along the Pottery Highway offer every style and color of work imaginable. Here's a sampling:
Phil Morgan Pottery creates handmade porcelain with crystalline glazes.
Eck McCanless Pottery focuses on agateware, made with multiple colors of clay.
Crystal King Pottery is known for face jugs, folk art and animal figures.
Cagle Road Pottery specializes in vibrant dinnerware.
Ben Owen Pottery's traditional and contemporary work is featured in many top hotels and museums, including the Smithsonian.
Studio Touya makes Japanese-style tableware and jars.
Clay work isn't the only art form along this scenic byway. Carolina Bronze Sculpture has a gallery with facility tours available by appointment.
Learn more about the thought, research, planning and promotion that goes into the designation of our beautiful Scenic Byways.