Travel Inspiration
Last updated on May 18th, 2023. Originally published on May 15th, 2023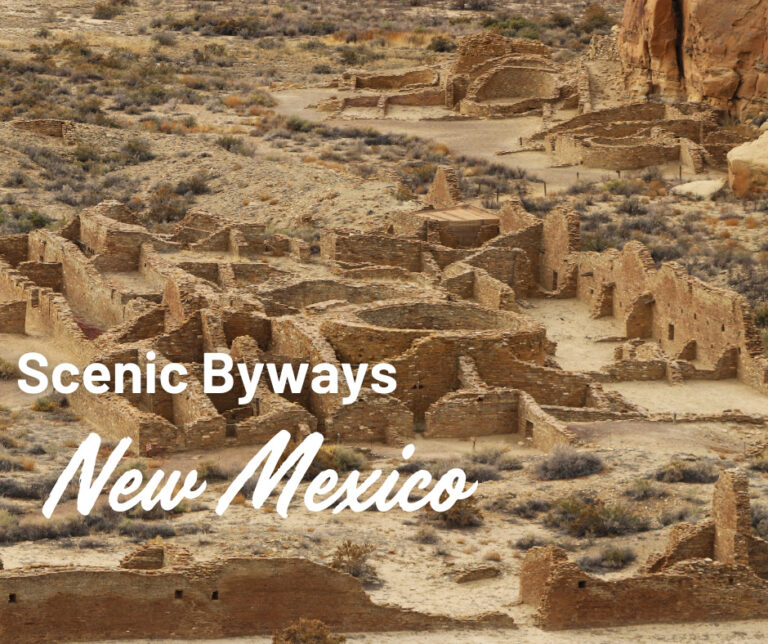 The Land of Enchantment has a growing film, TV and commercial industry. The state's remarkable landscape is a big reason why. If you've seen Breaking Bad, you probably remember the skies, mesas and deserts. The scenery literally became another character in the series. New Mexico also has one of the most fascinating histories of any state. Native Americans have been here for thousands of years, and three nations have laid claim: Spain, Mexico and the United States. The cultural mosaic and topography make New Mexico a top road trip destination.
Trail of the Ancients – National Scenic Byway
Turquoise Trail – National Scenic Byway
High Road to Taos
Enchanted Circle
Santa Fe Trail – National Scenic Byway
Jemez Mountain Trail – National Scenic Byway
Salt Missions
Billy the Kid – National Scenic Byway
Trail of the Mountain Spirits – National Scenic Byway
Trail of the Ancients – 77 miles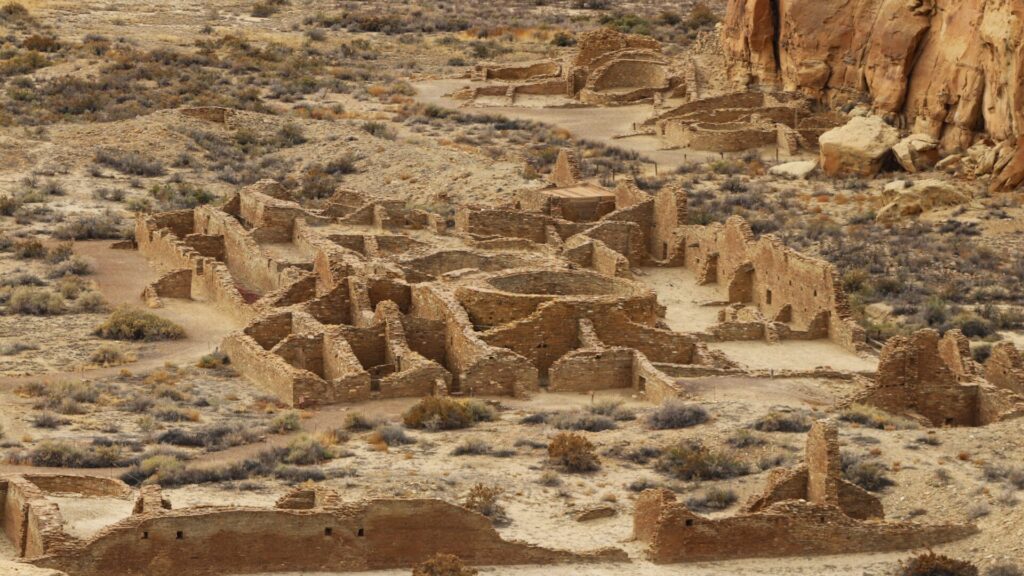 New Mexico's section of Trail of the Ancients picks up where Utah's and Colorado's segments end. See the Utah entry for a complete overview. From Colorado's Mesa Verde National Park, it's 68 miles to Aztec Ruins National Monument in northwestern New Mexico. Called a Great House, this beautifully repaired 400-room complex is 900 years old. Built by Ancestral Puebloans, you can wander through the rooms and passageways, admiring the masonry while looking for fingerprints of the ancient builders in the mortar.
From Aztec, it's 20 minutes south to the Salmon Ruins. This excavated village was built in 1088 CE and inhabited by Ancestral Puebloans for about 200 years. The museum includes artifacts, reconstructions of Native American dwellings and a frontier homestead. Both Salmon and Aztec ruins are Chacoan Outliers, meaning they are architecturally and culturally related to Chaco Canyon, the next destination.
While not as well-known as Mesa Verde, Chaco Culture National Historical Park is a world-class archaeological site. Located in isolated Chaco Canyon, the park is 65 miles south of the Salmon Ruins Museum, the first 42 on four-lane US 550. Follow the National Park Service's directions for the drive's final 23 miles. It's a dirt road that's navigable but can be rough. Still, RVers make the trek and many stay at the onsite campground, a smart idea if you want to thoroughly explore this large park. Be sure to make reservations.
Sure, it's an overstatement to say that Chaco Canyon was the New York City of the Southwest during its heyday, 850 to 1250 CE. But during those 400 years, its massive buildings were a hub of activity for thousands of Ancestral Puebloan people. Chaco's organizational and engineering skills were unmatched in this part of North America, and its influence extended in all directions, as evidenced by the Aztec and Salmon ruins. A paved loop road connects many of the major ruins while others are accessible via hiking trails. The natural setting and graceful beauty of the stonework make Chaco Canyon one of the most enduring and remarkable attractions in New Mexico, if not the U.S. It should not be missed.
From Chaco Canyon, the state-designated scenic byway continues to Crownpoint, Grants and other locations. But if you really want to focus on the most significant archaeological sites, they lie along the multi-state, multi-tribal land Trail of the Ancients, from Monument Valley to Mesa Verde to Chaco Culture National Historical Park.
Turquoise Trail – 100 miles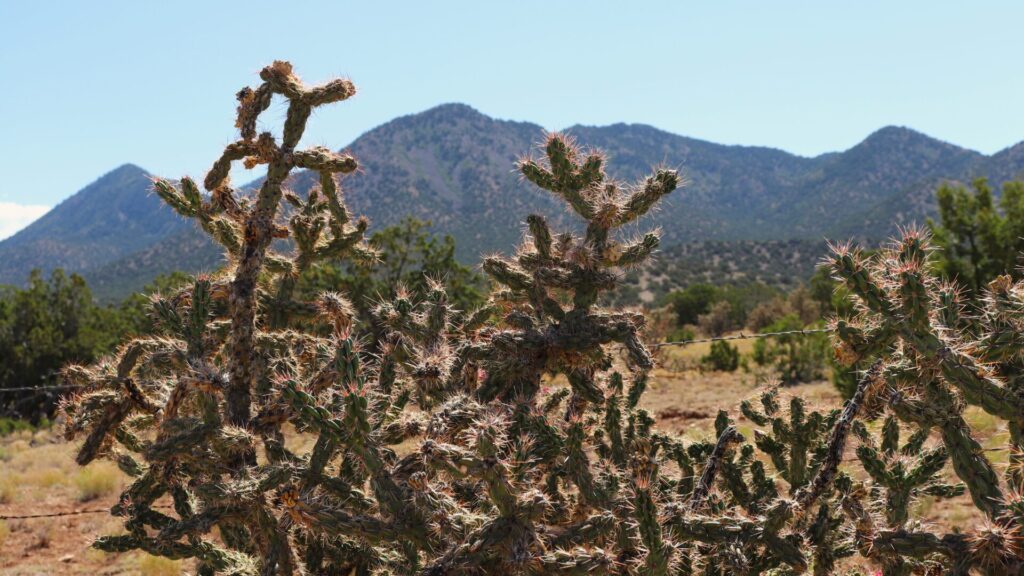 I-25 is the busy artery connecting New Mexico's largest city, Albuquerque, with the state capital, Santa Fe. A peaceful alternative is the Turquoise Trail. Old Town Albuquerque's shops, galleries and Rattlesnake Museum, the murals of downtown, Indian Pueblo Cultural Center, Petroglyph National Monument and Unser Racing Museum make Albuquerque a worthwhile stop. There's even a Breaking Bad RV Tour!
Once you're ready to travel the Turquoise Trail north to Santa Fe, take I-40 east to exit 175 and the Tijeras Pueblo, 15 minutes from downtown Albuquerque. 600 years ago, this archaeological site was once a bustling village. From Tijeras, follow New Mexico State Highway 14 north seven miles and then go left onto Sandia Crest Road, NM 536. The Sandia Mountains form a stunning backdrop to Albuquerque and this route leads to the top.
A mile after turning onto Sandia Crest, look for Tinkertown on the left, a madcap 22-room museum featuring Western memorabilia and old-fashioned storefronts with walls made of 50,000 glass bottles. Collected and carved over four decades by folk artist Ross Ward, Tinkertown's highlight is a miniature circus and Old West town with hundreds of carved figurines.
As NM 536 continues uphill, vegetation changes are you meander through four life zones. Look for trailheads and picnic areas along the way. Six miles past Tinkertown, NM 165 branches to the right, heading down the mountain through Las Huertas Canyon. It's beautiful, with camping and hiking, including an easy trek to Sandia Cave. However, NM 165 is dirt and might not be right for your RV so check ahead.
Back on the paved highway, NM 536 continues to 10,678-foot Sandia Crest. You're now at the climax of a 4,000-foot ascent through Cibola National Forest. The views of Albuquerque are incredible. This is also the top of the Sandia Peak Tramway, which lifts you from the suburbs below. So aerial tram or drive to the top, it's your choice. Both are amazing.
Winding back down NM 536, it's 13 miles to NM 14 where the Turquoise Trail continues north through a hilly desert of cactus, pinyon pine and juniper. In about 12 miles, look for the much-photographed, 200-year-old San Francisco de Asis Church on the right. Popular with film and TV crews, funky Madrid is another 11 miles. This artistic haven makes a good coffee, meal or shopping break. Five minutes down NM 14 from Madrid, the old buildings of Los Cerillos are also very photogenic. Then, it's 15 miles to I-25 and another 10 miles to downtown Santa Fe.
High Road to Taos – 90 miles
Santa Fe's art galleries, New Mexican cuisine, 400-year-old plaza, oldest church in the U.S., Palace of the Governors, Georgia O'Keeffe Museum and Santa Fe Opera make it one of America's top draws. Taos is another popular destination, and the High Road offers a more interesting backroad journey than the most direct route.
Taking US 84 north of Santa Fe, follow the busy highway 18 miles to Pojoaque where a right onto New Mexico State Highway 503 puts you on the High Road to Taos. Go 3.5 miles through Nambé and look for the Nambé Falls signs. Turn right onto Poechunu Poe and drive another 5.5 miles to a campground and picnic area. Two trails lead to the impressive waterfalls, a sight you'll appreciate after spending time in the parched southwest. There's fishing and kayaking at the nearby lake and only cash is accepted.
Back on NM 503, it's seven miles to El Santuario de Chimayo. This small adobe church is one of New Mexico's finest examples of Spanish Colonial architecture. Built in 1813, El Santuario is a National Historic Landmark and one of the most important Catholic pilgrimage centers in the U.S. A mile away is Ortega's Weaving Shop where nine generations of the Ortega family have been weaving rugs, blankets, coats and vests since the early 1700s.
From Ortega's, follow NM 76 east as it moves higher into the Sangre de Cristo Mountains. Truchas, an old Spanish outpost, became a Hollywood movie star in 1988 as the setting for Robert Redford's The Milagro Beanfield War. The town has a striking setting overlooking the Rio Grande Valley at the base of 13,102-foot Truchas Peak.
Passing through forest, it's eight miles to Las Trampas and San José de Gracia, another gorgeous colonial-era church, some 250 years old. About 5.5 miles past Las Trampas, go right when NM 76 deadends at NM 75. You'll pass through Peñasco, then go another seven miles, looking for NM 518 to the left. Beautiful mountain vistas await as NM 518 makes the final push to Taos.
In 17 miles, take a left onto NM 68 and look for the San Francisco de Assisi Mission Church farther down on the left. Finished in 1816 and featuring huge adobe buttresses with two front-facing bell towers, it's another Spanish Colonial relic that shouldn't be missed. The High Road then rolls into Taos, four miles north on NM 68.
Enchanted Circle – 160 miles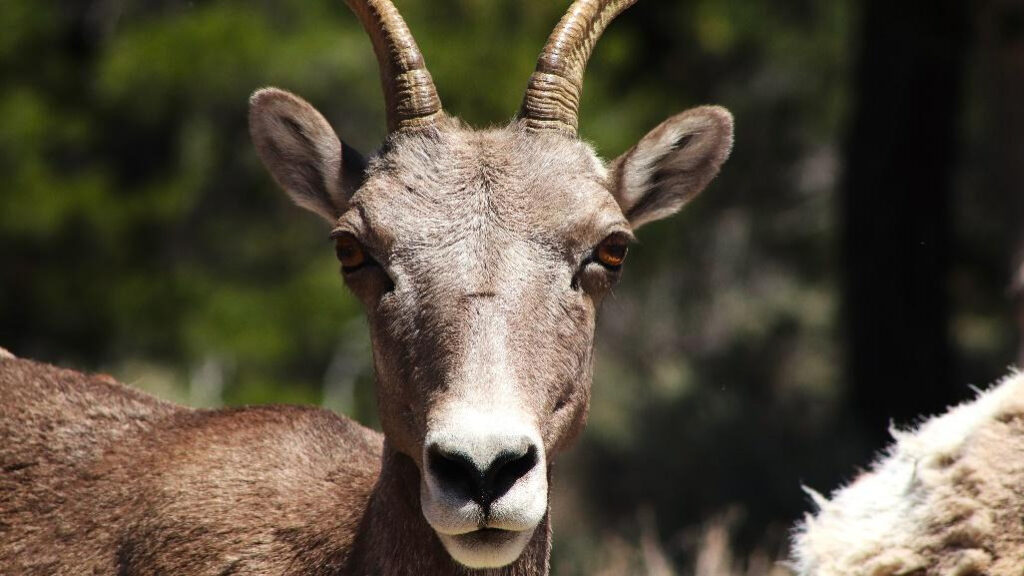 Some say Taos is a smaller, more relaxed version of Santa Fe. It boasts many of the same qualities: a vibrant history, great food, stunning art, an attractive plaza and several excellent museums. But Taos is also an outdoor paradise, where skiing, hiking, whitewater rafting and horseback riding are just a few ways to explore the area's forests, rivers and canyons.
The Enchanted Circle touches on all that's adventurous, starting immediately as you climb east into Carson National Forest on US 64. In 24 miles, you'll reach the first of two ski areas. Angel Fire is an all-season resort offering golfing, paddleboarding and ziplining after the snow melts. Past the Angel Fire turnoff, the Vietnam Veterans Memorial sits on a hillside to the left. There's a sail-shaped chapel, memorial walkway, Huey Helicopter and visitors center.
It's nine miles more to Eagle Nest with views of Eagle Nest Lake to the right and Wheeler Peak to the left, New Mexico's highest point, elevation 13,161 feet. At Eagle Nest, go left onto New Mexico State Highway 38. In five miles, watch for the Elizabeth Town Overlook on the left and follow the gravel road ½ mile to take pictures of the ghost town. NM 38 then enters forest again before dropping into Red River, a resort town on the northern end of the circle. As NM 38 heads 12 miles west, there are attractive camping opportunities.
In Questa, NM 38 dead ends at NM 522. Take a right and go north, then east and south on NM 387 and NM 378 to Wild Rivers Visitor Center. It's 15 miles from Questa, the last half running through Rio Grande del Norte National Monument where the Rio Grande flows through an 800-foot-deep canyon. Watch for wildlife, including big horn sheep, mule deer, elk and red-tailed hawks.
Back on NM 522 and heading south, you'll pass through Questa again. In 10 miles, look for Lawrence Ranch Road on the left. It's five miles on improved gravel to D.H. Lawrence Ranch, where the English writer and his wife, Frieda lived in the 1920s. Now a National Historic Landmark and owned by the University of New Mexico, it's open to visitors. Check ahead for days and times.
From D.H. Lawrence Ranch, it's 14 miles on country roads and NM 150 to Taos Ski Valley, the second and better-known ski resort on the Enchanted Circle. Located high in the Sangre de Cristo Mountains, hiking, rock climbing and mountain biking are big in the summer. From Taos Ski Valley, return 15 miles west on NM 150. Then, keep straight on US 64, heading 8 miles farther west to the Rio Grande Gorge Bridge, offering another stunning view of the river cutting through canyon.
Back on US 64 heading south, the turnoff for Millicent Rogers Museum is less than ½ mile on the right. My favorite Taos museum, this stunner documents the arts and cultures of the Southwest. A socialite and heir to the Standard Oil fortune, Millicent Rogers lived in Taos during the mid-20th century. The museum features the collection she started, which has grown to more than 7,000 objects, including Native American pottery, jewelry and textiles.
Then, the ring road comes full circle, ending with the most significant attraction. From US 64, signs will direct you two miles west to Taos Pueblo. Continuously inhabited for more than 1,000 years, the multi-storied adobe buildings are a World Heritage Site and National Historic Landmark. There's a fee to visit the village.
Santa Fe Trail – 560 miles via Cimarron Cutoff & 455 miles via Mountain Branch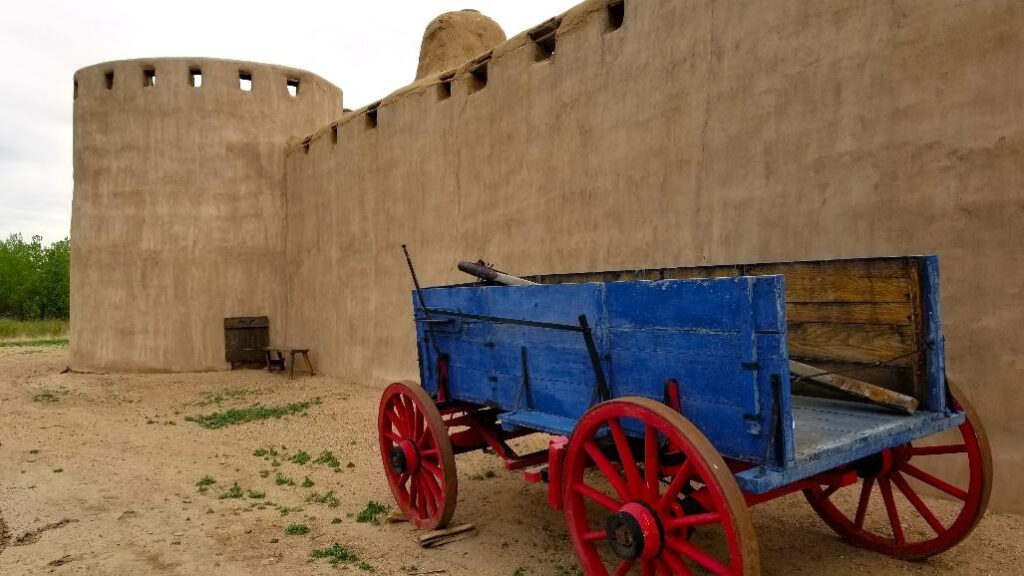 Traveling the backways north from Albuquerque to Santa Fe to Taos, one scenic byway links to another. The Santa Fe Trail connects the capital city to northeastern New Mexico, Colorado and Kansas. Walking through Santa Fe's storied plaza and past its many adobe buildings, history feels present. When the town was still part of Mexico, the Santa Fe Trail was a vital international trading route, traveled on horseback and covered wagon. For sixty years, it drove commerce between Missouri, in the United States, and a newly independent Mexico. In the 1880s, trains replaced the Santa Fe Trail, and though its purpose ended, the Trail's historical importance continues today.
After exploring Santa Fe's numerous attractions, begin driving I-25 east. Today, the busy freeway follows the Santa Fe Trail's path. In 1862, a Civil War battle was fought at Glorieta Pass. About 30 miles from Santa Fe, you'll arrive at Pecos National Historical Park where you'll learn more about the Battle of Glorieta Pass and view the ruins of 900-year-old Pecos Pueblo and a 400-year-old Spanish mission.
For a nature break, continue 45 minutes on I-25 east to the Las Vegas National Wildlife Refuge, where the mountains meet the plains. Numerous species of birds, black-tailed prairie dogs, prairie rattlesnakes, coyotes and badgers are possible sightings.
It's another 40 minutes north on I-25 to Fort Union National Monument. Photographers will enjoy the colorful adobe remains, weathered smooth over time. Starting in 1851, it was the largest military fort in the region for 40 years.
55 miles from Fort Union, get off I-25 in Springer to see the exhibits and artifacts at the Santa Fe Trail Museum. It's housed in the old Colfax County Court House, built in 1881. At Springer, the Santa Fe Trail split, or converged, if you were traveling west. The Cimarron Cutoff went northeast and while shorter, it was more dangerous because of potential Indian attacks and less reliable water sources. In this part of northeast New Mexico, there are two interesting natural attractions. From Springer, head east on US 56/US 412 to Clayton Lake State Park. It's about 95 miles but there are a couple of cutoff routes you might want to research. At 5,186 feet, Clayton Lake features a big body of water at high elevation set in grassland. It's also known for dinosaur trackways, where large prints lie in stone. Boating, fishing, hiking, camping and stargazing are other activities.
From Clayton Lake, it's 70 miles west to Capulin Volcano National Monument, an extinct cinder cone. Though not part of the Santa Fe Trail, the volcano is a worthwhile stop. You can drive to the top and walk around the rim, hike to the bottom and trek across lava flows. Then, it's a 30 minute drive west to Raton where you'll continue north on the Santa Fe Trail.
In contrast to the Cimarron Cutoff, the Mountain Branch goes west of Springer on New Mexico State Highway 21 to US 64. Another excellent state park, Cimarron Canyon, lies 14 miles west of the town of Cimarron. At 7,876 feet, this high altitude, mountain destination features a river with interesting granite columns. Camping, hiking, birding and trout fishing are popular. From here, it's just 10 miles west to Eagle Nest and the Enchanted Circle Scenic Byway (see above). But continuing east, US 64 picks up the Santa Fe Trail again before merging north onto I-25 and arriving in Raton.
From Raton, follow I-25 north into Colorado. Located in the town's historic district, the Trinidad History Museum has Santa Fe Trail exhibits, two historic houses and a heritage garden. The Santa Fe Trail now pushes into shortgrass prairie on US 350. As you enter the Comanche National Grassland, about 52 miles from Trinidad, go right onto County Road 9. Another mile on the right is the Iron Spring Interpretive Site. This important water stop was also a stagecoach station for a time. Look for trail ruts just west of the parking area.
Continuing northeast on US 350, it's 15 miles to Colorado State Highway 71. Go left and in another mile you'll reach the Sierra Vista Interpretive Site. On a clear day, a walk up the bluff gives excellent views of the Rockies. For travelers heading west and south on the Santa Fe Trail, the mountains were significant guiding landmarks.
From here, continue into La Junta and then onto Bent's Old Fort National Historic Site via CO 194. One of my favorite stops along the Santa Fe Trail, the fort is a beautifully reconstructed adobe trading post. It's a living history museum that even sounds and smells like the 1840s when wood burns and blacksmiths forge. Located on what was the US/Mexico border at the time, the fort was a peaceful place for trade attracting fur trappers, travelers and the Cheyenne and Arapaho tribes.
The modern byway version of the Santa Fe Trail continues through farmland before ending at the Kansas state line. But along US 50 in Granada, 65 miles east of Bent's Old Fort and 16 miles before reaching Kansas, lies one of the byway's most poignant sites. And it has nothing to do with the Santa Fe Trail.
The Amache National Historic Site is one of 10 Japanese American internment camps and the only one in Colorado. Built by the U.S. government during World War II, today a cemetery, monument and building foundations are all that remain of Camp Amache. There's also a superb museum in town. More than 10,000 people passed through here in the early 1940s. Abandoned but not forgotten, an effort by the local community, Camp Amache survivors, family members and supporters worked to preserve the site. In 2022, Congress and President Joe Biden officially made Camp Amache a National Historic Site and part of the National Park System.
Jemez Mountain Trail – 105 miles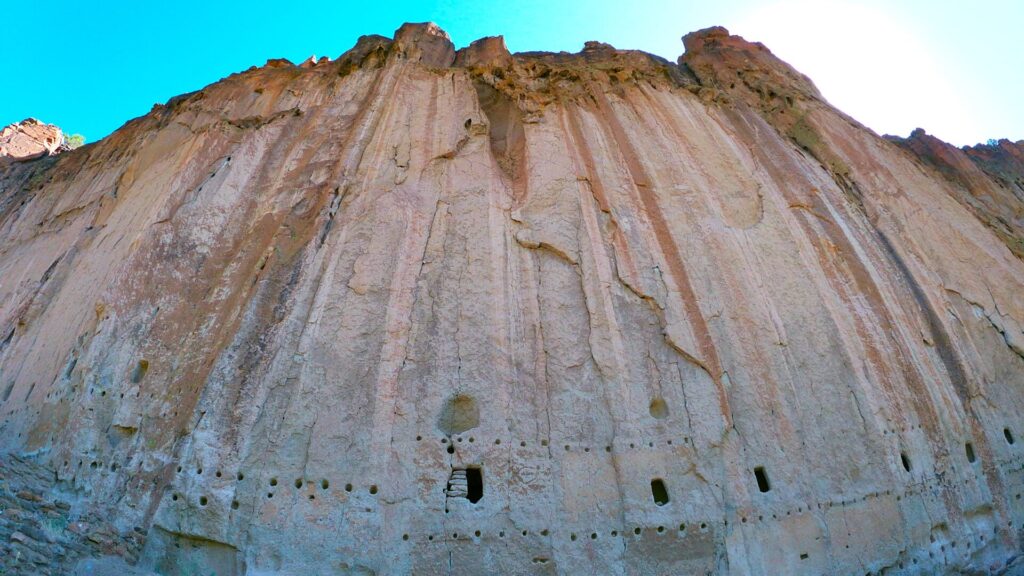 For obvious reasons, several scenic byways start, end or run near Santa Fe. The Jemez Mountain Trail explores human longevity and nature's beauty northwest of New Mexico's capital. Heading north 17 miles on US 84 to Pojoaque, exit onto New Mexico State Highway 502 and go west (for reference, the High Road to Taos essentially starts here, too, but heads east and north; see above). In about 12 miles, exit and go south 16 miles on NM 4 to Bandelier National Monument.
It's a relaxing, picturesque drive to Frijoles Canyon and the visitor center. Bandelier is popular with limited parking so the monument recommends arriving before 10 or after 2. There are many hiking trails but the paved 1.4 mile Pueblo Loop is the monument's main route. It starts on the canyon floor and then follows the steep walls where Ancestral Pueblo people carved rooms into the sides. It's as amazing as it sounds and Bandelier has a very different look from other ancient Native American sites in New Mexico. Starting about 1150 CE, Ancestral Puebloans lived in the canyon for 400 years, hunting and farming on the tops of mesas. Today, their most direct descendants are the people of Cochiti Pueblo, located just south and east of Bandelier.
Weirdly, directly north of Bandelier National Monument is Los Alamos, where the atomic bomb was developed during World War II. From Bandelier, NM 4 climbs higher into the forests of the Jemez Mountains. Created by a volcanic eruption more than one million years ago, the highway enters Valles Caldera. The collapsed crater is now a large grassland and national preserve. From the overlook, it's 10 miles to Jemez Falls Road with camping, picnicking and a waterfall hike.
Another 5.5 miles and NM 4 reaches NM 126, a glorious high mountain ride through forest to Cuba. Past Fenton Lake State Park and the fish hatchery, paved highway turns to dirt so research accordingly.
Passing the NM 126 intersection and continuing south on NM 4, look for the Spence Hot Springs parking area on the left. A moderate hike leads to a small natural pool where many bathers go au naturel.
You can't miss the grand Battleship Rock to the left as NM 4 moves onto the Jemez Historic Site. Pathways lead through the imposing remains of a village established around 1350 CE. It then became a short-lived Spanish mission before the entire site was abandoned in the 1600s.
The inhabitants of Jemez Historic Site eventually settled down the valley. One of 19 remaining pueblos in New Mexico, today, the Pueblo of Jemez is a sovereign nation with an independent government and tribal court system. You can learn more by visiting the Welcome Center, 10 miles south of Jemez Historic Site on NM 4.
This visually and culturally stimulating road trip ends another 10 minutes south at San Ysidro, founded as a farming community by the King of Spain in 1699. Today, the town's highlight is a restored adobe church.
Salt Missions – 135 miles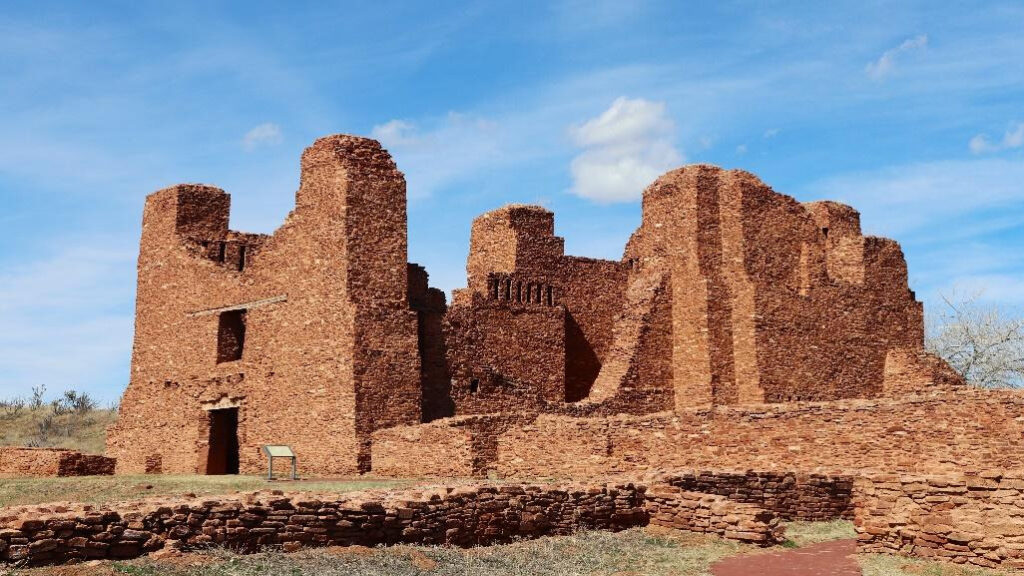 New Mexico is a cultural treasure trove brimming with a fascinating mix of Native American, Spanish, Mexican and American history. And while many visitors head to the northern and northwestern parts of the state to experience its complex past, this byway explores the lesser-traveled central area.
The Salt Missions Trail is a great day trip from Albuquerque and focuses on three distinct historical sites that make up the Salinas Pueblo Missions National Monument. Heading east of Albuquerque on I-40, take exit 175 to Tijeras. The Turquoise Trail goes north to Santa Fe (see above). But if you follow New Mexico State Highway 337 south, the byway cruises through Cibola National Forest and numerous tiny towns on its way to the first of the three ruins.
The Quarai Mission was established by the Spaniards in 1626. It dates from the earliest period of European colonization in the area when settlers began spreading Christianity to the native people. If you only have time for one ruin, this is probably the most photogenic.
Forty minutes south is the second mission ruin. Before Spanish contact in 1583, Gran Quivira was once a vast city. With a completely different look from Quarai, Gran Quivira is the largest of the Salinas Pueblo Missions. "Salinas" refers to salt, essential for trading during that time.
Backtracking a bit, forty minutes northwest of Gran Quivira is the last of the three Salinas Pueblo Missions. Abó was also a thriving community when the Spanish arrived in 1581. In the 1670s, disease, drought, famine and Apache raids caused all three missions to be abandoned. And though settlers would come and go, the missions never regained their former glory.
Though part of the national park system, there's no fee to visit Salinas Pueblo Missions National Monument. However, each site has a visitor center with toilet facilities and drinking fountains.
Billy the Kid Trail – 280 miles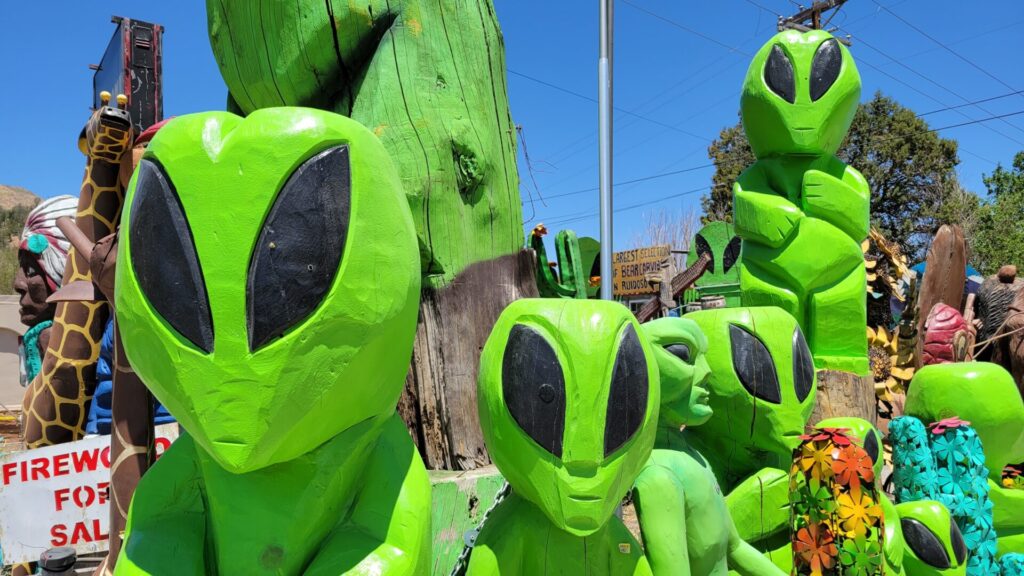 Named for Billy the Kid, the infamous gunfighter and outlaw, this looping byway in southcentral New Mexico celebrates the American West, mountains, volcanoes and visitors from outer space. From Albuquerque, it's about 2½ hours on I-25 south and US 380 east to Carrizozo. Seven miles before entering the town, you'll pass through the 5,000-year-old Malpais Lava Flow, thought to be one of the youngest lava flows in the continental U.S. This 125 square mile basin of molten rock is four to six miles wide and 160 feet thick. Next door is Valley of Fires National Recreation Area with many camping spots overlooking this fascinatingly beautiful area.
Another intriguing attraction is the Three Rivers Petroglyph Site, 31 miles south of Carrizozo off US 54. Behind the campground, an easy hillside hike passes by 600- to 1,800-year-old petroglyphs. More than 21,000 depictions of humans, animals, fish and plants can be viewed on rocks spread along the ridge.
Then, it's 60 miles to Ruidoso on US 54 south to US 70 east. A busy mountain town with dining and shopping, you're close to camping and hiking. A curvy road leads 13 miles to Windy Point Vista, high in the Sierra Blancas. In the summer, Ski Apache offers mountain biking and one of the world's longest zipline tours. Ruidoso Downs is home to the famous track where you can watch and bet on horseracing throughout the summer. Horse history features prominently at the nearby Hubbard Museum of the American West, along with stagecoaches, guns and Native American relics. You may also begin to see little green men as you drive about town.
Though Roswell isn't officially on the Billy the Kid Trail, for some, it's worth the hour drive from Ruidoso Downs. Continuing east on US 70, rolling foothills flatten into plains. The Welcome to Roswell sign with a spaceship on top is a theme throughout town. There are little green men in murals, on mugs and carved into wooden statues. A giant one holds up the Dunkin Donuts sign. And McDonald's looks like a spaceship with, you guessed it, aliens out front. Legend has it that during a severe thunderstorm in July 1947 something happened. Today, you can gaze upon the field where some (Many? Too many?) believe a spacecraft crashed. In town, the International UFO Museum and Research Center tells the full Roswell Incident story. Thousands of items, including souvenirs for purchase, give perspective on other UFO sightings around the world.
Returning west, follow US 380 to the right when it branches off US 70. It's an hour from Roswell to the Lincoln Historic Site. In 1878, Billy the Kid slipped out of handcuffs and killed two deputies before escaping on horseback. The drama unfolded at the courthouse, one of several buildings you can tour that look pretty much as they did in the 1800s.
Fifteen minutes west on US 380 is movie set-worthy Fort Stanton, one of the best preserved 19th century military forts in the U.S. Various wars, a tuberculosis epidemic and the internment of German sailors during World War II are all part of Fort Stanton's gripping history since its founding in 1855.
The surrounding forests were once home to Smokey Bear, orphaned in the 1940s after a wildfire. One of the most famous bears in American history, Smokey became the face of forest fire prevention programs. After living out his life at Washington's National Zoo, Smokey was buried in Capitan, ten minutes from Fort Stanton. The Smokey Bear Historical Park includes his grave as well as exhibits on wildfires and prevention, fire ecology and forest health.
Trail of the Mountain Spirits – 180 miles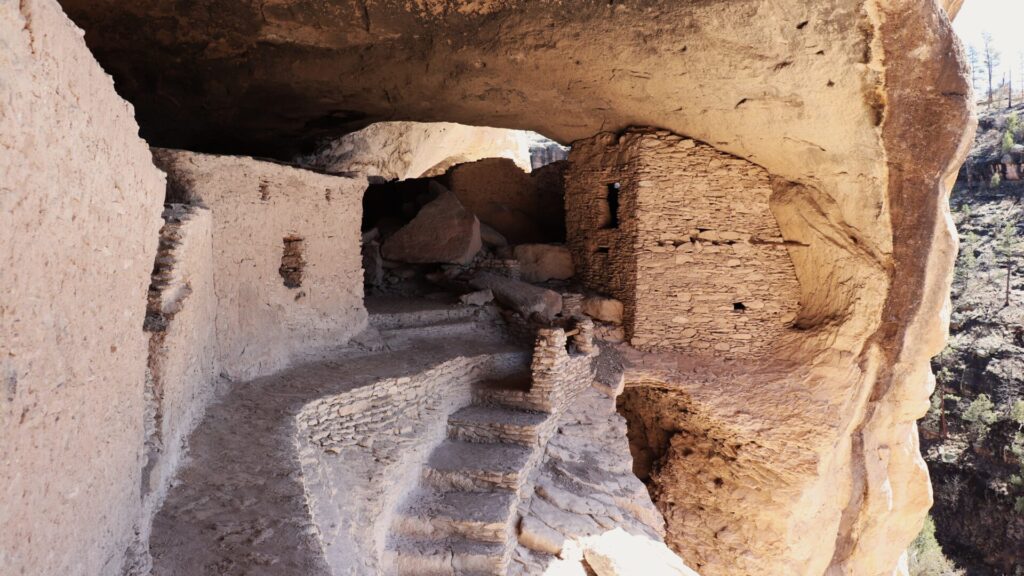 Like most of New Mexico, the southwestern part is rich in human history. This byway blends antiquity with a mystical landscape. The drive starts just off I-25 at exit 63, about 2½ hours south of Albuquerque. Heading west on New Mexico State Highway 152, the first point of interest is tiny Hillsboro. Once prosperous thanks to gold and silver mining, it's now more of a living ghost town with shops, a couple of restaurants and numerous historic buildings.
Then, following NM 152 and NM 35, the road climbs high into the Gila National Forest and eventually enters the Gila Wilderness. This area is so important that in 1924, it became the world's first designated wilderness when the U.S. Forest Service set aside 755,000 acres. There's evidence humans have been active here for more than 11,000 years. And the byway ends at the most significant example, Gila Cliff Dwellings National Monument.
A trail heads into a canyon where the Mogollon people lived more than 700 years ago. Walking along cliff walls, the path leads into a series of caves where rock walls and ancient timbers defined cooking, sleeping and storage areas. Most of the rooms were built in the 1280s but people sheltered in these caves much earlier. Why the Mogollon left the area around 1300 is unknown. And for drivers, the only way out is the way in.
Heading south on NM 15, Silver City is 1½ hours away, providing all the modern conveniences. There's an artistic vibe and it's a college town. In fact, even if pottery doesn't impress, don't miss the Western New Mexico University Museum. The enormous collection of prehistoric Southwestern pottery stuns for its age, beauty and intricate design.
Following US 180 and then NM 152 east of town, you can't miss the massive open-pit Chino Mine, where copper has been excavated since 1910. There are several campgrounds along this byway and one of my favorites is City of Rocks State Park. Continue east on NM 152 then go right onto NM 61. City of Rocks is 22 miles south. Created 35 million years ago by a volcanic eruption, paths resembling city streets run between huge rock formations, some as high as 40 feet.
Learn more about the thought, research, planning and promotion that goes into the designation of our beautiful Scenic Byways.