Travel Inspiration
Last updated on May 18th, 2023. Originally published on May 2nd, 2023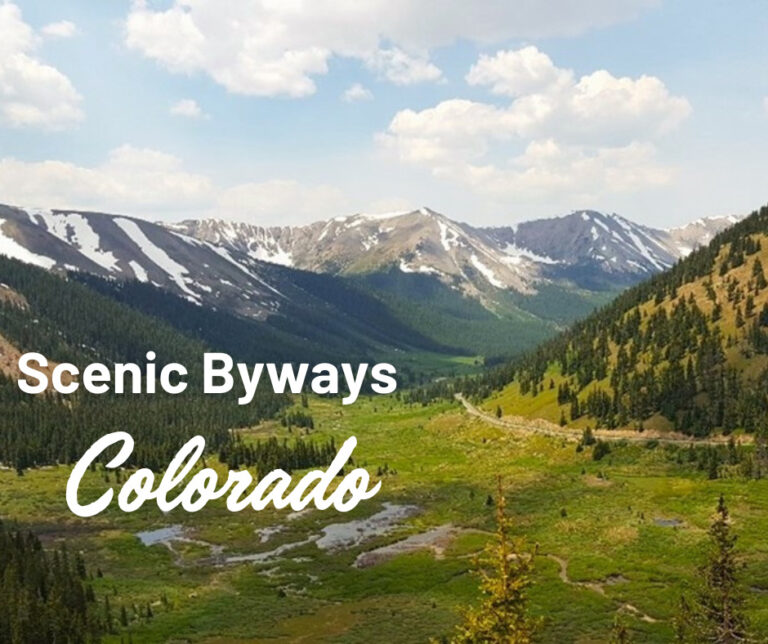 With 26 Scenic Byways, Colorado boasts one of the most robust programs in the U.S. Thirteen are designated as National Scenic Byways, giving Colorado more of these premier roads than any other state. Here are our nine favorites, including one local route that's not yet officially a state-recognized byway. All these roads are RV accessible. That said, always check conditions because many of these byways travel high into the mountains, and though well-maintained, some sections feature spinetingling drop-offs and steep inclines! But hey, that's Colorado, the state with the nation's highest average elevation.
San Juan Skyway – All-American Road
Unaweep Tabeguache
Trail Ridge Road – All-American Road
Peak to Peak
Lariat Loop – National Scenic Byway
Top of the Rockies – National Scenic Byway
Grand Mesa – National Scenic Byway
Palisade Fruit & Wine
Gold Belt Tour – National Scenic Byway
San Juan Skyway – 233 miles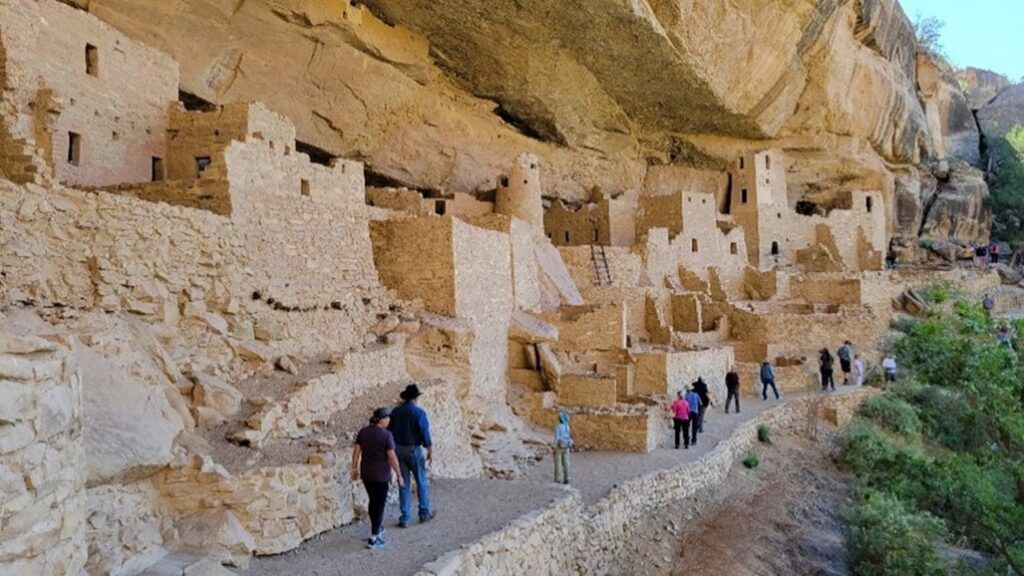 Simply put, the San Juan Skyway is one of the most beautiful byways in America, if not the planet. Located in southwestern Colorado, this loop route passes through the San Juans, considered by many to be the most picturesque peaks in the entire Rocky Mountain range. Starting in the pleasing city of Durango and driving north, the road passes by the first of two major ski areas, Purgatory. Then, US 550 climbs steeply over Molas Pass before dropping into Silverton, elevation 9,318 feet. Once bustling with miners and a thriving bordello scene, today t-shirt and ice cream shops drive the economy. The local museum is comprehensive and if you have time, go deep inside a nearby mountain on the guided Old Hundred Gold Mine Tour.
The town is also the terminus of the Durango & Silverton Narrow Gauge Railroad. It's worth parking the RV in Durango for this spectacular roundtrip experience, particularly when the aspen turn gold in early fall. Back in the RV, from Silverton the next section is called the Million Dollar Highway, likely because of the cost but some say the nickname comes from the million-dollar views. The cliff-hugging road is jaw-dropping, too. Ouray is the next quaint town, where hot springs, waterfalls and in the winter, ice climbing are popular. Passing through the fourth appealing town, Ridgway, the Skyway heads west.
Look for Ralph Lauren's Double RL Ranch as you pass in the shadow of yet another set of spectacular peaks to the left. Superlatives continue as the byway enters Telluride, the second ski resort on the Skyway. Pricey homes and a historic downtown nestle against the slopes. Open most of the year, ride the free gondola to the Telluride Mountain Village. Did we mention fall colors are particularly stunning? As the San Juan Skyway winds across Lizard Head Pass (look for the reptilian shaped rock in the distance to the right), it reaches Dolores and Canyons of the Ancients National Monument. The excellent museum gives insight to the Ancestral Puebloan people who lived in this area. There's also a short hike to a hilltop ruin. From Dolores, it's another 20 minutes to Mesa Verde National Park, featuring well-preserved cliff dwellings tucked inside forested canyons. Durango is the next town east, completing this looping trek through human history and alpine splendor.
Unaweep Tabeguache – 133 miles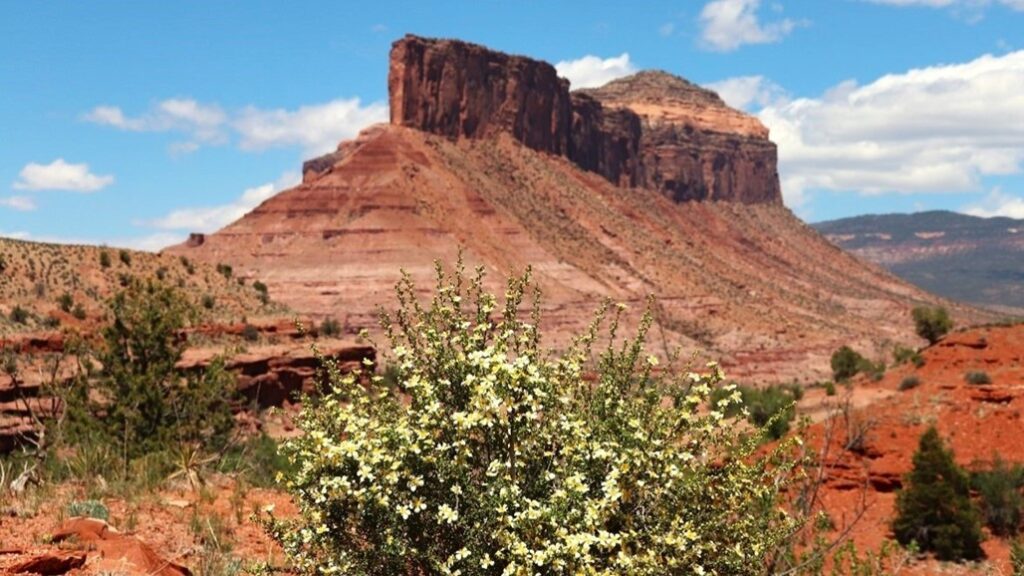 Branching off the San Juan Skyway, this byway starts in the mountains, winds through red rock and granite canyons before ending in the desert. About halfway between Ridgway and Telluride, the San Juan Skyway turns left toward Telluride and Durango. But if you continue straight, you're now on the Unaweep Tabeguache Scenic Byway. Up-and-coming Norwood sits on a high plain, surrounded by agricultural fields with mountains in the distance. The byway then drops into canyon country.
At Naturita, the highway follows the San Miguel River as it carves rock into gorge. During World War II, this area played a part in America's infamous atomic past: uranium mined here was used by the Manhattan Project for the first atomic bomb. Today, only a sign remains where the town of Uravan once stood after a large-scale environmental cleanup was completed many years ago. About six miles farther, look for the Hanging Flume Overlook. In the distance, the San Miguel flows into the Dolores. The merged rivers have sculpted a massive canyon, and clinging to the walls below are the remnants of a wooden chute, built in the 1880s for gold mining.
As the drive continues, look for mine shafts and tailings piled high up the hillsides. The byway tightens as it curves through stunning red rock walls before emerging just outside Gateway. This tiny burg is home to an exclusive resort and car museum. After passing a majestic stone butte called The Palisade, the scenery changes again. The highway now enters Unaweep Canyon, the only gorge in the world where creeks flow out in opposite directions. The dramatic granite walls are popular with rock climbers. Giant boulders and a steep decline bring this byway to a stark conclusion, about 10 miles from Grand Junction. Remoteness is a major appeal of this byway and so be sure to watch the gas gauge. Norwood, Naturita and Gateway all have fuel.
Trail Ridge Road – 48 miles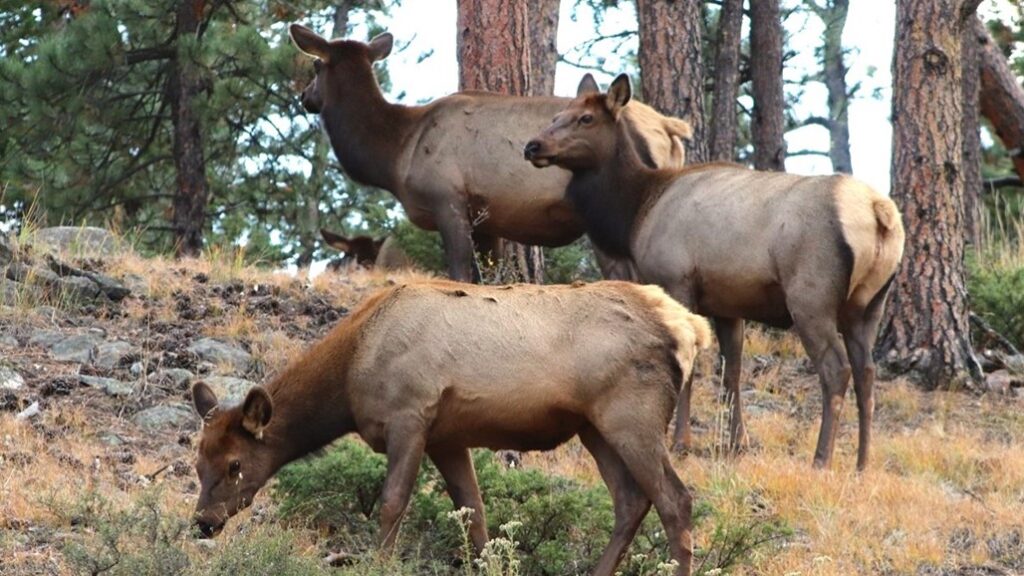 Without a doubt, Trail Ridge is one of Colorado's most famous, beautiful and beloved roads, which means it's almost always crowded. So, you'll need a timed entry reservation to drive it during peak days and hours. And Trail Ridge is only fully open from the end of May through October. Because this is one of the world's highest roads, it gets wintry weather, even in the summer. Trail Ridge Road passes through Rocky Mountain National Park.
In the late summer and fall, large herds of elk converge on meadows. Bugling males can be heard from long distances and visitors bring chaise lounges to watch the courtship from afar. Higher up, mountain vistas await at every turn. "You will have the whole sweep of the Rockies before you in all directions," said Horace Albright, director of the National Park Service during the road's construction in 1931. The highway reaches its apex at 12,183 feet. You're in the tundra, above tree line and in less oxygen. It's likely windy, chilly and exhilarating. Two touristy towns lie on either side of Trail Ridge Road. To the west is Grand Lake, built on the shores of a gorgeous lake of the same name. To the east is Estes Park, of The Shining and Stanley Hotel fame. Though both towns get busy, they feature plenty of charisma and facilities.
Peak to Peak – 55 miles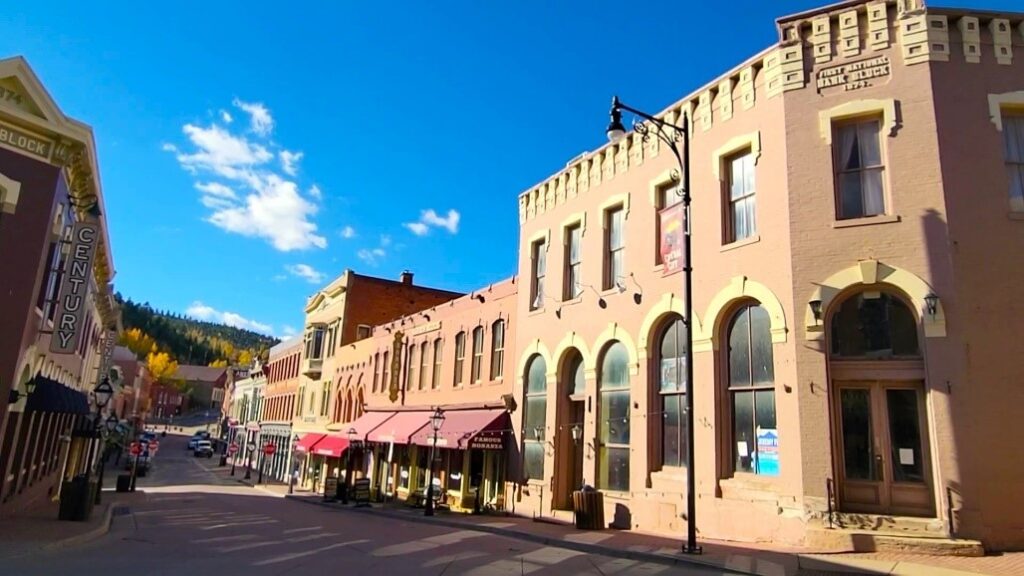 Though it doesn't officially start in Idaho Springs, this is the logical beginning of this byway. Located on I-70 about 40 minutes west of Denver, Idaho Springs offers a pleasant downtown and a walking tour of the now defunct Argo Mill and Tunnel, along with gold panning. Winding into the mountains, the byway quickly reaches Central City and Black Hawk. During Colorado's gold rush, the area was nicknamed the "Richest Square Mile on Earth." But a lot has changed in 150 years.
Gambling was introduced in the 1990s to economically recharge the two dying towns. Casinos might not be your thing but still, it's pretty amazing to see such huge hotels built so close to evergreen-clad mountainsides. And Central City still retains some of its Victorian charm, particularly the Opera House. As the byway moves farther north, Golden Gate Canyon State Park has striking mountain views and hiking trails. Nederland presents a bohemian vibe with a small ski area and an oddly out-of-place carousel. All the animals have been painstakingly restored, making a fun ride for all ages. This high-altitude journey linking mountains to mountains ends in Estes Park, on the eastern flank of Rocky Mountain National Park.
Lariat Loop – 40 miles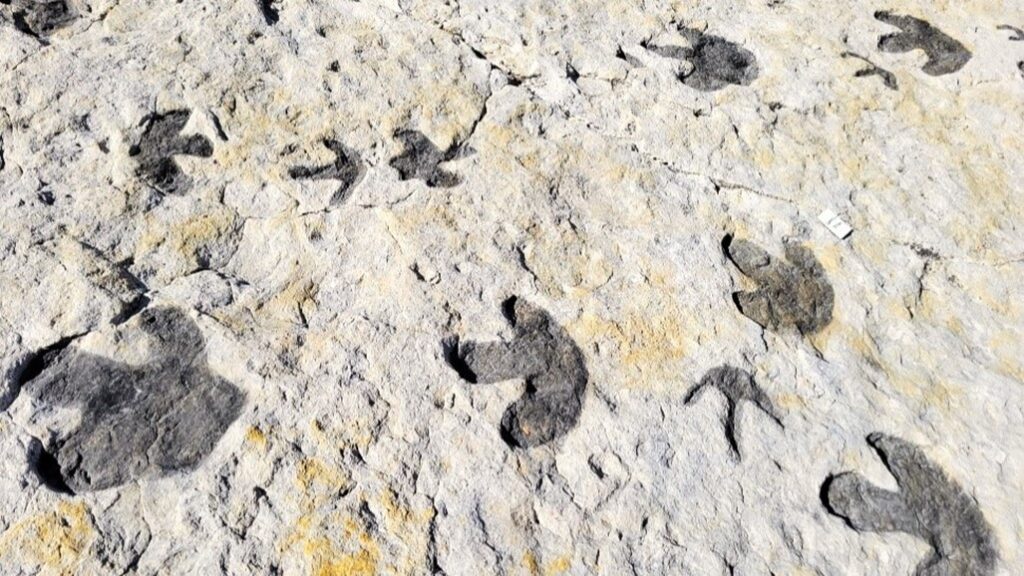 The most urban of Colorado's byways, the Lariat Loop still packs in plenty of outdoor grandeur. Denver isn't known for dinosaurs, but some striking tracks are found at Dinosaur Ridge, just off I-70 west of the city near Golden. From there, drive to Red Rocks Amphitheatre. Even if you can't go to a concert, it's worth parking in the large lot and walking around the legendary venue, taking in the views and thinking about all the unbelievable acts that have performed here over the years: The Beatles, U2, Stevie Nicks, The Grateful Dead, Jimi Hendrix, Bruce Springsteen, Willie Nelson and on and on. There's a Performers Hall of Fame and refreshments, too. Most sunny summer days, it's a surprisingly busy and festive atmosphere.
Just down the road, more dino fun awaits at the Morrison Natural History Museum, featuring bones, casts, fossils and a research lab. Heading west, Highway 74 zigzags through Bear Creek Canyon with parking for hiking trails. At Evergreen, take a walk around the lake or enjoy a meal in one of the many restaurants. There are also more hiking trails at Elk Meadow Park. Now, the Lariat Loop heads north and briefly jumps on I-70 before exiting at Genesee Park. There's more hiking plus you can sometimes observe bison that are direct descendants of the last wild herd of bison in the U.S.
The Lariat Loop then arrives at the Buffalo Bill Museum and Grave, a memorial to the legendary soldier, hunter and showman. When you think of early Wild West stereotypes, Buffalo Bill gets much of the credit for creating them. The museum's overlook is amazing, too, as Denver sparkles in the distance. Directly below is Golden, home to the giant Molson Coors Brewery. You'll marvel at the bikers and runners heading up the extreme grade as you descend. Downtown Golden is another great location for a meal or snack. Then, park in the designated lot for the ever-popular Coors Brewery Tour. But you'll need reservations.
Top of the Rockies – 130 miles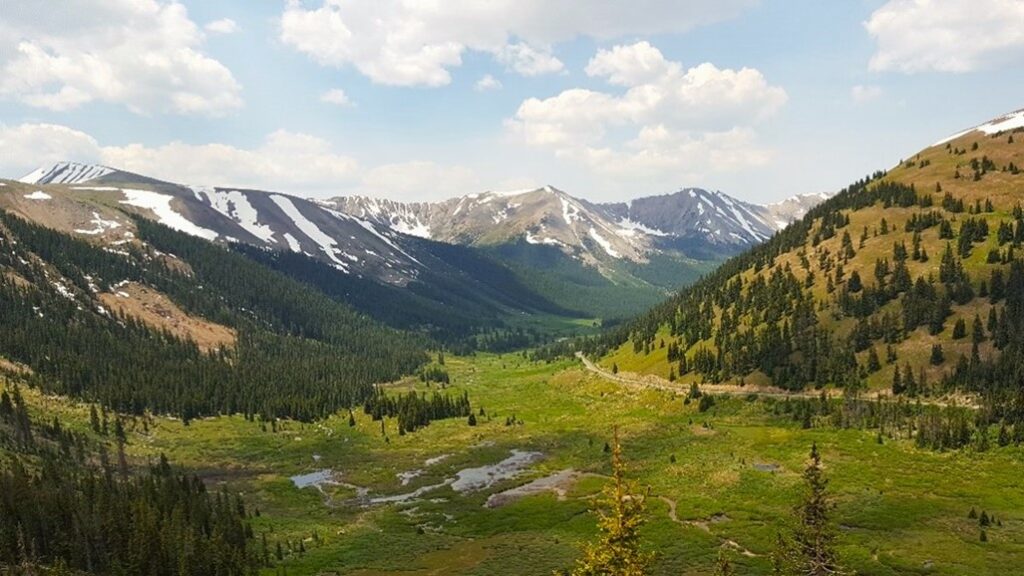 If you dream of high fashion in a dreamy, high-altitude location, this byway starts and ends in two of the world's most desirable: Vail and Aspen. Driving I-70 west of Denver, it's 100 miles and about 1.5 hours to the Bavarian-themed streets and shops of Vail. A few minutes west on I-70, the byway officially begins at Minturn, where US 24 heads south through picture-perfect mountain landscapes. After crossing the much-photographed Red Cliff Bridge, the road enters a hilly plain and soon you're in Leadville, the highest incorporated city in North America, elevation 10,200 feet.
Nearby sit Colorado's two tallest peaks: 14,433-foot Mt. Elbert and 14,421-foot Mt. Massive. With 150 years of history and several good museums, there's a lot to see and do in this former mining town turned tourist mecca. The byway continues to parallel the mountains before directly heading into them at Twin Lakes. Driving west, Highway 82 lives up to the byway's name. You'll feel like you're on top of the world as you cross Independence Pass through some of the Rockies' most unforgettable scenery. Be sure to check conditions before you leave because this section, Twin Lakes to Aspen, is closed October through May.
There are several good campgrounds and hiking areas along here, too, such as Grottos Trail. Waterfalls, rock formations and an ice cave are highlights of this short but sweet stroll. The byway ends at the pricey restaurants, art galleries and luxury boutiques of downtown Aspen.
Grand Mesa – 63 miles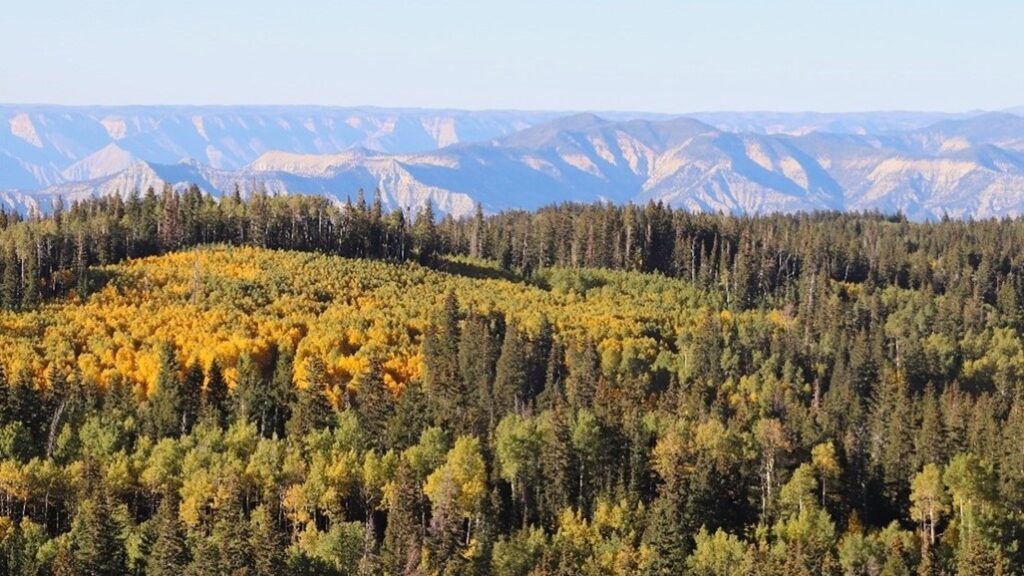 Perhaps no byway in Colorado defines the contrast of mountain to desert more dramatically than Grand Mesa. Driving I-70 through western Colorado, the freeway parallels the Colorado River through the high, dry walls of De Beque Canyon. Exiting east onto Highway 65 and the start of the byway, the road continues to wind through another narrow, barren but beautiful canyon before starting the slow ascent to Grand Mesa. Weather-sculpted rocks, sagebrush and junipers give way to farmland as the highway enters the town of Mesa. Then, engine pull indicates the climb has started. Before the summit, there are several overlooks featuring pine and aspen forests with desert in the distance. Powderhorn Mountain Resort is a ski area with warm-weather hiking while Mesa Lakes offers more trails, dining and cabins. You're now in a national forest and there are several campgrounds, too.
Maxing out at 11,332 feet, Grand Mesa is the world's largest flattop mountain. With more than 300 lakes, fishing is obviously popular and so is wildflower viewing. And fall brings changing aspen. At times, there are lots of hungry mosquitos so check online or contact the visitor center for updates. In summer and fall, there are two ways to get down. Land's End Road is well-maintained gravel with more lakes and a stunning overlook with comically greedy ground squirrels and chipmunks.
From here, the steep, narrow descent to desert floor isn't recommended for RVs. Instead, return to pavement and continue via Highway 65 to Cedaredge. Pioneer Town Museum is mostly outdoors and features boardwalks, silos, an Old Main Street, blacksmith shop and American Indian collection. Cedaredge is an apple growing area so look for fruit stands in late summer and fall. The AppleShed sells local art, coffee and food, and October brings the Apple Festival.
Palisade Fruit & Wine – 25 miles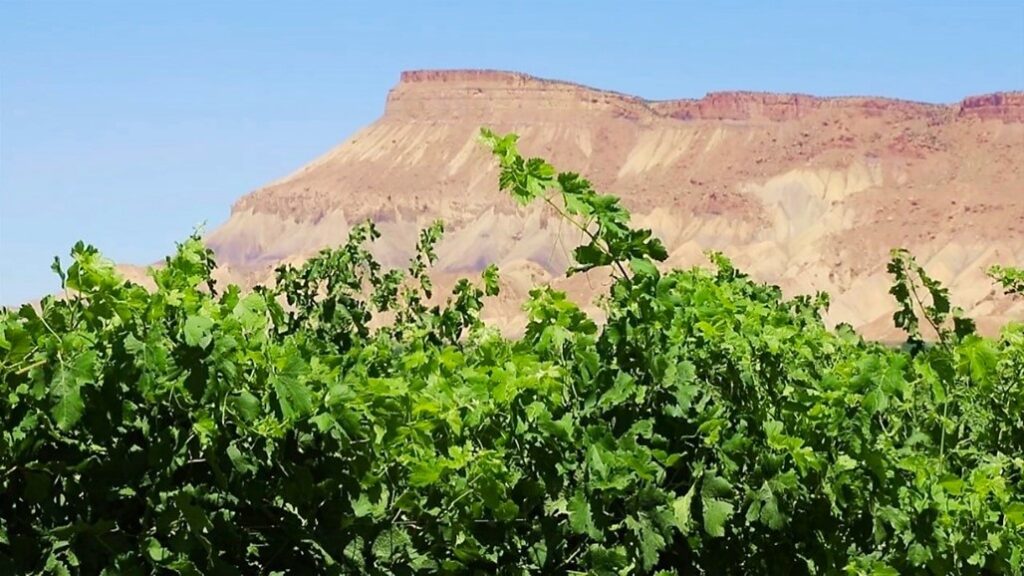 This western Colorado route isn't a state or federal byway but it's unique and tasty. As I-70 leaves De Beque Canyon and enters the Grand Valley on the way to Grand Junction, the region's largest city, the freeway passes by Palisade. For decades, the town has had a statewide reputation for its high-quality peaches. Many years ago, some of the orchards began transforming into vineyards and now Palisade has an international reputation for wine. Following various paved roads, the byway wanders past a collection of more than 40 tasting rooms, fruit stands, lavender farms, distilleries and a pie shop. You'll find coffee, a brewery and a couple of top-notch restaurants in the quaint downtown. The byway is popular with drivers and bikers and while July is the start of fruit harvest, many of the wineries are open year-round. Spring brings colorful blossoms so check ahead for updates.
Gold Belt Tour – 135 miles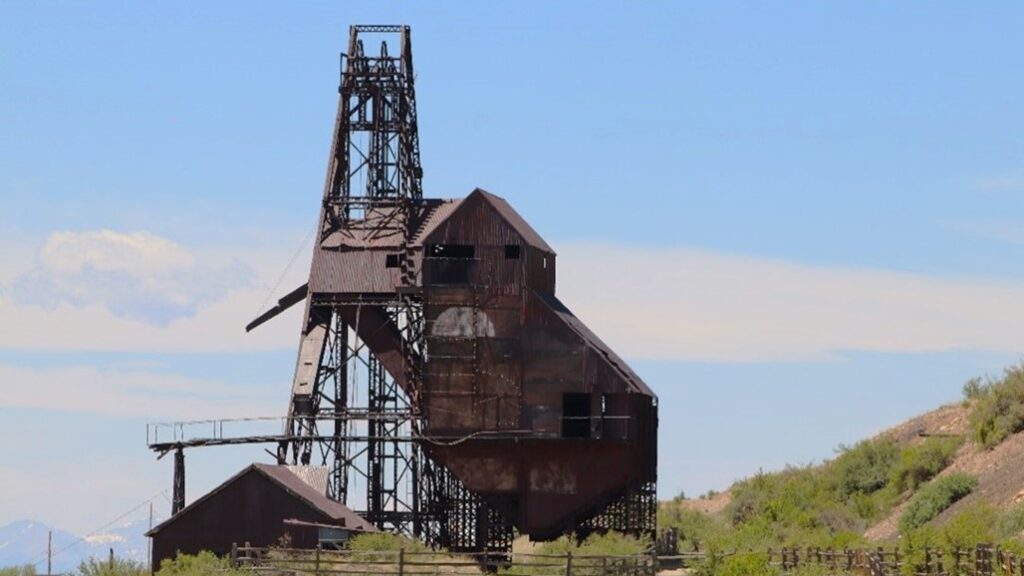 This byway starts 40 minutes west of Colorado Springs, pretty much smack dab in the center of Colorado. At Florissant, drive south on County Road 1 to Florissant Fossil Beds National Monument. A short hike leads past a few petrified sequoias, some of the world's largest fossilized trees. County 1 continues to Cripple Creek, long past its heyday of the 1890s when some of history's largest gold strikes occurred in the area. Today, a walk along Bennett Avenue leads to nine casinos, but you can still feel like a prospector at the Mollie Kathleen Gold Mine where a vertical shaft tour descends 1,000 feet!
Modern, high-tech mining still happens at the Newmont Mine, which you'll pass on the 10-minute drive to Victor. Here, restored brick buildings and mining ruins offer plenty of photographic appeal. Then, it's decision time. Phantom Canyon Road is crazy pretty, but it's maintained gravel and very narrow in places. Be sure to research and check with the locals before heading out in your RV. Shelf Road is a second option but it's definitely 4WD.
The third choice involves heading back to Cripple Creek. Continue toward Florissant Fossil Beds but then take a left onto County 11, about nine miles past Cripple Creek. Driving south, you'll reach Cañon City, the next important stop no matter which road you take from Victor. A big town with all the necessary amenities, the highlight here is the Royal Gorge Bridge, where walking some 1,300 wooden planks takes you across America's highest suspension bridge. The mighty Arkansas River looks puny from 1,000 feet above! If forest hikes among red rock formations are more your thing, follow the paved section of Shelf Road north to Red Canyon Park.
Learn more about the thought, research, planning and promotion that goes into the designation of our beautiful Scenic Byways.