Travel Inspiration
Last updated on May 27th, 2023. Originally published on May 26th, 2023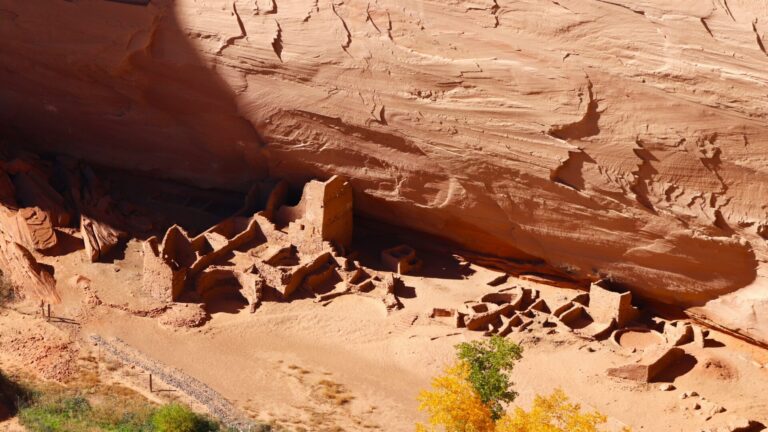 To the north, the Grand Canyon State features a massive gorge and high deserts. In the central and eastern parts lie mountain peaks and forests. Toward the south are giant cacti and a desert with extreme summer temps. Arizona is one of the most geographically compelling states, and with American, Native American and Mexican influences, it's also one of the most culturally diverse. These premier scenic byways tie it all together.
Historic Route 66 – All-American Road
Kaibab Plateau – North Rim Parkway – National Scenic Byway

Fredonia-Vermilion Cliffs Scenic Road

Navajo Nation

Diné Tah (Among the People) Scenic Road
Kayenta-Monument Valley Scenic Road
Naat'tsis'aan-Navajo Mountain Scenic Road

Oak Creek Canyon (does NOT have National or All-American designation)

Red Rock Scenic Byway – All-American Road

Sky Island – National Scenic Byway
Patagonia-Sonoita Scenic Road
Coronado Trail – National Scenic Byway

White Mountain

Apache Trail (CLOSED)
Historic Route 66 – National Scenic Byway & All-American Road – 420 miles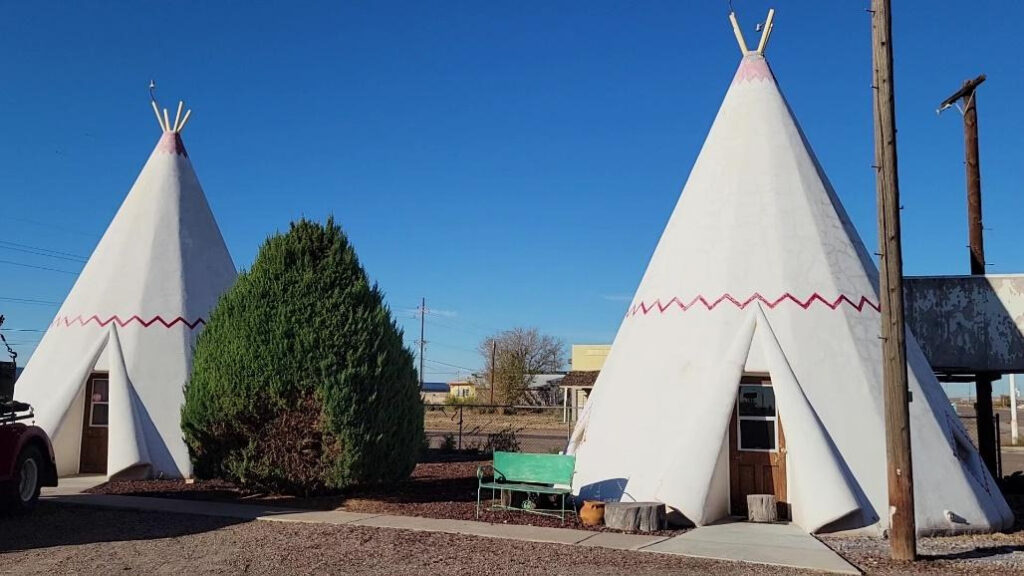 "The Mother Road," as John Steinbeck called it in his 1939 book, The Grapes of Wrath, runs from Chicago to Los Angeles. It's the most famous highway in America and yet, in places Route 66 is difficult to follow and disappointing. 2026 marks its 100th birthday. Over the past century, freeways have replaced most of Route 66's two lanes. Motels and restaurants have come and gone. Some states have worked to preserve and market the route's historical importance. Arizona's segment is one of the best, largely because it has so many outstanding natural attractions.
Entering Arizona from New Mexico on I-40, you're also on Historic Route 66. It's about 50 miles west to Petrified Forest. One of the more unusual national parks and the only one solely dedicated to fossilized wood, a 28-mile road weaves through this geological masterpiece. More than 200 million years ago, this was once a living forest. Over time, it became a desert, eroding into a colorful landscape of buttes, hills and mesas with clusters of petrified wood, one of the world's largest concentrations. There are overlooks and hiking trails along Petrified Forest Road, and once you reach US 180, take a right. It's 20 minutes to Holbrook and the Wigwam Motel.
Listed on the National Register of Historic Places, the Wigwam Motel is one of seven built throughout the U.S. Completed in 1950, Holbrook's has 15 freestanding structures with sink, toilet, shower and the original hand-made hickory furniture. And yes, you can stay here. Ignoring cultural accuracy, the original architect called his designs wigwams but they are actually teepees. The other two surviving Wigwam Motels are in Cave City, Kentucky and along Route 66 in San Bernardino, California.
Of course, road trips are also about unique finds. Holbrook is home to Arizona Sake, the state's first commercial kura, or brewery. Yokohama, Japan native Atsuo Sakurai is the only First-Grade Sake Brewer in the United States and his sake sells in stores and restaurants around the country. In Holbrook, Arizona Sake is open for tastings and short tours by appointment only.
From Holbrook, get back on I-40 and Route 66. It's 30 minutes west to Winslow. If the line "Standin' on the corner Winslow, Arizona" comes to mind, you're thinking of Take It Easy, by the Eagles. Jackson Browne wrote the song on an Arizona/Utah road trip. Winslow's attractive downtown does a good job of playing up its Route 66 heritage with lots of signage, souvenir shops and a couple of restaurants.
Another 21 miles west on I-40/Route 66 is the exit for Meteor Crater. Signs with "5 Miles to Impact" and "3 Miles to Impact" count down the 6.5 miles from freeway to visitor center. More than 50,000 years ago, a 150-foot-wide meteorite crashed here, leaving a nearly mile-wide, 550-foot-deep hole. Because Meteor Crater is similar to the scarred surface of the moon, NASA astronauts trained here for the first lunar landing in the 1960s.
From Meteor Crater, it's ½ hour to the next stop along I-40/Route 66. At exit 204, go three miles south to Walnut Canyon National Monument. A one-mile loop descends partly into the forested canyon where the paved trail passes by 25 cliff dwellings. If you look across the valley, you'll see more ruins tucked into the rock walls. During the 1100s CE, a prehistoric culture archaeologists call Sinagua built these dwellings while continuing to farm beans, corn and squash on the canyon rim.
From Walnut Canyon, don't get back on I-40; instead keep straight and follow Route 66 into Flagstaff. It's 11 miles to downtown and along the way, you'll see a few Route 66 icons such as the Western Hills Motel and its awesome covered wagon neon sign. Almost 7,000 feet above sea level and located at the base of Arizona's highest mountain, Humphreys Peak, Flagstaff is surrounded by forests and outdoor activities. It's a delightful small city with breweries, art galleries and the Museum of Northern Arizona with exhibits on nature, geology and Native American history and culture. Throughout Flagstaff, Route 66 features prominently on signs, in a block-long mural and in the pavement by the train station.
From Flagstaff, I-40/Route 66 begins descending some 2,000 feet from ponderosa highlands into desert as it heads west. At exit 139 past Ash Fork, Route 66 leaves the freeway and goes northwest. The topography is stark and dry as the highway goes through Seligman, Peach Springs and Valentine, partially across the lands of the Hualapai Tribe. Look for retro drive-ins, motels and souvenir shops as you drive 105 miles to Kingman, the longest remaining section of Historic Route 66 in the country.
In Kingman, the Arizona Route 66 Museum is in the Powerhouse Visitor Center, where Route 66 joins I-40 again. In five miles, get off the freeway and follow the Oatman Highway. This part of Route 66 travels 24 miles across desert and over a narrow, beautiful mountain pass before dropping into Oatman.
This artsy, Wild West holdover has boardwalk streets and staged gunfights. But the town's most famous residents are burros, descendants of donkeys used and then abandoned during Oatman's gold mining days. The wild-but-tame burros wander the streets and scrubland, looking for snacks and snout scratches from visitors. Yes, they will poke their heads into a vehicle's open window! It's another 25 miles to I-40 and the California state line.
Kaibab Plateau – North Rim Parkway – National Scenic Byway – 44 miles but 240 miles following this itinerary from Flagstaff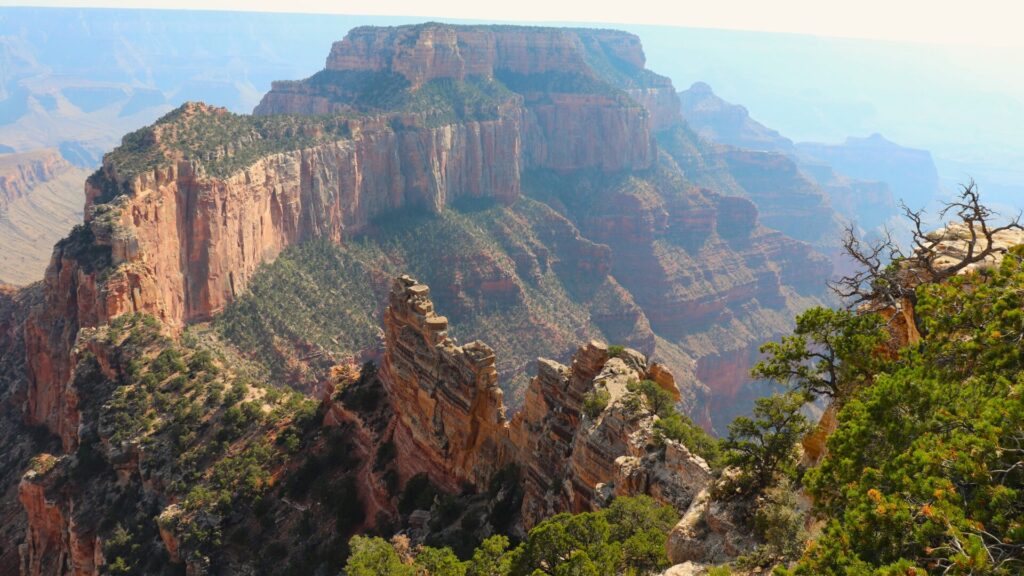 This scenic byway is the access road to the Grand Canyon's North Rim. But first you have to get there and so this route explores the region north of Flagstaff. Leaving town on US 89, take a detour 16 miles north to Sunset Crater Volcano and Wupatki. The national monuments sit near each other and are connected by a 36-mile loop road that curves through both parks before rejoining US 89 farther north.
Flagstaff lies near a large volcanic area where the Sunset Crater Volcano erupted about 1,000 years ago. There are several hiking trails through lava flows near the base of the 1,000-foot-high cinder cone. In contrast, Wupatki National Monument preserves dozens of magnificent human-made ruins, dating back to the 1100s CE. Ancestors of modern-day Pueblo communities built busy villages that were the center of culture and trade. There's no camping in either monument; however, Bonito Campground, run by the US Forest Service, lies just outside Sunset Crater Volcano.
Back on US 89, it's 20 miles north to Cameron where a left turn onto Arizona State Highway 64 leads to the South Rim of Grand Canyon National Park. But continue straight as we're moving onto the equally spectacular North Rim, 160 miles away.
From Cameron, it's 58 miles to Bitter Springs where a left onto US 89A continues north. (Staying on US 89 leads to Horseshoe Bend and Page, featured in our Navajo Nation article, below.) You're now on the Fredonia-Vermilion Cliffs Scenic Road which leads through a harsh yet vibrant landscape to Navajo Bridge. Opened in 1929, it spans the Colorado River, 500 feet below. Driving across the bridge into the tiny settlement of Marble Canyon, a right turn leads onto Lees Ferry Road. This short, spectacular and historic stretch gives the first up-close view of the Vermilion Cliffs. They are part of the Grand Staircase, an enormous layer cake of sedimentary rock stretching from Utah's Bryce Canyon and Zion national parks south to the Grand Canyon that has exquisitely eroded over time. Lees Ferry Road skirts the cliffs for six miles before dead ending at the Colorado River.
Lees Ferry was a natural passage critical to the exploration and settlement of the region. Ferryboats crossed here from 1872 until the Navajo Bridge was completed downstream. Today, Lees Ferry gives access to fisherman and other river enthusiasts. It also marks the start of the Grand Canyon and is a major launch point for multiday rafting trips. There's also a campground.
Back on US 89A and continuing west, the highway follows the southern boundary of the immense Vermilion Cliffs National Monument. Soon a roadside oddity named Cliff Dwellers appears. It features gigantic boulders and an abandoned trading post built in the 1920s by a Ziegfeld Follies' dancer and her husband.
Largely undeveloped, Vermilion Cliffs has no visitor center and no paved roads. But there are incredible hiking trails, including one near the Utah border that leads to the world-famous, multihued rock formation, The Wave. However, to reach it, you must apply for a permit through a lottery.
At its western boundary, Vermilion Cliffs also has condors. At certain times of the year, a number of these huge, endangered birds soar and roost. There's even a viewing site about three miles north of US 89A on unpaved House Rock Valley Road.
32 miles past Marble Canyon, the road trip leaves the Vermilion Cliffs, quickly and steeply climbing some 4,000 feet. The temperature drops and woodlands appear. Inhabited by aspen and various pine varieties, Kaibab National Forest lies north of Grand Canyon National Park.
Like many forests in the western U.S., wildfires have taken their toll over the years and that's evident along US 89A as well as deeper into the park. Soon the highway reaches Jacob Lake and a left turn onto AZ 67 leads directly south to the North Rim. You've reached the Kaibab Plateau – North Rim Parkway.
The Grand Canyon has more than 90 species of mammals and nearly 450 types of birds, so you might see bison, elk or wild turkeys along this section. It's 44 miles to a dead end at the North Rim Visitors Center, elevation 8,000 feet.
The dramatic views from the North Rim are essentially the ones you see from the South. But the North only gets about 10% of the park's visitors because it's more isolated and the parkway is only open to vehicles mid-May through late fall. Winter weather closes the road but backpacking, snowshoeing and cross-country skiing are allowed.
The North Rim is 1,000 feet higher than the South. As the crow flies, it's about 10 miles between the rims' visitors centers. But it's more than 200 miles to drive! The North Rim has numerous overlooks. At an elevation of 8,803 feet, Point Imperial has the park's loftiest view. Angels Window is a cool hole in the rock that you can walk across. From the Angels Window overlook, the Colorado River can be seen far below, continuing to carve the canyon as it's been slowly doing for six million years. Cape Royal is the farthest viewpoint and the end of the journey. It's worth the drive along Cape Royal Road, providing some of the most sweeping views of a park that's 277 miles long and averages 4,000 feet deep.
Navajo Nation – 390 miles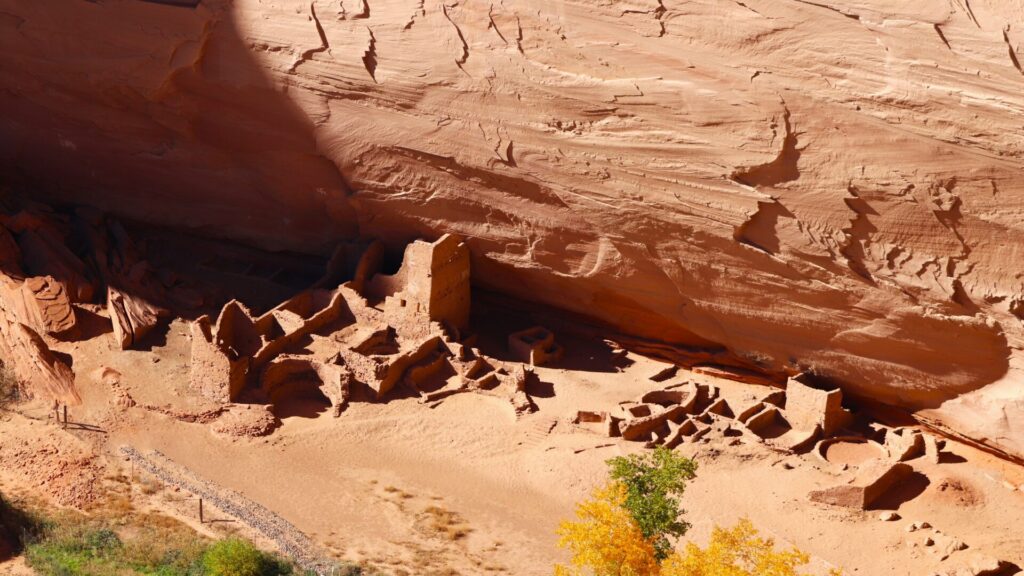 This route includes three scenic roads and some of the best landscapes in the Navajo Nation, a large area comprising all northeastern Arizona with sections in Utah and New Mexico. Canyon de Chelly, Monument Valley and Horseshoe Bend are the main highlights.
Starting at the New Mexico/Arizona state line on I-40 and Historic Route 66 (see above), it's two miles to exit 357 and Navajo Route 12. Called the Diné Tah (Among the People) Scenic Road, go north 24 miles to Window Rock, the capital and tribal headquarters of the Navajo Nation. Check out the Navajo Nation Museum where the mission is "to achieve Hózhό through contemporary and traditional exhibits." Hózhό essentially means balance or peace within oneself, a sentiment to keep in mind throughout this, or any, road trip.
From Window Rock, the Diné Tah Scenic Road continues north on Navajo Route 12 through high desert with the Chuska Mountains framing the background. It's 53 miles to Tsaile where you'll take a left and head west on Navajo Route 64. The highway skirts the north rim of Canyon de Chelly National Monument, with various overlooks along the way. The monument consists of a maze of canyons with walls more than 1,000 feet high. People have continuously lived here for 5,000 years and as you look down from various viewpoints, you'll be able to see ruins on the canyon floor, on ledges and tucked under overhangs. Along Navajo 64, Mummy Cave is my favorite ruin.
From Tsaile, it's 24 miles to the monument's Welcome Center and South Rim Drive Highway. Here, canyon walls are only about 30 feet high. There's a cottonwood-shaded campground, comfortable motel, restaurant and gift shop. This is also where tours depart and return. Guided excursions are the only way to explore the canyon's interior but it's definitely worth the sandy drive for a closer view of ruins and petroglyphs. And yes, people live in the canyons. Back on South Rim Drive Highway, several more overlooks peer across and into the canyons, ending at Spider Rock, a 750-foot-high sandstone spire rising from the canyon floor.
It's 20 miles back to the Welcome Center and then, continue through Chinle, taking a right onto US 191. Follow the highway north to Navajo Route 12, then travel northwest to US 160 and finally, west into Kayenta. You've driven 70 miles from Chinle. Then, heading north on US 163, you're now on the Kayenta-Monument Valley Scenic Road. The 45 miles from Kayenta to Mexican Hat, Utah are the stuff of travel brochures and Hollywood movies. Agathla Peak, King-on-His-Throne and Alhambra Rock are just some of the stellar, 400- to 1,000-foot-high rock formations that have made Monument Valley synonymous with classic American West scenery.
The heart of Monument Valley lies about halfway between Kayenta and Mexican Hat, on the Arizona/Utah border, 24 miles north of Kayenta. From fuel, campgrounds and food to Navajo rugs, pottery and jewelry, you'll find most everything you need. A 17-mile-loop takes you through the tightest concentration of pillars and buttes such as The Mittens, Three Sisters and Elephant Butte. But it's dirt and I wouldn't drive an RV on it. Consider taking a tour with a Navajo guide in a vehicle equipped for the sandy roads. You'll also see restricted areas only accessible with an official escort, hear Navajo stories and make perfectly timed photography stops when the sunlight is just right. Heading north, this route continues as part of Trail of the Ancients, outlined in our article on Utah's scenic byways.
Back in Kayenta and heading west on US 160, go 19 miles to Arizona State Highway 564 where a paved road leads nine miles north to a visitor center and free campground. Navajo National Monument features forested canyons, hiking trails and cliff dwellings. Uninhabited for the past 700 years, Betatakin is the most easily seen ruin from a 1.3-mile roundtrip trail that ends at an overlook. There are also ranger-guided tours for a closer look.
From US 160, it's 13 miles farther west to the intersection of AZ 98 where you'll go right, heading toward Page, 66 miles to the northwest. Called the Naat'tsis'aan-Navajo Mountain Scenic Road, the first major highlight requires a guided tour. Located south of the highway about six miles from Page, Antelope Canyon is a much-Instagrammed slot canyon. Set on private land within the Navajo Nation, several companies offer tours.
Adjacent to the Navajo Nation with Lake Powell immediately to the north and the Colorado River to the west, Page is surrounded by dazzling natural beauty. Glen Canyon Dam created Lake Powell and Page, too. The town was founded in 1957 as a housing camp for dam builders. Severe drought and human consumption mean Lake Powell isn't as full of water as it once was. But it's still an impressive sight and Page is where most boaters come to camp and launch. The bridge and 710-foot-high concrete dam are incredible, too, with several overlooks offering different vantage points.
The final highlight is another social media darling (the National Park Service's words, not mine). Horseshoe Bend lies just a few miles south of Page on US 89. A ten-minute walk from the parking area leads to a sudden 1,000-foot drop-off. Over millions of years, the Colorado River cut through the sandstone, eroding a crook around a colossal butte. It's unbelievably pretty and worth the crowds. You're also very close to the start of Grand Canyon National Park as well as our article on the Kaibab Plateau – North Rim Parkway (see above).
Oak Creek Canyon & Red Rock (National Scenic Byway & All-American Road) – 45 miles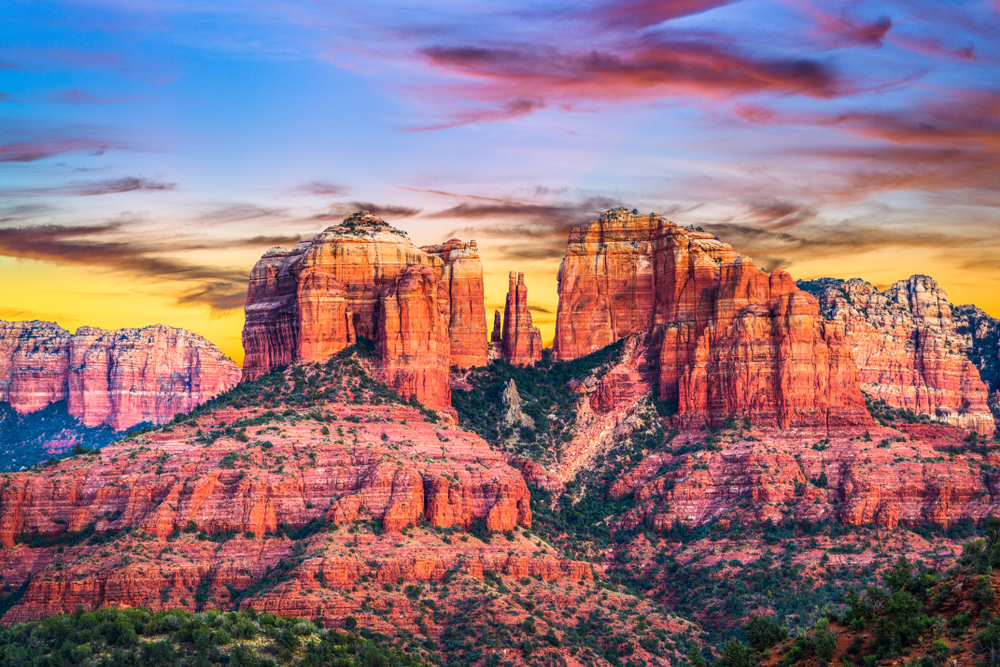 If you're traveling from Flagstaff to Phoenix, these byways offer a gorgeous alternative to nearby I-17. They also lead to and from Sedona, a spiritual hub and one of Arizona's most beautiful towns. Leaving Flagstaff, follow I-17 south to exit 337 and Arizona State Route 89A.
As you continue south, AZ 89A, aka Oak Creek Canyon Drive, crosses a high plateau covered in ponderosa pines. You're in Coconino National Forest and so there are many hiking trails, picnic spots and places to camp along this entire drive. After nine miles, be sure to stop at the Oak Creek Vista, an overlook to the left, elevation 6,400 feet. This is the edge of the Mogollon Rim, a steep slope extending 200 miles across northcentral Arizona and into New Mexico.
From here, the highway begins winding several hundred feet down the escarpment. With a few switchbacks, it's the trickiest part of this road trip. The extreme elevation change and relatively plentiful water mean plants and trees vary greatly, too. About three miles from the rim, you'll reach the historic Pumphouse Wash Bridge before continuing another three miles to West Fork Trail, the most popular hike along this route. If you're up for an outdoor trek, be sure to research this and other trails before you go as this area gets busy and you might want alternatives.
For 12 miles, AZ 89A curves through Oak Creek Canyon. Ranging in depth from 800 to 2,000 feet, the gorge is a riot of color and texture with tan, purple and red rock formations accented by green vegetation. From West Fork, it's 3.5 miles to the other major attraction along the byway, Slide Rock State Park, where ½ mile of Oak Creek is open for swimming. The park is named after its signature feature, an 80-foot-long sandstone rock, worn into a chute and covered with algae creating a slick ride. Five miles more and there's another swimming hole, Grasshopper Point.
After crossing the much-photographed Midgely Bridge, the road exits the canyon and arrives in Sedona, 30 miles from Flagstaff. Sedona is a major tourist destination where restaurants, spas, art galleries and many things mystical await your visit. Then, it's onto the Red Rock Scenic Byway linking Sedona to I-17 and points south.
Sedona's inspirational location has a lot to do with its spiritual reputation. Tinted red by iron, sandstone has eroded into canyons, buttes, arches and pinnacles. There's breathtaking scenery all along the Red Rock Scenic Byway, which starts in downtown Sedona with a left off AZ 89A onto AZ 179. Heading south three miles, the Chapel of the Holy Cross perches high atop rocks to the left. The striking concrete and glass structure was completed in 1956.
From here, the byway wanders through Coconino National Forest past formations such as Cathedral Rock, Courthouse Butte and Bell Rock. Various trails can be explored providing closer views. After passing through the Village of Oak Creek, the byway reaches I-17, some 15 miles from Sedona.
Sky Island (National Scenic Byway) – 27 miles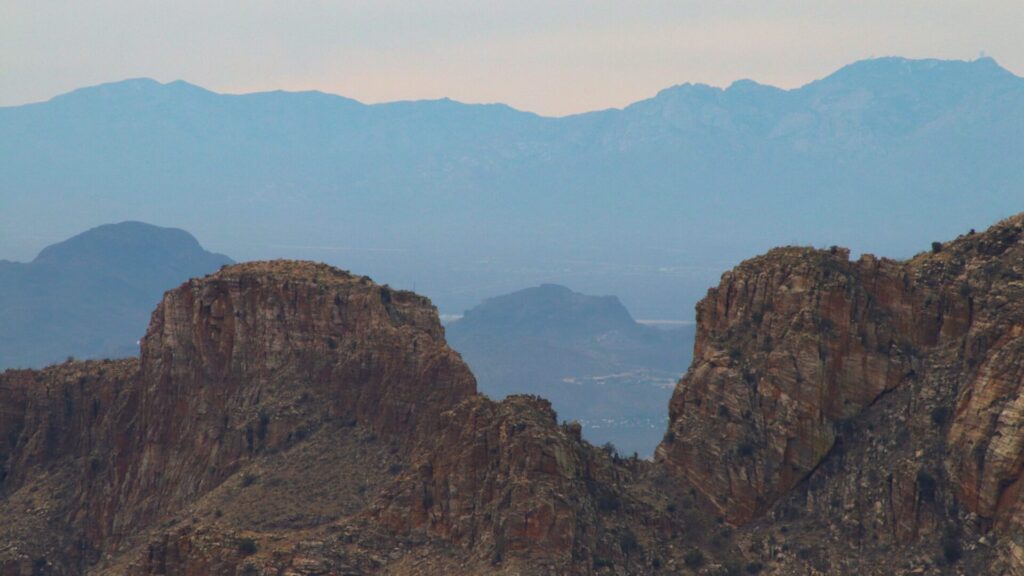 There's a lot to love about Tucson: Giant cactus, outstanding Mexican food, the Arizona-Sonora Desert Museum, Tucson Botanical Gardens, Pima Air & Space Museum, DeGrazia Gallery in the Sun and San Xavier del Bac Mission are some of my favorites. And although Tucson lies in the Sonoran Desert where summer highs average above 100°F, you don't have to go too far to lessen the heat, and even ski in winter.
To reach this National Scenic Byway, head toward the mountains dominating the skyline northeast of the city. From downtown, it's about 15 miles to the base of the Santa Catalinas and the start of the Mt. Lemmon Highway. Tucson's elevation is 2,389 feet and this byway will climb higher than 6,000 feet over 27 miles before ending at Mt. Lemmon Ski Valley. With such radical elevation changes, the variations in vegetation are extraordinary, too. As you pass through five life zones, some compare it to driving from Mexico to Canada. And keep an eye out for all kinds of reptiles, birds and mammals including javelina, deer, bear and coatimundi, part of the racoon family. The plants and animals here could never survive in the surrounding deserts, making these mountains an isolated "sky island," giving the byway its name.
Arizona's iconic saguaro flourishes as you begin the 2.5-mile climb to Babad Do'ag Scenic Overlook. Meaning "Frog Mountain," it's the Tohono O'odham tribe's traditional name for the Santa Catalina Mountains. The viewpoint is a great spot to get shots of metro Tucson as well as saguaros and the desert landscape. There's also a trailhead, one of many along the byway.
The next overlook is Molino Canyon, which looks into Molino Basin. As you enter the canyon, there's a campground and another trail. The highway then moves steeply through the rugged terrain, as trees change from oak to juniper and then cypress to walnut. Windy Point provides some of the best vistas, with mountains layered across the horizon. You've come 14 miles and the elevation is 6,400 feet.
Look for more pullouts, a campground and hiking trails before reaching the Palisades Visitor Center, which has information on natural and cultural history, bathrooms and a bookstore with maps and souvenirs. Surrounded by ponderosa pine, you might encounter snow.
The byway ends another seven miles up the mountain at Mt. Lemmon Ski Valley, the southernmost ski destination in the continental U.S. Open year-round, in warmer months you can ride the lift for mountain-top views and hiking.
Patagonia-Sonoita Scenic Road – 180 miles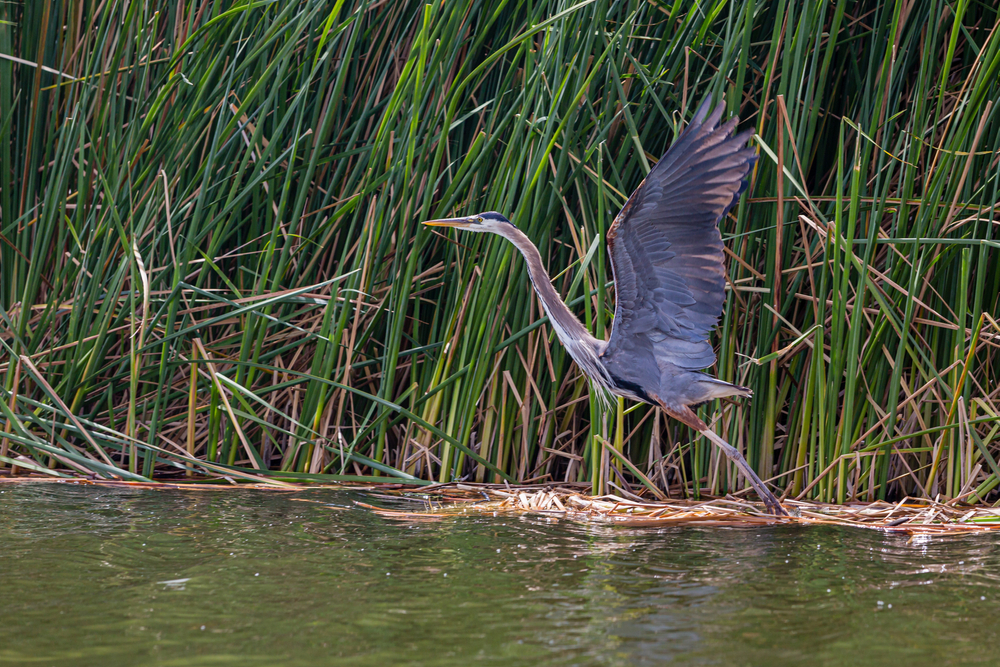 To reach this scenic road in southern Arizona, there are a couple of must-stops along the way. Leaving Tucson and driving south on I-19, go 48 miles to Tubac, an artsy town with unique shops, galleries and jewelry stores. Next to Tubac Plaza is Tubac Presidio State Historic Park and Museum, which focuses on Native American, Spanish Colonial, Mexican and U.S. pioneer history. The park is home to numerous Arizona firsts: first fort, first European settlement, first American mining community, first printing of a newspaper and first state park.
Five minutes south of Tubac is Tumacácori National Historical Park. A place of spirituality, conflict and cooperation, Tumacácori started as an O'odham village then became a Spanish satellite mission and finally, a headquarters mission. Founded in 1691, it's Arizona's oldest mission site. Today, the main feature is the church, completed in 1823.
From Tumacácori, get back on the freeway and head south 11.5 miles to exit 12. Then, take a left and go east on Ruby Road, take a right onto Via Frontera, a left onto South River Road and then a left onto Arizona State Route 82. Following these directions, it's less than seven miles from I-19 to AZ 82. You're now on the Patagonia-Sonoita Scenic Road, heading north. In a little more than six miles, look for the Patagonia Lake State Park turnoff to the left. It's 3.5 miles to this reservoir, set among desert hills with barren mountain peaks in the distance. There's a campground, beach and picnic area. Waterskiing, fishing and birding are popular activities.
Once you're back on AZ 82 heading north, drive seven miles to Patagonia. Birders will want to check out the Paton Center for Hummingbirds. Then, drive or walk the one-mile trail to the Patagonia-Sonoita Creek Preserve. This area is a floodplain valley between two mountain ranges. Some of the richest remaining streamside habitat in the region lies along Sonoita Creek. High in biodiversity, countless types of plants, trees, birds, butterflies and endangered fish are found on this large preserve.
Continuing north on AZ 82, it's 13 miles to Sonoita and southern Arizona wine country. There are about 20 wineries, which includes nearby Elgin. Shy of a mile high above sea level, the elevation and cooler temperatures make this prime grape growing land, the first region in Arizona to have earned the American Viticultural Area designation.
Heading north of Sonoita on AZ 83 (not AZ 82), it's four miles to Gardiner Canyon Road. Go left and then in less than a mile, turn right onto Fish Canyon Road, also designated Forest Service Road 163. Continue about 5 miles to Kentucky Camp. The dirt road might not be right for your RV so check ahead. You can also mountain bike.
Located in Coronado National Forest, this former mining company headquarters was built in 1904 and then abandoned the next year after the chief engineer mysteriously died. After that, it was a cattle ranch for 50 years. Today, Kentucky Camp is an historic district with exhibits and a restored adobe cabin you can rent, reservations required. Outside the camp's boundary, camping, hiking, mountain biking, horseback riding, wildlife viewing and stargazing are what you do here. Kentucky Camp also lies on the Arizona National Scenic Trail, which stretches 800 miles across the state, from Mexico to Utah. Not to be confused with a scenic byway, this trail is for hikers, mountain bikers, equestrians and runners, not vehicles.
Though not officially on the Patagonia-Sonoita Scenic Road, Tombstone and Bisbee are nearby must-sees. From Sonoita, it's 40 minutes east on AZ 82 to Tombstone. Sure, it's touristy with shootouts, boardwalks and stagecoach rides. Tombstone looks like an Old West movie set and while "The Town Too Tough to Die" is infamous for brothels and the gunfight at the O.K. Corral, it was never that rough and lawless. Instead, in the late 1800s, silver made Tombstone one of the most modern, wealthy communities in the west. When the mines closed in 1923, Tombstone became quiet and sleepy. Then, in the 1950s, the town began its resurgence as books, comics, TV and film popularized its Wild Wild West image. The 1990s movies Tombstone and Wyatt Earp draw thousands of visitors each year.
From Tombstone, it's 23 miles south on AZ 80 (not AZ 82), to Bisbee. Another tourist favorite, this town is both similar and completely different from Tombstone. Known as the "Queen of the Copper Camps," Bisbee was one of the world's richest mineral sites. By the early 1900s, it was the largest city in the Territory of Arizona and one of the most sophisticated metropolises in the west. Sound familiar? But unlike Tombstone, mining continued in Bisbee until the 1970s. Its affordable location and attractive historic district drew creative types and today, this free-spirited town is known for art, music, dining, nightlife, festivals and lots of outdoor activities. The setting is spectacular, too. Located 10 miles north of the Mexico border at 5,538 feet above sea level, Bisbee sits in a valley of the Mule Mountains. And with a mix of Italianate, Neo-Classical, Baroque Revival and Carpenter Gothic architecture, Bisbee's appearance is as appealingly eclectic as its citizens.
Coronado Trail – National Scenic Byway – 123 miles

Arizona is a state of extremes and this road trip captures the drastic changes in geology, elevation and nature as the byway parallels the New Mexico border.
The scenic byway is named after Spanish conquistador Francisco Vázquez de Coronado. In the 1540s, he passed near this route while leading an expedition from Mexico to present-day Kansas, looking for the Seven Cities of Cibola, mythical lands of gold located somewhere in the southwest. Coronado never found the gold and it's believed his expedition killed a lot of Native Americans along the way, too.
Some 200 miles from Phoenix in east central Arizona, the byway starts in Clifton. Known for copper and not gold, the town lies in a canyon in the Upper Sonoran Desert. As US 191 begins twisting uphill, the open pit Morenci Mine soon overtakes the view. It's one of the world's largest copper mines and can be toured with a reservation. There's also an overlook from the byway, about 10 miles from Clifton.
Continuing from the mine's observation area and pushing farther north on US 191, the road tightens as it squeezes through Chase Canyon. Get ready for a lot of turns: with more than 460, this highway is one of America's curviest. Steep drop-offs lead to relaxing grassland and forest in about 15 miles. Various trailheads, picnic areas and campgrounds are located along the highway as it continues to climb over ridges and up mountainsides. From Clifton's elevation of about 3,500 feet, you'll climb another 5,000 feet over the first half of this drive.
About 48 miles from Clifton, look for the Rose Peak Picnic Area where a one-mile roundtrip trail leads up 8,786-foot-high Rose Peak to a watchtower with sweeping views. Then, it's another 13 miles to one of Arizona's most significant geological formations, the Mogollon Rim, an escarpment running some 200 miles from New Mexico across Arizona's midsection. Forming the southern edge of the Colorado Plateau, it's a steep climb up the rim. At the top, Blue Vista provides views from 9,346 feet high.
Pine forests mixed with oak and aspen lead to Hannagan Meadow. It's also an excellent section of the byway for summer wildflowers and big game animals, such as deer and elk. It's another 23 miles to Alpine, a good place for fuel and food. This is also where you can pick up the White Mountain Scenic Road. As you continue on US 191, it's 17 miles to Nelson Reservoir and good birdwatching and fishing, depending on the season. The byway ends another ten miles north in Springerville.
To reach White Mountain Scenic Road, go 1.5 miles north on US 191 and turn left onto Three Forks Road, also designated Forest Service Road 249. It's a gorgeous drive into the wilderness of the White Mountains. Featuring more forests, meadows, lakes, fishing, hiking trails and wildlife, it's 68 miles to Indian Pine but keep in mind, the first 20 are on well-maintained gravel and parts are closed in winter.
Apache Trail – 46 miles but a five-mile section is closed to traffic indefinitely
This fantastic byway lies east of Phoenix and follows Arizona State Route 88. But in 2019, a major wildfire damaged part of it so badly that a five-mile, unpaved section is still closed. Then, a storm dumped about six inches of rain, severely impacting the road. Debris from a large rockslide made it impassable. From the south, you can still access Lost Dutchman State Park and Tortilla Flat. And from the north, you can reach Theodore Roosevelt Lake and Apache Lake. The ongoing potential for flooding along the fire scar means an opening date for the byway's middle section is unknown.
Learn more about the thought, research, planning and promotion that goes into the designation of our beautiful Scenic Byways.