Industry News
November 16th, 2022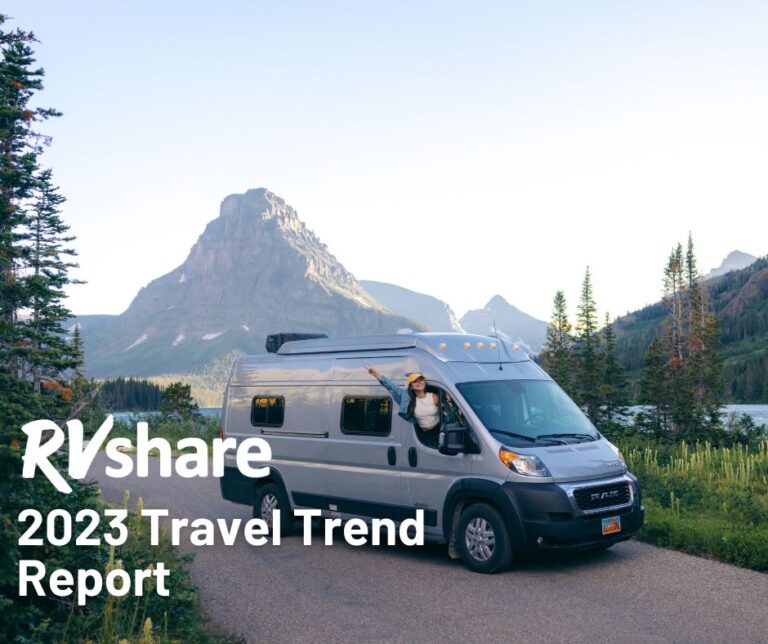 RVshare has released our 2023 Travel Trend Report, chock full of stats on how people are looking to travel in the next year, what kind of trips they're taking, and what age demographics seem the most keen to take an RV vacation in the next 12 months. Want a glimpse into the travel scene in the new year to see how your plans stack up? Read on.
Our report predicts another major year for travel. According to new research conducted by Wakefield Research, nearly all Americans (99%) are planning leisure travel in 2023. The RV travel boom continues to press on with 61% planning to take a road trip or vacation in an RV. Travelers are still seeking relaxation and time with family and friends, and work flexibility continues to evolve and become a more permanent lifestyle for many Americans, ultimately affecting their travel decisions.
RV Travel is Mainstream Travel
Gone are the days of RVs only being for snowbirds and touring rock bands. More and more people are seeing the appeal of a good old fashioned road trip, and booking an RV is part of many travel plans. RV interest has continued to grow with 62% likely to consider renting an RV for a trip in the future, a 9% jump from 2022. What are some reasons travelers prefer an RV road trip over other travel options? Not only are they more affordable, with no charges for baggage and an onboard kitchen to prepare food on your terms, but they make for a more pleasant travel experience, allowing you to stop along the way, sit where you'd like, and avoid travel delays.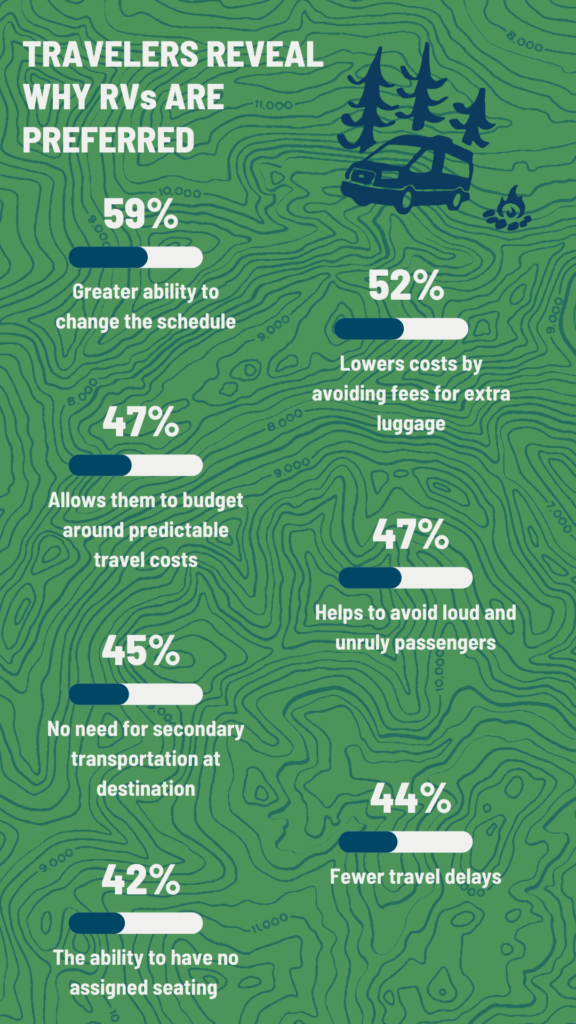 Who is Actually Renting RVs?
So we know RVing is more popular than ever, and spans more demographics than ever, but who is really renting and traveling in them?
One big group that spans across generations is parents! 81% of parents are likely to consider renting an RV for a trip in the future. And who could blame them, an RV parked in the driveway alone is pure excitement for kids, and it makes for a smooth travel experience. Having a kitchen and bathroom on board, a living space and cozy beds means your hotel is built right into your vehicle, making any stops much more pleasant.
RV enthusiasts span age demographics as well, with Millennials being the most interested age group, followed by Gen X and Gen Z.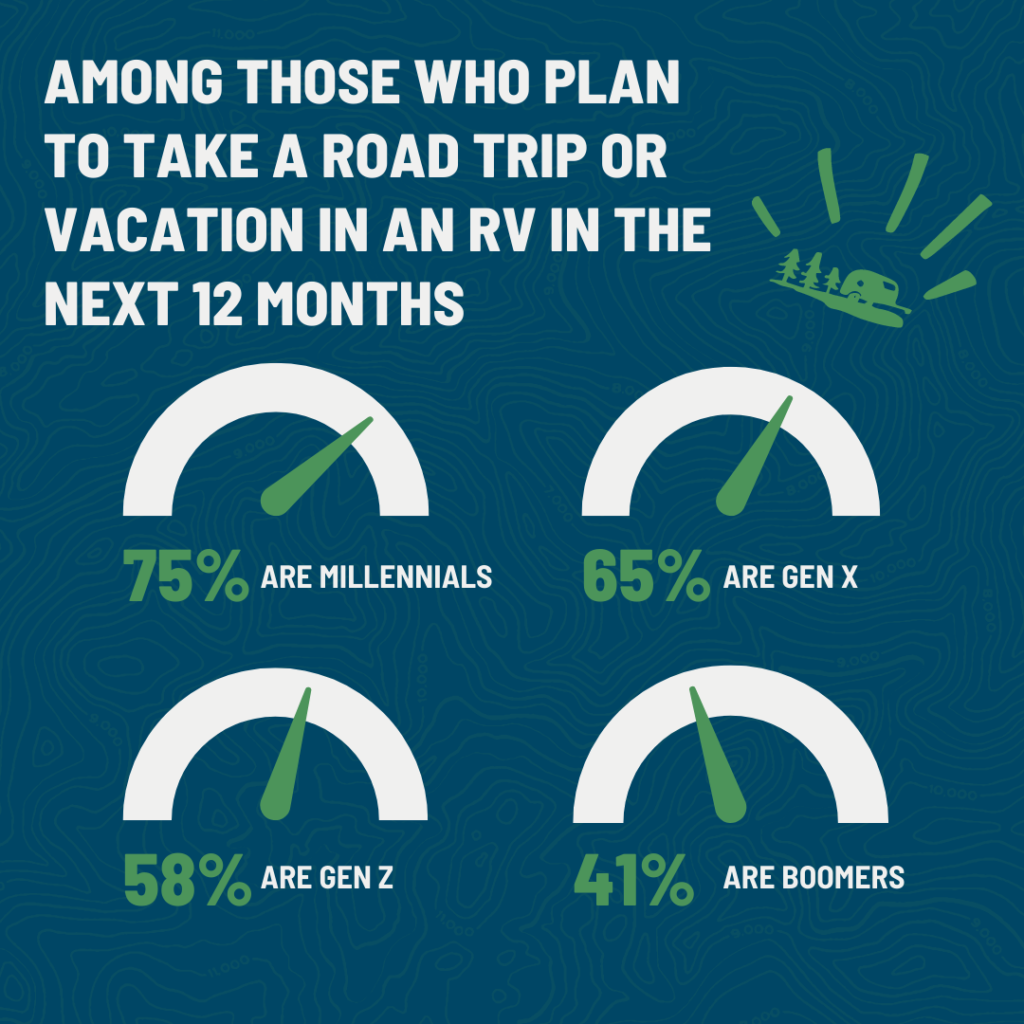 2023 Travel Plans
After the frustrations of travel the past couple of years, people are equally divided in how they want to make up for it; with 50% planning on keeping things simple, and the other half going big and finally hoping to check out some "bucket list" trips they've been putting off. Many travelers are still seeking time in nature and enjoying wildlife (47%), prioritizing the importance of enjoying peace and quiet (49%), and placing importance on catching up with friends (34%).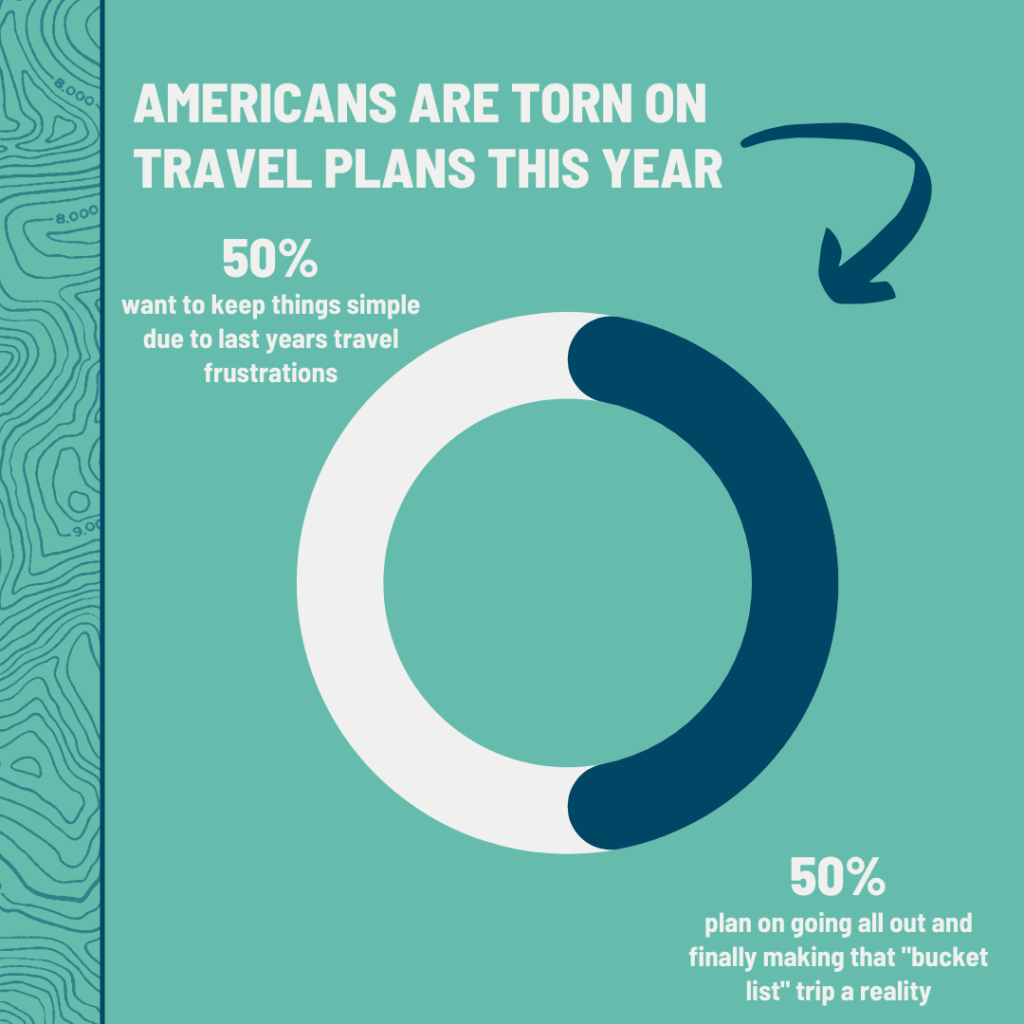 Hush Trips
Another way many are planning to travel in the new year? Enter "hush trips." Hush trips are enjoyed by remote employees who are leaning heavily into the "remote" aspect of their jobs by taking vacation time while continuing to work – maybe from a lounge chair by the pool or at a campground with strong Wi-Fi. These employees are still putting in the hours but working from an alternative location where they plan to enjoy leisure activities in their off-hours, and don't feel the need to disclose their location.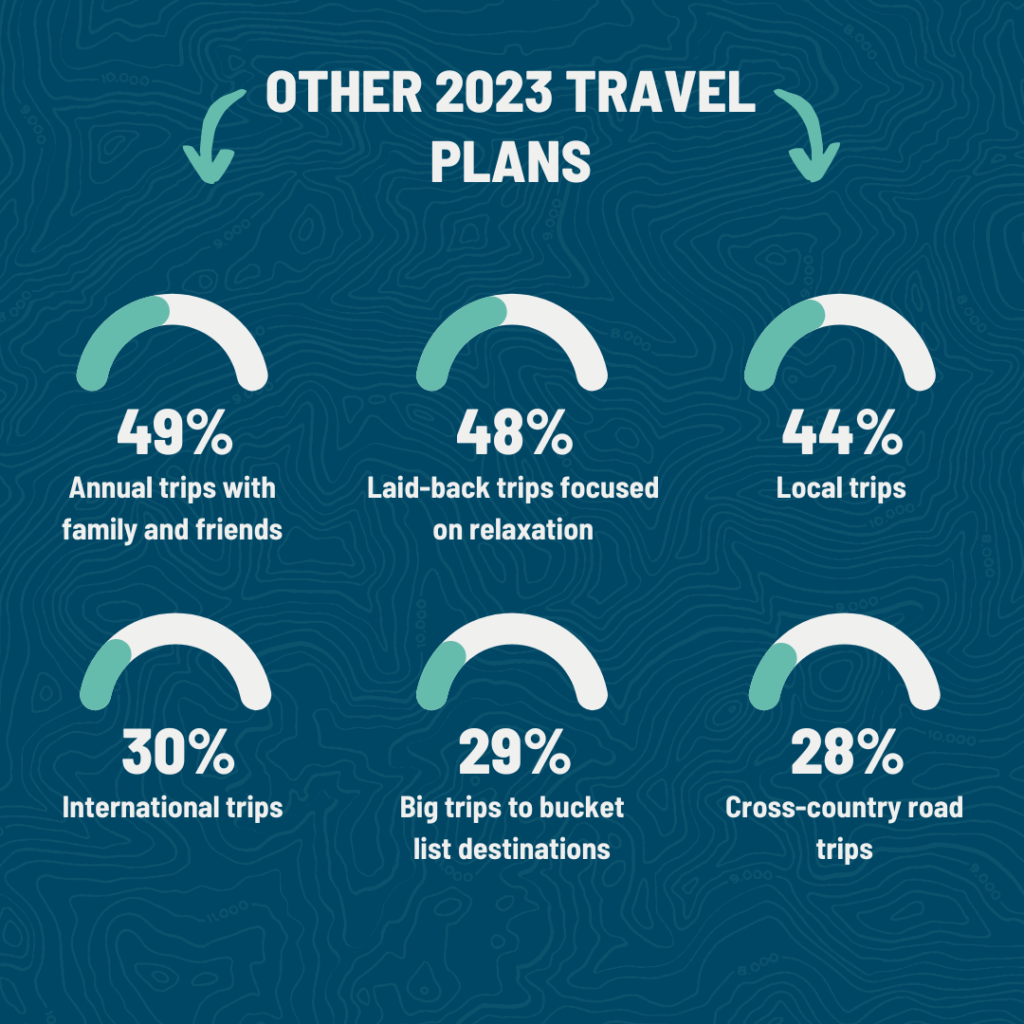 RVs Go Beyond Camping
While the classic way to take an RV trip is to park it at a campground, there are other places that really lend themselves well to an RV rental.
Wakefield Research reveals that travelers are seeking to experience RVs in new ways – beyond the typical road trip. According to RVshare insights, 20% of rentals are booked for event purposes like tailgating, auto and aviation shows, music festivals and more.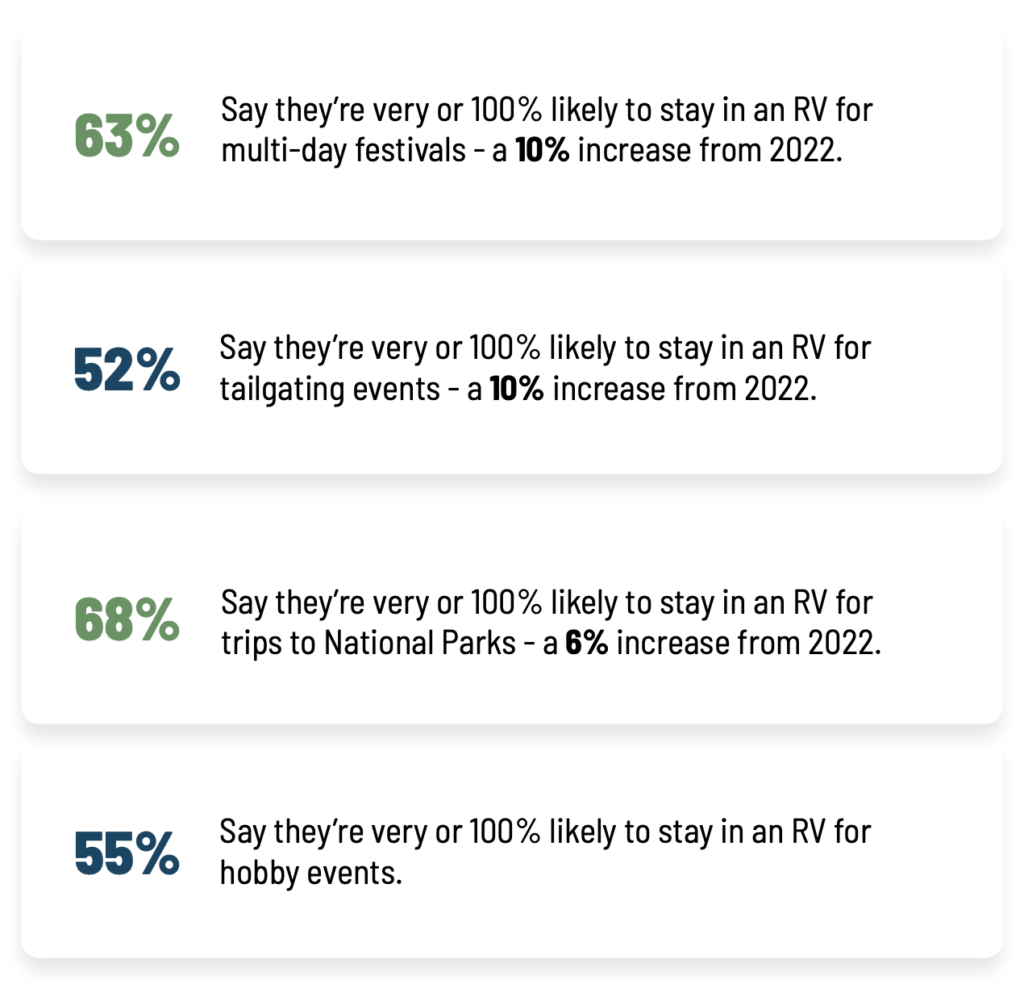 Delivery is Still in Demand
First-time RV renters account for one third of bookings on RVshare. A factor that can deter those inexperienced renters is the thought of having to physically drive the RV. RVshare provides the option for RV delivery, which
continues to increase in popularity. Our report found that 79% of people think a delivery option would make them more likely to consider an RV trip and 71% of parents say they're much likelier to consider an RV trip if the RV is delivered to their destination.
Nearly half of RVshare rentals were delivered in 2022, and RV rental deliveries are up increasingly compared to prior years: +48% since 2021 and +150% since 2020.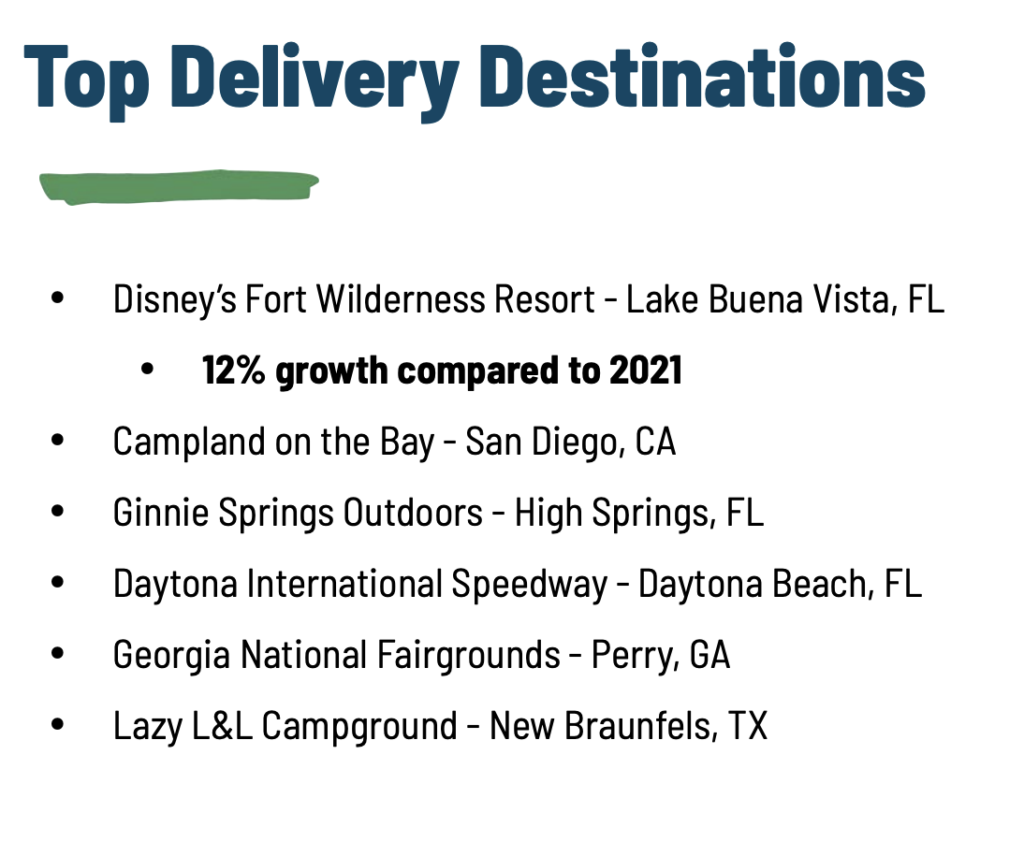 The Economy Isn't Stopping Travelers
Survey results reveal that the economy won't be stopping vacationers anytime soon. Inflation is unavoidable, but just 2% are likely to cancel their vacation because of it. In fact, 88% of Americans are planning to travel as much or more in 2023 compared to last year. Instead, travelers are considering cost-cutting options.