Solar Eclipse 2024
November 19th, 2023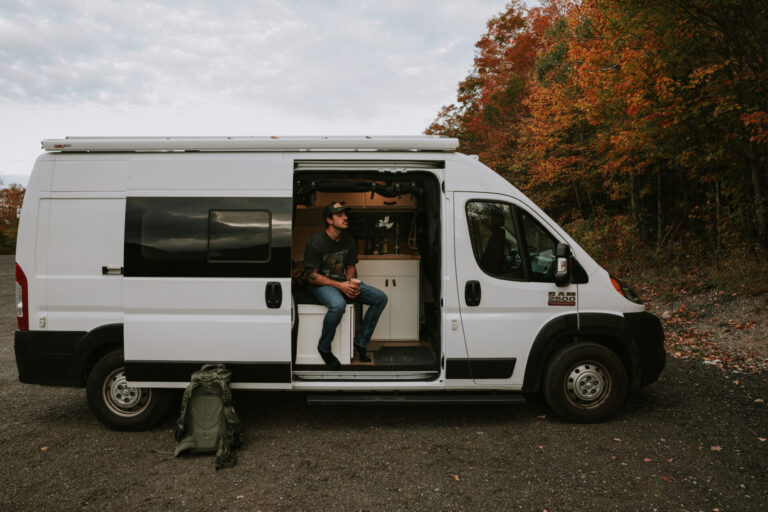 Ready for a once-in-a-generation event? Mark your calendar for April 8th, 2024, and your map from Texas to Maine. The 2024 Solar Eclipse is so rare that we won't see another one until 2044!
RVing is the best way to see the eclipse, and yes we are biased, but in this case, it's justified! An RV allows you to have a different eclipse experience; one with significantly fewer crowds or congested roads. Oh and did we mention it's budget-friendly too? According to this article in the New York Times, hotel rooms in the path of totality have raised their nightly rates to upwards of $1,500 a night. Most hotels are close to being sold out which means prices are only going to increase. Millions of people will be traveling to this once-in-a-lifetime, and nothing can get you off the beaten path quite like an RV!
Find RVs for Rent Near You – Here!
What is a Total Solar Eclipse?
A total solar eclipse occurs when the Moon moves between the Sun and the Earth, casting a shadow on the Earth's surface. During a total solar eclipse, the Moon completely covers the Sun, creating brief darkness during daylight. To get the best views of the eclipse you'll want to be in its path of totality.
Understanding the Path of Totality
The path of totality refers to the narrow strip on the Earth's surface where the total solar eclipse is visible. In human words, the path of totality covers the places where you can find the eclipse show. Within this path, observers can witness the Moon completely covering the Sun. Outside the path of totality, viewers will only experience a partial solar eclipse, which lacks the jaw-dropping spectacle of a total eclipse.
Duration and Width of the Path of Totality
The duration and width of the path of totality for the solar eclipse of 2024 vary depending on the location. But it stretches on a map from Texas to Maine. At its maximum, the path of totality can reach between 86 to126 miles wide, providing an extensive area for observation. The duration of totality also varies, with some locations experiencing over four minutes of complete darkness.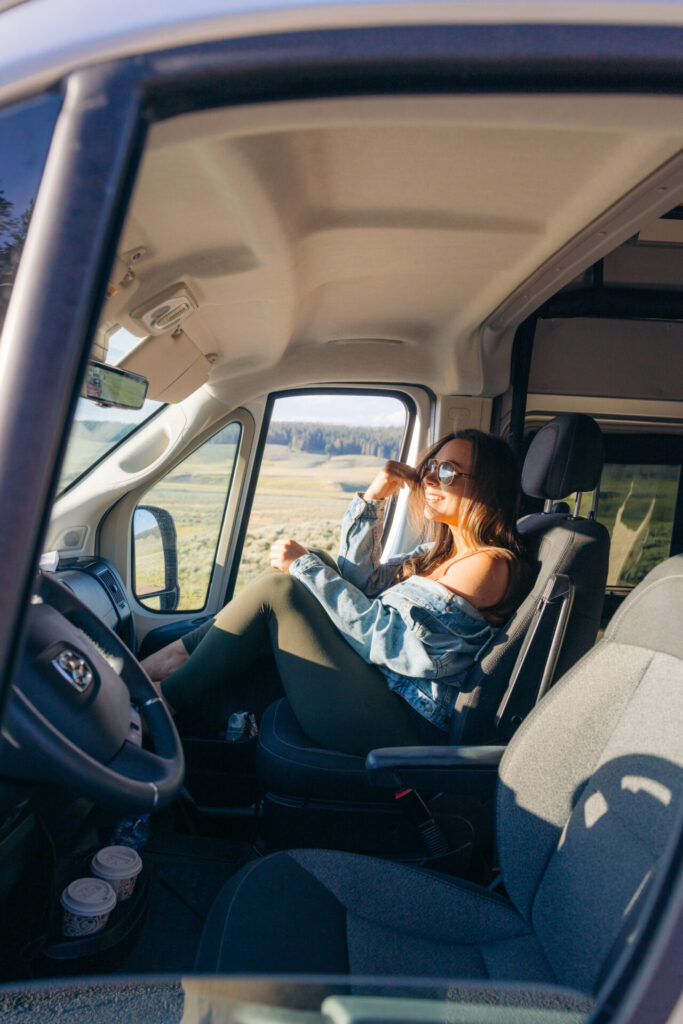 Why RVing is the Best Way to Experience the 2024 Total Solar Eclipse
RVing offers unparalleled flexibility, convenience, and comfort for experiencing the solar eclipse of 2024. Here are some reasons why RVing might be the best way to experience this rare event!
Freedom & Flexibility
By choosing an RV, you have the freedom to explore different locations along the path of totality and easily relocate if weather conditions are unfavorable. But arguably the best perk is the freedom to head out and boondock away from the crowds with all the comforts! RVing allows you to avoid the hassle of finding accommodation during this peak travel period, ensuring that you have a comfortable and secure base for your eclipse-viewing adventure.
Budget Friendly
Nightly rates in hotels or rentals like Airbnb are triple the normal price for the nights of the eclipse. We are talking upwards of $1,500 compared to an average of $150 a night for RVs in the path of totality! And that is just for a place to sleep! RVing is your accommodation, transportation, and viewing party hub. All in one making it easy to simply enjoy. Oh and if you don't want to drive the RV, don't worry many RV owners offer delivery!
Where to Camp Near the 2024 Solar Eclipse
The path of totality for the solar eclipse of 2024 will traverse through thirteen states, providing various options for RVers to choose their viewing location. In the United States, the path of totality shines through Texas, Oklahoma, Arkansas, Missouri, Illinois, Kentucky, Indiana, Ohio, Pennsylvania, New York, Vermont, New Hampshire, and Maine. The path continues to Canada, just south of Toronto, Ontario, and through Montreal, Quebec.
PS: You can rent an RV and drive to Canada!
Each location offers its unique charm and attractions, promising an unforgettable experience for those who embark on an RV trip to witness this natural phenomenon.
There are many alternatives for camping locations for the eclipse. From private campgrounds and RV parks to state and national parks. Here is a list of top campgrounds and RV rentals in all the major cities of the main states on the path.
Find ALL the State Parks campgrounds in the path of totality – here!
And alternative options for camping when campgrounds are full – here!
Texas: Campground & RV rentals
From the rugged beauty of Big Bend National Park to the vibrant cities of Austin and Dallas, Texas provides a diverse range of options for eclipse enthusiasts.
Top Campgrounds and RV Parks in Texas
RV rentals in Fredericksburg, Texas
Arkansas: Campground & RV rentals
Explore the Ozark Mountains, hike through the scenic trails of Hot Springs National Park, or witness the majestic beauty of the Buffalo National River. Arkansas offers a unique blend of natural wonders and celestial spectacle.
Top Campgrounds and RV Parks in Arkansas
Indiana: Campground & RV rentals
Indiana, known as the "Hoosier State," is a laid-back mix of small-town charm and bustling cities. With Indianapolis at its heart, there's a blend of sports excitement, cultural events, and pockets of scenic countryside, making it a diverse and welcoming spot in the Midwest.
Top Campgrounds and RV Parks in Indiana
Ohio: Campground & RV rentals
Ohio, aka the "Buckeye State," brings a mix of city vibes and chill countryside. From Cleveland's sports scene to Cincinnati's riverfront, it's a place where you can explore history, grab some great food, and catch a game.
Top Campgrounds and RV Parks in Ohio
Vermont: Campground & RV rentals
RVers can explore the quaint streets of Burlington, savor locally sourced cuisine, and immerse themselves in the state's vibrant arts scene. For nature lovers, Vermont offers breathtaking vistas, including the stunning fall foliage of the Green Mountains.
Top Campgrounds and RV Parks in Vermont
Hipcamp
A great camping alternative is Hipcamp, this platform unlocks camping on private land and is a great option for eclipse camping. They have an interactive eclipse map that makes it super easy to find a campground right on the path.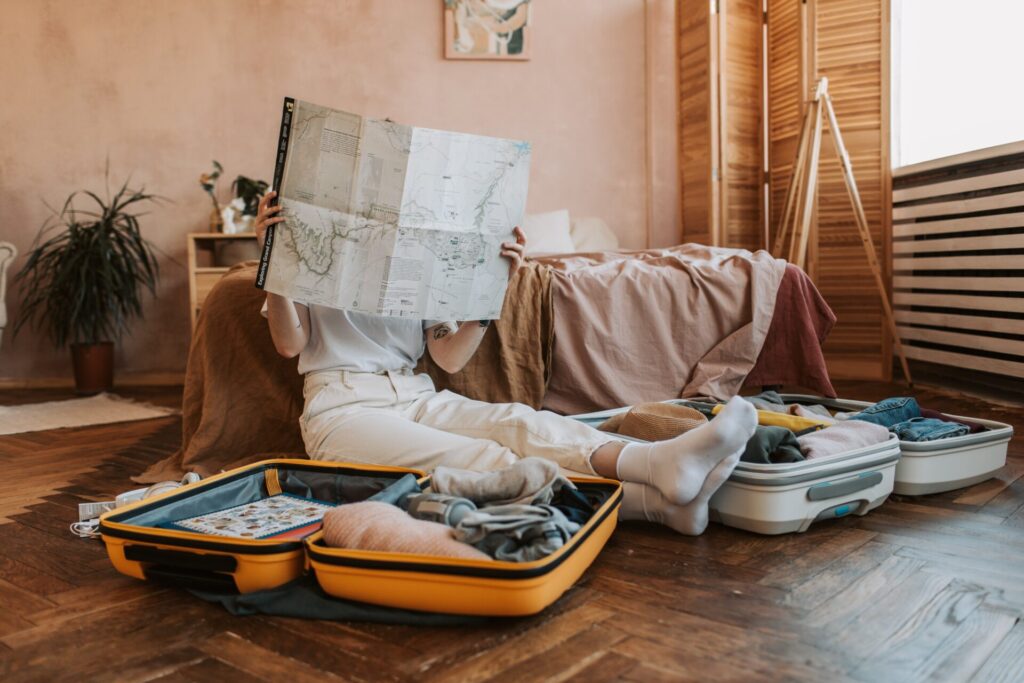 Planning Your RV Trip
Choosing the Right RV for the Trip
When planning your RV trip, selecting the right RV is crucial for a comfortable and enjoyable experience. Consider factors such as the number of people traveling, desired amenities, and budget. RVshare's wide rental offers range from motorhomes and travel trailers to camper vans and pop-up campers. Making it easy to find the perfect RV for your needs!
Safety Precautions for Solar Eclipse Viewing
While witnessing an eclipse is an incredible experience, it's crucial to prioritize safety. Never look directly at the Sun without proper eye protection, as this can cause damage to your eyes. Only use certified solar eclipse glasses or handheld solar viewers to view the eclipse directly. Don't forget about solar filters if you plan to photograph the eclipse whether with your phone or camera.
Not sure what to pack for your Eclipse trip?
We wrote this for you: Essential Items to Pack for the Solar Eclipse
FAQ
Where is the best place to see the 2024 eclipse?
The best place to see the 2024 eclipse depends on your location and preferences. The path of totality for the 2024 eclipse will cross through parts of Mexico, the United States, and Canada. Some popular destinations along the path include cities like Austin, Texas; Dallas, Texas; Little Rock, Arkansas; Indianapolis, Indiana; Cleveland, Ohio; Buffalo, New York; and Montreal, Canada. These locations offer a higher chance of experiencing the total eclipse and provide opportunities for viewing parties and events.
Where will the 2024 total eclipse last the longest?
The longest eclipse experience will take place in Torreon, Mexico lasting 4 minutes and 27 seconds.
Why is the Solar Eclipse 2024 Special? When is the Next U.S. Solar Eclipse After 2024?
The solar eclipse of 2024 holds particular significance because it will be visible across a large portion of North America. And because the next total solar eclipse in North America after 2024 will be in 2044.