Industry News
Last updated on October 10th, 2023. Originally published on October 3rd, 2023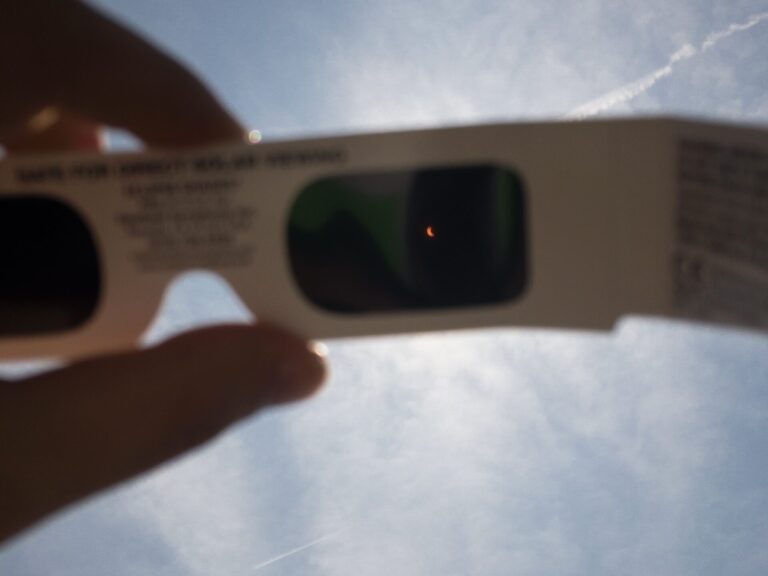 On April 8th of 2024, the US will see an incredible phenomenon: a total solar eclipse. During a total solar eclipse, the moon shadows the sun completely, creating a bizarre midday darkness.
Unfortunately, the total eclipse can only be viewed along a very specific path across the US. Since a total solar eclipse is a once-in-a-lifetime event, an enormous number of people will be traveling to the path of totality in order to get a glimpse of this rare and beautiful occurrence.
Want to jump on the bandwagon but don't want to fight for lodging or deal with crowds your entire stay? Our advice is to go RVing during the eclipse and stay off the beaten path. This will save money, help you avoid frustration, and make your whole adventure a lot more pleasant.
Not sure where to look for lodging beyond the typical RV parks and campgrounds? We're here to help!
The Appeal of Solar Eclipses
You may be wondering why this eclipse is such a big deal. After all, eclipses happen in the US on a relatively regular basis. The thing is, the vast majority of these events are not total solar eclipses. The fact that the sun will be completely covered makes this an extra special astronomical occurrence, and one that nearly everyone in the country will be clambering to see.
As mentioned above, the total eclipse will only be viewable along the path of totality. This path runs through portions of Texas, Oklahoma, Arkansas, Missouri, Illinois, Kentucky, Indiana, Ohio, Pennsylvania, New York, Vermont, New Hampshire, and Maine. Those located near but not in the path of totality will be able to see a partial eclipse, but this is not nearly as impressive and awe-inspiring as the total eclipse. This is why so many will be traveling to the path of totality.
Of course, when so many people travel to just a handful of places, things can get pretty cramped. Hotels, motels, and campgrounds will be completely booked very soon, and we're already seeing ridiculously high prices for the rooms and campsites that are still available.
The solution? Go RVing during the eclipse, choose an affordable or free camping spot that's just outside of the path of totality and off the beaten path, enjoy the beauty of nature before and after the event, and drive into the path of totality to view the eclipse.
RV Camping: The Perfect Solution
As you can probably tell, we firmly believe that RVing during the eclipse is the way to go if you want to view the 2024 eclipse. There are a few very valid reasons for this, and once we point them out, we're guessing you'll agree with us on this point.
First, there is the fact that an RV allows you to stay absolutely anywhere in comfort. You'll have beds, a full kitchen, and even a toilet and shower with you, even if you end up parked in the middle of the wilderness (which we totally recommend, by the way).
The ability to park anywhere and stay without giving up creature comforts leads us to our next point: RVing during the eclipse means you can park outside of the path of totality, in places where most people wouldn't think to go. This is perfect because it means you won't have to deal with fully booked hotels, and in some cases it even means you can stay for free!
Of course, you will need an RV to do any of this. Because the solar eclipse will be such a popular event, you will want to make sure to book your RV rental well in advance. Booking a rig that is close to your home—or along your route to the eclipse—and driving it to the event will likely be helpful, as all of the RVs within the path of totality are sure to be snatched up very soon.
In addition to booking your rig, you will also want to book a campground if you plan to stay in a campground that takes reservations. That said, we have some other idea up our sleeve that may not even require this and will be available, even after the other lodging options are claimed.
Alternative Camping Options #1: National Forests
Our first suggestion for places to camp to see the eclipse without turning to the usual RV parks and campgrounds? National forests. Our national forests are absolutely gorgeous places. They offer beautiful views and plenty of recreational opportunities. On top of that, the national forests are wonderful places to find campsites.
When it comes to camping in national forests, you have two options: campground camping and dispersed camping.
Forest Service Campgrounds
We'll talk first about national forest campgrounds. We love that the campgrounds run by the National Forest Service are usually incredibly affordable (even more so if you have an "America the Beautiful" access pass or senior pass). Some of these campgrounds do take reservations, but some are first-come, first-served (FCFS).
In both cases, because national forests tend to be off the beaten path, they aren't likely to fill up as quickly as other campgrounds. Just know that national forest campgrounds do not tend to have hookups available for RVs, so filling your fresh water tank and/or running a generator or using solar panels will likely be necessary.
National Forest Dispersed Camping
The other option is dispersed camping, which involves parking your RV in a specified area of the forest, but not in a developed campsite. There are no amenities whatsoever when dispersed camping, so you do have to go in prepared, but the reward is a beautiful and peaceful camping experience that you don't have to pay a penny for.
This is an excellent option because it is all FCFS and tends to be plentiful, meaning it is highly unlikely it will fill up. Dispersed camping is allowed in national forests for 16 days at a time in any one spot. Campers must stick to driving on roads, and groups of 75 or more need a camping permit.
National forests near or in the path of totality include:
You can find campgrounds and dispersed campsites by searching a site like Campendium or visiting a National Forest Service office to speak with a ranger.
Alternative Camping Options #2: State-Run Lands
Remote state parks and state forests as well as land maintained by a state's Department of Fish and Wildlife or Department of Natural Resources can also offer great, lesser-known camping opportunities for those who are RVing during the eclipse. Depending on the state, these lands can offer either developed campgrounds or dispersed camping—or in some cases, a combination of both.
Like the National Forest Service campgrounds mentioned above, the campgrounds run by state forests and other state agencies tend to be very affordable. Some do take reservations, but others are FCFS, something that can be helpful if everything is booked up and you're willing to arrive early. In some cases, you won't find much in the way of amenities, but this is entirely dependent on the camp spot.
Dispersed camping on state-owned land is similar to dispersed camping in a national forest. You will not have any amenities at all, but will likely camp for free and might have beautiful views and access to recreational opportunities. Stay limits vary depending on the site and who runs it, but as a general rule, you should always try to use spots that have been used by previous campers to avoid disrupting the ecosystem.
Some of the best state-owned camping options just outside of the path of totality include the following:
Alternative Camping Options #3: Army Corps of Engineers Campsites
Finally, there is the option of staying at an Army Corps of Engineers campground while RVing during the eclipse. There are quite a few of these out there, and while some are in more developed areas and are very popular, some hidden gems are located further off the beaten path and rarely see any campers.
We've found that campgrounds run by the Army Corps of Engineers vary quite a bit in terms of amenities. Some offer only the most basic amenities such as trash cans and pit toilets, while others have full RV hookups. Those with no amenities are often completely free to use. Meanwhile, those with more amenities do charge a bit, but never a large amount.
In order to find an Army Corps of Engineers campsite that is available, we recommend looking at areas outside of the path of totality and in more remote areas. First-come, first-served campgrounds can be a good option if you're able to arrive early, but you might still be able to snag a site at a reservable campground if you choose wisely.
Some great Army Corps of Engineers campgrounds in or just outside of the path of totality include the following:
A Note About BLM Lands
Normally, we would include a section about camping on BLM lands for beautiful, affordable camping that fewer people take advantage of. Unfortunately, there is no BLM land anywhere near the path of totality, so while BLM land is an excellent option in many cases, it does not work for this particular event.
The Money-Saving Advantage
We mentioned above that RVing during the eclipse and choosing a campsite that was outside of the path of totality would save you money. This is definitely true, and because government-owned campgrounds don't usually change their fees based on short-term demand, picking a campsite that is run by one of these agencies means it will either be free or very low cost, despite the event.
Wondering what you could save by going this route? As an example, the Holiday Inn Express in Little Rock is currently priced at $511 for the night of April 8th–9th, and the slightly less expensive Candlewood Suites is priced at $345 for the same night. A person could rent an RV in, say, Oklahoma City for $100 a night during the same time frame, drive it to one of the free national forest campsites outside of the path of totality, and potentially save around $245–$311 a night!
Clearly, the total solar eclipse of 2024 is a must-see, and obviously, RVing during the eclipse off the beaten path and near (but not on) the path of totality will save you a good amount of money. On top of that, choosing this option will provide even more value by offering you and your family a chance to get out in nature, enjoy the scenery and recreational opportunities offered by the natural area you are staying in, and make priceless memories together that are sure to last a lifetime!
Of course, even if you choose to camp in a lesser-known spot and rent an RV outside the path of totality, rental RVs will still be going like hotcakes. Make sure you book your RV rental today so you can have the experience of a lifetime once April rolls around!