RV Owners
December 10th, 2021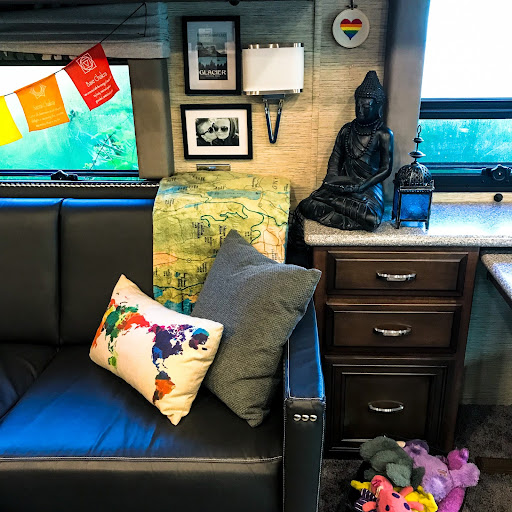 Newer models of RVs come with all the bells and whistles, but even if you are purchasing a more outfitted rig, there will still be items you'll want to add to your living space to make it more comfortable and practical. After 3+ years of living in two different RVs, we recommend purchasing these 8 RV Essentials for Full-Time Travel.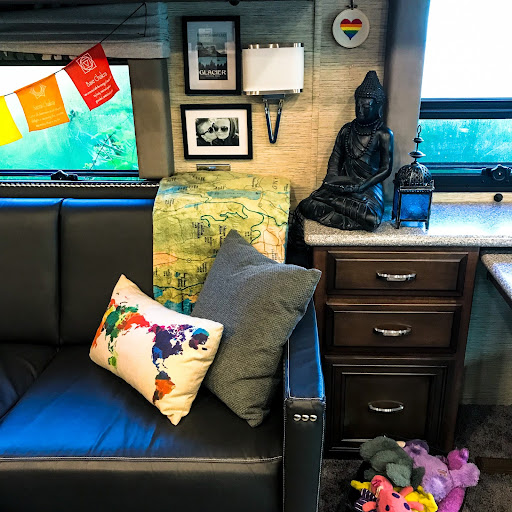 Holding Tank Treatment
Nothing ruins a camping trip like a stinky black tank. We have come to rely on the line of products by Unique called RV Digest-It. These types of products eliminate awful black tank odors and prevent clogs! It's really common for toilet paper and solid waste to collect in the black tank and create problems. We recommend using a holding tank treatment every time you dump and flush your tanks!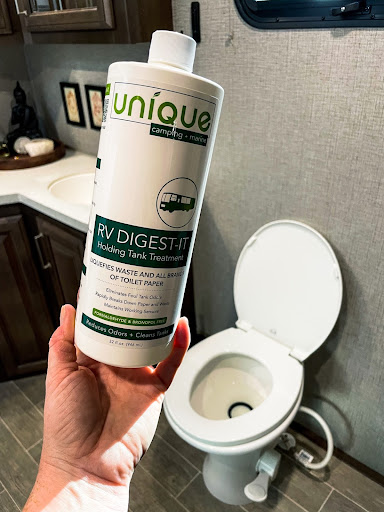 Dehumidifiers
Moisture is probably the number one enemy for many RV travelers (especially in the PNW where we love to travel). Condensation can seriously damage the walls, floors, and furniture in your RV. Mold begins to form, wood can start to rot, and metal pieces start to rust. Our RV spends a lot of time in the rainy Pacific Northwest, so it's important for us to stay on top of water damage! There are several types of products we use to remove moisture from the air, including dehumidifiers and charcoal moisture absorbers.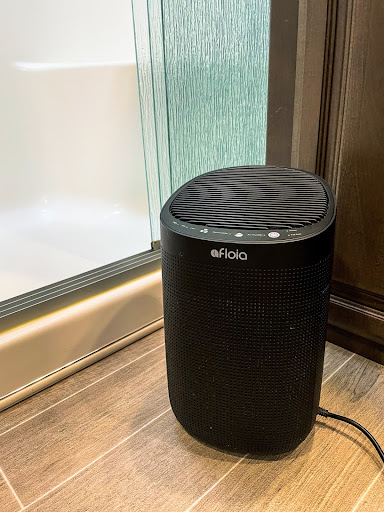 Water-Saving Shower Head
RV bathroom and shower design have evolved a lot over the years, giving many bigger rigs a truly residential feel. We love being able to hook up our fifth wheel and take a hot shower, but as we have traveled around the country we have found that many campgrounds have awful water pressure! In order to combat this, we chose to upgrade our RV shower head to one that uses oxygen technology to provide better water pressure. In our fifth wheel, we installed the Oxygenics PowerFlow which gives us some power while still minimizing water usage.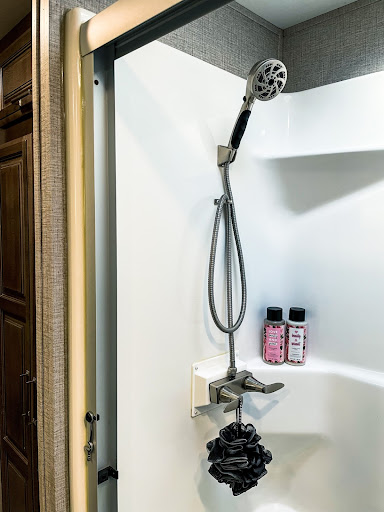 Space-Saving Food Storage
Selecting the right kitchenware for full-time RV living has been a big undertaking and a process that continues to evolve, even after 3 years of travel. Although our Keystone Alpine has a very residential feel in the kitchen, spaces like inside cabinets and drawers are a bit smaller than what you find in a house. When choosing which products will live in these spaces, it's important to consider selecting kitchen accessories that collapse and nest. We own many of the Joseph and Joseph brand kitchen tools. They can come in fun, bright colors, but they also are all designed to be space-saving.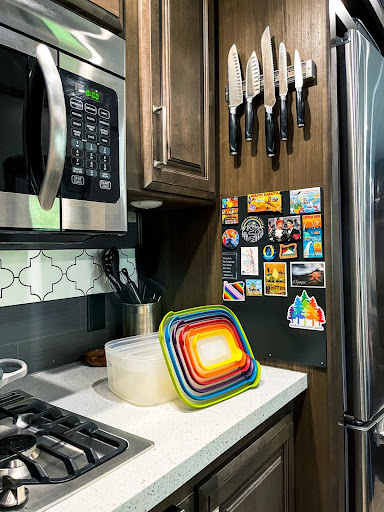 RV Mattress Upgrade
When you purchase a new RV it's going to come with your standard RV mattress and bedding set. We recommend you ditch all of this stuff promptly! The mattresses are thin and very low quality. If you are going to be spending a lot of time in your RV, and especially if you are going to be living in it, we recommend upgrading to a new mattress. Of course, pay special attention to the size, space, and weight limits that you are working with. Residential King mattresses are wider than RV King mattresses, for example. You might be tempted to pinch pennies and not upgrade your mattress, but we think you will be welcoming in long nights and sore backs. When shopping for an upgraded mattress, we recommend that you keep in mind the doorframe of the RV and how difficult it may be to remove one mattress and replace it with an even bigger one. For this reason, we opted for the type of mattress that arrives in a box and slowly "inflates" overnight!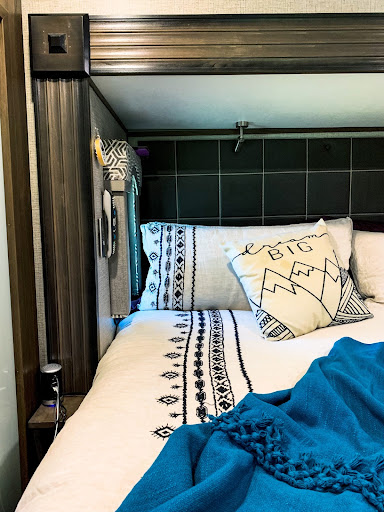 Step Stools
It's super important to maximize all possible storage space inside your RV, which means it's likely that there are some spaces in your rig that might be difficult to access since they are so high up! Our fifth wheel has tall ceilings in the center, where the kitchen is. That means the cabinets at the top are unreachable without a step stool. We own multiple stools and use them daily in the RV so that we can reach our ceiling fan, access pantry items up high, and climb into our elevated bed.
Air Fryer/Convection Oven/Toaster
RV ovens are known for being pretty unreliable. They often don't heat evenly and they don't get as hot as most people would like. Since Danella loves to cook, we went ahead and purchased an all-in-one air fryer/convection oven/toaster oven combo. Having three appliances all come in one unit means it's space-saving for us, also. We recommend checking out the Ninja Foodie. It's had almost daily use in our RV for over a year! Danella uses it to make delicious foods like french fries and baked goodies. The ninja foodie also has a low profile that makes for easy storage when not in use.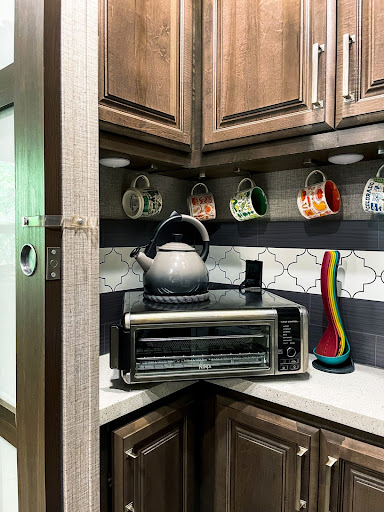 Decor
All of our previous recommendations have been more pragmatic than anything, but aesthetic is important, too! As full-time travelers, it was important that we made our fifth wheel truly feel like a HOME on wheels. We hang bright banners around the space, and we have colorful lanterns in the living room. There are plenty of nooks and crannies to display our rocks and crystals, and we have lots of framed art on our walls! Pro Tip: Adhere picture frames and art pieces to the walls of your RV with heavy-duty Velcro. We have found that, even in travel, everything has stayed securely in place on the walls!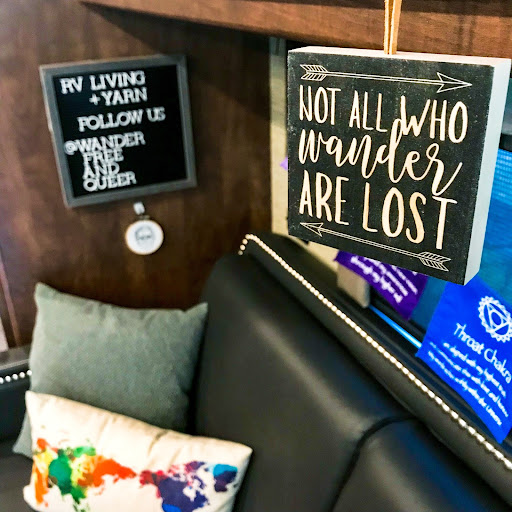 Every RV is different and every individual and family have a unique set of needs when it comes to this type of living and travel. Don't try to buy everything before you are fully moved in. It is difficult to predict how much space will be left after you load in all of your personal effects. Once you spend some time in your RV, you will become aware of what sort of additional purchases you might want to make.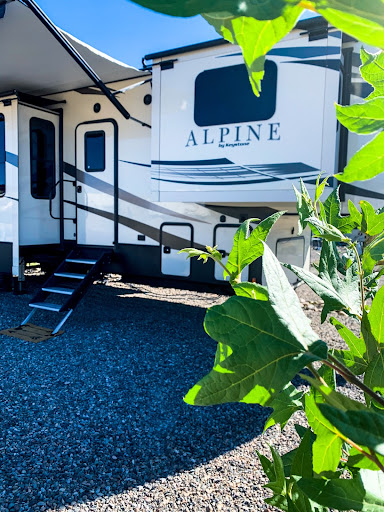 Did we miss anything important? What RV essentials would you add to this list?

About the authors: We are Danella and Allie of Wander Free and Queer. We live and travel full-time in our Fifth Wheel with our two dogs. We started a small crochet business on the road in 2018 and we enjoy creating products that bring visibility to the LGBTQ+ community. In our travels, we enjoy hiking, rafting and visiting National Parks.

This post may contain affiliate links.

[similar_ai_related]