Travel Inspiration
Last updated on May 15th, 2023. Originally published on May 18th, 2023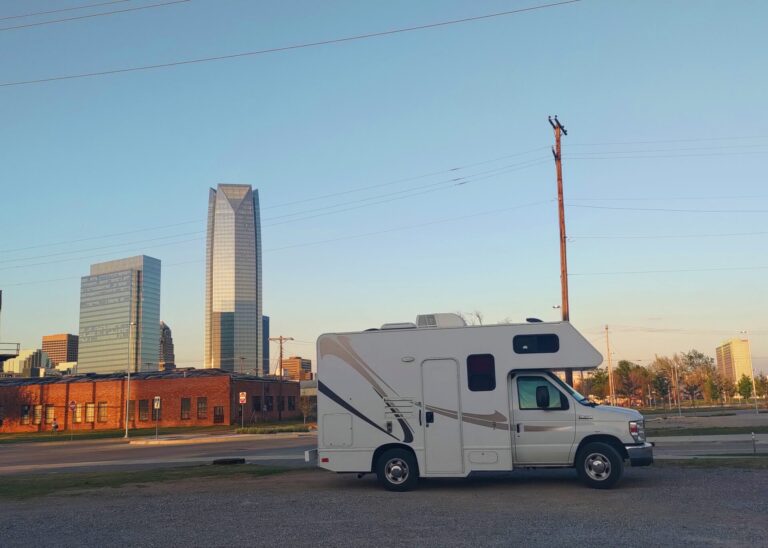 Have you ever imagined camping out in a major city with your bedroom view overlooking the gorgeous City Skyline? A million dollar view from your RV front door. Unfortunately, most major cities don't accommodate travelers that are in RV's, especially big ones.
I was able to find, with the help of Harvest Host, Oklahoma CIty, OK offers that unique experience. Harvest Host Oklahoma City features a set of breweries located in the heart of downtown. It gives you the ability to walk or ride your bike to amazing trails, gardens, and restaurants and access it so easily. It's nice to have a secure place to camp but also enjoy the city life.
In this article, I want to tell you how I was able to have a million-dollar bedroom view for a fraction of the price and how easy it is to explore and have fun in Oklahoma City.
Easy access to Harvest Host and Downtown
One of the reasons I always recommend people to join Harvest Host memberships is it gives you access to places you usually can't camp at. While I was finding a place to stay in Oklahoma City, I was able to find 5 breweries that are within walking/biking distance to the heart of downtown. If you don't drink and still want to stay at these locations, a lot of these breweries also have clothing, mugs, snacks and food you can purchase to help support their business.
I was able to stay at Lively Beerworks. This spot had very tasty craft beers and a very lively atmosphere. I was able to park with a beautiful view of the Oklahoma City Skyline. Once I arrived in the afternoon, I let my hosts know I was going to explore then come back later to support their business.
Myriad Botanical Gardens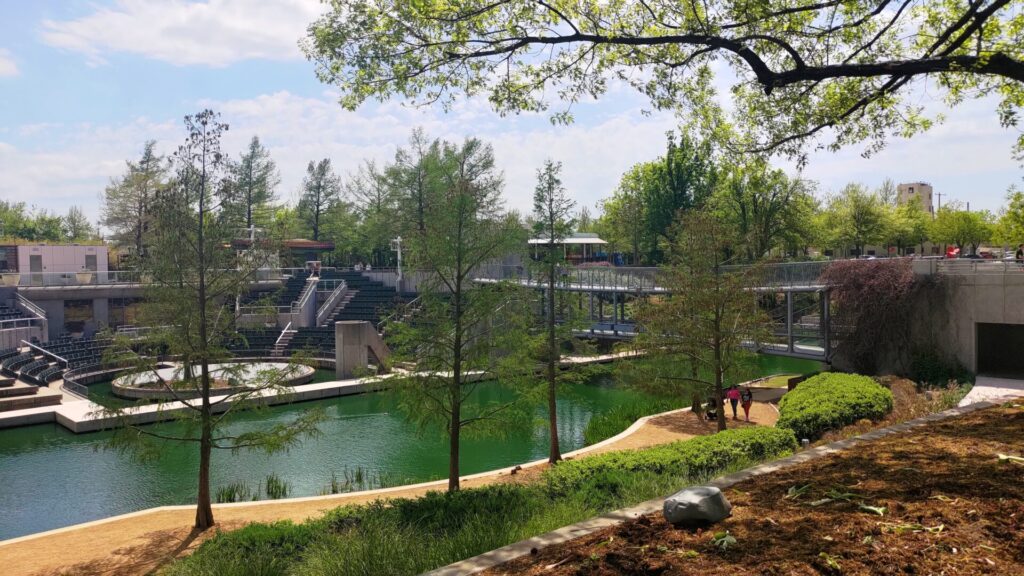 My first stop was the Myriad Botanical Garden's, which was only 5 minutes away from my harvest host by bike. This is a gorgeous 15 acre natural garden that's free and open to the public.
This gorgeous park has sprawling walkways full of flowers, lush green trees that provide plenty of shade. The botanical garden was adorned with tranquil fountains and a tumbling waterfall that leads down to their coy pond. I was mesmerized with how calm and peaceful this garden is. I spent an hour just following the trails, the crystal bridge and stairways. They host many events throughout the year, including concerts, flower festivals and more.
To find out what's going on year round, visit their website: https://myriadgardens.org/
If you want to find an interesting way to get around the city, look no further than Oklahoma City's underground tunnels. In the heart of Oklahoma's downtown big skyscrapers, hotel and venues there is a chain of underground tunnels that you can explore and access for free. It's an easy way to walk around downtown and get from point a to point b.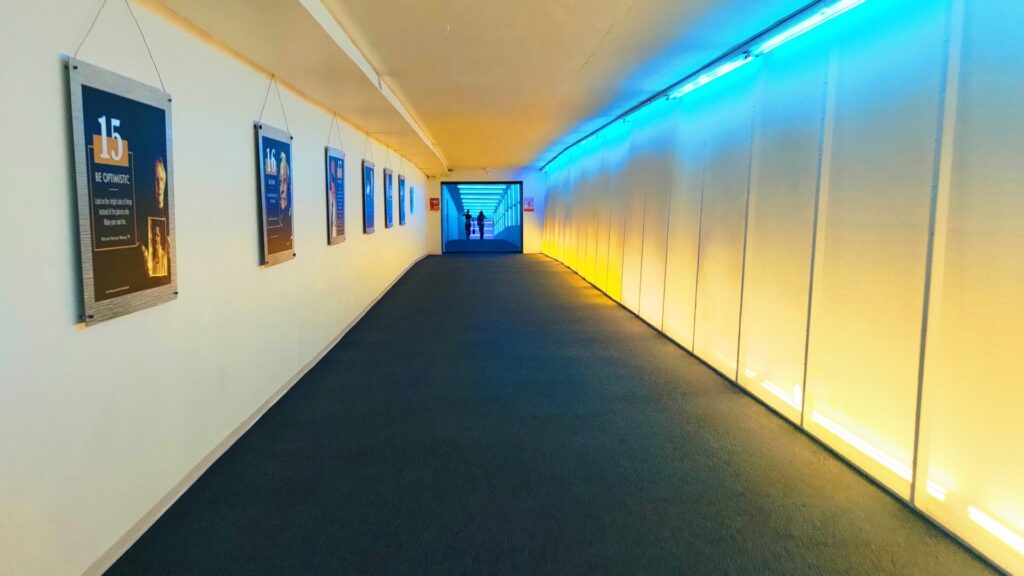 The Underground was created in 1930 by William Balser Skirvin, the founder of the famous Skirvin Hotel. He made these tunnels to give people easy access from his one hotel on Broadway, to the other on the opposite side of the city.
Decades later, it evolved into a place where you can find art exhibits from local artisans. I found it interesting to access the tunnels from one of the many Oklahoma Skyscrapers and take my bike through the tunnels. This underground tunnelway, creates a fun and easy way to get around downtown.
To find out more about Oklahoma's Underground: https://downtownokc.com/underground/
Bricktown's Gorgeous RiverWalk Canal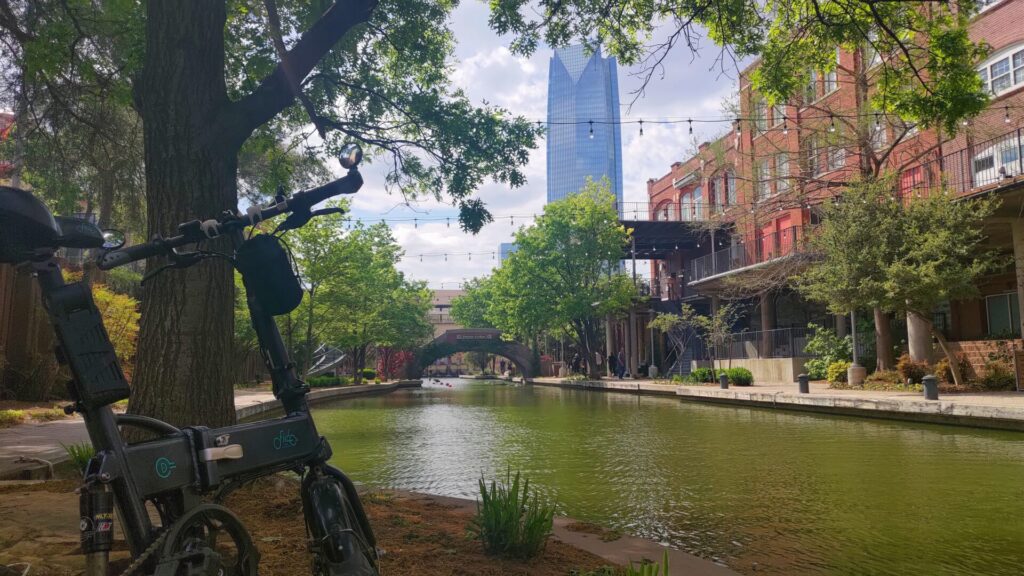 Only 10 minutes from my Harvest Host Location, I was able to check out one of Downtown Oklahoma's most eye-catching and definitely photo-fun places in town: Bricktown River Canal. This gorgeous riverwalk only stretches 1 mile and is filled with fantastic restaurants, live music events, play spots for the kids and events throughout the year.
On a gorgeous day, walking along the river can be a relaxing spot to unwind, take in the beautiful scenery and check out all the artwork along the river. This would be a great place to explore with a loved one, or just go on a healing walk with yourself.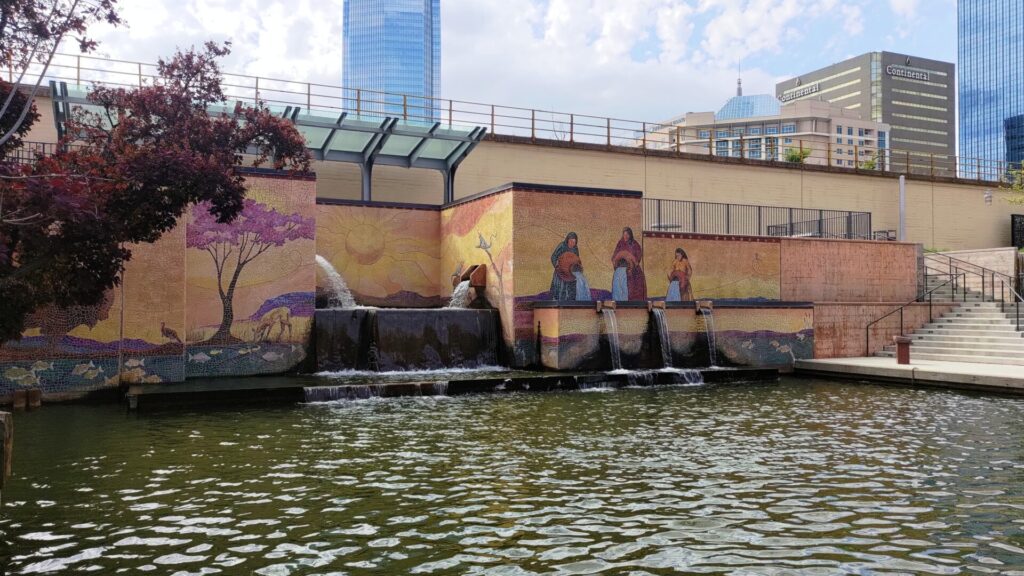 What I enjoyed most was on each end of the river canal are amazing sculptures and mosaics. At one end was the "Centennial Land Run Monument", the world's largest bronze statue. On the opposite end of the river canal stands a gorgeous mosaic called "As Long As the Waters Flow", a beautiful depiction of Indigenous Women Pouring water into the canal.
In only a few hours, I was able to take in a fantastic taste of what Oklahoma City has to offer. A place I never knew has so much art, is a beautiful walkable city and has some of the best parts of what a city is. If you're RVing through Oklahoma City and have a Harvest Host Membership, you won't want to skip this spot!
Read more:
The Local Nomad: How to Build Connections in a Small Town with Vanna Mae