Industry News
November 13th, 2023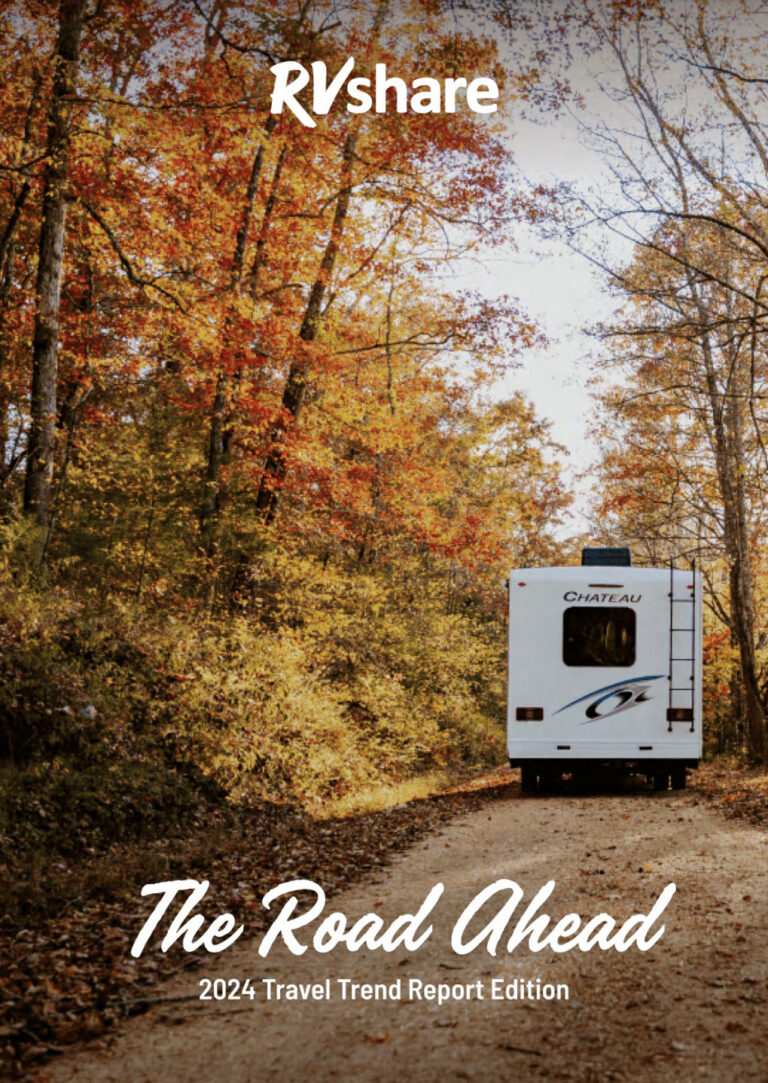 The end of the year is a busy time for all of us. Chock full of holidays, it's easy to get caught up in the hustle and bustle of daily life. But we are ready to take a moment and reflect, on both what 2023 has looked like for us, and the excitement of what's to come in the new year. Continue reading and you'll find our travel trend report, where we utilize internal data as well as survey results from travelers to gain insights into what the future of travel holds.
This past year travelers favorited the Grand Canyon, Black Rock City in Nevada, and The Campsites at Disney's Fort Wilderness. They also continue to appreciate delivery, with a 14% lift in bookings that requested delivery on the RVshare platform year-over-year. 
Looking ahead to 2024, we've interviewed travelers to get more insight into what kind of trips they're planning. Will they be traveling for the solar eclipse? Do they want trips that are filled to the brim with adventure, or perhaps something a little more low-key? Will they be trying out an RV trip for the first time? We're thrilled that more than half (54%) of travelers interviewed are likely to consider renting an RV for a trip next year and 57% are planning to take a road trip or vacation in an RV in the next 12 months. Delivery is as in-demand as ever, with 78% of travelers more likely to consider an RV if the RV is delivered to their destination. Luckily, many of the owners on the RVshare platform offer delivery, so if driving or towing a vehicle isn't your thing, we've got you covered!
We're excited to share more of the trends we're seeing for the new year, let's dive in!
About the RVshare 2024 Travel Trend Report:
RVshare's 2024 Travel Trend Report is predicting another game-changing year for travel. According to new research conducted by Wakefield Research, nearly 90% of Americans are planning to travel in 2024 at least as much as they did in 2023, including nearly half of them who plan to increase their travel plans. A continuing trend from years past, nearly 60% are planning a road trip or vacation in an RV in the next 12 months. With a peak in international travel this past summer, RVshare is forecasting travelers to focus on domestic travel in 2024, with an emphasis on relaxation, plus big crowds at the upcoming Solar Eclipse in April. Survey insights also take a peek into the future of travel with consumer sentiments around AI-based travel planning and electric vehicles, showing positive reactions towards both. 
RVshare's 2023 Travel Trend Report Methodology: The RVshare Survey was conducted by Wakefield Research (www.wakefieldresearch.com) among 1,000 U.S. adults ages 18+ who have taken a vacation in the past 24 months, between September 28th and October 9th, 2023.
TABLE OF CONTENTS:
RV Travel Trends
Travel Motivators
Solar Eclipse 2024
AI-Based Travel Planning
Surprise Trips
EV Travel
#1 RV Travel Trends
Overall and RV Travel Interest is High
In a 3-year trend, 86% are planning to travel at least as much this year as last, including 44% who plan to increase travel this year. As the post-pandemic increase in travel is apparent, it's more prevalent in younger generations with 58% of Millennials and 53% of Gen Z. 
While nearly the same amount of Americans year-over-year are planning to travel in 2024, 57% said they are planning a road trip or vacation in an RV within the next 12 months, which is nearly flat compared to data from 2022 and a 9% increase from 2021. Similar to last year, the population of those who are planning to RV in 2024 tends to skew towards a younger crowd, with a 9% increase for Gen Z travelers.
74% of Millennials
67% of Gen Z
56% of Gen X
31% of Boomers 
Trending Destinations
According to RVshare insights, after a summer with heavy international travel and bucket list trips, 35% of Americans are planning more domestic travel in 2024, While many travelers checked off Europe on their travel wish list this summer, Travel Trend Report data reveals that now 62% are most excited about taking more relaxing trips to destinations away from crowds and well-known attractions, and just 24% are looking to plan more international trips in 2024.
Following a three-year trend, the Grand Canyon continues to be the number one destination for RV travelers. However, there are two new destinations that have made their way to the top charts this year, including The Gorge Amphitheatre in Quincy, Washington, and Daytona International Speedway in Florida. The introduction of these two top destinations has knocked off destinations from years past including Moab, Utah and San Diego, California's Campland on the Bay Resort.
This year, RVshare observed the following top destinations for renters, of which many are predicted to continue into 2024:
Grand Canyon, Arizona
Black Rock City, Nevada
The Campsites at Disney's Fort Wilderness
Las Vegas, Nevada
Zion National Park, Utah
Yosemite National Park, California
The Gorge Amphitheatre in Quincy, Washington
Daytona International Speedway in Daytona, Florida
Ginnie Springs, Florida
Garner State Park, Texas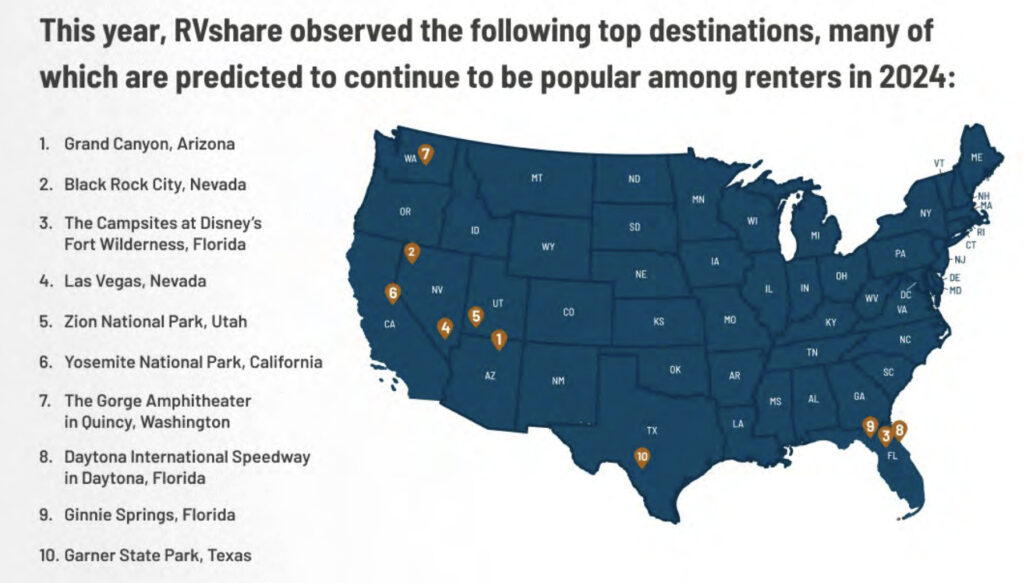 RV Delivery
First-time RV renters account for a large portion of bookings on RVshare. A factor that can deter those inexperienced renters is the thought of having to physically drive the RV. xx amount of the vehicles on RVshare offer delivery, which is an increasingly popular amenity for many renters. In fact, there was a 14% lift in bookings that requested delivery on the RVshare platform year-over-year. According to this year's Trend Report, 78% are more likely to consider an RV trip if the RV is delivered and picked up afterwards, which is on par with previous years.
The Convenience of RV Travel
Travelers see many ways that RVs offer a more preferred method of transportation when compared to flying. When considering the cost and chaos that can accompany air travel, RV travel offers more flexibility and smooth sailing along the way. When asked why RV's are a more preferred travel option:
58% said it's because they have a greater ability to change the time schedule
50% say they don't have to deal with loud or unruly passengers

We've all seen the viral videos that spread like wildfire of the unruly passengers and chaotic flights. RVshare noticed a 3% increase year-over-year of travelers not wanting to deal with the drama that can ensue from air travel.

49% say because they have no fees for extra luggage

RV Use Expands Beyond Camping
Preferences for overnight accommodations between hotels and RVs continue to fluctuate for many Americans, but there are several specific use cases where RVs are preferred.
60% are likely to choose an RV for a trip to National Park
56% for a multi day festival
44% for a tailgating event
While RVing might not always be needed for visiting family or less preferred than hotels for other types of trips,  RV travel allows travelers to put an emphasis on relaxing and getting away from crowds, which data shows is most important to them in 2024.
#2 Travel Motivators
Americans are Craving Relaxation in 2024
While 86% of travelers plan to take at least as many trips in 2024 as they did this year, the types of trips they will be planning will differ in several key ways as Americans look to reclaim a sense of peace and relaxation during their travels. In RVshare's 2023 Travel Trend Report, travelers were split down the middle on their 2023 travel plans, however with the majority of travelers most excited about taking relaxing trips to destinations away from tourist attraction and large crowds, just 38% are looking forward to planning more "bucket list" trips in 2024.
Interest in Quality Time Has Made a Comeback
While 49% of travelers are planning laid-back trips focused on relaxation this year, there are 43% of travelers that are looking forward to planning annual trips with family or friends and just 26% who are planning big trips to bucket list destinations. After the peak of big trips this past summer, instead of spending time with the crowds of tourists in 2024, people are looking forward to more quality time with family.
57% are looking to spend quality time with family, a 7-point spike over last year
48% are looking for peace and quiet
49% are looking to enjoy nature and wildlife
46% are looking to explore and discover new places
According to RVshare's insights, travelers admit that being around family and friends is something that more than half of travelers say helps them feel relaxed while traveling. When asked what other sources of relaxation travelers are looking for:
61% said relaxing in nature
52% said being around family and friends
47% said experiencing outdoor adventures
38% said driving on the open road
36% said having time for hobbies, reading, etc.
Ready to Relax
We all want to return from vacation feeling rested and refreshed, but RVshare insights reveal that this is not always the case, particularly for women. According to traveler data, just 54% of women often or always return from vacation feeling relaxed, compared to 75% of their male counterparts. 2024 may be the year this changes though, as many women seek a more relaxing experience.
73% of women are looking to relax and unwind compared to 55% of men
52% of women are looking to enjoy peace and quiet compared to 43% of men
and 51% are looking to clear their minds and escape compared to 43% of men
Connecting On-the-Go
While many Americans are looking at travel as an opportunity to reconnect with family and friends, many admit that they're in search of a different type of connection. Even in the great outdoors, RVshare insights reveal that WiFi still matters to most travelers.
57% are more likely to choose a campground with a strong WiFi connection. Likely not a surprise, 64% of Millennials, 63% of Gen Z and 58% of Gen X share this opinion, while just 43% of Boomers are less likely to prioritize their ability to connect digitally. Just 19% of travelers are more likely to book a campground without WiFi, reflecting the sentiment that the whole point of getting into nature is to disconnect.
#3 Celestial Seekers Gather for the 2024 Solar Eclipse
2024 Solar Eclipse Draws Crowds
This astronomical phenomenon is set to unfold on April 8, 2024 and is already casting quite the shadow on the travel landscape. Only set to unveil in a certain amount of states at a specific time, the majority are considering travel for the rare natural event.

According to RVshare's Travel Trend Report insights, 78% are planning to view the Eclipse this coming April, and 53% are considering travel to do so. 52% of travelers claimed they are very likely to rent an RV for a long weekend to experience a rare natural event, which is an ideal option for the majority of travelers who are looking to avoid crowds in 2024. For those planning to view the Eclipse, 49% are considering travel to a remote destination for a less crowded experience, while 35% are considering travel to a city along the path to view it with a crowd of others
Internal booking insights from RVshare also already reveals a +324% increase in bookings for the Solar Eclipse weekend next April compared to Memorial Day Weekend 2024, which is historically a very popular time for RV travelers and the traditional kickoff to the camping season. Survey insights reveal that 46% have already booked their accommodations for the Eclipse, while another 30% have started looking into options. The data indicates that there is still plenty of availability, but RVshare expects a near full occupancy surrounding the 2024 Eclipse and encourages renters to book soon to maximize their options.
If you're planning to travel to the United States for the eclipse, one of the best ways to experience it is by taking an RV trip. Not only will you have total freedom and flexibility, but you'll also be able to avoid crowded hotels and congestion on the roads. Plus, an RV trip will allow you to see other landmarks and national parks along the way, making your eclipse trip even more unforgettable. An RV puts you out in nature with the most optimal views, with your bed, kitchen and bathroom all along for the ride.
To witness the 2024 total solar eclipse, you'll need to be within the 115-mile-wide path of totality that arches from Mexico to Texas to Maine. The closer you are to the center of that path, the longer totality will last. Keep in mind, though, that most towns in the US aren't on the path, and RV rentals, hotels and campsites usually book up months in advance. So, make sure you plan ahead if you want to experience the eclipse in the path of totality.
#4 Americans Are Seeking Relaxing Trips and Travel Planning
Strong Interest in AI Tools for Travel Planning
Following the trend of travelers seeking more peaceful vacations, insights also reveal a more relaxing travel planning experience may be on the agenda as well. Insights show that 62%of Americans are interested in using AI-based tools to plan their next trip, including 18% who have already done so, While 19% are planning to do so in the future, there are a remaining 25% who are open to trying, but don't simply aren't sure how to tackle it.
When travelers were asked if AI tools would make the travel planning process more enjoyable and efficient by reducing time and effort, 63% admitted that it would. The positive sentiment skews towards younger generations of Millennials and Gen Z. The Boomer demographic remains more skeptical of AI-planned trips, with less than half expecting it to make the trip more enjoyable and less stressful. The suspicion that surrounds the idea of AI-based travel planning stems from distrust as 37% said they would find using the tool to be stressful because they wouldn't trust AI to accurately plan every detail.
While the doubt may remain for some, there is a large number of travelers who are interested in using AI-based tools to find accommodations that fit their needs and budget. 57% are interested in the use of AI to find hidden gems, attractions and dining options. In fact, a majority 71% of travelers that are interested in using AI to plan their next getaway said they would utilize AI to help find dining or attractions they would otherwise overlook on their own.
#5 The Element of Surprise
Under 10% Dare to be Surprised
While "Mystery Trips" and vacations with some hidden elements are trending, insights show that just 9% are daring enough to embark on a trip that is fully a surprise. While most travelers don't want to be kept fully in the dark, Trend Report data reveals that 75% would love to have at least one element be kept a surprise until the trip begins, especially popular amongst the younger Millennial and Gen Z demographics.
48% find it appealing to have activities be a surprise on a trip, while 40% are interested in being surprised by dining choices, and 36% would prefer to have the destination be kept a secret.
#6 RV to EV
Travelers Have Positive Sentiment Towards EV
RVshare is excited about the future of EV travel. We are working closely with manufacturers like Lightship, Aero Build, and Winnebago on their production of EV RVs. The platform estimates that EV RVs will be readily available to rent on RVshare by early to mid-2024. With more than 35% of RVs being rented for "try before you buy" purposes, we believe that number will rise when EVs are available to rent. Since demand will be greater than the supply at the beginning, renting an EV RV will cost around $200-$300 per night to rent.
RVshare recently partnered with Grounded and is making their G1 electric camper vans available for rent to the Detroit market on the platform. Today, RVshare only lists other eco-friendly options like solar-powered RVs and self-sustaining units that can go without power or water hook-ups for 5-6 days. This program, which is also supported by the Michigan Office for Future Mobility and Electrification (OFME), will provide sustainable travel options for travelers in a historically underserved city via a fleet of E-RVs available for daily hire. To rent a Grounded G1 fleet on RVshare in Detroit visit:
With more Electric RVs hitting the market, it leaves room for more renters to trial different vehicle models on the road, without leaving a big footprint. Though a newer option, half of travelers view a trip in an electric RV positively, seeing them as a great way to save money and protect the environment. Another 28% find the idea interesting, though they aren't ready to try it right away.
When asked initial thoughts about electric RVs:
26% say it's a great way to save money
24% say it's an excellent way to protect the environment
28% say it's an interest idea, but something they aren't ready to try
22% say it seems challenging due to the logistics