RV Owners
November 16th, 2022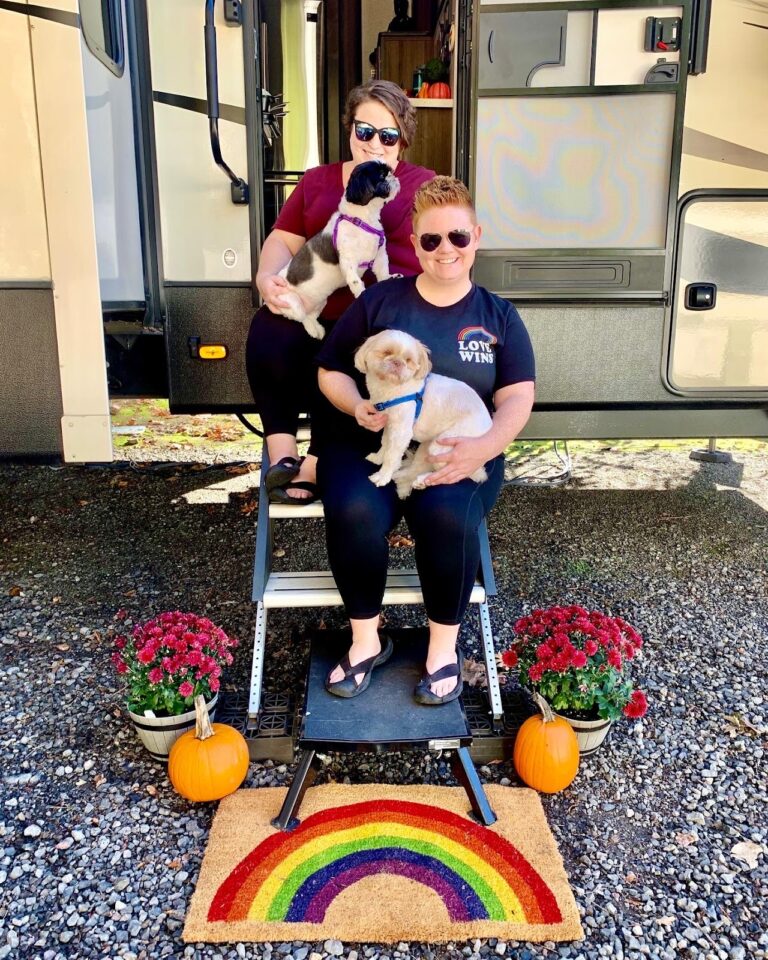 Are you considering full-time RV living with others? Do you already live and travel in a small space with a partner, kids or pets? Wonder how you will all get along and come together to enjoy the experience?
Traveling with someone else presents a unique set of challenges, but traveling with someone else (or multiple people) in a small space brings to mind questions about daily living habits, schedules and routines, as well as our own adaptability. Allie and I have been traveling full-time in our 42-foot fifth wheel for just about five years…and we are still working out details on how to best get along and live day-to-day in our small space.
Address Personality Differences
I, Danella, like things orderly. I am a tidy person who needs an ultra clean space to function in. I am also the head of household in terms of scheduling maintenance, repairs and general life tasks. I like to manage things and be in charge, but have to recognize when I need to take a break and rest more.
Allie is less structured and enjoys a more easy flow to her days. She can take or leave a home-cooked meal and doesn't stress if a load or two of laundry piles up. She needs time to rest and recharge alone and has to stay self-aware about her introverted needs. 
Living and traveling in an RV can cause tension because things break down frequently, there is little room to take individual space, and you have to constantly consider the other person's needs alongside your own. It's nice to know you can lean on one another and learn together. Here is how we handle some of our small space challenges:
We communicate.
We over-communicate. We talk about our schedules, our daily tasks, and our general well-being needs every single day. We regularly check-in with one another about how we are doing and what things might be coming up for us.
We compromise.
If Allie needs alone time, I make sure to take the pups and head out for a drive. If I need space to clean and organize, Allie will grab the pups and go for a walk. We try to build in small ways we can accommodate the other person.
We come together.
Even though we live and work in our small space every day together, we intentionally take time to get off our devices and spend quality time together. This can look like taking time in nature, going out for a meal, or catching a $5 movie on Tuesdays at our local cinema. We are always striving to find balance and keep the most important things at the forefront of our daily lives.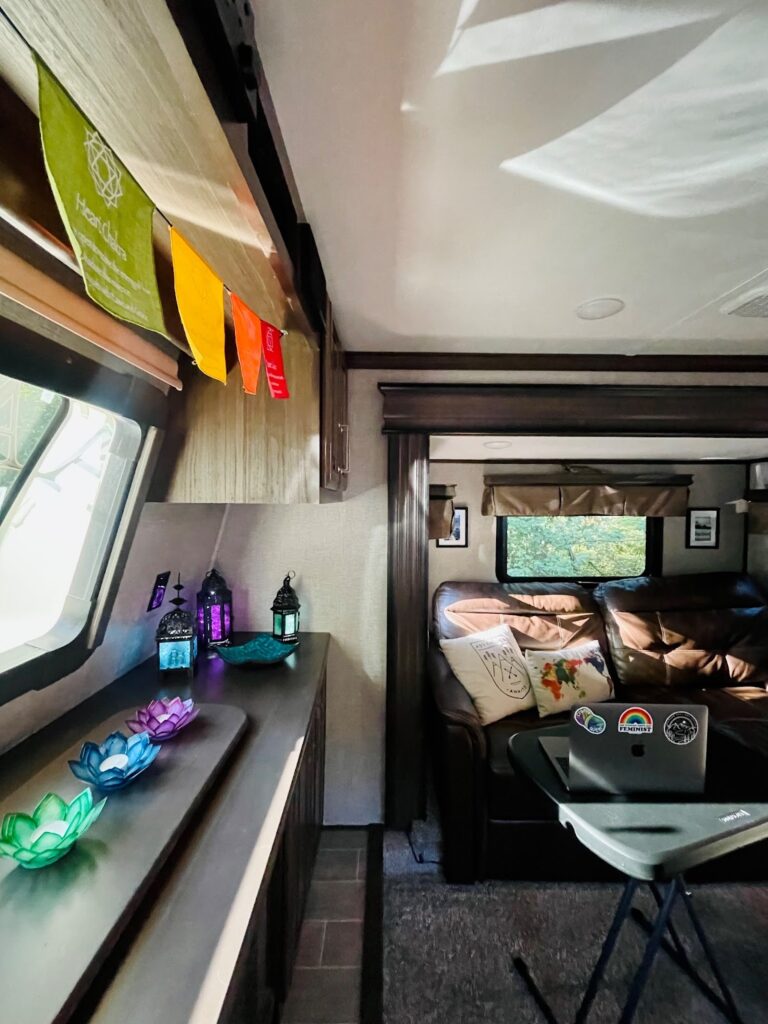 Reflect on Your Needs
If you are traveling with a partner, family member and/or kids, think ahead about what you need in order to keep yourself in good health, physically and emotionally, because you will continue to need those things on the road too! Are you someone who needs your regular cup of coffee and quiet to start your days? Do you have many work or personal tasks that you will need to make time for daily/weekly/monthly? Will you want to have lots of travel-related experiences at each location you visit or would you rather hang at the campsite in your home on wheels?
Being aware of your own needs can begin before you even hit the road. When considering what type of rig you may want, where and how fast you will travel, and who will be with you are all great ways to start thinking ahead. We initially chose a 35-foot Class A RV to live in, but quickly realized that was not enough space for us and our small business. We have since upgraded to a 42-foot fifth wheel with a specific floor plan that gives me space to work remotely for a university and Allie space to store all the yarn for our growing small business! What things might you look for in your future home on wheels? 
Do you need a bunkhouse for kids or additional storage? Consider a toy hauler style!
Do you need pass through storage? Consider a larger Class A!
Do you need to fit into National/State Park sites? Consider a Van or small Class C rig!
These questions are ways to begin the conversation of what comes next in your RV & Travel journey.
Level-Set Expectations — of Each Other & RV Life
Knowing that challenges will come up is one way that we work to release expectations of each other and of RV life. You can't predict every issue that you will face, but knowing and understanding your own needs is a great way to begin to be able to think about how RV living and full-time travel may impact those things for you and your living partners.
So often, we see a romanticized version of well-equipped rigs parked in epic locations with couples lounging in their pajamas, holding hot coffee, and taking in the view. That is rarely what full-time RV life looks like for us. We both work full-time, take care of day-to-day tasks and have the additional challenges of where to get our mail, how to see a doctor, and where to take our truck for an oil change. We wouldn't change our lifestyle, but we think it's important to give a realistic image of what full-time travel in an RV does look like for so many of us.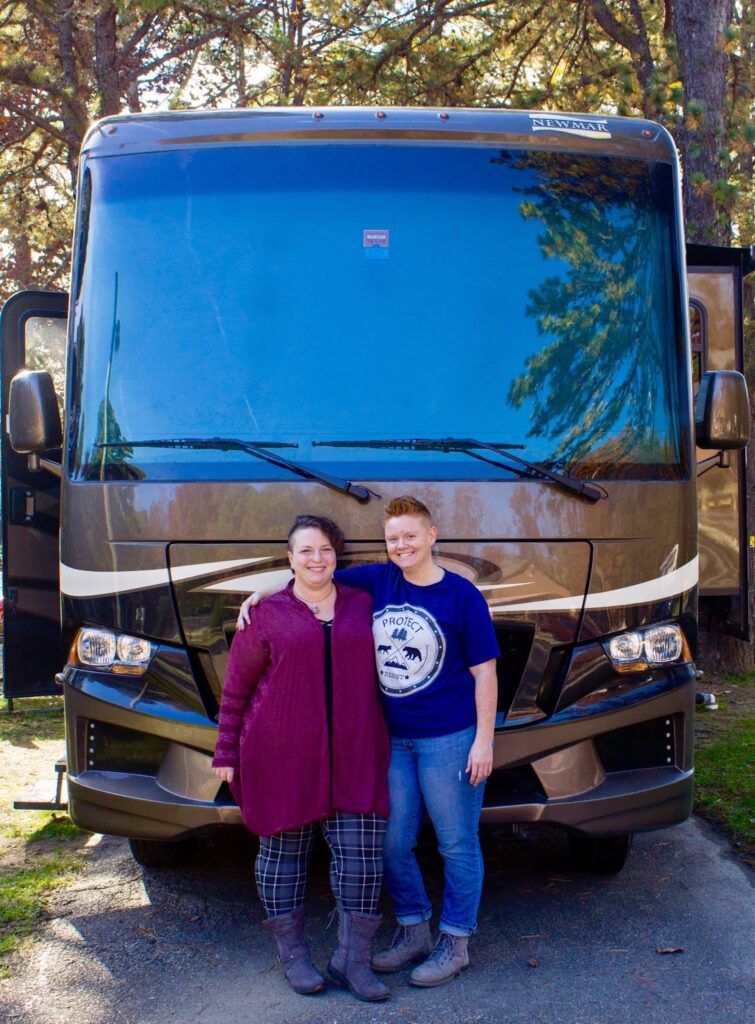 If you have chosen to share this experience with others it means you already care about each other and are going down this path together. Living small and traveling together is a life full of making memories, sharing interests and passions, as well as getting quality time together. Fitting big personalities into small spaces can take some work, but living in an RV and traveling full-time can be a rewarding experience to share as long as you take care of yourselves, one another when you take to the road!

[similar_ai_related]