Travel Inspiration
November 4th, 2022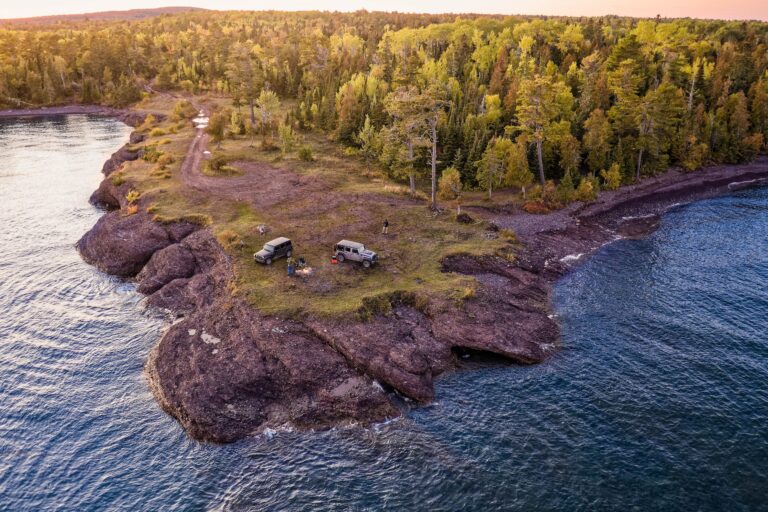 Ever wondered what you could find far down a dirt road?
If you enjoy Boondocking (off-grid camping in remote areas with limited access to resources) then let us introduce you to Overlanding. Like Boondocking, this type of travel experience doesn't offer luxuries and comfort but rather a discovery of freedom, self reliance and immersion to nature.
Overlanding is often described as a journey of self-reliant vehicle travel into unexplored lands. Meaning a journey far down unpaved roads, deep into the backcountry.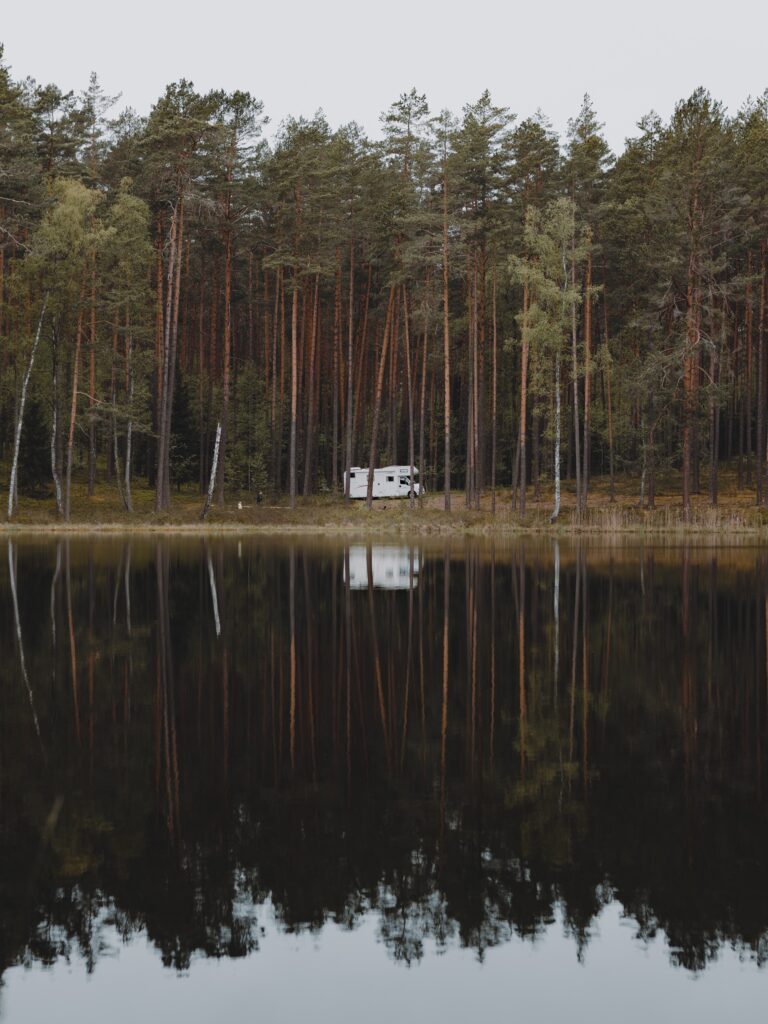 Overlanding is discovery. Expedition. Raw, unplugged and wild.
The premise of this type of travel is to focus on the journey. On the experience of traveling through challenging, rough and unserviced terrain to far removed remote areas. Self-sufficiency is very important for overlanding, unlike regular camping or RVing, overlanding offers no access (or very rarely) to services like dump stations, water refills and campgrounds. But what exactly does self-sufficiency mean? Carrying with you all the necessities to survive. This includes but is not limited to fresh water, food, shelter, gas and tools for self-recovery.
At this point you might be wondering, what really is the difference between Overlanding and Boondocking? According to The Overlanding Journal "The critical point to the term overland travel is that the purpose is to include at least two or more of the following: 1. Remote locations, 2. Cultures other than your own, 3. Under-explored or under-documented regions, 4. Self-reliance in unfamiliar territories for multiple days, weeks or months." Overlanding is a style of travel that pushes you to unexplored areas, where your ability to be self-sufficient is tested. Sure, you'll be off-grid just like at your favorite Boondocking spot, but it will take much longer to get there and it will most likely involve a few sketchy dirt roads.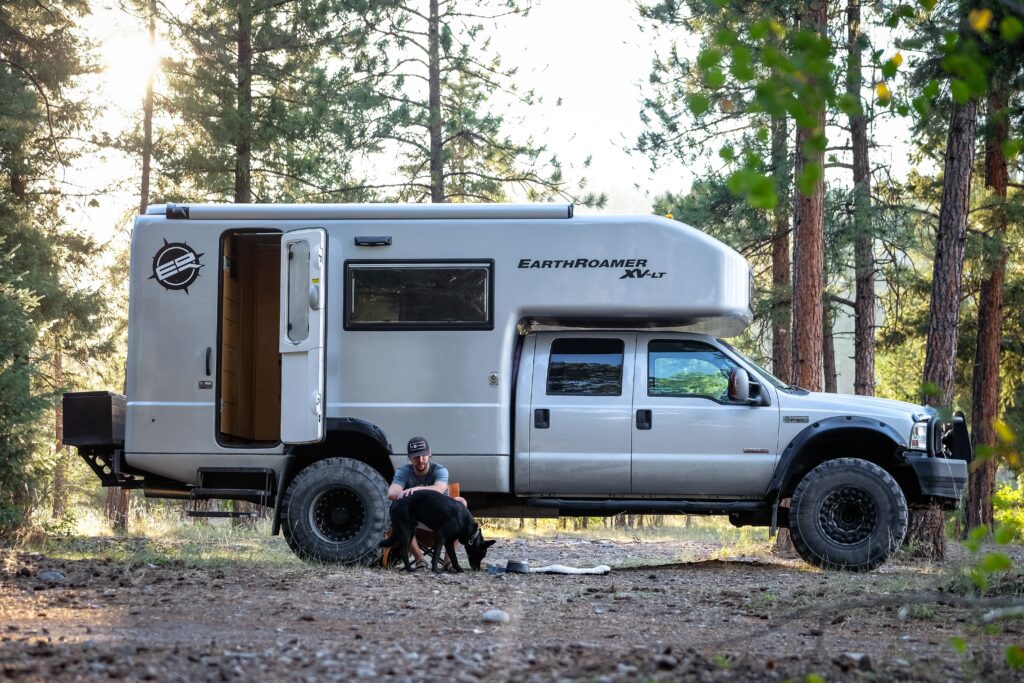 You might have come across Overlanding vehicles like the 'Earth Roamer' and picked up that this type of travel is linked to expensive and equipped vehicles. Although these highly geared 4×4 vehicles make up a lot of the overlanding community, there is no reason to feel left out if you don't have one. You can experience this type of travel and adventure with your RV or campervan. Before you head out let's cover some important preparation points and how you can plan your first overlanding trip!
Preparing for Overlanding
Preparing your RV for an Overlanding experience starts with making your set-up off grid friendly. Whether that is installing a solar system, getting a few extra jerry cans of gas for the generator or adding a portal power source. You'll want to make sure you are able to run the system you need to survive. And you'll want to make sure you have extra. Preparation is key for a successful trip, don't underestimate the possible dangers of remote locations. You'll want to make sure you are over prepared and have important tools to safeguard your safety. Consider adding a satellite phone to your set-up and as many self-recovery tools and equipment as you can (like sand ladders, shovels, recovery boards and winches).
Before heading out, you'll want to make sure your rig is in the proper condition for the trip and possible rough terrain. Schedule a general maintenance appointment with your mechanic, prepare your spare tire, tools, and double check fluids. It is important to understand the capabilities and limitations of your vehicle before taking on a trip of this nature. To prevent any unexpected difficulties in the route, make sure to read about clearance recommendations and terrain conditions. This is even more important if you are taking the trip in a less geared up vehicle.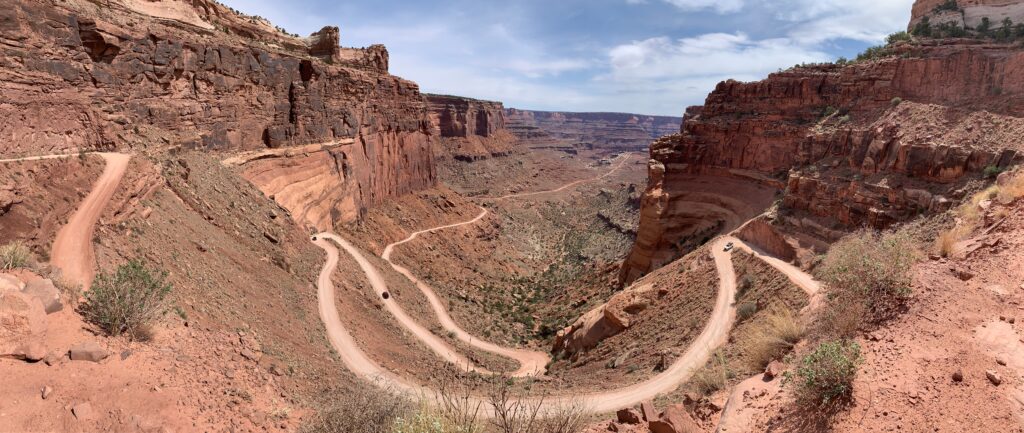 How to Plan a Trip
The internet makes it is easy to find overlanding routes and information you need to plan your first trip. Start with a google search "Overlanding routes in .. " and start discovering options near you. Begin with easy routes and short trips. The Overlanding Journal has some really resourceful map routes to guide you through your first adventures. While you are there, spend some time getting familiar with the Overland community. Facebook groups and forums are a great resource for information and advice. Once you have your route picked out, download maps of the area, create a detailed packing list considering the weather and terrain you'll be encountering and an itinerary of your trip. You will want to know details of the trip like miles on the road, possible overnight camp spots, areas to avoid and any other details to make your trip smoother.
Remember, it never hurts to be extra prepared. Especially for your first trips, pack everything you think you might need and don't skimp on the research! For your safety, consider sharing your itinerary with a friend or family member and above all trust your instincts. Overlanding is a unique experience of discovery, it will introduce you to some of the most beautiful and untouched places the world has to offer. Be ready to expand your horizons, experience new journeys and test your capabilities!
Happy exploring!
This post contains affiliate links. RVshare may receive compensation if you make a purchase after clicking on a product link.