Luxury Camping
August 8th, 2021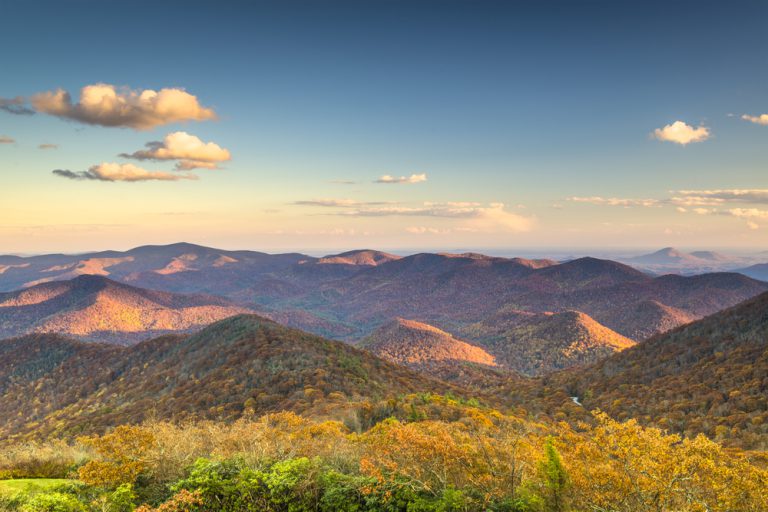 Georgia is home to some of the top tourist cities in the nation, including Atlanta and Savannah. You can tour historic sites and visit the World of Coca-Cola to learn about one of your favorite soft drinks. Thanks to luxury RV campgrounds, you don't need to worry about choosing the right hotel room and finding a place to eat. The top resorts offer on-site restaurants and other amenities that make your life easier while also letting you relax in the lap of luxury.
Luxury RV Parks in Georgia
Crossing Creeks RV Resort & Spa
Crossing Creeks RV Resort & Spa offers everything that you need for a relaxing trip without leaving the resort. Covering 100 acres, the resort has amazing views of the North Georgia Mountains and has full-hookup spots for your RV. The spa and fitness center offers tons of exercise equipment and spa treatments along with a whirlpool and spa room. Guests will find dartboards and other games in the clubhouse and a miniature golf course outside.
CreekFire RV Resort
One of the most luxurious campgrounds in Savannah is the CreekFire RV Resort. The calendar of events includes scavenger hunts and activities for kids along with arts and crafts classes and other activities for adults. You can rent boats such as kayaks and canoes at the resort and access a one-mile nature trail. Tennis courts, bicycle rentals, basketball courts, and a playground are all close to the clubhouse, which also has a large restaurant and general store.
Margaritaville RV Resort
Named after the hit Jimmy Buffet song of the same name, Margaritaville RV Resort is a great place to kick back and enjoy the sunshine. Located in the Lanier Islands, the resort helps you escape from the noises and crowds. It has a marina with boat ramps for your boat along with rentals if you don't want to bring a watercraft. An on-site golf course with 18 holes has 12 holes that overlook the water. You can also book one of the cruises around the islands or spend a day at the water park.
Pine Mountain RV Resort
Pine Mountain RV Resort has dozens of full-service RV sites, making it one of the top spots for luxury camping Georgia. The pool area boasts steam showers and a splash pad for kids as well as an in-ground swimming pool and hot tub. You can watch television or pick out a book from the book exchange in the lounge area or head over to the modern playground for some fun with your kids.
Atlanta Marietta RV Resort Park
Conveniently located near Atlanta, Atlanta Marietta RV Resort Park makes it easy for you to have some fun in nature while staying close to a major city. Paved roads lead from the entrance to more than 60 sites that give you full hookups for your RV. There are clean restrooms nearby along with a pet walk for four-legged guests. This RV resort is close to Atlanta attractions, including Atlanta's White Water Park and the Georgia Museum of Agriculture & Historic Village.
Where to Luxury Camp in Georgia
Atlanta is one of the first destinations that comes to mind when you think about where to find luxury RV camping in Georgia. It boasts the World of Coca-Cola, where you can sample beverages from around the world and see a recreation of the pharmacy that sold the original formula. Stone Mountain Park lets you enjoy the great outdoors as you play miniature golf and take a paddleboat ride. Staying close to Atlanta lets you watch the Braves and other teams play, too.
If you head to Savannah, you can check out many of the historic sites restored by the students and faculty at the Savannah College of Art and Design and take a tour of the most haunted spots in the city. Margaritaville and other resorts are in the Lanier Islands, which sit right off the coast of Georgia. Though you need to take a ferry ride to reach these luxury RV campgrounds, you'll find tons of exciting things to do along with areas where you can relax and enjoy the quiet.
Luxury RV Camping in Georgia
After looking at the best luxury campgrounds in Georgia, start planning your vacation. You can choose between resorts that are close to Atlanta and other big cities or those that are off the beaten path. Though the resorts in the rural areas are harder to reach, they typically offer more peace and quiet. As Atlanta traffic can be quite bad, you may want to check the traffic report before you hit the road. It's also helpful to skip the highways and stick to the backroads.
Remember to pack everything that you might need because it's not as easy to find stores as you might think. You'll need bed linens and towels for your RV along with sunscreen and insect repellent. Don't forget to bring a few comfy camping chairs, too. There's nothing better than sitting next to the fire at the end of a day of having fun splashing and playing in your RV park or checking out the local attractions. 
Before you head off to one of the luxury campgrounds in Georgia, check out the top things that you need to know about luxury camping.
Visiting a luxury RV park is a way to go beyond your typical camping trip. These sites have beautiful amenities, some of which include tennis and basketball courts, spas and fitness centers, golf courses, upscale bathrooms, and much more. Expect fun events and comfortable accommodations that make your vacation feel luxurious and special. Rent a beautifully maintained, peer-owned RV from RVshare and enjoy one of these exclusive resorts.