Travel Inspiration
Last updated on November 27th, 2022. Originally published on June 29th, 2017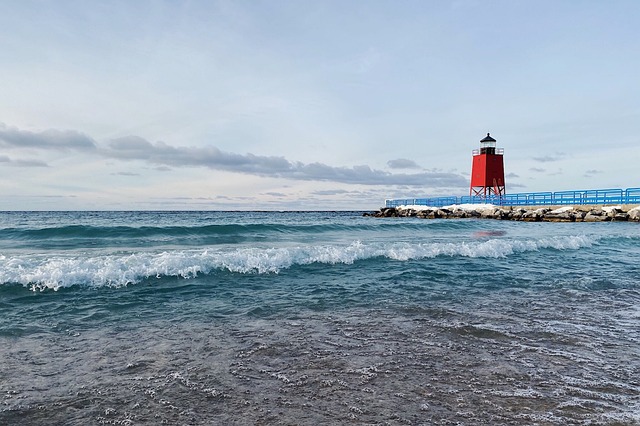 Yellowstone National Park. Yosemite. The bright lights and amusement park rides in Branson City, Missouri.
Many RVing destinations are so darn popular, hearing their names time and again can begin to be a little bit irksome. But true midwesterners know that some of the very best camping is right in their own backyard.
Lake Michigan Camping
Whether you've got your sights set on the scenic Upper Peninsula or you're planning to do some camping in the mitten, Michigan's got some of the most beautiful RV parks and resort-style campgrounds around.
Plus, its titular lake offer tons of fun water activities for the adventuresome and just plain old beauty for those of us who'd rather stay ashore.
You can rent a boat, kayak, or canoe to take on the lake's vast and pristine waters, or spend your time hiking in the forests along its rim. Try to spot as much local wildlife as you can — possible sightings include coyotes, river otters, brown bats, heavers, and even lynxes and gray wolves. Crane your neck and look to the trees, and you might see a northern harrier, common loon, double-crested cormorant, common tern, bobolink, or even a bald eagle.
Or, you could connect with nature in a different way… by grabbing your rod and tackle box and fishing up tonight's dinner. Lake Michigan is chock full of delicious fish ranging from large- and smallmouth bass to trout and yellow perch.
Finally, don't dismiss the simple pleasure of setting up your camping chair, starting a fire, and relaxing in the shade of local trees. Just add some fresh s'mores — or maybe some of that fish we were just talking about — and you have all the makings of an absolutely magical camping trip.
RV Resorts Near Lake Michigan
When it comes to finding campgrounds on Lake Michigan, your options are nearly endless. Almost every stretch of coast around this vast body of freshwater boasts at least a few camping sites, both public and private.
If you're looking for an affordable and authentic Lake Michigan camping trip, try one of the public Michigan State campgrounds. Lake Michigan Recreation Area is one of these options, located on the east shore of the lake between Manistee and Ludington. Although its campsites don't feature hookups, its proximity to the shore can't be beat, and you can also enjoy a wide array of amenities including a playground, amphitheater, and bike trails.
Other publically-owned lakeside campgrounds include Silver Lake State Park, Ludington State Park, Mears State Park and Orchard Beach State Park. Most of these aren't but a few hours northwest of Grand Rapids. There are also a variety of other public campgrounds further inland in the forest if you don't want to be directly on the shore of the lake.
Another popular option is Traverse City State Park, which is one of the best. It combines all the beauty and fun of being in a natural and wooded area with a nearby metropolitan center, which can make your camping trip much more convenient when you need to restock on supplies.
Aside from these state-owned properties, there are a ton of resort-style, full hookup campgrounds and RV parks by Lake Michigan. In fact, there are so many Lake Michigan RV campgrounds that there's no way for us to summarize them all for you here. (Don't believe us? A simple Google search for "RV parks on Lake Michigan" will prove it!) But to start, check out Silver Lake Jellystone Park and South Haven Jellystone Park to get a feel for some great options.
The best place to camp, of course, will vary widely depending on your personal preferences and how many amenities you require. A great way to get started choosing one from the many is to decide which part of the lake you want to spend your time on. Then, come up with a reasonable per-day budget, a list of features you don't want to miss, and start narrowing down your options from there!
Lake Michigan RV Rental
If you don't already have an RV for your trip, you're going to have to rent one. And unfortunately, this can be the most expensive — and, honestly, stressful — part of the whole ordeal.
But luckily, renting a quality recreational vehicle doesn't have to cost you an arm and a leg. And it doesn't have to give you any headaches, either.
You can begin by looking for large RV rental dealerships and agencies in your area, whether you're starting in Michigan or somewhere further afield. Many nationwide franchise RV rental dealerships, like El Monte and Cruise America, will have rigs available any time of year, even at the last minute.
However, you may end up spending as much as $250 per night on your rental vehicle, particularly if you need a large or well-appointed rig. And that's not counting the security deposit, administrative and preparation fees, or any of the food and gas you'll need to use as fuel on the way to your destination!
Another option for renting an RV at a lower cost is checking out the peer-to-peer RV rental marketplace here at RVshare. Regular RV owners list their rigs for rent when they'd otherwise be sitting empty, which means they can usually afford to rent them for a fraction of what you'd expect to pay at a large dealership. Plus, since these vehicles are actually lived in, loved, and cared for, they're generally much homier and more unique than a vehicle you'd find on a sterile, corporate rental fleet.
Regardless of which rental agent you go through, always make sure you fully understand the RV's systems and operation before you drive off toward your destination. Although the vast majority of rental dealers will have ample customer service and roadside assistance options to help you if something should go wrong, it'll be a lot smoother if you don't find yourself stuck on the side of the road trying to figure out how to toggle on your headlights!
Be it in a modest pop-up camper or a large fifth-wheel travel trailer, we're sure you're going to enjoy every minute of your Lake Michigan RV vacation. Don't forget to take lots of pictures… but make sure you don't get your phone wet!