Uncategorized
Last updated on November 9th, 2023. Originally published on May 30th, 2023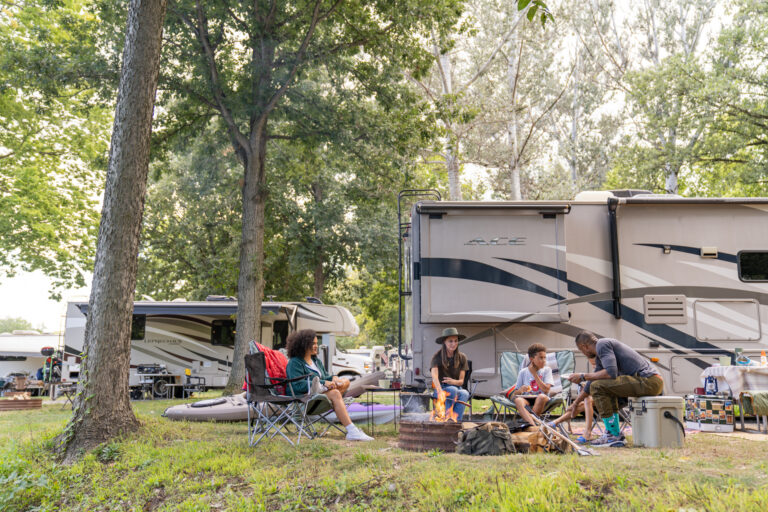 Living the RV lifestyle is a whole lot of adventure and fun! Whether you own your RV or are renting one for an epic road trip, you'll find lots of things to do on the road. However, all this fun comes with some expense. We're here to help! Here, you'll find some basic information on motorhomes, how the rental process works, and some deals to help you out.
RV Deals
Whether you are out for leisure, tailgating, or just an amazing experience, motorhomes provide fun mobile living accommodations. These recreational vehicles are broadly divided into several categories, Class A, Class B, and Class C. You also have travel trailers, which are towed by a vehicle and don't run on their own.
Choosing an RV Type
Motorized RVs have an engine and are driven directly – they combine a motor vehicle chassis with the living area. Towable RVs, on the other hand, are not independently functional and must be latched onto the tail of another vehicle.
When limited by budget, you should select a model that fits your actual needs. Be willing to compromise. Consider a smaller-sized RV or fewer luxury amenities. Also, consider your RV's fuel efficiency. If you look for an RV that offers much more than you need, you may pay extra for perks you're not using.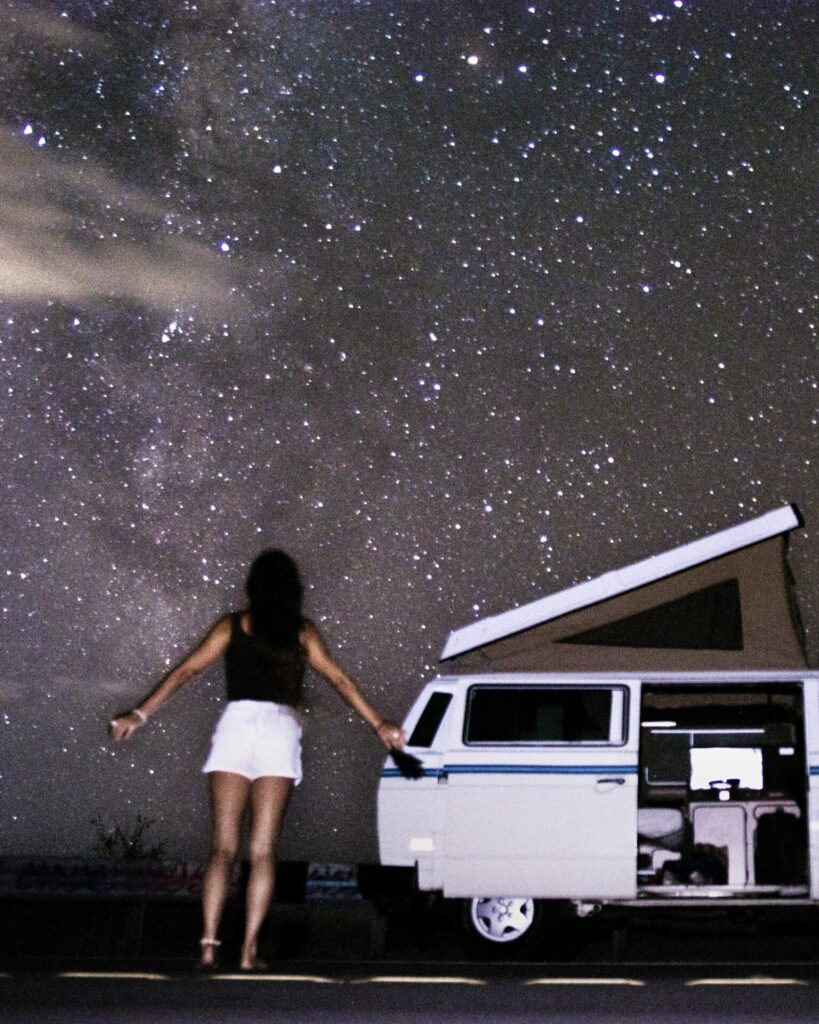 Motorized RVs
As a rule, motorized RVs tend to be more expensive than towable RVs, and for good reason. With a motorized RV, you don't have to bring a vehicle to pull the RV – you simply drive the RV itself!
Class A
If you're on a limited budget, you'll probably want to avoid Class A motorhomes, the massive bus-like RVs. Class A RVs are often stuffed with luxury amenities and are complete gas guzzlers, averaging 4-7 miles per gallon. This makes them a poor choice for budget-conscious travelers.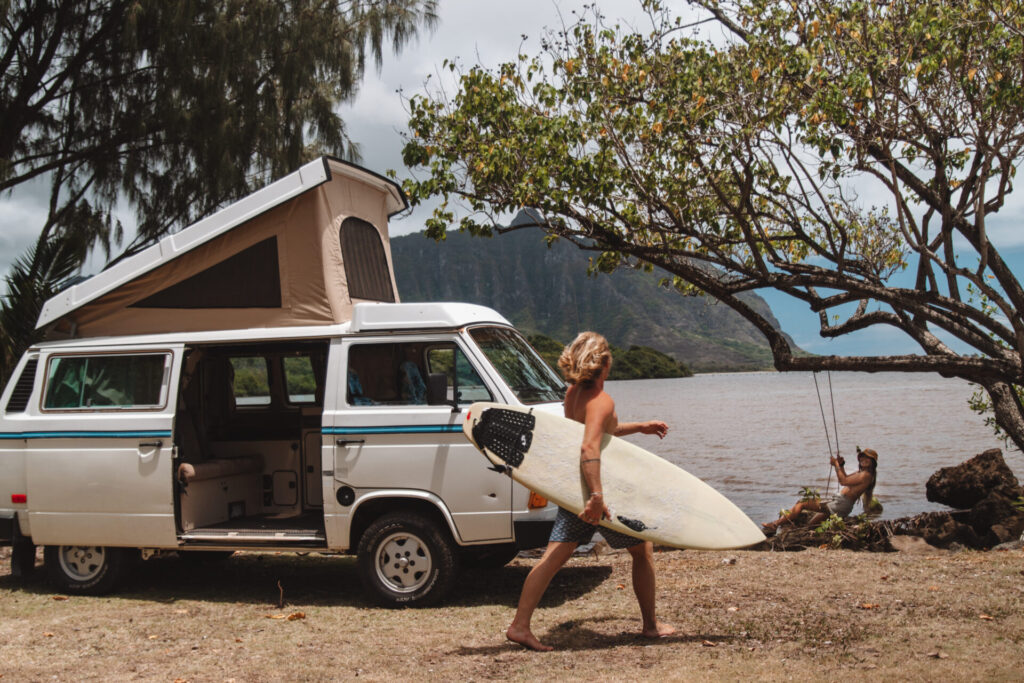 Class B
Budget RVers should seriously consider renting a Class B campervan if money is particularly tight. Built on a van chassis, Class B motorhomes are the smallest motorized RV type. They're cheaper to rent and have superior fuel economy relative to other motorized RVs. They are a great choice for RVers who are willing to sacrifice space and amenities like storage and possibly bathrooms.
Class C
Class C motorhomes are an excellent middle-ground choice. They are larger than Class B but smaller than Class A RVs but with the benefit of some luxury amenities. You'll find a complete bathroom and shower in most Class C's, along with a kitchen and more room than a Class B campervan. Class Cs generally cost more than Class Bs but not as much as the bigger Class As.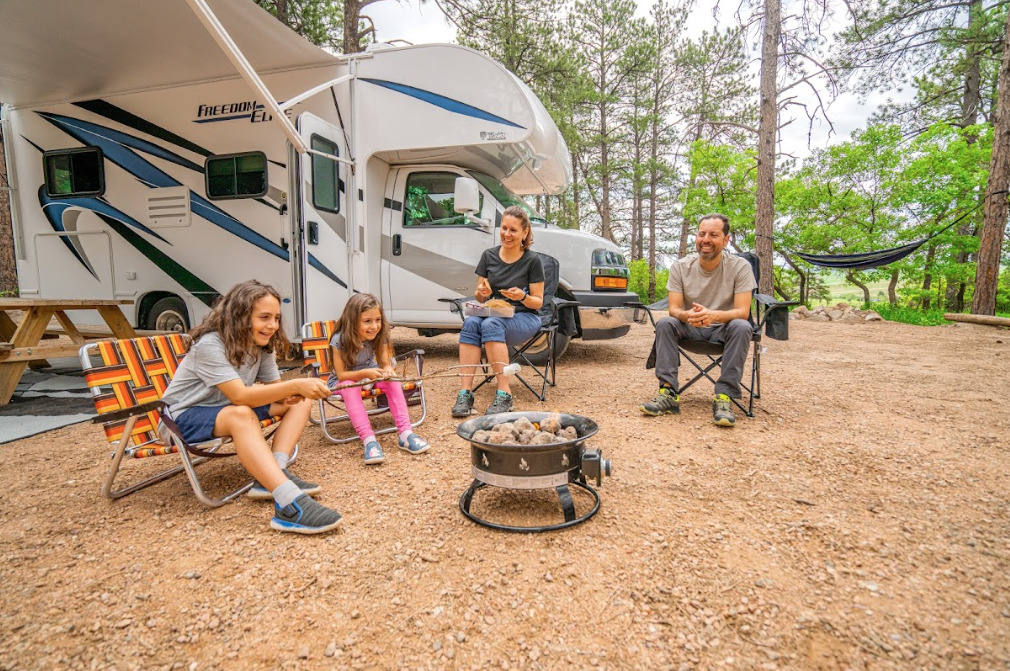 Towable RVs
Of course, if you happen to own an existing vehicle that you can hook an RV to, then a towable RV may be the most cost-effective choice. Be sure to carefully compare and contrast your options to understand which one will better suit your particular circumstances.
Fifth Wheel
Fifth-wheel trailers are particularly spacious – they are double-decker! – and can reach lengths of around 40-45 feet (not counting the hitched vehicle). Though they are the most expensive type of towable RV, they still tend to be significantly cheaper than Class As. If you're on a limited budget but need lots of space, it is worth considering a fifth wheel trailer.
Travel Trailer
Travel trailers are medium-sized when compared to a massive fifth wheel trailer, but they're still very spacious – and are a better budget pick overall. They come packed with amenities such as fully-equipped kitchen, bedroom, bathroom, and dining areas. They also have heating, air conditioning, and entertainment areas. Because of their smaller size, travel trailers can be hitched to smaller vehicles, making them a great pick for those who do not have a large towing vehicle.
Folding Camping Trailer
Folding camping trailers are the lowest-cost choice, but may be insufficient for many RVers given the limited amenities. Rental rates are quite cheap, and the fuel economy is great, but the living area can be cramped and you won't get a full bedroom, bathroom, or kitchen. This is a reasonable option for those who simply need a living area on the road but are not overly concerned about lots of space or amenities.
Motorhome Rental RV Deals
The United States is home to over 450 RV rental outlets and dealerships that offer great Class A and Class C RV deals. Indeed, renting a motorhome is the best way to test one out before making a purchase. Recreational vehicles come in different sizes, weights, and heights.
State-of-the-art amenities featured in Class A motorhome deals include entertainment units and housekeeping accessories such as linens and beds. To begin your search, you'll need to find the perfect RV for your family. The most important points to consider when renting an RV are reliability and the expense of renting that particular model.
Other factors include the rental duration and distance you want to travel. With a wide selection of RVs in the market, a camper trailer offers vacationers an affordable way to experience the country. Other popular deals offered by RV camper renters are cash-off one-way rentals, summer camper savings, multi-RV rental discounts, and last-minute deals.
With RVshare, you can rent a small camper trailer for as little as $50 a day or $100 daily if you add more sleeping space and amenities. The cost of renting an RV is the same regardless of the number of people sleeping in the vehicle. This is unlike a hotel stay, where charges can be assessed based on the number of people booked.
One-Way Motorhome Deals
To rent an RV, you'll need a standard driver's license, rental deposit, and security deposit. Almost all rental companies will ask for a rental deposit, usually about $300. Depending on the details of the contract, this amount may be refunded after the trip if the vehicle is returned in good shape.
Before hitting the road with your rental RV, make a point to familiarize yourself with the vehicle's features.
Everything inside the vehicle should be in good working condition which includes the safety features. If you are the driver, practice how to maneuver the vehicle so that you will be comfortable while driving.
The renter should also explain to you all the insurance options available. You can rent an RV for an upcoming trip through a national RV rental company, RV owner, or local RV rental company.
Best deals on motorhome hires, including one-way motorhome deals, are usually offered by both small and large RV rental companies. The deal may be a seasonal offer or a discount for first-time renters.
Last-Minute Motorhome Deals
To get the most out of your road trips, see if the RV rental company offers last-minute motorhome deals. For example, there are often deals on camper trailers that can be towed behind a pick-up truck, SUV, or family car. Once you reach your destination, you can unlock the trailer and free your vehicle so you can visit other attractions.
When looking at motorhome hire prices, it is important to know that the daily RV rental prices normally go up during peak seasons, such as summer, and drop in the off-season. The amount of money you are charged daily may be impacted by factors like vehicle availability and location.
RV rental companies with big fleets of motorhomes usually benefit from the economies of scale so sometimes you'll find great deals with them.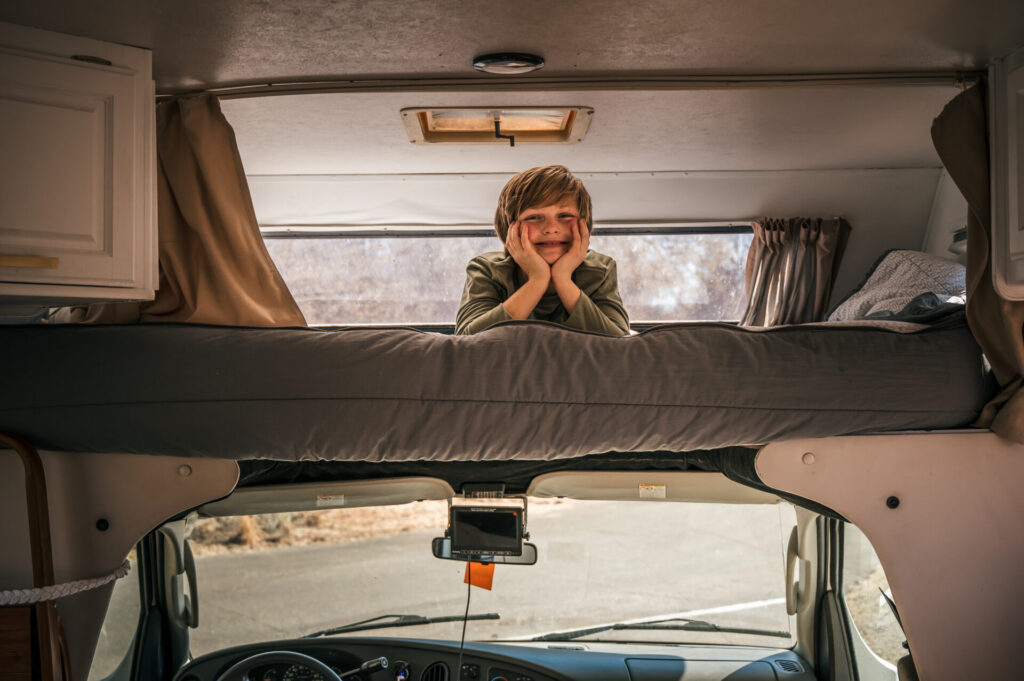 Cheap Motorhome Deals
If you are conscious of your budget, take time to research and find cheap motorhome rental offers. For the best motorhome lease deals for your upcoming holiday or road trip, look at the prices offered by renters for daily, weekly, and monthly periods. Remember to pick an RV that best suits your needs based on your comfort, security, budget, privacy, and travel location.
You'll also need to check whether the RV pickup and return locations are convenient for you. Online RV reservation tools can be used to narrow your search using location, special vehicle features, type of adventure, and age of the vehicle. You can find unbeatable used motorhome deals on a host of RVs advertised online.
Budget RV Rentals
Getting into RVing can be intimidating from a financial perspective. Purchasing an RV can run you tens of thousands of dollars. You'll also have other costs: campground time, fuel, maintenance, insurance, and more. We understand that RVing can be expensive for some, which is why we believe that our platform is so powerful. By connecting renters directly with owners, RVshare eliminates the middleman and empowers potential renters to find competitive rates.
At any given time, there are thousands of listings to suit a variety of budgets and RVing preferences.
If you're on a limited budget, there are two key strategies for securing a budget RV rental that will provide an enjoyable experience without breaking the bank: 1) Select a smaller model and RV type, and 2) Adopt cost-cutting methods to further bring down the rental rate.
Let's take a closer look.
Tips for Cutting Costs
Though selecting the right model can go a long way toward making your RV rental more affordable, there are other ways to cut costs.
1.) RV Age
Consider renting an RV that is a bit older. If the owner has invested time and energy into keeping the RV in reasonable condition, you may be able to rent an older model at a lower rate.
2.) Seasonal Discounts
Planning your RV road trip around off-season times can ensure that you get better rates. During peak season, you'll be competing with many prospective renters, which can cause rates to rise.
3.) RVShare to the Rescue
Another way to find a cheap RV rental is to look into RV sharing rather than going to an RV rental dealer. RVshare allows RV owners to rent out their RVs when they aren't using them. This method allows RV owners to earn extra money during times when their RVs would otherwise be sitting idle. It also gives travelers the chance to hit the open road in comfort while saving money.
4.) Negotiate Your Rate
Owners may be willing to negotiate a lower rental rate in some cases. The RVshare platform puts you in direct contact with owners. Pressing concerns of the owner (such as the need for some quick money) could mean you get a discount if you ask.
5.) Rent from an Owner in a Low-Cost Region
Renting an RV in a city with a high cost of living can be more expensive than renting an RV in a city with a low cost of living. At first, this may seem counter-intuitive: the value of an RV should be the same regardless of where it's rented. In reality, however, owners price their RV rentals at a rate that is reasonable given their circumstances.
6.) Plan Your Vacation in Advance
When looking for an RV rental discount, the earlier you book your rental, the more money you'll likely save. With RVshare, it's not uncommon for many RV owners to be willing to issue discounts just to have peace of mind, knowing their RV is booked.
7.) Plan Your Trip to Minimize Daily Mileage
Some RV renters charge a fee for daily mileage above an agreed-upon baseline. These mileage fees can quickly escalate the cost of your trip if you're not careful. To avoid going over the allotted "daily mileage" amount, take some time to plan your trip routes. If you want to change your itinerary on the go and do something more spontaneous, you still can, but you'll be aware of those mileage fees.
8.) Lengthen Your Rental
If possible, instead of going on two separate, shorter trips, consider going on one longer trip. Typically longer rental periods are offered at a lower rate (or can be negotiated lower).
9.) Prep Your Own Food
If your RV has a fridge, prepare some meals at home and pack them for the trip. Some days on the road will be particularly exhausting, and you may simply not have the energy to cook up a meal in your RV kitchen. Instead of eating out and running up the budget of your trip, you can reheat your prepared food and have a healthy, delicious meal at a low cost.
10.) Supply Your Own Equipment When Possible
RV owners may not provide all useful equipment for free with your rental. Important equipment like pots & pans, sleeping gear, cleaning equipment, or an RV repair toolbox may come at an extra cost if supplied by the owner. To minimize these costs, bring your own.
Understand the Terms of Your RV Rental
To find a cheap yet smart RV rental choice, it's also important to make sure you fully understand exactly what you'll be paying for the rig. Many RV rentals are rented on a per-night basis, but you may also be charged per mile if you go over a specified amount of mileage. Always take the time to understand the rental agreement so you aren't surprised at the end of the rental period.
Also, ask about deposits and additional fees. Remember that in most cases, you'll be expected to return the RV with a full tank of gas. If you don't, you could be charged a refueling fee, and there's a good chance that you'll pay more than the price at the pump.
Additionally, ask what comes with the RV rental. Many first-time RV renters assume that pots, pans, and linens are included with the rental. This may or may not be the case. Some RV rentals come with the option of including a kitchen kit or linens, but you might also be charged an extra fee.
Finding a cheap RV rental isn't impossible, especially if you're willing to book early and do some research in advance. You'll be able to enjoy the vacation of a lifetime without depleting your bank account.
For more information, read this article on Cheap RV Rentals.
RVshare Has Options For Everyone
At RVshare, there exists an RV at every budget. By taking into account the RV model, amenities, and other factors, you can rent an RV that fits your needs and budget perfectly.
Use the RVshare Platform
The RVshare platform is a powerful tool for browsing and comparing thousands of RV rental listings from around the world. Unlike standard RV rental services, which rely on quick-fix discount specials to compete (like RV rental coupons), RVshare connects renters directly with a worldwide network of owners. As prospective renters on the platform can easily compare listings, owners are incentivized to price competitively to succeed on the platform.
We encourage you to browse RVshare and see for yourself how easy it is to find a great rate on your next RV rental!