Industry News
Last updated on November 22nd, 2023. Originally published on November 7th, 2021
It may seem as though we just got back from our summer travels, but the holidays are on the horizon!
If you're planning to travel this winter season, it's a good idea to begin RV holiday shopping sooner rather than later.
Holiday shopping from the road can be a little different, but it's definitely possible! Read on for tips on successful RV holiday shopping. We'll also give you great gift ideas for the RVer in your life (or to treat yourself!)
RV Holiday Shopping
We've learned in the last few years that plenty of uncontrollable circumstances can delay holiday gifts and mail! Supply chain issues, employee-hiring challenges, pandemics, and a lot of other events outside our control can affect when we get the things we order online. And for those of us who will be traveling, shopping can quickly become a nightmare. Buying in person can be stressful! If you're traveling by RV, you probably don't have endless room to store those gifts you're getting. Depending on how many people are on your to-buy-for list, your living space could quickly become cramped.
Even if you plan to do most of your holiday shopping online, you probably don't want to do it from the road. Not every campground has a mailbox available unless you're in a longer-term camping facility. Even then, there may not be a secure box for packages.
And, of course, if you're traveling, your "ship-to" address will be constantly changing. It's all too easy to accidentally forget to change it and have something shipped to the wrong place!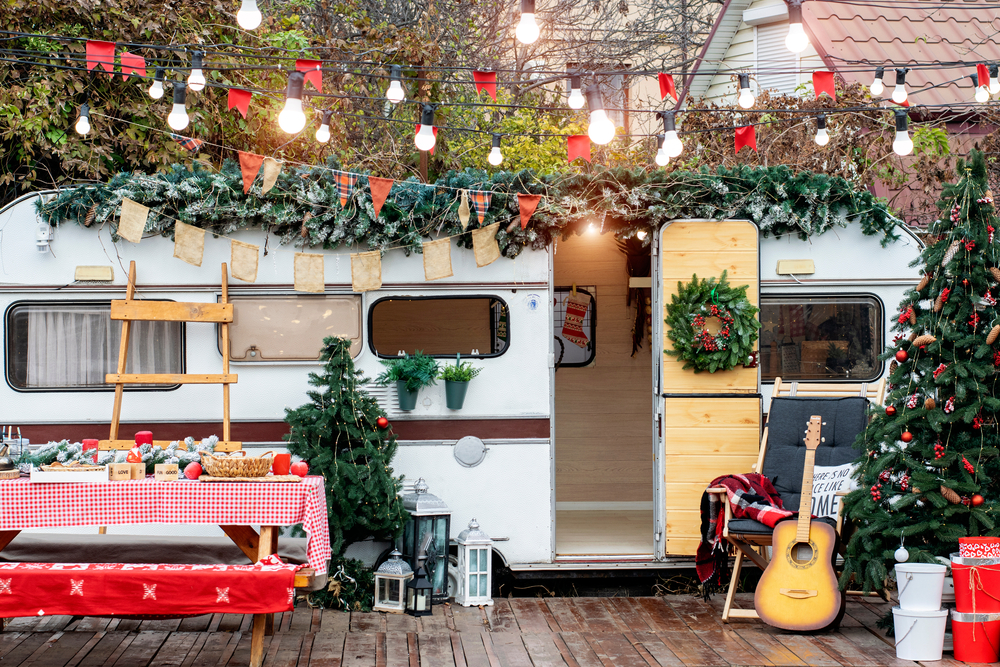 Tips for RV Holiday Shopping from the Road
If you do end up needing to do some or all of your holiday shopping from the road, here are our best tips for making it as easy as possible.
1. Get started early!
Avoid shipping issues, headaches, and having to apologize for a late gift by tackling your shopping list ASAP. (Don't forget: you also need to factor in the time it'll take to ship it to its recipient!)
2. Get things held at a shipping facility.
If you're traveling, see if there's an option to have your item shipped to a holding facility. You can then pick it up at your convenience. That way, you won't have to worry about the lack of a secure mailbox at your campground (if your campground takes mail at all). You also won't have to worry about accidentally putting down the wrong shipping address in the first place. Just go pick it up when you're ready!
3. Take advantage of curbside pickup.
If you need your gifts faster, but still don't want the headache of heading inside a store, use the curbside pickup options that are now available at many different stores.
4. Shop small.
Yes, we encourage supporting local businesses and mom-and-pop stores! But we also mean just shop physically small! Even if you're traveling in a fifth-wheel travel trailer, your available living space is pretty limited. Go with smaller gifts to save space.
5. Have your gift shipped directly to your recipient.
One great way to avoid having objects take up space in your rig or having to deal with shipping address confusion: have your gifts shipped directly from the vendor to your recipient! Most online vendors offer some sort of "gift" checkbox during checkout. This will also ensure the price isn't listed anywhere inside the package. You might even be able to get it gift-wrapped. Even if that's not an option, a thoughtful gift can be just as meaningful without the fancy paper!
The Best RV Holiday Shopping Gifts
If you're shopping for an RVer, or want to take advantage of holiday sales to treat yourself, here are some of the best gifts! From weekend warriors to full-time RVers, we've got you covered.
1. RV Stove Top Cover
If you camp in a motorhome or travel trailer, you know that space is at a premium. That's doubly true in the kitchen! If you (or your resident RV chef) experience the familiar frustration of not having enough counter space in your RV kitchen, you're not alone. Fortunately, there's an easy fix!
Camco makes beautiful RV stove top covers, which can give you more room to prepare food or clean dishes afterwards. In most RVs, that stovetop takes up a decent chunk of the kitchen real estate. Just imagine having it back to do with as you please!
2. Spice Gripper Clip Strips for Plastic Jars
The next must-have RV holiday wish list item: clip strips for plastic jars. These are the perfect way to create a mobile spice cabinet that stays organized. I mean, how many times have you arrived at camp, ready to whip up a delicious dinner, only to find your spice cabinet in shambles from the trip?
Along with keeping your spice jars organized and upright, these clip strips allow you to see each and every bottle. You'll never end up accidentally purchasing multiples of the same spice (come on, you know you've been there). And keeping them tacked onto the inside of a cabinet door has the added bonus of freeing up more storage space… which is never a bad thing in an RV!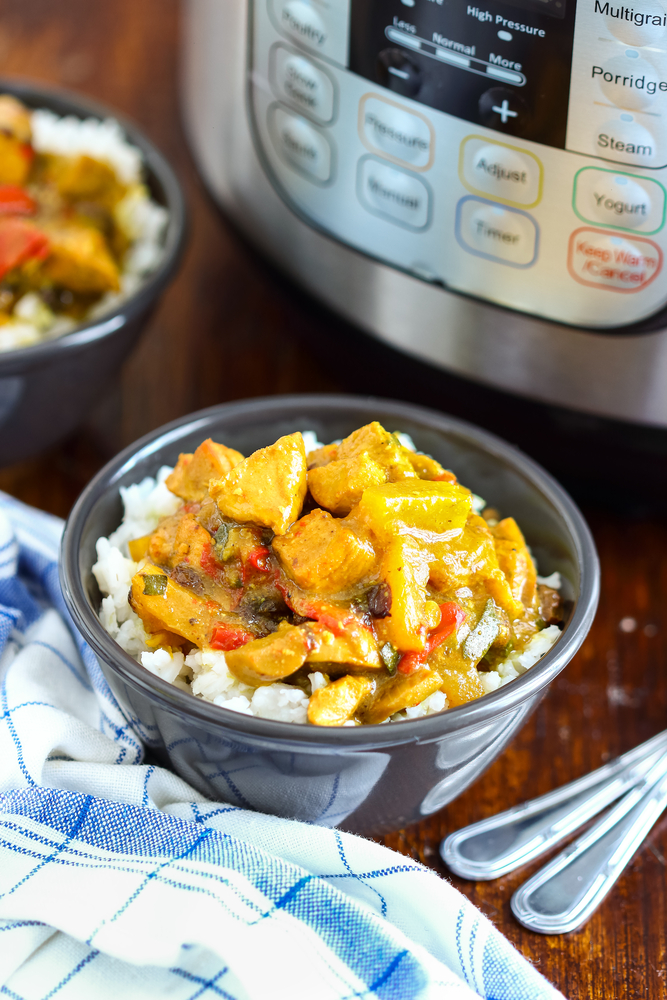 3. Instant Pot
There's nothing like coming home hungry and realizing tonight's ingredients are still frozen. When you have an Instant Pot, that doesn't matter! You can throw everything in the pot and have a delicious, hot meal in a matter of minutes.
But for RVers specifically, an Instant Pot unlocks a world of delicious possibilities you just wouldn't have had otherwise. Most rigs have only a stovetop and a microwave, which makes performing certain cooking operations a whole lot more difficult. In the case of making, say, a stew, it could mean burning through all your propane in a jiffy.
An Instant Pot gets you multiple functions for a small price and an even smaller footprint. It's just about perfect for motorhome or travel trailer living. Plus, you can use it at home, too!
4. TastePURE RV Water Filter with Flexible Hose Protector
For those who live in their RV full time, having to rely on bottled water can become a major pain. At the same time, you might not want to drink from the shore hookup at your RV park. In some cases, it's little better than water from a garden hose. Depending on the hose you've got, it might not taste or smell great. City water can be contaminated with pollutants and bacteria. That's doubly true if you're at a remote campground somewhere!
If you've got a high-quality RV water filter on board, you don't have to worry about any of that. You can simply drink what comes out of your tap!
5. X-Chock Wheel Stabilizers
If you camp in a travel trailer, you know how wonderful it is to have all that extra legroom to roam around in. After all, your rig doesn't have to devote any space to a cockpit.
But you may also know what a pain it is not to have automatic stabilizing jacks built into your RV. You've gotta do the leveling yourself, possibly with a hand crank and some good ol' wooden blocks. Even so, when you walk around inside the trailer, you might feel things getting wobbly.
Fortunately, there's an easy way to prevent that: throw some X-chock wheel stabilizers onto your trailer. Suddenly it feels like you're padding around a foundation-built house! They may look like medieval torture devices, but we assure you they're a worthy investment that'll make your trailer much more comfortable. They're a great addition to your holiday travel wish list, as well.
6. Anti-Sway Bar Control Kit
We've all been there — and by "we," I mean travel trailer owners and renters. You're cruising down the road when suddenly a big truck passes you on the left, and your whole rig is set to swaying. It's unsettling at best, and at worst, it can be downright unsafe.
This is why more and more folks who tow their rigs are investing in an anti-sway bar control kit. The kit allows you to add a nifty little device to your hitch that keeps your trailer riding along easily behind you. This add-on is easy to install onto your weight distribution hitch once it's put together. You can also decide not to use it if you're making a shorter haul.
7. Nesting Cookware
Kitchen storage space is one of the biggest annoyances in any camper's experience — especially if your gift recipient considers himself a gourmand.
But being able to whip up your favorite meals on the road is one of the most attractive parts of RVing. So to help him keep his chef's hat on straight, some simple storage solutions can be a serious benefit.
One of the best ways to save kitchen storage space in an RV is to invest in tools that have several uses, or objects that stack so you get many different items for the space of just one. Nesting cookware, whether it be pots and pans or mixing bowls, makes sure your recipient's cabinets feel nice and organized.
8. Cute RV- and Travel-Themed Decor
For the person who has just about everything, travel-themed gifts can be just as exciting as the more practical items. Fortunately, when it comes to cute travel- and camping-related decor, the internet definitely has you covered.
For instance, check out these RV travel-themed pillow covers. How cute would those look on a camping couch? Or maybe these RV-bedecked kitchen towels?
You could also get your globetrotter a reminder of home, like one of these state-specific Homesick candles. A state-shaped necklace is another travel-friendly trinket that will make your giftee remember their home base, no matter where their wandering feet may take them.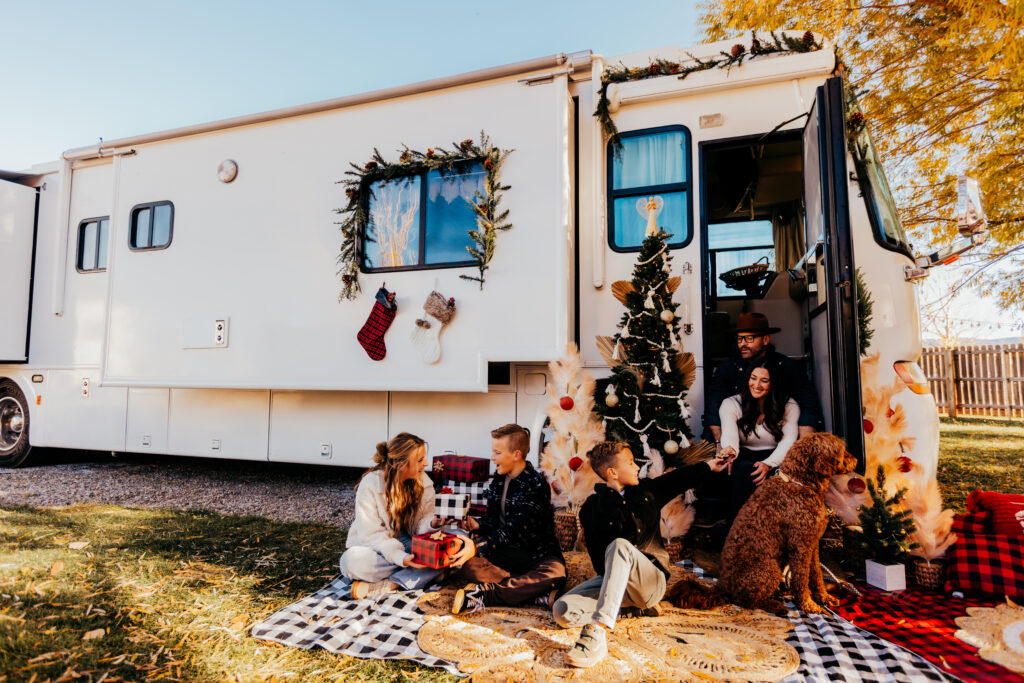 The Best Road Trip and Travel Gifts
There are plenty of gifts that aren't necessarily just for RVers, but are for anyone who loves hitting the road or traveling! Here are some ideas for those people in your life with a little bit of wanderlust.
Gas Card
For the dedicated traveler, there's no such thing as too much gas money. They can use a gas card exclusively for the purpose of propelling them to their next adventure!
You could also consider giving your traveling pal a generic credit card gift card, letting them make broader decisions about how to use the funds. But gas travel gift cards help counterbalance one of the most annoying expenses road trippers have to deal with. Just make sure it's usable at the stations they'll encounter along the way! Not every region has the same fuel companies.
Road Trip Snack Pack
You can only live off of Slim Jims and gas station hot dogs for so long! Convenience store food might be quick, cheap, and accessible, but it's also full of sodium and preservatives. Eventually, we all feel less than our best! Give your adventurer an epic road trip snack pack! You can stock it with items like fresh fruit, lightly salted nuts, dark chocolate, and high-quality protein bars.
If you want something that'll last slightly longer, you can purchase healthy snack care packages from Amazon.
A Killer Road Trip Mixtape
What's the very best part of road-tripping?
It's hard to pick just one thing — but for most of us, jamming out to your favorite croonable car tunes is high on the list. Although you might not burn a CD, you can put together a kickin' playlist on Spotify or whatever other music service your giftee uses.
Mobile Power Bank
Full disclosure: the person writing this post is a frequent traveler herself. (Hey, that's how I know what your travel-loving giftee is wishing for this season!) And let me tell you, when I finally got my hands on a decent mobile power bank, I wondered how I'd lasted so long without one. It was a total game-changer, allowing me to charge my phone on the go. I didn't have to choose between listening to my favorite air travel playlists and having enough battery left over to figure out where I was supposed to go once I landed.
Although many airports and travel centers offer mobile charging stations these days, there's nothing quite as convenient as having your own rechargeable power bank along for the ride. They're also excellent gifts for business travelers, who are likely constantly using their phones to communicate with colleagues and contacts. Plus, the advanced technology we have these days means these tools are both affordable and lightweight. Just make sure you choose one that's compatible with your recipient's phone type (likely Android or iPhone). For the best possible outcome (and the longest-lasting gift), choose one that can work with either.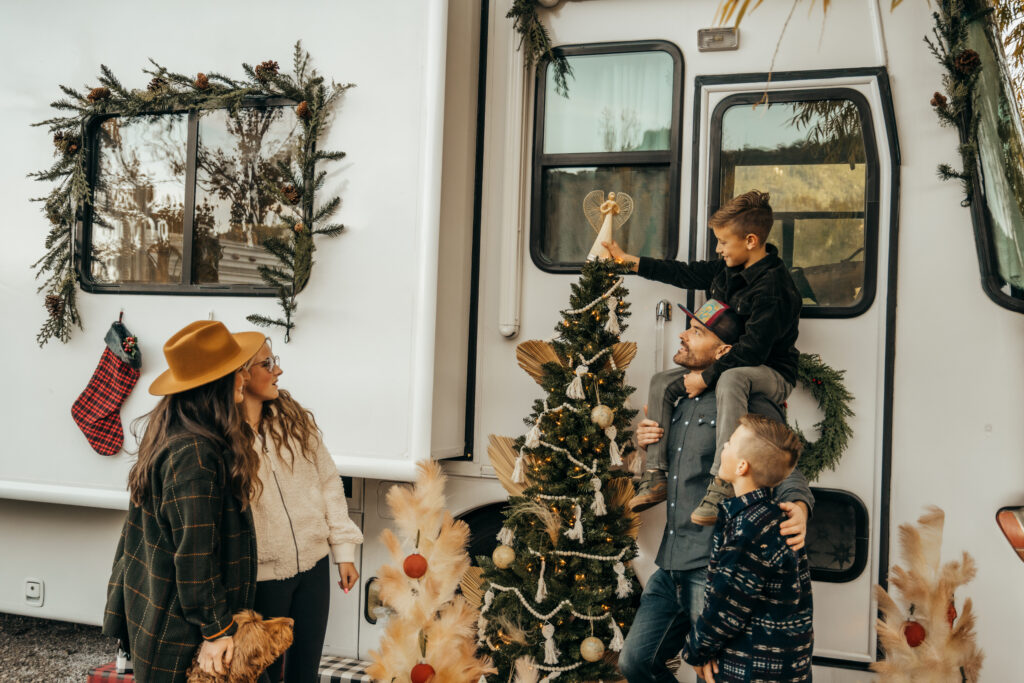 Earplugs
For someone who's a light sleeper and also a constant traveler, there's no better tool to have in your travel arsenal. From blocking out the snorer next door on a red-eye flight to nullifying the frighteningly thin walls of a hotel room, a simple set of earplugs can significantly improve any travel experience. After all, literally everything is way better if you're well-rested.
Travel-Sized Noise Machine
If your giftee is a seriously light sleeper, a noise machine can create soothing static or beach sounds that can lull even the most stubborn insomniac into dreamland.
As someone who uses a white noise machine on the regular at home (even in a relatively quiet neighborhood), I can vouch that LectroFan creates a high-quality product and backs it with excellent customer service.
Hand Warmers
Is your giftee headed off to a thrilling ski vacation, or planning to hike some epic Norwegian fjords?
Some of the most beautiful and adventure-filled landscapes are also the coldest. Fingers and toes are particularly likely to get painfully chilly!
Easy-to-use, air-activated hand and toe warmers are the perfect stocking stuffer for the traveler who loves winter wonderlands. You can get a large pack for a great price on Amazon. They're even TSA-approved for travelers whose journeys involve a jaunt in an airplane!
Foam Roller Water Bottle
Everyone needs a reusable water bottle — and for the athletic traveler on your list, this one's an incredible upgrade. Along with holding H2O, this bottle also doubles as a foam roller, which can help relax even the tensest of traveling muscles.
Whether it's a stiff neck from sitting on an airplane, or sore quads after an epic afternoon of snowboarding, this gift will ensure that your favorite travel lover stays both comfortable and well hydrated, so she can keep on adventuring.
Insulated Travel Mug
The only thing better than coffee is coffee that comes along for the ride and stays warm as long as you want it to. A well-insulated travel mug can make or break any adventurer's morning, and they make perfect stocking stuffer gifts.
Our best advice? Find one that's well-insulated enough to keep liquids warm for several hours, and make sure that it fits a standard cup holder. There's nothing quite as annoying as a mug that slip-slides around rather than sitting nicely in its assigned seat.
A Passport America Membership
If you've got an RV camper on your list this year, this gift is a total no-brainer. Although there are dozens of different discount camping clubs out there, Passport America is one of the most straightforward. Its purpose is simple: it gets you access to 50% off campsites at almost 1900 campgrounds across the country. No questions asked, no fancy gimmicks, no nothin' but saving a nice hunk of dough every single time you camp. Considering that the membership is less than $50 per year (and that price is often eclipsed by campsite accommodation fees on a nightly basis), it pays for itself in no time flat. Of course, it's an even better deal if it's totally free to your giftee! Click here to learn more and sign up your recipient today.
Markable/Trackable Travel Map
What better gift for someone traveling than a map to help them keep track of all their adventures? Trackable travel maps come in pinnable and scratch-off versions; which one will suit your giftee best is up to you. Many vendors will also customize the map with a name and saying, which can be an especially romantic gift for couples. Check out this adorable one on Etsy that reads, "I would go anywhere with you." 
Luggage Tags
Have you ever lost a bag?
If not, I hope you never do. It's an experience I literally wouldn't wish on my worst enemy. Nothing makes you feel quite as vulnerable and disarmed as landing in a foreign country, or even a different state, without any of the items you planned on having with you. (Yes, it's probably patently obvious that I'm speaking from experience, here; a baggage error means I got to spend my first fifteen hours in Ireland without a raincoat.)
Luggage tags are an affordable, and often lovely, way to help prevent this problem. You can find beautiful, custom-made ones created out of leather, aluminum, and other fine materials, which significantly outshine the classic paper-and-plastic versions.
Essential Oils
Helpful with everything from relaxing the mind to improving the mood, essential oils are thought to have healing properties by many — and they smell wonderful, too. Plus, they're super concentrated… which means they come in teensy-tiny bottles that are totally compliant with the TSA's volumetric rules.
Choose just one or two essential oils, or splurge on a whole set! You can get a whole slew of 'em for less than $50 on Amazon.
Travel-Sized Spa Kit
Traveling is awesome, no doubt. But it can also be difficult and tiring. All that bouncing around shakes up our usual routines, which sometimes leaves us feeling, and looking, less than our best.
So treat your travel buddy to a self-pampering sesh with a travel-sized spa kit, like this skincare set from e.l.f. It comes with a cleanser, facial and eye creams, and hydrating booster drops. What's more, each component is appropriately sized for TSA guidelines, so the set is cleared for takeoff!
Travel Journal… or Plain Old Notebooks
No matter who your travel-happy giftee is, one thing's for sure: they probably want to remember their adventures!
But for those of us who travel a lot, even epic journeys can start to blend together a bit. Unfortunately, having a faulty memory is just part of being human.
That's why travel journals can be so helpful! They give their owner a reminder to take a second and reflect on all the amazing experiences they're having by writing them down. This helps them both appreciate the moment more and remember it better later on. Win-win, right?
Whether your recipient has a once-in-a-lifetime trip planned to a dream destination or is just wanderlusty in general, nab them a travel-specific journal with travel-related prompts. Or present them with an open-ended notebook that can be used however the new owner sees fit.
(Nice) Travel Pillow
Travel pillows don't have the best reputation for being stylish and chic. But if you've ever spent more than a couple of hours on an airplane, struggling to snooze, you know how valuable they can be.
Plus, these days, travel pillow manufacturers have gotten seriously creative. Along with the classic, U-shaped versions you see for sale in the airport, there are also luxurious memory foam travel pillows and souped-up versions with built-in hoods.
Electric Adapters
Even the most intrepid adventurer probably doesn't want to go anywhere without access to their cell phone, and possibly their computer. We live in an all-connected-all-the-time world, and those phones and electronics can help travelers track flights, hotels, and more. Those electronics also require electrical power.
But as anybody who's ever traveled outside the U.S. can attest, all power is not created equally. (Or at least, it's not delivered equally.) Electrical outlets aren't standardized, and if you fly to a different country with your regular old charging cord, you may end up being unable to charge your gadgets.
That's why a travel adapter is an absolute necessity for any traveler heading overseas. Furthermore, travel adapters can help regulate the amount of power being funneled into those wires, which can keep sensitive (and expensive) gadgetry from frying. As far as we know, a dead motherboard is no one's idea of an excellent start to a vacation!
Good Headphones
From bopping along to your favorite tunes on the airplane to settling in at a coffee shop for a little remote work, having a solid set of headphones is important! Need proof? Just take a good look around next time you're on any form of public transit.
And while a nice set of headphones might be an expensive gift, it's one your recipient will likely treasure for years. This author can't imagine an airplane ride without her cushy Bose noise-canceling headset, which was, indeed, a Christmas gift from her parents a couple of years ago. (She also uses them for working in crowded, noisy places, where they create a bubble of serenity even in the midst of chaos!)
Gifts for RV Travelers
If you're looking for a gift for an RV traveler, but don't know quite what you're looking for, perhaps shopping based on their personality or tastes might help. Here are a few categories of RV travelers, and some suggestions on what to get them.
The Adventurer
Looking for a gift for someone who's always finding the next mountain to climb, the next river to raft, or the next outdoor sport to master? Help them get outfitted at Backcountry.com! The site carries lots of name-brand outdoor clothing and gear, including Patagonia, The North Face, and Marmot, often at discounts. You can also encourage someone to try a new sport – Backcountry has paddleboards, snowboard and ski gear, and more.
Patagonia offers gear for all weather extremes, plus more relaxed clothing for just hanging out at camp. If you want an environmentally-friendly (and cheaper!) option, check out their "used gear" section for gently used clothing and outdoor gear, including packs and sleeping bags that are still in great shape.
Sportsman's Guide has hunting, fishing, and camping gear, along with clothing to keep hunters, fishermen, and campers warm and comfortable. They also have gear for dogs in case your gift recipient likes bringing their furry friend along. Check out Sportsman's Guide's doorbusters sales, and their special section of products made in the USA. Cabela's and Bass Pro Shops also stock gear for these activities. Check out the "Bargain Cave" on both of these sites for special deals.
Adventurers might also enjoy a membership to The Dyrt Pro, which will help them search for campgrounds nationwide while relying on reviews from other outdoorsy people. The Pro membership also includes trip-planning resources, discounts on gear, and offline service in case your friend often finds themself without a signal! (By the way, if they'd like to fix that, they might consider Starlink, which can get them connected across the globe.)
Another good option for backcountry adventurers: Boondockers Welcome, which allows campers to stay at private homes overnight for free! It does come with a yearly membership cost, but you can get 10% off when you use code BWRVSHARE
Last but not least, make sure you keep your outdoor adventurer properly hydrated with a Hydro Flask!
The Foodie
Just because you're on the road doesn't mean you need to sacrifice good cooking or eating! If you know an RVing foodie, consider gifting them a membership to Harvest Hosts. This membership network allows RVers to stay overnight for free at nearly 1,500 wineries, breweries, farms, and other places in the United States and Canada. They can discover some delectable new favorites on their trip!
Home Chef is a great option when you like to eat well but have been out exploring all day. They deliver fresh, pre-portioned ingredients straight to your RV with easy-to-follow recipes. They also have oven-ready meals you can just pop in and cook with very simple prep and almost no clean-up. Meals already come in tins, so you don't need to dirty your dishes cooking. Get 55% off your first order, up to $40 off, with the code RVS55.
If you know someone who is concerned about where their food comes from and wants to make sure it's harvested and prepped in sustainable, eco-friendly ways, consider a gift from Patagonia Provisions. The outdoor gear company has what they're calling "a powerful alternative to industrial agriculture, a path to restore and regenerate our home planet." Check out their camp meal kits and vacuum-insulated food canisters for unique gifts.
The (Traveling) Homebody
Some people like spending every waking minute of their RV trips exploring new cities or hiking new trails. But some of us like to spend a good part of the day enjoying the RV we have worked so hard to obtain and fix up. It's great to explore, but it's also fun to relax in a camp chair at your site with a glass of wine or play a board game while listening to the rain patter on the roof. These gifts are for those times.
Get $50 off a DISH Outdoor TV package with the code RVSHARE so you can watch your favorite movies and shows on the road.
You can make sure your recipient has a great campsite to relax in by gifting them a membership to The Dyrt, which helps them locate good campgrounds.
Finally, some good, old-fashioned family games are always a great way to pass the time either outdoors at a picnic table, or in the RV during rainy weather. Apples to Apples, Scrabble, and Sorry! are all great options for the family, or you could go with a quirky game like Exploding Kittens for some guaranteed hilarity.
The Young Family
It's ironic that the years when you most want to travel with your children and make memories are also the most challenging. There's no other way to put this – traveling with young children is just hard sometimes! The wrangling of all the gear, the fact that it takes half an hour to get everything together just to go to the grocery store, the constant timing to make sure everyone has food and naps when they need… it can be a challenge. Hopefully, these gifts can help!
BabyQuip is a baby gear rental service that has full-sized cribs, strollers, car seats, toys, books, high chairs, and just about anything else you need for a baby. They will rent, deliver, and set up your baby gear wherever you're staying and will even meet you at the airport. When you're finished with the gear, they pick it up as well. For a family flying from out of town and renting an RV, or a family opting to have an RVshare owner set up the rig at a campground, this would be a perfect option! You can save 10% off all of their services with the code RVSHARE.
Also, consider any service that allows parents not to have to drag cranky kids along on boring errands! An Instacart subscription allows parents to order groceries online instead of having to head to the grocery store with children in tow. TaskRabbit can connect parents with people across the country who can share their skills and help with basic maintenance, cleaning, organizing, shopping, electronics set-up, running errands, and more.
If you want to help children feel at home in a new place like an RV, you can also consider gifting some children's books for bedtime stories. Little Blue Truck is a great board book about a travelin' truck, and Pete the Cat's Family Road Trip is a great book for early readers.
We hope this holiday gift guide will put a smile on the face of your favorite travel enthusiast or RV owner, no matter which of these ideas suits them best!
But most of all, we hope you enjoy the satisfaction of giving someone a gift they really will use and love. Because after all, that's what the winter festivities really are all about.
Happy holidays!
This post contains affiliate links. RVshare may receive compensation if you make a purchase after clicking on a product link.