Travel Inspiration
April 12th, 2021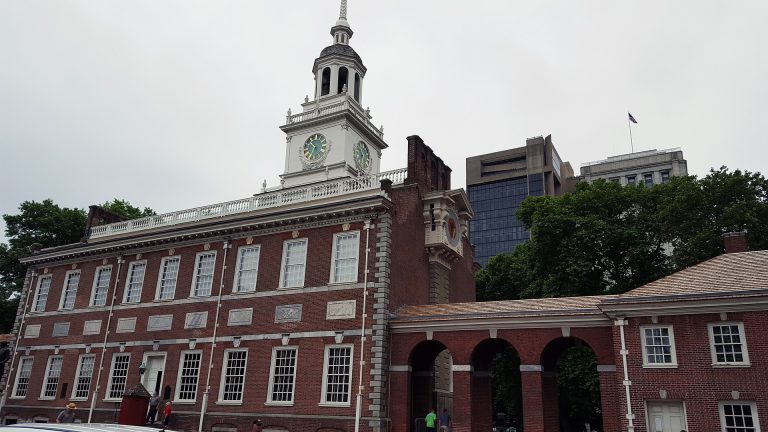 Learning about history is important. It helps ensure we continue to move forward as a society and avoid repeating mistakes over and over again.
That said, learning about historical events from a textbook can be tedious and dull, something that history should never be. Instead, people should be introduced to history through experiences. Actually visiting historical locations, talking with people who know what life would have been like all those years ago, and seeing artifacts up close are all much more likely to leave an impression than any dry history class might. 
Fortunately, there are tons of amazing places that offer these kinds of hands-on immersive learning experiences all across the United States. Wondering where to find American historical landmarks? This is the article for you.
Why not pick up the RV and head out on the ultimate history lesson this summer at one or more of these top historical US locations? Better yet, get to one of the NPS locations listed to celebrate Wayback Wednesday on April 21st, 2021 as part of this year's National Parks Week. 
Independence Hall
Philadelphia, PA
Philadelphia is chock-full of amazing historic sites, and you're bound to see at least a few of these while visiting the city. That said, if you only see one thing, make sure it's Independence Hall. This is where the Declaration of Independence was signed, and the tour of this place is absolutely phenomenal.
Mesa Verde National Park
Mesa Verde, Colorado
If you find yourself in Colorado, we highly recommend a stop at the beauitful Mesa Verde National Park. Yes, this has all the lovely views and wonderful hiking trails of a typical national park. However, it also features a good amount of history about the native people of the area, including some seriously cool homes built into the sides of cliffs.
Gettysburg National Military Park
Gettysburg, PA
Most Americans are well aware of what an important role Gettysburg has played in our nation's history. Visit this fantastic park to learn all about the battle that took place here, as well as the historic Gettysburg Address given by President Lincoln after the battle took place.
The Historic Triangle
Williamsburg Area, VA
If you want a whole lot of history in one place and can't make it to Philadelphia, Williamsburg, Virginia is the place to go. This is the location of the Historic Triangle, a group of amazing living history museums including Colonial Williamsburg, Jamestown Settlement, and Yorktown.
Other fantastic sites in the vicinity include Historic Jamestowne and the Museum of the American Revolution.
Martin Luther King, Jr. National Historic Site
Atlanta, GA
Looking to learn more about the amazing Martin Luther King, Jr.? Look no further than the Martin Luther King, Jr. National Historic Site. This place is run by the NPS and features the birth home of Martin Luther King, Jr., as well as some absolutely wonderful exhibits about his life and his work. 
Alcatraz Island
San Francisco, CA
Those interested in the strange and creepy side of history will appreciate Alcatraz Island in San Francisco. This island was once home to a fort, a military prison, and then a federal prison. Learn about these things and more on a guided tour of this unusual and intensely interesting historic site.
Statue of Liberty and Ellis Island
New York City, NY
Another historic site located on an island—but on the opposite end of the country—the Statue of Liberty is perhaps the most iconic site in all of the United States. This enormous statue has a rich history behind it that is well worth learning about during a visit to Liberty Island.
Ellis Island is another New York Island that deserves a visit. This was once the busiest immigration inspection station in the country. During this time, the island welcomed more than 12 million immigrants. It now features a fantastic museum that helps visitors envision what the immigration process would have been like.
French Quarter
New Orleans, LA
Rich with colorful culture and history, New Orleans boasts historic sites and museums around every corner. This is especially true in the French Quarter which we recommend visiting multiple times in order to get the full experience.
Enjoy a beignet and chicory coffee at Cafe du Monde, listen to some real jazz music at Preservation Hall, explore one of the many history museums around town, and be sure to check out Jackson Square, Saint Louis Cathedral, and the other historical locations. 
National Civil Right Museum
Memphis, TN
Another fantastic place to learn about Martin Luther King, Jr.—as well as other civil rights activists and events—the National Civil Rights Museum is a must-see. The museum is well-put-together, easy to follow, and incredibly touching. Many leave this place with a completely new perspective.
National Mall
Washington, D.C.
The National Mall in Washington, D.C. is home to the Lincoln Memorial, Washington Monument, and a beautiful grassy area for strolling. We highly recommend a visit to this area of D.C. during your time there. 
The White House
Washington, D.C.
Of course, if you're visiting Washington, D.C., you should definitely check out the White House. Built during John Adams' term as president, our capitol building has been the location for an enormous number of historic events. Learn about these things and more by scheduling a tour of the place.
Gateway Arch National Park
St. Louis, MO
The Gateway Arch is a memorial to westward expansion and an excellent place to go to learn about this period of a nation's history. Be sure to visit the museum under the arch as well as the museum in the Old Courthouse for the full experience.
Castillo de San Marcos National Monument
St. Augustine, FL
Touted as the oldest city in the United States, it should come as no surprise that St. Augustine is home to an amazing historic site. The Castillo de San Marcos is a fort that was originally built by the Spanish, but actually changed hands quite a bit through the years. A visit to this fascinating place is sure to reveal some interesting tidbits.
The Alamo
San Antonio, TX
The Alamo is one of those historical locations that everyone should see at least once in their lives. Oddly situated in the middle of downtown San Antonio, this historic fort is incredibly well preserved. It holds some amazing stories from the past, and is well worth visiting to expand your knowledge of Texas and US history. 
The American Civil War Museum
Richmond, VA
The Civil War marked a turning point in our nation's history. It was a complex war, and many details are left out of the typical history book. Learn those details as you dive into the interesting history of the Civil War at the American Civil War Museum. 
Boston Tea Party Ships and Museum
Boston, MA
The Boston Tea Party was also a huge turning point. Learn about the motives behind the individuals who tossed tea overboard on that fateful night of December 16th, 1773. Put yourself in their shoes, board the Tea Party ships, and experience first hand what this night might have been like.
Lincoln Presidential Library and Museum
Springfield, IL
President Lincoln did a lot for our country. For this reason, we feel it is necessary to include the Lincoln Presidential Library and Museum in our lineup of historical locations. This amazing museum follows the life and times of Abraham Lincoln and is one of a number of Lincoln-related attractions in the area. 
Plimoth Plantation
Plymouth, MA
There's nothing like a good living history museum to put you in the shoes of the people of the past. One of the very best living history museums in the country is Plimoth Plantation.
No, this isn't the original site of the Plymouth Settlement. That said, the museum has done an incredible job reproducing the city and the interpreters are absolutely phenomenal at portraying historic individuals, having conversations without ever breaking character.
Thomas Jefferson's Monticello
Charlottesville, VA
Ever wonder how the presidents of the past lived? Thomas Jefferson's Monticello offers an excellent peek into the way Jefferson might have lived day-to-day. Tour the president's home and learn about his many pastimes. Walk the lovely grounds and take in the beauty of the area. You'll also want to make sure to visit the exhibits on Jefferson's slaves, a topic that is definitely not glossed over at this site.
George Washington's Mount Vernon
Mount Vernon, VA
Another fantastic president's home and one of our favorite historical locations is George Washington's Mount Vernon. Here, you can take a guided tour of Washington's home, learning fun facts about the man's life both at home and at work. 
Fort Sumter National Monument
Charleston, SC
Charleston is a city worth seeing and is home to several historical locations. Fort Sumter is one of the best sites to see while you're there. This fort is built on an artificial island. It was started in 1812 when the British invaded Washington by sea, it was still not complete in 1861 when it was used during the Civil War's Battle of Fort Sumter. 
Henry Ford Museum of American Innovation and Greenfield Village
Dearborn, MI
Want a museum about the innovation of America? The Henry Ford Museum of American Innovation is for you. Here you'll learn about the history of transportation, technology, and much more in engaging and interesting exhibits that are sure to entertain as they educate.
When you're finished in the museum, head right outside to visit Greenfield Village, a super cool living history museum that represents a variety of time periods.
National Museum of American History
Washington, D.C.
An all-encompassing museum that helps put pieces of American history into some sort of order, the National Museum of American History is one of our favorite Smithsonian Museums. Admission is free, and one could easily spend an entire day here.
Want more history from the Smithsonian Museums? Try the National Museum of Natural History, the National Museum of African American History and Culture, the National Museum of the American Indian, and the National Air and Space Museum.
Kennedy Space Center
Merritt Island, FL
Space exploration is a super cool and super important part of our country's history. Learn all about our space exploration history at NASA's Kennedy Space Center. If you time it right, you might even be lucky enough to see a rocket launch!
National Museum of the United States Air Force
Dayton, OH
If air and space history interests you, you might also be interested in the National Museum of the United States Air Force. This museum includes a bit on the history of flight in general, but mostly focuses on the history of flight in the US military. Admission to the museum is free.
9/11 Memorial and Museum
New York City, NY
The events of 9/11 were tragic, and they reshaped our country forever. Learn about how the events unfolded and how they affected various individuals as well as our country as a whole at this poignant and well-done memorial and museum.
Yellowstone National Park
Wyoming
Finally on our list of interesting US historical locations there is Yellowstone National Park. This might not seem to fit into this list, but Yellowstone was actually our country's first national park, making it a historical site and an incredible natural wonderland all wrapped into one, and as such is an attraction well worth visiting.