Renting an RV
Last updated on June 7th, 2023. Originally published on January 18th, 2023
It's no secret that RVing is a fantastic way to enjoy the outdoors and can be a great lodging option when visiting a national park, state park, or even some theme parks. The only problem? Many people don't feel comfortable driving an RV.
This hesitation to get behind the wheel of such a big vehicle is totally understandable, especially if you've never driven a large vehicle before, and even more so if the RV is a rental. The good news? There is another way to enjoy an RV vacation: RV delivery.
Choosing RV rentals with delivery to campsite locations is a great way to ensure your getaway is a relaxing one, while still enjoying all the benefits offered by RV camping. Never tried it before? Here's what you need to know about RV delivery service!
Perks of RV Delivery
First, let's discuss the benefits of choosing RV delivery to campsite locations instead of driving the rig yourself. Knowing these perks, you're sure to take this option into consideration for your next vacation getaway.
Perk #1: No Need to Have a Beefy Truck
If you're looking to rent a trailer and you want anything bigger than a small pop-up, you're going to need a truck or SUV to pull it. The bigger the trailer, the bigger the truck needs to be. If you're looking to rent something your whole family will be comfortable in and you don't have a strong truck already, delivery might be your only option.
Perk #2: Never Worry About How to Drive a Big Rig
As mentioned before, driving a big rig can be daunting. If you're nervous about driving an RV, removing the stress of getting the home-on-wheels down the road might be just the thing to convince you to go on an RV camping trip. Likewise, if you can't drive legally for any reason, an RV delivery opens up the possibility of an RV trip.
Perk #3: Avoid Potential Damages to a Rental Vehicle
If you aren't driving the rental rig, you can't really wreck it. This can be a huge comfort for some, and knowing this might remove a bit of stress from your mind while you vacation. Of course, even though you won't be damaging the RV while on the road, it can still be damaged by misuse in the campsite, so be sure you respect the delivered RV once its parked in your campsite.
Perk #4: Campsite is Ready when You Are
Perhaps the biggest benefit of having an RV delivered is the fact that the tiny vacation home will be ready and waiting for you when you arrive at the campground. This means you can avoid fussing with cords and hoses and jump right into vacation mode and having a good time with your family or friends. It really does make an RV vacation much simpler.
Perk #5: Leave the Packing-Up to the Pros
Finally, having an RV delivered to your campsite means it'll also be picked up for you at the end of the trip. This means you don't have to bother with things like pulling in slides and unplugging the power before you head back home.
This is great because nobody likes doing chores, especially as the end cap to a great rip. Instead of rushing around on your last morning camping, you can go home fully relaxed and recharged.
The (One) Con of RV Delivery
Now that you know the pros of choosing RV delivery, you may be wondering what the drawbacks are. To be honest, there is only one major drawback that we can think of, and it may not even apply to your situation. This lone con? The inability to hop from campsite to campsite.
Obviously, if you were hoping for the cross-country RV road trip experience, then RV delivery really wouldn't work quite as well. That said, you could still make it work for you by scheduling RV deliveries at multiple stops and traveling from one to the next by car, a perfect workaround if you ask us.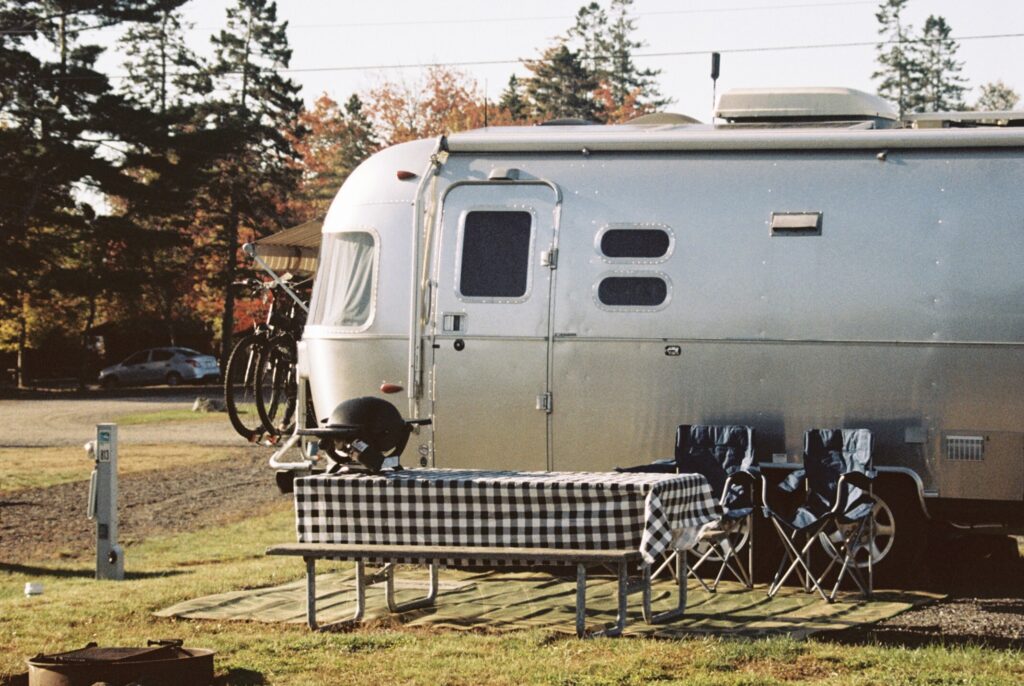 Finding RV Rentals with Delivery to Campsites
Wondering how to have a rental RV delivered? Because not all RV owners with rigs listed on RVshare are willing to deliver their vehicles, the first step is finding an RV you love that can also be delivered to your campsite. Fortunately this is pretty easy to do, especially on the RVshare site where so many trailers and motorhomes are available.
To ensure you are viewing a list of options that offer RV delivery service, use the filter option on the RVshare site. Simply hit the "Destination Delivery" button in the top right corner of the search box—before you input your destination location, dates, and number of guests—and you'll be given a whole list of RV rentals with delivery to campsite as an option. Scroll through the RVs listed to find the perfect rig for your relaxing camping getaway.
RV Delivery Service Best Practices
Once you do find that perfect rig, there are a few more things you should remember about utilizing an RV delivery service. Below, we've put together a list of things to think about, do, and discuss with all involved in order to ensure your trip goes as smoothly as possible.
Communicate Your Needs
The owner you choose to rent an RV from can't read your mind. Therefore, it is very important that you communicate your needs with them. If you want to have a specific add-on that the owner offers, be sure you let them know that up front. If you need all of the beds set up when you get there, ask if that's a possibility. The more you communicate, the better things will be for all involved.
Choose Your Campground Wisely
Not all campgrounds allow deliveries, and not all owners are willing to deliver to all campgrounds. Even if the campground you're considering falls into the owner's delivery area, be sure to confirm that they are willing to deliver to that campground. Likewise, be sure to call the campground and confirm that they will allow a rental unit to be delivered.
Contact the Campground
Once you decide on a campground and have a site booked, contact the campground again to ensure you know the protocol for rental units being delivered.
Many RV parks have gates with codes, and the person delivering will need that code. Additionally, the campground may have specific rules about RV owners checking in with the office before delivering a unit to a site.
Knowing these things in advance and passing the information along to the RV owner will help you avoid issues on the day of arrival.
Learn the Ins and Outs
No, you won't have to level the RV yourself, nor will you have to hook up the electricity, water, or sewer. That said, being able to skip setup and teardown doesn't mean you can skip learning the ins and outs of how the rental rig works.
You will still want to ask questions about how the RV functions before you arrive or during the walkthrough (if one is offered). Make sure to read any manuals or instructions the owner leaves behind, and don't be afraid to ask questions during your trip.
After all, you should be able to enjoy all the benefits offered by the RV, but that requires knowing how to use them. Besides, you wouldn't want to accidentally break something because you used it incorrectly.
Clean Up After Yourself
Obviously, skipping the packing-up process at the end of the trip is a huge benefit of choosing RV delivery service. That said, skipping the pack-up process does not mean you can skip the clean-up process. You will still need to clean up food messes in the kitchen or dining area, dump the tanks and ensure the toilet is decent, take out your trash, and pick up any clutter.
In our opinion, choosing RV delivery to campsite locations is the way to go in many cases, especially if you're feeling nervous about driving the RV. There are many benefits to going this route and there are very few drawbacks. Why not give it a try on your next RV vacation? You might just find your new favorite way to camp!