Travel Inspiration
June 15th, 2021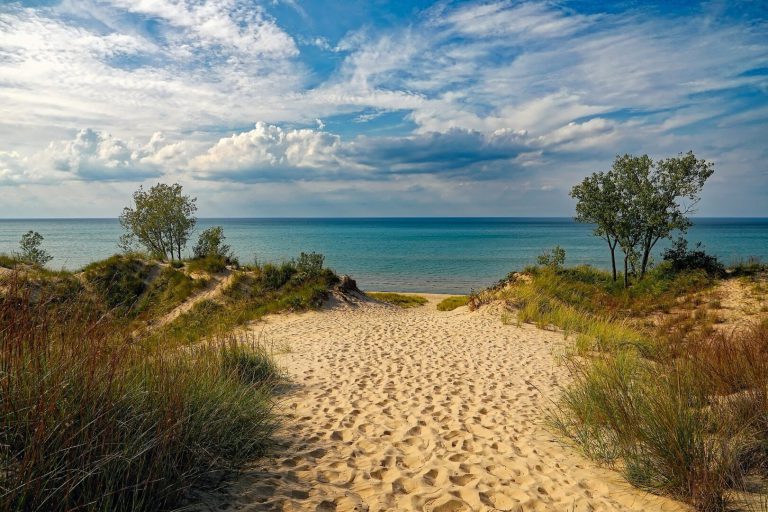 The Great Lakes are an absolutely fantastic place to visit. This is especially true during the hot summer months when the cool breezes that come off the water feel amazing, and a dip in the lakes is even more refreshing.
Of course, the best way to see the lakes is by RV. This leaves many people looking for fabulous Great Lakes camping sites. Fortunately, these aren't at all hard to find. You just have to know where to look.
If you're wondering where to RV near the Great Lakes, this is the place for you. In this article we will cover the best places to camp by the Great Lakes, as well as the things you'll want to see and do during your visit.
Ready? Let's dive in!
— Places to Stay Around the Great Lakes —
First we will discuss where to park your RV (or your rental unit) in order to create a home base for your Great Lakes adventures. There are hundreds of wonderful options out there. However, our absolute favorite campsites are found in the state parks near the lakes.
Read on to discover the best of the best.
Kelleys Island State Park in Ohio
You'll have to take a ferry to reach this island. It's well worth the ride however, as the park is absolutely gorgeous and includes amazing features such as the 10-foot-deep grooves carved by glaciers into the exposed rock on the park beach over 350 million years ago. Surrounded by the blue waters of Lake Erie, this is the perfect campground for those who enjoy kayaking, fishing, and other water related activities.
The campground is open to RVs and tents and includes a variety of amenities, including a playground, a pickleball court, and beach access.
Letchworth State Park in New York
There's no place on earth quite like upstate New York, and this park captures the beauty of the place perfectly. No, it isn't on the shore of the Great Lakes like the other parks on this list, but it's still definitely worth checking out.
Here you can admire over 50 waterfalls which cascade majestically into the Genesee River in front of a green and mountainous backdrop. Wildlife in Letchworth State Park includes deer, ruffed grouse, turkeys, bald eagles, and more.
The campground itself welcomes RVs and boasts such amenities as a concession stand, pavilions, and even a swimming pool.
Indiana Dunes State Park in Indiana
Indiana Dunes State Park is so amazing, part of it has recently been turned into a national park. Here you'll find enormous sand dunes that play host to a few different ecosystems and countless plants and animals. Climbing the dunes, you'll observe 'tree graveyards', wildflowers, forested areas, and at the bottom, the shore of Lake Michigan.
Electric hookups are available for RVers in the campground. Additional amenities include a playground, volleyball court, grills, and fire rings.
Geneva State Park in Ohio
Geneva-on-the-Lake first opened as a summer resort over 100 years ago. Today, it's still going strong, and it's easy to see why. This area of Lake Erie boasts warm, shallow waters and plenty of plankton, attracting trophy fin fish. The natural harbor is perfect for small-boat fishing, and a large variety of fish can be caught in these waters.
As far as camping goes, guests will find electric-only or full-hookup campsites, as well as a fish cleaning station, sports courts, a swimming beach, and hiking trails.
Kohler-Andrae State Park in Wisconsin
Another Lake Michigan park, Kohler-Andrae State Park is the place to go if you're looking for beach time. This place features incredible dunes, bright golden sand, and beautiful blue water for miles. Whether you're looking to relax in the sunshine, take a stroll on the beach, or go for a swim, there's something for everyone here.
Other park activities include hiking, boating, kayaking and canoeing, and of course, camping. The campground has 52 electric-only sites with potable water and a dump station located nearby. Other amenities include shower houses and laundry facilities.
— Best Areas to See Near and On the Great Lakes —
Once your RV is parked, the next step is finding things to do and see. Honestly, you're likely to find something beautiful or amazing around every corner when staying in this part of the country. That said, we do have some favorites.
Check out the best things to do near the Great Lakes below.
NPS Sites
There are a number of national parks and national lakeshores all around the Great Lakes. NPS sites are always fantastic, and these are no exception.
Isle Royale National Park
The perfect place for those seeking solitude, Isle Royale National Park is surrounded by Lake Superior and isolated from the rest of the world. The rugged island is perfect for hiking, and various boaters, kayakers, and scuba divers also find that it's an ideal jumping-off point. The beautiful scenery offers plenty of photo opportunities, and the natural peace of the locale makes this an ideal place to reflect and meditate.
Pictured Rocks National Lakeshore
Lake Superior is a truly magnificent body of water, and the Pictured Rocks National Lakeshore that stretches for 40 miles along the coast of the lake matches her beauty. The lakeshore features sandstone cliffs, beautiful beaches, amazing sand dunes, gorgeous waterfalls, green forested areas, and more.
Sleeping Bear Dunes National Lakeshore
Located in Michigan, Sleeping Bear Dunes National Lakeshore is another spot worth visiting. This lakeshore features incredible bluffs that tower a full 450 feet above Lake Michigan, which stretches out below. Lush forests and plenty of unique plants and animals make up the rest of the park and make for excellent exploring.
Apostle Islands National Lakeshore
A total of 21 islands and 12 miles of mainland make up the lovely Apostle Islands National Lakeshore. Here you can admire windswept beaches and cliffs, learn about other cultures, and dive into history.
Indiana Dunes National Park
Indiana Dunes National Park is one of the newest additions to the national parks lineup. Here you can explore the variety of habitats offered by massive Lake Michigan sand dunes. Be sure to watch out for the wide variety of birds and other animals as you hike, then finish your day of exploring with a swim on the sandy beach.
Grand Portage National Monument
Learn about the history of the fur trade in North America and the history and culture of the Ojibwe people at this fascinating national monument. Explore a replica of the bustling depot that was once located here, and take in the sights and smells you might have experienced during its heyday. Visit during Rendezvous Days and Pow Wow for more immersive experiences.
Cities
There are, of course, dozens or towns and cities surrounding the Great Lakes. That said, three stand out as particularly exciting to see, and we suggest you add them to your Great Lakes bucket list.
Chicago, IL
Shedd Aquarium, the Field Museum, and the Museum of Science and Industry are just a few of the amazing museums you should check out in the Windy City. Other great Chicago attractions include Navy Pier and Millennium Park. Of course, you will also want to dine at some of the city's many fantastic eateries.
Milwaukee, WI
Milwaukee is another city that everyone should see at some point. Here you can visit the Harley Davidson Museum, check out the Milwaukee Art Museum, and spend time at the wonderful Milwaukee County Zoo. Additionally, you won't want to miss visiting some of the city's many breweries to try some of the famous local craft beer.
Mackinac Island, MI
A city isolated from the rest of the world, paying a visit to Mackinac Island is like turning back the hands of time. Here, people walk or bike from one place to the next. The slow pace of life stands in striking contrast to the fast-paced lifestyle found in most of the rest of the country, and there are plenty of gorgeous sights to see.
Other Great Sites
The sites below are absolutely wonderful. They stand out as must-see places, and we highly recommend making time for them.
The Henry Ford
Located in Detroit, the Henry Ford is an absolutely amazing attraction that we highly recommend checking out. Tour the Ford Factory to see how Ford vehicles are made, step back in time at the open-air living history town of Greenfield Village, and learn about American history and innovation at the Henry Ford Museum of American Innovation.
Michigan's Upper Peninsula
Easily one of the prettiest places in the US, Michigan's Upper Peninsula is like an entirely different world. Here, nature is left untouched in almost all areas, and the result is breathtaking beauty around every corner. The people who live in the UP have a strong regional identity and culture, making the place feel even more unique and foreign.
Where will you head next? Find your perfect RV rental and get ready for your lakeside adventure!