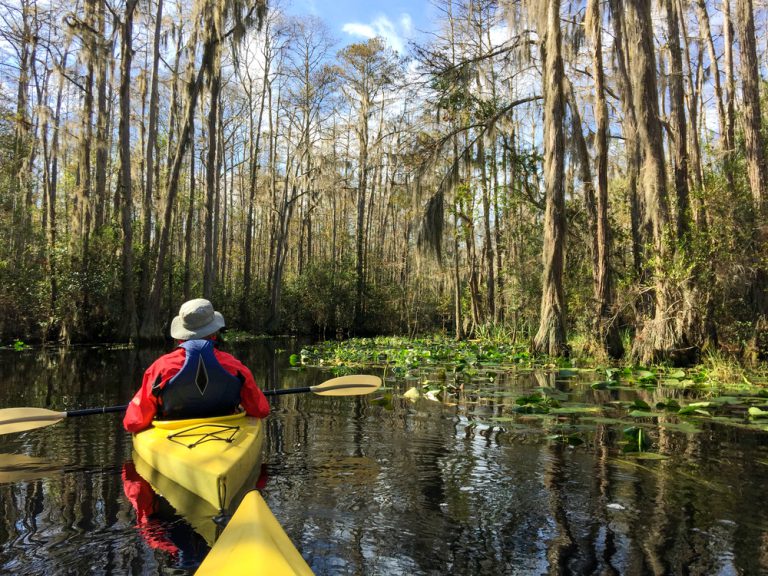 From the Blue Ridge Mountains to pine forests to the coastal regions, the state of Georgia offers a wide variety of spaces to explore. Do you hear the call of the water? Georgia has miles of coastline where you can boat, fish, swim, or sit with your toes in the sand and recharge. If a more strenuous outdoor adventure is part of the plan, venture to the Blue Ridge Mountain region to explore miles of hiking and biking trails nestled among the breathtaking mountain scenery. Georgia is also a state rich in American history with antebellum homes, underground railroad sites, and battlefields to explore. Whatever adventure calls to your wandering soul, glamping in Georgia is a convenient way to experience everything the state has to offer without compromising comfort or amenities. 
Glamping Sites in Georgia
Pine Mountain RV Resort
Just an hour away from Atlanta in Pine Mountain, Pine Mountain RV Resort offers travelers everything they need in a comfortable home away from home. Guests will have access to a large outdoor pool, a splash pad for children, a hot tub, and steam showers. Check in on social media with their free Wi-Fi or visit the on-site general store for any last-minute essentials you'll need for your stay. As much as the resort has to offer on-site, it's also located near Callaway Gardens, Wild Animal Safari, and River's Bend Winery, making it a convenient location from which to embark on your daily adventures. 
Crossing Creeks RV Resort and Spa
Nestled in the Blue Ridge Mountains of North Georgia, the Crossing Creeks RV Resort and Spa is just outside historic Blairsville, Georgia. Encompassing over 100 acres of land and surrounded by the Coosa and Anderson Creeks, this resort truly offers a luxury outdoor experience. Guests can spend a day lounging by the swimming pool or grab a fishing pole and try their luck at one of the trout streams. A fitness center and sauna help keep guests healthy and relaxed while the pool table, activity center, and mini-golfing greens provide activities that are sure to keep the whole family entertained. Explore the surrounding area to find miles of hiking trails, golfing, white-water rafting, and breathtaking mountain views. 
CreekFire RV Resort
Guests at the CreekFire RV Resort enjoy warm Southern hospitality and luxury amenities. The large heated pool is flanked by a children's splash pad and a lazy river, all perfect for summer fun. In addition to the swimming pools, the resort boasts a lake for boating and fishing. There are also playgrounds, tennis courts, a general store, and even a restaurant for those days when you prefer not to cook. With live entertainment on the weekends, resort activities throughout the week, and shuttle service to Savannah, this resort brings all the amenities anyone looking for true luxury camping in Georgia would come to expect. 
Coastal Georgia RV Resort
Located just north of the Florida state line in Brunswick, the  Coastal Georgia RV Resort features luxury amenities near the Georgia coast. With paved roads and large spaces, this resort makes beginning your vacation as stress-free as possible. Pull into your level space and head out for some fishing on the lake or take the kids for a refreshing dip in the resort pool. In addition to the swimming pool and lake, there are also shuffleboard courts and horseshoe pits. Need to be connected while you're on vacation? The resort provides cable television and Wi-Fi access, so you'll never be out of touch. 
Savannah Oaks RV Resort
Embrace the romantic feel of the South among towering oaks dripping with Spanish moss at the Savannah Oaks RV Resort, which is 20 minutes outside historic Savannah. The 24-acre resort lies along the Ogeechee River, where guests can relax and catch a dinner of bass or catfish. The whole family will enjoy having access to a sparkling pool and fun playground. Savannah Oaks features shaded camping sites, free Wi-Fi, and an on-site store for any glamping essentials. It also makes a convenient base from which to explore nearby islands, the Okefenokee Swamp, or historical sites in Savannah and Brunswick. 
Where to Glamp in Georgia
From mountains and hiking to historic sites and big cities, just about every traveler will find something that appeals to them when deciding where to glamp in Georgia. With hiking, biking, fishing, and stunning scenery, the area near the Blue Ridge Mountains is ideal for glampers looking for robust outdoor adventures. If the rhythm of the city is the beat of your soul, try a resort near Atlanta for easy access to all that the large and historic metropolis has to offer. History lovers may find staying in the Savannah region a perfect location for exploring the historic city.
Luxury Camping in Georgia
Glamping allows travelers the chance to enjoy the best parts of camping without all the hard work and dirt. Instead of spending your precious vacation time setting up a tent or digging a fire pit, you can relax outside your RV with a glass of wine while you enjoy the sunset. Despite the luxury of glamping, you will still require some camping items to ensure your trip is as comfortable and stress-free as possible. Be sure to pack bug spray, sunscreen, and flashlights. Because the temperatures drop at night, don't forget to pack light layers and extra blankets for your glamping Georgia trip. 
Before you head out on your trip, check out our blog for all you need to know about glamping. With an RV rental, you can get your glamping fix anywhere! Enjoy all the comforts of home onboard your RV – linens, cooking supplies, a cozy couch, and a warm bed – all while enjoying the beauty of nature around you. It's the perfect marriage of rustic camping and upscale comfort. Plan your perfect glamping getaway with an RV rental from RVshare.